---

(4 / 5)
Here's a phrase I'd never expect to read in the PR blurb for a new album release: "The Hendrix of the hammered dulcimer!"
But there it is in the second line of the press info' about this new long player, from the UK's respected and well-travelled singer and songwriter Dan Whitehouse, and his collaboration with New York's Max ZT. [Jimi didn't build his own guitars though, but the 102-string dulcimer which Max plays was built by his own hands!]
A brief declaration from me before we get stuck into this review: I am not a fan of spoken-word stuff at all. Poet John Cooper Clarke is the exception. So I was not too excited when the vinyl LP of this release arrived at my door, and I read the PR copy to see Dan was speaking rather than singing on this project.
This magazine has covered Dan on previous releases, and had very nice things to say about the guy and his talents, such as: "A triple threat, a fine songwriter, a unique vocal talent and a talented multi-instrumentalist performer". So the last thing I wanted to do was be negative about his seven-song collection on this latest offering, because I kind of shut down when it comes to spoken word.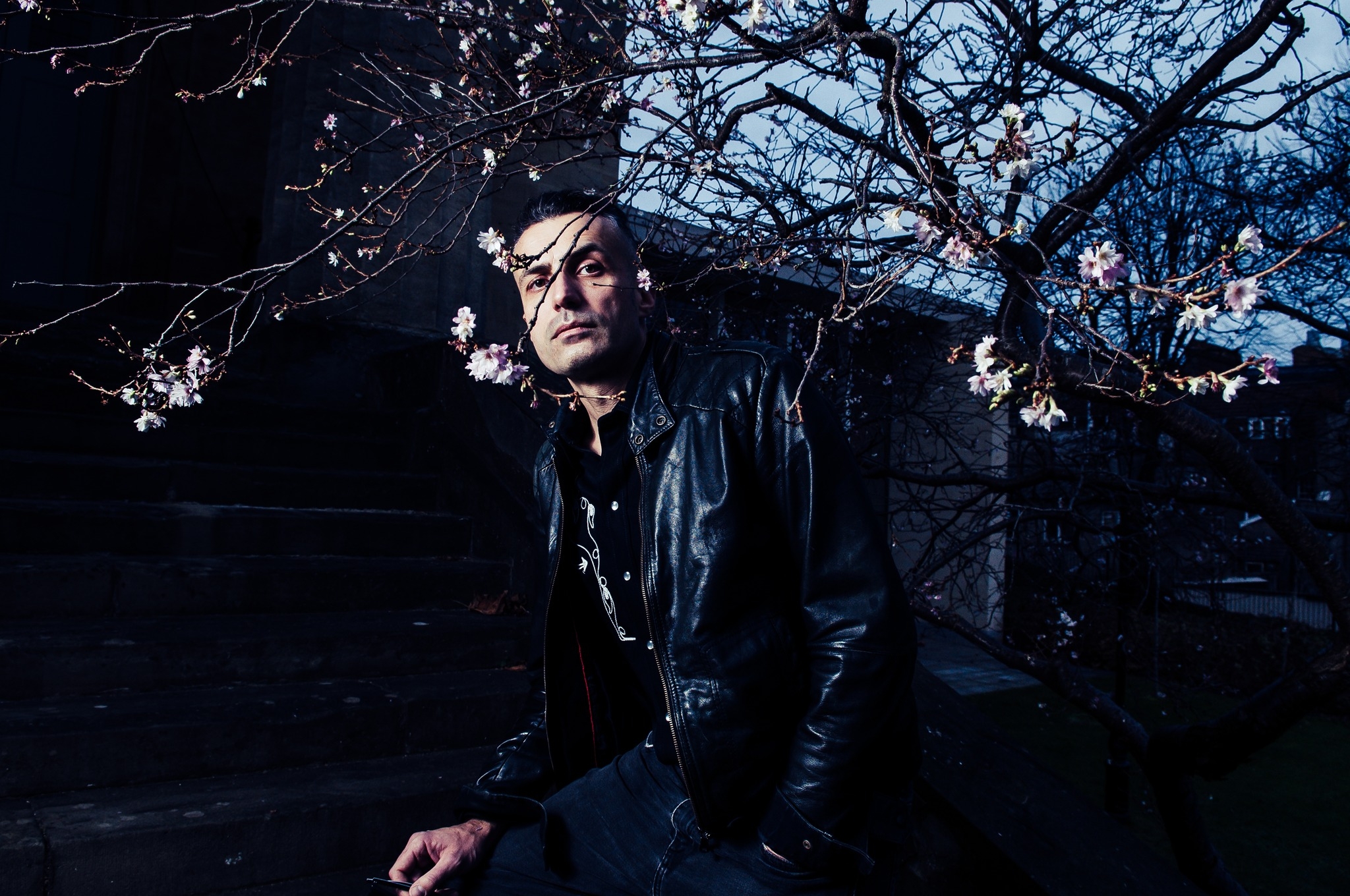 So do I decline to review it when the editor gives me a bunch of releases to cover, and look unprofessional/unreliable to the boss? Do I whitewash (whitewash Whitehouse!!!) the review and say things I do not believe? No way. Only thing I can do is to cover the thing and be totally honest, so here goes…….
It's lovely. Somewhat a real meditative aid. Mesmerising and hypnotic at times. A beautifully crafted piece of work and both Dan and Max should be very happy and proud of what they delivered. Never thought I'd be into a spoken word project as much as I am into this one, so they must have had a secret special ingredient they slung into the mix on this one. Dan does sing snippets of vocal across the record by the way.
New York-based virtuoso hammered dulcimer player Max ZT popped over the pond for an eight-date tour of the UK with Dan last month (October), to promote the vinyl release of the record. It was their second UK tour together, after they met online via the Womex award-winning international collaboration "Global Music Match" organised by English Folk Expo in partnership with 19 other countries.
They toured in 2021 and since then recorded "Ten Steps" together. In fact, the dulcimer parts on the last two tracks on "Ten Steps" were recorded live while on tour here in 2021, in Bristol ("How To Strike") and Birmingham ("The Many Colours Of Morning").
Dan is from the UK's Black Country and spends time in Japan where he recorded his parts for this record, with Max doing his bit in New York. The duo use spoken word and virtuoso playing to create impactful and often improvised pieces with a belief in the healing power of music at its core. The collection shows how effectively they have fed off each other's unique creativity to deliver some very fine work.
Check out Dan's back catalogue, such as his most recent solo project, "The Glass Age" and Max ZT's "Daybreak". Max ZT is known as an innovator, although he can trace his roots back to Irish folk music. He creates complex and beautiful compositions from a much-expanded set of influences.
Studying in Senegal with the Cissokho griot family and in India, where he received a grant to study under the santoor master Pandit Shivkumar Sharma. Part of the celebrated trio House Of Waters, ZT is signed solo to Six Degrees Records.
He expanded on the duo's approach by saying: "Our show incorporates elements of improvisation, we are trying to be in the moment as much as possible. That's enlightenment, that's the real deal. If you can get your fluency/your vocabulary and your grammar into a place where you can just talk and just be, that's heaven you know. We rarely get moments of stillness in life. Having a performance space where you can still have stillness, patience and this moment of just being – this feels like something unique."
Dan Whitehouse has, across seven solo albums, gained a reputation as a fine songwriter, unique vocal talent and a talented multi-instrumentalist/performer – and as The Sunday Times notes: "…for his subtle and delicate melodies".
Nominated for the FATEA 2022 Innovation Award, Dan has become known for his drive to renew, re-invent and imagine, and the Ten Steps project see him push boundaries further, stepping into the arena of improvisation and spoken word.
Dan says: "We are all interconnected. The best collaborations seek out differences. You have to look inwards to find fluency within and consistently look outside yourself. When Max plays it feels like the ground, or the sky, is opening up. I see things that were't there before. My perspective is changed.
"Ultimately I think that's why we turn to art – be that a record, picture or a film – we yearn to get outside of our own heads and see the world from another's perspective. This is what I hope Max ZT and I are bringing to you… a deep magnetic field." Ahhh, that must be their secret ingredient then: The magnetic field. I better watch my fillings!
Track List

Ten Steps
Bury One's Head
Shizuka
The Perfect Circle
Hammerhead
How To Strike*
The Many Colours of Morning**
Written and Produced by Max ZT (ASCAP) & Dan Whitehouse (PRS / MCPS)
Lyrics by Dan Whitehouse except "The Perfect Circle" based on a poem by Katie Whitehouse
Mixed by Max ZT
Mastered by Mark Freegard
*Dulcimer recorded live at Bristol St Georges
**Dulcimer recorded live at Royal Birmingham Conservatoire
Dan Whitehouse: Vocals and guitars. Recorded in Yokohama, Japan
Max ZT: Hammered dulcimer, percussion, synthesizers. Recorded in New York, USA.
Ösp Eldjárn: Background vocals (Ten Steps)
Gustaf Ljunggren: Synthesizers (Ten Steps)
Taiga Mori-Whitehouse: Background vocals (Shizuka)
---
---

(1 / 5) 'Dull Zone'

(2 / 5) 'OK Zone'

(3 / 5) 'Decent Zone'

(4 / 5) 'Super Zone'

(5 / 5) 'Awesome Zone'
---
Review by Steve Best