---

(5 / 5)
Singers get solo records. Guitarists get solo records. All day long…But there are not that many bassists who can take the spotlight to front a solo album and come out of it with kudos and huge acclaim.
Maybe Stanley Clarke and Marcus Miller are just about the only bass players I can think of who fit that category.
But here's another name to add to that very small list. Dewayne Pate. Stunning player, glittering CV as a sideman and responsible for a stunning second solo long player, "On The Upside".
DP is so busy working as a sought-after session man, it has taken him 14 years and a pandemic lockdown to find the time to record his second album as a leader.
Pate released his first CD, "Melting Pot", in 2008. A master of many styles, he has performed around the world with many top acts, including Arturo Sandoval, Huey Lewis, Boz Scaggs, Tower Of Power, Maria Muldaur, and Robben Ford.
A starry array of players join him on the faultless nine-track affair, such as the amazing Robben Ford on guitar, Chris Cain – whose voice is as good as his axe skills – drum star Dennis Chambers, legendary Tower of Power drummer David Garibaldi, and a sizzling five-man horn section, and many more.
Often a project featuring many big-name players can get messy and over complicated and end up a very uneven listen and lots of yawn-inducing solos. Not this time.
Under pinning the groove throughout – and trust me this album is drowning in groove – is bass master Dewayne. Yes, sir.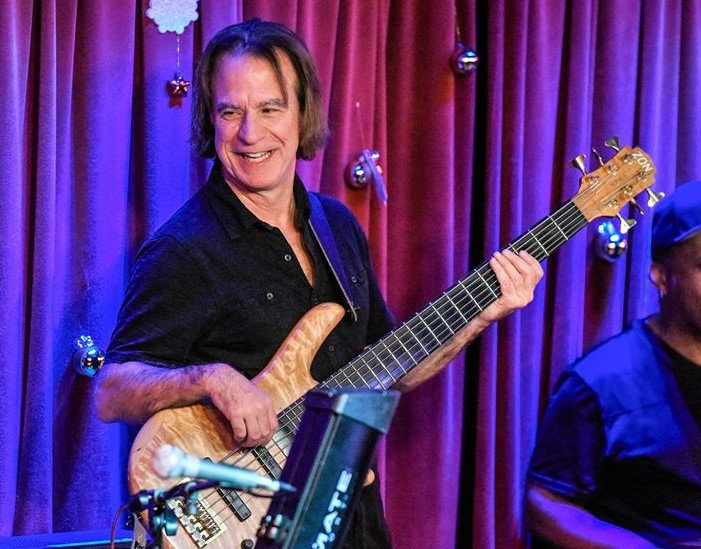 "On The Upside" delivers funk, blues, and fusion jazz tunes, and showcases Dewayne's skill as a composer as well as a beast of a bass player, offering up five of his own compositions.
The album opens with his composition "4 The 5 Of It." Written in 5/4 time, the title is a play on words. The tune features Norbert Stachel on soprano sax (ex-Tower of Power) and a fiery drum solo by Dennis Chambers.
Other Pate originals include "Ellen," a romantic ballad featuring a solo by Stef Burns on guitar sounding much like Jeff Beck, and "Oliver's Twist," which was inspired by Oliver Nelson's writing and features a hip, extended bass solo by Pate.
"Blues for Monmouth" is another Pate original. He says, "This tune has my dream rhythm section with Kevin Hayes on drums, Dave Mathews on organ, and Robben Ford on guitar." It's a belter of a track.
"Iceman," is the sizzling Albert Collins classic and benefits from Chris Cain on vocal and guitar, given a deep in the pocket funky organ/horn Tower of Power groove.
"Imperial Strut," was written by Russell Ferrante of the Yellowjackets. Ferrante's original composition has a funk groove, but Pate rearranged it with a Latin feel. Charlie Chaplin's "Smile" is rearranged here in 3/4 time with heartfelt vocals by Amikaeyla Gaston.
This top-notch album closes with Curtis Mayfield's "People Get Ready," with Pate's melodic bass playing pared with Gaston's soulful vocals and the subtle conga playing of Karl Perazzo, a long-time member of Santana's band.
What's not to like? The answer: Nothing at all – apart from the wait for solo album # 3, perhaps!
By Steve Best
---

(1 / 5) 'Dull Zone'

(2 / 5) 'OK Zone'

(3 / 5) 'Decent Zone'

(4 / 5) 'Super Zone'

(5 / 5) 'Awesome Zone'