Album of The Month (September 2022)
---

(5 / 5)
Many will know Beth Nielsen Chapman as a prolific hit-making songwriter. Such legends as Elton John, Bette Midler, Willie Nelson, Bonnie Raitt, Emmylou Harris, Keb Mo and more have recorded her songs and of course, country superstar Faith Hill scored big with Beth's "This Kiss" which achieved a Grammy nomination.
But Beth is very much a triple threat as a songwriter, singer/musician and a superb performer. Her latest album, "CrazyTown" is testament to all of her skills, especially the strength of the songs and her wonderful voice. This is an artist at their very best, writ large!
On her 15th studio album out now via Cooking Vinyl, Beth teams up with five-time Grammy winner, producer Ray Kennedy, whose starry credits include Lucinda Williams, Steve Earle, Shania Twain, John Mellencamp and Taylor Swift.
"CrazyTown"' combines elements of classic rock, blues and pop. A deeply personal collection, exploring themes of navigating the ups and downs of life and love, but with with plenty of light at the end of the tunnel.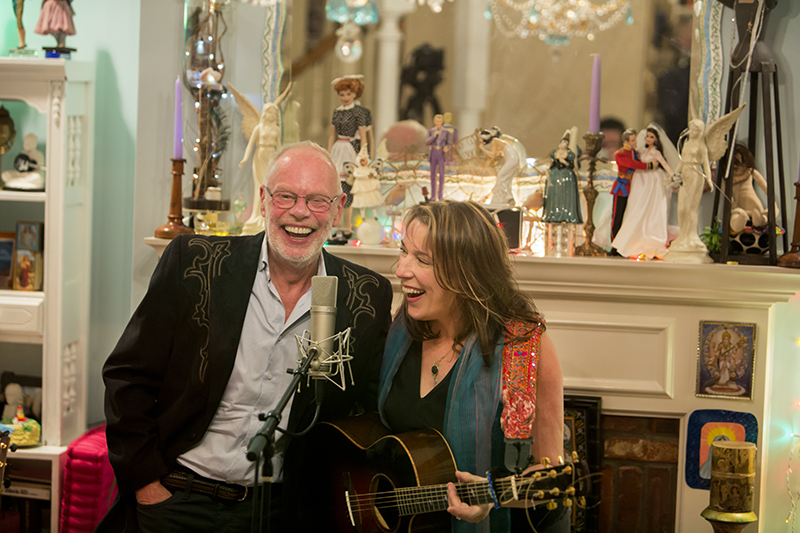 All dozen cuts have a real live feel to them. She stretches her vocal and there's a story there…as Beth explains: "CrazyTown is a bit of a leap for me. I've always loved being in the studio and making records, but I think this experience of these sessions with Ray Kennedy producing really captured the feel and the breath of what happens when I perform live…there's a spontaneity and immediacy to my vocals and the whole sound has a rawness and an edge that I really love."
Though Beth had originally intended to re-record her vocals and guitar, which she always plays simultaneously when tracking sessions, she found this time that she couldn't come close to topping the excitement and energy that got captured as everything went down live with the band.
The opener "All Around The World" has a jaunty Beatles' feel to it; a real Lennon and McCartney vibe to the writing and arrangement, and some nice Harrison-style slide licks for good measure. Lovely vocal from BNC with a lung-busting climax. Great start. (Beth wrote it with Graham Kennedy and 10CC legend Graham Gouldman).
"Put A Woman In Charge" really is a superb piece of song writing with a cool groove too. A powerful, more humanitarian than political, declaration for female leadership, originally written with and released by Keb Mo (ft. Rosanne Cash) and now recorded by Beth herself.
I loved "4LeafClover" and its chugging groove and sassy vocal. Check it out, here:
"With Time" is a beautiful ballad, melancholic lament on the passing of time, illustrating all Beth has ever wanted to say about "wonder and time and love, the magic of life and the breath of our journey through it."
The light touch piano reminds me of Dave Grusin on "With Time". It has vibes of Randy Newman, Carly Simon and Carole King. A song crying out for a big movie soundtrack. Gorgeous emotion-soaked vocal from Beth. The swelling string arrangement with the pretty piano track sprinkles loveliness a-plenty.
"Dancin' With The Past" has some of that Chrissie Hynde-style attitude on the vocal, on a sweet country pop track. Good fit for US country radio methinks. Oh, scrub that; there are no trucks, tractors or black top roads in this lyric!!! Don't get me started!
"The Truth" is a change of pace, on a moody, brooding cut with some sizzling slide guitar work.
Things pick up a gear with the blistering blues rock of tracks like "The Universe", which Beth calls "Jumpin Jack Flash" meets Tom Petty on "The Last Train To Clarksville", and with "Pocket of My Past" – a survivor's anthem about better times ahead with the addictive chorus, "I stuck a picture of my future in the pocket of my past and when I wake up from this nightmare, I will get to live my life at last."
"The Edge", the longest track of the set at over five minutes, was written about losing her first husband to cancer in 1994. "It is about acquiescing to the absolute depths of sadness and fear and a loss of trust in how to turn things around," says Beth. "Sometimes when we are in deep grief we have to speak about the experience because others are there in it too and writing about it and expressing it moves us through it." A stunning track.
Recent single, "Hey Girl (We Can Deal With It)" is a modern blues cut written about celebrating the power of women looking out for their sisters. Ironically completed around the time of the beginning of the "Me Too" movement. Penned with song writing supremo Annie Roboff, one of three co-writes with Annie on this album.
Tumbling along in the feel-good vibes of "Everywhere We Go" is the message about how messed up things can get and how sometimes you've just got to grab that person you love and take a break from it all so as not to lose your mind.
While the melancholic album closer "Walk You To Heaven" is a beautiful comforting goodbye to a loved one written with Kimmie Rhodes and Mindy Smith, in the style of the brilliant John Prine, not long after his death.
Over to Beth to sum up the core being of this set of songs: "It's about navigating chaos" says Beth. "How, even despite everything being crazy, on some level one can trust that things are in divine order and that we will be OK. There's a lot of groove and joy and fun on this album, along with a couple of deep dive ballads."
It is 42 years since the release of her first album "Hearing It First" in 1980, and since then, she really has proven herself over and over again. Her body of work includes seven #1 hits and has often been featured in film and television.
While "CrazyTown" will give fans everything they want from a Beth Nielsen Chapman record, it's actually quite a departure for her, in terms of overall sound and also in the recording process. "I let go more on this record than I have ever before in my recording experiences" admits Beth, who happily let producer Ray Kennedy take the reins on which musicians played on the record. "I turned to Ray and said, put me together a slamming band. And boy did he ever!"
In October of 2016, Beth was inducted into the Songwriter's Hall of Fame, one she considers to be the highest honour she's ever received. There are 12 damn good reasons on this new album that could alone justify why Ms. Beth was awarded that prestigious honour. The collection has such grace, such beauty and of course, such sheer class.
Methinks she ain't done just yet, either!
STOP PRESS: Straight in @ # 1 to the UK Official Country Artists Albums Chart on Friday 30th September. Congrats…See, we told you it was a winner, didn't we? 
Words by Steve Best
---

(1 / 5) 'Dull Zone'

(2 / 5) 'OK Zone'

(3 / 5) 'Decent Zone'

(4 / 5) 'Super Zone'

(5 / 5) 'Awesome Zone'
---
Beth returns to the UK for a 20-date tour this October (2022). Full dates below. Tickets here.
| | | | | |
| --- | --- | --- | --- | --- |
| Tuesday | 18 | October | Stamford | Corn Exchange |
| Wednesday | 19 | October | Frome | Cheese & Grain |
| Friday | 21 | October | Birmingham | Town Hall |
| Saturday | 22 | October | Manchester | RNCM |
| Sunday | 23 | October | London | Cadogan Hall |
| Wednesday | 26 | October | Liverpool | Philharmonic |
| Thursday | 27 | October | Weymouth | Pavilion |
| Saturday | 29 | October | Bexhill | De La Warr Pavilion |
| Sunday | 30 | October | Wimborne | Tivoli Theatre |
| Wednesday | 2 | November | Bury St Edmunds | The Apex |
| Thursday | 3 | November | Exeter | Corn Exchange |
| Friday | 4 | November | Monmouth | Savoy |
| Sunday | 6 | November | Ilkley | King's Hall |
| Monday | 7 | November | Milton Keynes | The Stables |
| Tuesday | 8 | November | Milton Keynes | The Stables |
| Thursday | 10 | November | Stroud | Subscription Rooms |
| Friday | 11 | November | Pocklington | Arts Centre |
| Sunday | 13 | November | Sunderland | The Fire Station |
| Tuesday | 15 | November | Lytham St Annes | Lowther Pavilion |
| Wednesday | 16 | November | Halifax | Victoria Theatre |