---

(5 / 5)
If you seek soothing, calming, low-fi music to chill by, look away now. Nothing to see here, folks!
Livepool quartet The Mysterines have dropped (11th March) a raucous, cacophony of noise across their take-no-prisoners debit album – which is right up my Strasa.
The band's 13-track debut album,"Reeling" via Fiction Records, is a tasty slice of dangerous, rip roaring, in-your-face rock and roll – and the single, "Life's A Bitch", is a perfect sampler to whet your whistle with to get a flavour of what's on offer on the triumphant player. See the video (directed by Steve Gullick) to "Life's A Bitch" below…
Trust me when I say; this band – who are barely out of their teens – are going places based on this first power-packed statement of intent.
Talking of going places, they have landed their first US tour, 15 dates which kick off 3rd May 2022 in San Francisco, finishing up at Daytona Beach. Before that, they tour the UK – dates below – but you best grab a ticket PDQ as their 2020 and 2021 headline tours both sold out.
The Mysterines 2022 headline UK tour dates
18-Mar-22 Belfast Ulster Sports Club
23-Mar-22 Glasgow G2, The Garage
24-Mar-22 Kingston Upon Hull Social
25-Mar-22 Leeds Brudenell Social Club
26-Mar-22 Cambridge Mash
30-Mar-22 Manchester Band On The Wall
31-Mar-22 Birmingham The Castle & Falcon
1-Apr-22 London Electric Ballroom
2-Apr-22 Liverpool Invisible Wind Factory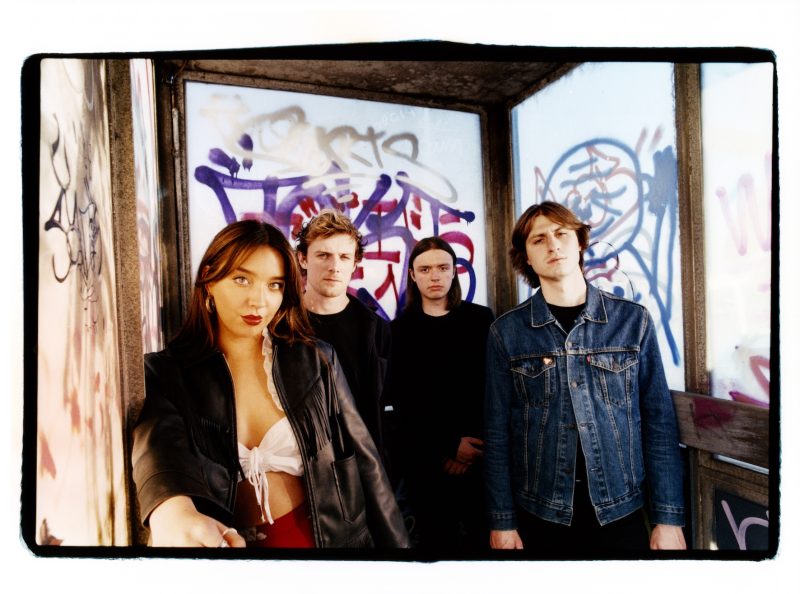 They have supported Royal Blood, The Amazons and Sea Girls on tour, as well as headlined the BBC Introducing Stage at Reading and Leeds. The Mysterines are Lia Metcalfe (vocals/guitar), George Favager (bass), Callum Thompson (guitar) and Paul Crilly (drums).
"Reeling" was produced by Catherine Marks (Wolf Alice, The Big Moon, PJ Harvey) over three weeks in between lockdowns in London, recorded live to capture the intensity of the songs.
Grief, self-destruction and heartache run heavy through the record, but all are brought together by the blackest of humour. The dirty desert blues of "Life's A Bitch" was actually meant to be the first single…. but Lia explains why it was not: "…It turns out I say 'bitch' too much on it," she chuckles.
There have been comparisons to the power, attitude and energy of The Stooges with this record. The Mysterines' red hot track "The Bad Thing", definitely pays homage to Iggy and the chaps. About this track, Lia says: "It's the most fun to play, and the words I find really funny as well – I'm digging someone up from the grave that I used to love."
Well she may be digging up a body, but there's many, many, many sets of ears gonna be digging this exciting band and their fabulous debut album. (See what I did there?) Got a feeling my bones that these Scousers are gonna blast into orbit pretty soon….
By Steve Best
---

(1 / 5) 'Dull Zone'

(2 / 5) 'OK Zone'

(3 / 5) 'Decent Zone'

(4 / 5) 'Super Zone'

(5 / 5) 'Awesome Zone'
---
Band photo: Steve Gullick