---

(5 / 5)
Langan, Frost & Wane: Self-titled album, out now on Goldstar Recordings, offers up 15 beautiful tracks that hark back to folky, flower power, pyschedelic, summer of love days.
It is unashamedly "retro" and very, very well done. If you dig Robin Williamson's Incredible String Band and such bands and artists as Strawberry Alarm Clock, The Youngbloods and Scott McKenzie, then this is deffo gonna be your bag.
Most of the titles of the material among the 15 tracks on offer here perhaps give a big clue as to what kind of vibe to expect: "Perhaps The Sorcerer", "The Dandelion", "Babe And The Devil", "King Laughter", "Learn The Name Of The Plants", "Libra moon", Alchemist Of Hazy Row", "The Weaver And The Traveler" and "Orange Magic".
(Although, one of our "wits" here at Music Republic Magazine did wonder if the final track of the set "Diomyria" was a song about a severe stomach complaint! Ignore him, we do!
If these guys had not been so flipping good at what they do, and clearly invested a heck of a lot of time, effort, love, blood, sweat and tears to make this project work, it could have turned out an unholy mess and come across as a parody.
Strolling minstrels in the middle of a forest about to be attacked by Monty Python's Holy Grail characters! But they definitely pulled it off, so this is very much pastiche not parody. We may be forgiven for thinking this is a long lost work dug out of a dusty vault or attic in California by a Mama and Papa or the likes of Donovan and their ilk.
Langan, Frost & Wane is actually collaboration of three songwriters, writing in the folk tradition and drawing candidly from the folk revival of the mid-twentieth century. The first single "King Laughter" can be heard at the bottom of the page, via the official video. A folk tale of excess and power complete with obligatory sitar. (For you gear heads out there;  said sitar is actually a Peavey electric guitar.)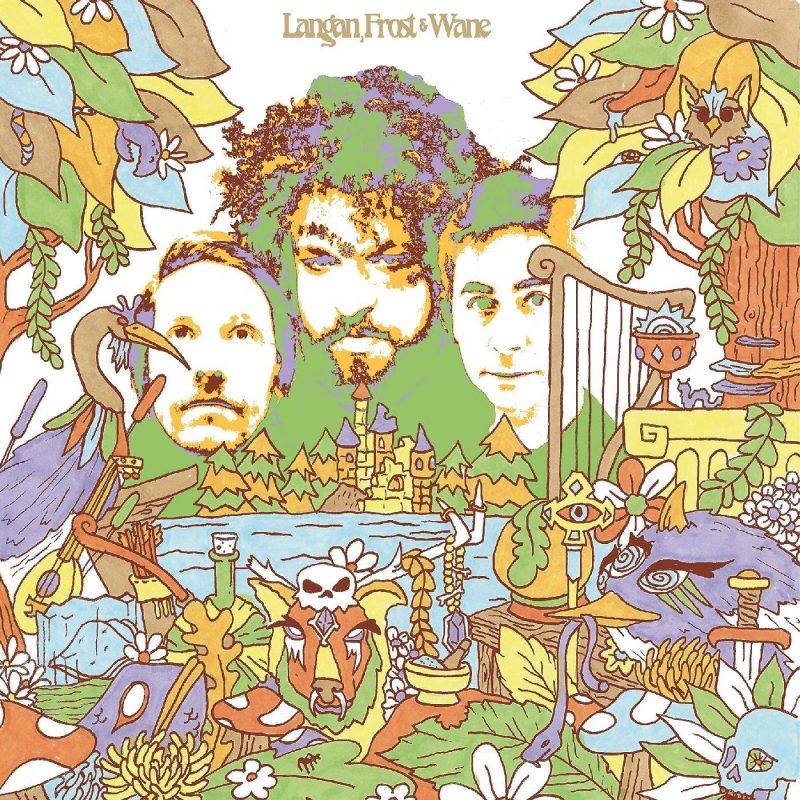 Langan, Frost & Wane began as a vessel for Brian Langan and RJ Gilligan (aka Frost) to explore a territory they otherwise had no outlet for in their music. While Langan's past work with "The Swims" and "Needlepoints" was geared more towards well-crafted pop and boogie, Frost's output from "Meddlesome Bells" and "Dark Web" was heavier, more riffs – more punk. It was in Langan, Frost, & Wane that they found a common ground.
As work on the album began, themes emerged. What is it that allows a song to be playful, yet sombre? How can the music tell a story on its own, apart from words? It was the same territory that the wild raucous flutes occupied on early Incredible String Band, or the second half of Donovan's "A Gift From A Flower To A Garden". They set about to capture it.
Frost ran a small studio and field recording label in Philadelphia, "Bells Records", allowing the duo to dive into different tracking arrangements and experimentations, building out each song organically over a period of time.
After wrapping up a season of sessions, Frost suggested Nam Wayne (Wane) to Langan as a possible third collaborator. Wane and Frost had been trading folk songs for some time, and it became clear he was on a similar quest. After an evening of impromptu song writing among the three it was settled, and the project solidified.
The group is driven by Langan and Frost's finger-plucked melodies on guitar, complimented with 'found sound', instrumentation of the Middle and Far East, India, the Mediterranean, and Appalachia. For those of you too young to be around back in the 60s, this is pretty much what the Hippy movement's "peace and love" era sounded like…If this record had dropped back then, these guys would be big stars by now.
The PR blurb with this album, states: "It is the belief of these songwriters that they succeeded in what they set out to do. This body of work is the culmination of those long hours spent searching for what is not lost, but perhaps sometimes forgotten." Music Republic magazine wholeheartedly concur, sirs. Bravo….
By Christopher Weston
---

(1 / 5) 'Dull Zone'

(2 / 5) 'OK Zone'

(3 / 5) 'Decent Zone'

(4 / 5) 'Super Zone'

(5 / 5) 'Awesome Zone'