---

(5 / 5)
Eddie Martin. For blues fans in the UK, he probably needs no introduction. But this cool dude deserves global attention for his prolific roots songwriting, vocal chops and sublime guitar skills – electric and acoustic.
Mr Martin's latest album  – his 17th – is a cut well above most UK-produced blues releases, and worthy of praise for its simplicity and less-is-more approach to the instrumentation, performances and arrangements.
But the material here is King and very classy. One cover, and 13 originals penned by Eddie. If raw and stripped-down, mostly acoustic blues and gospel are your bag, please step inside. (There's one electric track here).
When the pandemic hit, like most pro' musicians with no work and no band members to call upon for more than a year, Eddie learned how to sound engineer and how to play a few more instruments.
But above all else, he wrote, wrote and wrote new songs. "The Birdcage Sessions" idea was about new songs being set free like little birds, reminding, embodying and promising the feeling of freedom again.
The songs were inspired by the events of 2020-21. The murder of George Floyd and the BLM awakening had a big impact. Some songs began as tributes to guitar stylists from the Afro-American legacy whom Eddie has long studied.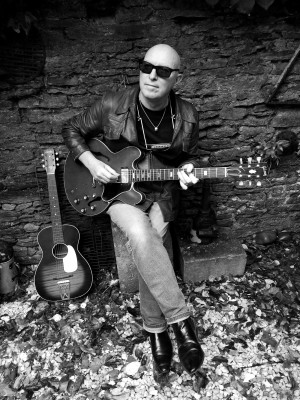 Charlie Patton, Son House, Robert Belfour and Fred McDowell,  in particular. Some started with poems. Many deal with the human relationship to nature in a year when things went so horribly wrong.
Eddie says: "The English songwriting tradition was buried under a factory in this cradle of capitalism, so many of my generation grew up looking across the Atlantic for inspiration.
"As well as the Afro-American music forms that I have been studying in detail since I was 15, the folk boom of the 1960s joined the Beatles/Classic Rock era influences of my peers.
"Lyrically, Porter/Gershwin/Rodgers/Louis Jordan/Dylan and Cohen are among the bigger waves in the sea of influences on my own songwriting".
Eddie's son Xavi played cello on three tracks, but everything else on the record is Eddie in his home studio. Even the CD art is from Eddie's creative hands. Who said men cannot multi-skill?
So, what do we know about Steady Eddie? London-born, weened on folk, electric blues and classic rock that left him as at home with acoustic as electric instruments, and a deep respect for the music's Afro-American roots. A prolific songwriter since the age of 16, his albums have ranged from one-man-band to big band to power-rock trio.
Touring 35 countries and with a string of national and international awards and nominations, (including Winner in the 'Best Solo Artist' category in the 2018 European Blues Awards), he earned the affectionate label, "The Ambassador of British Blues".
His 2019 long player "Thirst" was an album which we at Music Republic Magazine had on our "Best Of" list that year. His songs have graced TV and film soundtracks, frequently broadcast on international radio, performed many times on TV and recorded three sessions for BBC Radio 2, including at the famous Maida Vale Studios.
For two years he played the US "chitlin circuit" from a base in Texas, and landed one-man band residencies on Beale Street in Memphis and in the Juke Joints of Clarksdale, Mississippi. Now back in the UK and at the top of his game it seems, based on this new record. And so we dive in…..
Track one, "Before We Wake", opens his account with great promise. A raw and stripped down, acoustic slide-soaked blues with a vocal that holds the attention throughout.
"Home", is another swampy, sparse blues, and another strong vocal. Harp licks give it the Deep South flavour. Putting me in mind, like a lot of the set here, of the likes of Tony Joe White, Eric Bibb and Keb Mo and their premier roots/blues/gumbo.
"Breakeven Blues" livens thing up a tad, with a jaunty acoustic resonator-focused ditty; understated playing that should be respected, and the vocal once again, on point.
"Happy Broke And Free", the album's second single, features one of my pet hates on a recording: whistling!!! Like nails scraping down a blackboard to my ears!
But it's a good song which reminded me of early Ray Davies/The Kinks and the late and great Ronnie Lane. A commercial cut, ready-made for a radio single (edited to lose the damn whistling, plleeease!!)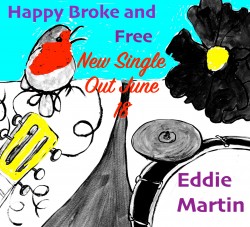 "Skylight", sounds more like a work in progress to me. More folk than blues/roots. The electric track pops up at track six: "I Long For A Sail". Grunged-up blues-rock, a la Rory Gallagher/Free/Bad Company. Eddie's vocal phrasing and timbre in the same pocket as Paul Rodgers and the guitar licks are superb.
"Bird Cage Blues" marks the half way point on the album, and returns to the raw and stripped back acoustic blues. Love the laid back but still gutsy guitar brush strokes, which contrasts nicely with Eddie's full of heart vocal delivery. A stand out track.
"River Song" sees Eddie slip back into the Paul Rodgers/Free/Bad Company vibe, with a restrained vocal, bubbling guitar and distorted harp licks. Will become a favourite for his fans, I am sure.
"Falling" delivers some light and shade to the more groove-laden, up-tempo stuff, on a track that comes in at less than two minutes. Preceding "Kitchen Boogie", with his harp playing the focus, and no vocal this time. It does what it says on the tin: Boogies. Note: Other rooms are available to strut your stuff in, to this fun cut!
"Lazy Sunday" is another one like "Skylight", which just didn't do it for me. Second instrumental of the set, "Amazing Grace", the traditional gospel number that Eddie makes his own on national steel guitar; just the guitar on a slow melancholic tip.
The sole cover on this album, Eddie played the song at his best friend's funeral and it is included here as a heartfelt act of remembrance to those we lost from Covid.
This version evokes back-porch family gatherings on the cotton plantations of the Deep South back in the day….
You can keep your shredders and those blues axe men who play 30 notes a second with zero feel or soul. Gimme more of this stuff please…..The Cohen Brothers should get a load of these tracks for a sync' deal for their next movie or TV drama. Perfect fit.
Penultimate track, the funky blues, "Too Much Choice" is a neat job. I liked the lyrical idea: "There's too much choice of the wrong kind of things". Amen to that. The album closes in fine style with the instrumental "Country Walk", and Eddie's skilful finger picking to the fore on an infectious country-blues riff.
Eddie Martin has surely got to be be the finest exponent of acoustic blues in the UK, and right up there with the best of the more well known international artists too.
A Blues Master", say the New Jersey Times. "Phenomenal Guitarist – the stuff of legend", says Guitarist magazine. Legendary broadcaster Pauls Jones calls Eddie's stuff, "Excellent."
Well, no argument here with those plaudits and accolades. Real blues for a change, from a gifted and versatile artist who should have become a household name by now, if it's based on talent, that is….He has certainly paid his dues and stayed the course.
By Steven George
---

(1 / 5) 'Dull Zone'

(2 / 5) 'OK Zone'

(3 / 5) 'Decent Zone'

(4 / 5) 'Super Zone'

(5 / 5) 'Awesome Zone'