---

(5 / 5)
If you are superstitious, then Friday the 13th is a day you may spend trying not to walk under ladders, spilling salt or seeing only one magpie. 13: unlucky for some, they say.
Well, not for US singer-songwriter, country superstar Chris Stapleton who drops his fourth album on that date in a few days' time, and trust me when I say, luck, good or bad, cannot affect the outcome of this release.
It really is a triumph. "Starting Over", the highly anticipated new studio album from Chris Stapleton is 14 tracks – 11 originals and three covers – that carries no fillers. There really is nothing to pick fault at here. Chris's first new studio album of new material since 2017.
THE country album of 2020. Scrub that. I'm doing this a disservice by shoving it in the pigeonhole of country. It's far more than that. It's gonna appeal to you if you love country, folk, Americana, soulful stuff and well, just great music. An artist with a voice that many would do a deal with the devil, to possess.
Completed in late February only days before the lockdown began, the songs examine life's simplest joys and most serious struggles. Alongside the 11 written by Stapleton with both longtime friends and new collaborators are the three carefully chosen covers. John Fogerty's "Joy Of My Life" and Guy Clark's "Worry B Gone" and "Old Friends".
Recorded at Nashville's historic RCA Studio A (with additional work done at Muscle Shoals Sound and Compass Sound Studio), produced by Dave Cobb (who also plays acoustic guitar), the record features Chris' wife, Morgane Stapleton (vocals, tambourine), with longtime bandmates J.T. Cure (bass) and Derek Mixon (drums).
Special guests include legendary musicians Mike Campbell (electric guitar), Benmont Tench (Hammond B3 organ) and Paul Franklin (pedal steel) as well as the Nashville Urban Choir who are featured on the track "Watch You Burn".
The Kentucky-born star has picked up five Grammy awards, seven ACM awards, 10 CMA awards and five Billboard awards. He has shipped more than eight million records in his career so far.
Following 2015's quadruple-platinum, breakthrough solo debut album "Traveller", he followed up with two number one albums in 2017: "From A Room: Volume 1" (certified platinum) and "From A Room: Volume 2". Both with Dave Cobb at the helm.
Recently announced as the first-ever "Artist-Songwriter of the Decade" recipient by the Academy of Country Music and, next year, the subject of a new exhibit at the Country Music Hall of Fame and Museum in Nashville.
The new album kicks off with the title cut, "Starting Over", which Chris wrote with Mike Henderson. A great start. Sparky, acoustic guitar-led track which should leave listeners wanting more.
"Devil Always Made Me Think Twice" (Stapleton and Al Anderson) is a Tony Joe White style swampy groove, and a shoo-in for a Clapton cover. Also nods to CCR. Great raw vocal. Hot stuff, before it gets Cold!
"Cold" – One of the songs and vocals of the year for me. This will be covered to death over the next few decades. Great string arrangement too. A co-write with Dave Cobb and J.T.Cure. Hear it below, on the lyric video…That vocal really is freaking awesome!
Traditional 'tears in your beers' country ballad in the Willie Nelson and Kenny Rogers territory with "When I'm With You", penned by Chris. Some good old fashioned rock and roll next, and a raunchy as heck vocal on "Arkansas", another song that nods to CCR, this one written with Mike Campbell.
Talking of CCR, "Joy Of My Life" is a John Fogerty song, who was of course, lead singer of Credence. A gentle mid-tempo, acoustic guitar-soaked love song, with a raspy but sweet and soulful vocal. A beautiful job and he sells every word. I could have imagined Rod Stewart and the Faces covering this song back in the day. The guitar riff will stay with you for a while.
"Hillbilly Blood" a Stapleton-penned song, stays with the slower pace – a moody, rootsy, country track. "Maggie's Song" another one he wrote on his own, is one of those songs you may think you've heard before.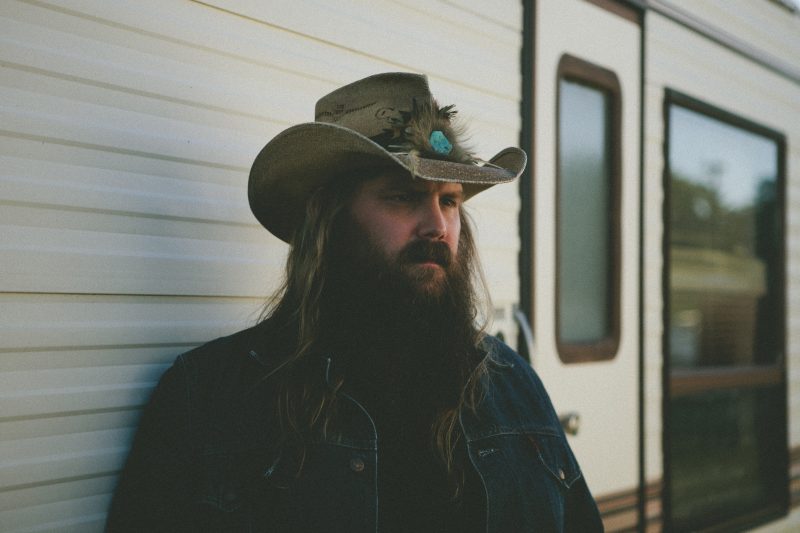 Tom Krekel co-wrote on "Whiskey Sunrise", where gasoline and razor blades fuel the vocal and there's some fabulous guitar work.
"Worry B Gone" is one of two songs on this album co-written by the late and great country singer-songwriter and luthier Guy Clark. He left us in 2016, but his legacy lives on in his 20 albums and the array of covers of his extensive back catalogue.
Legends such as Willie Nelson, Johnny Cash, Steve Earle, Jimmy Buffet and Lyle Lovett covered his songs. This one he wrote with Lee Roy Parnell and Gary Nicholson.
The second one here from Guy Clark is "Old Friends", this one penned with Susanna Clark and Richard Dobson.  Both songs earn their place in this collection, and Chris does both much justice.
Wanna hear Chris snarl the insult, "You son of a bitch, you're gonna get your time?" Another swampy, bluesy cut. That back of the throat growly rasp is tapped into in fine style. The ensemble backing vocals add value.
"Watch You Burn" Chris wrote with Mike Campbell, best known as a member of The Heartbreakers with the late Tom Petty.
One of my faves here, "You Should Probably Leave", sounds like it's an old r&b/soul song, dusted off and hand picked from the vaults of Hi Records, Stax or Atlantic. It's got that Al Green drum sound and a very soulful groove to it. Written by Chris with Ashley Gorley and Chris DuBois.
Chris and his wife Morgane craft a song about Music City for the final track. "Nashville, TN",  a lovely close to this sparkling gem of an album. The soaring and gorgeous pedal steel from Nashville 'A-List' session legend Paul Franklin pokes at your solar plexus.
If you can listen to a Chris Stapleton vocal and not be moved emotionally, especially on this record, please get help. Meanwhile, Chris will probably need to invest in a much bigger trophy cabinet!
By Simon Redley
---

(1 / 5) 'Dull Zone'

(2 / 5) 'OK Zone'

(3 / 5) 'Decent Zone'

(4 / 5) 'Super Zone'

(5 / 5) 'Awesome Zone'