---

(4 / 5)
"Phil Lynott: Songs For While I'm Away" is a well put together, revealing and emotion-soaked feature documentary – one hour and 52 minutes – on the life and music of Phil Lynott.
Telling the story of how a young black boy from working class 1950's Dublin, became "Ireland's greatest rock star". As lead singer of Thin Lizzy, Phil Lynott was "a songwriter, a poet, a dreamer, a wild man".
Director Emer Reynolds tells the story of Lynott's life and career, partly through the words of Phil himself on audio-taped recordings, and from various "talking heads", most who knew the man intimately.
Focused on some of his iconic songs, the film aims to get to the heart of Philip, "the father, the husband, the friend, the son, the rock icon, the poet and the dreamer".
A Globe Production in association with Fís Éireann/ Screen Ireland. It is produced by Alan Maher and John Wallace for Cowtown Pictures and Peter Worsley for Eagle Rock Films and directed by Emer Reynolds.
In cinemas from 30th October 2020, (3rd November in London) and its Ireland release later in November. No DVD release announced as yet.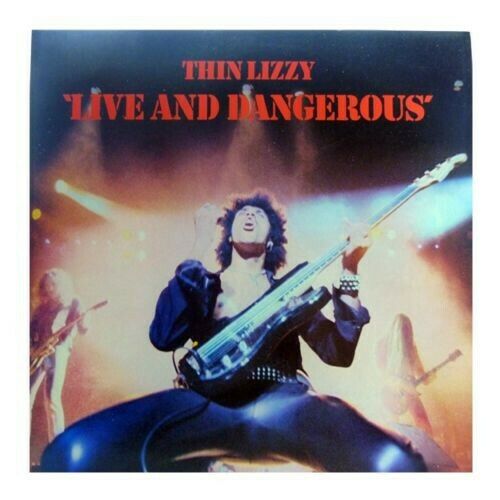 The film traces Phil's life from birth on 20th August 1949 in West Bromwich, England, to his premature death at the age of 36 from pneumonia and septicaemia on 4th January 1986 at Salisbury General Hospital.
I met Phil a fair few times over the years, as a music journalist and photographer. Mainly from 1978 to circa 1982 or 83. I always found him to be a decent guy, a quiet man and with deep respect and devotion to his fans.
Backstage and in the hotel, he was usually sat quiet and sometimes thoughtful, taking it all in and seemingly not wanting to be centre of attention off stage. Very warm and friendly to the fans.
He genuinely cared for the guys and gals who coughed up hard earned cash to buy concert tickets, the band's merch' and records. Seen it with my own eyes many times, after shows.
My younger musician brother was and still is a big Lizzy fan and as a youngster of school-age, used to come with me to gigs I was covering and then I'd take him to meet the band afterwards.
If I was there on my own, Phil would always ask "where's your brother?", and check he was OK. He used to pick my brother out in the crowd and give him a few flashes of the reflection of the spotlight on his mirrored scratch plate on his bass guitar, and a cheeky grin.
My brother has a bunch of signed photos, programmes and record covers, and other memorabilia Phil and the band made sure he was given at each meet. So from a life-long fan's point of view, I asked my kid brother what made Phil Lynott special. "His songwriting that came from the heart and his love of poetry, I suppose. He wrote a couple of poetry books.
"He was also a great showman who knew how to control a crowd, and of course, he had a unique voice. There was only one Phil Lynott. No one like him before or since…."
I shot many photos of them across those six or so years, and always feel incredibly sad when I look at them and see Phil, full of life, even now some 34 years after his passing.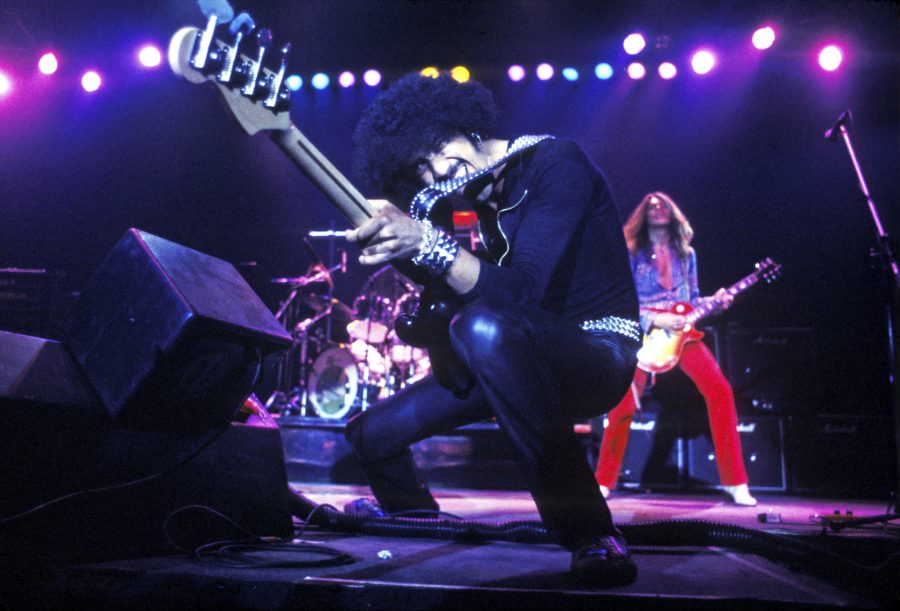 There was only one occasion when I saw a different side to him, when he blew up at me during a sound check when I was taking photos stood on the side of the stage. On an AAA pass and fully authorised by the band's management and PR people. Phil, the band and some of the crew all knew me, of course.
Phil got the hump that these photos would show him in donkey jacket and woolly hat! So, I had to stop shooting and promise not to use those few shots. When I came back to shoot the gig that night, I met Phil on my way up the stairs backstage from the stage door, and he hugged me and apologised for his outburst and being in a "fecking shitty mood".
His reason for this bad mood: "It's because I have missed Coronation Street for the last week, while we are on tour. I always get like that when I cannot watch it!" The tour manager backed up his excuse. To this day I am not entirely sure if that was a big wind up, or if he was being serious. Love to think it was fact!
The "talking heads" featured include family: His ex-wife Caroline – nee Crowther, daughter of the late British entertainer Leslie Crowther, and now Caroline Taraskevics – and his two daughters Sarah and Cathleen.
Their contributions reveal a lot about the man as a husband and a father. Caroline was 18 when she met Phil, first on the 'phone when he would call in to the office where she worked, for the top music PR firm who had Thin Lizzy on their roster.
Then when she saw the band in concert at Hammersmith Odeon, she was, as she says in the film, "hooked". They married in 1980 in Richmond, Surrey and had two daughters, Sarah and Cathleen. They moved to a fishing village near Dublin, but Phil spent much of his time at their London home or on the road touring.
Phil of course, wrote a song with Gary Moore about his baby girl "Sarah", and in the film, the adult Sarah speaks about feeling close to her late father when she hears that iconic song. He penned another song for his second daughter "Cathleen".
Caroline says: "He was a very, very complex person who could constantly surprise you". She adds: "He was shy, a dreamer, had a huge heart. He was sensitive…." Phil and Caroline were together for seven years, from when she was 18 to 24 and then they divorced.
His two daughters feature a few times, and speak about the media and public focus on his death, wishing there was more emphasis on what he accomplished while alive and the man he was away from the band. An ex-girlfriend of a few years also contributes.
Huey Lewis, (who had some part-finished songs he had recorded with Phil when he died), says Lynott was the best hard rock entertainer he had ever seen. A good pal of Phil's since Huey's early band Clover, supported Lizzy on US dates. They had a tough time when the crowd were yelling for Lizzy throughout Clover's set. Lynott taking Lewis to his dressing room for a pep talk and a morale booster.
Phil with memories of the tour Lizzy did with Slade back in the day, when they got similar treatment. Phil swearing at the audience to "give us a f*cking chance", before Slade's manager (bassist with The Animals and Jimi Hendrix's manager) Chas Chandler, threatened Phil and the band with the sack from the tour for his outburst.
From that moment, Phil studied Noddy Holder every night from the wings, determined to turn a corner and use stage craft and personality to win over the audience, as well as their infectious, hard rockin' music.
Soon after, Phil turned up in the dressing room and showed off a mirror from a budgie's cage, with the idea he would use it to reflect the spotlight into the eyes of "chicks" in the audience – having seen the mirrors adorning Noddy Holder's top hat. A trick he expanded with the addition of a mirror on the scratch plate of his bass guitar. One of his trademark moves throughout Lizzy's career.
Metallica's James Hetfield is a huge admirer of Lynott, and admits to borrowing a few stage moves from Phil. "One of the greatest songwriters of all time. He was fearless in his song writing". Metallica covered "Whiskey In The Jar", Lizzy's first hit.
Midge Ure, who got called in to a US tour to take over as one of the two guitarists in the band when Gary Moore quit mid-tour, spoke about Lynott bringing poetry into rock music.
Lizzy keyboard man Darren Wharton praises Phil's sincerity with the audience. "He knew how to connect with them. It wasn't an act. It was Phil". U2's Adam Clayton is among the interviewees in the film who speak about Lynott being born to be a rock star.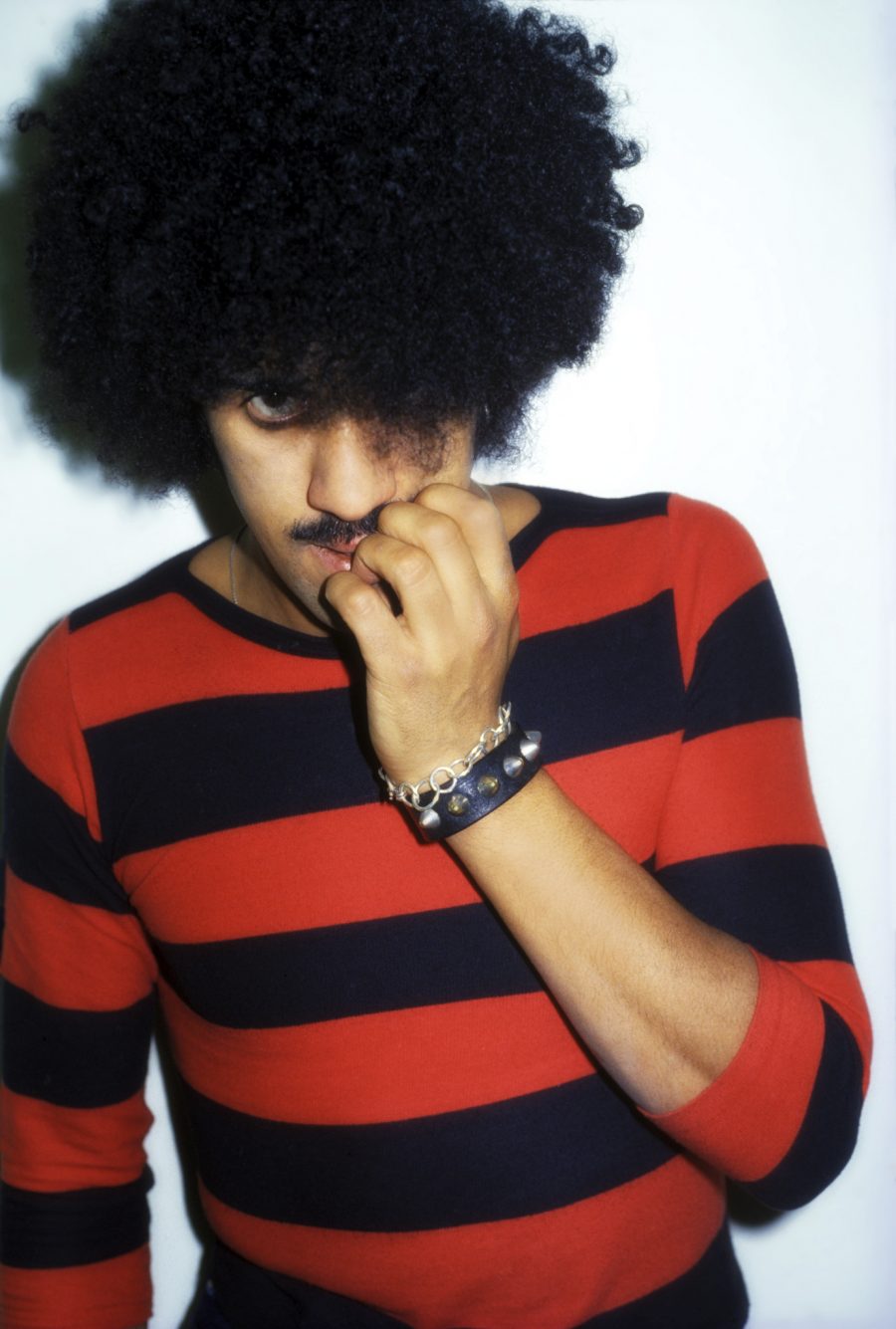 The longest serving of the six guitarists who passed through the ranks of Lizzy – Eric Bell, Scott Gorham, Brian Robertson, Gary Moore, Snowy White and John Sykes – Gorham, is the sole interviewee from the most successful Lizzy lineup. (Not counting Midge Ure, who was only in the band for part of a US tour). Scott's insight is touching and no holds barred.
Eric Bell from the very first lineup as a trio with Phil and drummer Brian Downey, is heavily featured and for me, gives the most revealing anecdotes about the band's origins and Lynott's mindset and determination to become a rock star, no matter what.
Eric reveals his first meeting with Phil and Brian was when he (Eric) was on his first ever trip on LSD. He had quit a decent job in a pro' Irish showband and wanted to form a rock band. He saw the band, The Black Eagles fronted by Phil and on drums was Brian Downey, and asked Phil and Brian if they were up for it. Phil said yes, but with his songs.
The band arrived in London to record their first album, and Eric Bell says while they were by then a big band in Ireland, over the water they had to start again, and lived in a squalid attic and one bedroom, with a porn film maker next door. No one knowing who they were outside of Ireland. Phil was met with signs in some windows in London; "No Irish, no blacks, no dogs".
In late 1972 after constant gigging up and down the UK, they got the Slade tour support slot. Suzi Quatro was also on that tour and in the film she talks about the hostility towards Thin Lizzy from the Slade fans.
New Year's Eve of 1973 and the original line-up played for the last time. A worse for wear Eric Bell lobbing his guitar in the air mid gig and letting it crash to the stage, and walking off to quit. But it took only until spring 1974 for Phil to reform the band, with twin lead guitars this time, Scott Gorham and Brian Robertson.
Philip Parris Lynott was born to his young single mother Philomena. Her voice is heard on recordings in the film. She passed away in June 2019 at the age of 88.
She was 17 when she moved to England from Dublin, where she was a nurse in Manchester and says she got "battered and beaten" because she was the mother of an illegitimate black baby. Phil's father Cecil Parris, moved to London but he did send money to support his son. She told her son he worked in a London barber's.
Lizzy's first manager Terry O'Neill revealed Phil did look for him once, when he was 21. When Lizzy first left Ireland and came to London. He trawled the barber's shops in a fruitless hunt for his dad. Quite a sad thought.
Philomena struggled on her own in England and begged her mother for help, who said she would bring up Philip in Dublin. Philomena stayed in England and at eight, Phil moved to Ireland to be brought up by his grandmother. He still adored his mother to his last breath, and bought her a house when he "made it". She was by his bedside when he died.
Phil explains on a recording that there were nine in the family at his Grandmother's house, with two bedrooms and an outside toilet.
His uncle Peter tells the tale of Phil's first day at school in Dublin and being the only black kid at the school, and possibly the sole black person in Ireland in the 1950s, he got some stick. But from day one, when boys called him "blackie", Peter and Phil "got stuck in" and fought anyone who called him names for the colour of his skin. "It was pandemonium", Peter recalls.
Phil showed a rebel spirit from a young age and throughout his life and career as a rock star. While at school, he joined his first band, a Crumlin teenage showband called The Eagles, who changed their name because of the US country rock band of the same name, and because Phil was now their lead singer – to The Black Eagles.
In that band he met Brian Downey and of course, Brian was drummer in Thin Lizzy from day one to the end of the band. I was surprised he is not interviewed in the film.
Phil is recorded talking about him and Brian getting a careers talk from the headmaster. "He said what do you want to be? Do you want to have a trade and a good steady job or do you want to be a dirty rock musician?" I think we know the answer!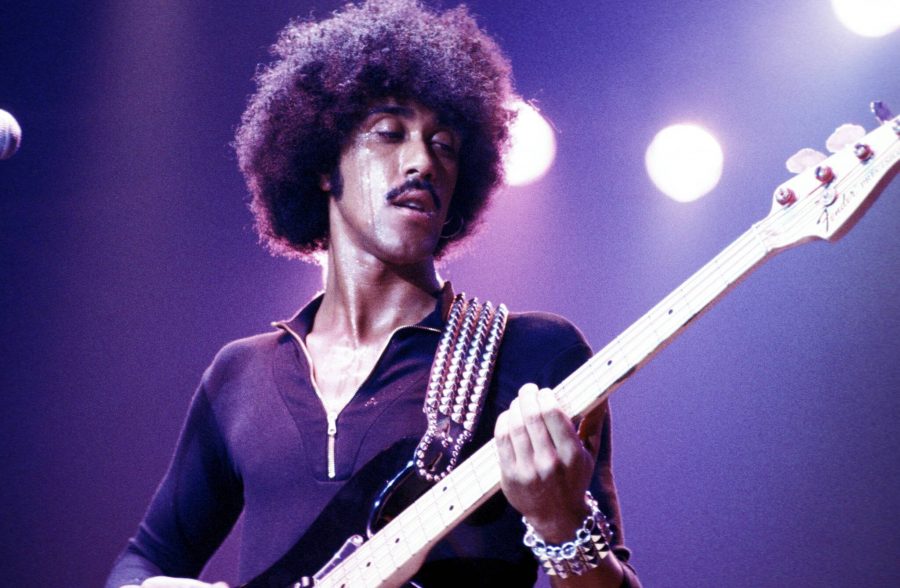 He fronted several bands as a lead vocalist, including Skid Row alongside a 16-year-old Gary Moore, before learning the bass guitar and forming Thin Lizzy in 1969.
So what did we learn about Phil as a person and as a youngster? He was "obsessed" with cowboys, cowboy movies, The Lone Ranger, Irish myths and legends, comic books such as The Beano and The Dandy. Thin Lizzy got their name from a character in The Dandy: a female robot called Tin Lizzy. 
It shows him as a quiet, shy, sensitive and perhaps slightly tortured soul, away from the stage and cameras. A man wrestling with his demons and who gave in to hard drugs which eventually contributed to his far too early demise.
If you want lurid tales of sex and drugs and rock and roll, this is not the movie for you. This is far more about the human being and the proud Irishman, than it is about the salacious anecdotes about a rock and roll icon. 
Phil's drug habit – which it is said got worse around the time of the "Black Rose" album, is briefly touched upon, when there's footage of him singing "Got To Give It Up",  a song which features the lyric: "It's killing me, killing me, Oh that stuff, Got to give it up". An obvious note to self. His fabulous song, "The Sun Goes Down" also gives a clue, with the lyric, "There is a demon….".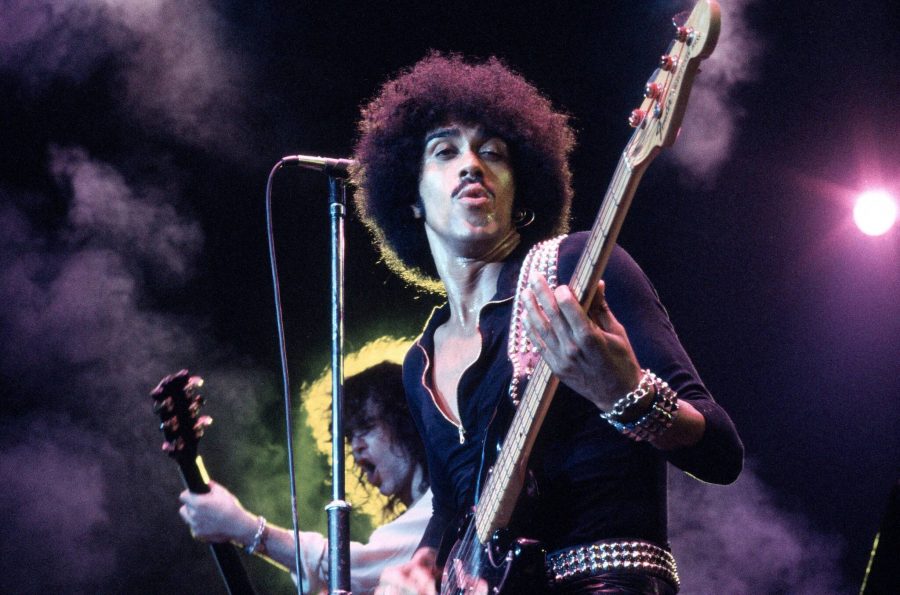 What made Thin Lizzy special and why they can still sell records today, and why their timeless songs are often used on film and TV soundtracks? Well, for me, they had no formula or template. No trend-chasing or going for hit singles. They wrote what they wrote. It came out as it came out. But whether it was rock, pop or hard rock, at its core was one constant: Phil Lynott's voice, his soul-baring songwriting and his amazing stage presence.
But while the band may have cracked it over here, they had a run of bad luck trying to crack the US. The first US tour was scrapped when Phil got hepatitis. He had treatment and then went into the studio, and in a 14-month period, they made three albums. "Jailbreak", "Johnny The Fox" and "Bad Reputation".
But when "The Boys Are Back In Town" gave them a hit over there, their fortunes changed for a while. They'd had two albums that didn't sell well, and badly needed a commercial hit. They got it. Phil originally called the song, "GI Joe Is Back".
On the third US tour, guitarist Gary Moore quit mid-tour. Midge Ure talks about getting the call from Phil to step in and get them out of trouble. He was on the 'plane – Concorde – the next day, learning the songs on a tape machine on the flight over, and joined the band on stage for the rest of the tour.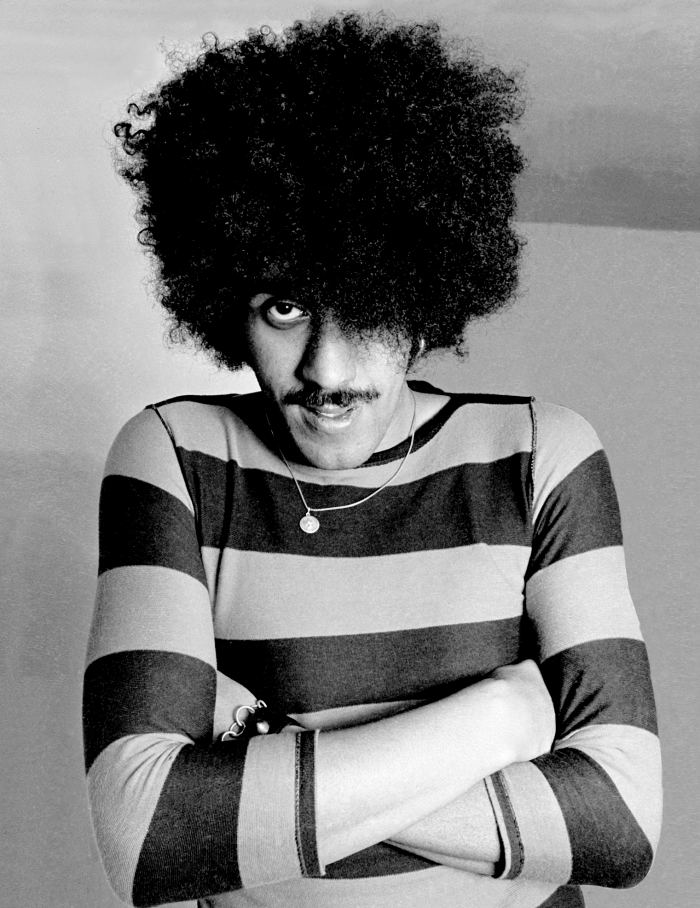 September 1983 in Germany was to be the last ever Thin Lizzy gig. Phil formed Grand Slam after that, but that band was never a commercial success. He did various collaborations too, but nothing on the scale of Lizzy. He did have a little success as a solo artist.
The saddest scene in the film for me, was the footage from Phil's funeral where you see his two young daughters in matching black coats with their mother in the aisle of the church, their Daddy's coffin a few feet away, a large floral wreath in the shape of a bass guitar propped upright.
These two bewildered little girls who Phil doted on, each clutching a single red rose. Such a heart wrenching image.
Philip Lynott R.I.P. Sadly missed…..he may be gone, but no way will he be forgotten; with such a great musical legacy that he left behind. This light-of-touch film pays very respectful tribute to the man, and deserves to be seen.
"Phil Lynott: Songs for While I'm Away" is released 30thOctober (3rd November in London)  – visit phillynottfilm.com for further information. The film will screen at Doc 'n Roll Film festival in London on 1st November.
By Simon Redley
---

(1 / 5) 'Dull Zone'

(2 / 5) 'OK Zone'

(3 / 5) 'Decent Zone'

(4 / 5) 'Super Zone'

(5 / 5) 'Awesome Zone'