---

(5 / 5)
Ian Dury almost got me sacked!
Back in the late 70s and early 80s, I was resident DJ in a trendy club in Leicester. It was on three floors – a restaurant on the upper floors and a cellar bar/disco.
The decks were in the basement by the dance floor. I used to get there well before the place opened and check the equipment, clean the gear and my records, replace any knackered light bulbs and get my head back in the game for another five-hour session.
Write down any stuff I needed to announce during the night, get any briefing from the venue's management and give any demo/promo records I had been sent c/o of the club, a spin. Plus, plan my set based on what night it was and what kind of clientele were usually in on that night.
When I was ready, and the doors were opening, I would usually stick an album or two on while the place was empty or there were only a few early doors punters in, who would be sat chatting away and not interested in the dance floor.
The upper floors all had PA speakers so the music from my decks would be heard in the eaterie and upper floor bar.
So, on this Friday night, I stuck an album on and was chatting to the bar staff and the bouncers. Checked there was still a few tracks left to play on the album I had put on, and nipped up to the top floor to use the private toilets.
I am in there and I hear a voice yelling my name. It was one of the owners. A fiery Irishman called Derek. Hang on a minute, I'm busy, I shout back. His voice gets louder, and demands my presence!
Red faced, he is outside the door and in my face. "What the **** do you think you are playing at?", he screams. I say, "Er, I am allowed a toilet break," to which he replies: "Yes, you are but not when you empty half the ******* restaurant at the same time, you are not!"
What the hell is he on about? He then leads me down to the basement and my decks, and the bar staff are all there looking stony-faced. No music playing. Decks switched off at the power socket.
Why? Because track nine on Ian Dury and the Blockheads' awesome 1977 album "New Boots And Panties!!" had come on while I was otherwise occupied, and the track , "Plaistow Patricia" starts with this line:
"A*seholes, b*stards, f*cki*g c*nts and p*icks" – but without the * in the offending words – sung Ian Dury at the top of his voice!
The ladies and gentlemen of Leicester city having a pre-night out meal in all their finery, choked on their smoked salmon and Chablis when the torrent of foul language came blasting over the PA, unbeknown to me!
The boss was not amused and told me that if he could find a replacement to do my job that night at such short notice, I'd be up the road and done – convinced I'd done it on purpose, as a prank maybe! The complication was, I was a tenant in a flat he and his two business partners in the club owned.
It is only some four+ decades later that I can smile about that incident. The boss did not speak to me for a good while after that and he put my rent up! The bouncers and bar staff ribbed me about it for a long time. "Got any Ian Dury, Simon?".
I was reminded of it when track eight of the first CD in this triple disc set came on.
There's been a few compilations of the late and the great Ian Dury's work across the years. This one is a belter, offering 50 tracks from Ian solo and with his two bands.
Not just Blockheads recordings either. His earlier band Kilburn and the High Roads are represented too, and we get a demo and a live track.
There's the three CD version, digital version and a gatefold 20 track white vinyl version.
In August 1977, a 35-year-old Ian Dury released his first solo record, a 7″ vinyl single, whose title "Sex & Drugs & Rock & Roll" became a term of common usage and is still very much part of our vocabulary today.
Within the next two years, Dury's debut album "New Boots and Panties!!" would spend 89 weeks on the British Album chart.
His third single "Hit Me With Your Rhythm Stick", became a U.K. number one in January 1979, selling almost a million copies.
When Ian Dury passed away after a battle with cancer on 27th March 2000 at the age of 57, he was recognised as a one-off. A legend. In music as a singer and songwriter, as an actor, a writer, raconteur and wit.
No one else like the geezer, before or since. Labelled a national treasure, and admired for his courage not only with the cancer diagnosis, but for the way he dealt with his disability after contracting polio at the age of seven.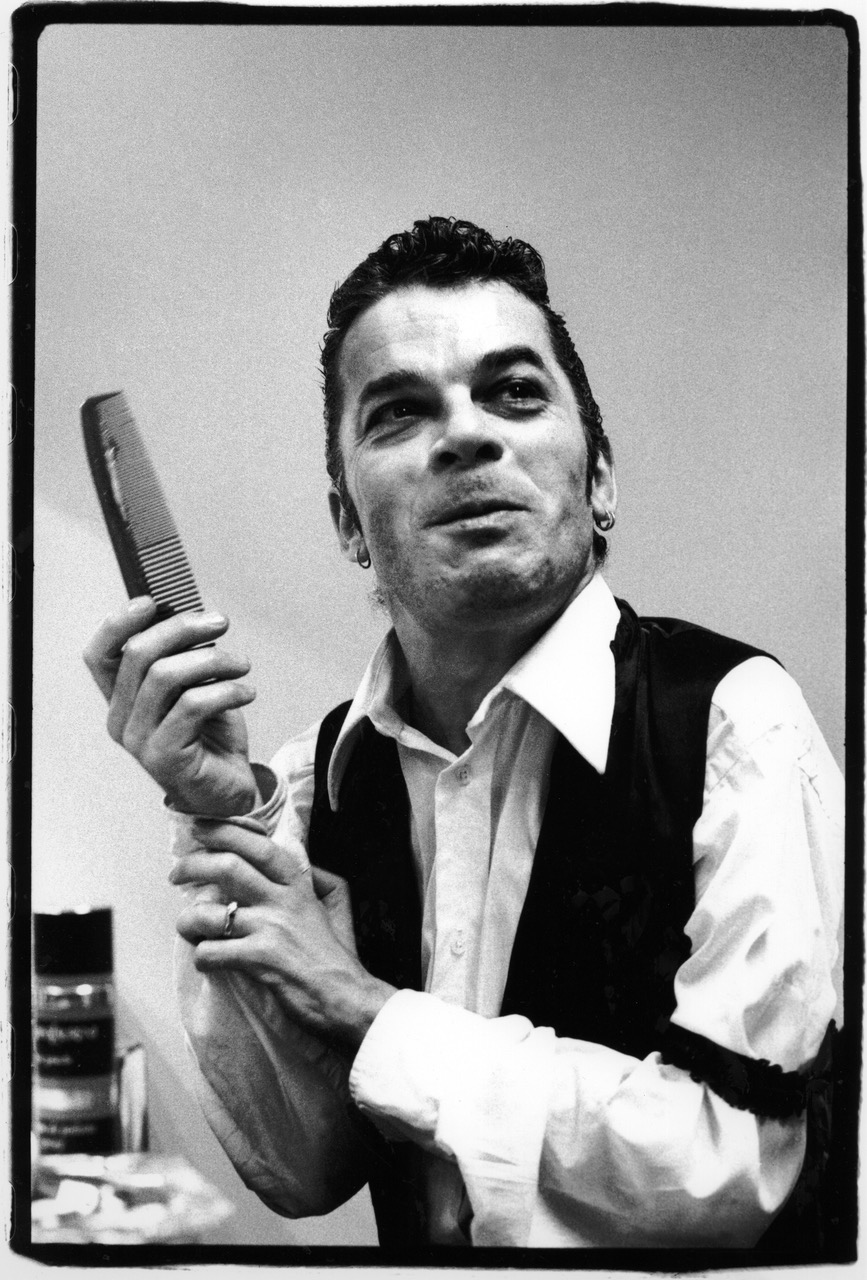 BMG worked with the Ian Dury Estate to compile this new set, which includes his biggest hits and more obscure stuff. Ian solo, Ian with The Blockheads and Ian with Kilburn & The High Roads.
Sleeve notes are provided by adopted Blockhead, comedian and author Phill Jupitus who often sings with The Blockheads.
The collection opens with the timeless "Sex & Drugs & Rock & Roll" and goes on to feature the now classic singles "Hit Me With Your Rhythm Stick", "What A Waste", "Sueperman's Big Sister", "Sweet Gene Vincent", the awesome "Wake Up and Make Love With Me" and the original 12" mix of "Reasons To Be Cheerful Pt 3".
Some of Ian's best and most loved album cuts/B sides are also present, such as "There Ain't Half Been Some Clever Bastards", "Inbetweenies", "Billericay Dickie", "Blockheads" and the fabulous, "Clevor Trever".
The Blockheads really are one of the tightest and best bands in a studio or on stage that the UK has ever produced. With or without Ian. Passing through their ranks were Norman Watt-Roy, Wilko Johnson, Mickey Gallagher, John Turnbull, Davey Payne, Chaz Jankel, Charley Charles, Dylan Howe….
Phill Jupitus in his sleeve notes, sums up what Ian Dury's music means to him: "As I look over these tracks I'm reminded of certain times in my life. Certain feelings.
Wonderful gigs, interminable car journeys, close friends, new friends, family, mad nights out, sad times, the biological father I never knew. Ian and the band's music has been such a part of our lives that it has that kind of effect." Amen to that.
I had the pleasure of meeting Ian and the band on a fair few occasions over the years. Shooting live photos of them at various venues in the UK for the music press, record label and promoters. The first time would have been 1978, De Montfort Hall, Leicester. He wore a yellow silk robe and top hat. Great for photos.
One of the best times was Guilford at a festival, when I sat with Ian backstage outside his dressing room cabin, chatting in the afternoon sunshine. I can still see that scene now; Ian sat at a small round patio style table on a metal chair, reading a broadsheet, walking cane propped up against the table.
This was after his terminal diagnosis, and so I didn't want to disturb him with taking any photographs other than on stage. But I do have that picture in my head forever. He was relaxed, chatty and in good spirits.
We talked about photography and he was telling me of some of the shoots he had done and which snappers he admired. Also about changes in the music business he had seen over the years and about inspiration for some of the songs he had written.
This was not for an interview, so I took no notes and there was no tape machine. I wanted nothing from him and was ready to clear off at the first sign he wanted time on his own. But he was happy to chat and his ill health was not mentioned. It was a lovely conversation and this is the first time I have written about it. On stage that night he was utterly fantastic. "Oi Oi…"
Of the last few times I saw and photographed him, there was also The Grand at Clapham, when members of Madness were down the front dancing to Ian and The Blockheads' storming set. And perhaps the final time before he left us, The Roadmender in Northampton.
Always fond memories and never a duff gig with Ian Dury and The Blockheads. The photos of him I have in my archive from the late 70s to shortly before he passed away 20 years ago, always have a soundtrack in my head when I look at them, and they always raise a smile. Always.
As does a listen to most of the material across these three discs and these 50 tracks to choose from.
But whenever I see a photo of Ian Dury, see him on YouTube or hear his music, I always have mixed feelings. Glad to reconnect with his great music, but very sad at the same time, that such a genius has gone forever. Exactly the same way I feel about my footballing hero from my childhood and beyond: George Best.
But for Ian and for George, what they did while they were here and what they left us as their legacy will always be there, and I shall always treasure the memories. For that, I am truly grateful – to both of them.
With the fabulous "Hit Me! The Best Of Ian Dury", we really are spoiled for choice….Here's the full track listing….
CD ONE: 1. Sex & Drugs & Rock & Roll* 2. Wake Up and Make Love With Me* 3. Sweet Gene Vincent* 4. Clevor Trever* 5. Billericay Dickie* 6. My Old Man* 7. I'm Partial To Your Abracadabra* 8. Plaistow Patricia* 9. Blockheads* 10. Pam's Moods*** 11. If I Was With A Woman* 12. Upminster Kid*** 13. Billy Bentley (Promenades Himself In London)*** 14. Rough Kids*** 15. The Mumble Rumble and the Cocktail Rock*** 16. The Roadette Song*** 17. Crippled With Nerves*** 18. Blackmail Man*
CD TWO: 1. Reasons To Be Cheerful, Pt. 3 (12" Version)** 2. Hit Me With Your Rhythm Stick** 3. What A Waste** 4. Inbetweenies** 5. I Want To Be Straight** 6. This Is What We Find** 7. There Ain't Half Been Some Clever Bastards** 8. Waiting For Your Taxi** 9. Razzle In My Pocket* 10. You're More Than Fair* 11. Quiet** 12. Common As Muck** 13. Dance Of The Screamers** 14. Don't Ask Me** 15. Mischief** 16. Lullaby For Franci/es**
CD THREE: 1. Mash It Up Harry** 2. Dance Little Rude Boy** 3. Sueperman's Big Sister** 4. Spasticus Autisticus (Live)** 5. You'll See Glimpses** 6. F*cking Ada** 7. Hey, Hey Take Me Away** 8. Dance Of The Crackpots** 9. Bed O'Roses No.9** 10. O'Donegal* 11. Itinerant Child* 12. Geraldine** 13. Jack Sh*t George** 14. I Believe* 15. One Love* 16. England's Glory (Demo)*
* As Ian Dury ** As Ian Dury and the Blockheads *** As Kilburn & The High Roads
By Simon Redley
---

(1 / 5) 'Dull Zone'

(2 / 5) 'OK Zone'

(3 / 5) 'Decent Zone'

(4 / 5) 'Super Zone'

(5 / 5) 'Awesome Zone'
---
Ian Dury black and white (with comb) Photo – circa 1980: Photo by David Corio/Michael Ochs Archives/Getty Images