---

(4 / 5)
This book has a long title. "How Not To Make It In The Pop World. (Diary of an almost has-been)". By veteran Leicester sax' man and songwriter John Barrow.
I could give it another title: "From Barrow Boy To The Nearly Man".
Or how about a snappier moniker: "Sax and Suggs and Rock and Dolel!" (See what I did there?)
Well, whatever it is called, this is a fun read, well written and packed with starry references of famous bands and artists from the 70s and beyond.
Tenor saxophone player John has worked with many big names across a 45-year career as a pro' musician. "Always on the periphery, never quite hitting pay dirt – this is the tale of one man's quest for unlimited world wide fame and fortune", says the marketing blurb.
Penned by John himself and not some ghost writer, it's unusual for an autobiography of someone in showbiz not to be bragging about their amazing rags to riches story, but this time, it's a rags to almost riches back to rags again, story! So to speak.
All about the almost endless near-misses to making it to the big time in his own right, and not as a sideman and session guy. In touching distance of that big break and success he could smell, but snatched away at the 11th hour time and time again.
I'd not recommend you buy a lucky charm from the man if he ever moves into that line of work!
John has graced the cover of many pop, teenage and music magazines, and his band The Swinging Laurels were darlings of the national press who collectively tipped them as future stars. He has appeared on many of the big TV shows and lots of national radio spins and sessions.
Toured the UK countless times and overseas, from dodgy broken down vans to luxury tour buses, ferries and flights. Staying in landlady-run digs with some old battle axe on guard to stop unwelcome female guests being sneaked in, to plush top hotels and all night boozing.
Playing shitty pubs to one man and his dog, to huge arenas and outdoor gigs here and overseas to many thousands.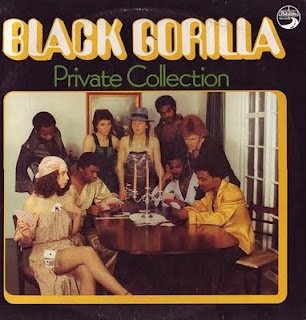 Back in the day from mid-70s, John started off self-taught on saxophone and then joined a covers band in 1975. Sister Big Stuff toured the night clubs, discos and US Air Force bases of the UK.
He then joined soul and funk outfit Black Gorilla in 1977 to 1979, who made it to Top of the Pops to promote their minor hit novelty single, "Gimme Dat Banana", in ridiculous shiny suits. A track the band did not even play on and was the result of a producer's efforts.
He became an in-demand session player and a member of various bands, from covers to originals, and got to sign a £400,000 record deal with Warner's WEA Records in 1982 with The Swinging Laurels – later called The Laurels. Formed by John and his college friend Gaz Birtles in 1980. That 400K would be worth circa £1.4 million today.
John played with The Fun Boy Three, formed by members of The Specials who had already scored hits with Bananarama, with "It Ain't What You Do (It's The Way That You Do It)" and "Really Saying Something" and on their own with "The Lunatics (Have Taken Over The Asylum).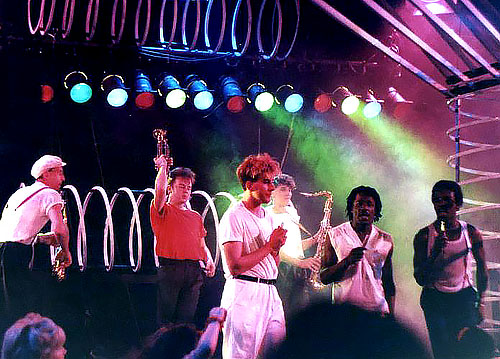 This gave John the chance to appear on Top of the Pops, the BBC's flagship # 1 TV music programme performing their hit single,"The Telephone Always Rings", FB3's fourth single which peaked at # 17 in the chart.
That landed John touring and TV work with the FB3, and he also played on their follow-up single "Summertime" (# 18 UK chart).
But to clarify, this lucky young sax' player was actually making his second appearance on Top Of The Pops. Having first appeared with Black Gorilla to plug "Gimme Dat Banana", which scored a Top 30 hit in the UK chart on the Pye label in 1977.
Fun Boy Three's manager had seen The Swinging Laurels at their own sold out gig at the iconic Hope & Anchor venue in London's Islington, and called them up to invite the brass section to join FB3 on the next single.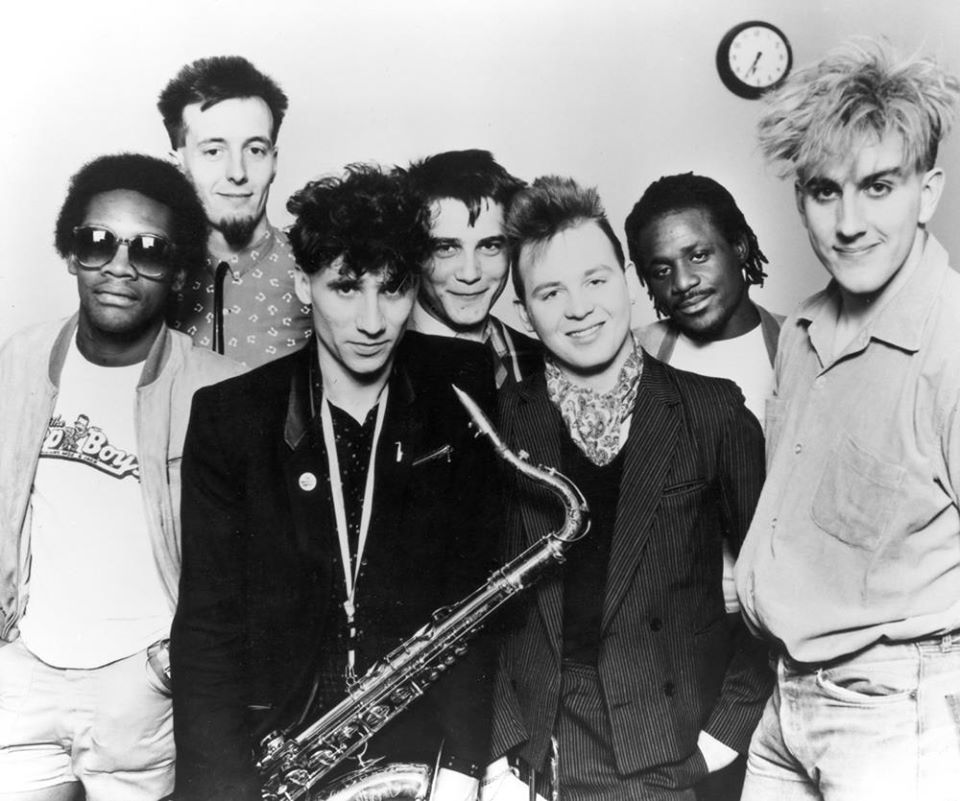 The Coventry connection continued when John also worked with former Specials member Jerry Dammers, on a single Dammers produced on the 2-Tone label, for the band The Apollinaires.
John also played for Cov' outfits Splashdown and Team 23 (the latter became King). In more recent years, John was asked to sign the door to Coventry Music Museum where a who's who of Coventry stars had added their autograph.
The list of bands and artists he has worked with and alongside on tours, on record and on TV is too long to run in full here. But some of those star names are: Terry Hall, Lynval Golding, Jerry Dammers, Funboy Three, Iggy Pop, Uncle Frank, Fun Lovin' Criminals, Ska legend Laurel Aitken, Boy George and Culture Club.
Sinead O'Connor, Ali Cambell (then of UB40), Suggs of Madness, Radio Riddler, Crazyhead, Musical Youth, Rhoda Dakar (Bodysnatchers/The Specials), Rowetta Satchell (Happy Mondays), Steel Pulse, The Clash, Beautiful South, Midge Ure, French chart act 24hrs, Nick Lowe, Osibisa and Beverley Knight.
The Swinging Laurels toured with Culture Club twice, the second time it was Boy George who called to invite them personally, as he was a big admirer of their work.
John reveals in his book, that George actually sang backing vocals on a Swinging Laurels track, but when his record label found out the shit hit the fan and the track was released minus the Boy.
John Peel was also into their music and gave their tracks a spin and got them to record a session for his BBC Radio 1 show. They did a session for Janice long's Radio 1 show too, and appearances on the Radio 1 roadshow. Many of the DJs back then played their tracks on their shows to millions. Not Peter Powell (to make sense of that reference, read the book!)
Swinging Laurels were produced by legendary producer Steve Levine, and their promo and press pictures shot by the iconic snapper Jill Furmanoskvy. Such was the investment and belief in the band by their record label bosses at Warner.
Apart from the array of household names he has worked with, John has been in many Leicester bands who were a big noise on the local scene, and some were breaking through on a national and international basis. The Sinatras among them. The Newmatics was another.
Now here's a funny thing. In 42 years of journalism and reviewing gigs, albums, EPs, singles, films, videos, DVDs and books, how often is it that I turn the pages of a book I am covering, to find out that I am actually mentioned in it, indirectly? In this case, twice!
The first reference is where John recounts working with The Newmatics, and achieving his boyhood dream of gracing the stage at Leicester's most legendary venue, The De Montfort Hall. Everyone has played that 2,200 capacity venue in 100+ years, including The Beatles.
Now John gets his turn with hot Leicester band The Newmatics, supporting reggae stars Steel Pulse. He tells readers that before he joined them, The Newmatics had already played the De Montfort Hall. Opening for US legends Talking Heads. My link to that anecdote: I got them that gig! I was their manager and in the right place at the right time……….
Back then, (it was 26th November 1979), Talking Heads were huge and I think, this was the first night of their sold out UK tour. I happened to be in the production office backstage at the venue in the afternoon of the gig, as I was due to shoot pictures for a music paper that night. I arrived early to find out if I could also shoot the soundcheck, as I often did for gigs I was working on an official pass.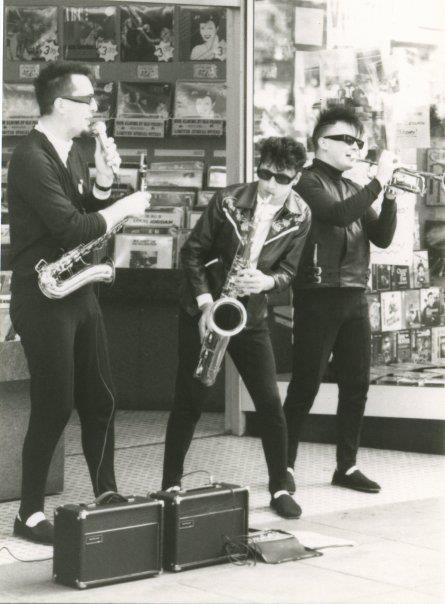 Next to me is the promoter who is having a melt down, as he just got a call to say the support band for the tour were unable to get to Leicester in time for the show. So he had a sold out gig on his hands with no support act, and only a few hours to go to showtime.
Big ears here steps in and says, I know a local band who'd be a good fit for this gig, and I happen to know they are meeting down the road for a rehearsal tonight. Shall I call them? Cheeky sod, eh?
I just happened to have a demo tape in my camera bag, so a cassette player is hurriedly found – on a tour bus – and the promoter, Talking Heads' tour manager and a few of the crew and hall staff  have a listen – and they are all smiles. Phew! Promoter hugs me and says: "Book 'em – but they have to be here in the next hour". No pressure!
I called one of the band – I think it was the lead singer from my hazy memory and I had woken him up – and told him you need to round up the boys right now on the hurry-up, and get yourselves and your gear to the De Mont' now, as I have got you a gig tonight. This guy asks me what gig?
Er, opening for Talking Heads. Never mind that now though mate, just get everyone here in the next hour or its too late. "Piss off", says the bemused chap on the other end of the 'phone. You are definitely winding me up, he adds. No, I am deadly serious FFS.
He wants my number to prove I am where I say I am, and calls me back on the De Montfort Hall's number to check it isn't a wind up!
Reality kicks in and maybe it was then he realised adrenaline was brown in colour!!!! After a few seconds of silence, he yelled expletives and how much I was loved, slammed the receiver down to get hold of the other guys.
The band arrived more or less bang on an hour later, quickly set up, got a brief soundcheck after Talking Heads did theirs, and then that evening, my band tore the place a new one.
Their set going down a storm and they really did me proud. The biggest thing they had done at that point.
I'll skip over the full facts of them totally ignoring me, the promoter and the tour manager before they went on stage, telling them they must, must, must finish their set bang on time.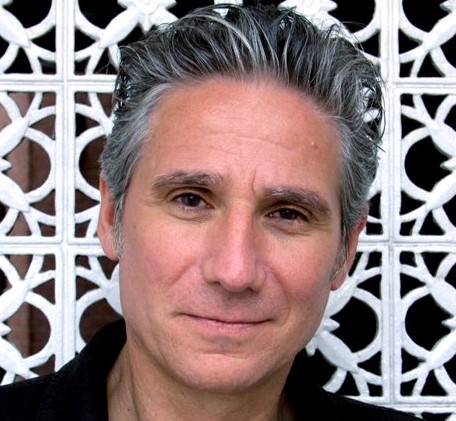 That under no circumstances could they go over their time as the crew needed to do the changeover of gear, and this being first night of the tour, it was imperative things ran on time.
Plus, there was a big financial penalty levied by the venue to the promoter if they ran over the strict curfew time to have everybody and every piece of equipment out the door after the gig.
As a support act, it is an unwritten law that you start on time, you get off on time and you never do an encore, even if the crowd call for one. It is seen as deeply disrespectful to the headliners if you do.
But my band decided to reward the crowd's shouts for more and banged into an encore song, while the mightily irate crew, promoter and Talking Heads tour manager are at my throat yelling at me to get these 'arrogant m****r f*****s' off that stage so they can do the changeover! I was not a happy bunny….
That night after the gig, me and an old mate Phil, who I am still friends with today, a well travelled sound engineer, sat up all night with Talking Heads in the bar of the Holiday Inn hotel, drinking and chatting.
Wind forward 41 years, and I am just about to do an interview with Chris Frantz, drummer with Talking Heads and Tom Tom Club, about his new book. Wonder if I am in that one?
The second link to me in this book is when John mentions the final days of The Swinging Laurels, and coming off of an Iggy Pop European tour playing in huge venues, only to rock up at a pub venue in Northampton to play an intimate gig, which he says was to circa 50 people – it was more than that!.
He writes "what a come down" this was for the band. Well, I was actually the promoter of that gig who booked the band when they contacted me. So none taken John! That gig sold out pretty much every week, so was it me and my promoting skills that were lacking, or your band's pulling power by then? Lol!
For me, the book does dwell a bit too much on John and his bandmates' rampant sexploits when he was younger, a case of Too Much Information for sure. The Political Correctness police would have a shit fit! So, you could say his sax wasn't the only horny reference in the book!
But no one can say he wasn't brutally honest about his life story and rock and roll anecdotes. This is not vanity published, he has a book deal and what's more, this is the third print of this book. So either he has a big garage or there's a market for his tales.
It first came out in 2004 and a second issue in 2007. This is the newly revised and expanded version (282 pages) for 2020. It is available in hardback, paperback – which you can grab at Amazon and in book stores – or there's a digital version. The book has a foreword by Frank Benbini of The Fun Lovin' Criminals.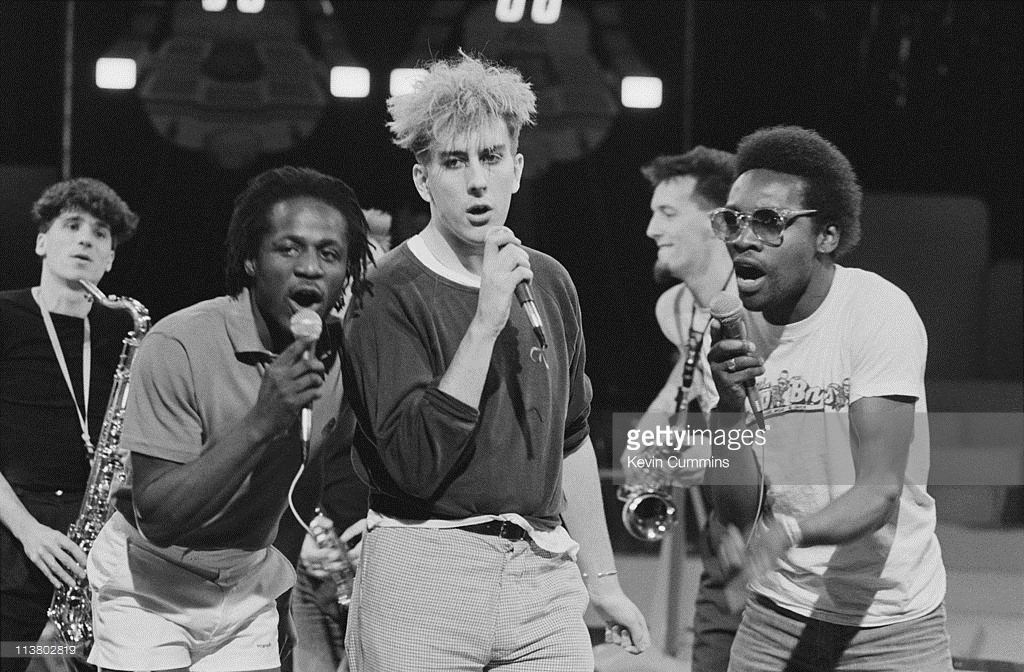 There is a serious side to John's story, as he recounts about the shock news he was given in 2016, that he had stage three cancer of the base of the tongue, and it spread to the lymph nodes in his neck. He is in remission now and of course, we hope it stays that way.
John is 66-years-old and retired three years ago after his cancer scare. The last sax' work he did was on a single called "Daylight", for The Fun Lovin' Criminals, which was also on their January 2019 album. Happy Mondays' legend Rowetta sang on the track.
With 2020 being 40 years since The Swinging Laurels formed, there was meant to be a Swinging Laurels re-union/retrospective, with all of the singles, Radio One sessions and rareties put together on an album. But plans were shelved due to the Covid-19 Pandemic. John says: "Maybe next year?" Hope so.
They say the apple doesn't fall far from the tree. Son Rhett is a solo artist and has an album called "Deadbeat Melodies", which John played on. Rhett also had his own band, Dedbeats and now runs open mike nights in Leicester venues.
John's other son Nile formed a band called By The Rivers, with Gaz Birtles' son Jordan. Gaz's eldest son Peri became By The Rivers' producer and tour sound engineer, and today has his own studio.
In 2011, John's lad Nile got a call from Lynval Golding of The Specials and Fun Boy Three, to say they were reforming The Specials  and wanted Nile's band By The Rivers to support them on a UK arena tour.
Jordan Birtles is in the Island Records' signed band Easy Life, who in January this year had an album at number seven in the UK chart.
To go with with his success and "fame", many believed John was loaded and had all the toys and rewards a life in the music biz brought you. Flash car, big house, lots of dosh in the bank. But the reality was the opposite of that…
In fact, he often went back to his office day job, promising not to bugger off on tour ever again (!) to his boss, and even ended up on the dole at one point. In the book, he is quick to dispel the myths…."There is NO Lear jet in my driveway. There is NO Lamborghini in my driveway!"
He goes on to say: "The misconceptions that surround the workings of the pop industry are many and varied – one misguided belief chief among them is that if you've strutted your stuff on Top Of The Pops you must be rolling in it! Nothing could be further from the truth.
"I am living proof of that. I am one of those unfortunate journeymen of pop, always on the periphery, never quite hitting the pay dirt. The industry exists by allowing gullible kids to believe the myth.
"A dream machine that feeds off its own legend. Throughout my misguided quest for unlimited world wide fame and fortune, I have strutted my stuff with two bands on Top Of The Pops.
"During thirty-five years in fairyland that is the pop world, I can point to over eighty record releases. I have worked and recorded for many major and independent record labels, signed megabucks recording and publishing deals, associating with world-name pop icons and producers…"
John's story starts the same as many musicians' do, listening to their parents' record collection,. In this case, John's dad's 78s and watching The Kinks on TV.
At 19-years-old in 1972, he saw Roxy Music at the De Montfort Hall in Leicester. He was hooked by Andy Mackay's sax' work. He saw The Faces the following year in Birmingham and he knew a life in rock and roll was for him.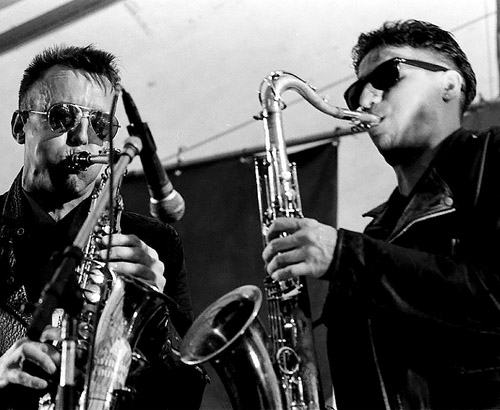 His main partner in crime from back in the day Gaz Birtles, was a fellow gas fitter apprentice with John. Fellow sax' man and co-founder of The swinging Laurels, John's best mate still today, who went on to join the Beautiful South. Gaz  today is co-lead singer with The South, the offshoot of The Beautiful South.
John admittedly dropped a bit of a bollock when invited to audition for this new band, The Beautiful South. He decided it didn't have legs and declined. Gaz got the job and the rest is history….
There are some daft moments and antics in the book, of course, somewhat like a scene from The Commitments or even Spinal Tap. But the overall feeling I got was that of sheer frustration. For John and for Gaz…
Both very talented musicians and songwriters. They got so frigging close to the big time and more than once. But for reasons beyond their control and partly due to the standard BS of the music business and reliance on others in the system – no matter which end of the ladder you are – you can get shafted or just have shite luck. Or both!
Their talents and hard graft deserved more, but that can be said for a zillion nearly-weres every single year. But today, when asked if he would change anything if given his time over again, John Barrow has a surprisingly positive response:
"There are very few things I'd change. That lump of metal that I call my saxophone has been the passport to unforgettable experiences and capers. It helped me to achieve my childhood ambitions and for that I am very grateful."
By Simon Redley
---

(1 / 5) 'Dull Zone'

(2 / 5) 'OK Zone'

(3 / 5) 'Decent Zone'

(4 / 5) 'Super Zone'

(5 / 5) 'Awesome Zone'