**** FIRST UK REVIEW ****
---

(4 / 5)
New blues releases seemingly have the power to bamboozle the fashionistas, the hip music critics, producers, managers and agents who make up the worlds of rock and pop, and the cutting edge business side.
In their world, they are excited by, and also demand a high level of genre-busting originality, both in terms of music and presentation.
In order for any new – and this is essential in their eyes, YOUNG act to get a look in and stand out from the competition. To sell to the teenagers and twenty somethings.
Blues works in reverse. Superficially, it would seem that the blues fans worship the unoriginal and the old. But, as the great Lightning Hopkins once said, "blues music is a medicinal form of music – it's like ointment for a bee sting".
The last thing you need when your heart has been broken, or you are going through tough times, is cutting edge, fashionable and dynamic, to remind you of the hole you are now in. You want non-threatening and accessible musical comfort and words of wisdom from a voice of experience. You lo want to feel like you are part of something.
So, in the music of blues, which still exists in its ever-popular and specialist bubble across the globe, well-worn song structures, musicianship that has a healthy dose of both tradition, and highly recognisable influences and lyrics that cover the same immortal personal situations, still thrive.
Also, tributes to the historic artists and the power of the music itself, and then artists provide a comforting, bonding and unifying musical language for the genre's devoted audience.
With blues, unlike pop, age is no barrier to continuing success. The older and more mature you become – the attributes that seemingly can define blues 'greatness' – experience, tasteful restraint, emotional insight and texture just mature like a fine wine. Blues music is perhaps consoling for the late middle aged, and their party music of choice.
This is of course, baffling to outsiders, whose ears may only hear only cliche, repetition and not much to separate each act from one another. But it is of course, this sea of non-threatening similarity that makes the blues effective in what it does.
Radiohead might have sung, "No alarms and no surprises please", in a defiant rallying cry against a terrifying middling, "Middle England", but for the blues world that same line could be used as the title of a positive and useful instruction manual for a new emerging artist in the genre.
While outsiders might yawn when a youngish new artist throws his or her hat into the ring to announce their arrival on the scene, with a selection of songs and a production concept that might seem like it is "nothing new", to the unconverted, probably from a blues fan's perspective, we might actually be looking at something to get excited about.
Now 32-years-old, ancient for the pop world, but still very young for blues, Costa Rican blues artist Jose Ramirez has for the last couple of years, been punching his way step by step into the international blues consciousness, through a mixture of determination, hard work and business strategy.
When the North American blues agents didn't immediately take him on, he organised his own impressive North American tour. He then took part in the 2020 International Blues Challenge, and in the finals in Memphis in January this year, he came second out of 230 bands and beating seven others in the final, representing Washington D.C.
Arlington, Virginia-based Jose and his band were due to perform an extensive 2020 European tour until the global Coronavirus stopped those plans. All while organising his debut album, "Here I Come", on his own label – with an array of blues talent to back him up. Last year he released an EP, "The UK Sessions" recorded in Essex while on tour. It mainly stayed under the radar.
As a youngster in Costa Rica learning to play guitar, and the blues genre really speaking to him, Jose discovered US blues guitarist Anson Funderburgh, and wore out his records, playing along and marvelling at his licks. Fast forward more than two decades and Jose's dreams have all come true, with his hero not only playing on two tracks on this record, but also offering to produce it too.
Recorded in Austin, Texas with Anson, and a starry line-up of Jim Pugh on the keyboards (Robert Cray, Etta James, BB King), Wes Starr on Drums (Mark Hummel, Sam Myers, Delbert McClinton), Nate Rowe on Bass (Redd Volkaert, Emily Gimble) and the famed Texas Horns: Kaz Kazanoff, Al Gomez, John Mills, who have played with Howling Wolf, Muddy Waters, Little Walter, Bonnie Raitt, Ray Charles and Aretha.
A clue that Jose is devoted to the tradition of the music, with sight of the back cover imagery. Baring his two forearms, showing off a tattoo of Robert Johnson on his right arm, and then seeing the track listing includes Johnson's "Travelling Riverside Blues". One of two covers here.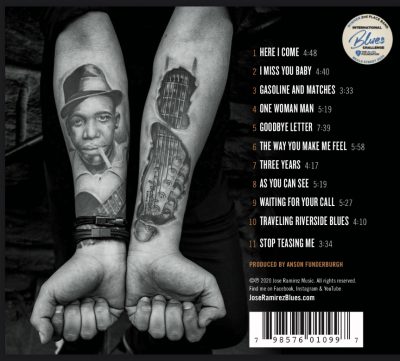 That devotion continues to seep into the pores of this album from the first track, the title cut, where he vocally namechecks his musical heroes: Ray Charles, BB King, Buddy Guy and more, as he journals his mission  "to keep the blues alive".
The track sees him launch into a tasteful and impressive guitar solo that shows off a welcome level of maturity, which sits well against the extreme level of musical taste displayed by his assembled band of veterans.
His voice is a modern, borderless blues voice. Although, perhaps lacking the deep emotion and more weather-worn nuances and humour of an older artist. It could also be considered a positive attribute, as it gives a very slight glint of young, modern and the international, in contrast to the resolutely vintage playing of both Jose and the band.
And so, the template is set, old school blues passionately rolled out across all 11 tracks, with the band given space to stretch out, with Jose showcasing his impressive guitar skills. Jose penning nine of the 11 cuts.
The slow BB King-esque horn section led blues of the 1969 Bobby Womack and Darryl Carter song, "I Miss You Baby", the early primitive funk of "Gasoline And Matches", the latter one of two tracks to feature Anson Funderburgh on guitar.
"Goodbye Letter", with the edge of Magic Sam (who the horn section worked with back in the day), the feelgood soul blues of "The Way You Make Me Feel". There's the full band funking-up of the aforementioned "Travelling Riverside Blues", and the set finishes up with the bar room blues shuffle of "Stop Teasing Me".
His original lyrics in some cases, still have some way to go – as at the moment, they come across as teetering between imagined experience and real experience, perhaps missing that wry, distanced edge, combined with razor sharp true to life perception, that the blues greats all seem to have.
That will change with time. Jose is only 32. Like most committed blues musicians, his talent will grow and mature over the next twenty years, as he releases more albums, clocks up many more road miles on tour and goes through the inevitable life experiences that shape us all, and toughen us all, as the years go rolling on.
"Here I Am" is a warm and confident debut that heralds the welcome arrival of Jose Ramirez to the international blues scene. It should open a lot of doors and gain him much attention. His commitment to the blues tradition will shine through, which will be rewaredd by the loyalty of blues fans far and wide.
If Jose Ramirez continues with focused determination and his obvious devotion to the blues genre, I am confident he is going to benefit from a healthy and long music career.
By Max Robertson
---

(1 / 5) 'Dull Zone'

(2 / 5) 'OK Zone'

(3 / 5) 'Decent Zone'

(4 / 5) 'Super Zone'

(5 / 5) 'Awesome Zone'