---

(5 / 5)
German hip hop/jazz duo Ferge X Fisherman – aka singer Fritz Fisherman and producer Ferge – have really got it goin' on with their imminent new album "Blinded By The Neon". A sublimely accomplished modern day gem, slated for 22nd May 2020 release.
The new single "Role", which is the second cut to be lifted from the long player, is a super track, which like most of the dozen track on the record, sounds more like the Bronx in New York than Regensburg and Nürnberg in Germany.
There's a stack of so-so hip hop and rap music coming out every month around the globe, from no budget bedroom stuff to big budget major label artists. But the vast percentage all sounds the same and is nothing at all special or not at all anything different.  But not this little beauty….
"Blinded By The Neon" is a rap tribute to the art of storytelling. The contemplation of a man alone in the twilight hours, plus a bittersweet emotional cocktail of self-doubt comprised of equal parts love, the side-effects of success and the life of an artist.
The chief inspirations behind this conceptual debut LP by German/American, Fritz Fisherman and German, Ferge. The album's eclectic songs revolve around a central character and his shifting feelings of self-awareness and ambivalent relationships with his own art and with himself as an artist.
With an expanded line-up, Ferge X Fisherman – who come from the Flying Penguin family – have been making a name for themselves as a live act in Germany, demonstrating how the balancing act between electronically produced hip hop and live instruments can succeed.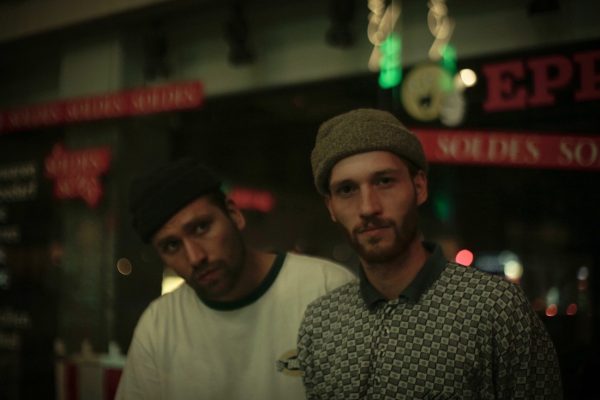 "Head On Stage" – which starts off with Sinatra's dulcet speaking tones – kicks off the dozen with a very strong cut, and two in, "Backstage" doesn't drop the standards, with a slinky jazz-soaked number, complete with late night melancholic horn. The track would not be out of place on a Snoop set. "One Of My Best Friends", features Maniac. Nice job, and sultry tenor sax adds to the chilled mood.
New single "Role" pops up at track # four, fabulous bass guitar work on this cut. The song tells the tale of the protagonist having a hard time differing between his stage persona and his real life personality. Playing a role has become a part of his everyday life, which causes confusion, frustration and emotional detachment."
Florian Heimbuchner guests on another standout cut, the groove-alicious"Anna Nicole". Felisha George & Spiritchild pop up on "Playing Different", and Ki'Luanda turns in a soulfully spirited vocal on gospel-tinged track "Stumblin".
The consistent quality and inability to second-guess any of these tracks carries right to the very last notes of the closer, "In My Shoes". A cool slice of vintage hip hop meets jazz and 70s disco-funk. There's more than a few nods to Tom Waits across this album, and that's welcomed.
This pair are most definitely ones to watch, as they say, in their own lane, and this record should do them much good with the right wind behind it, and with it wafting into enough pairs of discerning ears around the planet. My favourite hip hop album of 2020, thus far. Fresh as spring air…..
By Simon Redley
---

(1 / 5) 'Dull Zone'

(2 / 5) 'OK Zone'

(3 / 5) 'Decent Zone'

(4 / 5) 'Super Zone'

(5 / 5) 'Awesome Zone'
Listen to "Role" below…..