Cian Ducrot in Nottingham. He opens with the title track of his debut album, "Victory", released in August this year and claiming top spot in the chart in both the UK and Ireland.
To emphasise how important his fans are and his connection with them, Cian is soon off the stage and into the "pit" during that first song, touching hands with all of the fans on the front row at the barrier as he sang, via a radio microphone.
The 26-year-old Cork native could be described as "an overnight sensation", after blowing up on Tik Tok and Instagram, seemingly out of nowhere, storming the charts with a slew of hit singles and a #1 debut album, all in the last year or so. He's achieved an estimated half a billion streams of his music.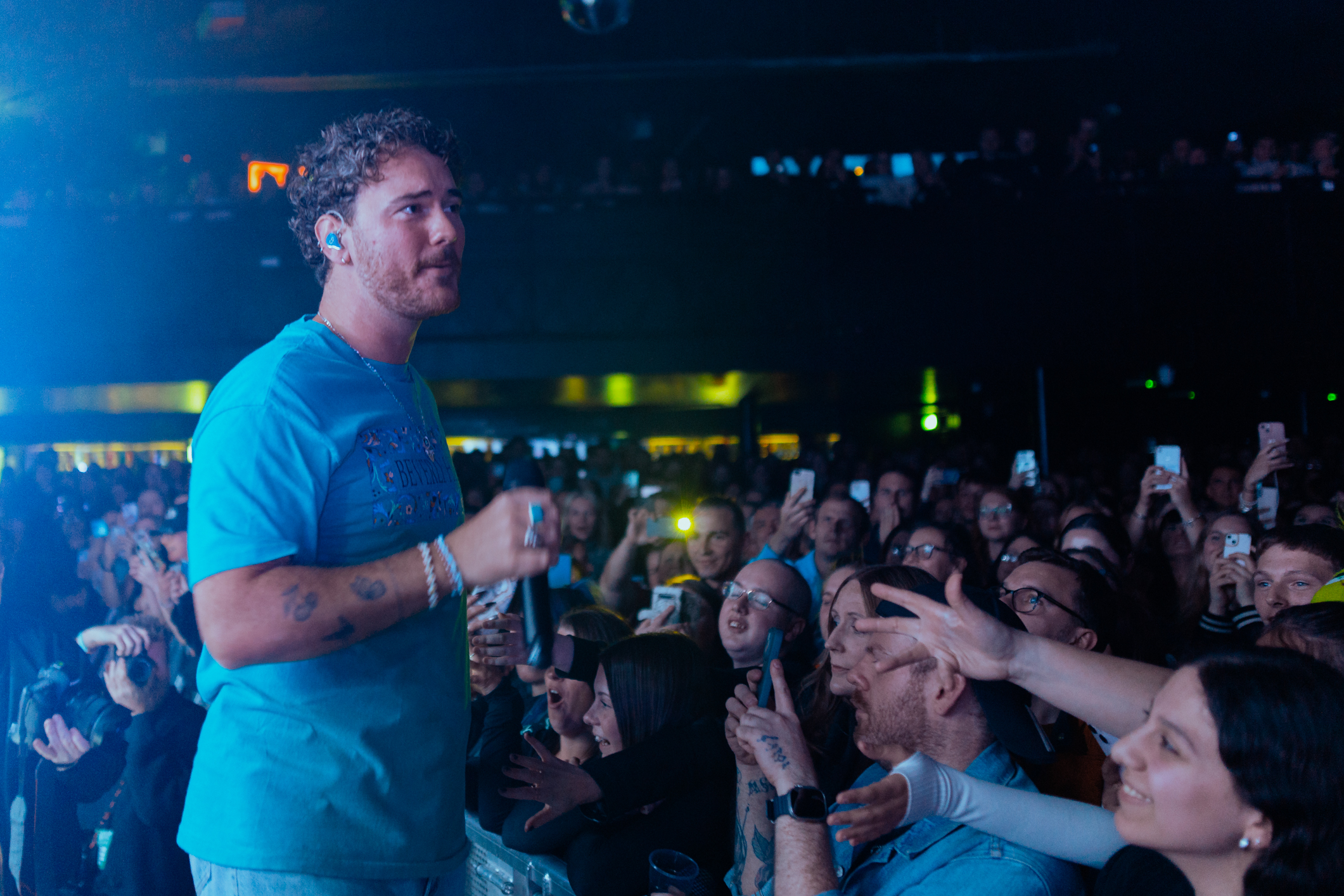 His years of busking and rocking up at train stations – and even on trains – with a flash mob choir, made sure he got his face, voice and name across social media and honed those communication and audience-connection skills. And that is some voice, let me tell you.
With both parents being professional classical musicians, and Cian being a classically trained flautist, he resisted the expectation of becoming a classical musician himself, and began his road to pop stardom via TikTok.
Far more attracted to the emotional connection between artist and the fans in the pop world, than the maybe stuffy and reserved (my words, not his – no disrespect meant) classical world.
He played piano, flute, classical guitar, saxophone, percussion, drums, and violin as a youngster, eventually studying at the Royal Academy of Music in London. The Nottingham crowd were treated to a flute solo at this gig, and he can play that thing for sure.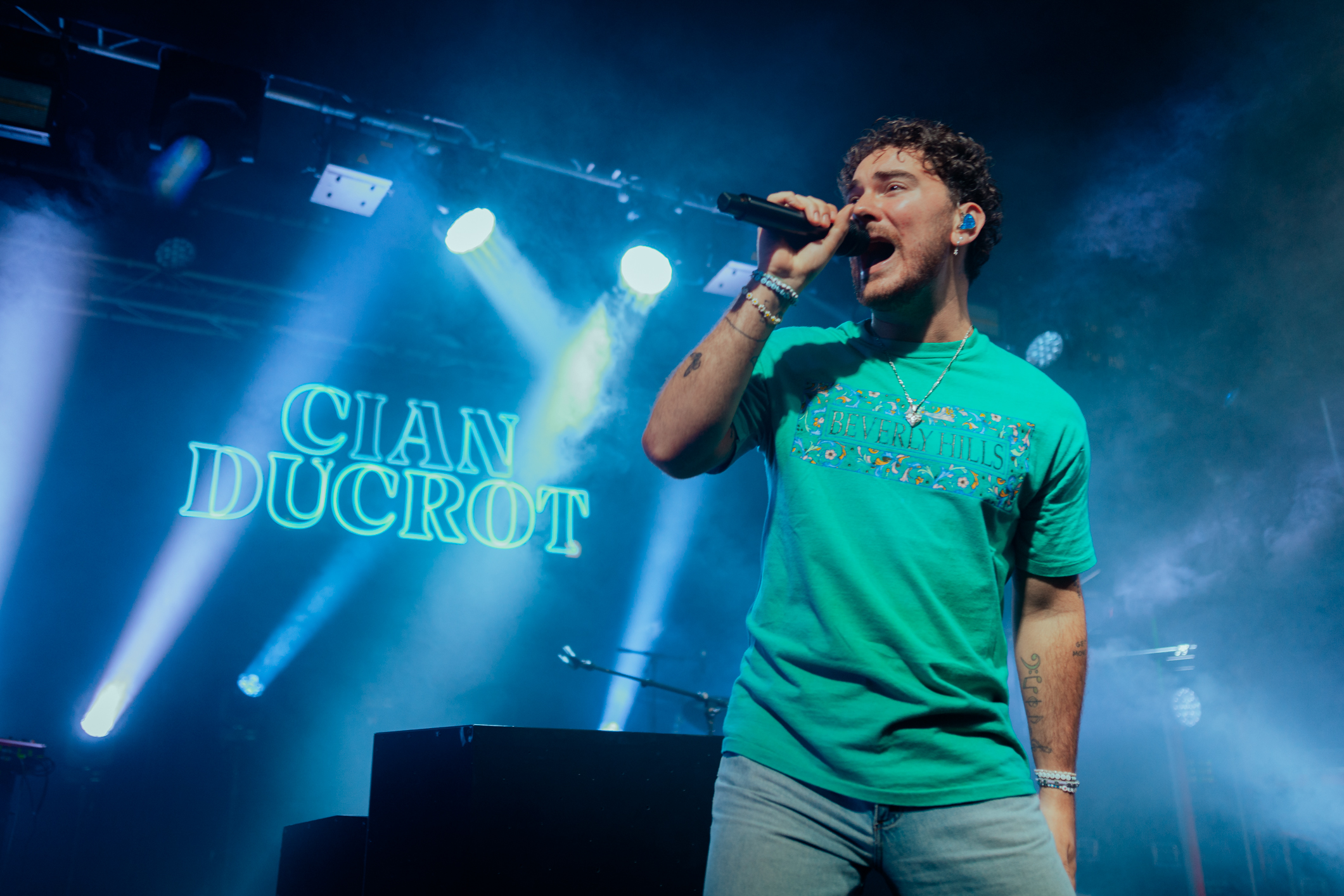 One gets the feeling that this is not a "them and us situation" between artist/band and the fans at a gig; that Cian very much wants his audience to be part of the show, and who needs a flash mob choir when 2,000 besotted fans are singing back every last word to you throughout a 15 song set in Nottingham?
This stripped back approach with only two musicians backing him really offers nowhere to hide vocally, and with a voice as beautiful and as crystal clear as Cian's, that's no hindrance, I assure you.
Men and women were wiping away tears a few times in the set, when his voice and the sentiment of his lyrics hit the solar plexus to trigger uncontrollable emotion. Pretty much the norm' for a Cian Ducrot show these days, I am told.
Read more, below the video…
Third song in, "Heaven", some of the crowd held up identical A4 white paper sheets with: "I guess that this is heaven" printed on it, with a drawing of two flowers accompanying the text.
The song prompts a mass sing-along, but the subject matter is not usual ballad-fodder about a broken heart from a busted love affair. "Heaven" is a tribute to his brother after he and Cian both allegedly suffered serious domestic abuse as kids.
His songs are heartfelt and often heart wrenching; a cathartic spilling his guts about innermost feelings and pain in his life. Brave stuff.
But far from being self indulgent and/or depressing, it's an emotional roller coaster ride that most of his fans connect with, and of course, many may have been or are going through some of the same sh** he went through. A kind of group therapy with music.
"Part Of Me", the third song before the end of the show, really does tug at the heart strings; a beautiful song about his best friend who took his own life.
Cian's voice is faultless. Cian's voice was made for delivery of the melancholic and soul-baring ballads. But never does he evoke the emotion of "enough slow sad stuff mate, please!"
His vocal control is to marvel at. There is always the thought right the way through his set, that he cannot keep up this emotional connection all night. He does. There is also the thought that he will lose the audience with too many ballads. He doesn't. Not for a second.
They say if you can fake sincerity, you have got it made! This guy is no faker; he seems genuinely invested in the emotional well being of his fans. It is no act. If it is, he's due a few Oscars in his career!
Like Ed Sheeran and Lewis Capaldi et al, I am sure Cian could hold his own on a huge stage in a big venue such as a stadium or vast arena, even while sat at the piano and maybe even while solo on stage like Ed does.
The Irishman's voice and his songs, coupled with his likeability factor are probably enough. That said, I'd love to see him on a big stage with an orchestra behind him and adding value to his gorgeous songs. The only risk, is losing the intimacy and emotional connection he has in a venue of this medium size. But I bet he'd smash it.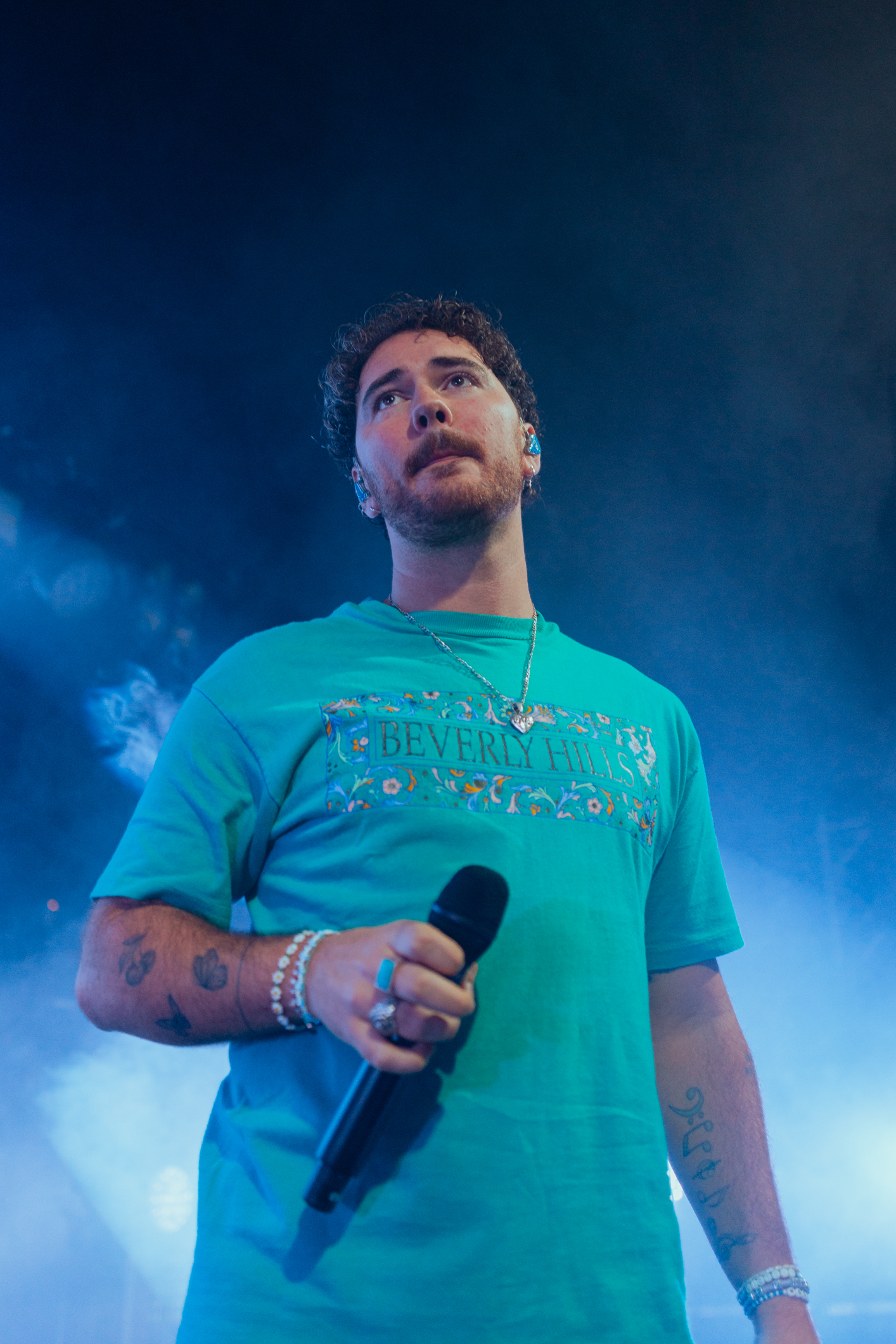 Presently he hones his stage craft in venues like Rock City, after dates in far more intimate places and also a tour across the US sharpened his performance tools. It's nice to see the growth too; such as his spring 2023 trip to Nottingham at the much smaller Rescue Rooms.
But the 2,000 capacity Rock City is rammed tonight with a mainly young audience, and the whole tour is pretty much sold out. I'd place a bet that within a couple of years he is an arena-filler countrywide, and within a few more he will be even bigger than that if he continues penning and recording such classy and commercially appealing songs as his first album.
Tonight he has his name up in lights on the stage, which was the sole bit of "production" involved. He doesn't needs bells, whistles, pyrotechnics, dancers or backing singers.
He has his piano, a microphone and his two mates on drums and keyboards/guitar, and that was enough. The songs and his voice are enough.
Cian is a fast rising star with huge talent. One of the very best voices in the UK right now.
For the first three songs he roamed the stage, delivering "Victory", then a tribute to his mother with "Mama", and "Heaven" faultlessly, before he sat at the black piano, adorned with red roses on top, given to him by fans during the first song. He likes flowers.
He saved his biggest hit song until last, the wonderful, "I'll Be Waiting", and his choir of 2,000 gave it some welly as they loudly sang along. A good few Irish flags and colours in the crowd, and I heard that some had travelled from Ireland just to be at this show. Doubt they'd regret that decision.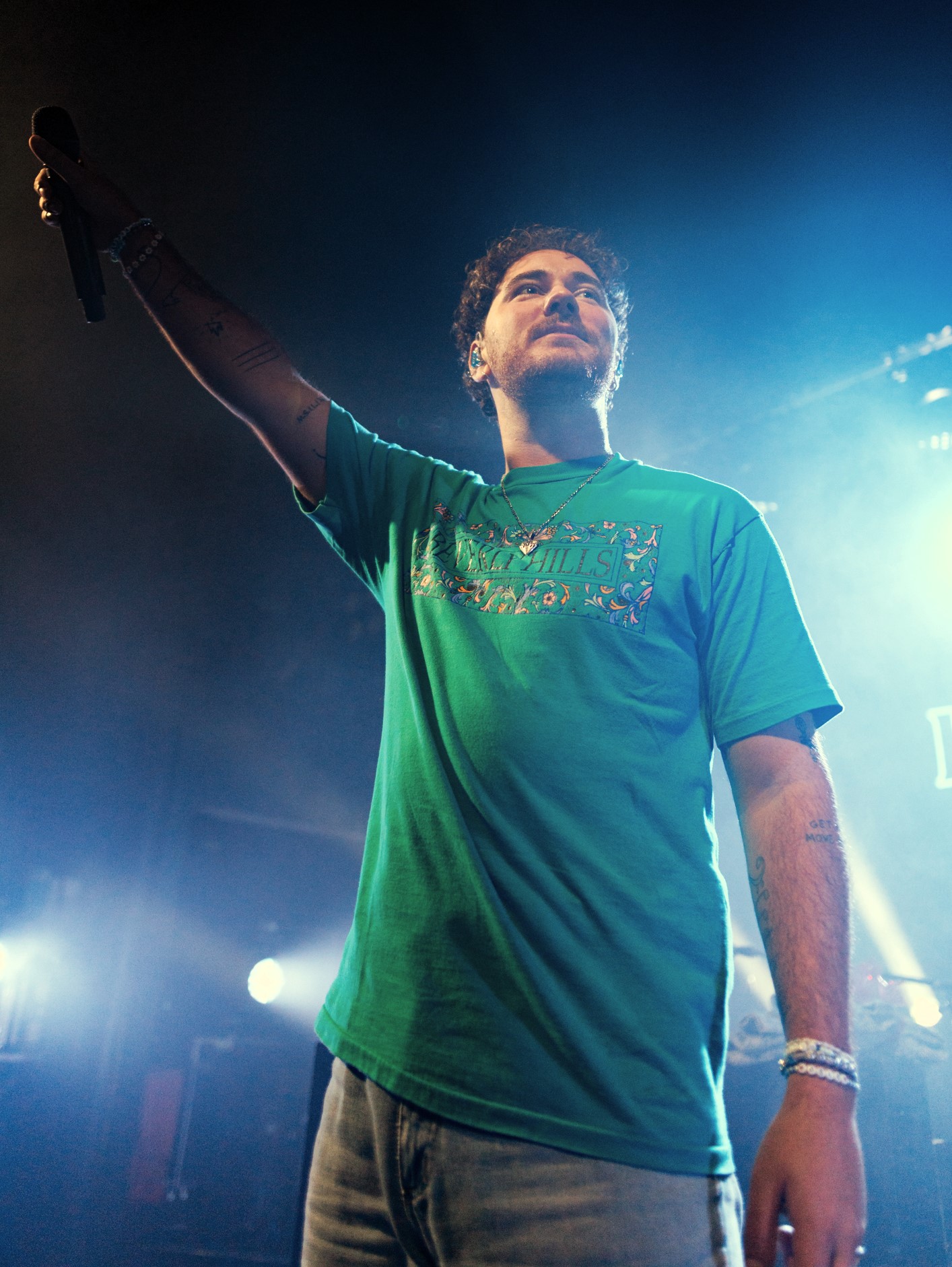 Cian played Nottingham's Splendour festival in the summer this year, but it lashed it down for a lot of those two days, especially during his set. But the fans stayed and donned waterproofs, opened up the brollies and Cian was surprised and delighted they did that for him and for the fact he was not playing to an empty field. But….he got wet!
His stock rose when he toured with Ed Sheeran, and of course his Tik Tok presence and activity across all of social media has boosted his reach enormously. But his talents more than back up the expectation after so much awareness of the guy and his music. This ain't no hype, folks. This guy is the real deal.
Cian's recent appearance  on the National Television Awards broadcast live on TV, was a powerful show-stopping performance and would not hurt his profile one bit.
Tonight after the song "Heaven", he talks to the crowd about a "Victory box".  During the tour he has been asking the crowd to anonymously share something they've achieved, write it on a piece of paper and pop into the box placed at the entrance to each venue on the tour.
He tells the fans that by doing what he has asked, they agree he can use that anonymous information any way he pleases. It is not made clear what that will be. We will see…
Read more below the lyric video…
"All For You" was of course a hit single; the stunning duet with the brilliant Ella Henderson which they co-wrote together. She's not in attendance tonight though.
I can happily tell you that Cian Ducrot has been chosen by the editor, as voted for by many contributors (writers and photographers), as Music Republic Magazine's "Male Artist Of The Year" in our end of year "Best Of 2023" round-up. Well deserved.
Check out that "Best of 2023" coming very soon in our Features Zone: https://musicrepublicmagazine.com/features-zone/    
The tour which is 99% sold out, kicked off in Glasgow and then Newcastle, before the third date in Nottingham. Cian will then visit Sheffield (17th) and onwards via Birmingham, Brighton, Eventim Apollo in London, Norwich, Bristol, Southampton and Manchester, before a trek around Ireland.
Nottingham set list
Victory
Mama
Heaven
Him
Endless Nights
How Do You Know
Hurt When You Hurt Me
Aftertaste
All For You
Blame It On You
Step Dad
EWFIL (Everyone Who Falls In Love – Has Someone They're Thinking Of)
Part Of Me
Thank God You Stayed
I'll Be Waiting
Photos: Andreas Bottino
Words: Steve Best (additional input: Andrea Bottino)
---
---
Opening act on this tour, Anson Seabra, is a Midwest of the US native – Kansas City, Missouri – with a big fan-base; his YouTube channel of songs mainly written and produced in his bedroom has notched up in excess of 65 million views in the past two years.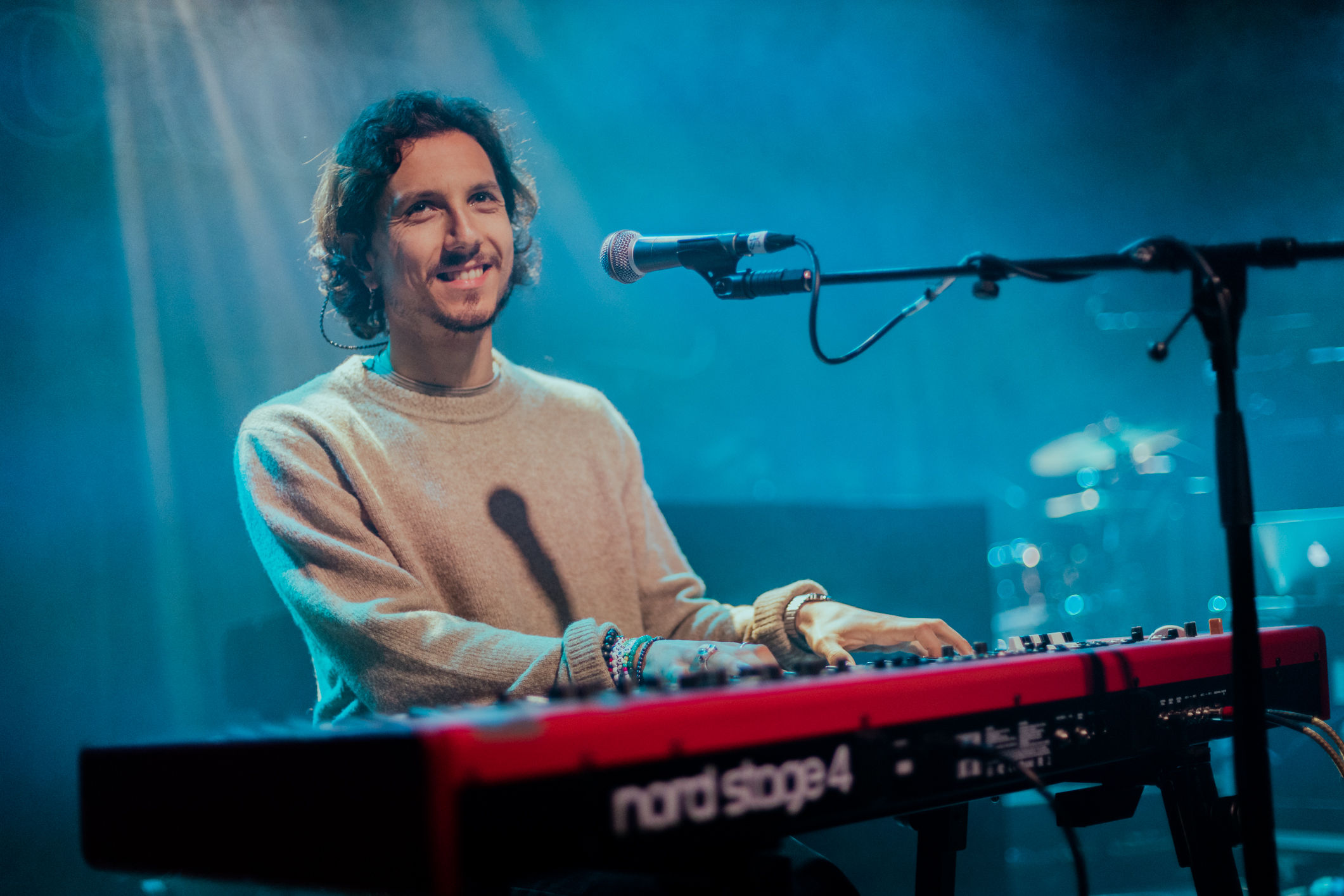 Tonight Anson is on keyboards and vocal, backed only by Dan Richards on guitar – the guitarist for some obscure boy band called One Direction, apparently! An enjoyable 30 minute set, plenty of people singing along, knowing all of his lyrics.
Mostly quiet and slow songs, but the set picks up from his fourth song onwards when backing tracks are played from a laptop. Dan gets his chance to shine at the end of the last song when Anson leaves the stage and Dan gets a guitar solo. Anson has a UK and European tour all set for spring 2024.