Whoever thought it a good idea to make an album of duets between veteran US rock legend Suzi Quatro and Grammy-nominated Brit' singer/songwriter KT Tunstall – "Face To Face" on Sun Records – needs to have words with themselves.
Those words are "Bravo" and "Brilliant"… Maybe it was Suzi's son Richard [who produced the project – Suzi's 18th album], and whom Suzi cites as the catalyst of her creative "rebirth" after almost 60 years on the road as a touring artist.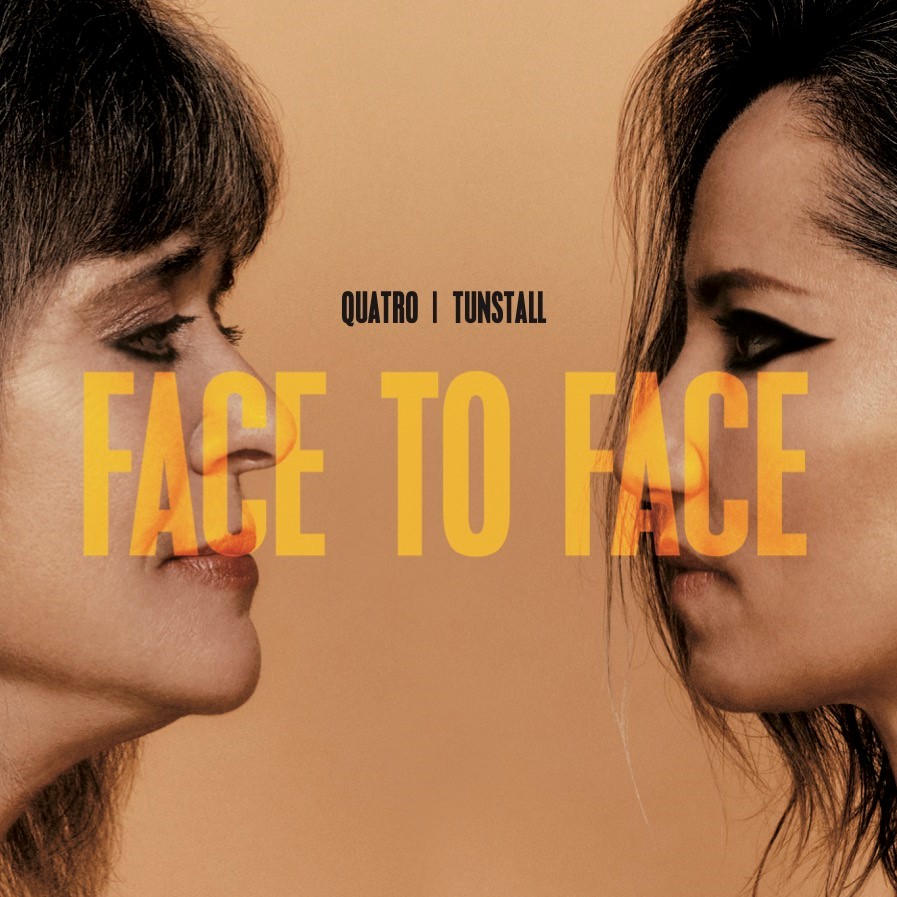 The album which dropped in August 2023, features 10 original duet songs written by Suzi and KT and is the follow-up to Suzi's acclaimed 2023 "Uncovered" EP.
It's five decades since her self-titled debut album saw light of day in 1973, and she had a smash hit with "48 Crash" from that record. She has sold more than 50 million records and scored many hit singles and albums.
Her many chart hits include "Can The Can", "Devil Gate Drive", "If You Can't Give Me Love" and the million-seller US hit, "Stumblin' In" with Chris Norman.
Still very much in demand as a live act touring the world and firing on all cylinders at 73-years old, but with the energy and looks of someone much younger. She tours the UK in November, Europe in December, Australia in February and March 2024, and all over Europe throughout 2024.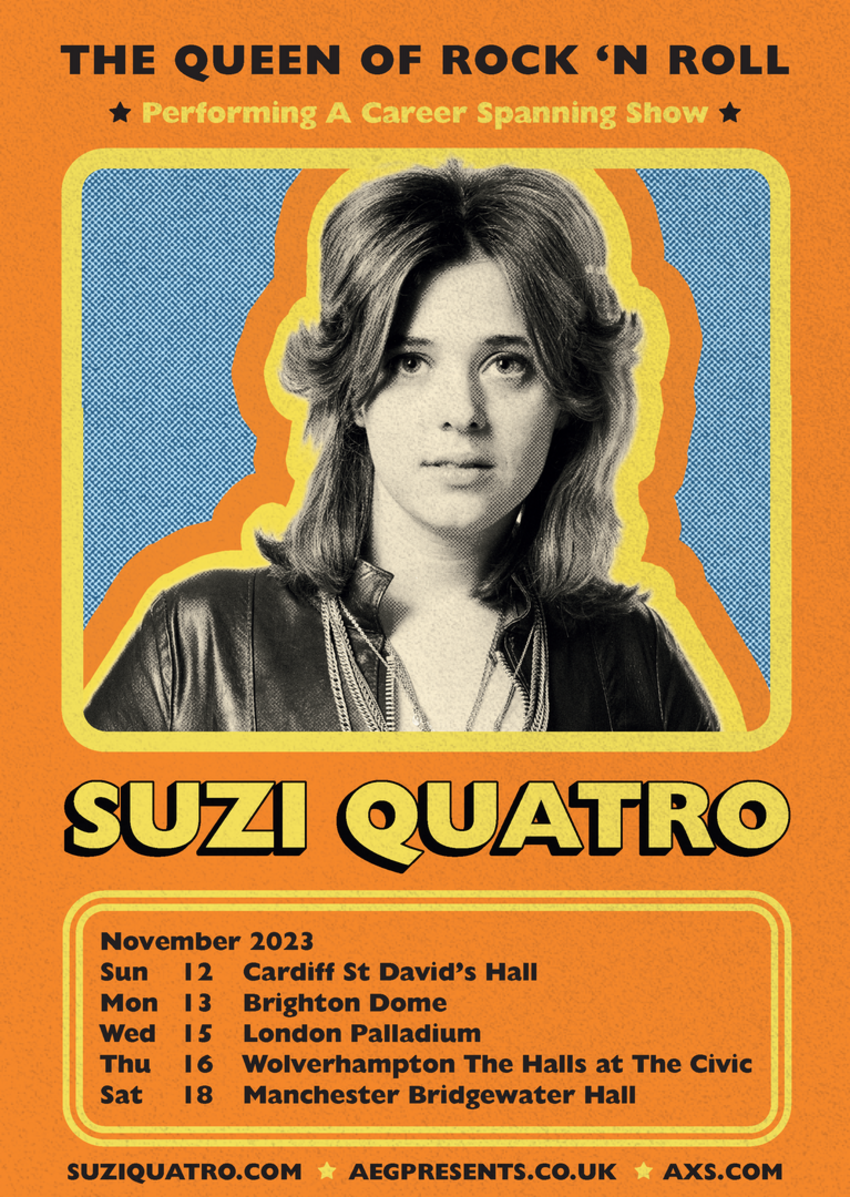 Already working on her next solo album in the wake of the fabulous collaboration project "Face To Face" with the also marvellous KT Tunstall, Suzi [born Susan Kay Quatro in Detroit, USA] took time out of writing and recording to give us her "Track Record", and deliver a definitive response to the question of retirement…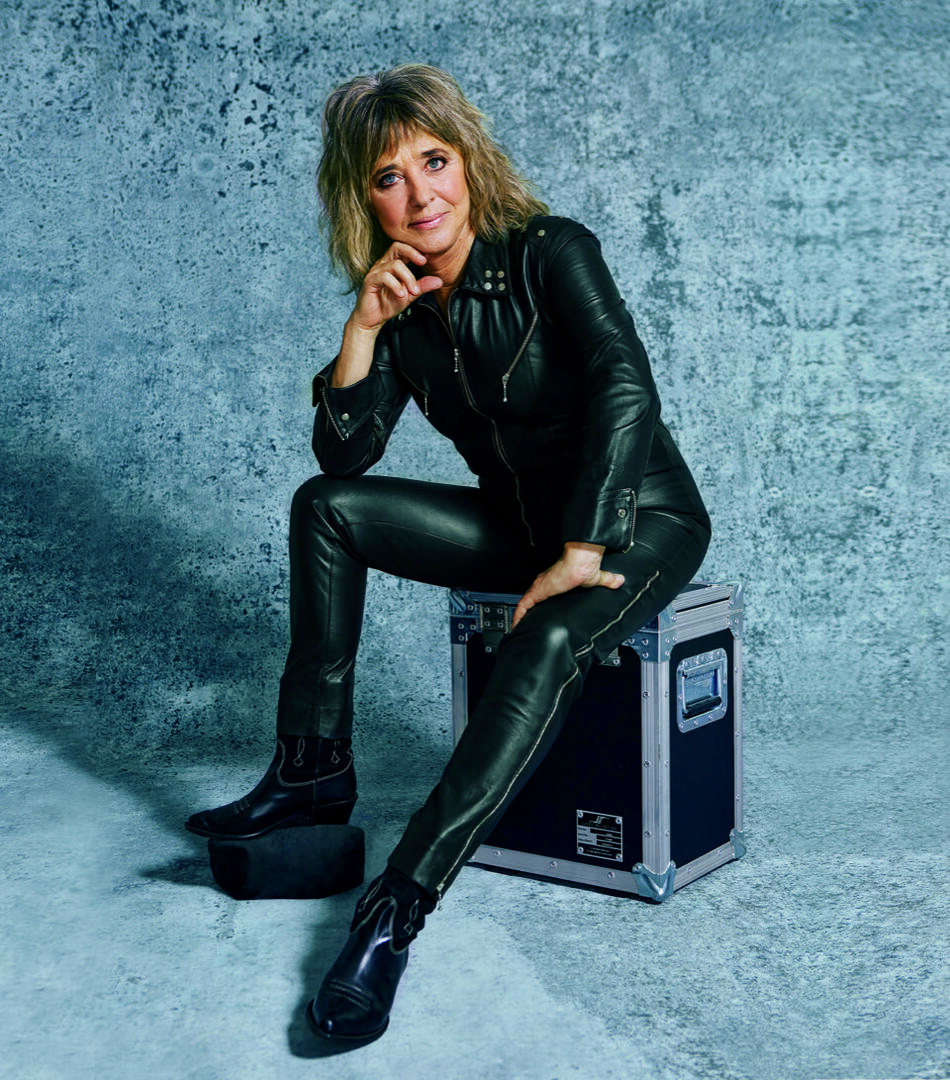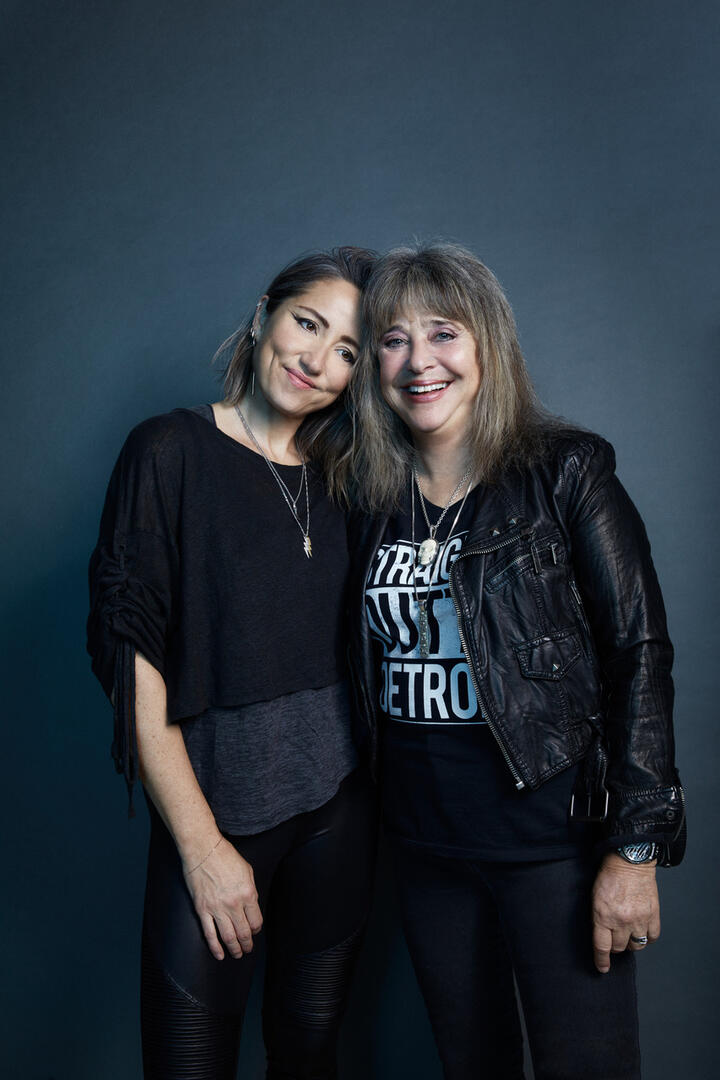 1. First song you recall hearing as a child?
That would have been "My Blue Heaven". My father was a musician and they had to go to California because my brother was on TV. Then they left us alone and I was really missing my sister. And they had one of those little plastic recordings of her singing 'My Blue Heaven' that sticks in my memory forever. Cried my eyes out. I thought they were gone for months. They were gone for a week.
I was on BBC Radio 2 for 15 years and my last series was called 'Quadraphonic' and I used to have themes. Every show had a different theme and one of the themes was my dad's songbook. I would read that and I would do the original version and then play probably 50s or 60s version of the same song, because during the doo-wop era, they raided the old songs and changed them into doo-wop. So that was one of my dad's songs but I can't remember who did the original.
2. First single you owned?
Bobby Darin: "You Must Have Been A Beautiful Baby." I remember my dad gave me a dollar so I could go to the shop and buy this little disc, and I got change. That was the first one I bought. My dad gave it to me (the money), but I actually went out and purchased it.
3. First LP/album you owned?
The Beatles: "Meet The Beatles In America." That would have been 1964. I didn't have my own record player for a long time. I was one of five kids and Patti, my oldest sister, had her own record player and she locked everything up so I couldn't get in there. But I did get in there!
So I kind of grew up listening to my elder sister's music by nine years, then my brother – he's two years younger. I snuck into Patti's music which was really great because it was private. I got the key, went in and listened, and then she caught me because I didn't put the records back in order. She was anal that way!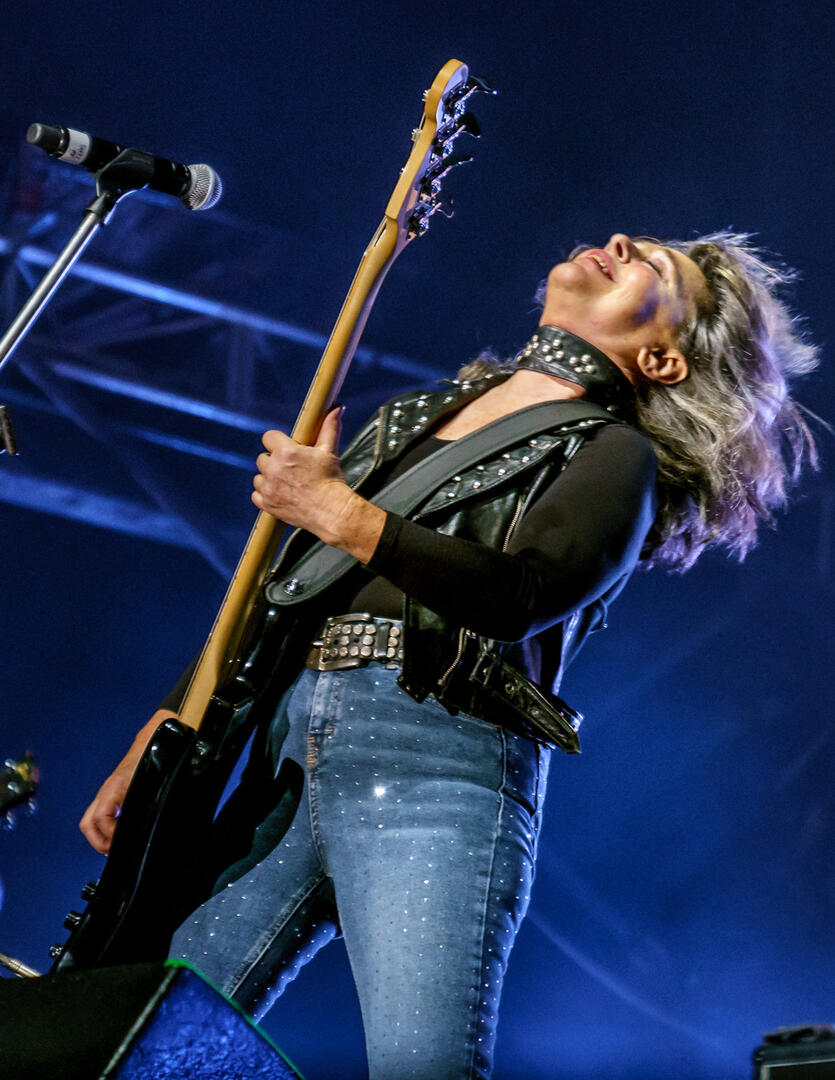 4. First CD you owned?
It got me interested in getting into CDs; it was "Blonde On Blonde" by Bob Dylan. Yeah. I kind of resisted for a while, and then when I saw some of my favourite things coming out, I then went, okay, I'm in this now. It took me a while because, you know, if you're into records (vinyl), you're into records.
5. Last music you bought and in what format (CD/vinyl/digital download)?
I don't buy digital. I think it would have been Paolo Nutini. Yeah, I like him. I remember buying that recently. So that would have been the last one I bought. I think its last one he put out, but I can't remember the name. It's outside on my patio in my bar selection of music.
6. Which album would you be happy to receive as a gift?
I love, believe it or not, Dory Previn. Dory Previn: "Mythical Kings And Iguanas." It's one of my favourite albums. And I'm very partial to anything by Bob Dylan – I'm a big, big fan – so "Nashville Skyline."
Dory Previn is wonderful, the most unusual thing you've ever heard. It was Mickey Most, bless him, 1972 and he gave me this cassette of that album, "Mythical Kings And Iguanas" and he actually said to me: 'This album will change your life.' There's not a wasted syllable.
Its a superb album. It's a way of storytelling. Sometimes when I'm out on my treadmill, I'll put that on and the time is up before you even know it. She's intricate, she's interesting, she throws a punch verbally, which is what I like.
7. Favourite album? (Choose more than one if need be…)
"Tapestry" (Carole King), of course. I think it's everybody's favourite, and that's up there with the best of them. Neil Young: "After The Gold Rush". Dylan's " Blonde On Blonde." I think that's probably my favourite Bob Dylan album of all time. Oh, Jackson Browne running on empty.
adore that album and I've worn out 5 or 6 copies, plus Tom Petty and the Heartbreakers first album, I've worn that one out too.
Ian: It sounds to me by the number of of albums you've gone through and the different styles, what mood you are in dictates what you are going to listen to?
Suzi: Oh I am. I'm like that with movies, too. When I pick my movie for the evening, you know, if I feel like I need to have a cry about something, I'll put on Nat King Cole. You know, I cry to him. Always at Christmas time, I put on….
I have a huge Christmas CD collection, and my mom's favourite was "Silent Night." So I put on the Nat King Cole Christmas album, and I sit in that room and I cry and I miss my mom. And I just picture the family Christmas and everybody's singing in front of the piano. And, you know, it's real important to me. I do that every year.  I'm quite square.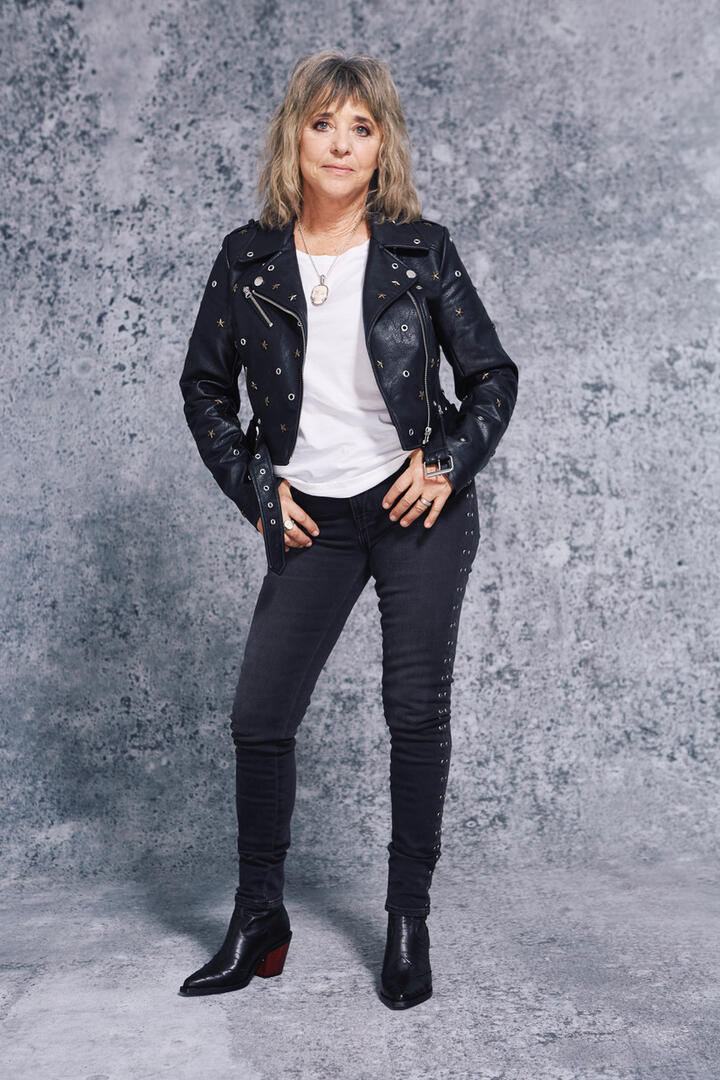 8. Best record ever made (can be single/album/EP – and choose more than one if need be)?
"When I Fall In Love" by Nat King Cole. In fact, it's so good I'm having it played at my funeral. "Lay Lady Lay" (Dylan) and The Righteous Brothers: "You've Lost That Loving Feeling." "For the getting up and I can't sit down, it would have to be "Run Around Sue" by Dion.
9. Guilty secret (or anything unusual or perhaps unexpected) in your music collection?
I have classical CDs by orchestras. I played classical piano and so did my brother. I was brought up very much on the classics, from my training, so I have a lot of CDs of that and I have my music book, and I sit down and I play the piano, and I play the classics. People get do surprised at that.  Beethoven is my favourite composer. I always say ABBA is the Beethoven of the pop world.
For me, his melodies are the most accessible. And he also has that crazy part in every one of his compositions. He goes into this craziness and then he comes back to it. Even "Für Elise", you know; it goes in and then it goes back to that again. So he had that little bit of craziness about him. Wonderful, wonderful composer. Mozart is my second favourite composer.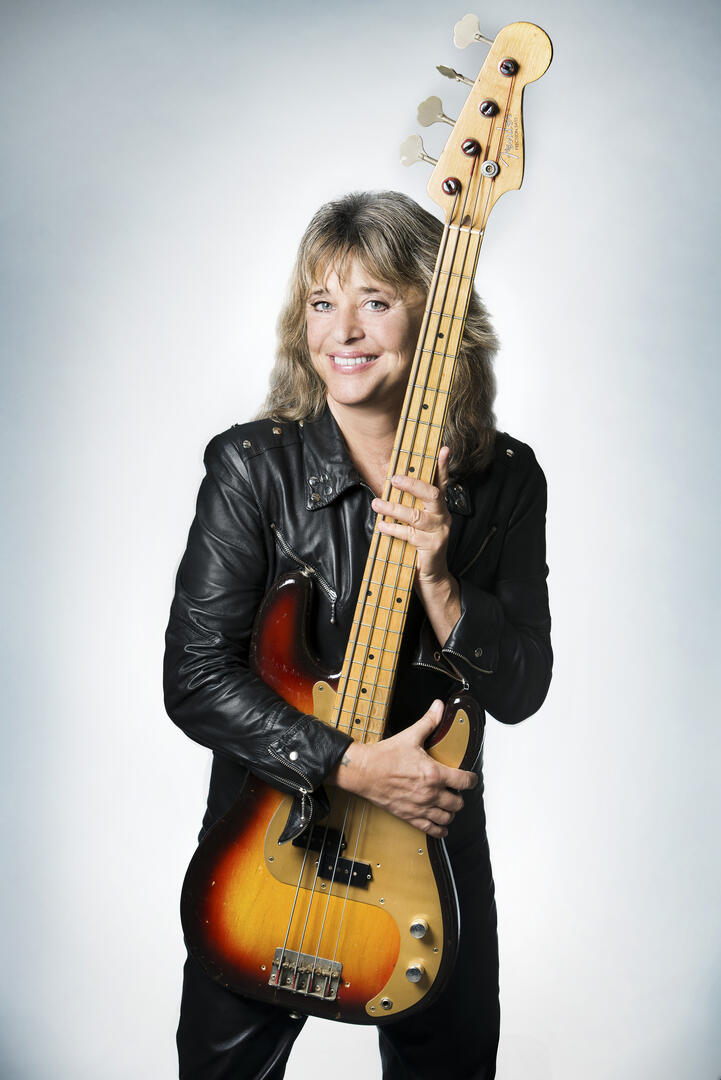 10. What does music mean to you and how does it make you feel?
Music has always been my friend. My go-to place for everything I'm feeling. It saves me. It kills me. I enjoy it. I write it. I play it. God without music;wow, yhis would be a dreadful place to be.
11. Which song or album is a guaranteed mood booster?
I'd probably put on a 1950s compilation, probably doo-wop. That is just happy. I picture street corners and the group singing and you know, I like that. I like the doo-wop a lot and it does lift you.
12. Which song or album would be the soundtrack to a film about your life?
I would say "Running On Empty" by Jackson Browne. That pretty much covers my life, because he wrote that on the road and he recorded some of the stuff in a bus. I've done that my whole life, so that kind of feels like me. Maybe that's why I relate to it so much.
Ian: How much time do you think you've spent on the road in your life? Suzi: For years I've been doing this; 59 years in fact. So much so, that my husband sometimes says to me, shall we go somewhere? And I say, no, shall we not!
13. Your favourite driving track or music to exercise to?
A lot of the time I'll put on what I've been doing lately. "No Control", "Devil In Me", "Uncovered" or "Face To Face" * (all tracks from the Face To Face album with KT Tunstall.) A lot of times I listen to my own stuff. I find it a nice thinking space while exercising, to recall riffs and albums, and if i'm going back in to write, its a good thing to do.
Ian: And if there was a nice car on a coast road, what would be your choice? Suzi: It would be a Bob Dylan album, the one with "To Make You Feel My Love" on. Once when I was driving home, I had to pull over and play it again. I must have played it 10 times. It really affected me.
14. Best song or album for a romantic moment?
Johnny Mathis. Oh, there's no getting away from it: "Twelfth Of Never". Chances are, you are hooked. If you're with a guy and he puts that on, you're gonna say yes! (Suzi breaks out into loud laughter!)
15. Which song was played for the "First Dance" at your wedding?
For my first marriage it was "Help Me Make It Through The Night", the Gladys Knight version. We danced in his parents living room on our first Christmas together.
With my current husband, its Bobby Darin: "Dream Lover", even though he can't dance.
16. Your choice of song to sing at karaoke?
Funnily enough its a track that I've just recorded for my "Uncovered" EP, and it is Otis Redding's "Dock Of The Bay". I can imitate that really well. Or a Gene Pitney, I do a mean Gene Pitney imitation- I'd do "Half Heaven, Half Heartache" or "Twenty Four Hours From Tulsa." I do a mean Billy Holiday too, and i'd do "God Bless The Child."
17. Which song takes you back to your childhood – and to which specific memory/memories?
[Suzi starts singing "Sealed With A Kiss, the Brian Hyland track. I'm immediately transported back; my mum used to say, 'not again, change the record."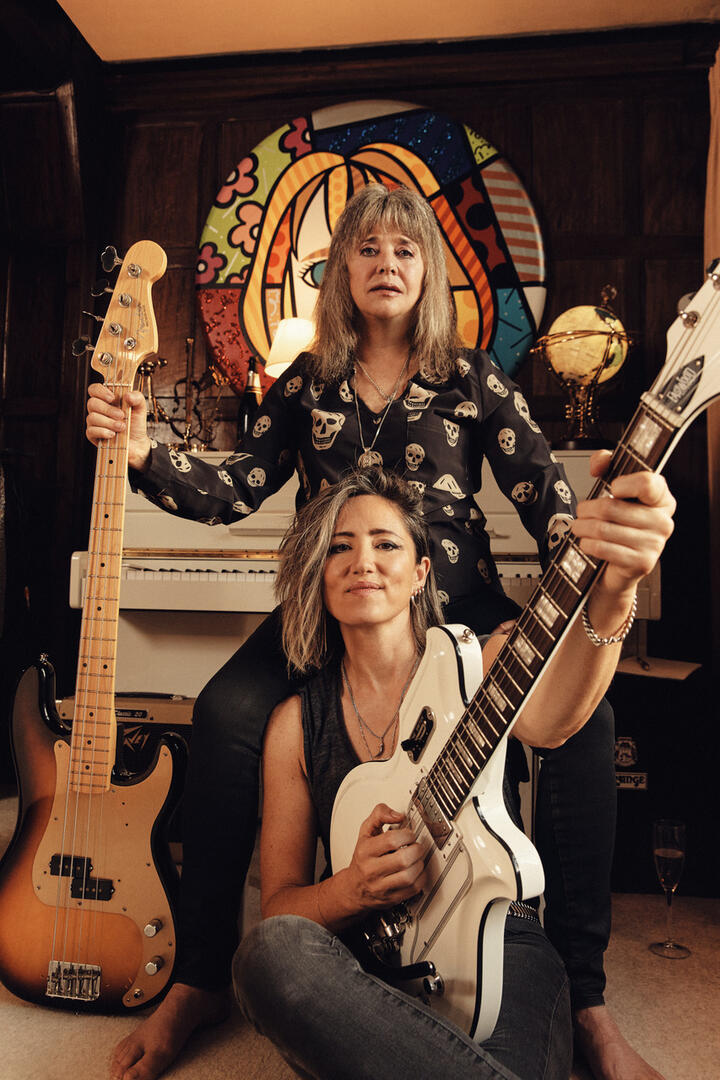 18. Favourite band (or bands)?
Canned Heat: On The Road Again – the first proper bass solo that I saw and he influenced me for my own five-and-a-half minute bass solo that I do now. Google 'Suzi Quatro bass Solo 2023', because there's one that just came on from Lincoln,and you'll be impressed. Its not an easy bass solo. I challenge any bass player to do that.
Another band that stuck out for me was Tom Petty and the Heartbreakers. I saw them just before they broke big, at the Whiskey in L.A. and I recall saying to my ex, that's what a rock and roll band should sound like. They were just so good, it was in the pocket.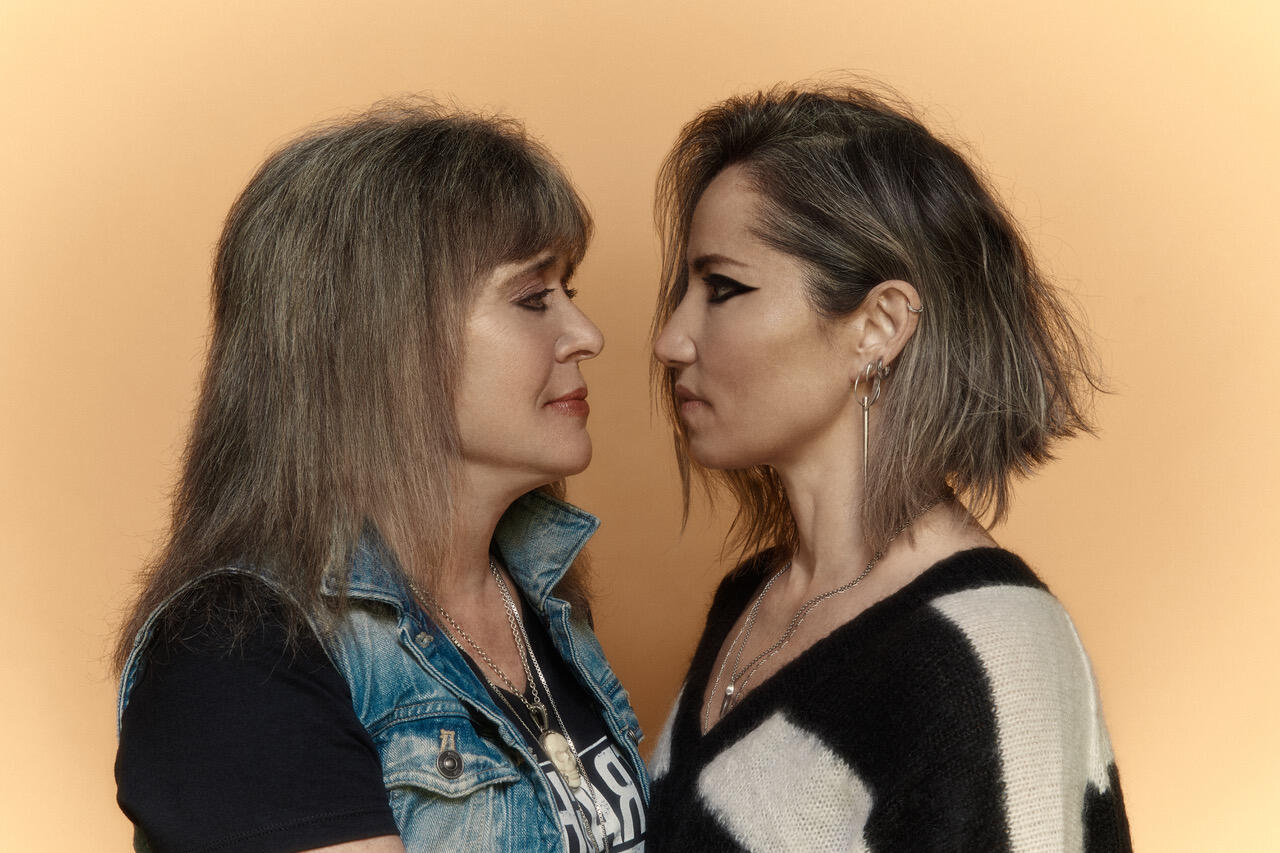 19. Favourite singer (or singers)?
Frankie Valli is one of them and I've met him several times. My eyes adore him (Suzi chuckles). In fact, the first time I went backstage to meet him was in Belfast. We'd flown over to see the show and were in the VIP section. Frankie announced me from the stage. He announced me at Wembley once and I got a huge cheer; I nearly died. Frankie waved to me to go backstage with my husband. We shook hands and had a little hug, and then out of left field he said, "Do it as long as you can". This came out of left field, an amazing thing to say.
Another is Barbara Streisand. I adore her, live its like listening to an angel sing. Tony Bennett is another. I saw him with a jazz trio in New York. Wow. Celine Dion: I love here voice; again, like an angel.
20. Which song would you like played at your funeral?
That is easy, Nat King Cole: "When I Fall In Love". I've said it for many years, the reason is ,I am a romantic. I am that song and it takes me through every emotion that this life offers you. That song take me through the whole spectrum.
---
---
STOP PRESS: The editor asked me to ask Suzi, as my last question: "What do you say to people when they mention the 'R word': Retirement?"
"I can't. I will retire when I'm ready to retire and when I know it's the right time. I'm going from strength to strength right now, with this 'Face To Face' album with KT Tunstall. It's just picked up an 'Album of the Year' award presented by Jools Holland, and it was album of the week when on BBC Radio 2.
"I'm working on my next album, I'm doing gigs that are above and beyond. At 73, I'm getting reviews I didn't get when I was 23. So you know, I feel like I'm at the top of my game right now, and I still have lot to say and to do.
"If I ever go onto that stage and I'm not smiling from the bottom of my feet to the top of my head in genuine enjoyment, I'll not be up there anymore. I always go up there to give 300% – that's how i feel."
Ian: I think if you were a miner, you have tapped into a rich vein, and its going to be interesting to hear what else you will do, as you are clearly reinvigorated.
Suzi: "It's my son Richard that I have to thank for that. When he came on board for 'No Control' (2019 solo album which Richard co-wrote with his mum, played the guitar parts and produced) and we started writing together, he gave me an injection of the original Suzi Quatro that he, as a little boy, grew up watching, and he awakened that in me.
"It wasn't dead, but he did something. I started to see me fresh through his eyes, as though I was starting out again – I'd see him looking at me as though I was young again.
"I gave birth to him and he gave rebirth to me".
---
---
---
Suzi Quatro was speaking with Ian Shipley [via Zoom from her Elizabethan manor house home in Essex – exclusively for Music Republic Magazine].