Building on the glitz and glamour of the 2023 edition in New York City, Liverpool hosts #BowieCon2024 and close friends of Bowie, Ava Cherry and Suzi Ronson, are among first to confirm appearances.
Long-standing Bowie bandmates, George Murray and Carlos Alomar reunite for the event, with last surviving Spiders From Mars member, Woody Woodmansey also in attendance.
David Bowie World Fan Convention 2024. "The Year Of The Diamond Dogs". Various Venues – Liverpool, UK. Fri 26 – Sun 28 July 2024.
Tickets On Sale Friday 28th July 2023 at 10am: www.bowieconvention.com

Superfans of David Bowie will be able to celebrate their hero's life at the now infamous Bowie Ball, a Bowie Swap Shop and hear from leading names from the icon's professional and personal life at the third David Bowie World Fan Convention which returns to Liverpool, UK between Fri 26 – Sun 28 July 2024. The theme, "The Year Of The Diamond Dogs", will guide an expansive range of fan-thrilling events including talks, VIP meet-and-greets, film screenings, exhibitions and performances with the first guests confirming their attendance.
Having taken over New York City for this year's edition, the ambitious third gathering of the global Bowie family has already announced that two members of Bowie's DAM Trio backing band, elusive bassist George Murray and guitarist, and long-standing friend and artistic collaborator, Carlos Alomar will travel from the US to offer eye-witness accounts of another intensely, creatively fertile, 1970's period of the musician's career.
For the second of the three illustrious BowieCon instalments to take place in the UK, the last surviving Spiders From Mars member, Woody Woodmansey has also confirmed that he will return to Liverpool to meet fans.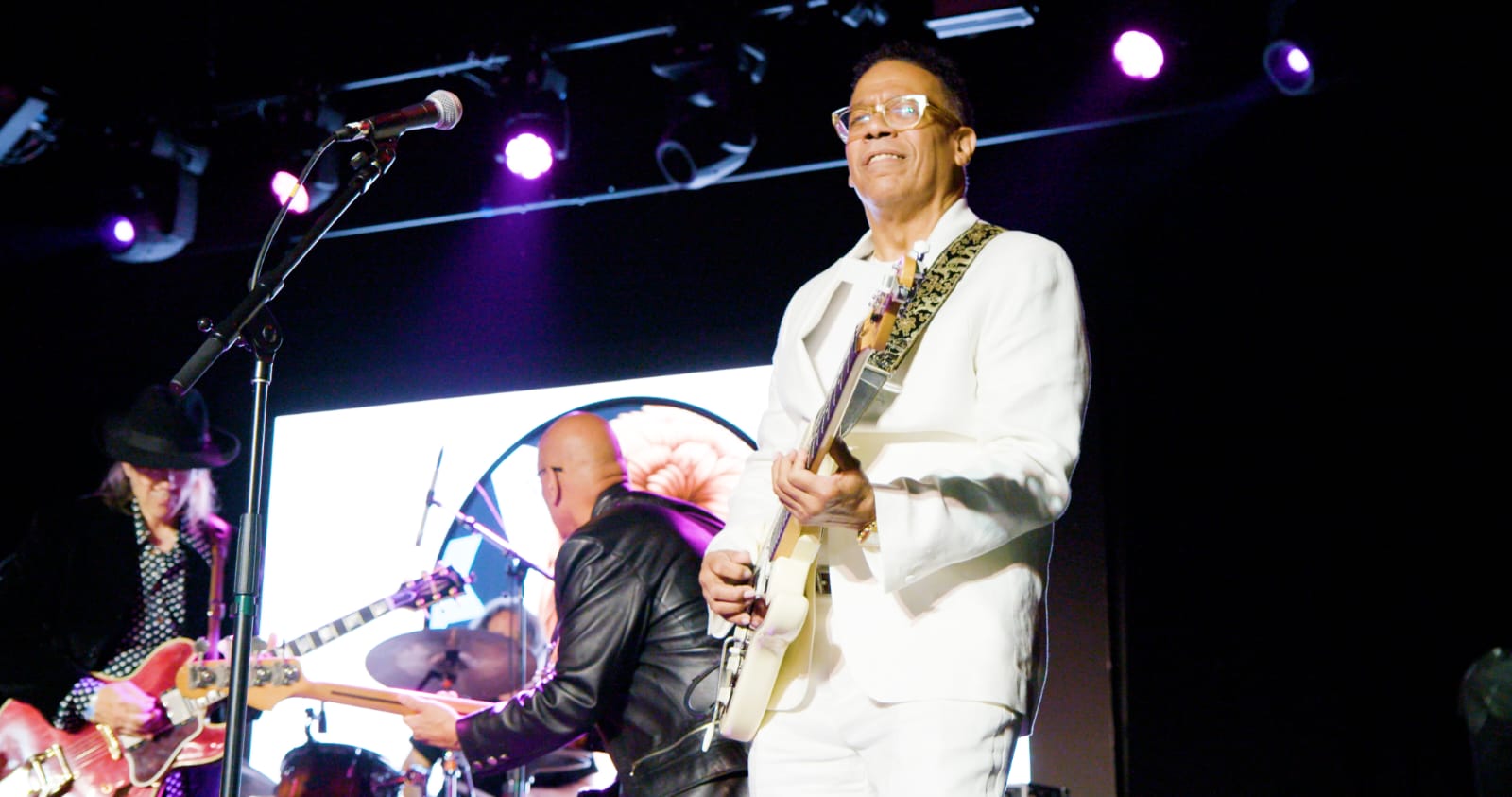 Among the eye-witnesses to some of the most pivotal moments in Bowie's forever changing career, three of those that lived in the centre of the storm will also be present. Backing singer and close friend, Ava Cherry, who was in his inner circle as Bowie made the style-change from Diamond Dog to Fame-era, zoot-suited soul-popper, will travel to Liverpool.
As will Suzi Ronson, wife of the late and legendary Spiders… guitarist, Mick Ronson, as well as being Bowie's Ziggy-era hairdresser and stylist. Dana Gillespie, one time backing singer, yet also releasing a solo album produced by Bowie and Ronson in the early 1970s, will offer more fly-on-the-wall testimonies from both the folky, developmental years of Bowie's life but also his sudden rise to early fame.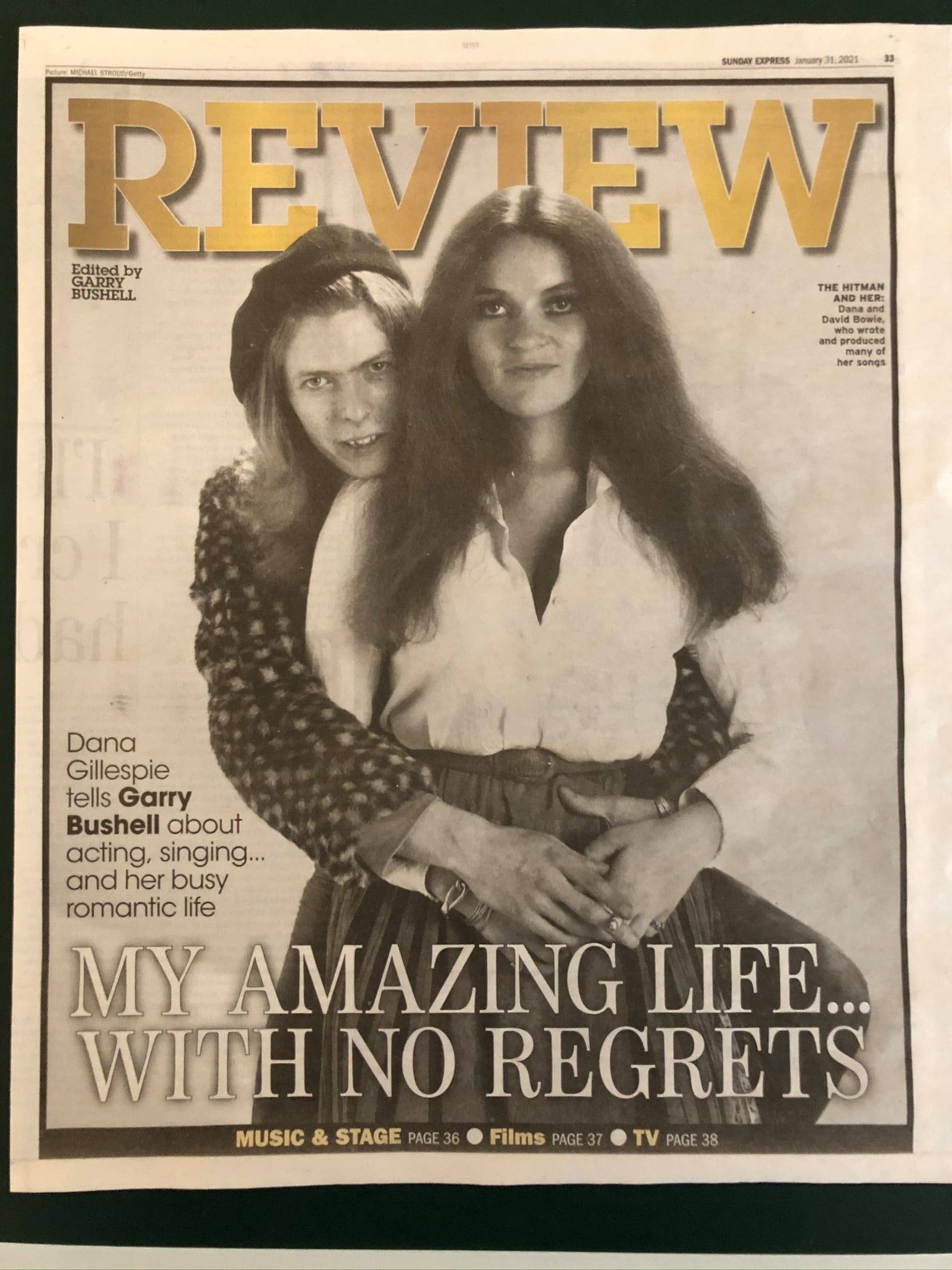 Having enjoyed the company of Bowie-linked names such as producer, Tony Visconti, bassist and singer, Gail Ann Dorsey and Young Americans singer, Robin Clark over the past two years, the Convention will also once again open the world-famous Bowie Ball to all fans as the centre-piece event for ticket holders.
As spectacular an event of fancy dress one-upmanship as the music world has seen since the time of Ziggy Stardust himself, the audacious display of Bowie-centred glitz and glamour will feature DJs playing rarities, hits and in-betweens plus performers and live bands. A special 'encore' at the Bowie Ball will see Carlos Alomar himself reprise an on-stage cameo, performing Fame as witnessed in New York this year.
Daytime events include exhibitions by artists and photographers, with Denis O'Regan, official photographer on the Serious Moonlight and Glass Spider tours the first to confirm his attendance.
David Buckley, author of 1999's biography, Strange Fascination, and Leah Kardos, author of Blackstar Theory: The Last Works of David Bowie, are the first authors to commit to attending and will be amongst an anticipated line-up of biographers and critics to join themed conversation panels and Q&As.
A curated high-quality memorabilia market place will return and, for the first time, a Bowie Swap Shop will be organised for fans to trade and upgrade their collections of records, clothing, artwork and anything else they feel ready to part with, having an unmissable chance to grab that elusive, missing part of their collections from a fellow fan.
Dave Pichilingi, Co-Founder of the David Bowie World Fan Convention, says of the 2024 event: "I really cannot believe how far and fast BowieCon has come since a crazy idea I had for it during lockdown in 2020.
"The philosophy from the start was to work with the key collaborators and artists who were close to Bowie throughout his career and life, to bring them together in a non-elitist, non-judgemental and safe environment to celebrate the life and times of the man we continue to adore.  Over the last two years we've spent time with key names from Bowie's working and personal life and have been privileged to hear their memories and insights.
"With plenty of thrills to go alongside the moments of awesome poignancy, there's no place like it for fans who have visited from around the world. Next year will be be our biggest to date and I can promise we have lots of surprises in store for all the fans and superfans who will join us in Liverpool."
With many more former collaborators from Bowie's recording and live career, famous names inspired by him, designers and photographers who helped to create the legend, live performers, biographers and more yet to be announced for the 2024 event, the following are the first lined up to appear in Liverpool:
Carlos Alomar: At the time of the 2024 Convention, it will be 50 years since the New York-based guitarist met David Bowie, while recording a session with Lulu, later joining Bowie's live band for the last leg of the Diamond Dogs tour.
He started 1975 in the studio with Bowie and John Lennon, recording a version of Across The Universe and, fatefully, laid down the guitar line for Fame. Over the following four decades, Alomar would repeatedly return to Bowie's live band as well as playing on eleven albums, including the Berlin Trilogy, concluding with 2003's Reality. Alomar and his wife, singer, Robin Clark, remained friends with Bowie throughout his life.
Ava Cherry: Meeting Bowie as a 17-year-old singer at a New York party she organised in 1973, Cherry entered the eye of the storm as Ziggy Stardust faded and the next phase of the artist's career found momentum. While eventually joining Bowie's live line up as a backing singer for the Diamond Dogs tour, Cherry's effect on him was even more profound as they entered into a relationship, she moved into Bowie's family home and influenced his stylistic changes, visually and musically, going into his Fame-era.
Suzi Ronson: Working as a hairdresser in Beckenham when Bowie lived at his famous Haddon Hall residence, Ronson was responsible for the iconic Ziggy Stardust hairstyle having been drawn into the musician's creative circle. As a stylist she became the only female member of the Spiders From Mars touring crew and gained a fly-on-the-wall view of the chaos that enveloped the rising star, as well as gaining a husband having met Mick, the band's legendary guitarist, at the heart of the storm.
Woody Woodmansey: Michael 'Woody' Woodmansey entered Bowie's life and work in 1970 after guitarist, Mick Ronson, returned to their native Hull to recruit the drummer.
Heading south to Beckenham and taking up residence at Bowie's Haddon Hall home, Woodmansey first played on Bowie's 1970 album, "The Man Who Sold The World" and continued, over a period of three years, to drum on "Hunky Dory", "The Rise and Fall of Ziggy Stardust and the Spiders from Mars" and "Aladdin Sane."
The drummer's working relationship with Bowie ended, famously, on stage at the Hammersmith Odeon, when Bowie publicly split the Spiders From Mars, yet he has continued to play continuously since, including recent recording duties with Rita Ora.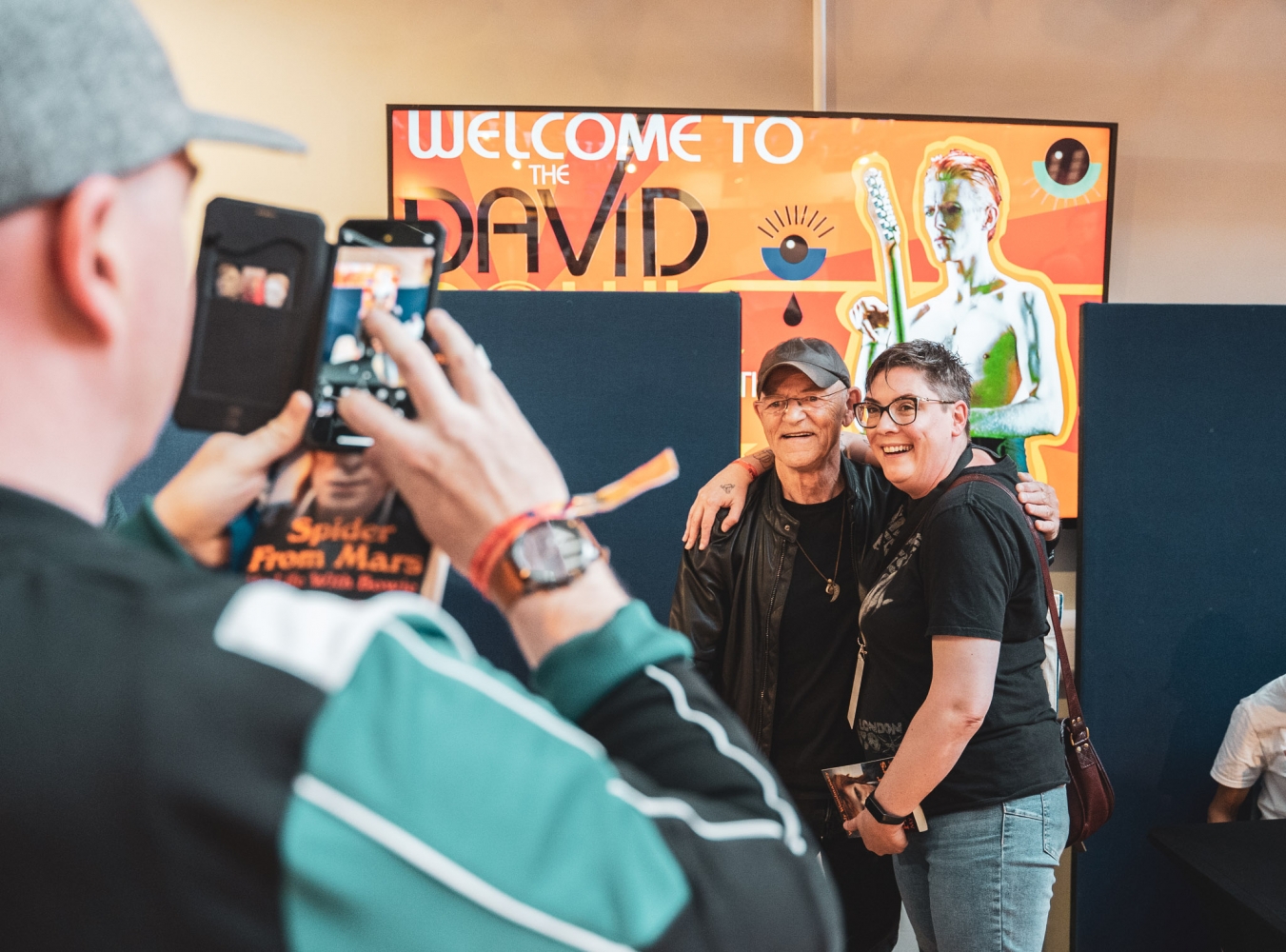 George Murray: For an intensely creative five-year period from 1975, George Murray not only stood by Bowie's side in the studio and on stage, but also laid down iconic basslines on the Bowie-produced, classic album, "The Idiot" by Iggy Pop.
An essential spoke in the infamous DAM Trio backline, including drummer Dennis Davis and fellow BowieCon guest, Carlos Alomar, Murray first appeared on record on the 1976 album, "Station To Station", contributing the strutting line to "Golden Years", continuing for five studio albums, including the "Berlin Trilogy", concluding at 1980's "Scary Monsters (and Super Creeps)."
Dana Gillespie: A London-based actress and singer in the 1960s, Gillespie fell into the same folk circles as a young David Bowie and maintained a creative and personal friendship with the artist for over a decade, not only leading Bowie to write the song, Andy Warhol, for her but also singing backing vocals on "It Ain't Easy" from "Ziggy Stardust and The Spiders From Mars."
Working with both Bowie and Mick Ronson, while being managed by Tony Defries, the duo produced Gillespie's solo album, "Weren't Born A Man", released in 1973. Gillespie's circle of rock and roll acquaintances also extended to Bob Dylan, Jimmy Page and Mick Jagger.
Denis O'Regan: One of the 20th Century's most visually arresting musicians, Bowie's performing and off-stage life was captured by the world's best music photographers. Now a regular at the David Bowie World Fan Convention, Denis O'Regan offers a first-hand account of life on the road with Bowie, having joined him twice as Official Tour Photographer. Fans will have ample opportunity to meet O'Regan, hear him speak and invest in limited edition prints from the remarkable period he spent travelling the world with the man himself.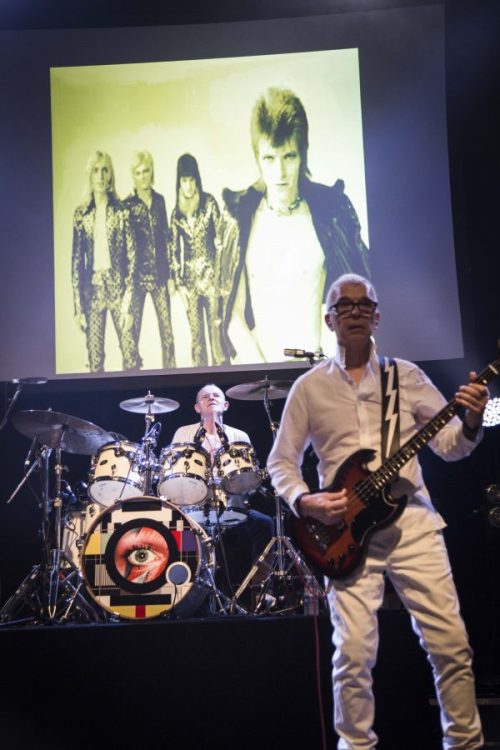 Marc Riley: Renowned UK broadcaster, most recently heard on BBC 6 Music, Riley is amongst the most vocal public figures in keeping the memory of David Bowie and his work alive. A former guitarist with legendary British band, The Fall, before moving to form his own band, The Creepers, Riley attends the Convention to spin some of his favourite records by Bowie and related artists, as well as taking to the stage to ask the most searching questions to the high-profile panellists.
Nacho: Unearthing, restoring and making rare Bowie content available to the world, Nacho's YouTube channel has grown to become a prime digital destination for fans looking to relive some of the best, or seldom seen, moments of their idol's career and life. Nacho visits Liverpool from his current home in Asia to showcase his work, discuss Bowie's rich visual legacy and share his insights with fans in attendance.
David Buckley: Buckley's two, highly-respected works on the life, time and work of David Bowie, Strange Fascination: David Bowie, The Definitive Story and The Complete Guide To The Music Of David Bowie have found him amongst the most respected biographers of the artist's long career and legacy. Born and raised in Liverpool, he has been a regular contributor to MOJO magazine and is currently working on a history of electronic music in Britain, focusing on the work of the Human League and Heaven 17.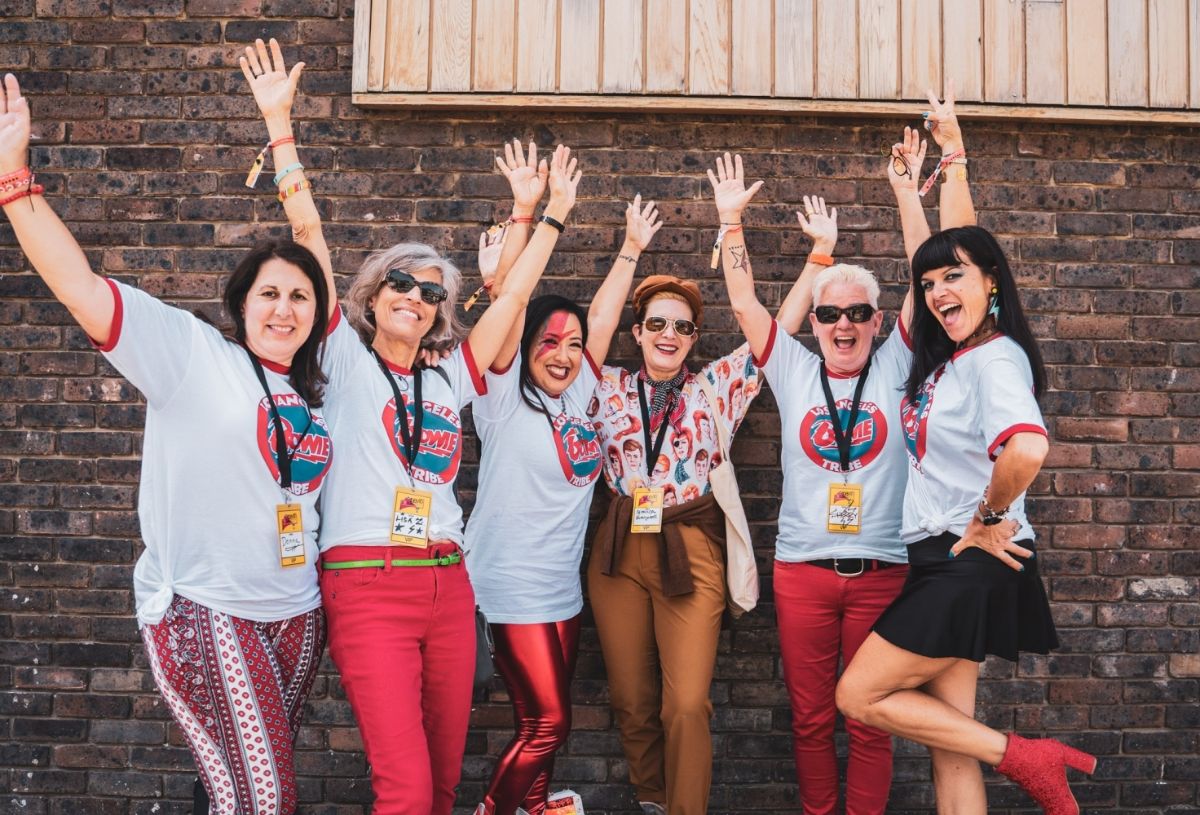 Mark Wardel:  Wardel is a Merseyside-born artist whose work, a set of masks based on the artist's face, was spotted and acquired by Bowie in 2015. Also a collaborator with life-long Bowie fan and pop music icon in his own right, Boy George, Wardel will be on hand to meet fans and exhibit examples of his Bowie and non-Bowie related work, as well as painting especially for the event.
Leah Kardos: Kardos is an Australian musician, writer and academic living and working in London. As a lecturer in music and music technology at Kingston University she is Project Leader of the Visconti Studio, a recording and research facility co-founded with legendary Bowie producer Tony Visconti. Kardos is a regular critic and feature writer for The Wire magazine and, in early 2022, published her critical analyses of David Bowie's last works, Blackstar Theory: The Last Works of David Bowie.
Hannah Breschard: Hannah Lulu Breschard is a writer, editor, and the founder of Punk Rock and Groupie Rock Magazine. Spotted as a 16-year-old Bowie obsessive by BBC filmmaker, Alan Yentob, and interviewed for the breathtaking "Diamond Dogs" era documentary, "Cracked Actor".
"Breschard's immortal line: 'I'm just a space cadet, he's the commander' has echoed through the decades since as a succinct summary of the spell Bowie cast over fans young and old, then and now. Breschard's resultant career as a music journalist brought her into contact with some of rock's biggest names.

Spizz Energi: Active since the late 1970s, but finding infamy at the start of the following decade with the singles, "Where's Captain Kirk?" and "Soldier Soldier", Spizz Energi is a renowned British punk/new wave band, noted for changing their band name every year.
Whilst reflecting on their own, extensive back catalogue, the band has remained active and, in 2020, went into the studio with Tony Visconti, who mixed their single "Christmas In Denmark Street."
Their cover of Bowie's Valentines Day, again mixed by Visconti, was released on purple vinyl and hit the No.3 spot on the UK Official Vinyl Chart. Founder and still leading the band, Spizz attends as a panel moderator.
Chris Carter: Bowie fan and forensic digital archivist, Carter runs the long-standing The Young American website, which has become a mainstay online destination for fellow fans looking for, and contributing to, reputable online resources around the star.
Finding a deep-reaching and fascinating niche when it comes to Bowie's life, the site concentrates on the 12 months of an eventful 1974 as Bowie unpicked his time as Ziggy Stardust and recorded "Diamond Dogs."
Having brought fans from the furthest corners of the globe for both the first event in Liverpool in 2022 and this year's huge gathering in New York, VIP tickets are expected to sell out quickly as demand grows year-on-year for the most exclusive, limited access to signing events and intimate gatherings throughout the weekend. Fans are urged to sign up for mailing list updates and be the first to know by signing up at www.bowieconvention.com
---
---
Images:
BowieCon 2022 in Liverpool (c) Rishika Nath
Fans from LA at BowieCon 2022 in Liverpool (c) Rishika Nath
Carlos Alomar on stage at BowieCon 2023 in New York (c) Jazamin Sinclair
Woody and fan (c) Jazamin Sinclair