Hollywood Vampires. Supergroup. Are they? Star studded, for sure. Alice Cooper, Joe Perry of Aerosmith and movie star Johnny Depp among their ranks. A group, definitely. But are they super? Let's see..
Their 20-song set is made up of some HV originals and many covers, paying tribute to their "dead drunk friends" who frequented an infamous boozer in L.A. as drinking buddies, labeled Hollywood Vampires as "they only come out at night".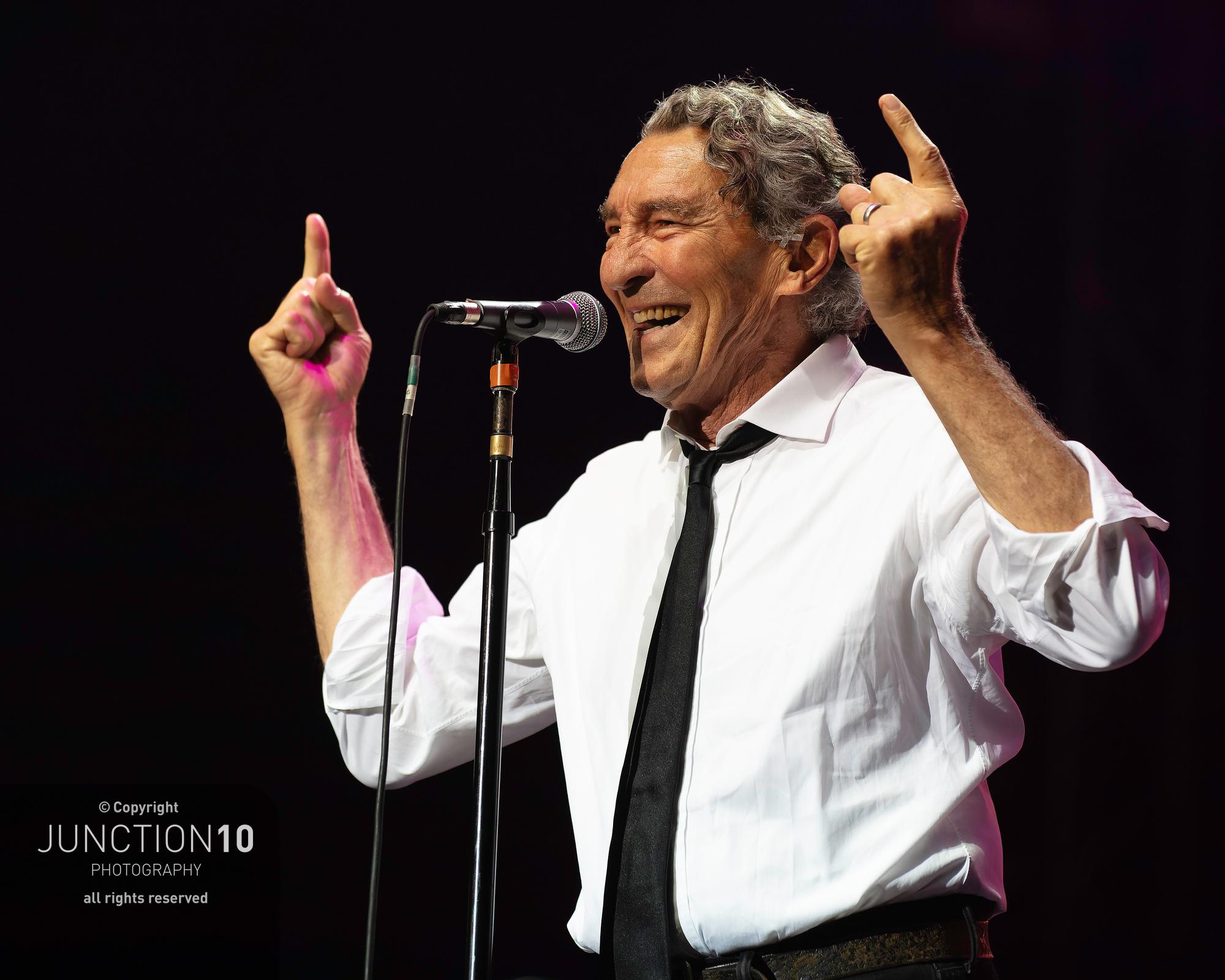 Cooper is a master frontman with his honed stage craft and trademark Gothic look complete with makeup. Joe Perry a superb rock axeman. Depp looks too cool for school with his guitar slung low and wearing a knitted hat.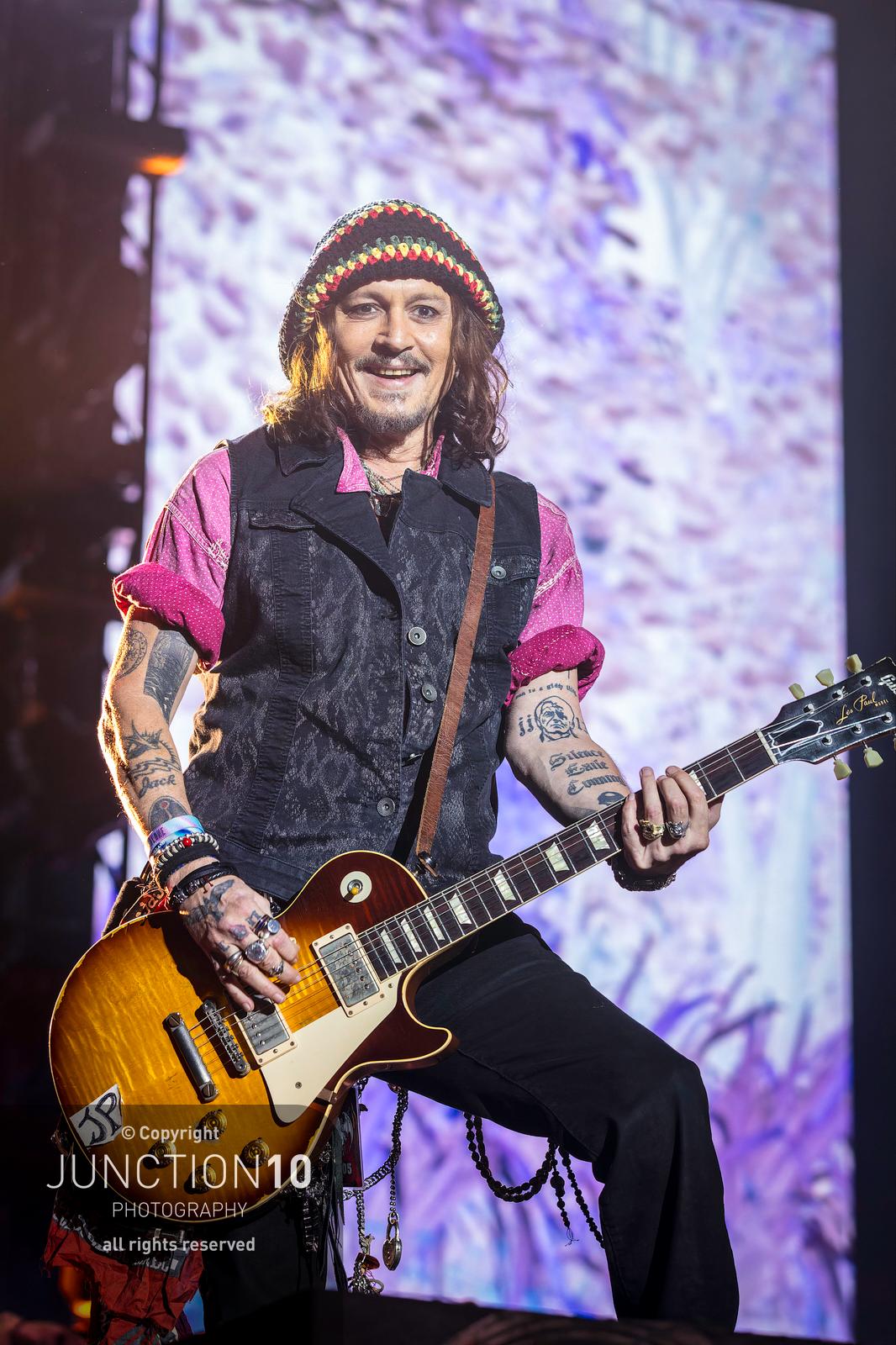 Before the gig at an almost sold out 15,800 capacity Utilita Arena in Brum, I was wondering if Mr Depp could play the thing, or if he was just a big name to sell tickets.
I also pondered the same about his vocals. I knew they are mainly a covers band and so I wondered if this was going to be star-studded karaoke, and as enjoyable as root canal work.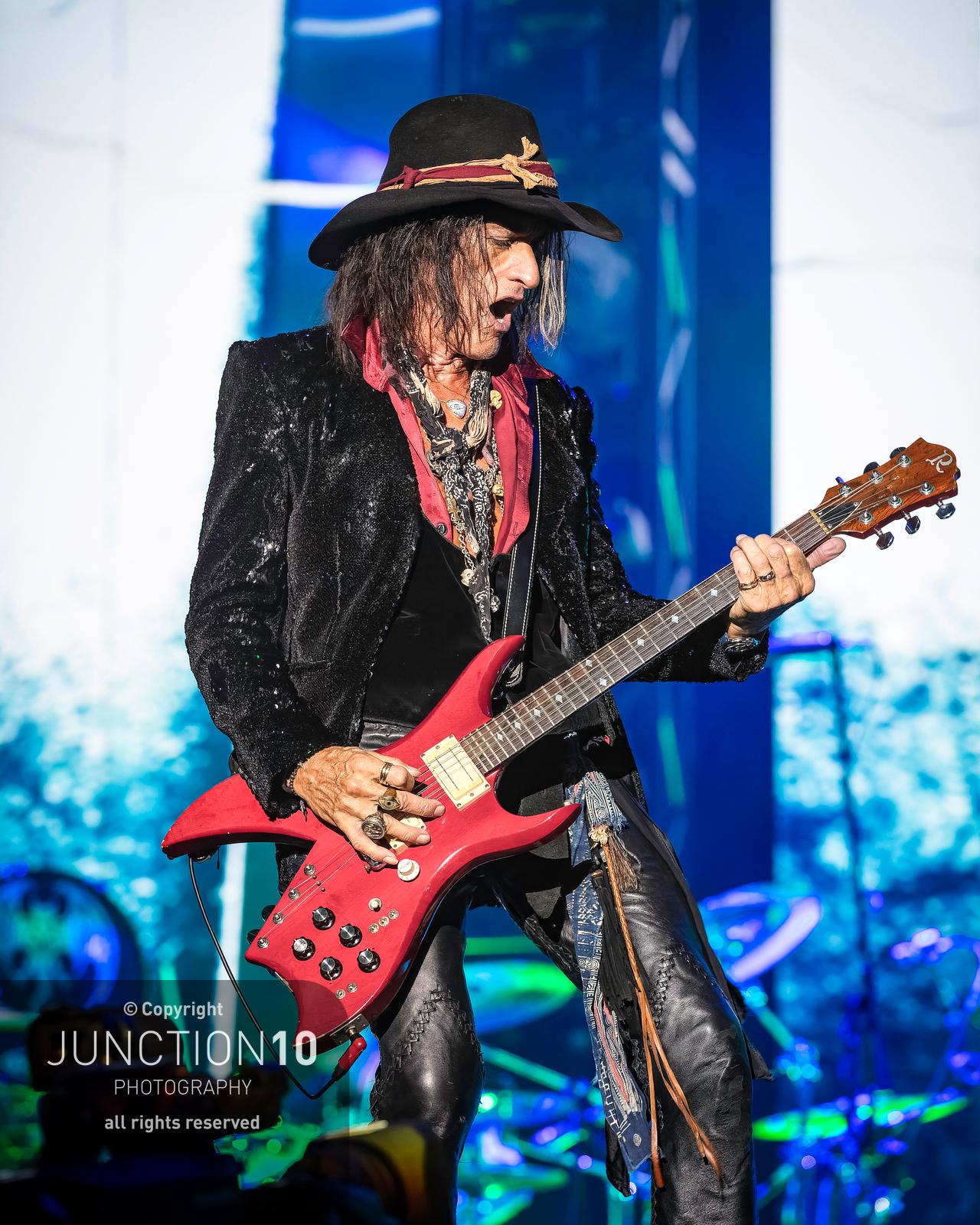 The evening began on shaky ground with support act The Tubes (hit song from back in the day "White Punks On Dope") tonight with four original members in the band, and singer Fee Waybill's "interesting" vocals.
To be kind, I am not sure if there was an issue with the monitoring and if he could hear himself properly, but Fee's vocals were just not on-point tonight. One chap next to me muttered: "This bloke must be the worst Roger Waters tribute act in the world!".
Overheard in the bar after their set: "That geezer with The Tubes. His singing was a bit shaky. I'm sure most of this audience were confused by by this old man in a white shirt and black tie on stage, crooning. Wondered if it was a waiter from VIP grabbing his moment of glory!"
The shirt came off later in their set and he dresses in a fetish mask. He sings the Sinatra song "That's Life" and it proved this was just nowhere near being the right choice of band to open for The Hollywood Vampires.  Not even close. A vast percentage of the audience in Birmingham would surely agree.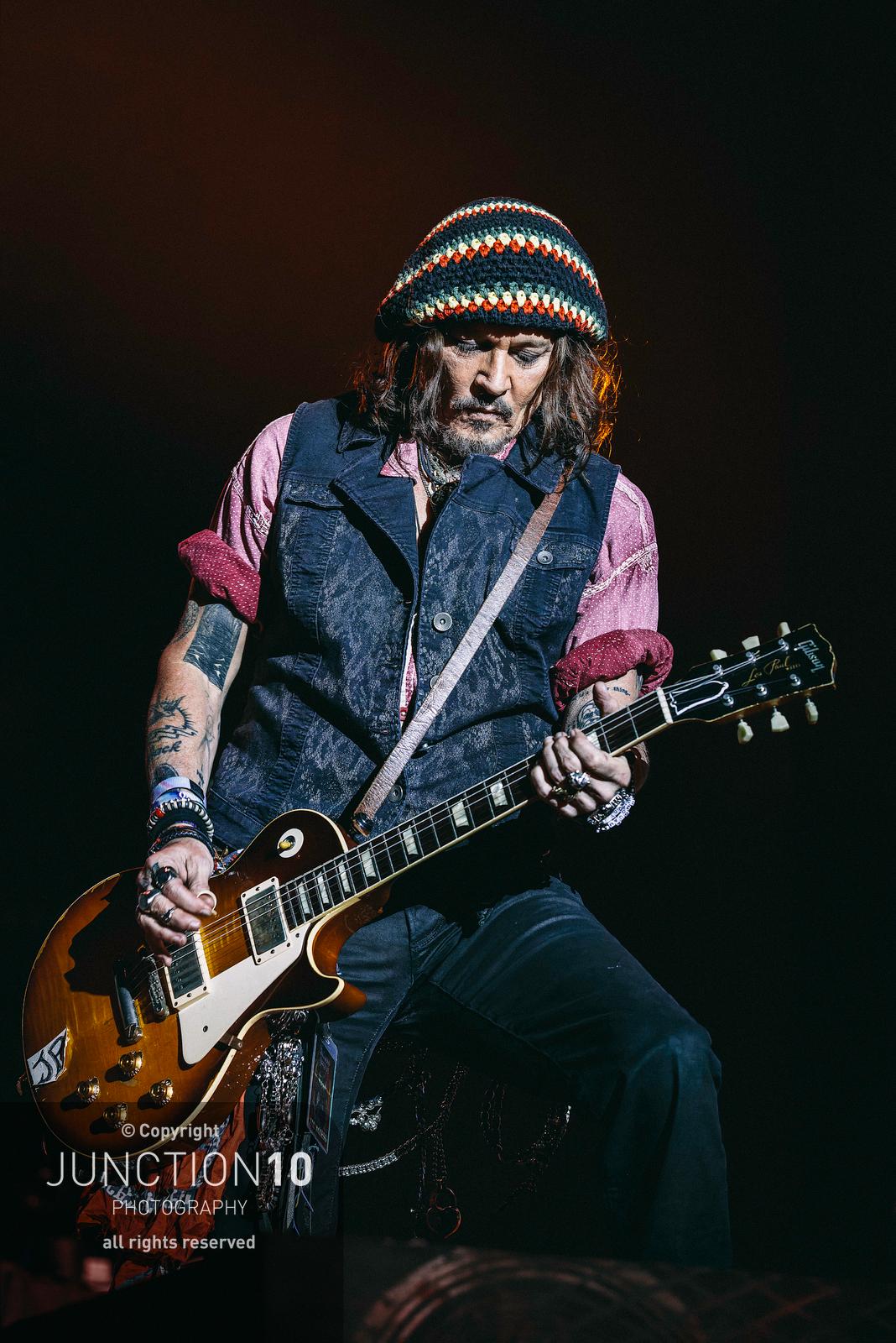 So, were we in for more of the same from this so-called Supergroup? If so, that bar is gonna be rammed, but as a reviewer I have to stay put and endure it! "We are the Hollywood Vampires, and we play music for our dead, drunk friends," Alice Cooper tells us. The band cancelled their 2020 tour due to the pandemic, but they are here now…
They kicked off loud and proud with "I Want My Now" and "Raise The Dead," before the Alice Cooper track "I'm Eighteen", and two covers of The Doors' songs, "Five To One" and "Break On Through To The Other Side". Cooper roams about the stage looking menacing with his walking cane prop, like some sort of magic wand, during "The Boogieman Surprise".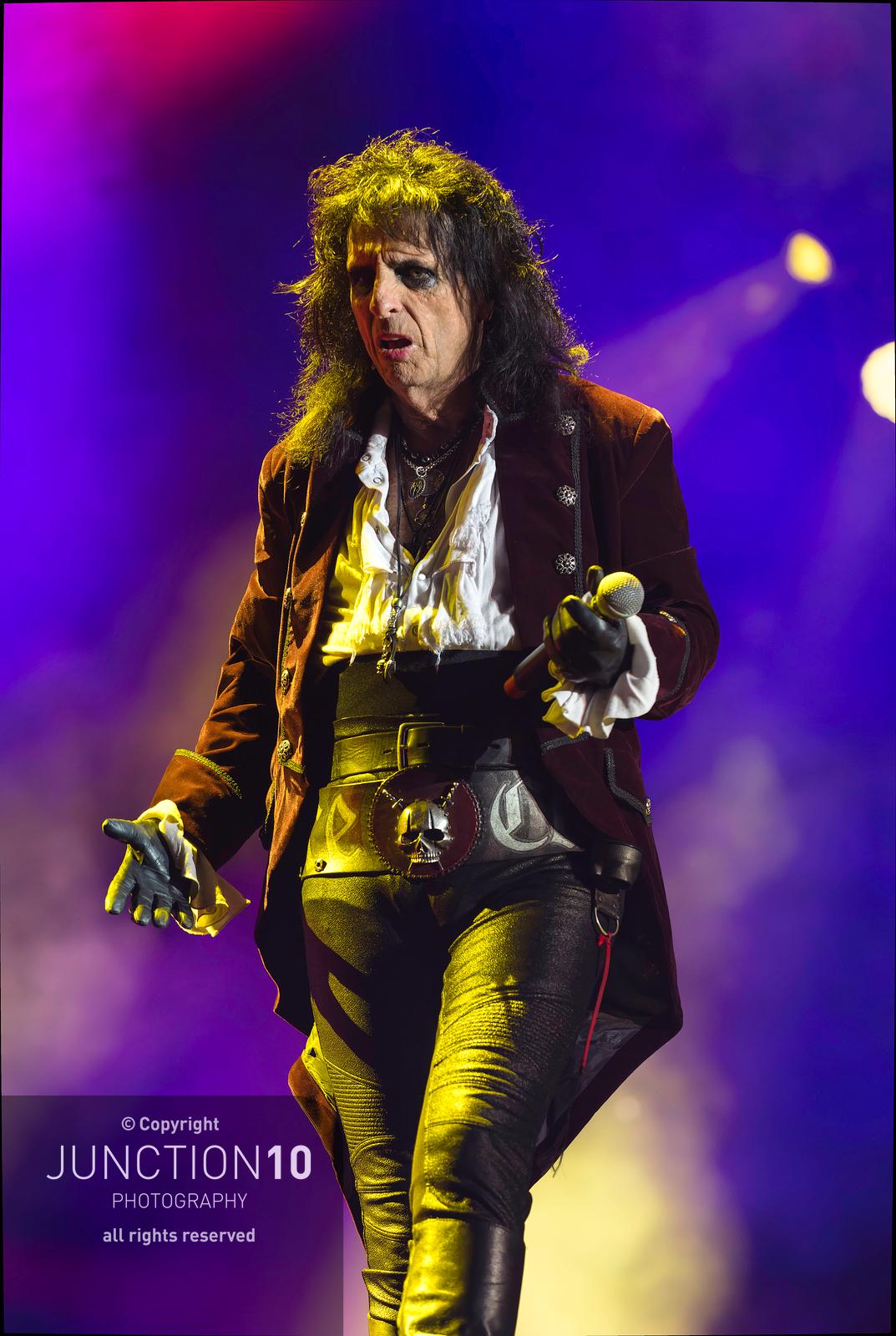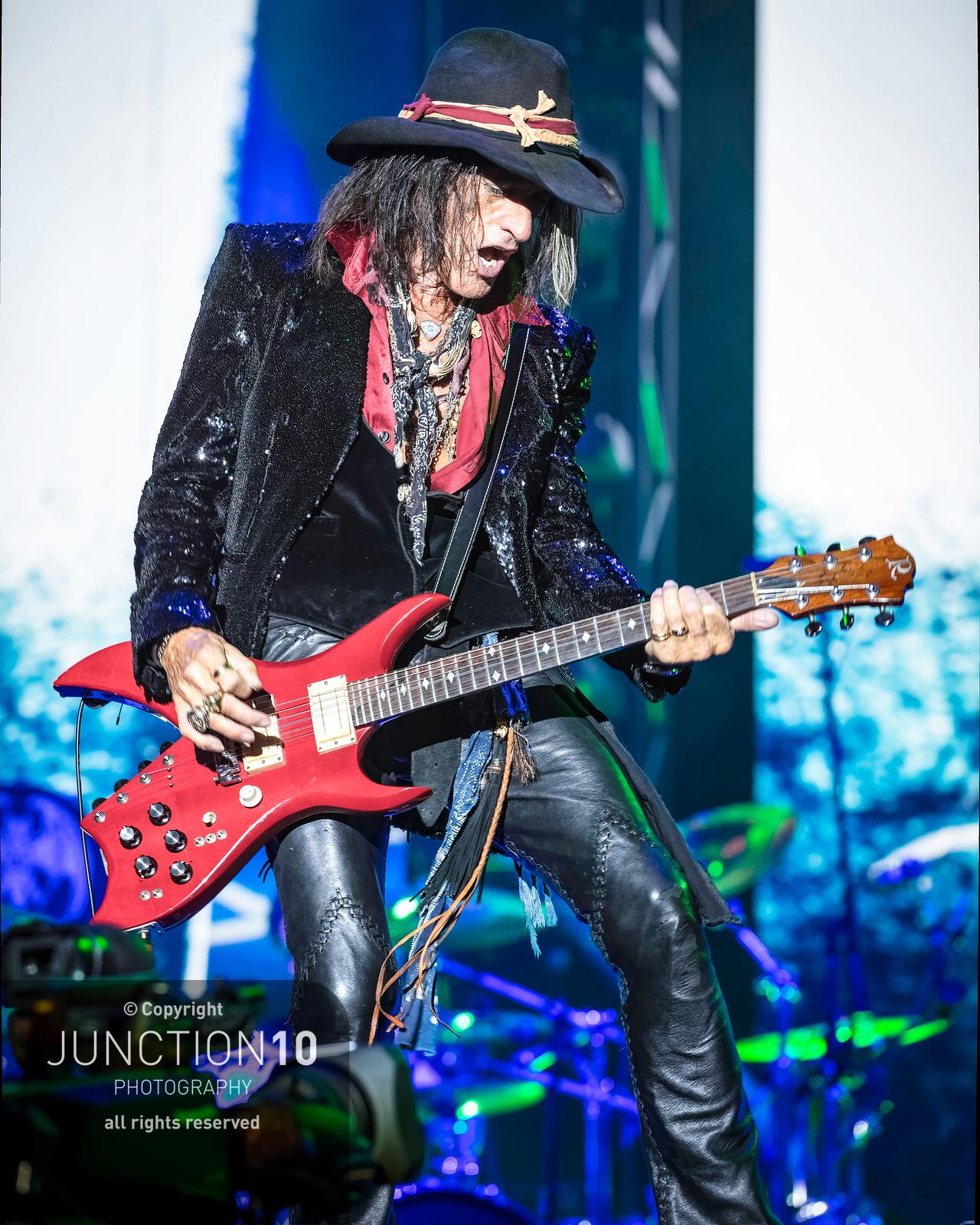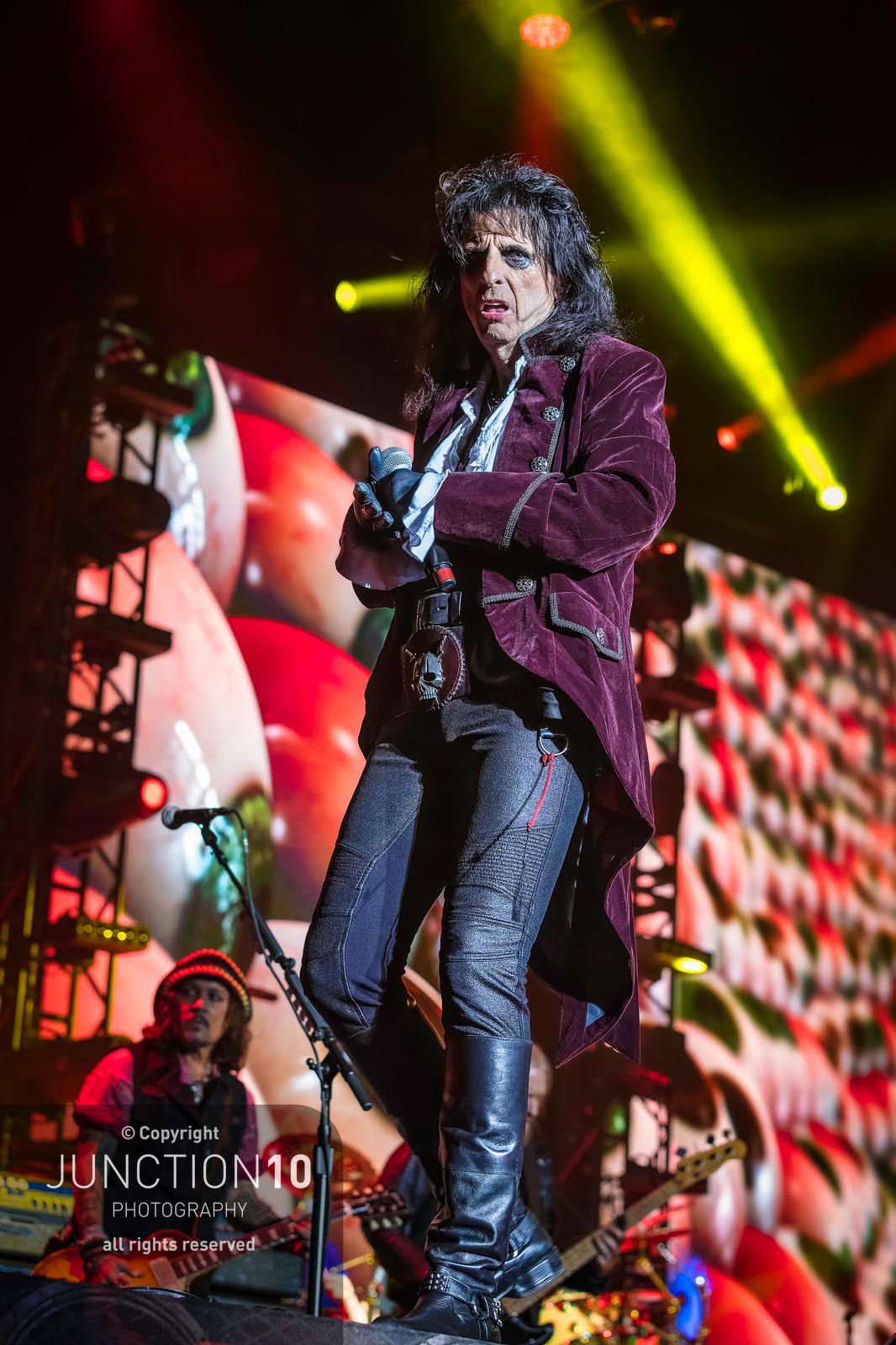 There is chat about the stars who were mates and drinking buddies at The Rainbow, an infamous bar in L.A. owned by Alice Cooper, such as the likes of Keith Moon, Lemmy from Motorhead and John Lennon, before "My Dead Drunk Friends".
Followed by the Johnny Thunders cover of "You Can't Put Your Arms Round A Memory". The Who's classic "Baba O'Riley" is an unexpected choice, but they make a good fist of it.
Back to the core theme of dead folk, with The Jim Carroll Band's "People Who Died", and then comes AC/DC's "The Jack", before Bowie's "Heroes" with Depp on vocals to the backdrop of a video showing Bowie, Greta Thunberg and also the Ukcrane flag, before a tribute to Jeff Beck.
The Hollywood Vampires were joined by The Rolling Stones' Ronnie Wood and Imelda May at the 02 Arena in London on Sunday night, for this spot, the tribute to Jeff Beck who died earlier this year. Not tonight –  Joe Perry does the biz on guitar in tribute to Beck. Last year, in June 2022, Depp was with Jeff Beck at Symphony Hall just down the road, as part of a tour to promote the album they made together.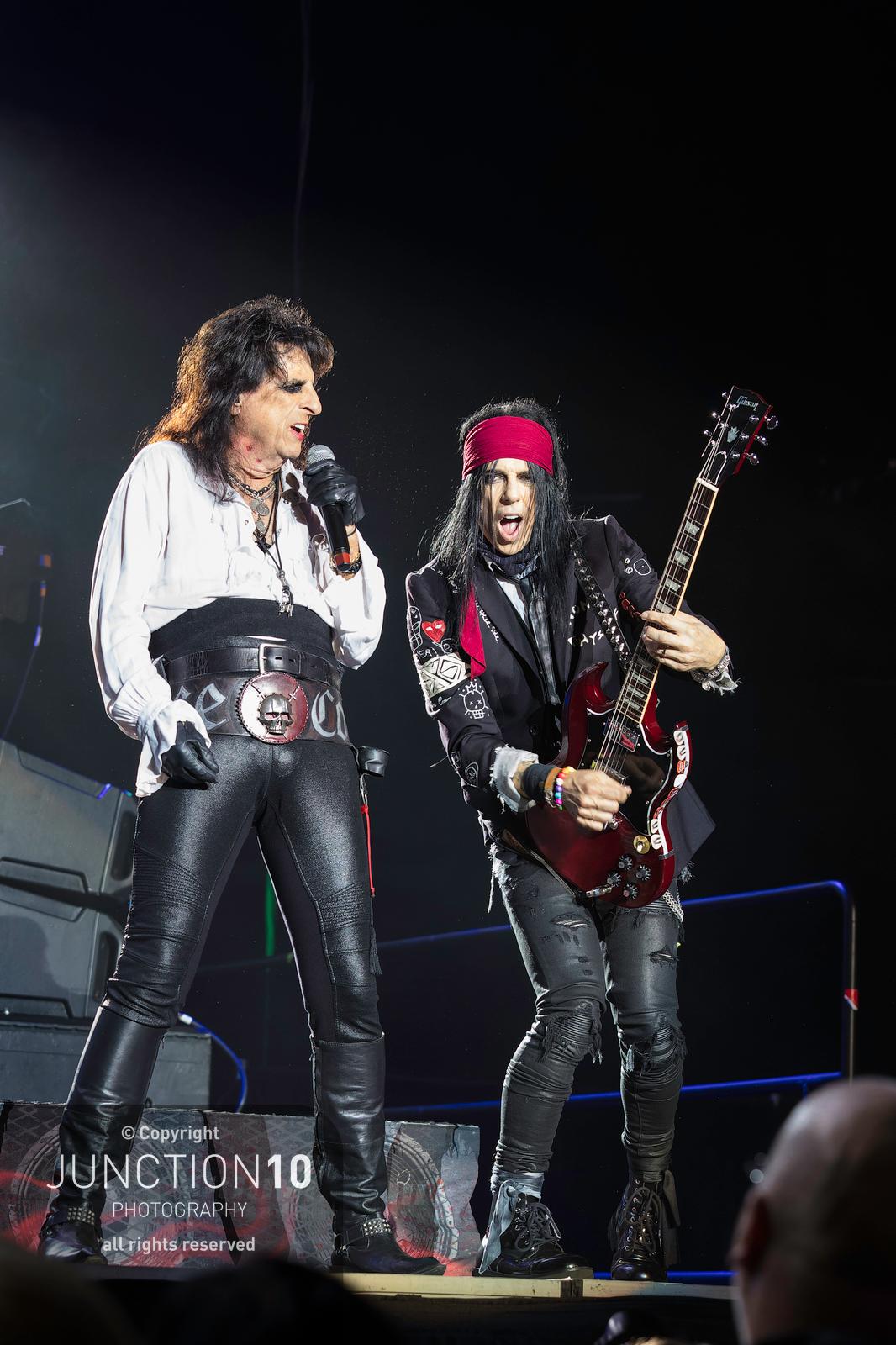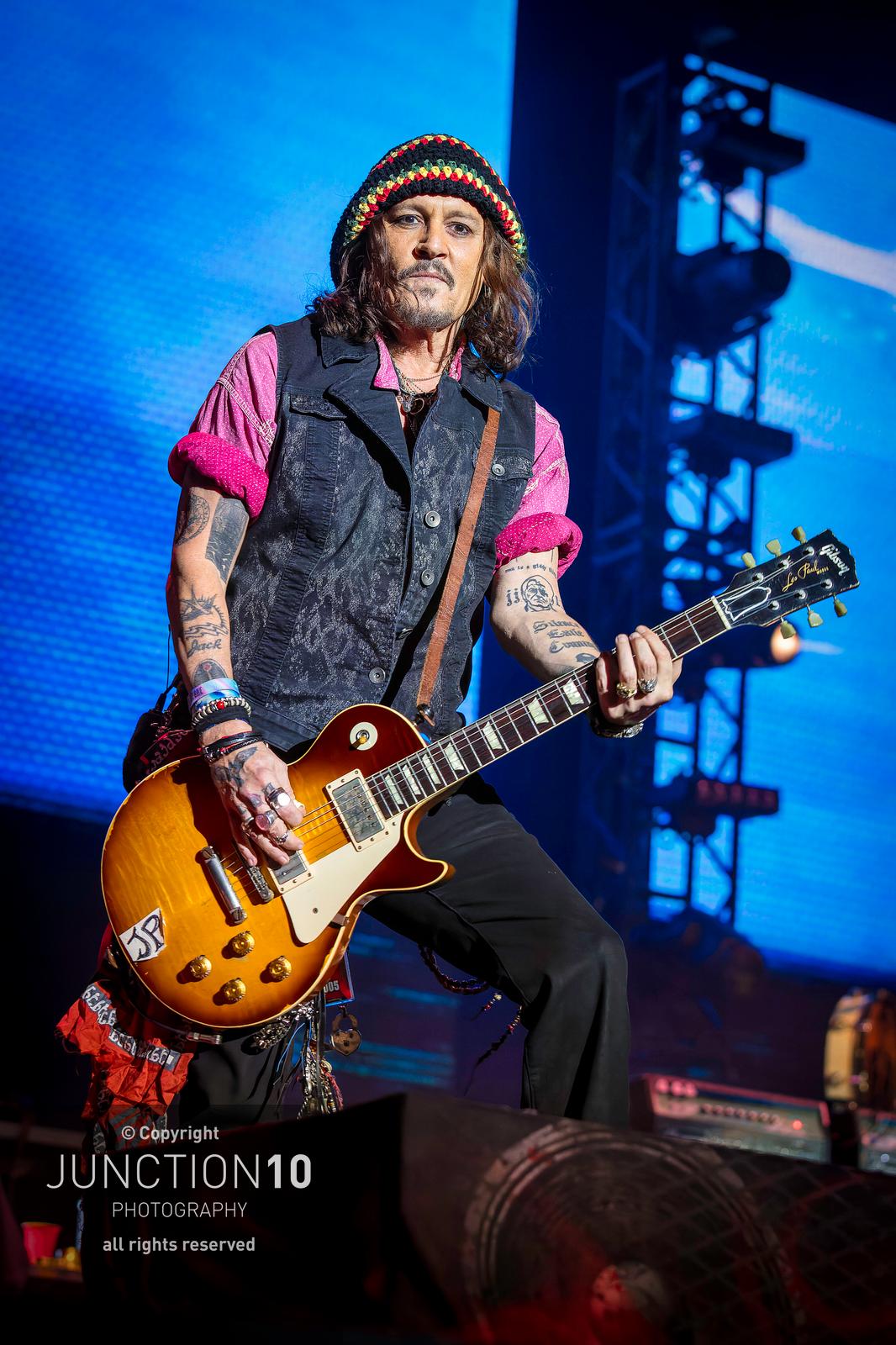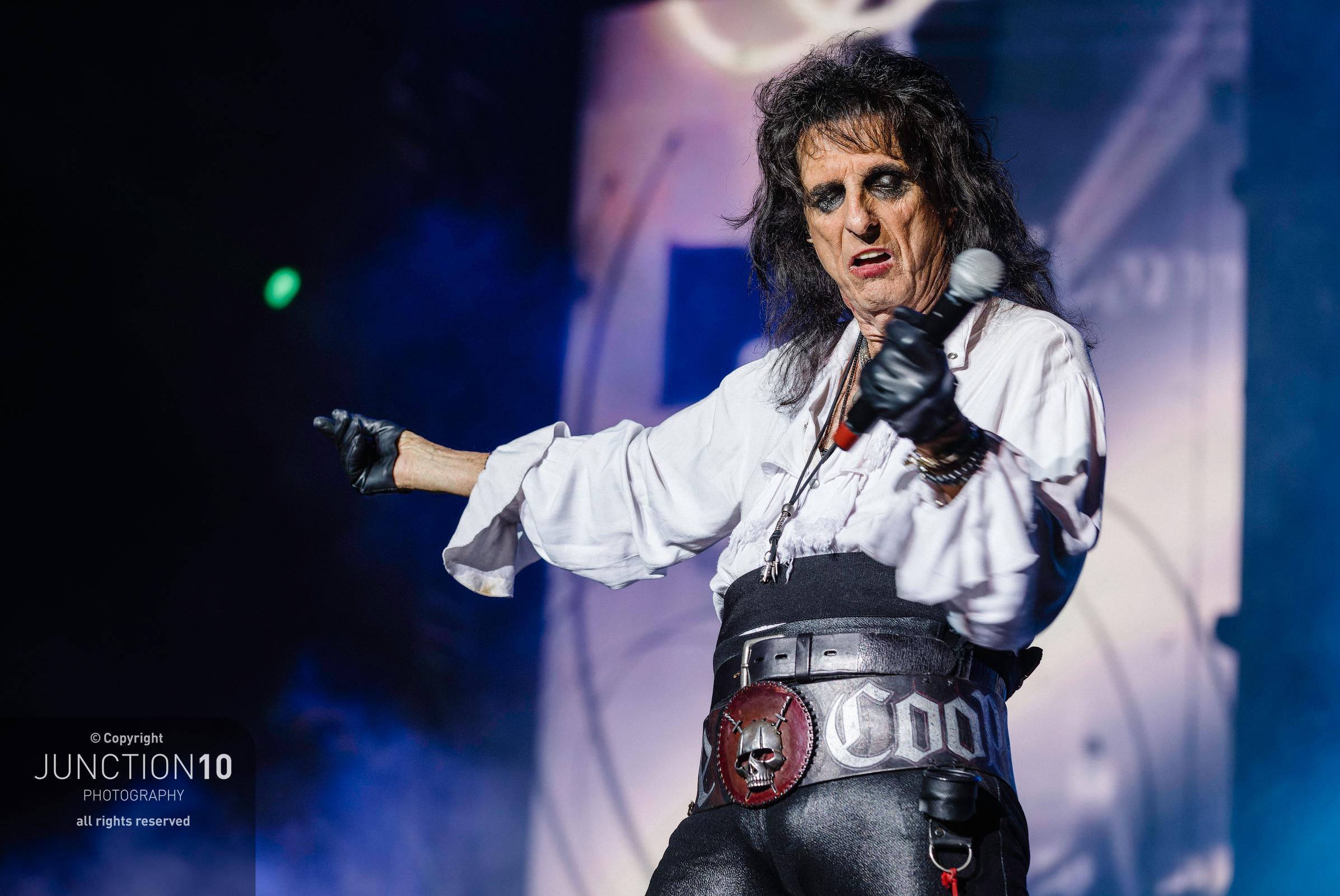 Joe Perry gets one he knows well, Aerosmith's "Bright Light Fright" and later, "Walk This Way" which was of course a collaboration between Aerosmith and Run DMC.
Killing Joke's "The Death And Resurrection Show" and Tiny Bradshaw's "Train Kept A Rollin' " precedes the encore. Cooper's iconic rocker "School's Out" segues into a burst of Floyd's "Another Brick In The Wall Part 2", before the special surprise guest pops up for the final song…
Black Sabbath star Tony Iommi on guitar for their last song, Sabbath's "Paranoid", with Alice Cooper on Ozzy's vocals, it was a lovely surprise for the delighted rock fans.
Tony Iommi performed "Paranoid "with Ozzy Osbourne at the closing ceremony of the 2022 Commonwealth Games in Birmingham. Sabbath performed their final show after 50 years together at the Genting Arena in their native city of Birmingham in 2017.
Tony posted to his Instagram the next day: "Last night I had the honour of playing Paranoid in Birmingham with the amazing @hollywoodvampires! Can't remember the last time I played with another band, such a special day."
The Hollywood Vampires posted photos with the rock legend on their Instagram: "Thank you @tonyiommi and the great fans in Birmingham!!!!"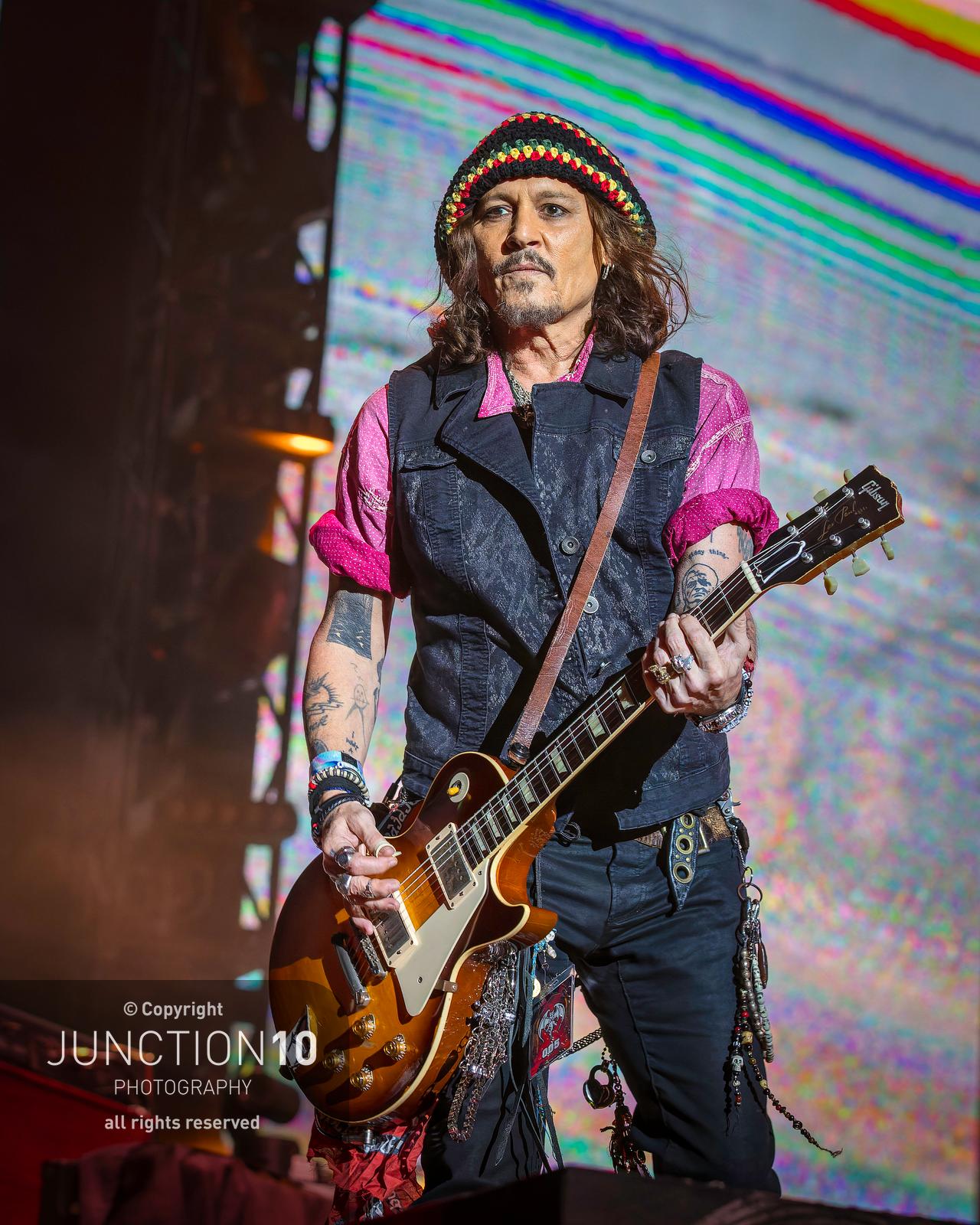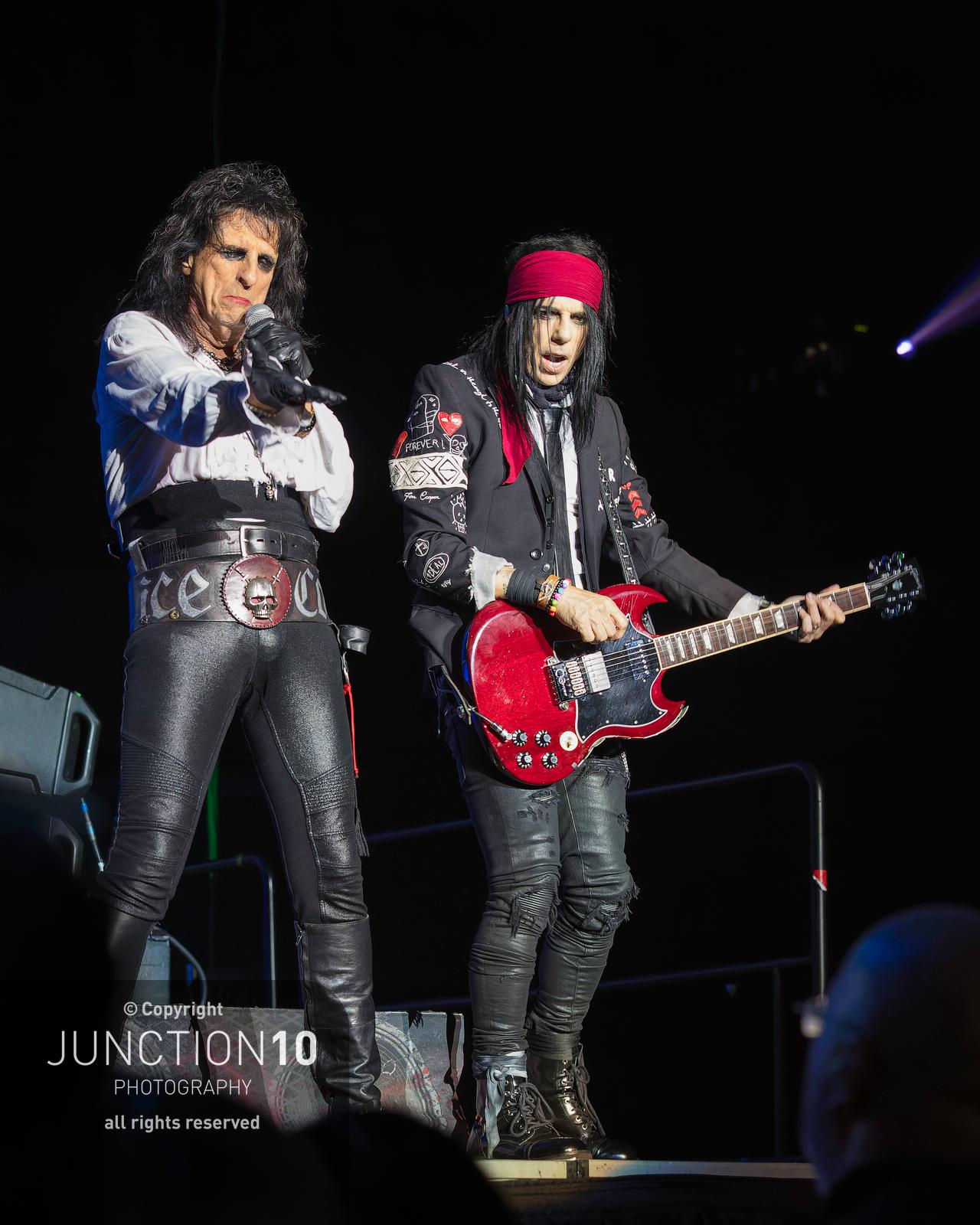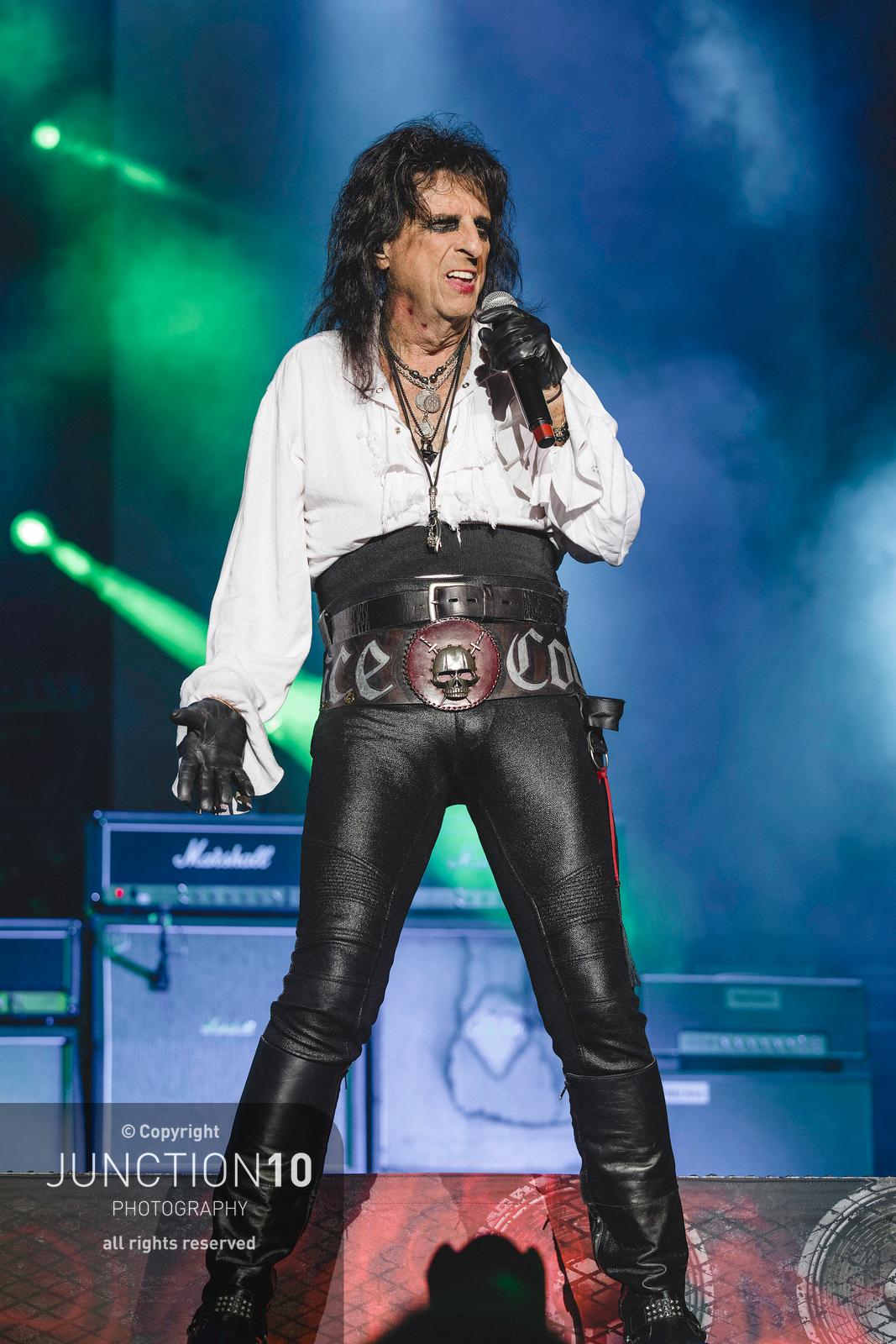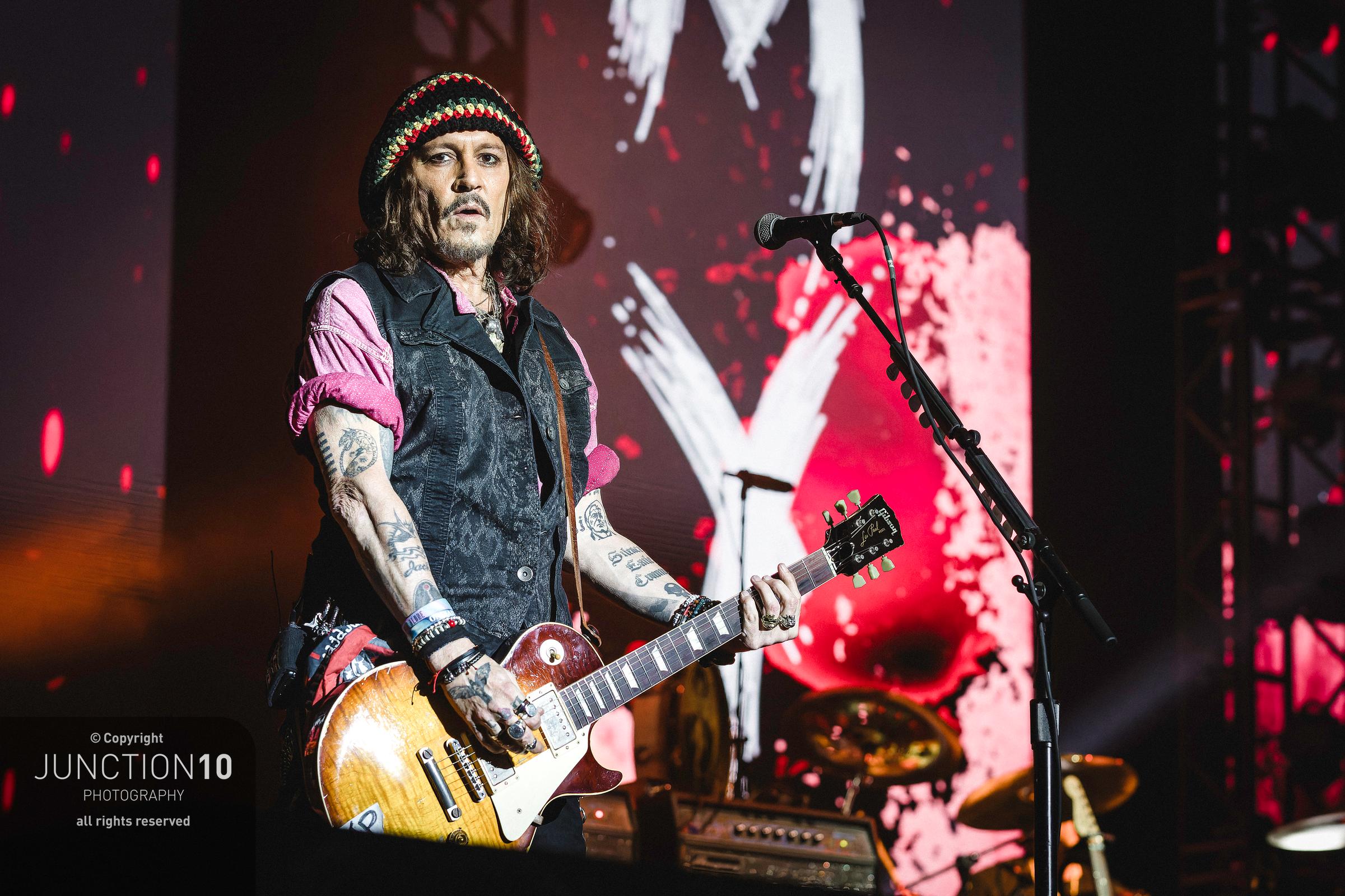 So, the verdict. Depp can play guitar pretty well. He has a much better voice than I expected. Alice is, well, Alice. Looks great, sounds great and you'd not think he is 75-years-old, and is like the ring master and the glue that holds this show together.
Joe Perry is a master rock axe man and looks as cool as Depp on stage. The rest of the band back up the star turns very well indeed, especially Warlock's guitar man Tommy Henriksen.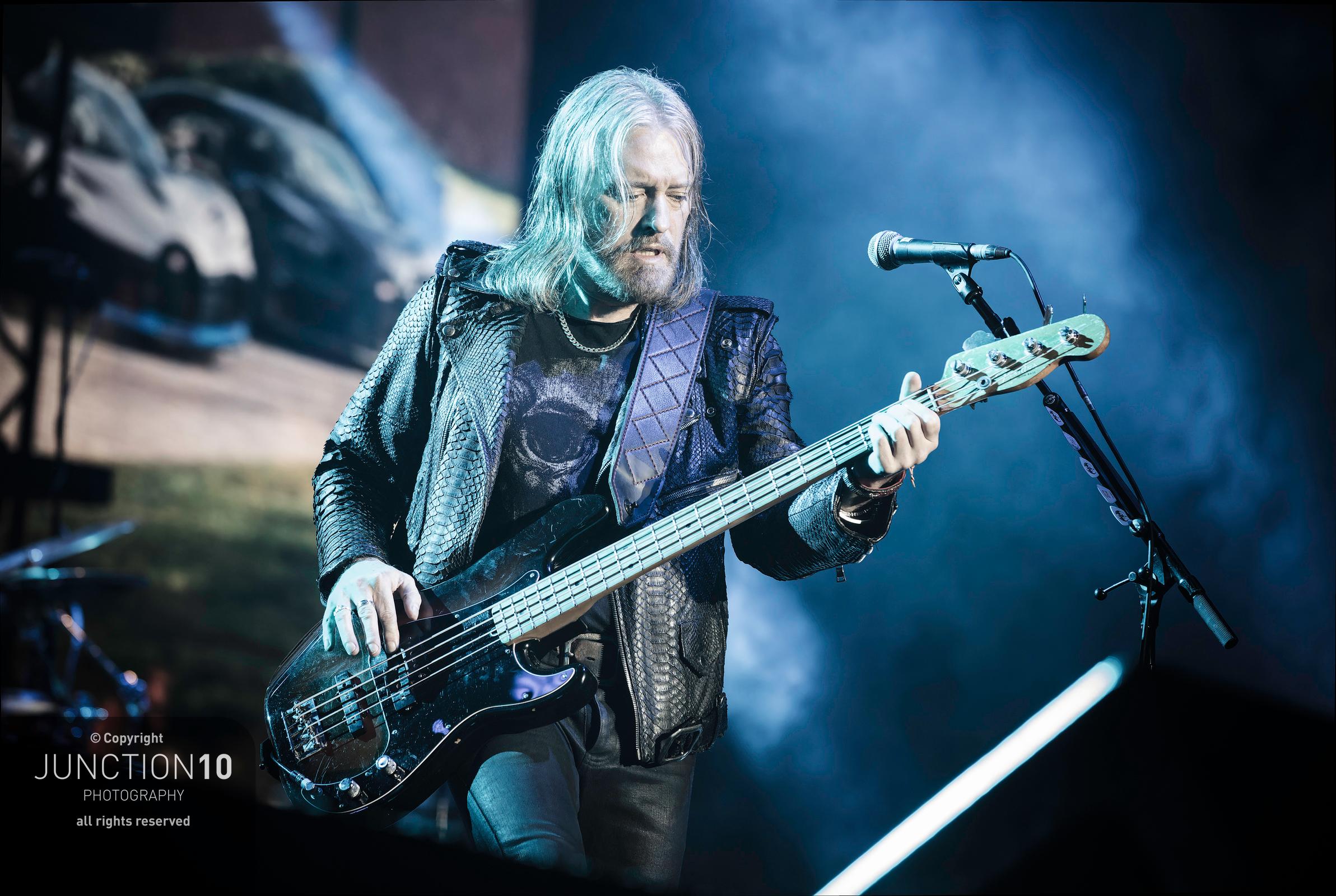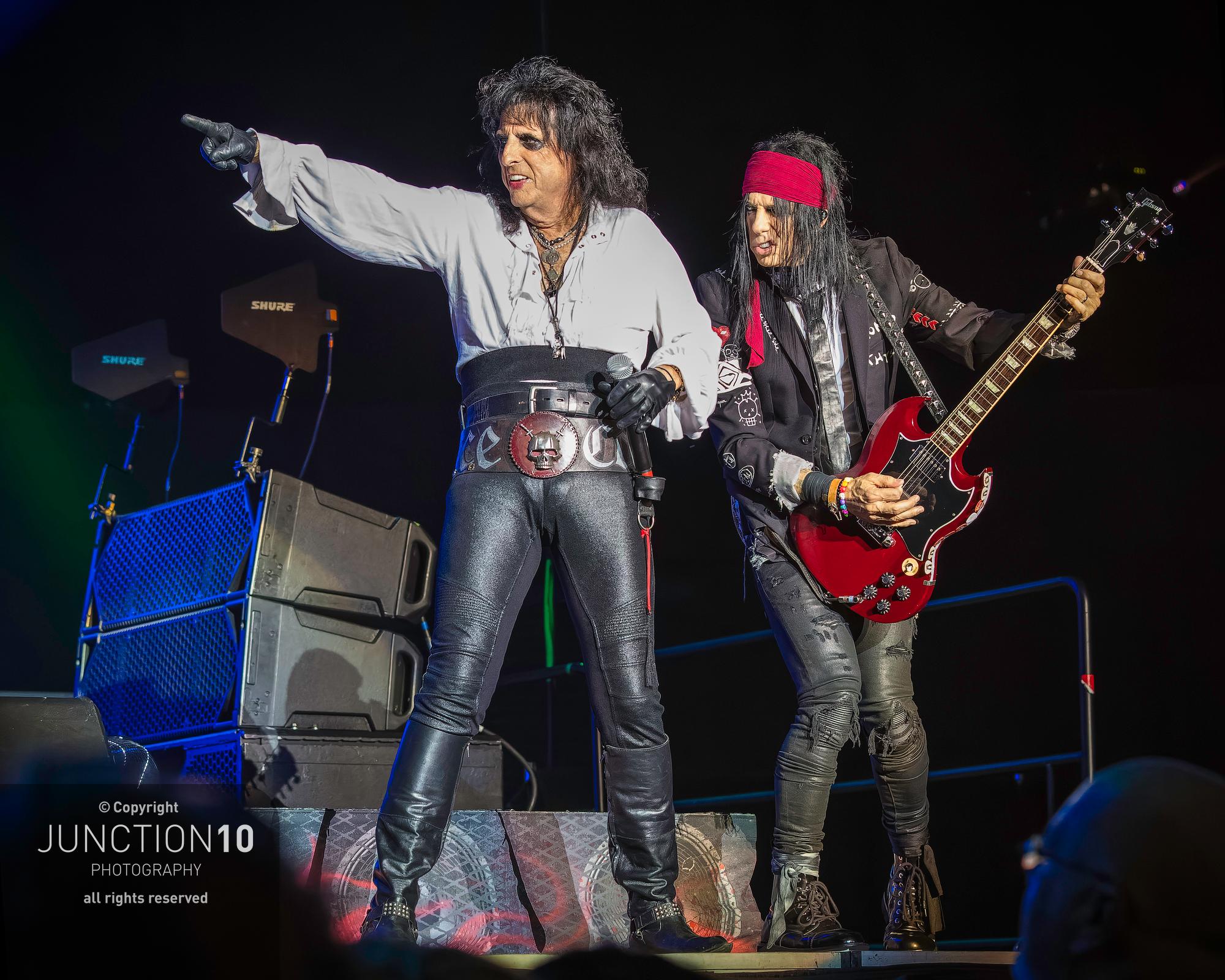 The band make a nice noise and it is a very fun and enjoyable night's entertainment. The dead mates angle and all the references to death makes it a bit of a worn out theme by the end of the night, and one assumes once you've seen and heard them do this stuff and this "act", it may wear a bit thin next time.
But what's not to like to be in the same room as movie legend Mr Depp, rock legends Mr Cooper and Mr Perry, and rock out to their band of graveside rock (I made that genre up, but it fits!). I can think of worse ways to spend a couple of hours – such as another Tubes' concert!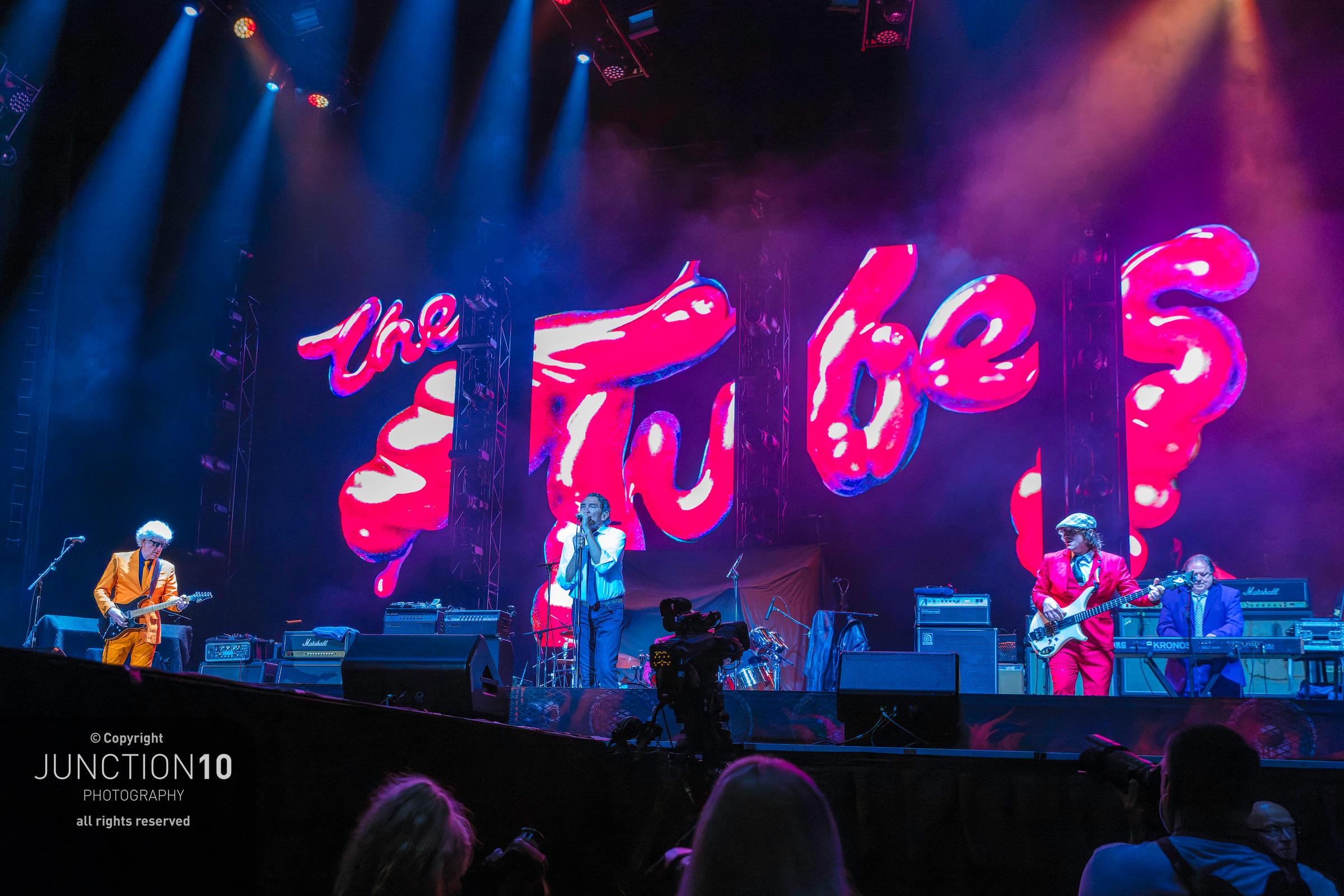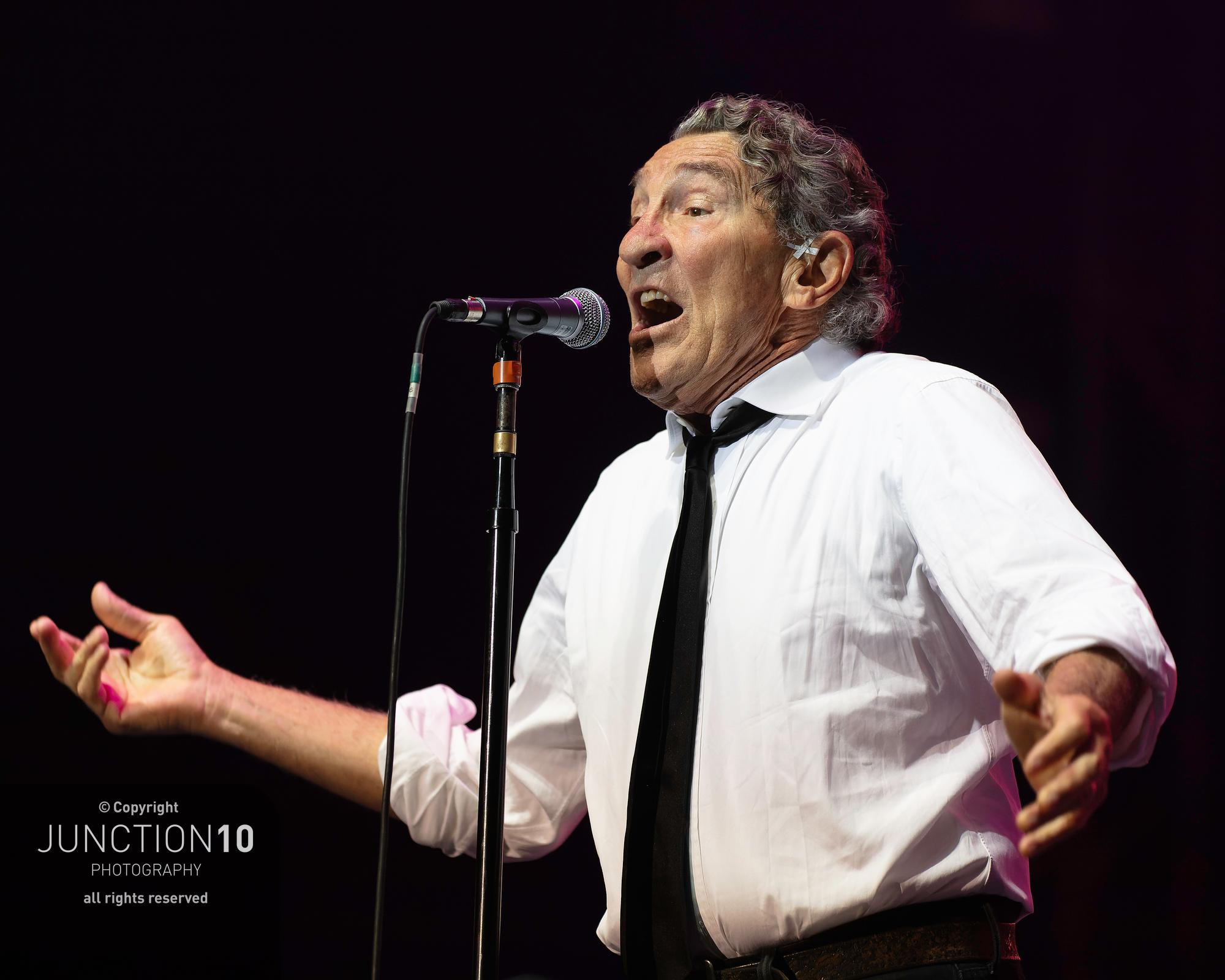 ---
---
Photos: Jason Sheldon
Words: Emma Ledwell