There are some shows that really are extra special, where you get that excited feeling way before it has started. It begins with the buzz of the audience, the anticipation and the heightened expectation – which was the case at L'Olympia on a boiling hot summer's evening in Paris.
We are here to see the last of the blues greats still standing – the one and only Buddy Guy, who picked up a guitar 70 years ago and has never looked back. Indeed
when Buddy started to play shows, I still had another 14 years until I would be born.
Perhaps the electricity in the air isn't just down to the fact that we are about to witness a living legend in action, but also because he is on his final
lap, Buddy Guy's final tour before he retires from the road, aptly named "Damn Right Farewell."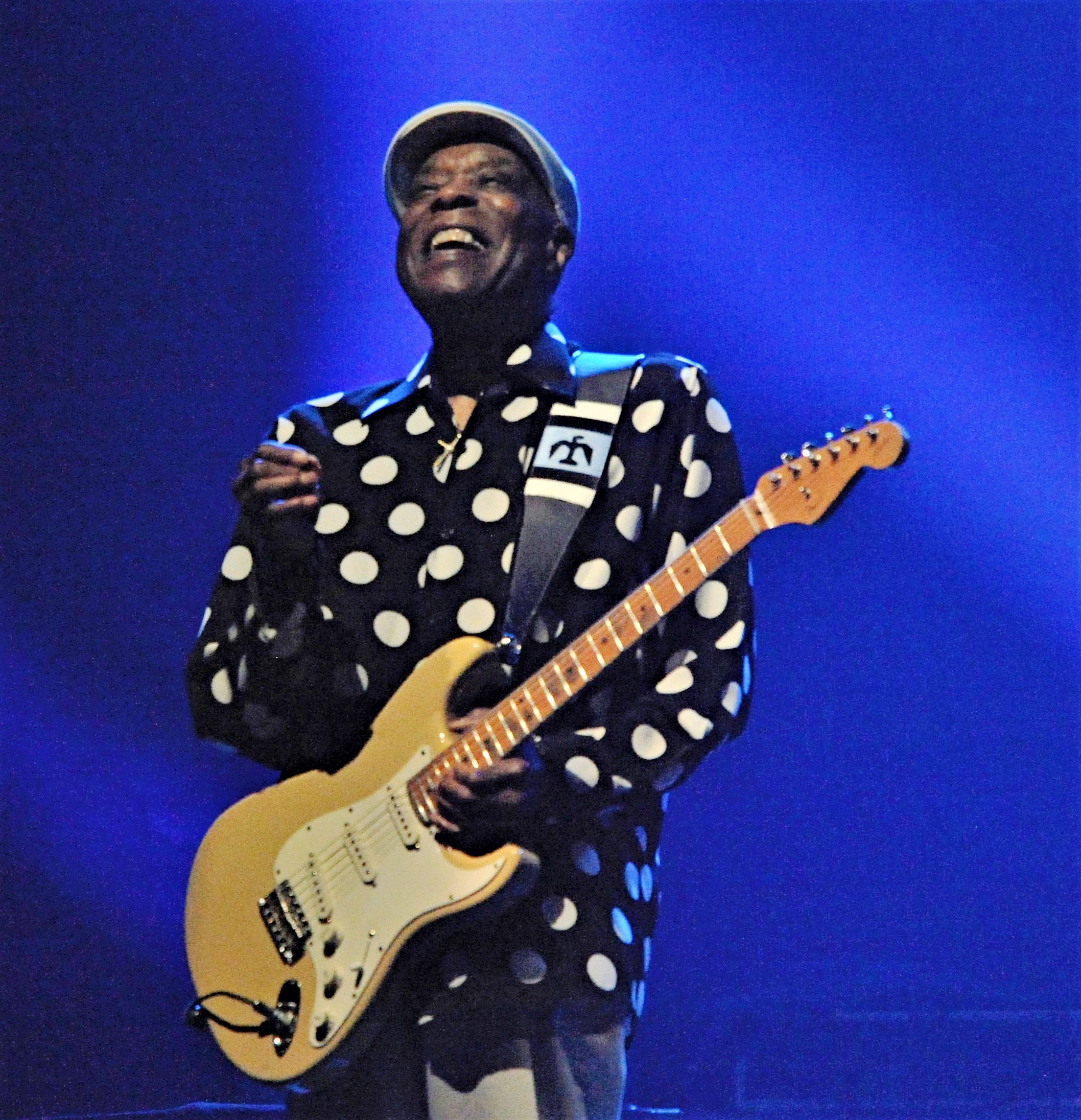 Buddy Guy represents a part of music history, and history is all around us. The venue is celebrating its 130th anniversary and is part of the fabric of one of the most famous cities in the world.
For its 100th anniversary back in 1993, L'Olympia was facing closure, with local politicians happy to see a building that has hosted everyone from Edith Piaf to The Beatles, bulldozed to become a car park. Yeah, Paris really needs more car parks, doesn't it? InSeine (see what I did there?)
Thankfully the venue was saved, and if you are ever in Paris, a visit to L'Olympia should be on the same bucket-list as a trip to the Eiffel Tower.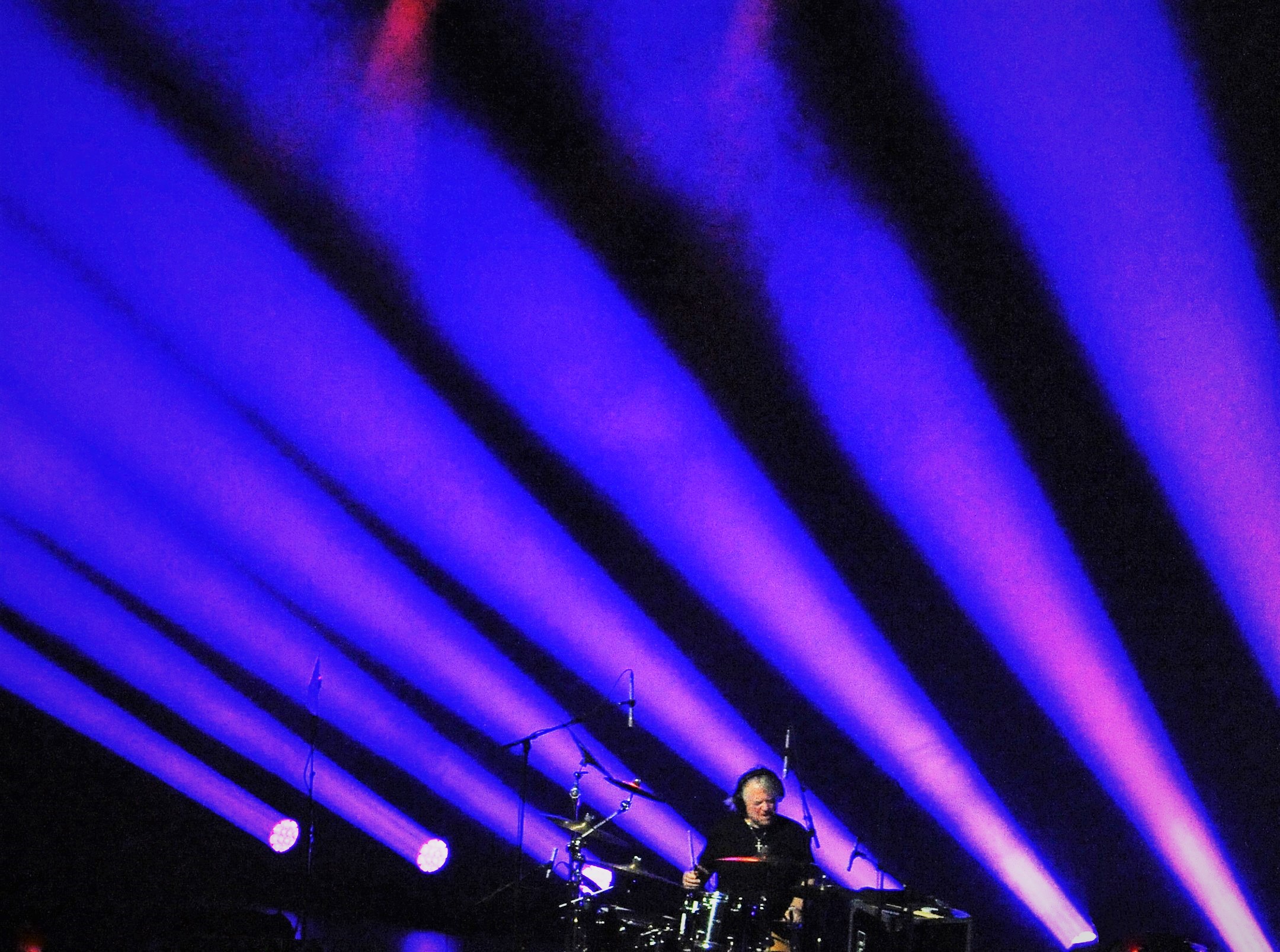 Opening up tonight's show in front of a sold out crowd of 2,000 is Tom Hambridge who is also Buddy's drummer, producer and has penned songs Buddy has recorded. Tom's vocals are superb and he opens up with "Shot Glass" from his album "Tom Hambridge and the Rattlesnakes Live." Next up he plays for the very first time, "Blues Been Mighty Good to Me".
It's interesting to note that some support acts opening up for legendary artists don't always get audience participation; there can be a sense of 'get the support act out of the way, we want to see the headliner'. Tonight that is not the case. The fans are wholly invested and this leaves a constant smile on Tom's face and seemingly boosts his performance.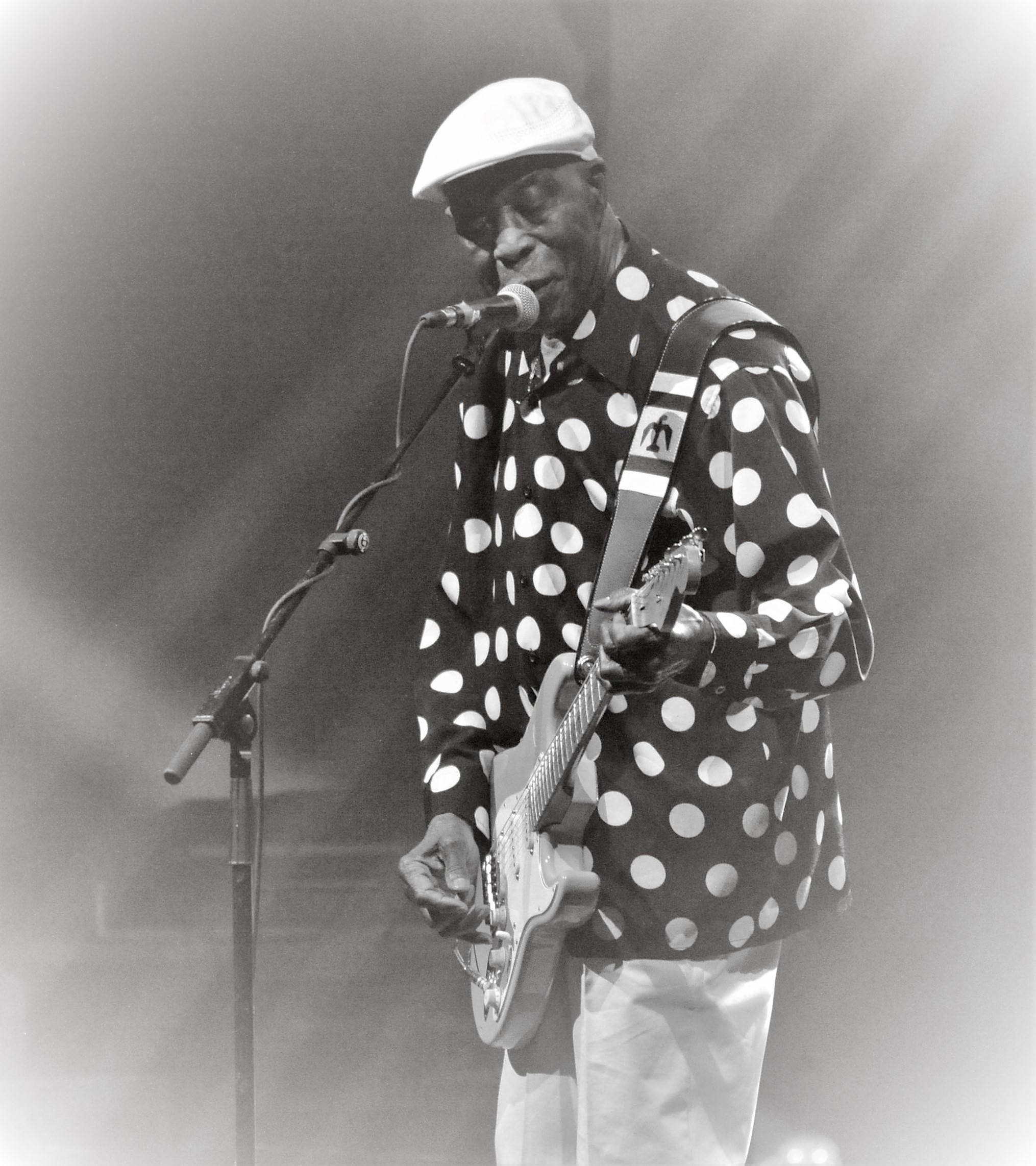 He includes "The Fixer", a George Thorogood and the Destroyers cover, and "Blue Crazy" from Tom's 2018 release, "The Nola Sessions." His slot is short but memorable at just 30 minutes, but this sets the night up well for Buddy Guy's appearance, as  Mr Hambridge trades the front of the stage to get behind the drums for his boss.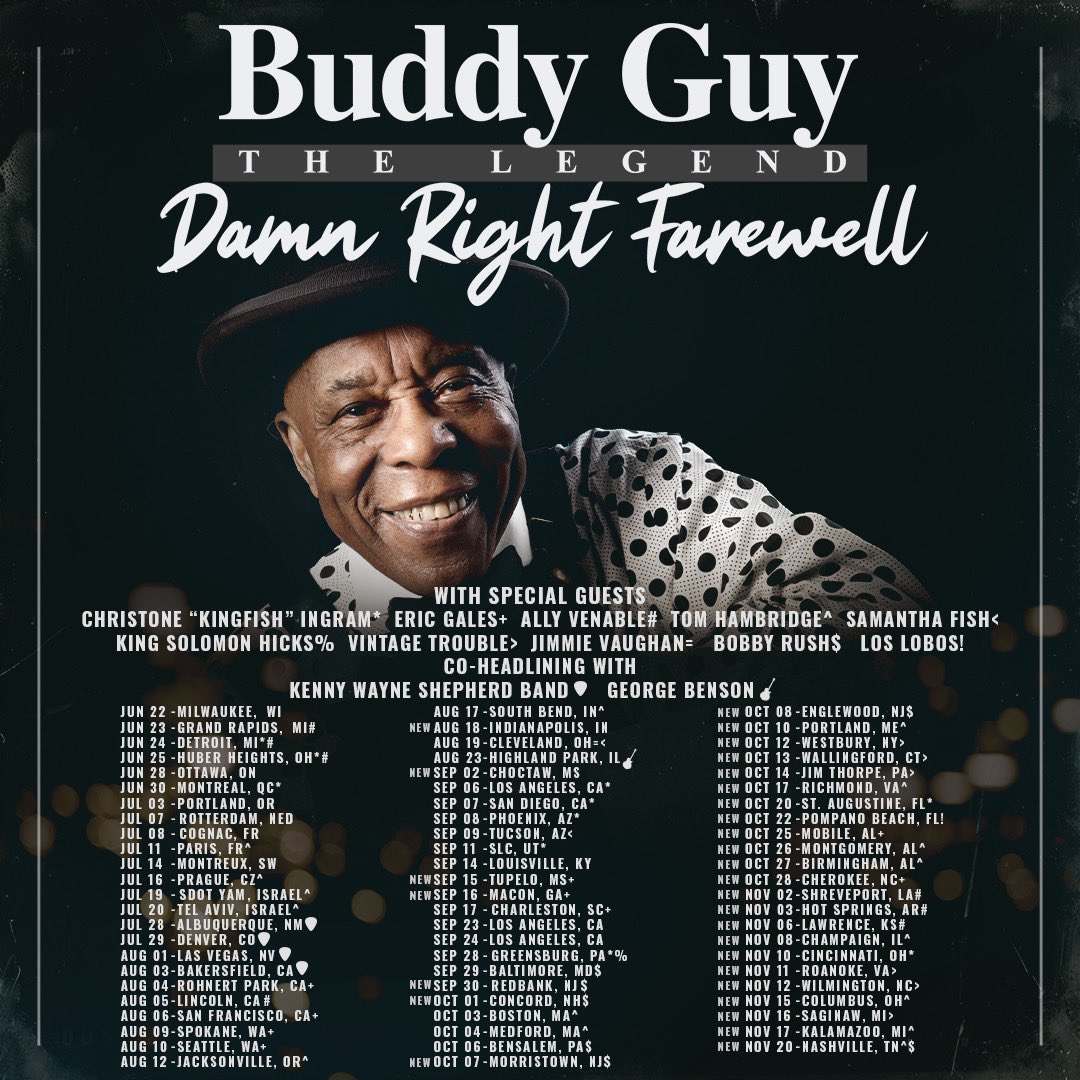 Twenty minutes later the lights dim and an incredible noise erupts in the old venue, as an announcer reminds us that Buddy Guy has won eight Grammy awards – and there he is in the flesh. What is striking about Buddy is how amazing he looks for 86-years-old. And his energy levels and his pin sharp mind and memory. He will celebrate his 87th birthday on July 30th.
Buddy appears in his trademark polka dot pattered shirt – he has guitars that use the same pattern – and launches into "Damn Right I've Got the Blues". Some people in the all-seated venue get very excited and are slow to sit down, which doesn't bode well with people behind them who cannot see the blues star on stage, and have paid 300 Euro for a ticket.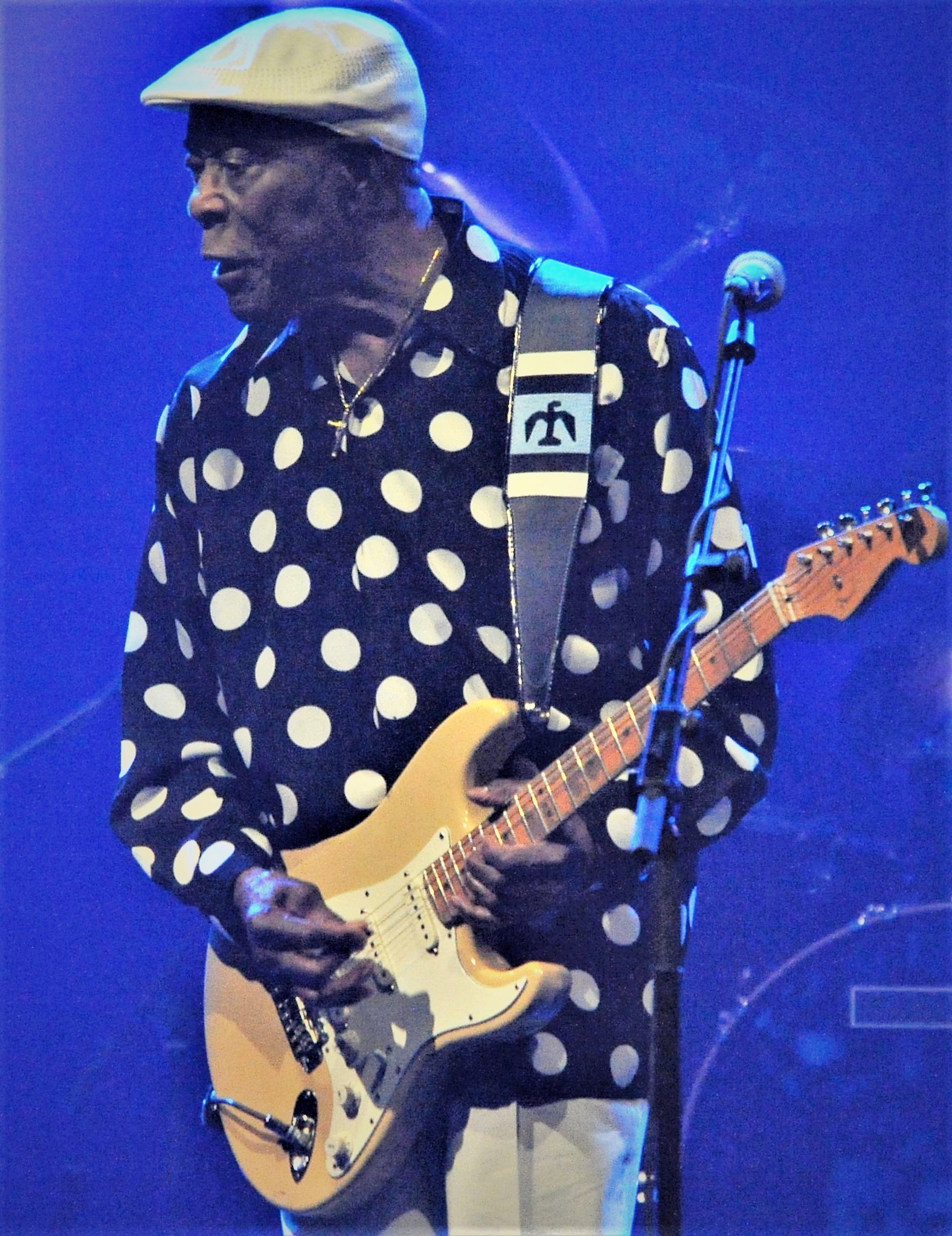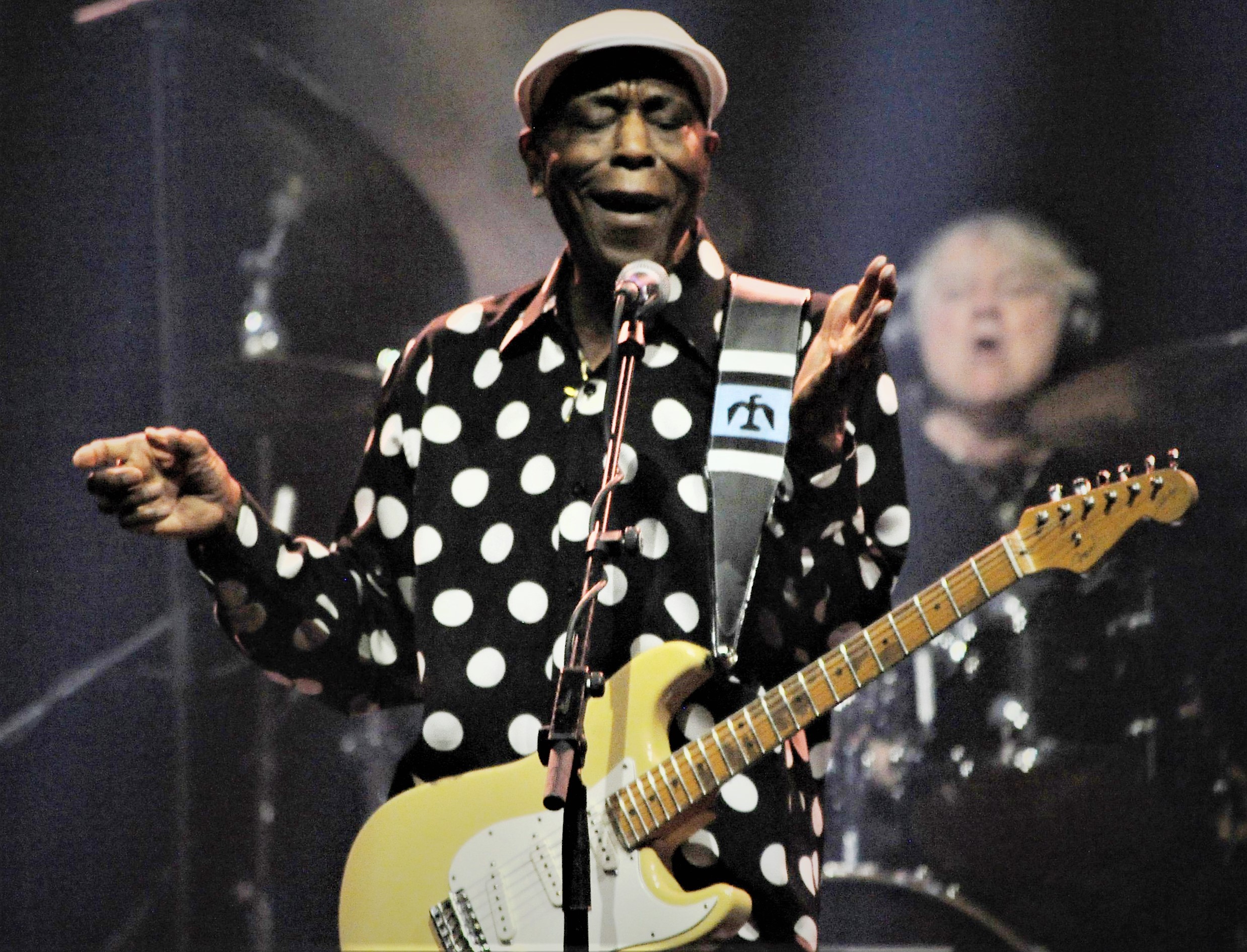 We are all witnessing greatness and when Buddy's fingers do their thing on his guitar, it sounds and feels like a slice of musical paradise, but you get the sense that Buddy likes to leave you guessing and is happy to cut short a solo and have the band bring it right down, to the point where you can only hear Tom Hambridge's percussion, and then when you least expect, it his Fender Strat' sings out again.
As incredible as Buddy is, he couldn't do it without his crack band, and also on guitar is Ric 'Jaz' Hall, who is obviously in the shadow of the master and doesn't get the attention his skills deserve. He effortlessly plays the guitar, and for a bit of showbiz shtick he swings his guitar around his body, to say 'hey, I can play a mean axe too you know'.
Buddy is not greedy and generously gives Ric some solos, such as on "I'm Your Hoochie Coochie Man/She's Nineteen Years Old" which brings the house down. He is some player and you'd need to be to share the stage with such a blues guitar legend, methinks.
Orlando Wright on bass is celebrating 25 years of touring with Buddy, and the Chicago native has played with the likes of Sly Johnson, Sugar Blue and Junior Wells. The perfect fit for this band and to nail the bottom end for Buddy Guy.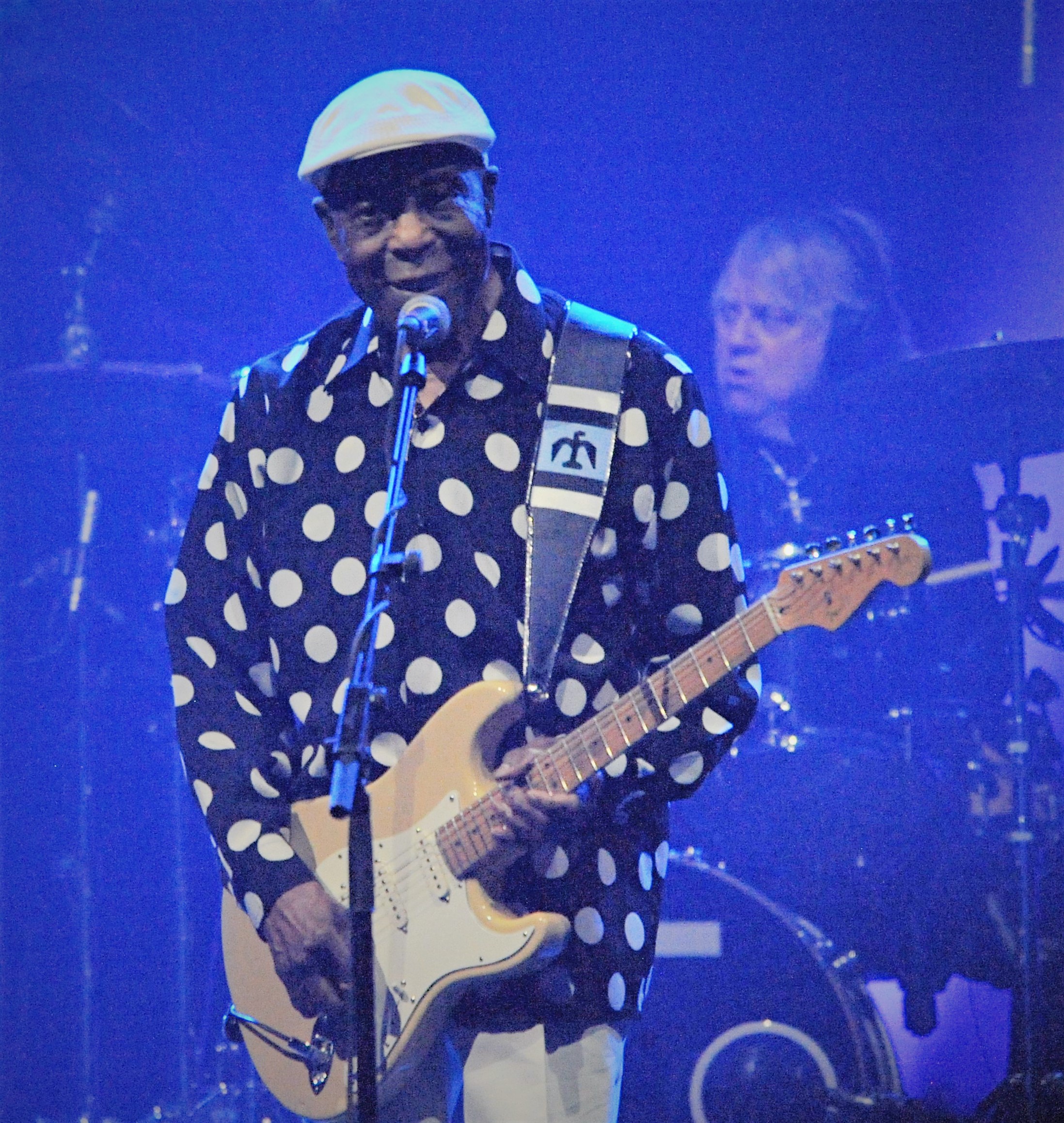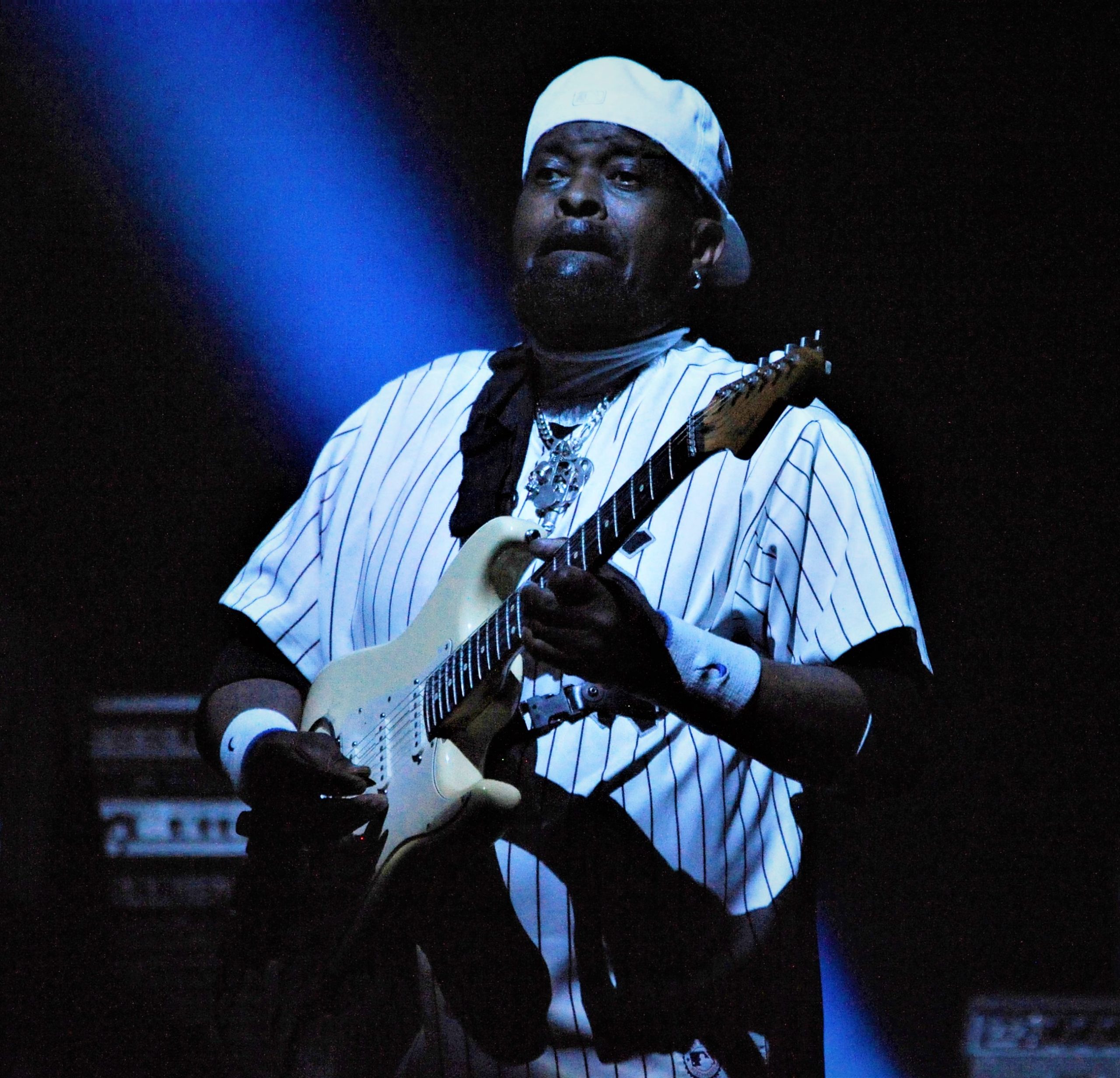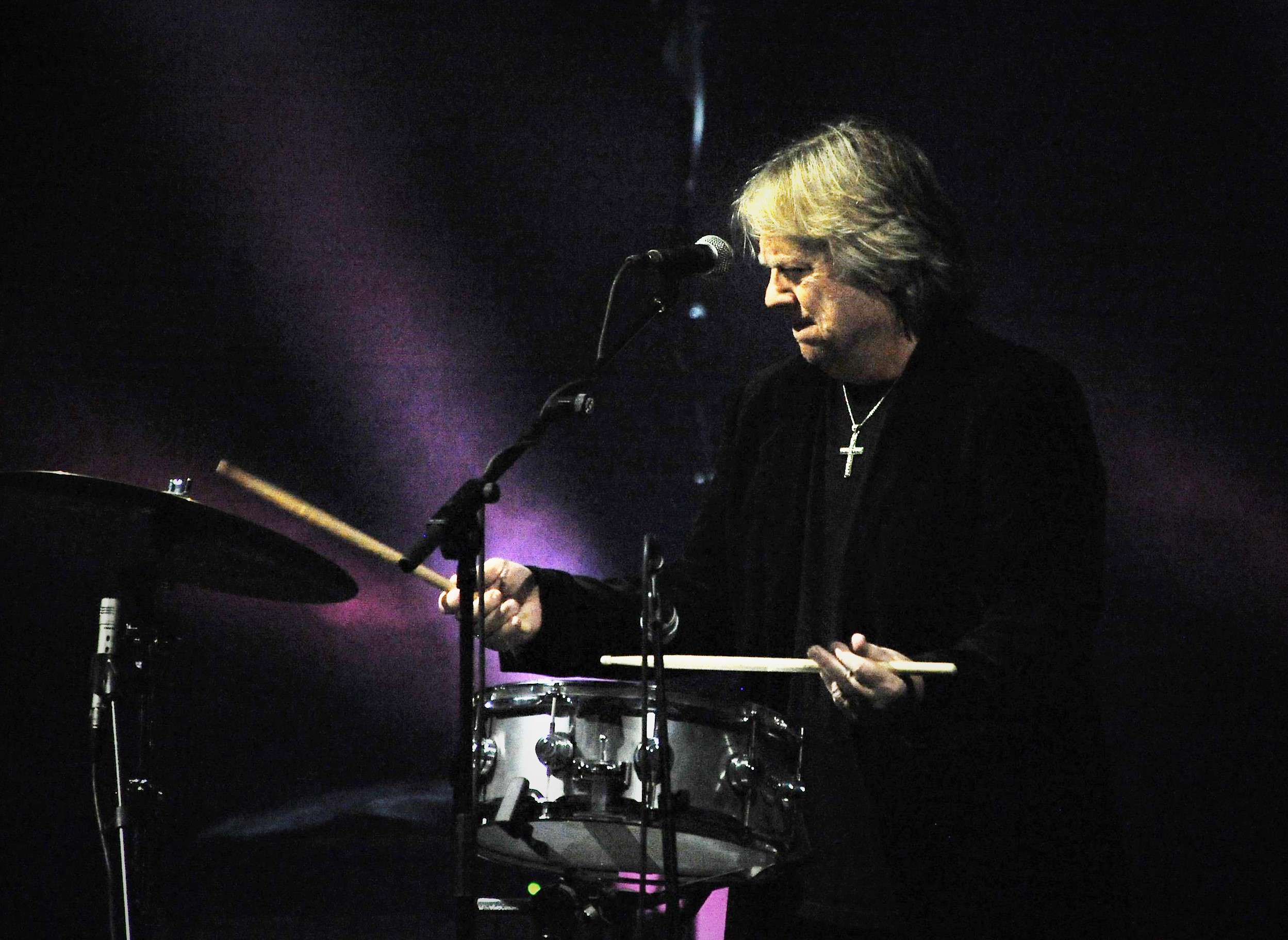 Buddy continues with some glorious covers which include Jimi Hendrix's "Voodoo Chile (Slight Return)" and John Lee Hooker's "Boom Boom". There are cheers when he launches into Willie Dixon's "I just Want to Make Love To You", and by the time we hear Cream's "Strange Brew" and Albert King's "Drowning on Dry Land", it is patently obvious Buddy set out to spoil the heck out this audience tonight.
A masterclass of blues guitar and a history lesson of the blues through the ages. But let's not forget his voice…It is astounding how strong his vocals are at 86. No wobbly vibrato or fresh air instead the high notes. No lowering of keys by my reckoning. His singing matches the standard and quality of his guitar playing, trust me.
Buddy encourages the audience to sing along and at one point telling the crowd: "I didn't come to Paris to hear that!", to egg us on to get louder in our parts. He has this cheeky, rascal-like way about him and is a master of stage craft. To truly appreciate what Buddy does with his guitar, it is a lesson to watch the way he bends notes and holds the string and let's go just at the right moment, all done with such ease.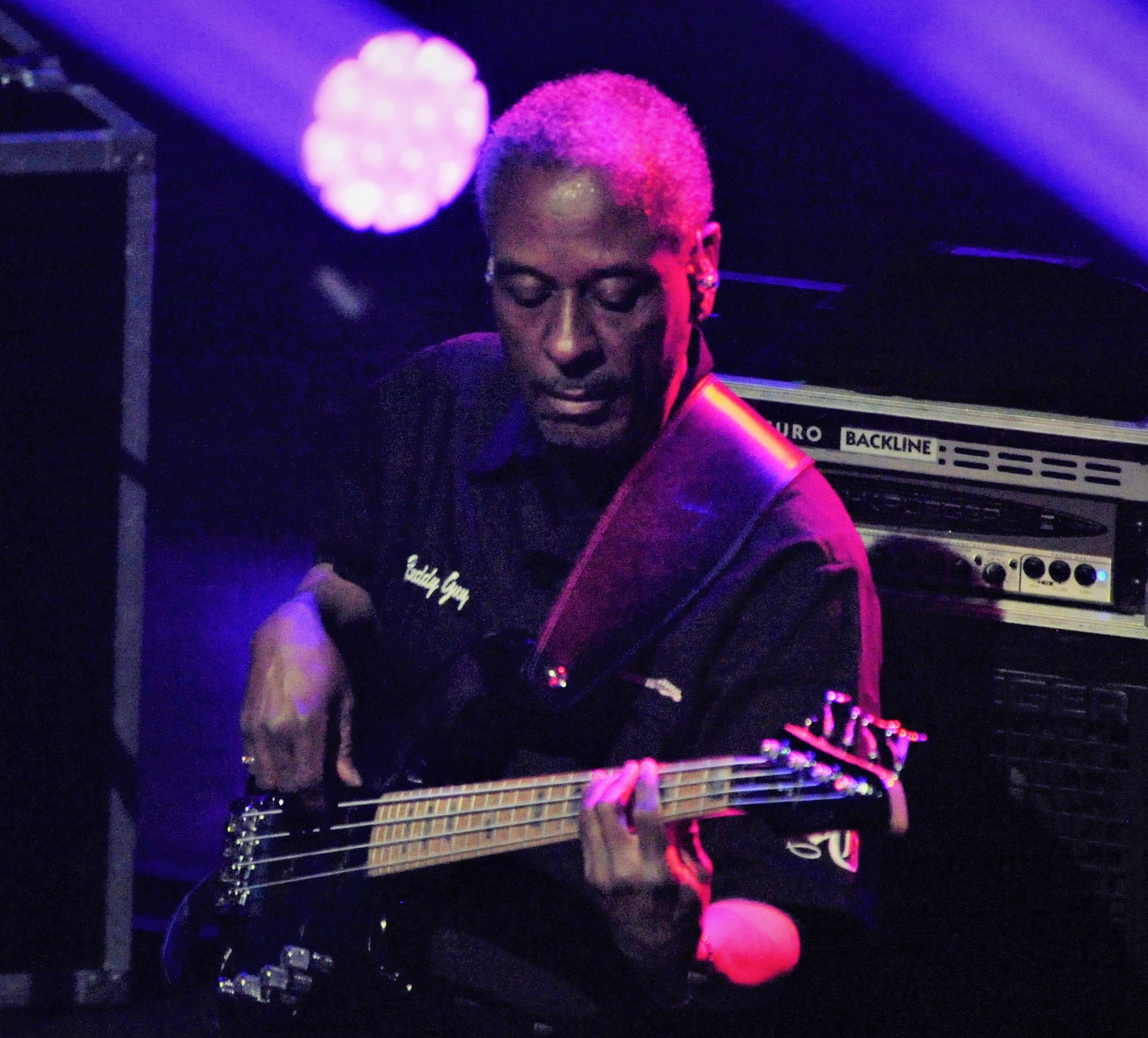 After an hour and 20 minutes Buddy plays his final song in his final show in France, "I Let My Guitar Do the Talking" co-written with Tom Hambridge, taken from Buddy's latest universally-praised album, "The Blues Don't Lie."
When the music stops at the end of the song, Buddy and his boys are given a much deserved standing ovation, and this moment is even more emotionally charged than usual, as we know we are saying farewell and not even Au Revoir to this Heavyweight Champion of the Blues, who has outlived all of the blues originators such as his pal BB King and the likes of John Lee Hooker and Muddy Waters.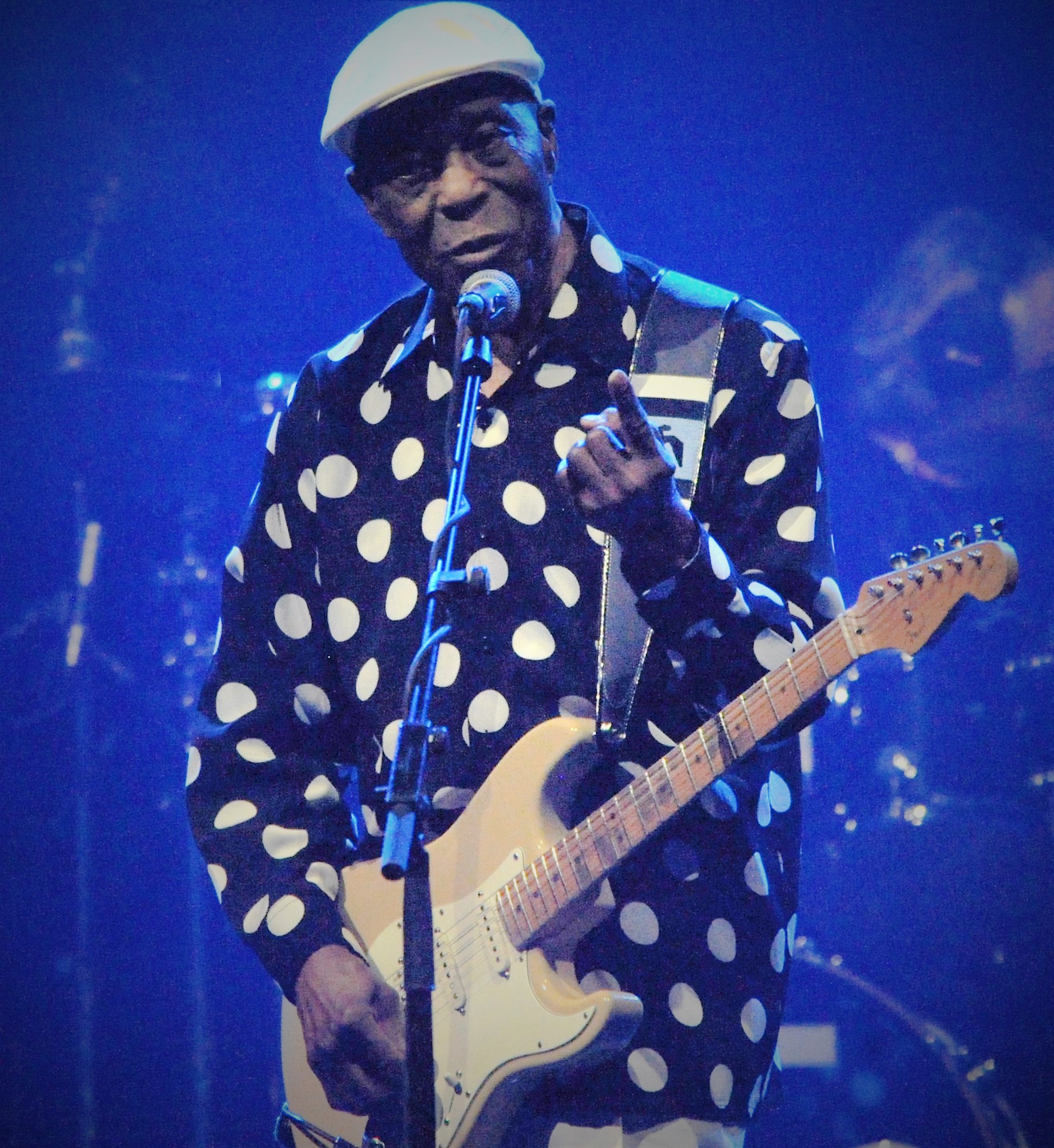 As we leave the building and into the balmy night of the Parisian air, it's with mixed emotions. Happiness to witness such a legend and in such fine, fine form. Sadness that this is goodbye forever.
Perhaps the most fitting conclusion is a story from 1965 when Buddy first toured England. He was playing at the famous Marquee Club in London and after the show three gentlemen approached him backstage. They were nervous, but kind and respectful, and they wanted to know how he did what he did and what his technique was.
Those three men were Jimmy Page, Eric Clapton and Jeff Beck. Buddy has influenced scores of today's guitarists and his musical legacy will continue to do so long after he has put his feet up and packed it in.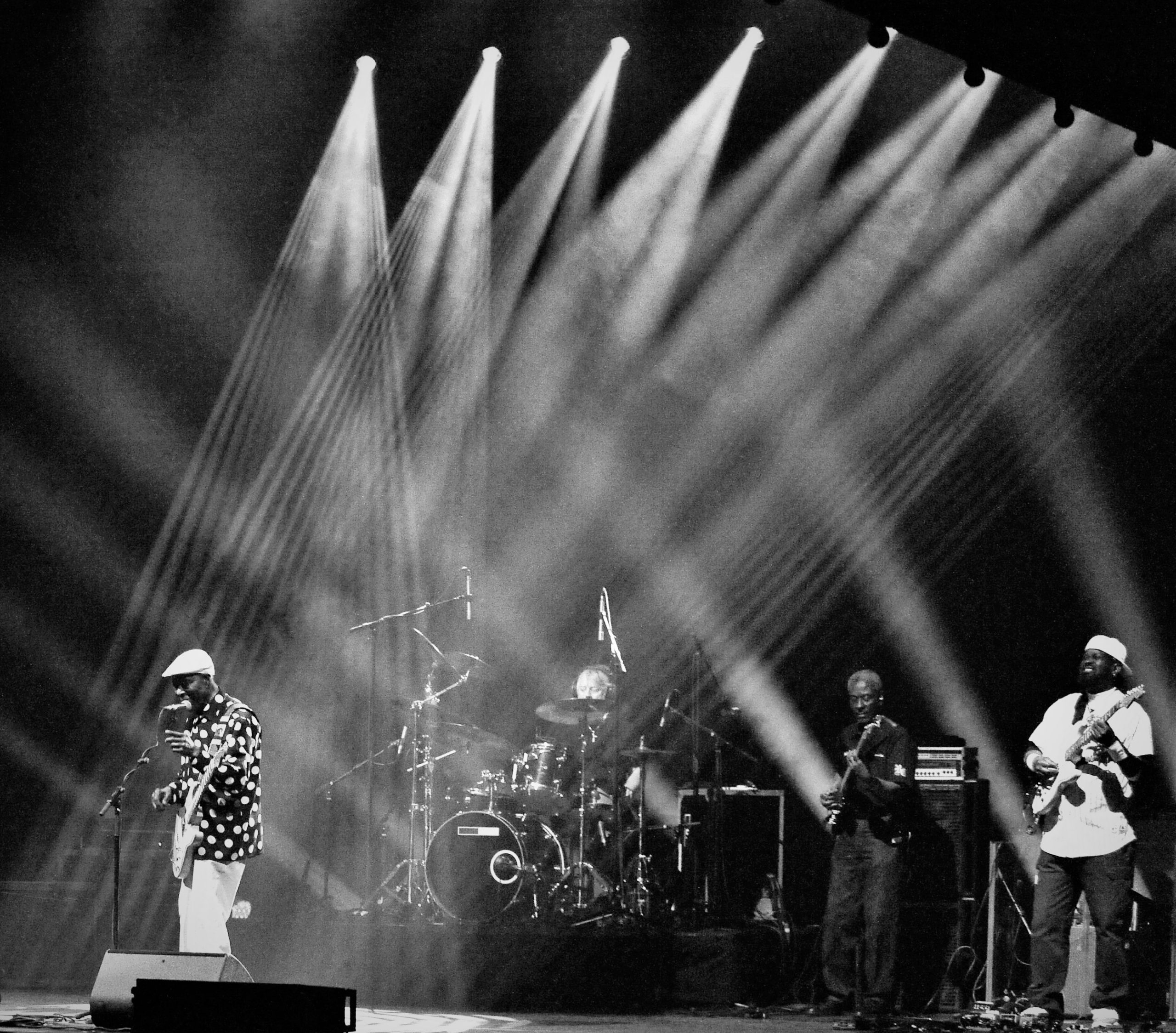 Adieu Buddy, enjoy your touring retirement – you will never be forgotten. Nor will the memories of this amazing night of the blues in Paris for 2,000 of us lucky enough to be there. Merci, merci, merci beaucoup monsieur Guy.
---
---
Words & Photos: David Bronstein