The Coral – James Skelly, Ian Skelly, Nick Power, Paul Duffy and Paul Molloy – release hypnotic new single, "That's Where She Belongs" – from their forthcoming album, "Sea Of Mirrors" which is due in September via Modern Sky UK.
James Skelly says of the track: "This was me chasing sunlit shadows, trying to capture the beauty of the summer. For some strange reason, I feel a duty to do that from time to time.
"It didn't work first time around, but we took it into the studio and used some old tricks we've learned – editing the violins into the chorus, turning almost everything backwards and adding some Glenn Campbell guitars – and we came out with the hazy summer psychedelia the album needed to break up the intensity."
Announcing that their 11th studio album, the follow up to 2021's  double-album which peaked at # 2 in the UK chart, would see a second album, "Holy Joe's Coral Island Medicine Show", drop the same day, Friday 8 September 2023.
"Sea Of Mirrors" will be available in multiple, limited-edition and standard vinyl formats as well as CD, cassette and digital. Fans and collectors will only be able to get their hands on copies of "Holy Joe's Coral Island Medicine Show" on single-pressing physical vinyl, CD and cassette formats.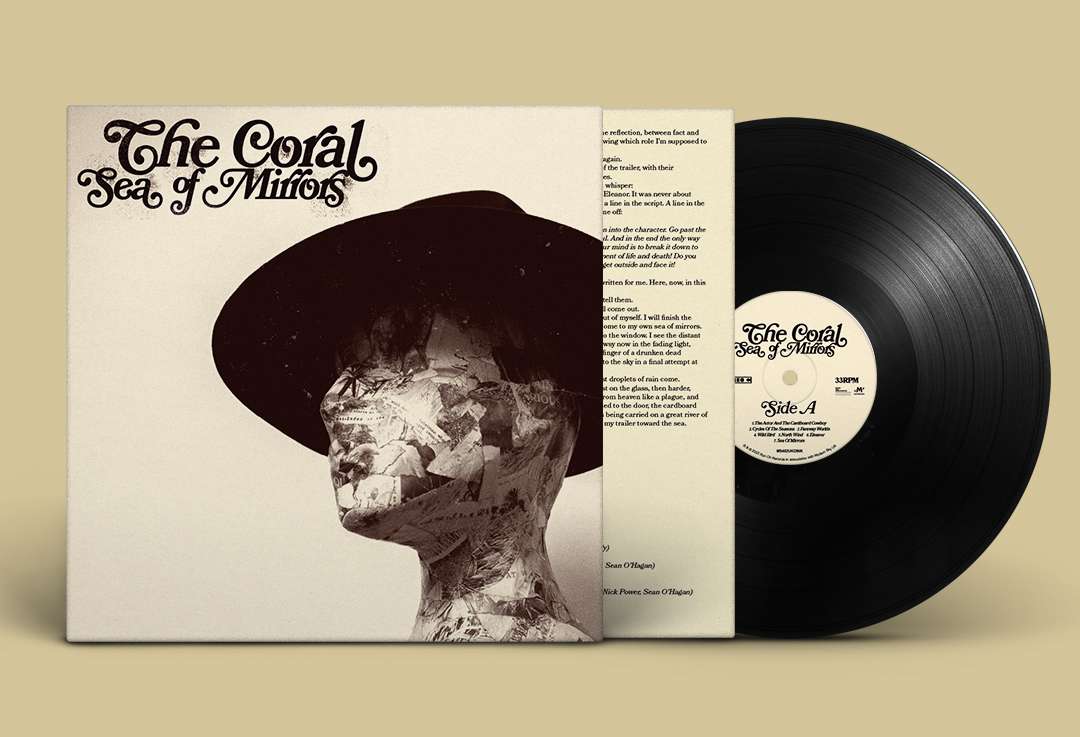 The Coral brought in The High Llamas and Stereolab's Sean O'Hagan as co-producer and arranger.
The band has previously released "Drifter's Prayer", featuring Dr Who and Life On Mars actor, John Simm, lifted from "Holy Joe's Coral Island Medicine Show", and "Ocean's Apart", featuring Cillian Murphy, from "Sea Of Mirrors."
Johnny Echols, guitarist with hugely-influential 60's psych' legends, Love, voices the "Sea Of Mirrors' " sleeve notes on an exclusive Rough Trade flexi-disc, while James and Ian Skelly's grandad, aka The Great Muriarty, reprises his role as Coral Island's master of ceremonies on "Holy Joe's Coral Island Medicine Show."
21 years after the release of their self-titled debut, The Coral's status in British music is assured by their run of hit singles including "Dreaming Of You" (now on more than 100 million streams globally and securing UK Platinum status), "Pass It On", "Don't Think You're The First" and "In The Morning."
Six of their previous albums have reached the Top 10, including "Coral Island" and 2003's # 1 chart success, "Magic and Medicine", which saw the band nominated for "Best Group" at the Brit Awards.
"Sea Of Mirrors" will be released 8th September 2023 by Run On Records/Modern Sky UK.
Also released this autumn: "Holy Joe's Coral Island Medicine Show" (Physical Formats Only)
---
---
Photo by Jack Finnigan: (Left to right) Nick Power, Paul Duffy, Ian Skelly, James Skelly, Paul Molloy)