They came, we saw (and they/we danced!), and they conquered. Who?  The Jacksons. Music history's first family…
To borrow a couple of song titles from their amazing back catalogue of hits in their set tonight, "Never Can Say Goodbye", and "I Want You Back" pretty much sums up the collective emotion of 7,500 fans at the end of this stunning night of delights in Halifax.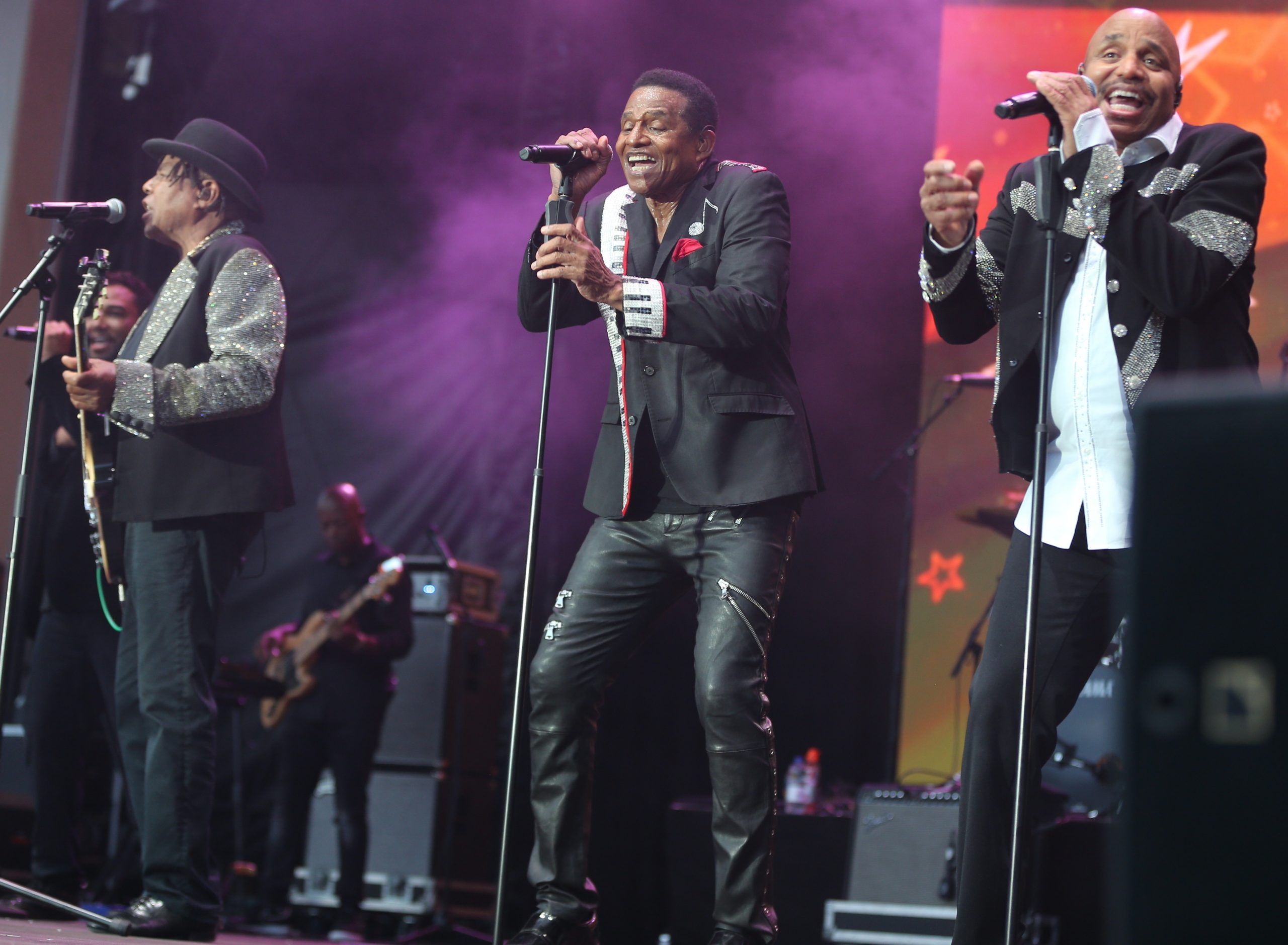 Not one, not two, but three legendary acts on stage tonight: The Real Thing, Sister Sledge and The Jacksons. If the world had ended around 11pm tonight, it would have been a damn good way to go.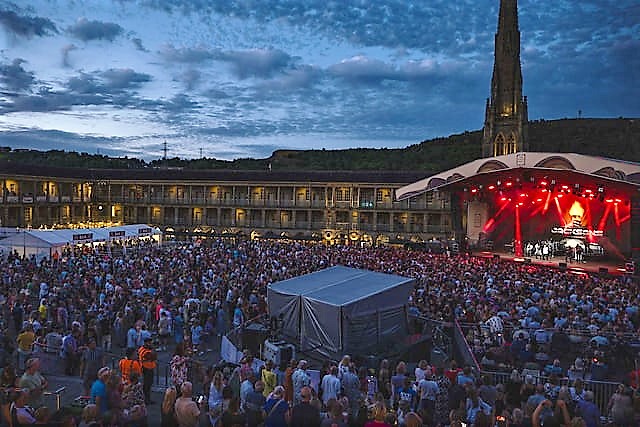 Nostalgia's not what it used to be, goes the old tongue-in-cheek saying. But tonight was unashamed nostalgia. Veteran acts, vintage songs that have stood the test of time and a wonderful stroll down memory lane – and that lane ain't no dead end.
Not just a stroll either; if you were not shaking your bits to a vast percentage of this three-act show, then check your pulse or your hearing. If you ache today, blame it on the boogie. See what I did there?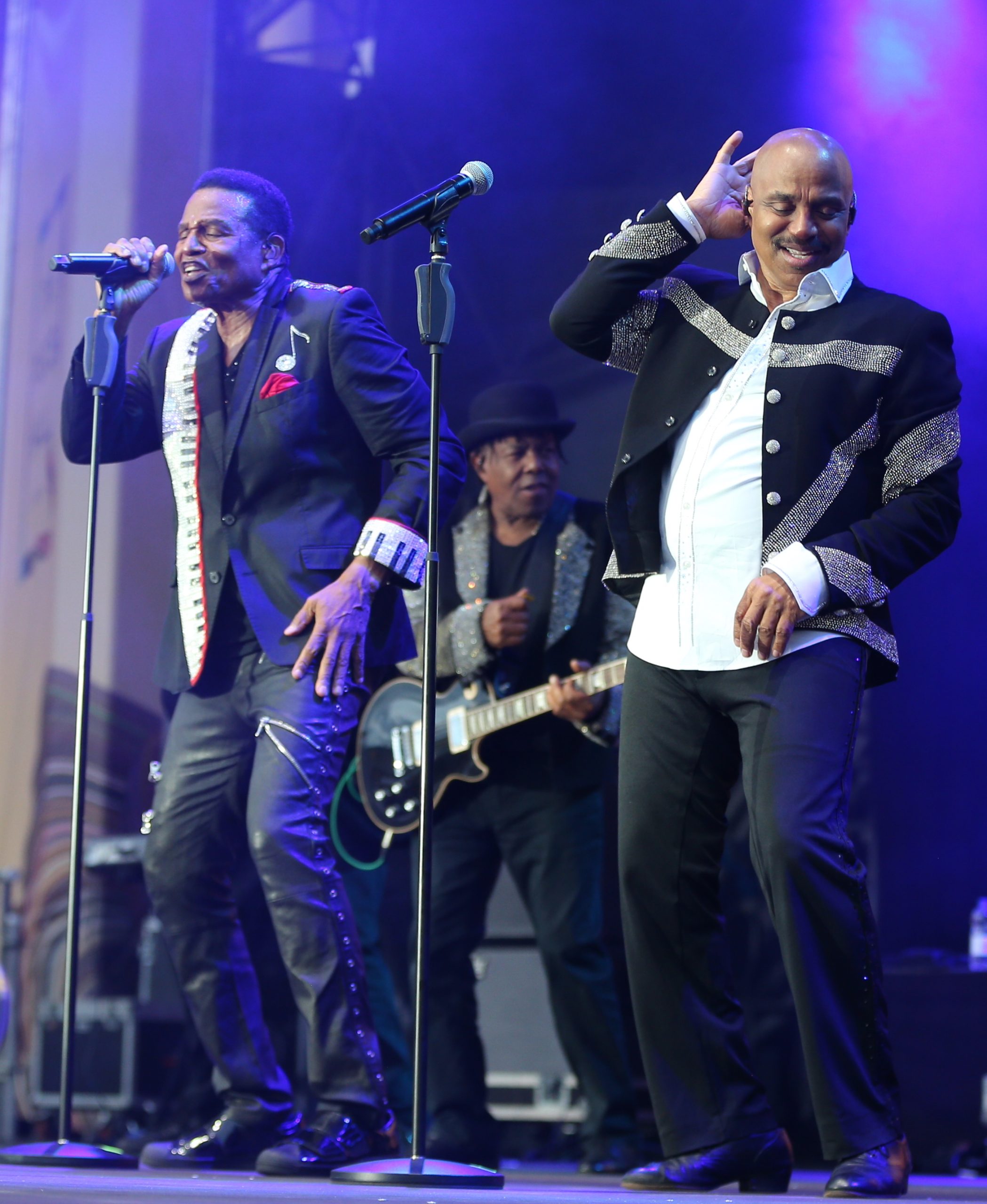 The venue really is a beautiful setting for a concert. A spacious (1.7 acres) and flat piazza within the courtyard of the Grade 1 listed West Yorkshire building The Piece Hall, built in 1779 as a cloth hall for handloom weavers to sell the woollen cloth "pieces" they had produced.
Restored to its present glory with a £19 Million regeneration project, re-opening in August 2017. With the balmy summer night weather and this gorgeous setting, we could have been in Italy or some other lovely Mediterranean destination, but here we were in good old Halifax, England. As they say up this neck of the woods: "That'll do!"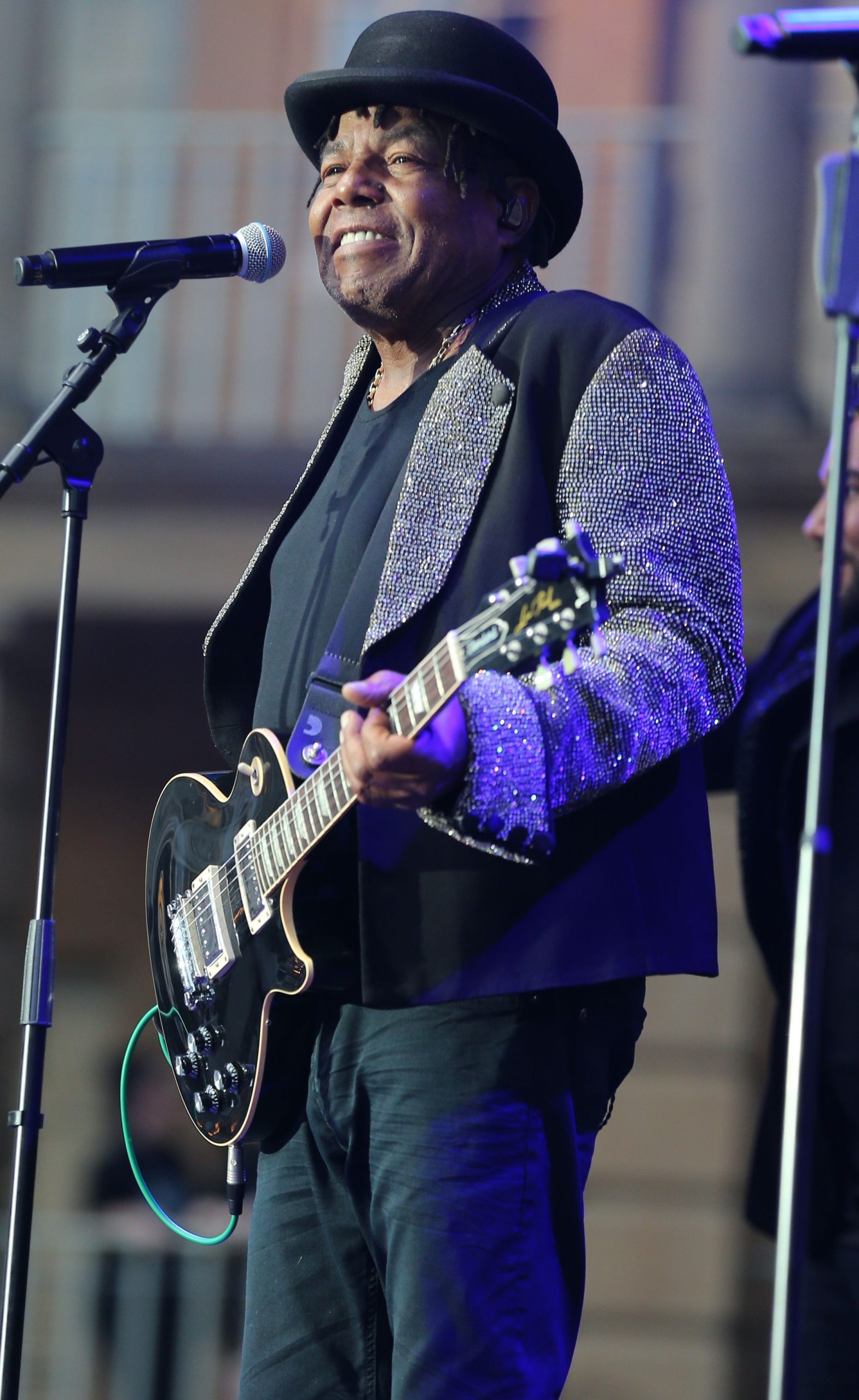 The concert poignantly held on the eve of the 14th anniversary of the passing of Michael Jackson. The brothers' posting an emotional tribute to their social media about their much- missed and beloved brother, The King Of Pop.
"As Michael Jackson continues to be one of the most influential and iconic music entertainers of all time, we commemorate his life and his unmatched efforts for humanity while we continue to miss him every day…"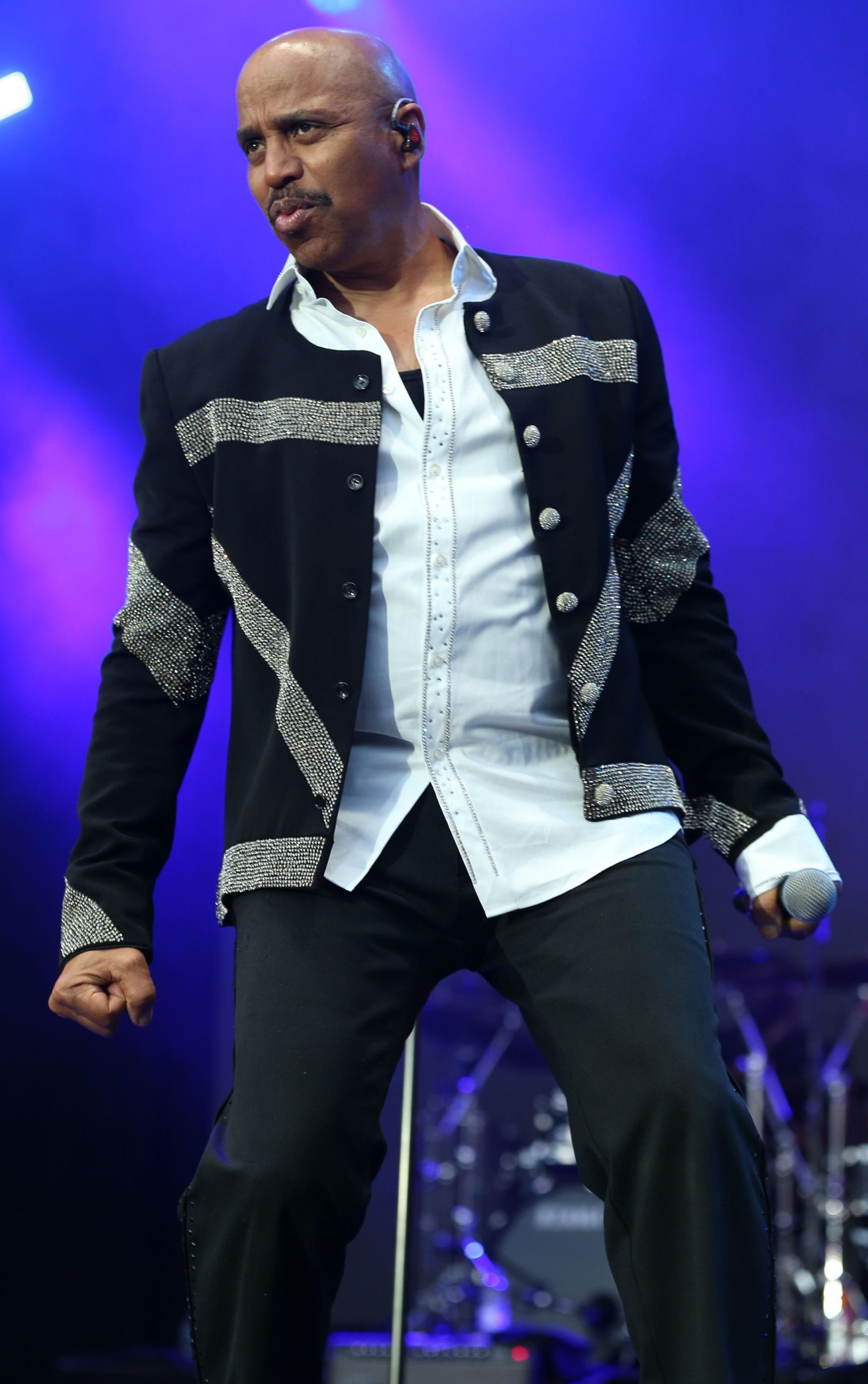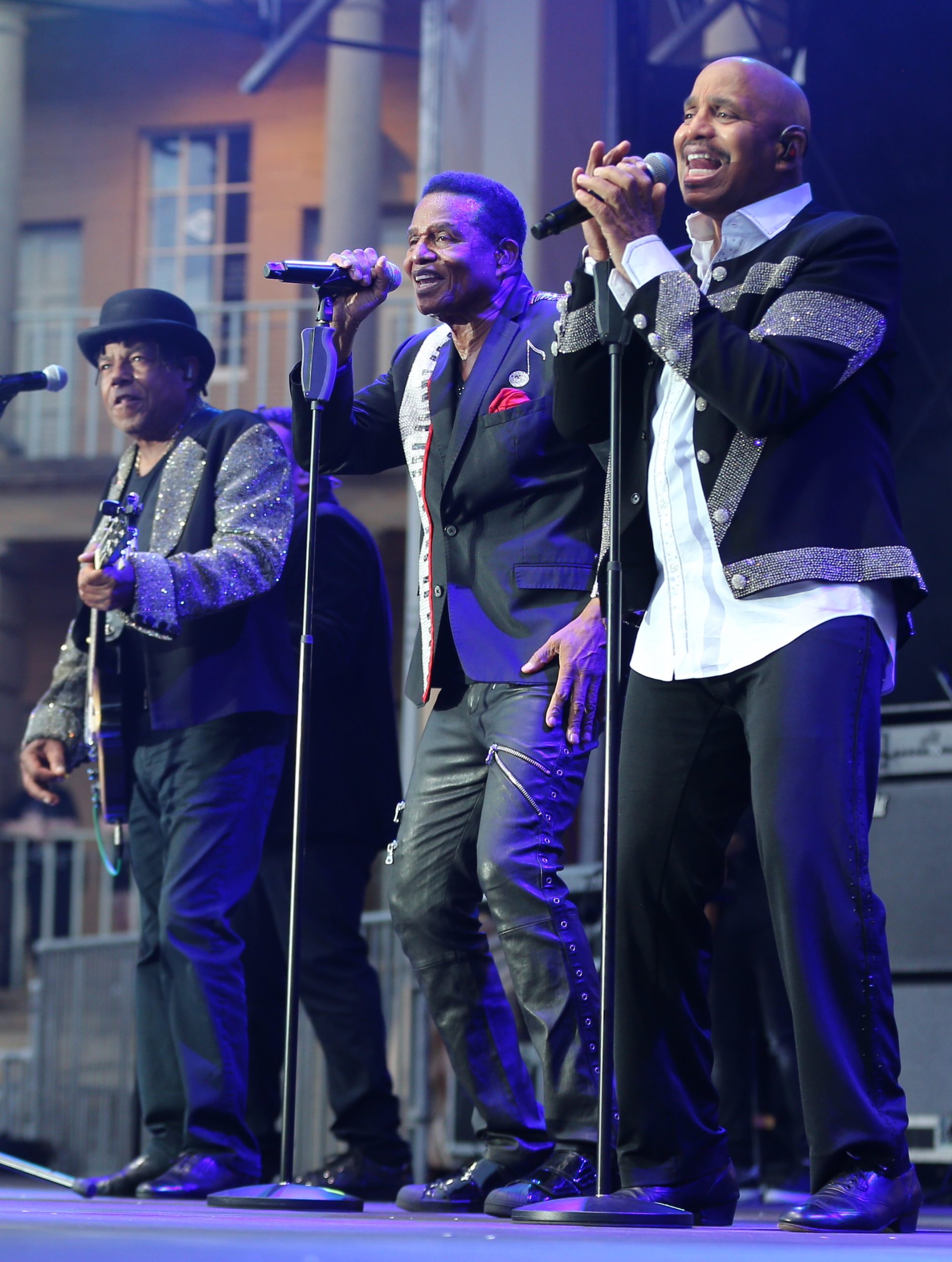 Footage and photographs of MJ adorn the video screen at the back of the stage before the brothers arrive.
Also during the show, as part of a showreel of the life and history of The Jackson family.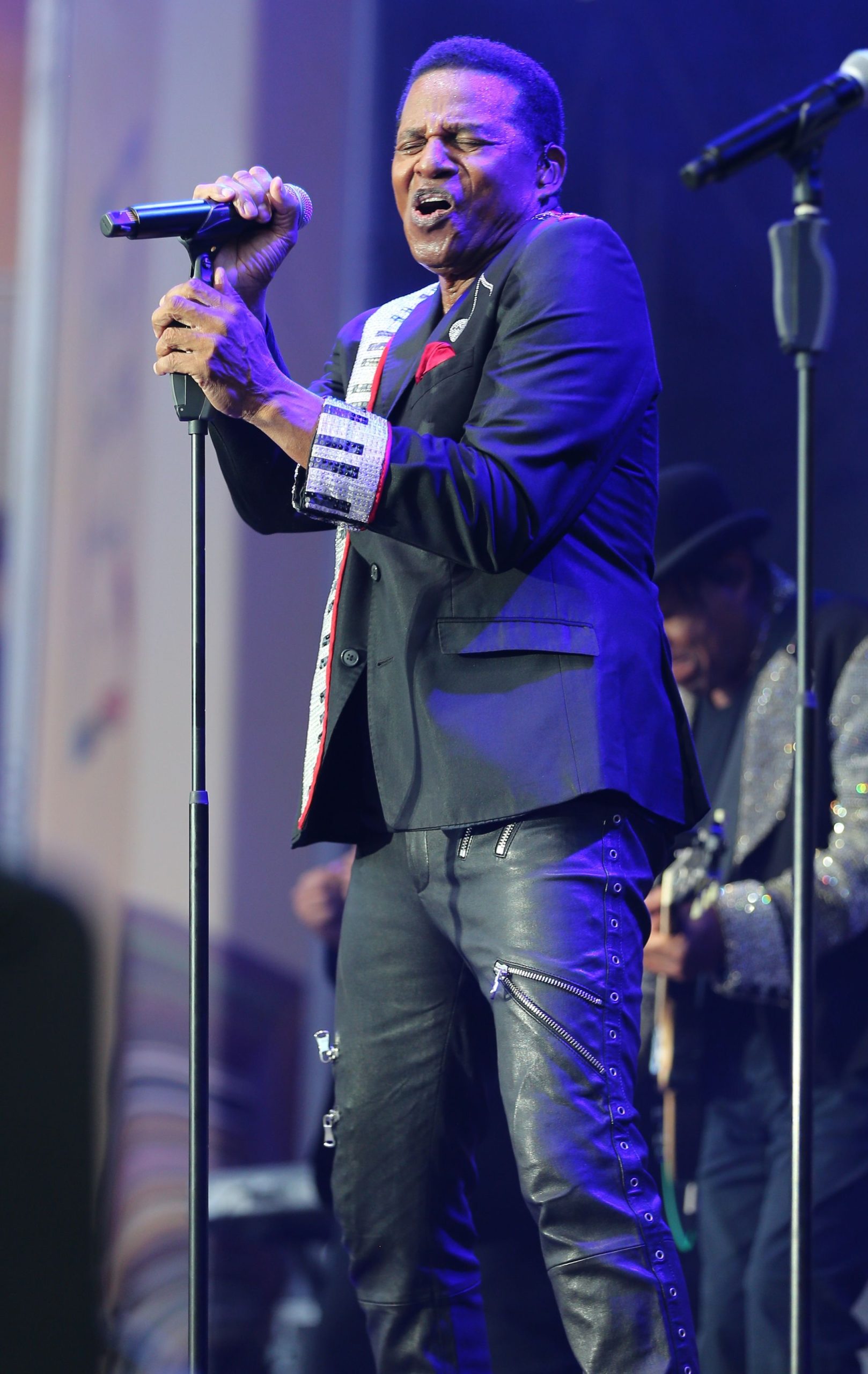 The Jacksons have sold more than 200 million records including many worldwide smash hits. Landing their first record deal in 1967, the family group, with the late Michael Jackson, made history in 1970 as the first recording act whose first four singles reached Number One on the US Billboard chart.
Inductees into the Rock and Roll Hall of Fame, they made five #1 albums, had 18 #1 hits, 17 top 10 albums and 17 top 40 singles.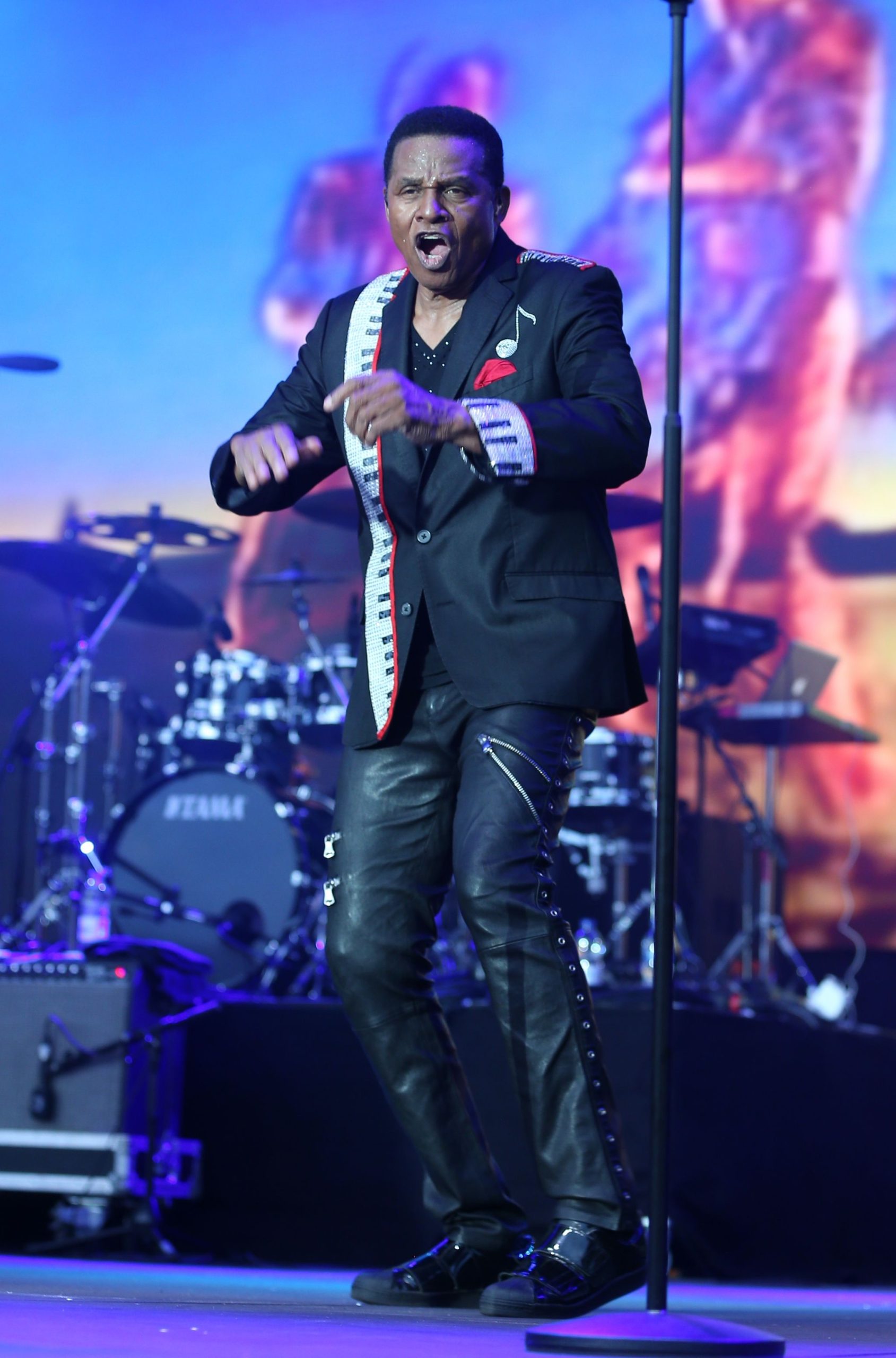 They sing several of Michael's own songs as well as tracks he was on as part of The Jackson 5 and The Jacksons, in their 16-song set. Opening with "Can You Feel It", then two MJ hits,  "Blame It On The Boogie"and "Rock With You".
Fourth song in, "Enjoy Yourself" did not fall on deaf ears; and 7,500 of us needed no prompting to do just that. Many locals just could not believe they were right in front of three guys who are part of the fabric of music history.
"Show You The Way To Go", and "Lovely One" before a medley of biggies: "I Want You Back"/"ABC"/The Love You Save"/"Dancing Machine"/"Never Can Say Goodbye" and "I'll Be There".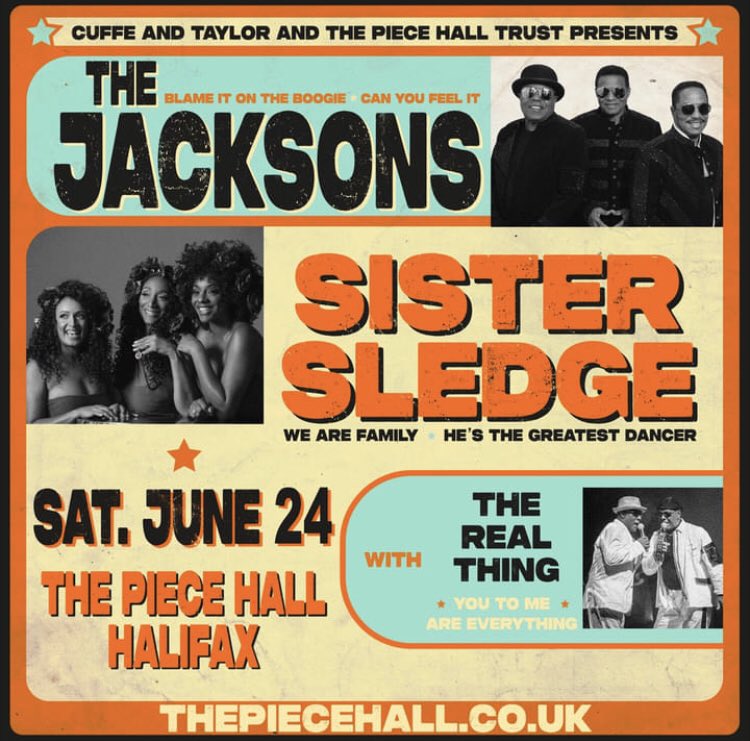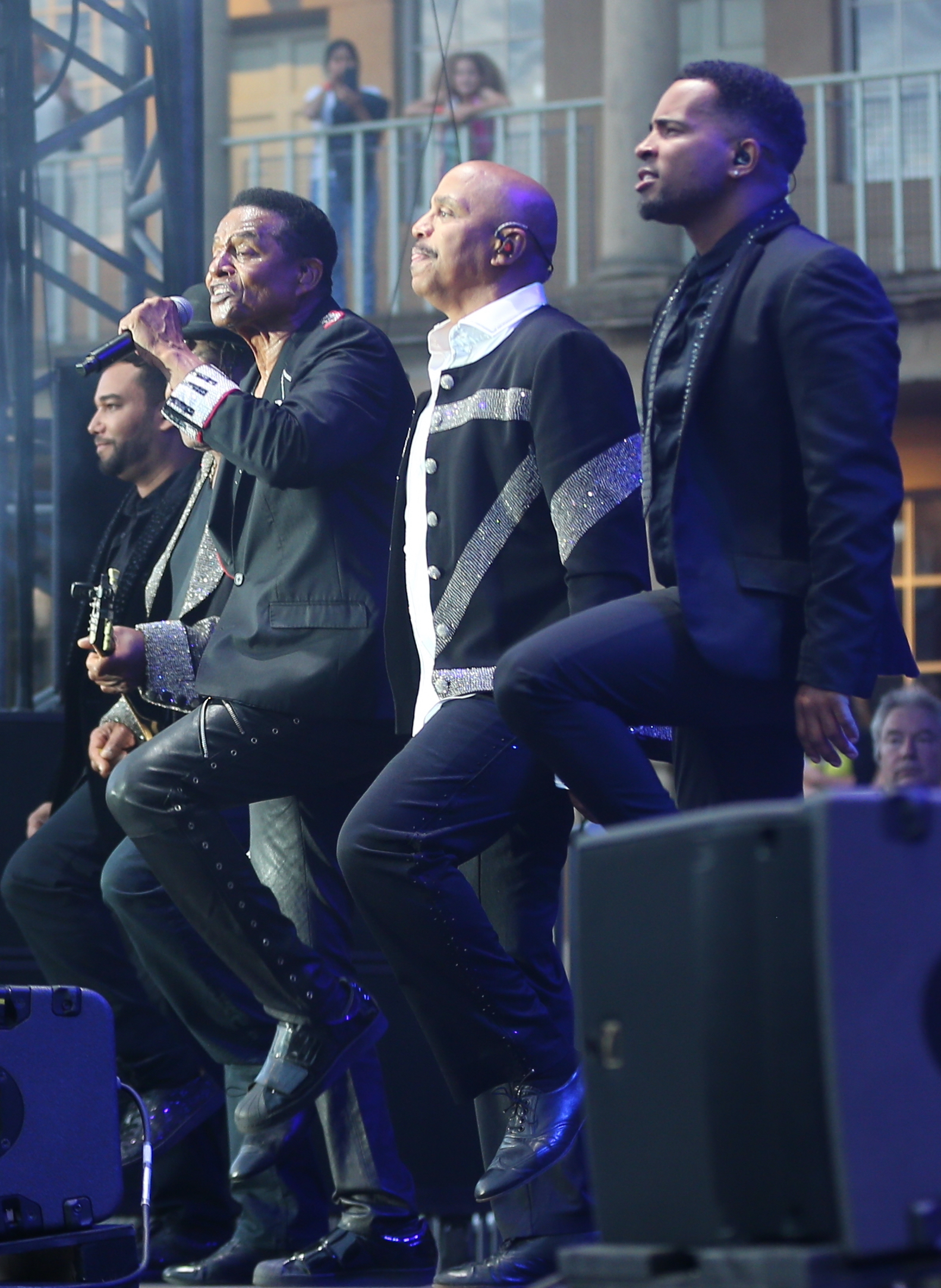 Tito on guitar and vocals steps up now for his self-penned song, "Love One Another", before back to an MJ song, "Can't Let Her Get Away".
The penultimate song, "This Place Hotel" precedes the wonderful finale, "Shake Your Body Down To The Ground".
Then the trio of Jackson brothers are joined by two of the band, they link hands and take several well deserved bows to a rapturous response. Then they are gone…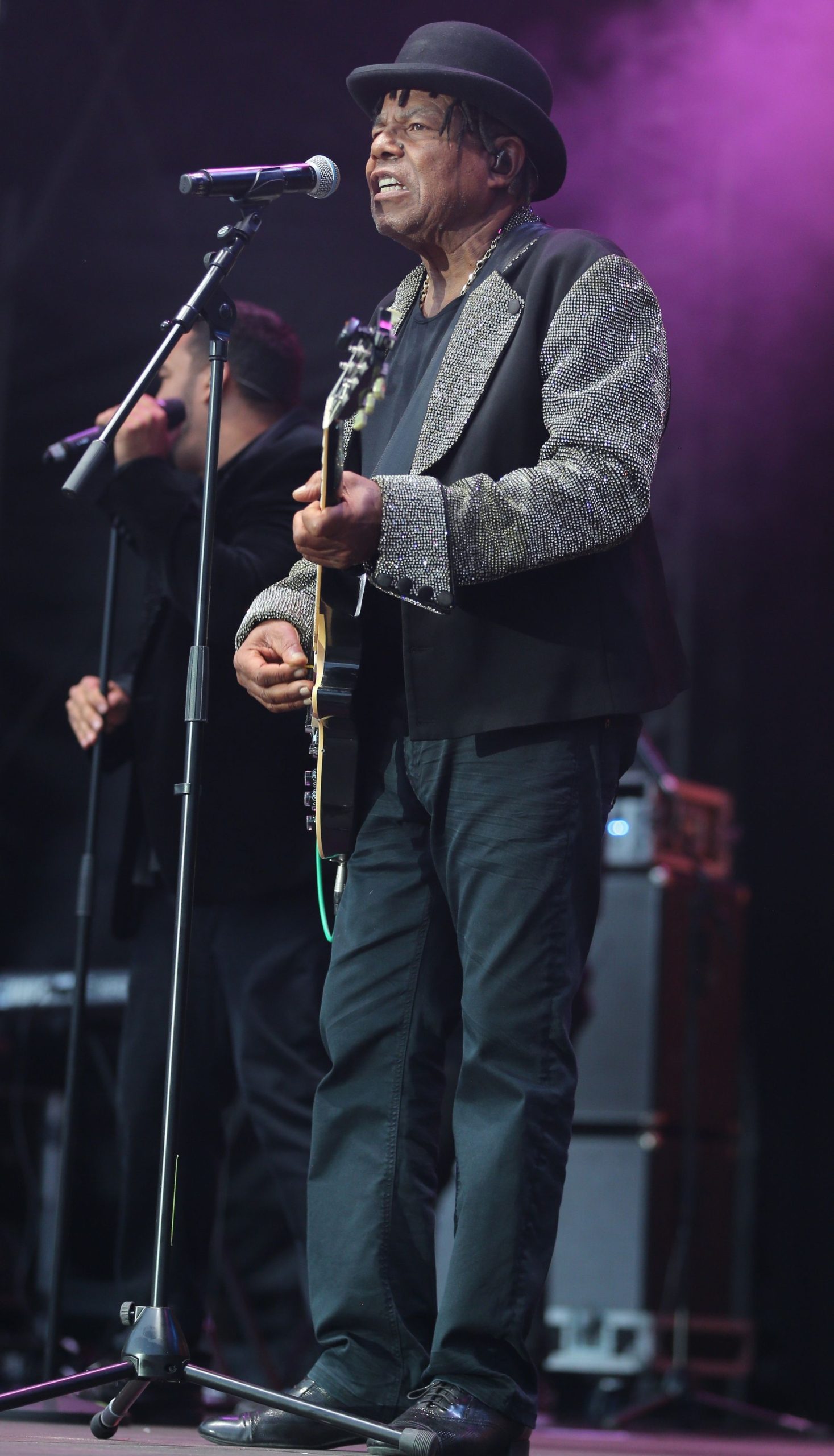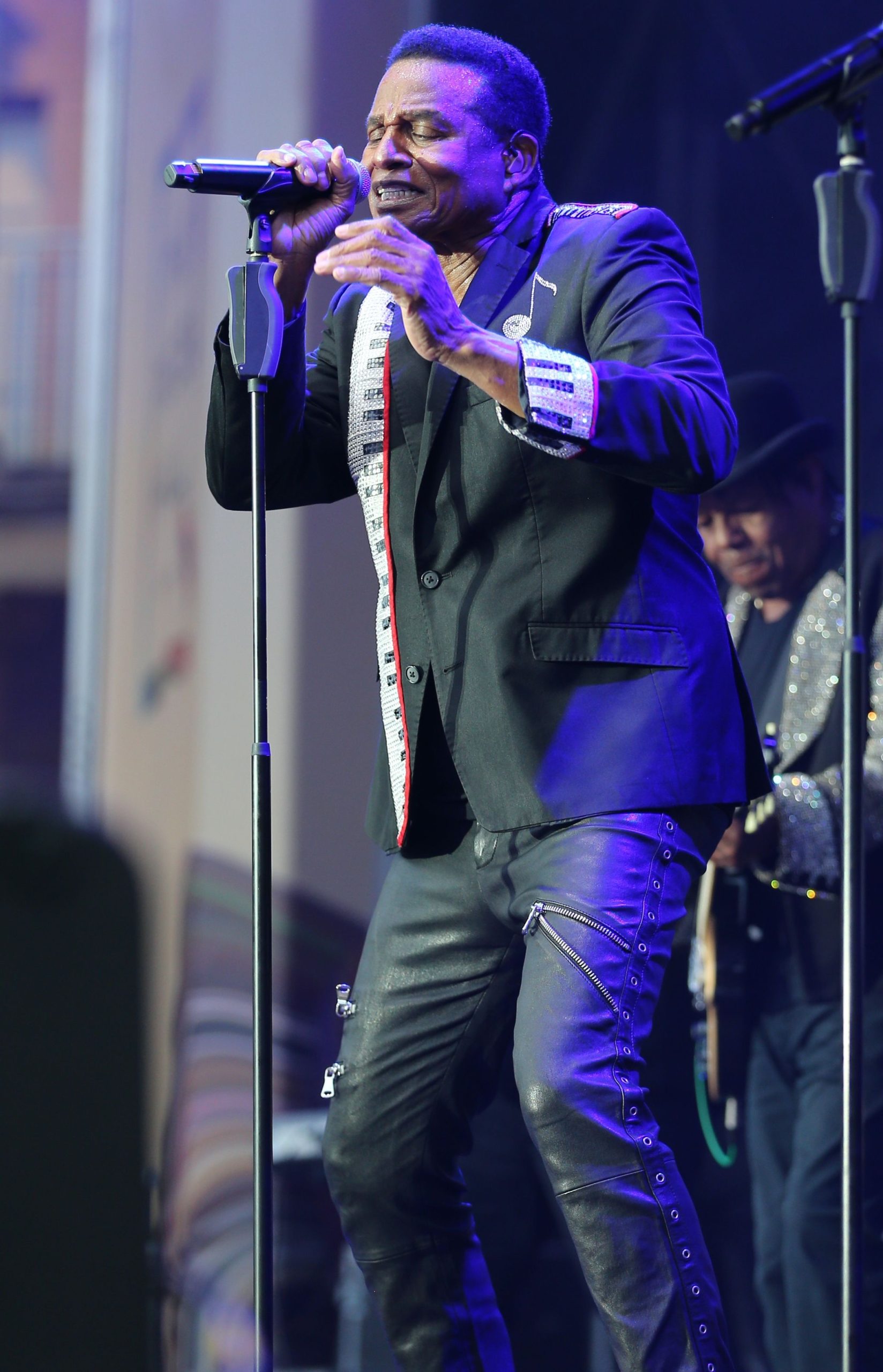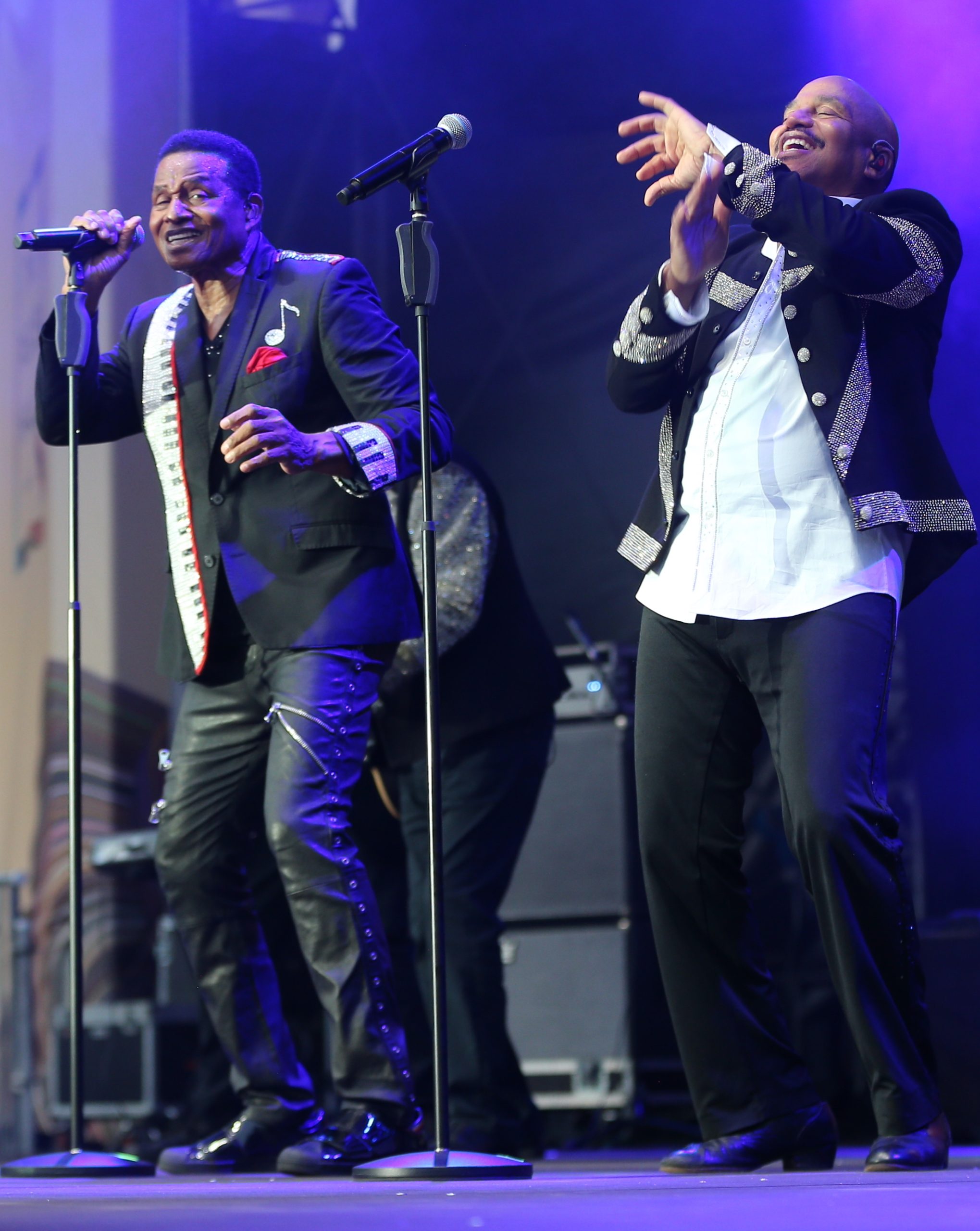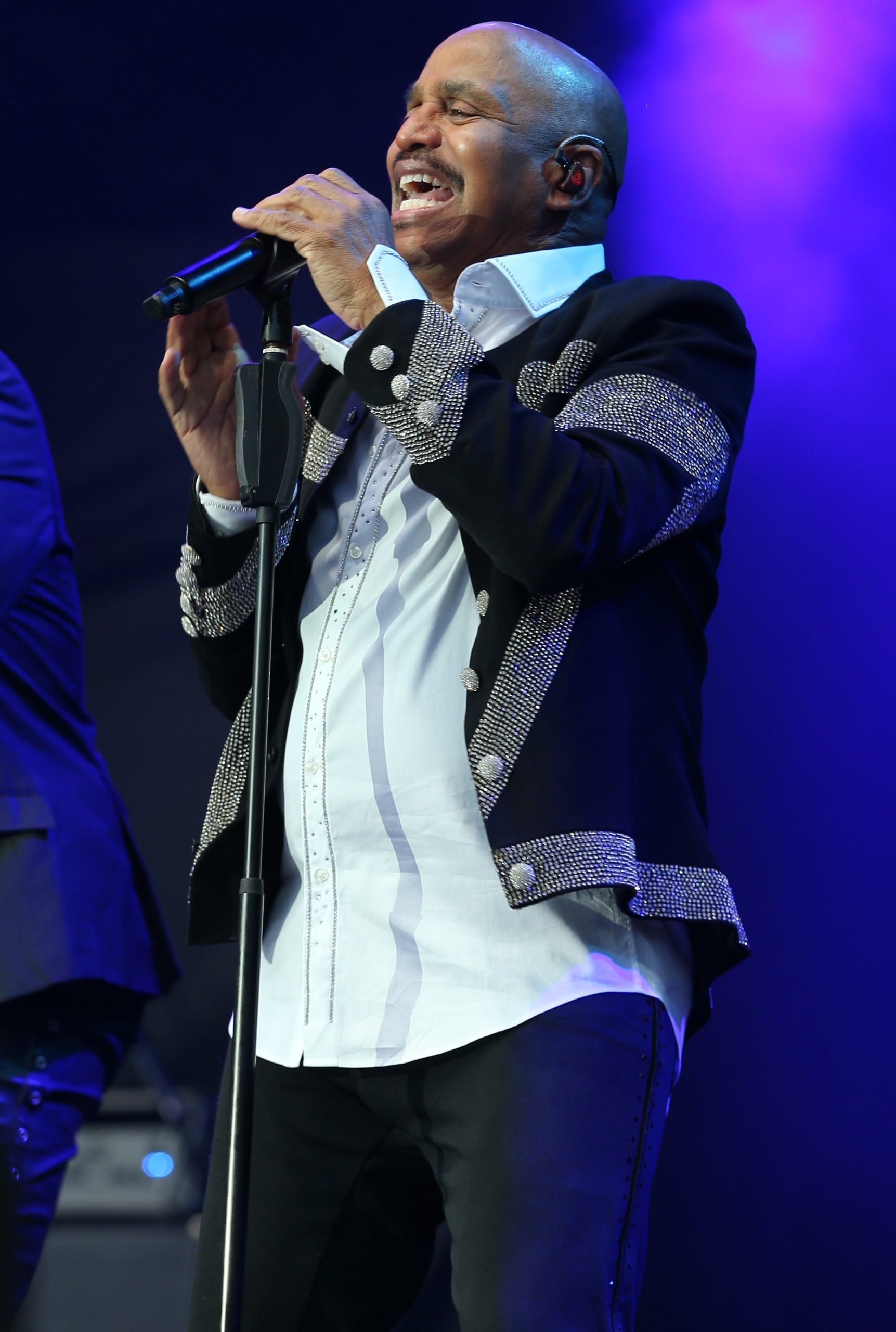 The sound was perfect – there was a five minute break mid-set to fix an on-stage technical issue – the lighting looked great, the weather spot on and the location was unbeatable. The vibe was friendly and relaxed and security was low key.
All three acts gave huge value for money – tickets started at a very reasonable £55 – and the music began at 6.15pm and ended around 11pm. The event was promoted by Cuffe & Taylor, who organise the summer series of concerts at this venue, as well as shows at Scarborough open air theatre and the Lytham Festival in Lancashire.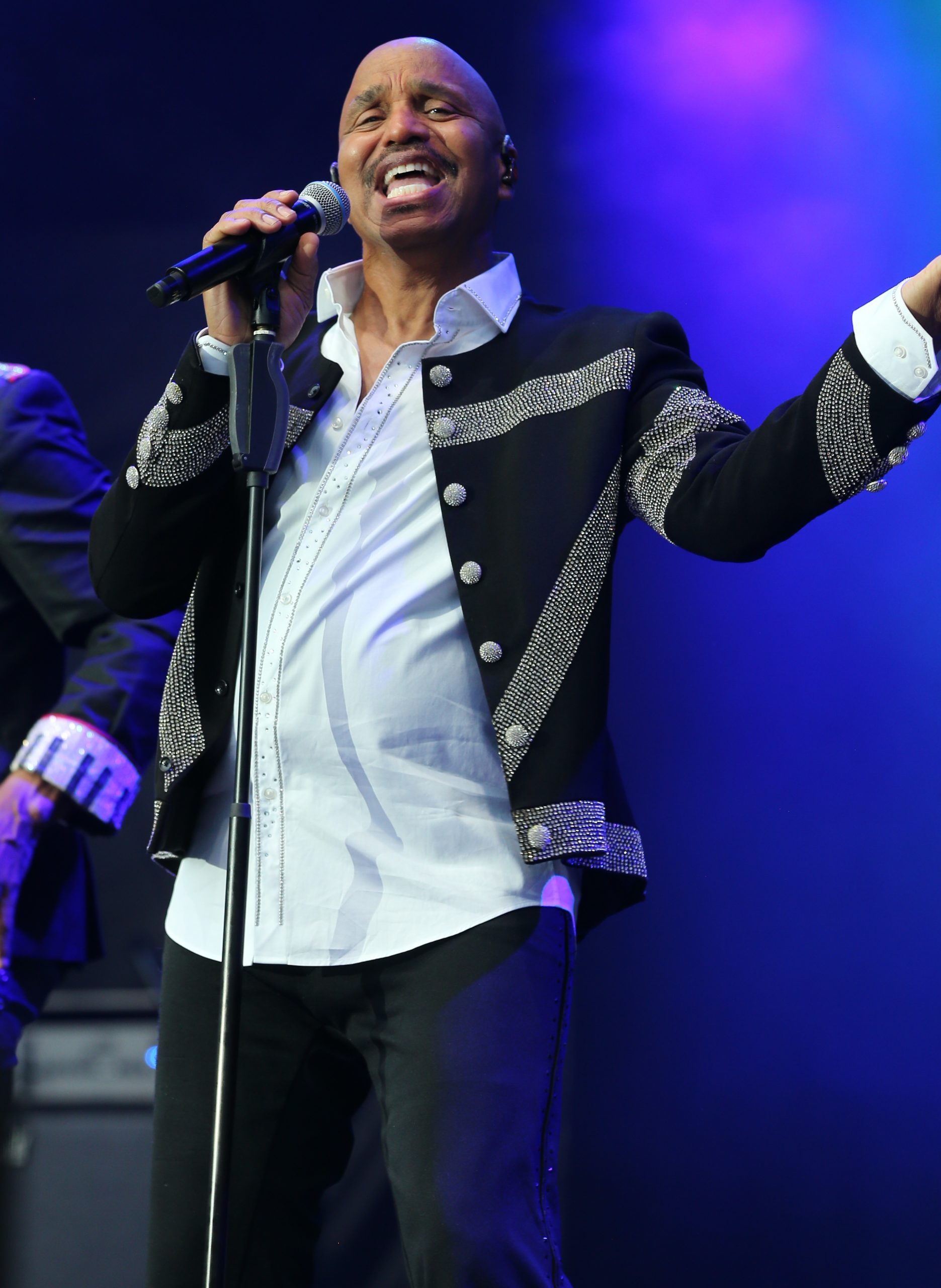 While Axl Rose and Guns N' Roses were headlining Glastonbury live on TV, undisputed music royalty and Indiana's first sons, The Jacksons, Philadelphia's favourite sisters, Sister Sledge and Liverpool's veteran soul boys, The Real Thing delivered a triple treat in Halifax.
A wonderful one-off reminder of the soundtrack to many people's lives who were assembled here tonight. Me included. [Talking of royalty; The Jacksons performed twice for the Queen, and she told them she had their music at home and had danced to it. Love to have seen that!]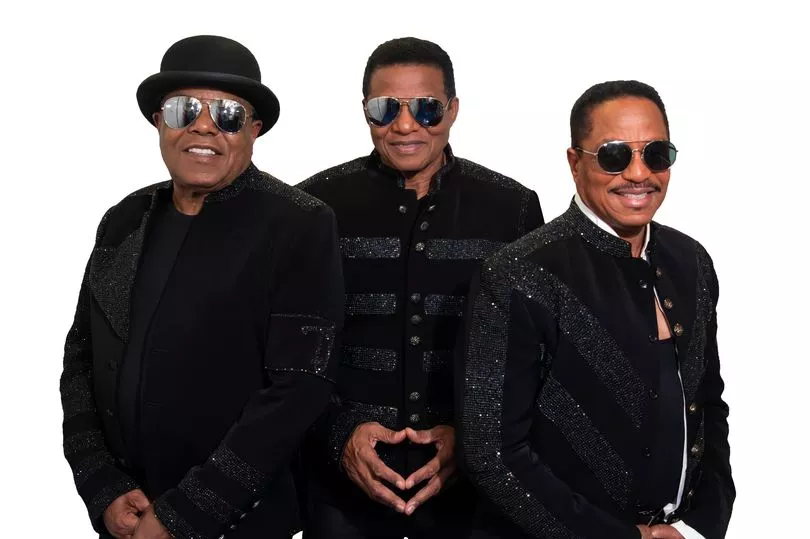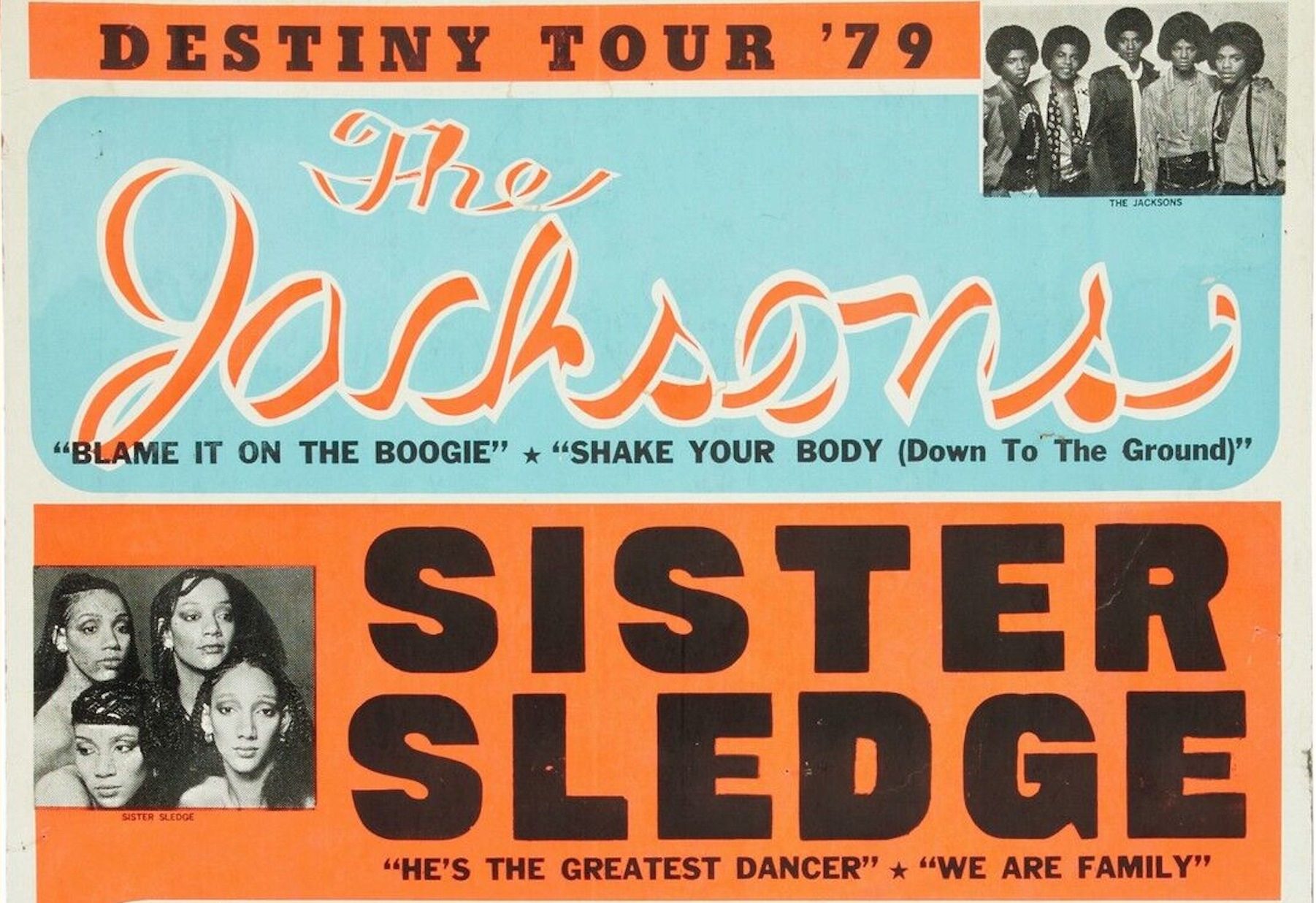 Sister Sledge, who toured with The Jacksons on the brothers' Destiny Tour in 1979, have the one original member today. Debbie Sledge. Joined by family members Camille Sledge, Thaddeus Sledge, David Sledge and Tanya Tiet .
Backed by a tight band of bassist David (D Bazz) Jones, drummer Ira King, guitarist Paul David, and keyboardist Luis Higuera, under the musical direction of MD and renowned jazz saxophonist Dominic Amato.
They delivered energised renditions of their classic dance floor hits, and a journey through the spectrum of their musical inspirations, spanning soul and gospel music.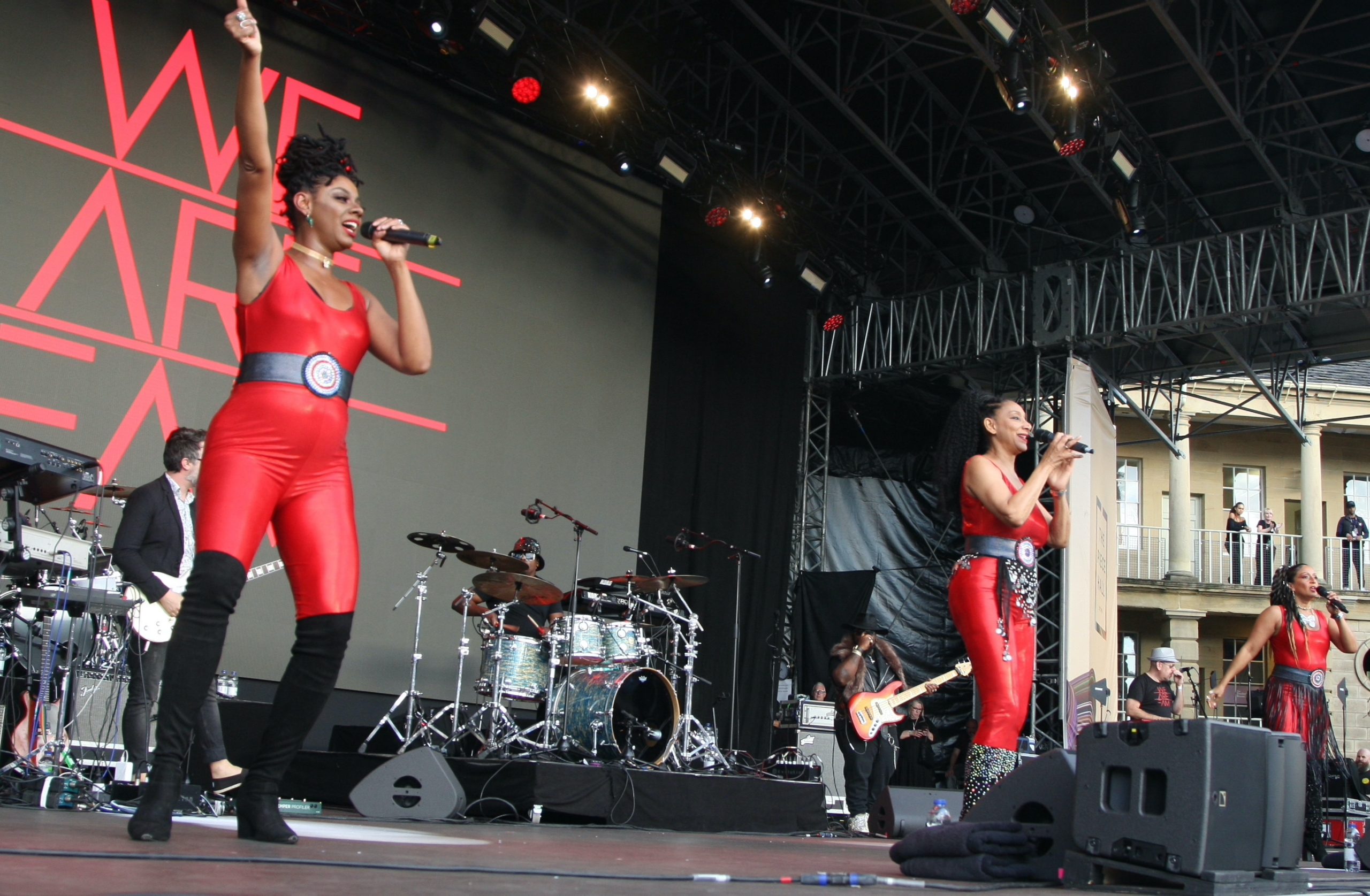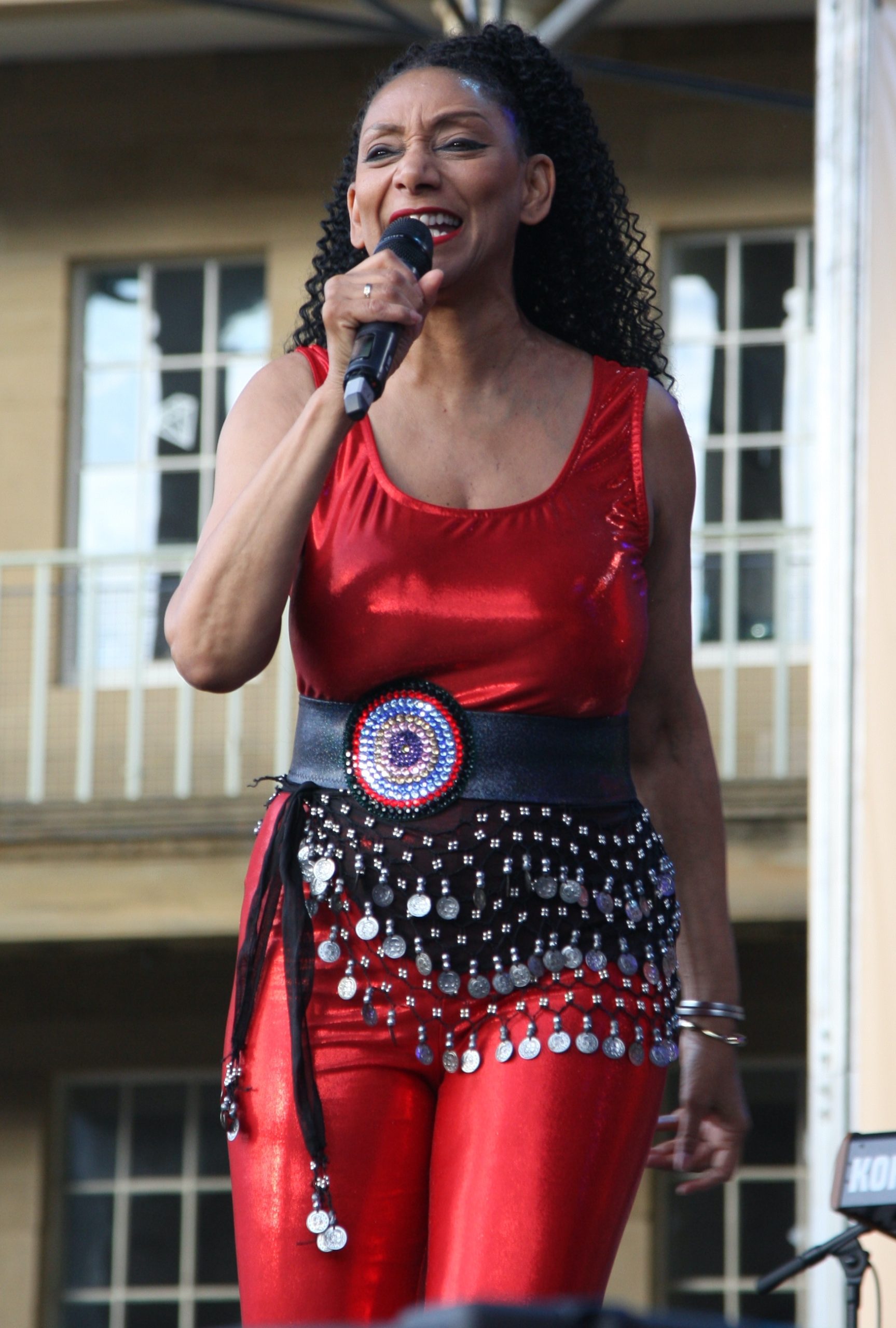 Hailing from Philadelphia, sisters Debbie, Joni, Kathy and Kim became household names and a symbol of unity with their 1979 world-wide hit and iconic album "We are Family". Jonie passed away in 2017.
The multi-lead vocal group are responsible for some of the biggest dance anthems of all time such as "Lost In Music" and "He's The Greatest Dancer", which of course are a staple of their live set. "We Are Family" prompts a mass invasion of the stage by some lucky fans who are invited to dance with the group for that song tonight.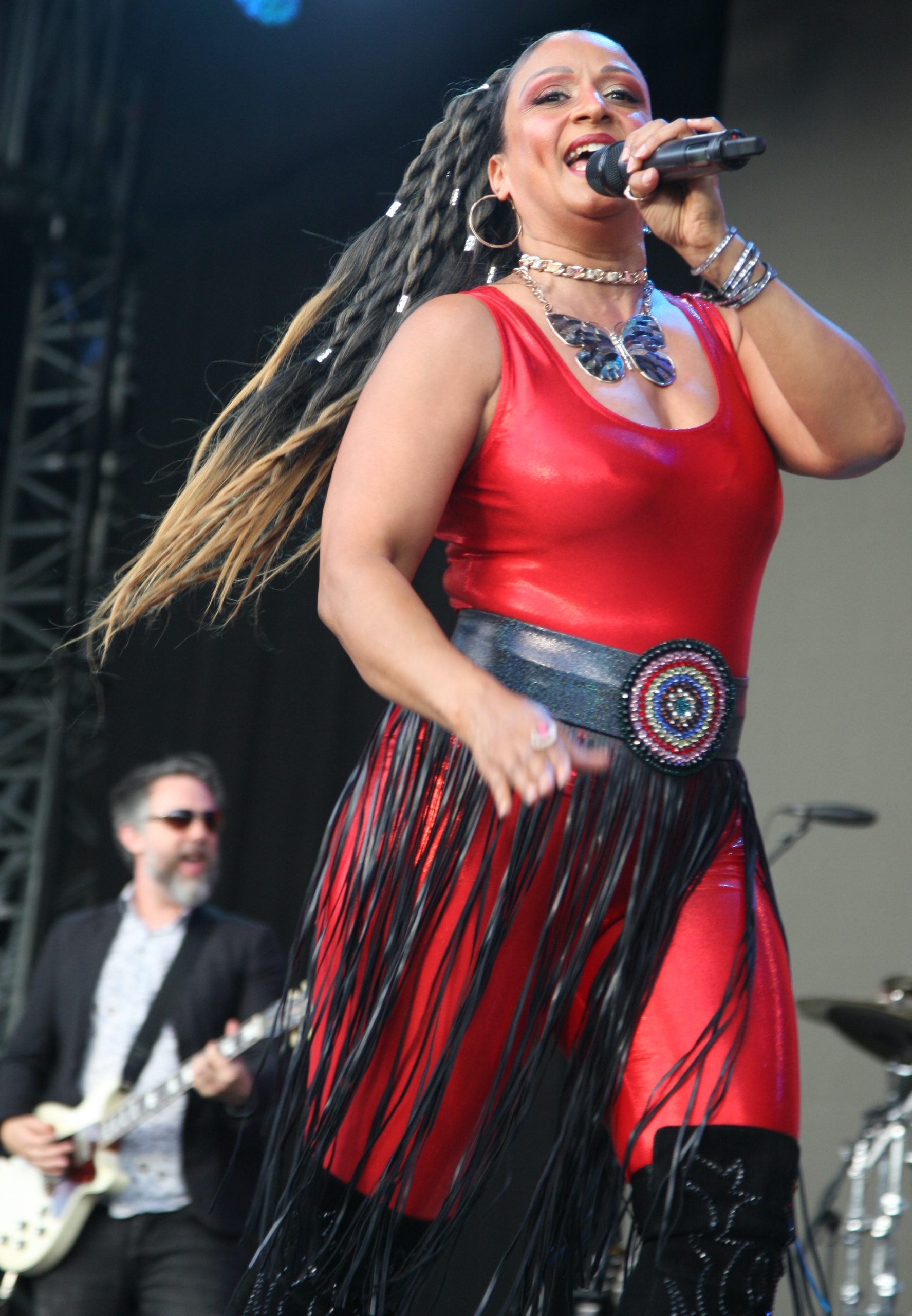 Sister Sledge has performed on some of the world's most prestigious stages, including Carnegie Hall, Madison Square Garden, London's Royal Albert Hall and Glastonbury's iconic Pyramid Stage.
They have also performed for the Clintons at the White House, and even before the Pope Francis during the 2015 World Meeting of Families in Philadelphia.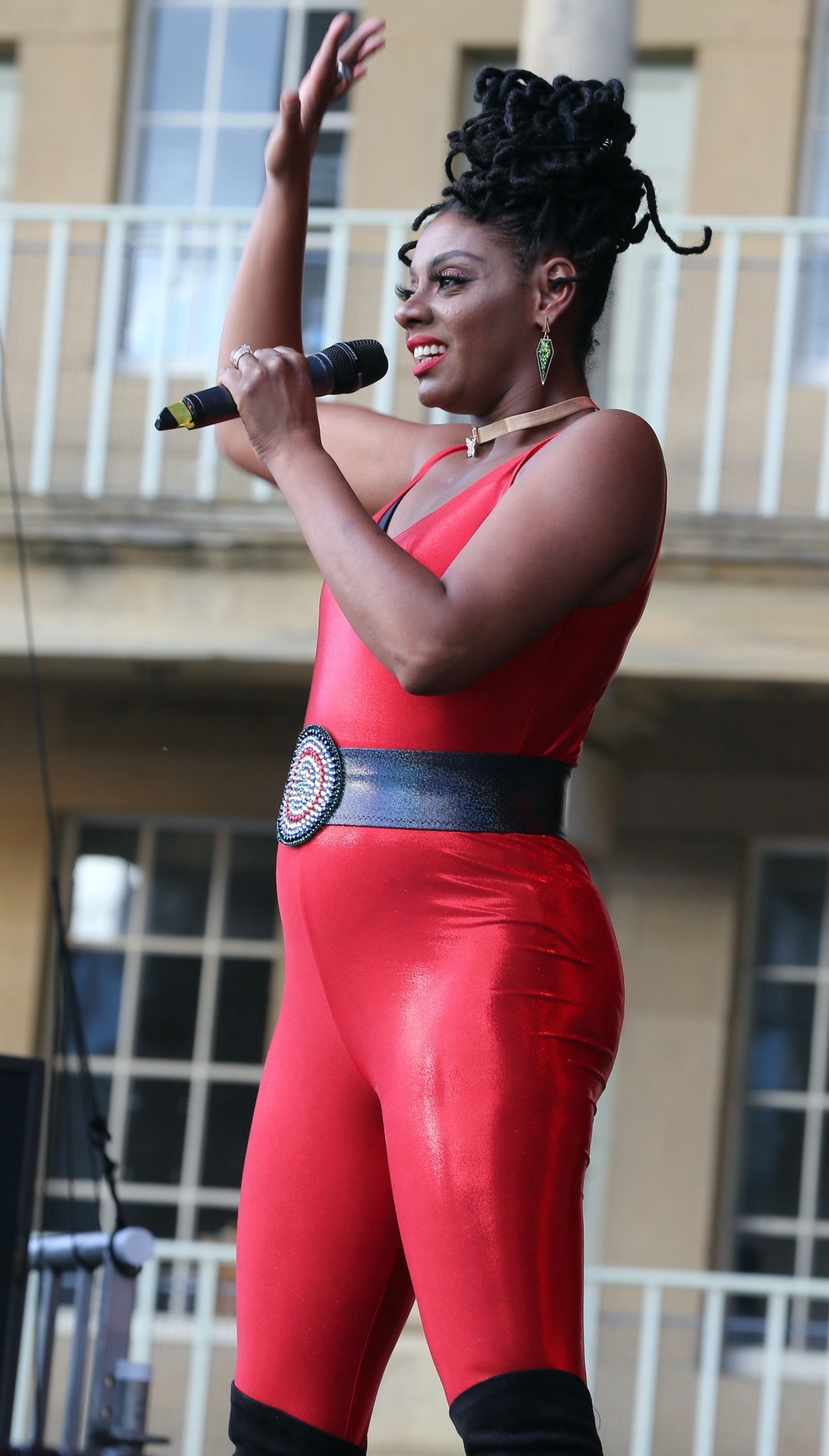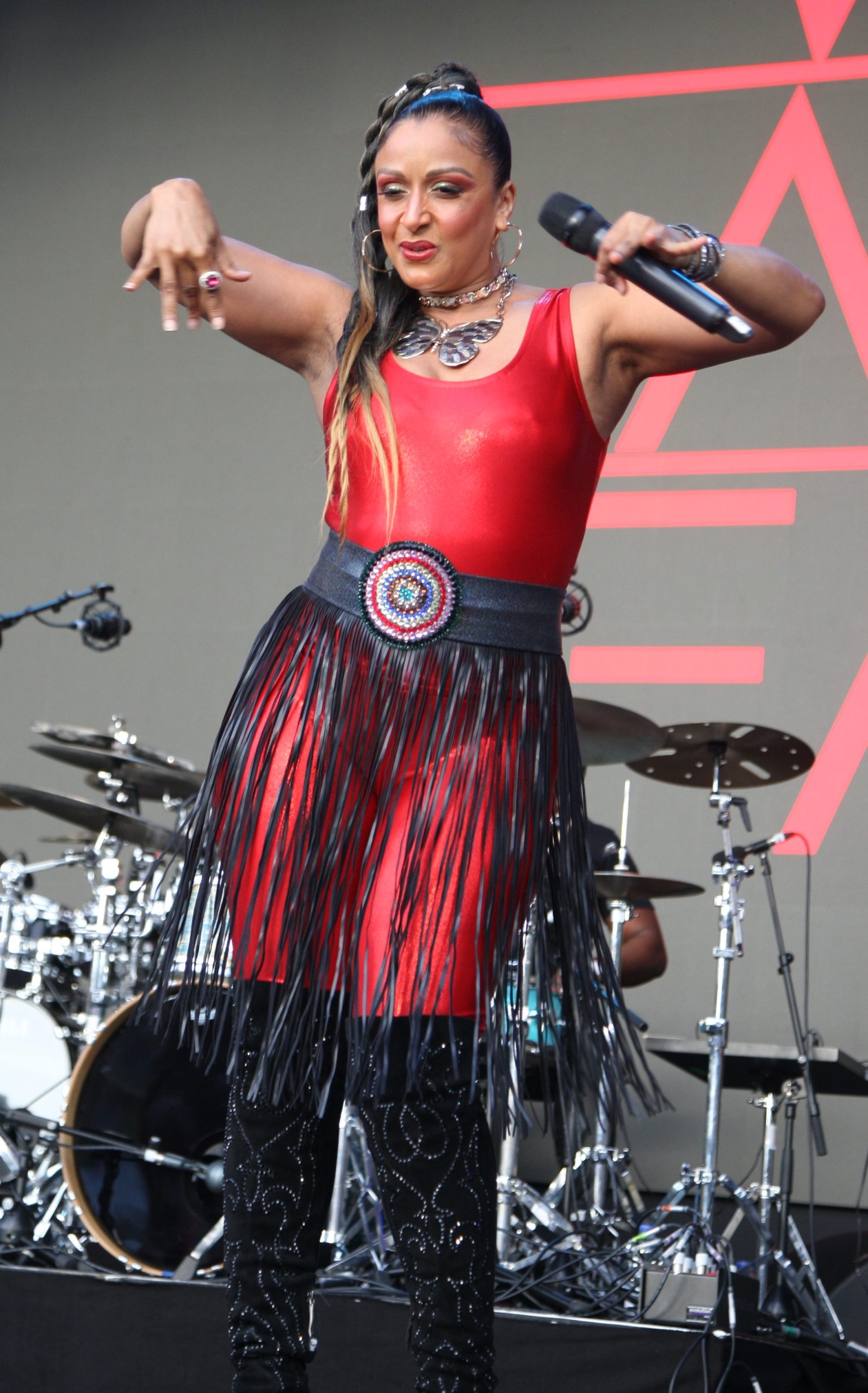 Over the years, the family-group has amassed a string of Gold and Platinum hits, generating total sales of more than 20 million records  worldwide.
They have earned hundreds of awards and commendations, including three Grammy nominations. Their worldwide anthem "We Are Family" was entered in to the prestigious Library of Congress in 2017.
Their Halifax show was the perfect appetiser before the delicious main course about to be served. The Sledge family legacy is clearly in safe hands with the younger generation, fronted by Ms. Debbie.
First up tonight in the warm summer sunshine is The Real Thing, the Liverpool soul group formed in 1972.
Two main guys now, Chris Amoo and Dave Smith, and they make a nice noise with their timeless hits "You To Me Are Everything"," Can't Get By Without You" and "Can You Feel the Force", and 1977 track, "Children Of The Ghetto."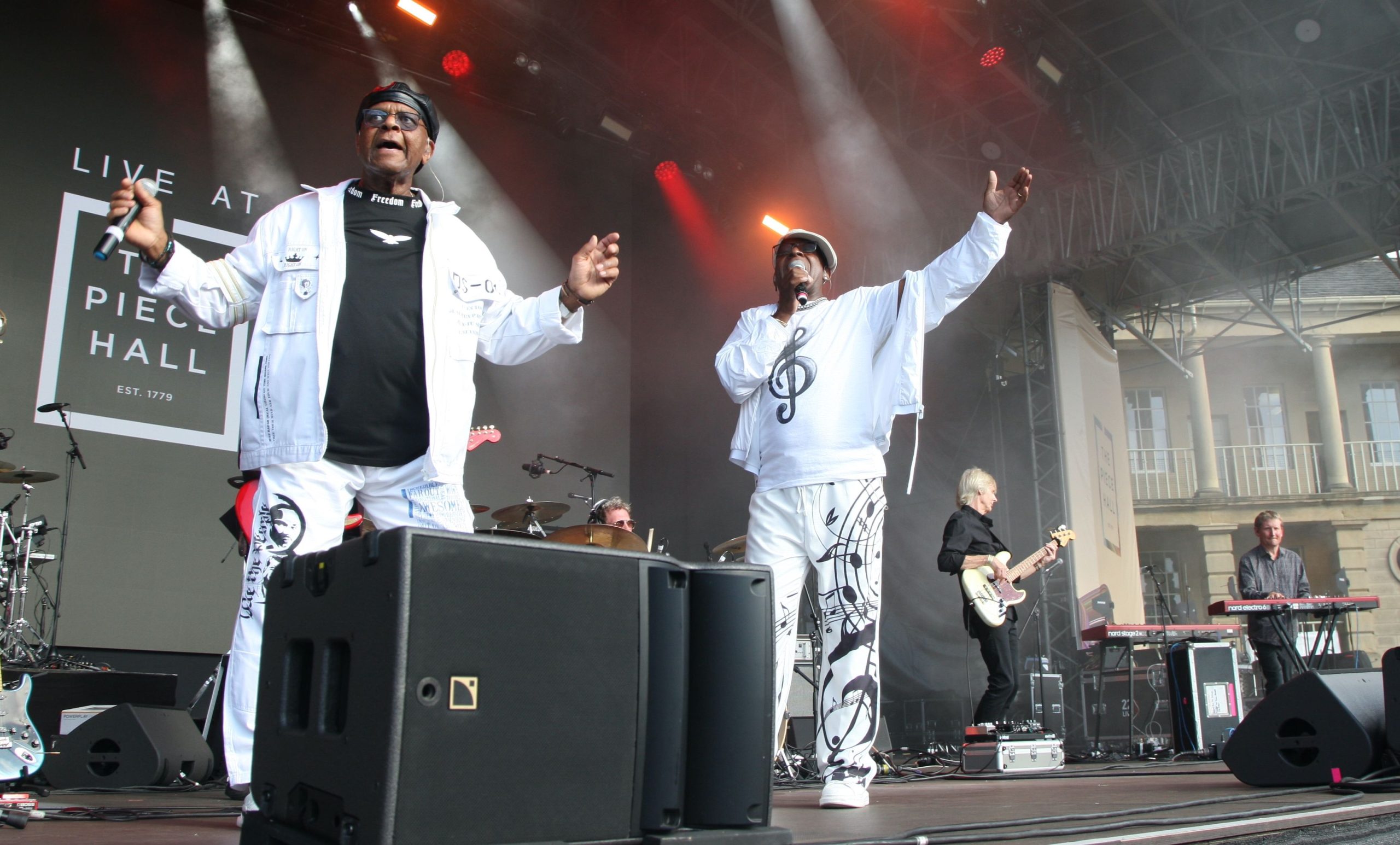 Factoid: Chris Amoo, lead singer of The Real Thing, is also a respected dog breeder and a judge at Crufts, where his Afghan Hound, Viscount Grant has won best in show.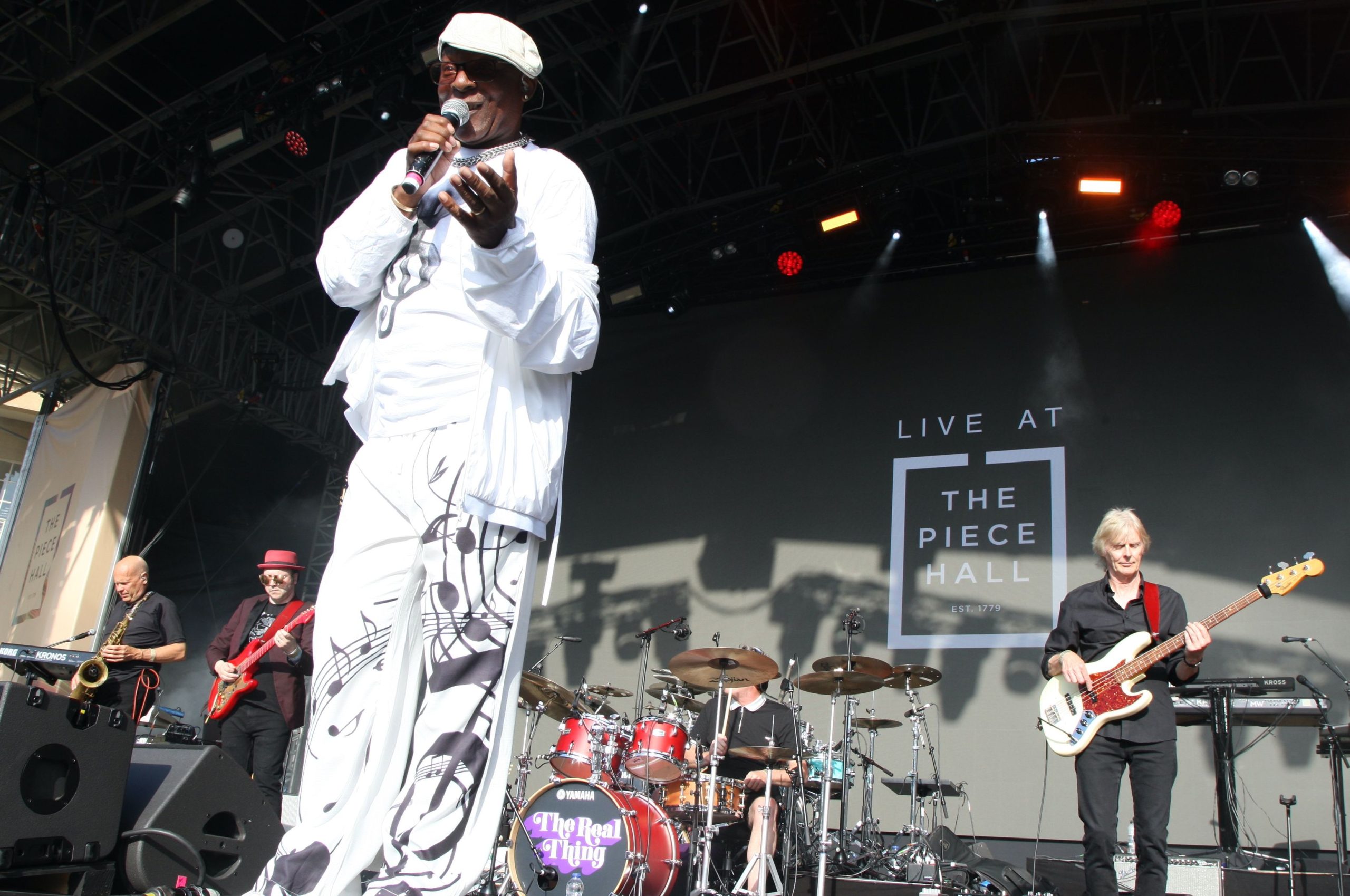 ---
---
Photos by Rothschild
* Stage/crowd photo courtesy of Cuffe & Taylor and The Piece Hall
* The Jacksons take a bow photo courtesy of The Jacksons
Words by Amy Allan