Fans have had to wait more than four years to see Chvrches in Nottingham since their last visit to this same venue. Was the wait worth it? Hell yeah!
Opening for Coldplay in huge stadiums across South America, Europe and in Cardiff and Manchester, tonight's 17-song, one hour and 20 minute set is well honed.
They have their own headline shows on more familiar soil in Glasgow at the famed Barrowlands on 10th and 11th June, and a gig in Dundee on 12th. Nottingham their only headline show in England and will be for some time, according to Lauren's announcement towards the end of tonight's show.
Formed as an electro three-piece in 2011, Glasgow's Chvrches are Lauren Mayberry (lead vocals, occasionally synths and samplers), Iain Cook (synths, guitar, bass, vocals) and Martin Doherty (synths, samplers, vocals), plus touring musicians, on this tour drummer Jonny Scott.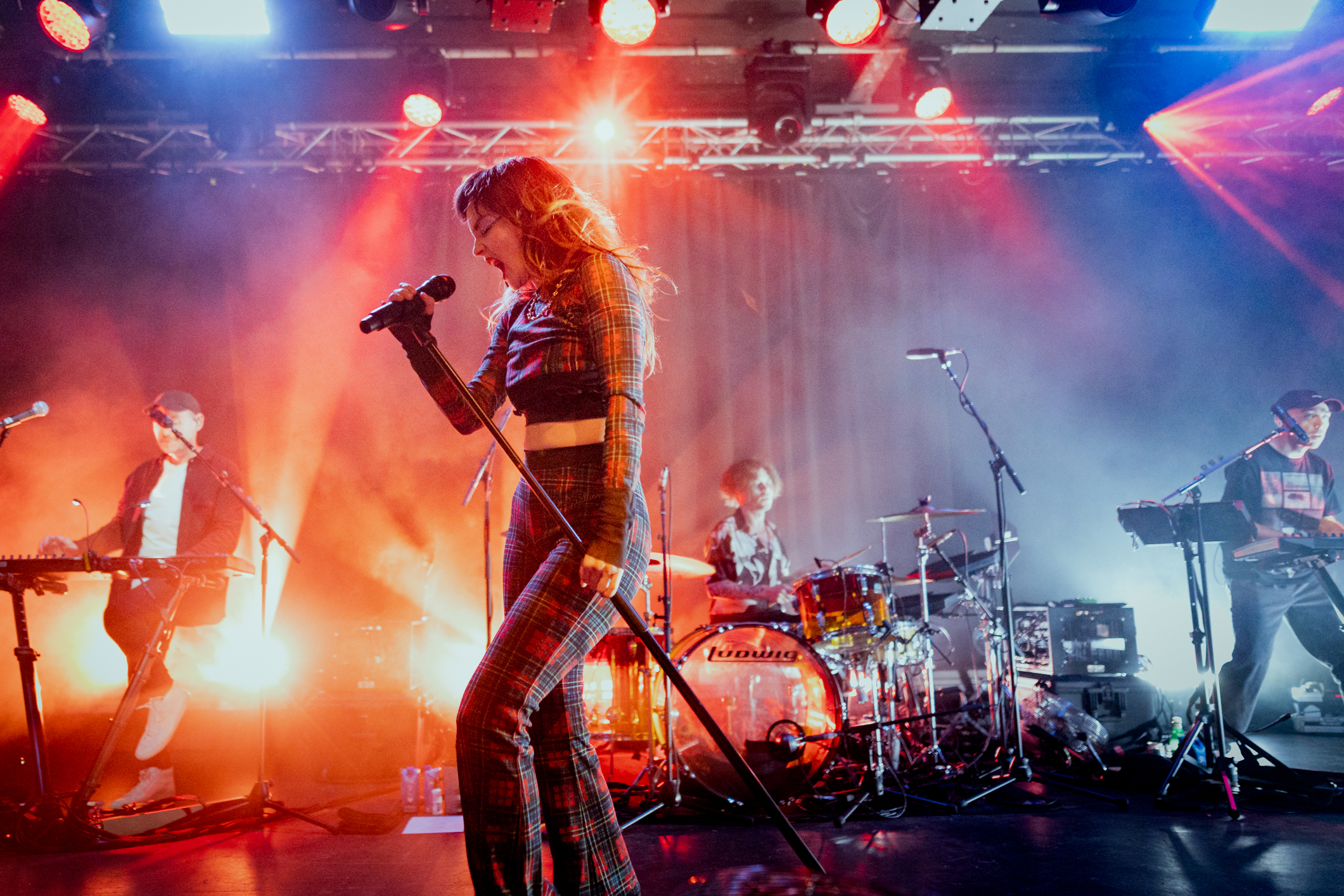 They dropped debut album "The Bones Of What You Believe" in 2013, then "Every Open Eye" in 2015, "Love Is Dead" three years later and the current long player, "Screen Violence" saw light of day in 2021.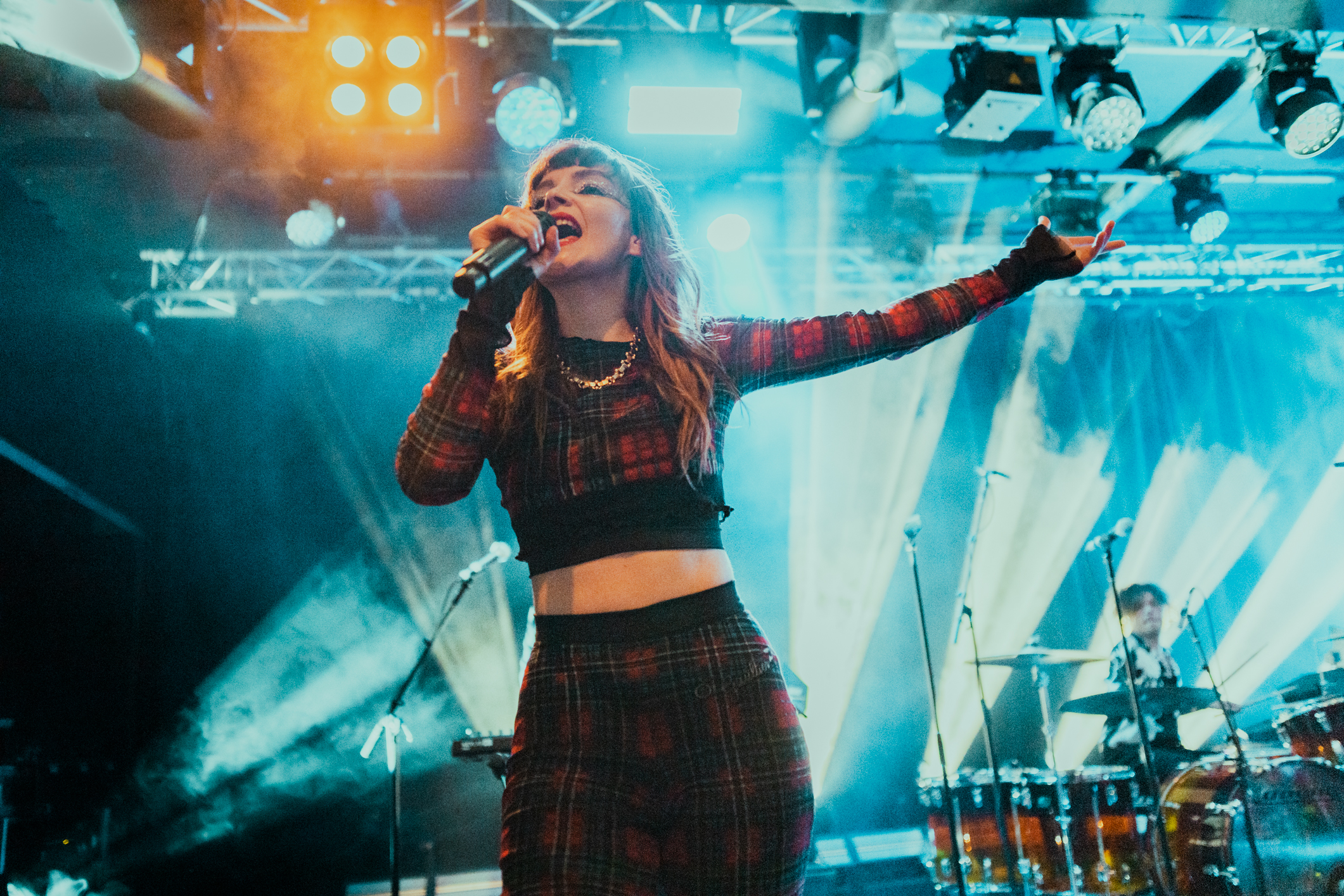 Last time the band were here, some 51 months ago in February 2019, Lauren's banter was peppered with funny anecdotes about such topics as underwear, make-up, hot water bottles and more in her broad Glaswegian accent. Not tonight…
She's not been too well in recent days and the verbals are kept to a bare minimum – mainly between songs # 4 and # 5, the rest of the set they just powered straight into each song one by one.
Earlier in the day Lauren posted on social media that she had been feeling ill over the past few days, but she was determined to give her all at Rock City. There can be no dispute at all that she did just that, with a powerful and faultless performance.
Boosted no doubt by the adrenaline generated by the rousing reaction from the fans and knowing her band had her back. She managed to find the energy for her trade-mark moves of spreading her arms out wide and above her head, and twisting around the stage like a bewitched whirling dervish.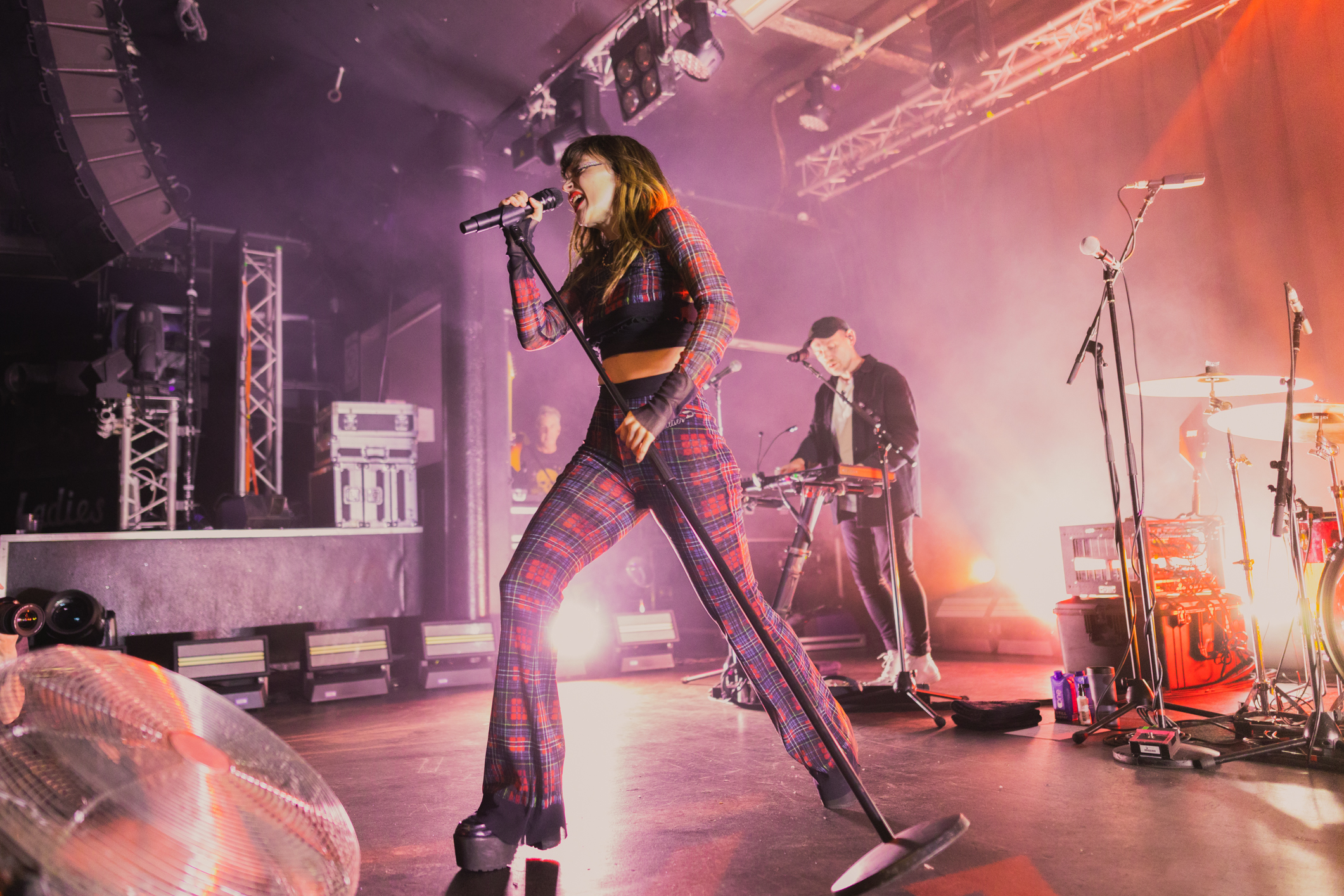 The band deliver 14 songs in the main set and three encore treats. Opening the night with "He Said, She Said", "Forever" and "Leave A Trace" and closing with the powerful ballad "Never Say Die".
Then the band exit to deafening shouts for more, stamping feet and thunderous clapping, successfully calling them back for "Asking for a Friend", set list essential "The Mother We Share" – their debut single and always featured in their live shows – and the rambunctious groove-soaked "Clearest Blue" as the well deserved/received encore.
Back on their last visit her in 2019, Lauren had "Girl Power" written on her white tee shirt. Tonight the slogan is "Final Girl", a Chvrches track that crops up a dozen tracks in to the set and prompts a frenzied reaction from the fans. It is wedged between "Night Sky" –  from the first album and a song which has made a comeback for their live set during the "Screen Violence" tour – and the bouncy electronic gem "Recover".
Half a dozen songs in, "How Not To Drown" gets a really big reaction. A single from 2021 where Lauren duets with The Cure's Robert Smith, and it is a track on the band's current album. Tonight, Lauren sings both vocal parts.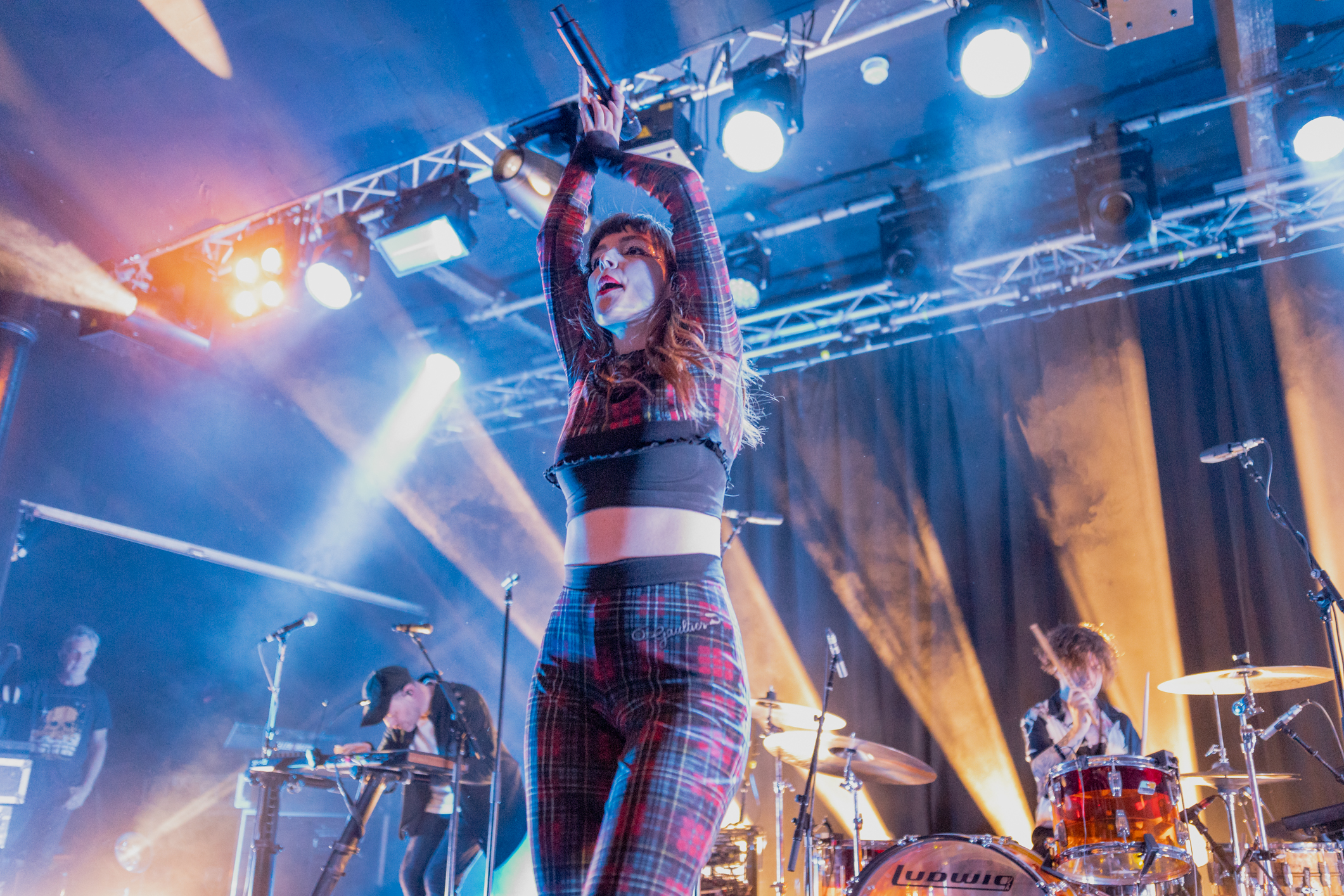 The hypnotic beats of "Bury It" taps into a Depeche Mode-like vibe, a fan favourite. "Miracle" another welcomed set staple, from their third album, is quite anthemic. Of their last two singles, "Good Girls" and "Over", only "Good Girls" from the latest long player gets an outing tonight and is very well received. [See the video for "Over" at the bottom of the page.]
Lauren leaves the stage for a couple of changes of outfit during the set. During the encore, she has fake blood all over her, part of the signature of the "Screen Violence" tour. She thanks the band's long time fans at the end of the set, and seems very sincere while doing so.
The final song, "Clearest Blue" is another track they could not leave out for fear of a riot! Now eight years since it was released, the song  is for many Chvrches fans, the very best song in their repertoire.
1. He Said She Said
2. Forever
3. Leave a Trace
4. Bury It
5. California
6. How Not to Drown
7. Violent Delights
8. Science/Visions
9. Good Girls
10. Miracle
11. Night Sky
12. Final Girl
13. Recover
14. Never Say Die
Encore 
15. Asking for a Friend
16. The Mother We Share
17. Clearest Blue
The 2023 setlist shows just how Chvrches have been refining their sound over their 12-year and four album career, while staying true to what makes this band pretty unique.
For the 2,000+ in here tonight, my bet is a quick poll would determine that 100% of the audience would attest to the fact that this was a damn fine investment of 80 minutes of their time – and the best £30 coughed up for a night out in yonks!
---
---
Tonight's excellent support band Dead Pony will be back in Nottingham in September, at Rough Trade as part of their first headline tour (14 dates). Their superb new single "MK Nothing", released three days before this gig, went down well and has already got them spins on BBC Radio 1.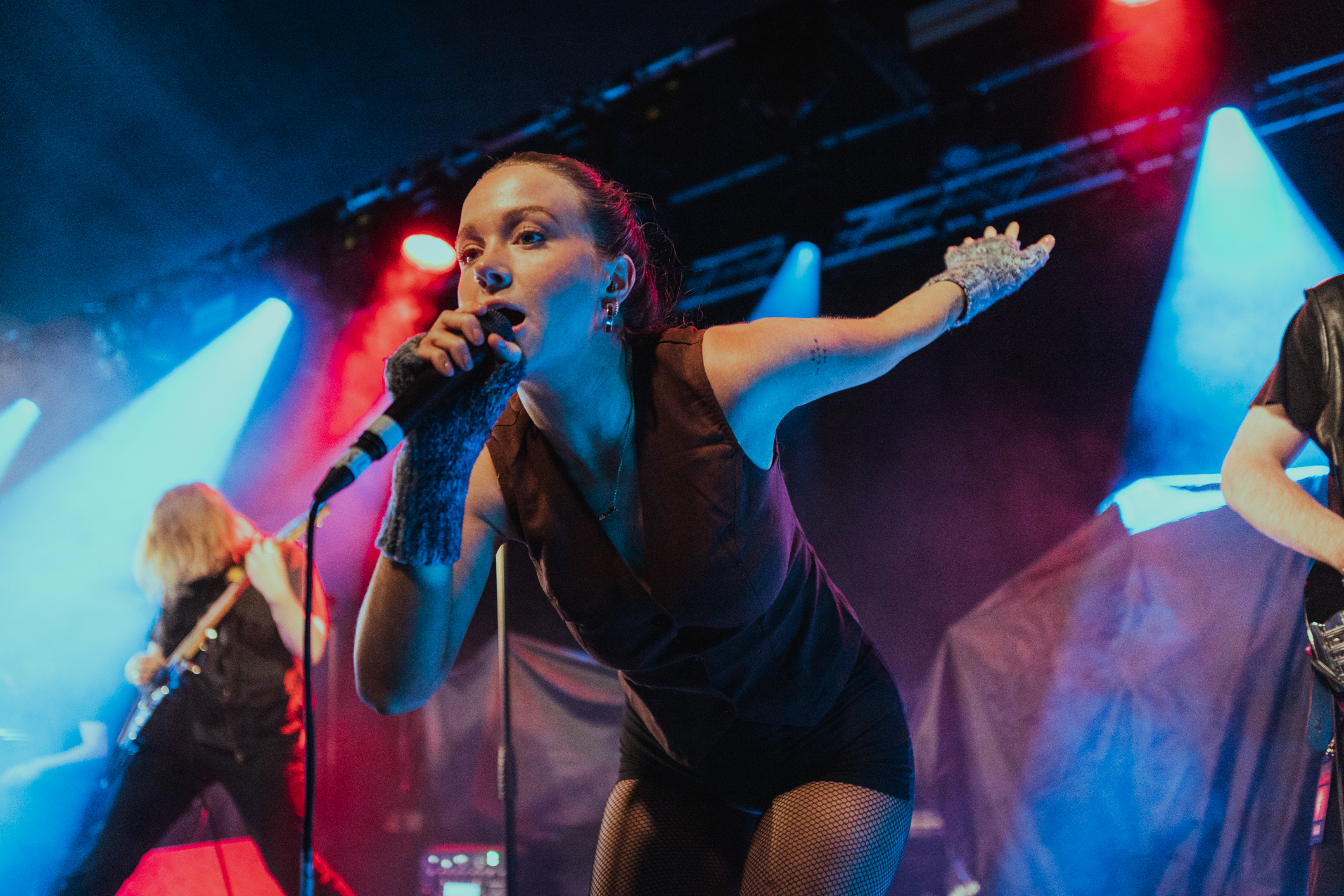 The Glasgow four-piece band (who changed their name from Crystal in 2020), played tracks from their EP "War Boys" tonight in a powerful and very impressive set. Singer Anna Shields is a formidable vocalist and frontperson.
I predict this band will be back on the Rock City stage before too long – this time as headliners and maybe even a full house in their own right too. Ones to watch, for sure.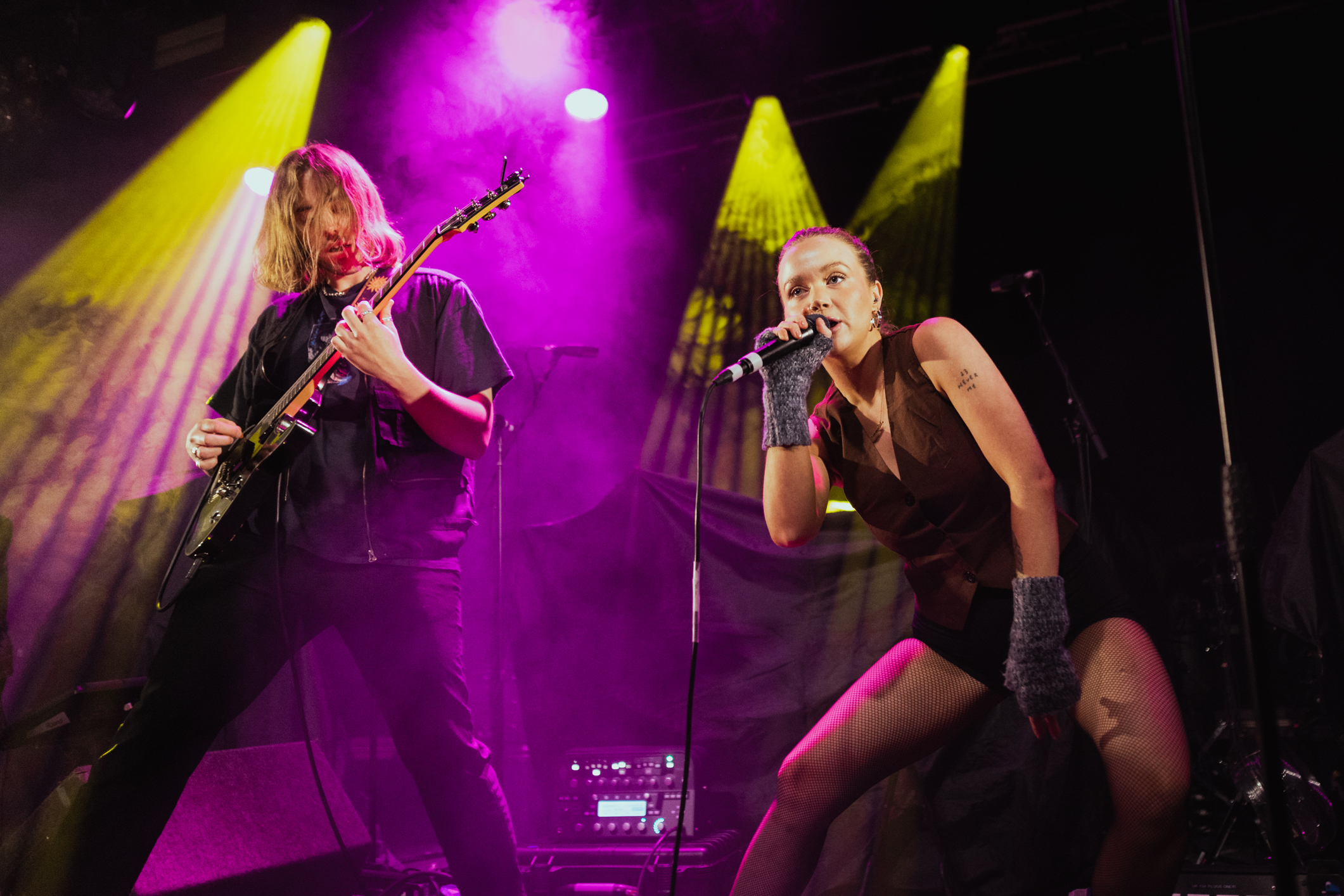 ---
---
Photos by Andrea Bottino
Review by Les Howard (and input from Andrea Bottino)