So. Friday night. Dublin. 12,500 fans of Sam Smith were treated to a superb performance from rising star London-based artist Cat Burns as opening act on the second night of Sam's eight-stop tour promoting their latest album, "Gloria".
With her voice, her songs and her star quality, one day in the next few years the young singer and songwriter may well be headlining here if all goes her way. Based on her performance tonight, it is a shoo-in.
Cat delivered eight songs in her set, opening with "Ghosting" and three in she gave us a brand new one, "You Don't Love Me Anymore".  One cover, the Bieber & Ludacris track, "Love Yourself".
The two songs many recognised were saved until last. The infectious "People Pleaser" – which she sang on the Jools Holland New Year's Eve TV show, "Hootenanny" last year, and "Go", her 2020 hit single which peaked at # 2 in the UK chart, and which Cat performed live on The Brits Awards 2023.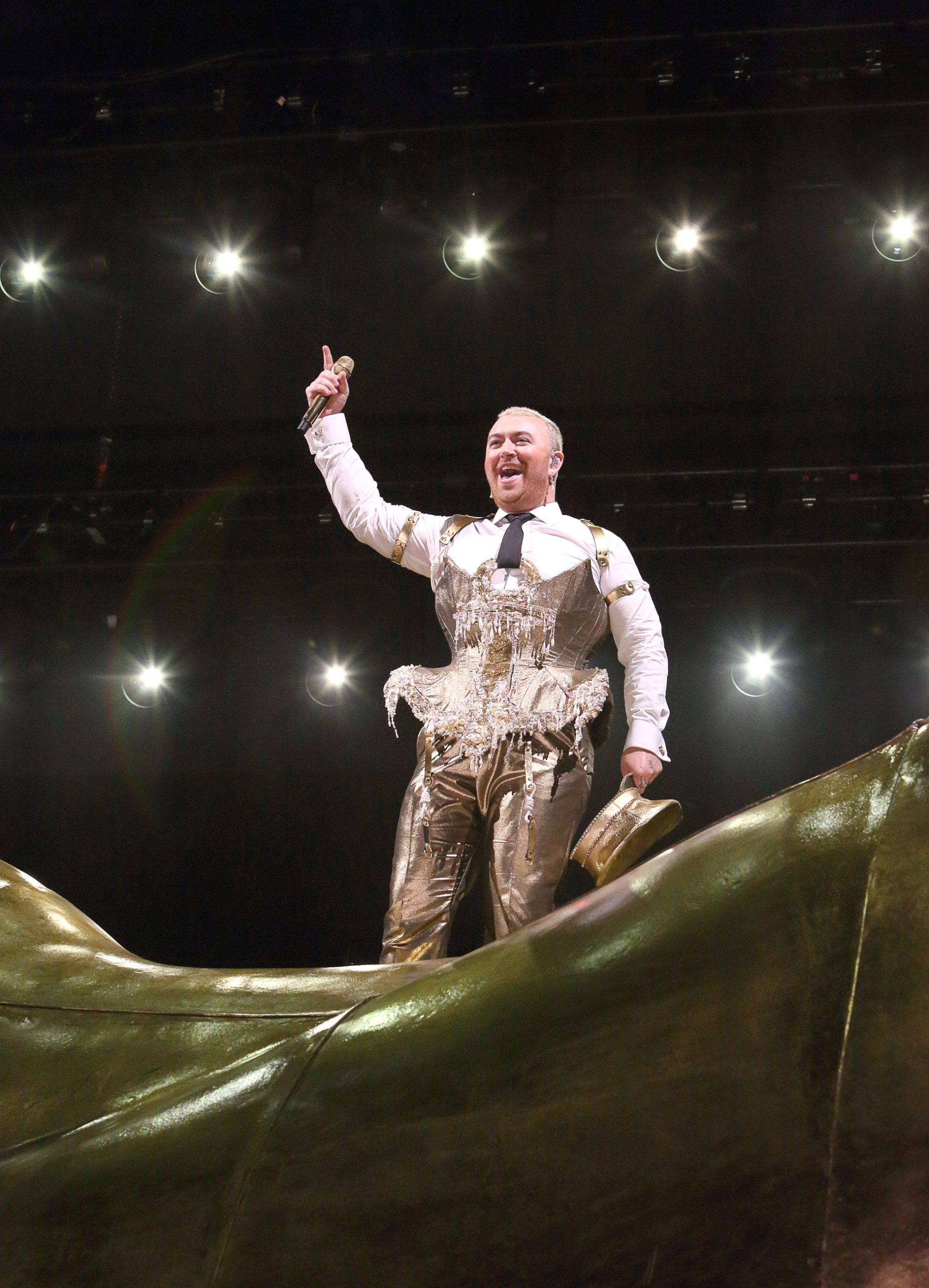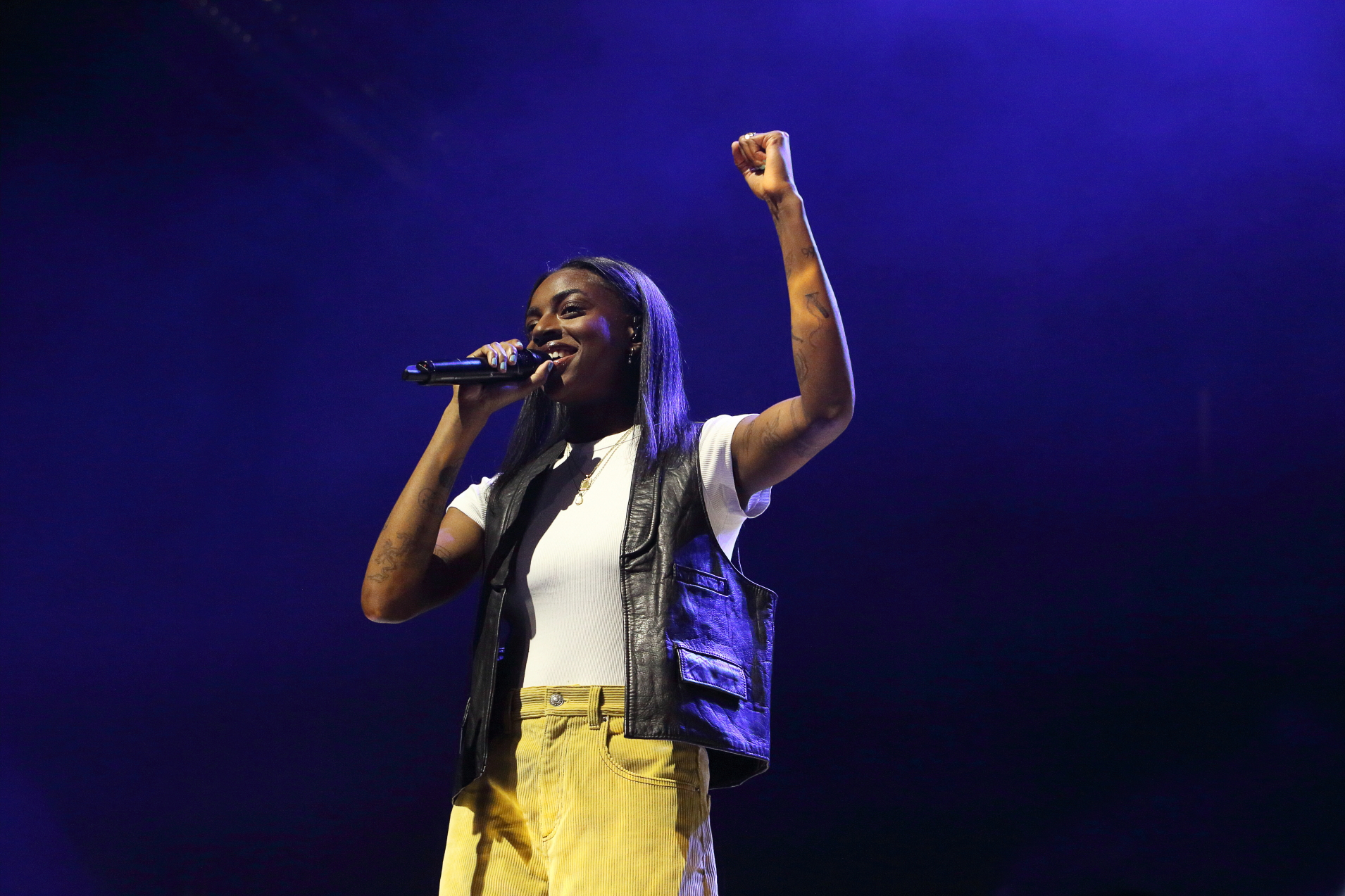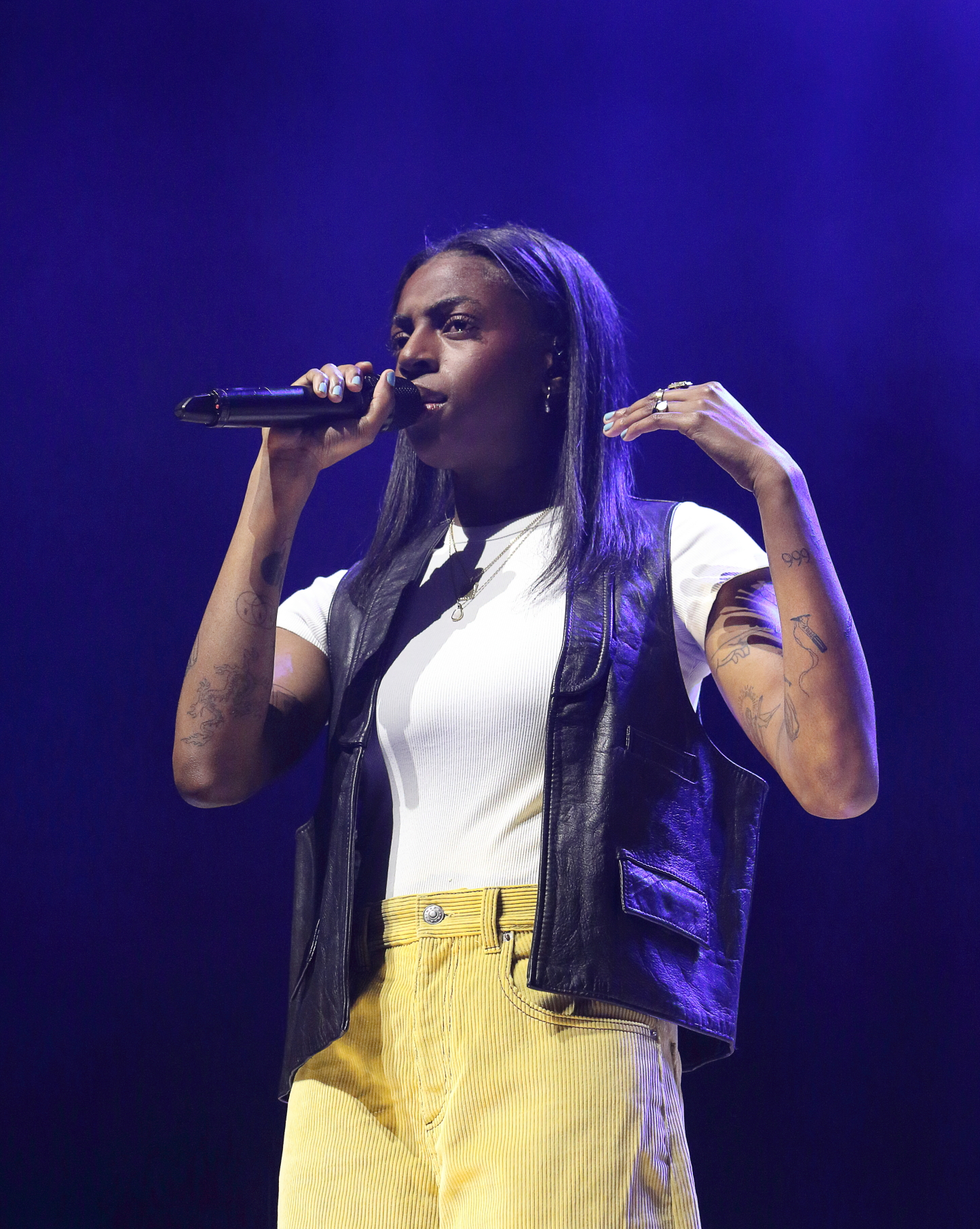 After Cat's solid set, the noise and the buzz of excitement from the well up for it crowd builds in this sold out arena.
The main set opens with a woman dressed in gold who walks across the stage to the centre and then removes the giant dust sheet that was covering a large something…
A giant horizontal gold statue of Aphrodite, the Greek Goddess of sexual love and beauty. On top of which, appears the star of the show. Staying put to sing the first two songs from there, kicking off with 2014 mega-hit "Stay With Me" and then "I'm Not The Only One".
Sam Smith, who announced they are non-binary in 2019, uses they/them pronouns, is clearly a performer who not only owns the stage, but they also "own" the audience from the very first opening number.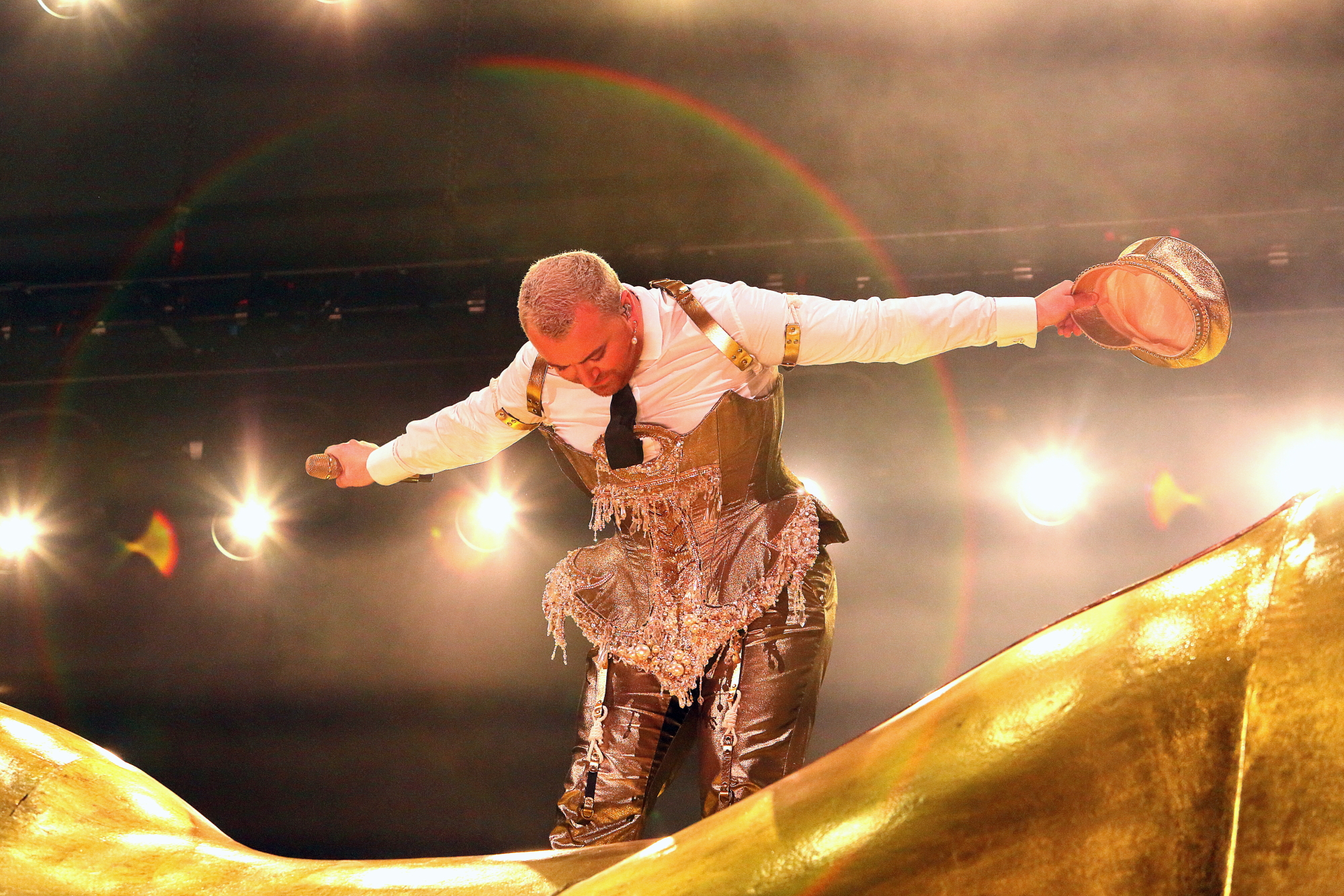 The response to every song of the 22-strong set (see full set list below), was very loud and a kind of controlled frenzy if there is such a thing.
A mass sing-along ensued for almost every word of every song too, and of course, there is the obligatory sea of mobile phones held aloft, twinkling lights across the arena from the screens.
It is obvious 30-year-old Sam is loved and adored by everybody who rocked up here tonight and they want Sam to know it. Age range is wide, from young teenagers to far more mature folk.
Many dressed up for the occasion in OTT gear. Looking as fabulous as Sam and clearly enjoying this safe space where one can be what they want to be – just like Smithy.
Sam is joined by three backing singers, dancers and a full band.
A slew of costume changes, starting off in a sparkly corset and later donning an Emerald green gown with puffed sleeves and long gloves, white shirt and black tie paired with gold trousers and a matching jewelled corset.
No tears tonight…On the first night of the tour in Sheffield on Wednesday, Sam got emotional as they spoke to the fans about their loyal support and how grateful Sam is after some tough times over the last few years.
The show is a high energy affair, and the fans get the hits and an array of tracks from the beginning of Sam's career and up to the most recent stuff.
The show is divided into three "Acts", in reference to Sam's love of musical theatre: "Love" "Beauty" and "Sex".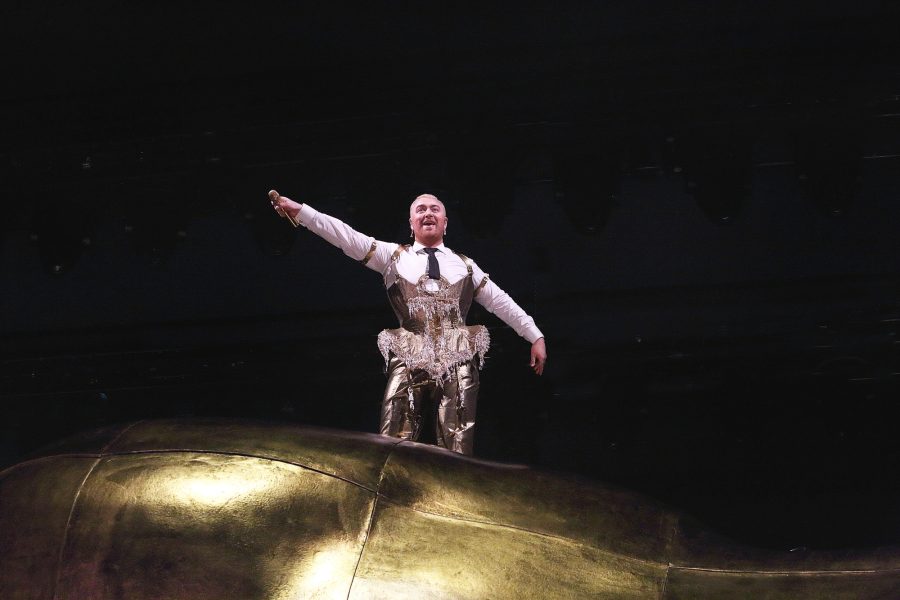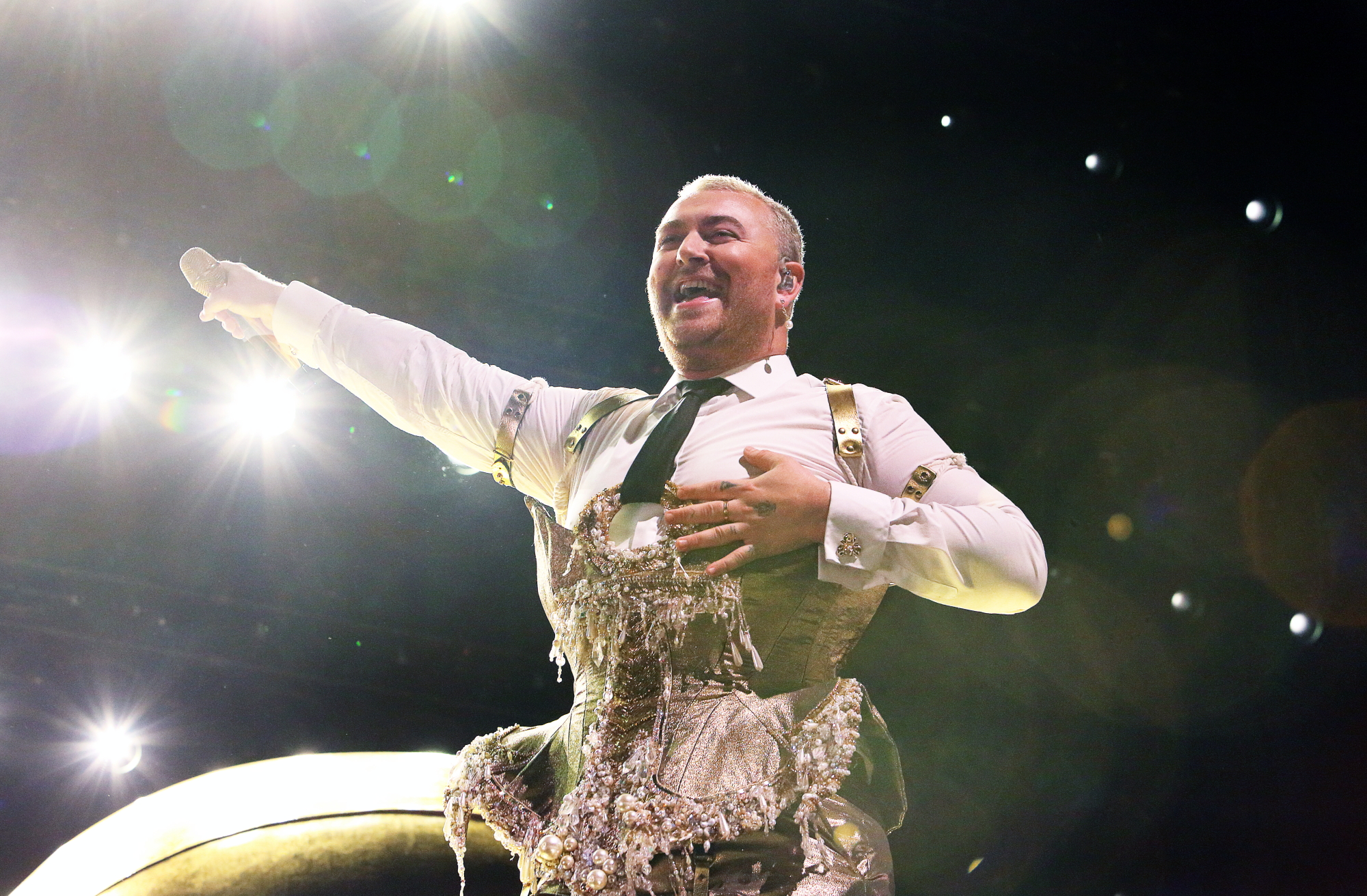 One thing is a given. Sam Smith has one of the very best voices of any UK pop star for decades.
Whether they are belting out the ballads or stepping up the BPMs on the more rambunctious numbers, Sam's vocals were fecking faultess.
Prior to the start of this tour, Sam said they were "gearing up for this show my whole life", calling the show their "gay cabaret" and promising to deliver "the show of my dreams". Mission accomplished. 
The visual spectacle is part Burlesque, part Madonna (back in her Erotica days), and maybe partly like a wild night out in London's Heaven nightclub.
There's dancers grinding against the Aphrodite statue (which I want in my garden – minus the dancers, I add! – when the tour is done, please), piano ballads to calm things down a tad, extended guitar solos and an acoustic slot where the band sit down.
But "I'm Not Here to Make Friends" cranks things up with a feel-good disco vibe, and there's a great cover of Donna Summer's "I Feel Love", which is a triumph amid a slickly choreographed dance sequence.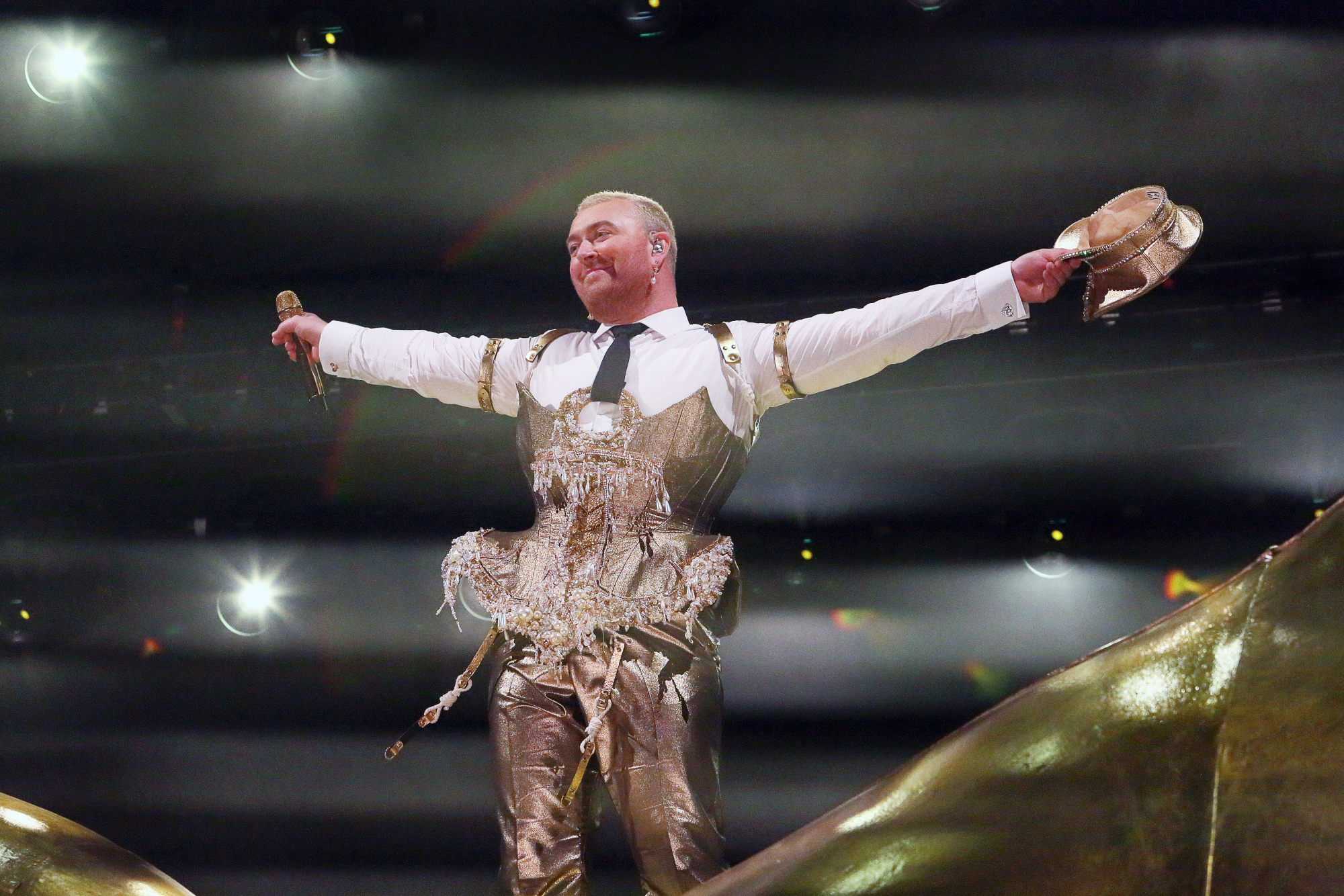 Speaking of Madonna earlier in this review, Sam covers her track " Human Nature," as the penultimate song in the set. The big climax is Sam's hit "Unholy", complete with flames and the devil.
The megahit featuring Kim Petras has surpassed 200 million Spotify streams – Sam's eighth number 1 smash and sits amongst only three artists to debut at number 1 this year on the UK Official Charts.
Tonight, "Unholy" really is a showstopper and the perfect end to a stunning performance, not only by Sam, but also the dancers, backing singers and band. Sound and lighting crew, take a bow too.  This arena show would fit snugly into any outdoor stadium and deserve to be there.
If this magazine awarded a star rating system for live gigs, tonight's fantasmagorical OTT camp cabaret writ large would rate a minimum 10/10 for me! The most fun I've had this year – with my clothes on!
Gloria tour dates:
Wednesday 12 April 2023 – Motorpoint Arena – Sheffield, UK
Friday 14 April 2023 – 3Arena – Dublin, IRE
Saturday 15th April – 3Arena – Dublin, IRE
Tuesday 18 April 2023 – The O2 Arena – London, UK
Wednesday 19 April 2023– The O2 Arena – London, UK
Saturday 22 April 2023 – Ovo Hydro – Glasgow, UK
Tuesday 25 April 2023 – Birmingham Resort World Arena – Birmingham, UK
Wednesday 24 May 2023 – AO Arena – Manchester, UK
---
---
Set List: 
Act I: Love
Stay With Me
I'm Not the Only One
Like I Can
Nirvana
Too Good at Goodbyes
To Die For
Perfect
How Do You Sleep?
Dancing With a Stranger
Act II: Beauty
I'm Kissing You
Lay Me Down
Love Goes
Gimme
Lose You
Promises
I'm Not Here to Make Friends
Latch
I Feel Love
Restart
Act III: Sex
Gloria
Human Nature
Unholy
---
---
Photos: Ian Shipley
Words: Niamh Ryan