The Sweet are back on the road this December (2023) – with sole original member Andy Scott keeping the legendary glam rock band's legacy in tact – on what could be their last extensive tour.
The "Blockbuster" stars will be playing all the big hits from a band who have had 53 years' of hit singles, selling circa 55 million albums and scoring a staggering 34 number one hits.
Guitarist/vocalist Andy Scott, is the golden thread linking Sweet's proud past to the present, and he is still fiercely protective of that legacy today. He knows better than anyone that the long tours can't carry on indefinitely, with the band now looking to 'wind down' some of their live commitments.
Andy explained, "This could be our last tour, but that doesn't mean to say we're not going to do any more gigs, just that we might not be doing 15-20 dates strung together. Then again, we might!"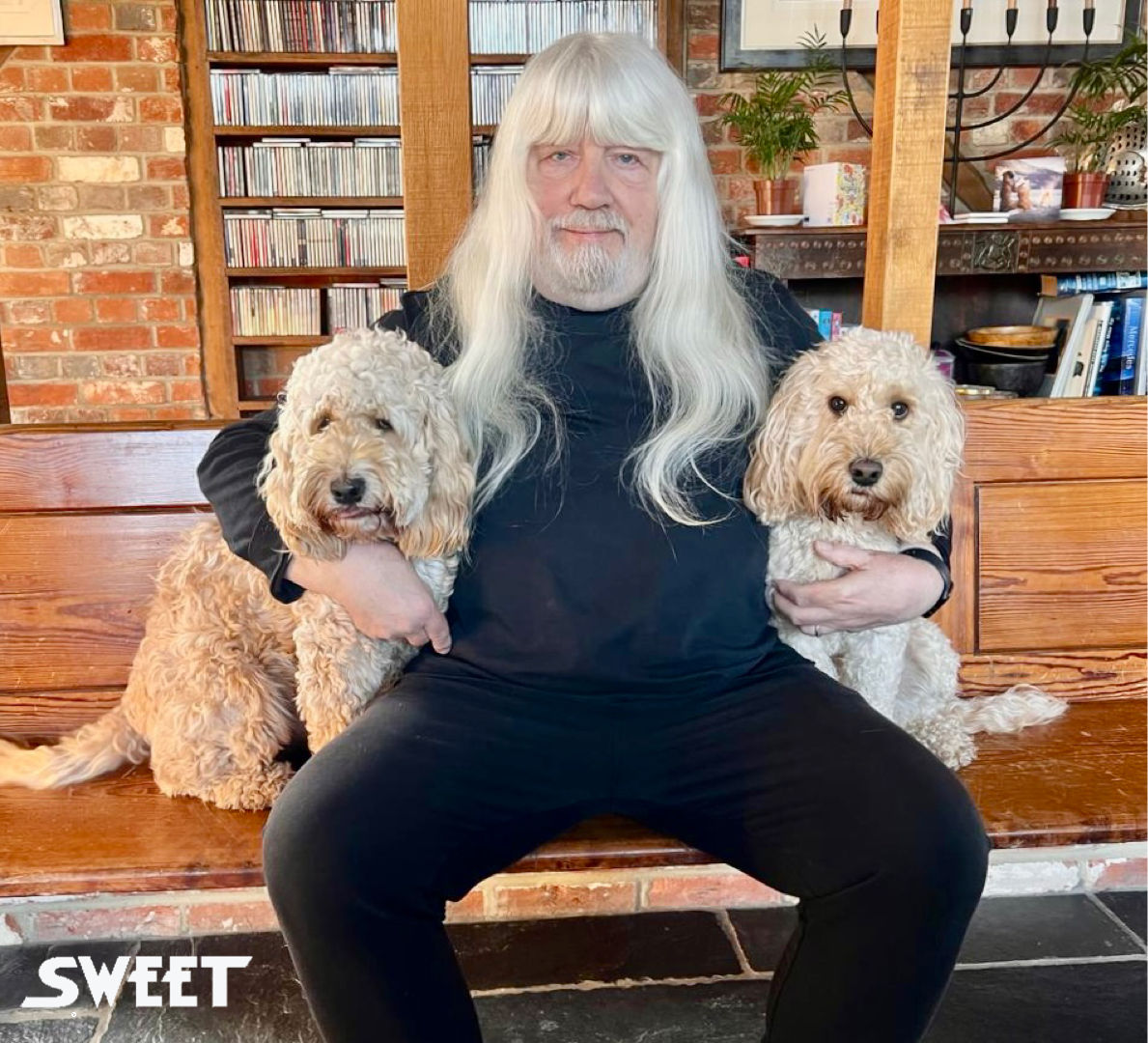 Scoring 15 momentous Top 40 hits in the 1970s, eight going top five – including classic 1973 UK No.1 "Blockbuster" – The Sweet (also know as Sweet) perfected the art of making memorable records in a highly-competitive era.
As well as the fire and steel shown in the recording studio and the glamour and excitement they transmitted onto our TV screens, there's live passion too, something Andy plus bandmates Paul Manzi (lead vocals), Bruce Bisland (drums, vocals), Lee Small (bass guitar, vocals) and Tom Cory (guitar, keyboards) are keen to ensure remains. The present line-up has made an impact in the charts with recent single releases too.
Sweet's "Full Circle Tour" of 13 dates opens in Wrexham (where Andy played his first gig at a church hall 60 years ago) and ends in Frome, Wiltshire (close to his West Country base of 30-plus years).
From the breakthrough hit "Co-Co" in 1970 to 1978's "Love Is Like Oxygen" and all points between and beyond, there is also the instant nostalgia of unforgettable classics such as "The Ballroom Blitz", "Fox on the Run", "Hellraiser", "Little Willy", "Teenage Rampage" and "Wig-Wam Bam".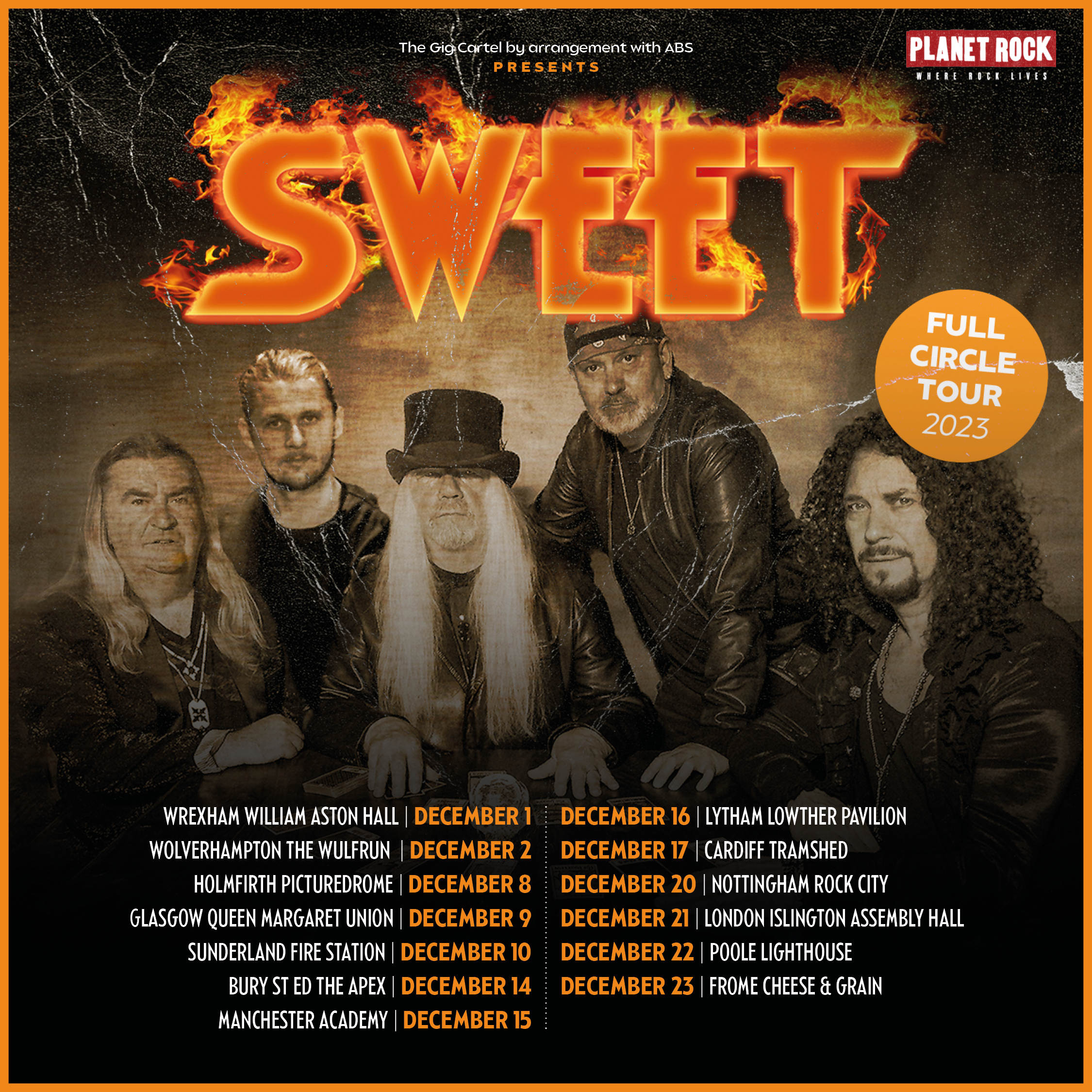 Their best-known line-up consisted of lead vocalist Brian Connolly, bass-player Steve Priest, guitarist Andy Scott and drummer Mick Tucker. The group were originally called The Sweetshop.
The band were formed in London in 1968 and achieved their first hit, "Funny Funny", in 1971 after teaming up with songwriters Nicky Chinn and Mike Chapman and record producer Phil Wainman.
During 1971 and 1972, their musical style followed a marked progression from the Archies-like bubblegum style of "Funny Funny" to a Who-influenced hard rock style supplemented by a striking use of high-pitched backing vocals.
The Sweet had their last international success in 1978 with "Love Is Like Oxygen". Connolly left the group in 1979 to start a solo career and the remaining members continued as a trio until disbanding in 1981.
From the mid-1980s, Scott, Connolly and Priest each played with their own versions of Sweet at different times. Connolly died in 1997, Tucker in 2002 and Priest in 2020.
Tickets for the tour dates:
https://thegigcartel.seetickets.com/tour/sweet?pre=artist
---
---
Andy Scott's "Track Record":
1. First song you recall hearing as a child?
The Student Prince – Mario Lanza (my mother played it constantly).
2. First single you owned?
The Frightened City – The Shadows.
3. First LP/album you owned?
The Shadows – The Shadows (my brother and I owned it jointly).
4. First CD you owned?
It was 40 years , so it would be a guess. Dark Side of the Moon – Pink Floyd, 90125 – Yes, Court of the Crimson King – King Crimson, Tomita. I do remember being given a box set – the complete 9 Beethoven Symphonies.
5. Last music you bought and in what format (CD/vinyl/digital download)?
The Very Best of Frankie Miller – Digital.
6. Which album would you be happy to receive as a gift?
Sgt Pepper's Lonely Hearts Club Band or Pet Sounds.
7. Favourite album? (Choose more than one if need be…)
Electric Ladyland – Jimi Hendrix.
Mothership – Led Zeppelin.
8. Best record ever made (can be single/album/EP – and choose more than one if need be)?
All Along the Watchtower – Jimi Hendrix.
God Only Knows – The Beach Boys.
Man of the World/Oh Well – Fleetwood Mac.
9. Guilty secret (or anything unusual or perhaps unexpected) in your music collection?
Country and classical music.
10. What does music mean to you and how does it make you feel?
I turned professional in 1966 aged 17, so my obsession became my career. My usual response is: It's been better than working". 😁
11. Which song or album is a guaranteed mood booster?
Ramble On – Led Zeppelin.
12. Which song or album would be the soundtrack to a film about your life?
Level Headed or Sweet Fanny Adams – Sweet.
13. Your favourite driving track?
Rumours – Fleetwood Mac.
14. Best song or album for a romantic moment?
Gorecki – Symphony No. 3.
15. Which song was played for the "First Dance" at your wedding (if you are married) or which song would you choose if you did get married?
My first marriage was a long time ago with no "do", so the first dance was not done- and I don't dance!
16. Your choice of song to sing at karaoke?
Karaoke is really not my thing.
17. Which song takes you back to your childhood – and to which specific memory/memories?
He'll Have to Go by Jim Reeves. My mother and father singing it to each other at parties.
18. Favourite band (or bands)?
Sweet – obviously.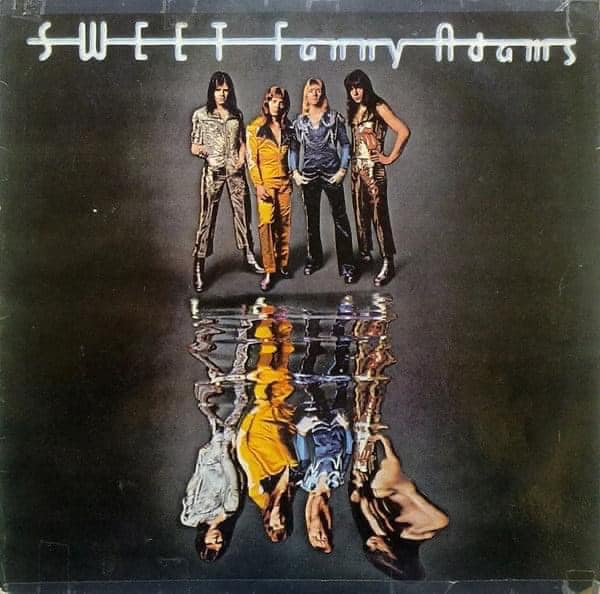 19. Favourite singer (or singers)?
Tom Jones and Lionel Richie. (Both Glastonbury sets were fantastic).
20. Which song would you like played at your funeral?
"Goodbye" by Peter Cook and Dudley Moore.
---
---