No set list. Instead, a master list of circa 65 songs for the tour and from that, Black Francis and the band decide on the night which songs they'll deliver in a two-hour set of usually around 36 songs on this tour.
No between song banter at all, as per usual, and some of the songs blend seamlessly into one another without a break.
No pyro. No lasers. No fancy pants stage sets, or sci-fi lighting. No dancers. No backing vocalists. No horn section. No orchestra. No extra session players. No backing tracks or samples. No video footage to watch on giant screens.
No flashy costume or designer gear. No need…
Just Black Francis and his three compadres – Paz Lenchantin on bass and vocals, Joey Santigo on guitar and David Lovering on drums-  for circa 120 minutes and 38 songs. Three original members. Argentine-American Paz joining the band in 2014, replacing Kim Deal.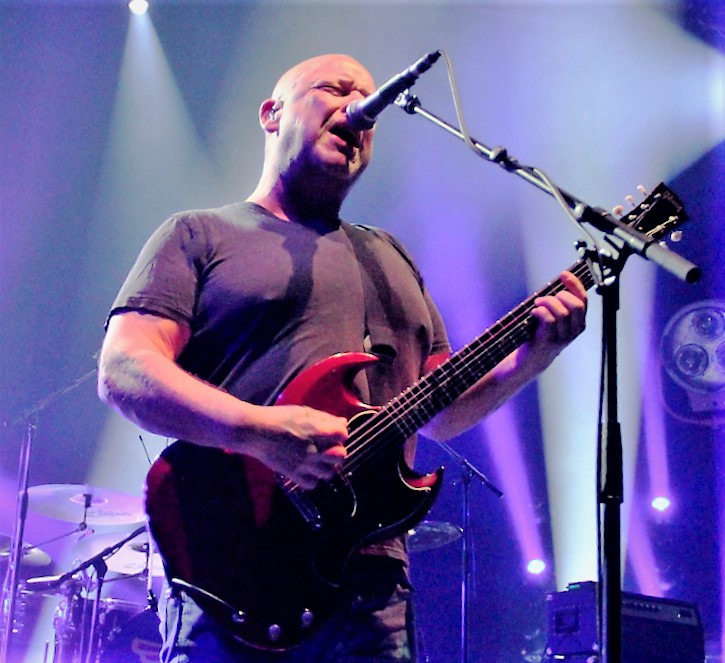 Two consecutive nights at the iconic Roundhouse, 3,000 fans per night at £45 a ticket + fees. The final two nights of this four show UK stint. Birmingham on Friday, Cardiff arena on Saturday and London Monday and Tuesday. All four gigs sold out. The last time Pixies were at the Roundhouse was back in 2018 for a five-night residency.
The Boston, Massachusetts alternative rock band may have circa 37 years' worth of road miles on the clock, but this is a finely tuned engine with plenty of power and life left in it – based on this pulchritudinous performance.
Yep, that big fancy word may be borrowed from pseud's corner, but it simply means sublime or resplendent, and this band really are all that.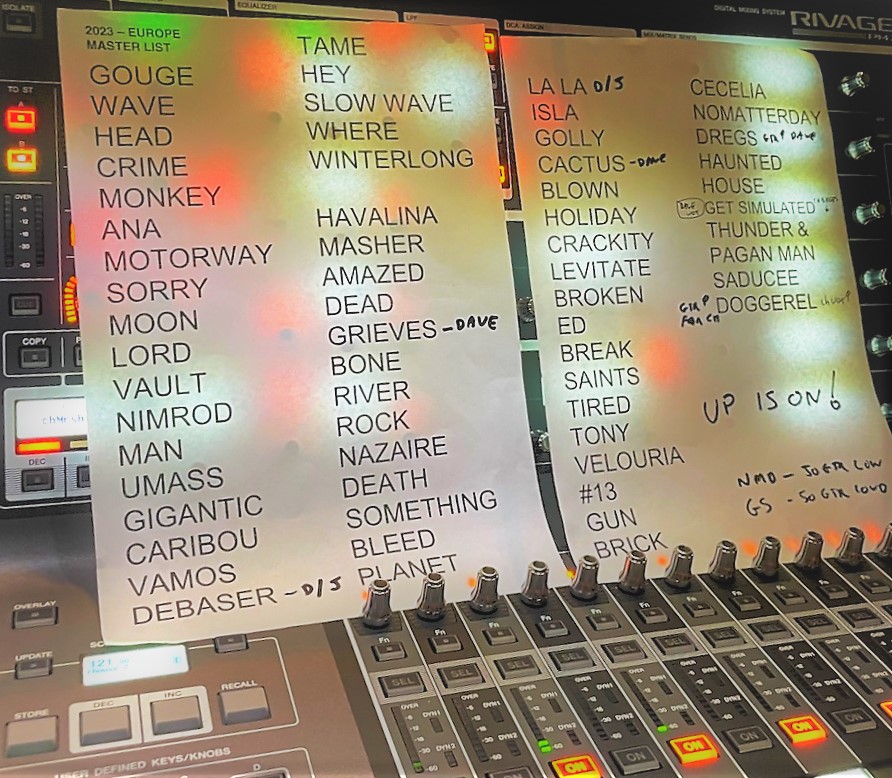 While many of today's chart star pop acts would struggle to offer up an hour + encore of original self-penned material for a live set, no such issue with Black Francis' song writing prowess.
A bumper, value for money 38 songs – one more than the first night at this venue on this tour – tonight opening with the laid back "Gouge Away" and closing with a Neil Young cover: "Winterlong".
First of two covers in the set arrives as song # four, "Head On", The Jesus and Mary Chain track.
Much is made of this band's influence on the likes of Kurt Cobain and Nirvana, Radiohead and even Mr Bowie, but Black Francis, aka Charles Michael Kittridge Thompson IV, really was and still is in his very own lane when it comes to the genre and uniqueness of the music he creates.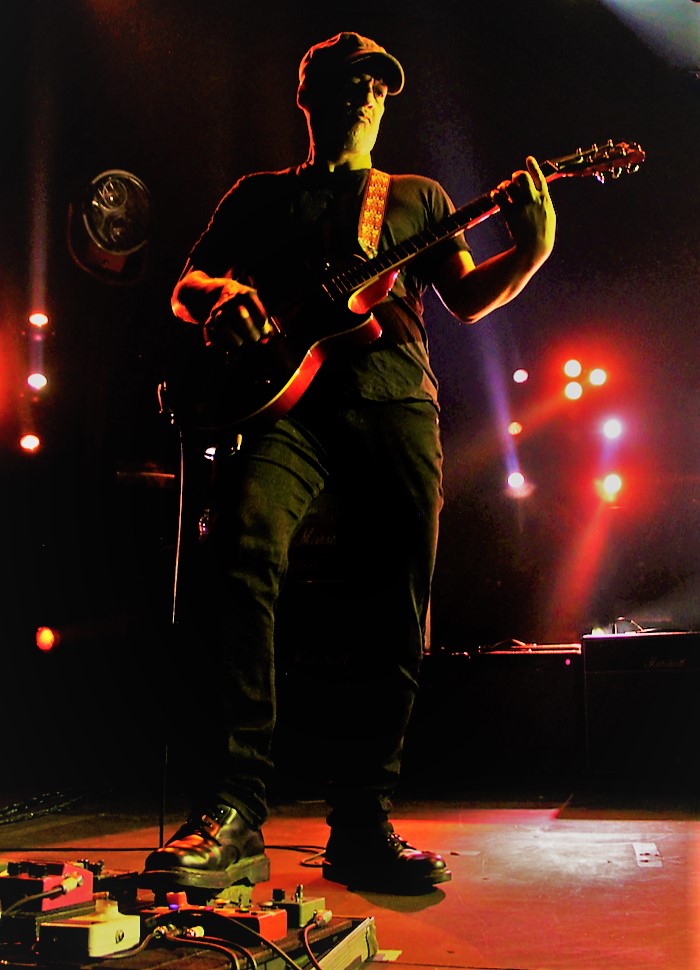 Known as Frank Black for a solo career, after Pixies split up in 1992 (announced in '93), re-adopting Black Francis as his moniker in 2007 after forming Frank Black and The Catholics. Pixies reconvened in 2003, playing in public for the first time in 12 years in April 2004.
On this tour they heavily fill the set with tracks off of last year's "Doggerel" album, their eighth studio release which received widespread praise. They thoroughly trawl the back catalogue too, including their three EPs for the fan faves and some deep cuts that would satisfy even the hardest to please.
First night here on this tour, Black Francis dons dark shades for the entire gig. Tonight, you see the whites of his eyes for the whole set. Well-loved tee shirt and jeans, and his guitars: acoustic and electric, is all he needs. And his three bandmates.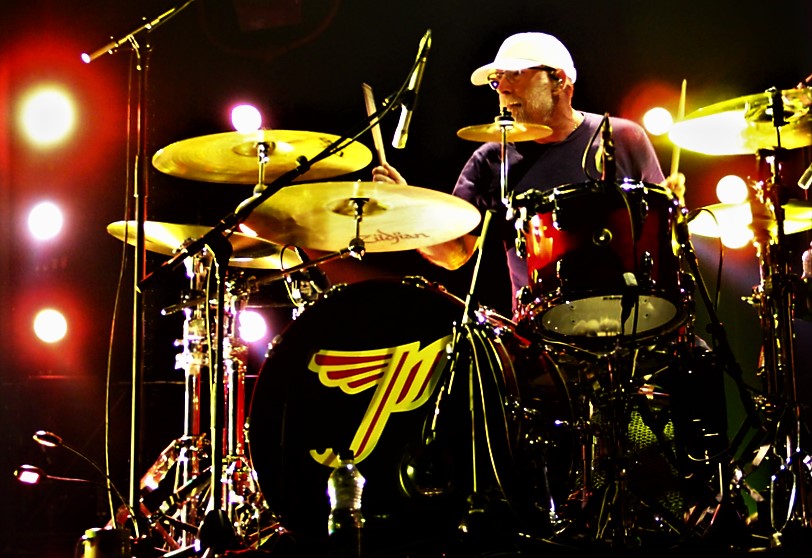 Joey and David both wear baseball caps. Paz Lenchantin black leather skirt and lacy top, black flowing hair and her trademark red flower stuck to the headstock of her bass guitar.
The sound quality is on point and if it is off, this pork pie-shaped venue can be a bit of a bugger on the lugholes. But not tonight.
Four from their debut EP, "Come On Pilgrim" from 1987 on the 4AD label: "Island de Encanta", "Vamos", "Levitate Me" and "Caribou" tonight. "Nimrod's Son" from that same release was on last night's menu.
The anthemic indie pleasers "Debaser", "Wave Of Mutilation" and 'Fight Club' movie soundtrack "Where Is My Mind?" are like catnip for this crowd. But there is no "Monkey Gone To Heaven" tonight, unlike last night and in Cardiff, a cracking track.
So is it a negative that BF and co say nada, zilch, nowt, Gornisht , bugger all and there is naff all interaction with the crowd? Not for me…If you seek a visual extravaganza and lots of verbals, go see a West End show or the circus!
Did anyone mind when Michelangelo didn't recite poetry or do handstands while sploshing on the Dulux in Rome at that chapel gaff? Doubt it.
As we say at Music Republic Magazine: It is all about the music. Let the music speak for itself. No amount of bullshit or PR waffle will make up for shite music. Great songs and musicianship is King. Always.
Pixies are no nostalgia circuit act. Their tours are not contractual obligations. They do not rest on their laurels and yesteryear hits. "Doggerel" from last year is a masterful offering.
The set ebbs and flows with light and shade between ballsy, rambunctious morsels and to the lighter and more chilled numbers throughout the set. Black almost like a conductor of an orchestra, dictating the vibe between softer acoustic guitar stuff and pumping up the heart rate and the BPMs when he straps on the leccie guitar.
We wait until song # 17 for Pixies classic, "Here Comes Your Man", which notched up 29 million views on YouTube.
Gorgeous vocal harmonies between Black and Paz in the chorus – and the added bonus of backing vocals from 2,000 bang up for it fans.
London Pixies fan Ian De Zilwa's second time seeing the band he has treasured for many years. His feedback after the gig sums up 99% of the social media chatter from those who were there tonight and last night: "Utterly spellbinding. Brilliant."
For Ian, a bitter-sweet moment as memories of his first time seeing the band flood back, when he was joined by fellow mega-Pixies fan Ian Smallwood who sadly passed away recently, far too young at 54-years-old. Many fans of this band have a deep emotional and spiritual connection to their songs and to Black Francis.
For Pixies, labels such as "legendary", "iconic" and "one-off" really do mean something.
Black Francis at 57 still has a fire in his belly and an unquenched creative thirst, and no doubt he will continue to influence many more bands and artists to come.
For many who grabbed a ticket before they sold out for one of these four UK shows, it was probably gig of the year, and I'd not argue with that at all after tonight. Pixies. I am under their spell…
See the full 38 song set list from night # 2 at The Roundhouse, at the foot of this page…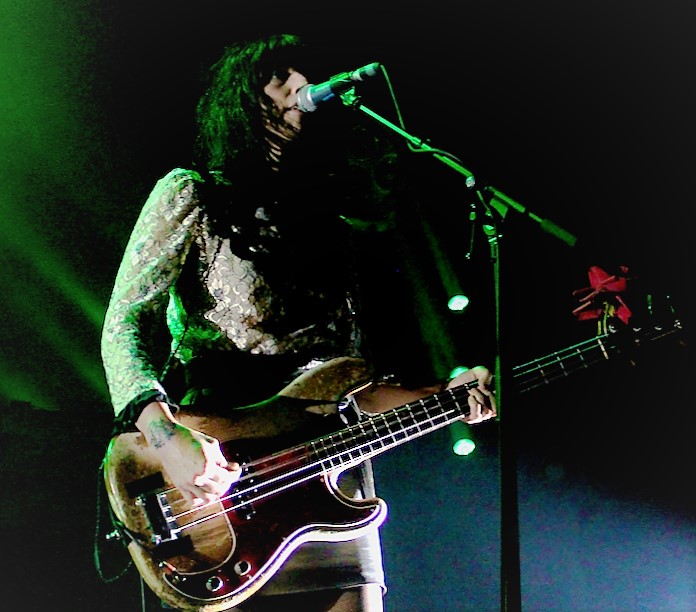 Opening act on this tour is Manchester's The Slow Readers Club, plugging their new album "Knowledge Freedom Power" which dropped last month. Aaron Starkie fronts the band and leads the vocals, ably backed up by Kurtis Starkie on guitar, James Ryan on bass and David Whitworth on drums. Nice job…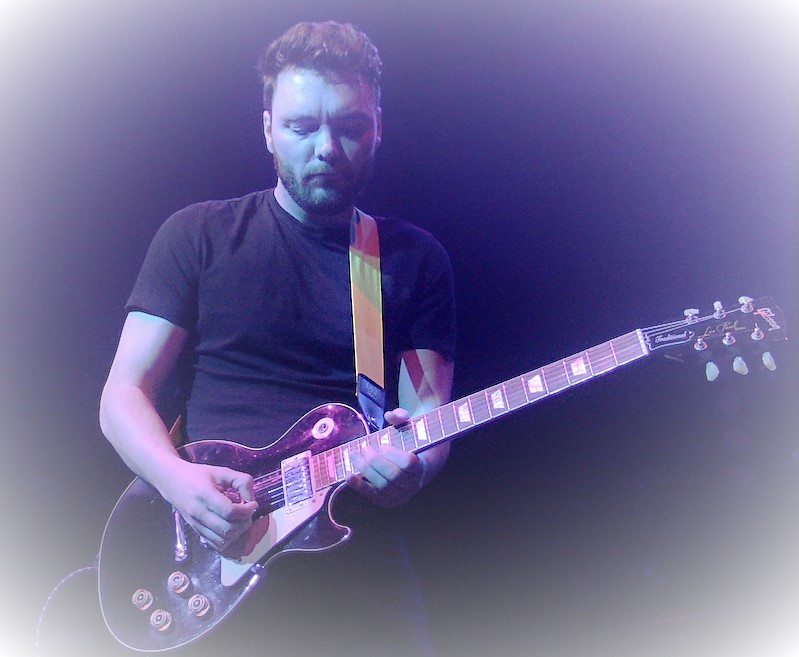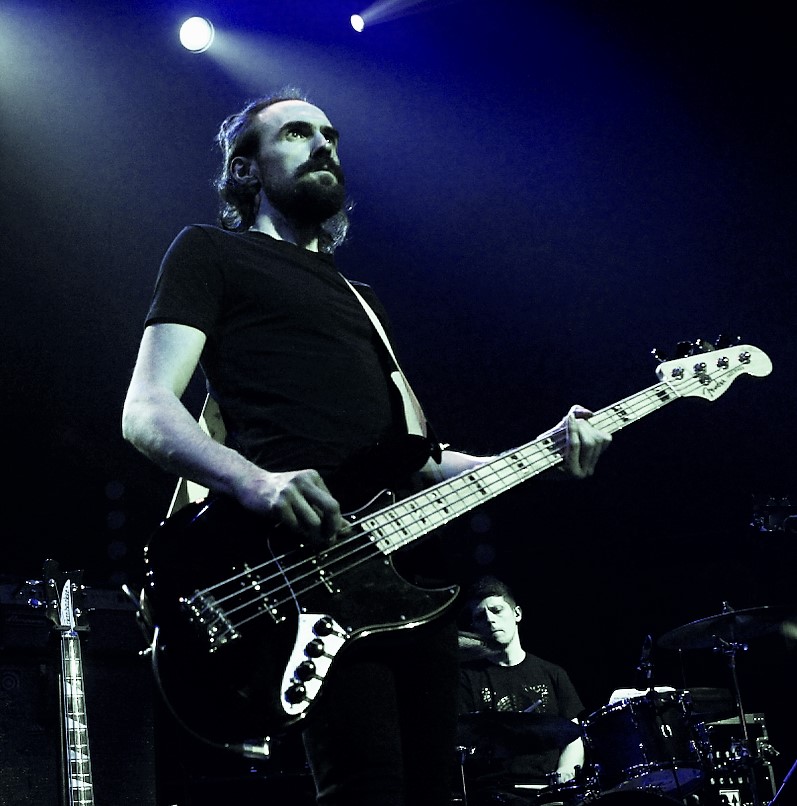 ---
---
Roundhouse night # 2 set list
1. Gouge Away
2. Wave of Mutilation
3. U-Mass
4. Head On
(The Jesus and Mary Chain cover)
5. Isla de Encanta
6. River Euphrates
7. Human Crime
8. Nomatterday
9. Planet of Sound
10. Vault of Heaven
11. Pagan Man
12. Break My Body
13. Blown Away
14. Ana
15. Death Horizon
16. All the Saints
17. Here Comes Your Man
18. Motorway to Roswell
19. There's a Moon On
20. The Lord Has Come Back Today
21. Thunder and Lightning
22. Haunted House
23. Who's More Sorry Now?
24. Get Simulated
25. Dregs of the Wine
26. Caribou
27. I've Been Tired
28. Tame
29. Doggerel
30. Hey
31. Mr. Grieves
32. Debaser
33. Vamos
34. Brick Is Red
35. Bone Machine
36. Wave of Mutilation
(UK Surf)
37. Where Is My Mind?
38. Winterlong
(Neil Young cover)
---
---
Photos: Alex Asprey
Words: Emma Ledwell