Even when some live music venues are rammed, and even if the band or artist on stage are in good form, sometimes the atmosphere in the room can lack that buzz. That electricity in the air and that anticipation of something very special gonna happen. Not tonight…
The place was lit from the off. And it was a very early kick off for tonight's gig; opening act Lauran Hibberd and her band were on at 7.15pm when only half the place was full. Sea Girls were also on much earlier than usual shows; at 8.15pm and the place was under curfew for 10pm. The 2,000 capacity venue sold out.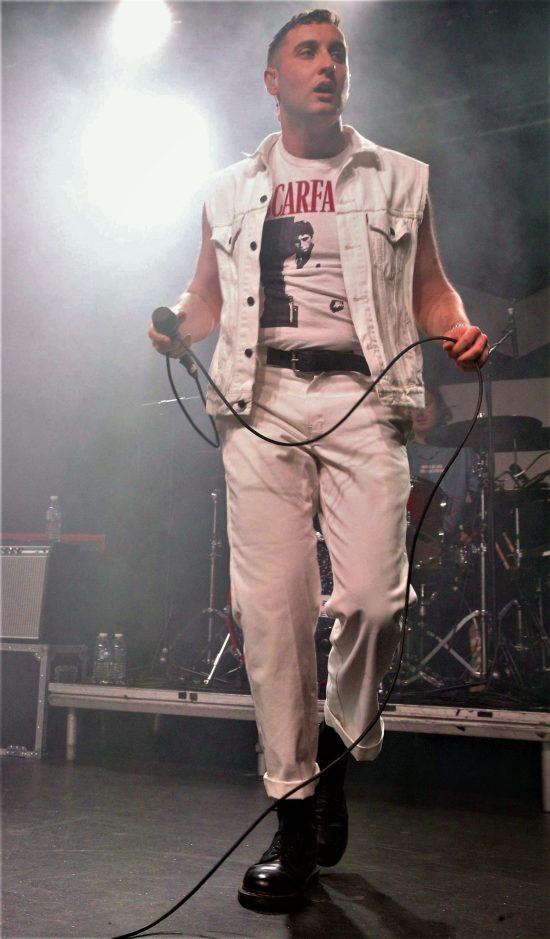 The headliners' fans are always vocal and ready to form a mosh pit at the drop of hat, ready to bounce too and I don't mean ready to leave!
Tonight even those who were in early for Lauran Hibberd were energetic and out to have a great night, and really lapped up her quirky and feel-good set. A predominantly young and female audience, but it evened out to boys and girls for the main act.
Sea Girls – Henry Camamile, Rory Young, Andrew Dawson and Oli Khan – deliver 22 tracks tonight, and all the bangers are in there…and they seem a lot more self assured and tight since I last saw them live. Still exciting to hear and see, and still a modern sound with nods to rock and indie bands from days gone by.
Sea Girls, for me are one of the most exciting young guitar bands of the present day and have a long career ahead of them, if they continue to write meaningful songs with relatable lyrics to connect with their fans.
And while they continue to release such cracking albums as their latest "Homesick". But their live thing is sizzling, really is. The chemistry and telepathic aspects between the quartet onstage is not a given for every band.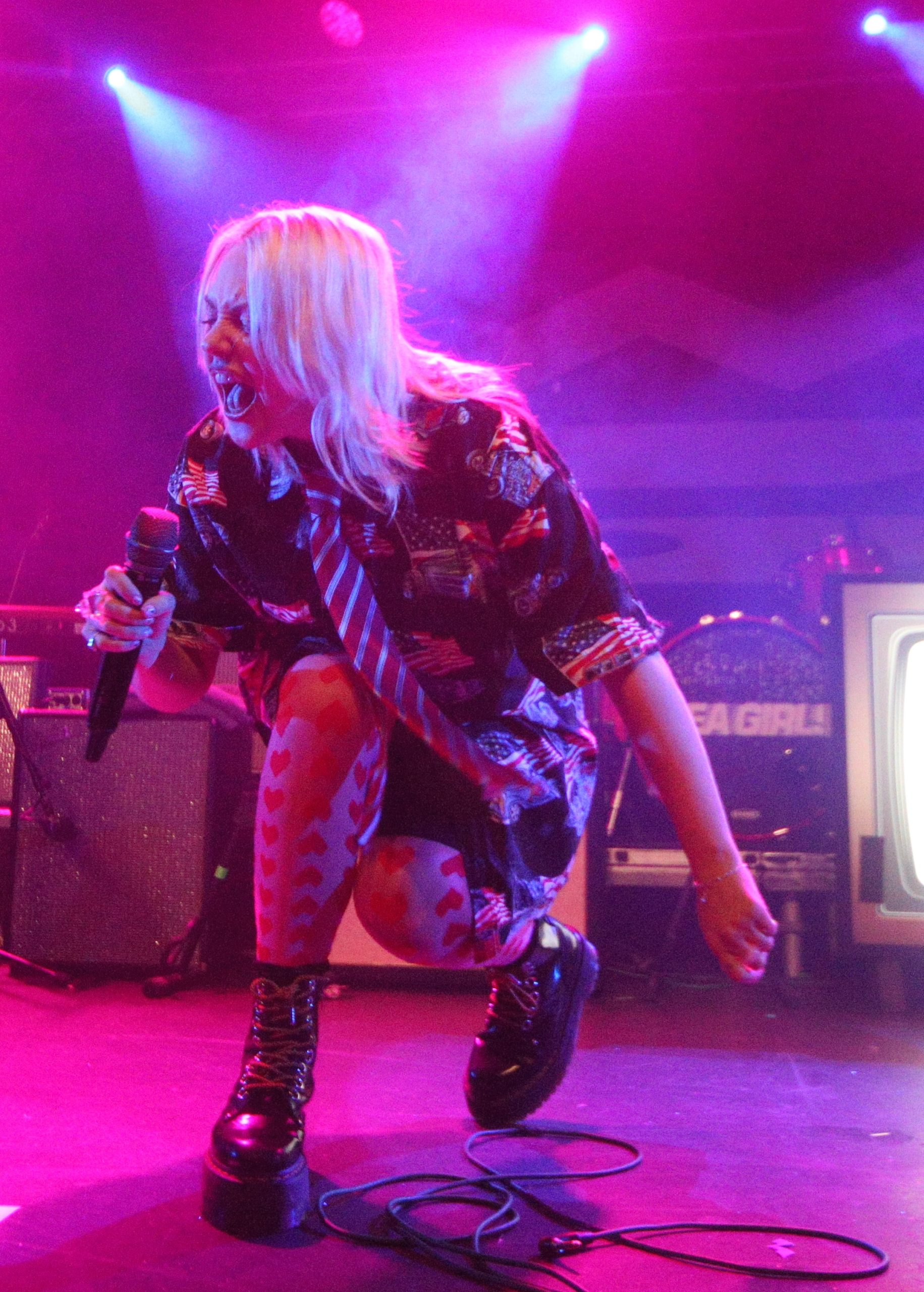 They can craft a hook and they can deliver anthemic tracks that are instant sing-alongs for the fans at their concerts, and it is infectious stuff. Even if you want to just sit or stand and soak it all up and not participate, it'll get ya in the end and you'll be singing away with the rest of them.
This magazine has bigged up both acts for some time now. Lauran Hibberd and Sea Girls. Covering their gigs and record releases, and showing them both some well deserved love. It was most certainly justified based on their performances tonight.
The headliners were in Nottingham in May this year for a show at a smaller venue, as a promo' for their new album via the local Rough Trade store. The last of nine out-store events.  They then plied their trade at a bunch of festivals across the country throughout the summer.
Frontman Henry has had a hair cut since I last saw the band; sporting a Mohican and shaved sides last time, tonight short back and sides and all in white. He looks a bit like Robert de Niro's crazed vigilante character Travis Bickle in the cult 1976 movie "Taxi!":  "Are you talkin' to me?"….
Henry Camamile (vocals, guitar), Rory Young (lead guitar), Andrew Dawson (bass) and Oli Khan (drums) formed Sea Girls in London in 2015. The guys hail from Leicestershire, Kent and Lincolnshire, and all met in high school.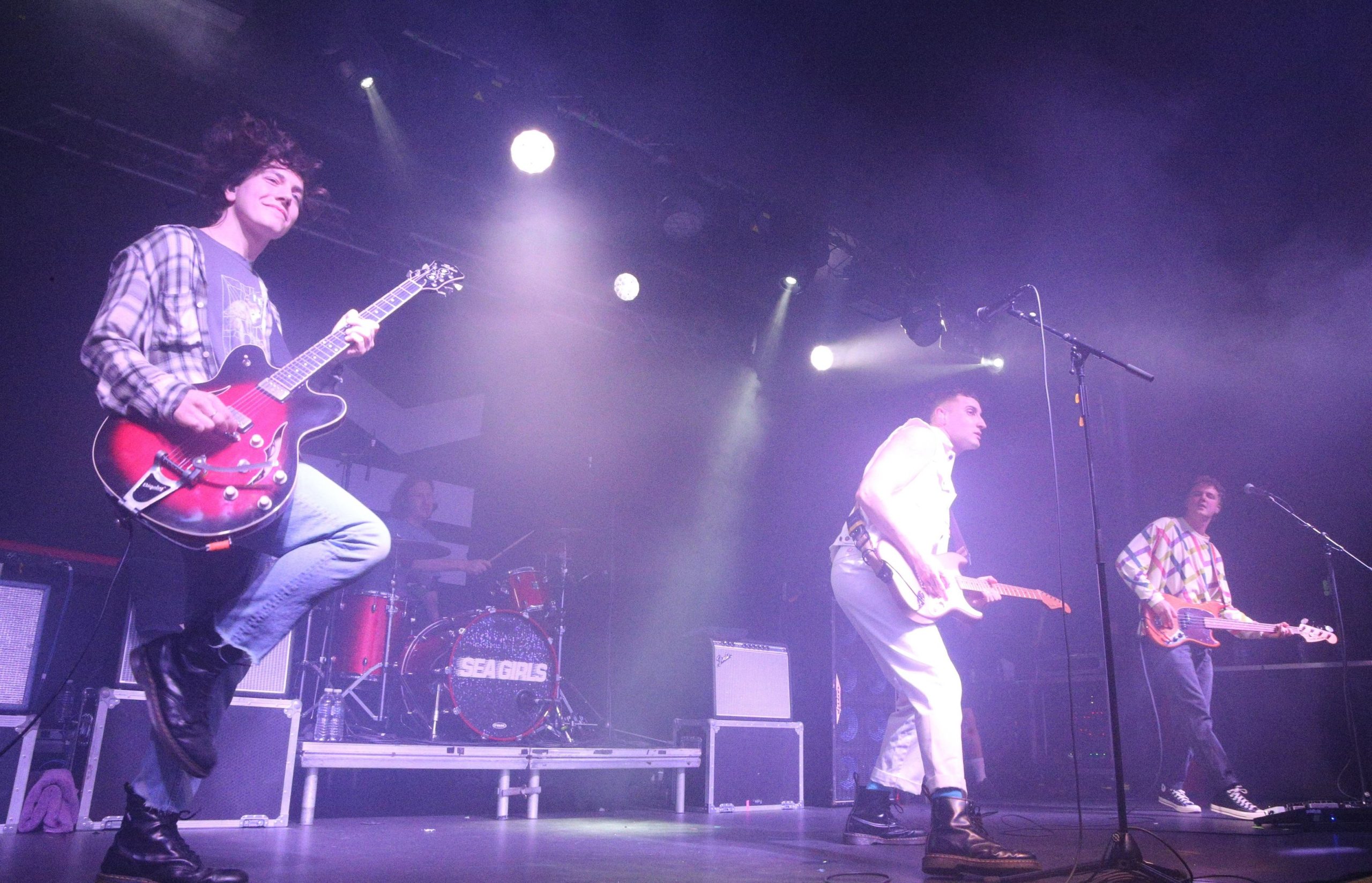 Sea Girls did promise to deliver the goods a day or so before this first night of an 11-date UK tour. "Expect a massive set with all the big ones plus our favourite songs for the first time from Homesick
You lucky people!"
They kept to their word. "The Hometown Tour" starts straight from a sold out run of European dates, so would the four lads be knackered and firing on less than all cylinders for the opening gig of the UK dates? No way….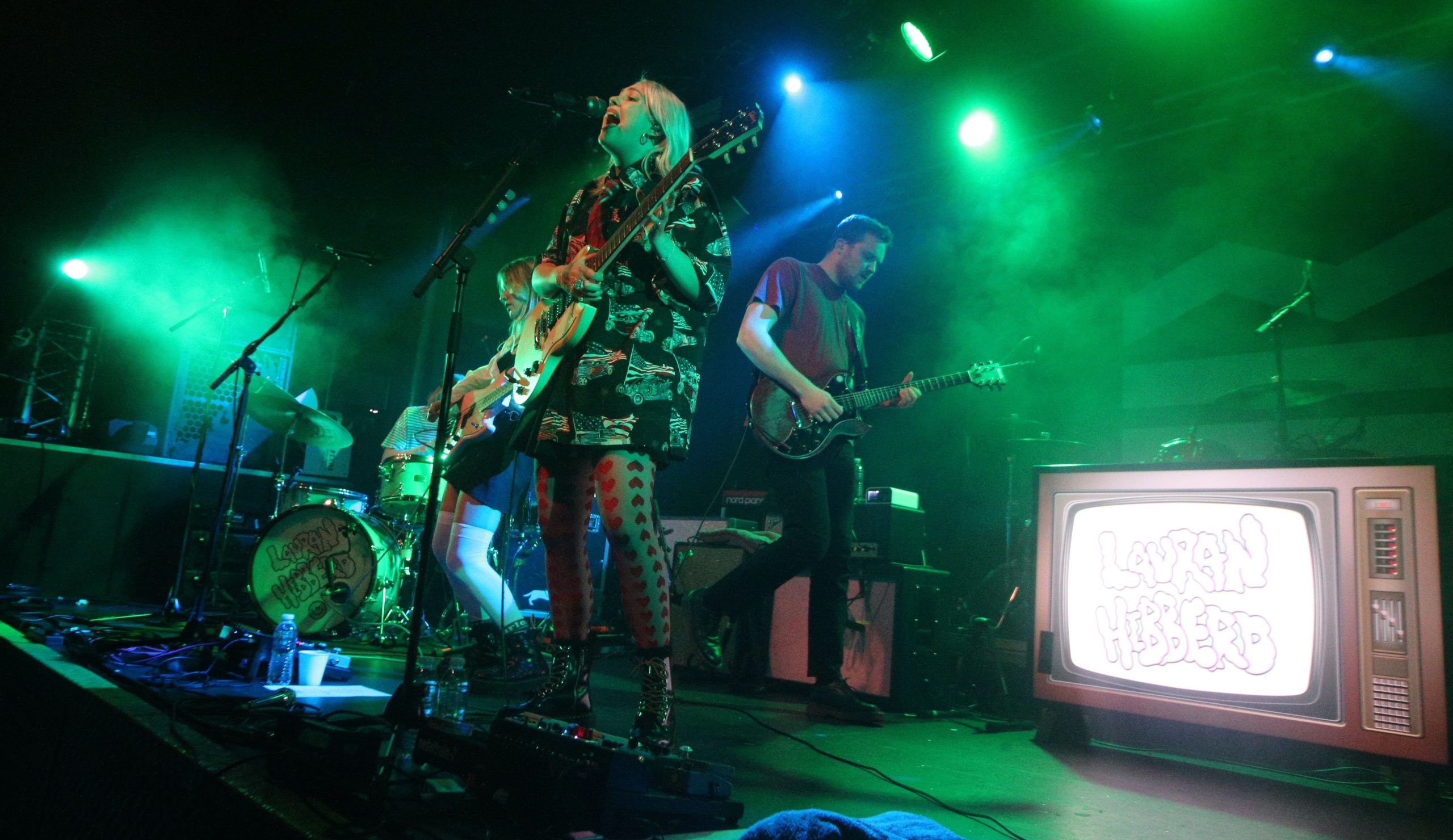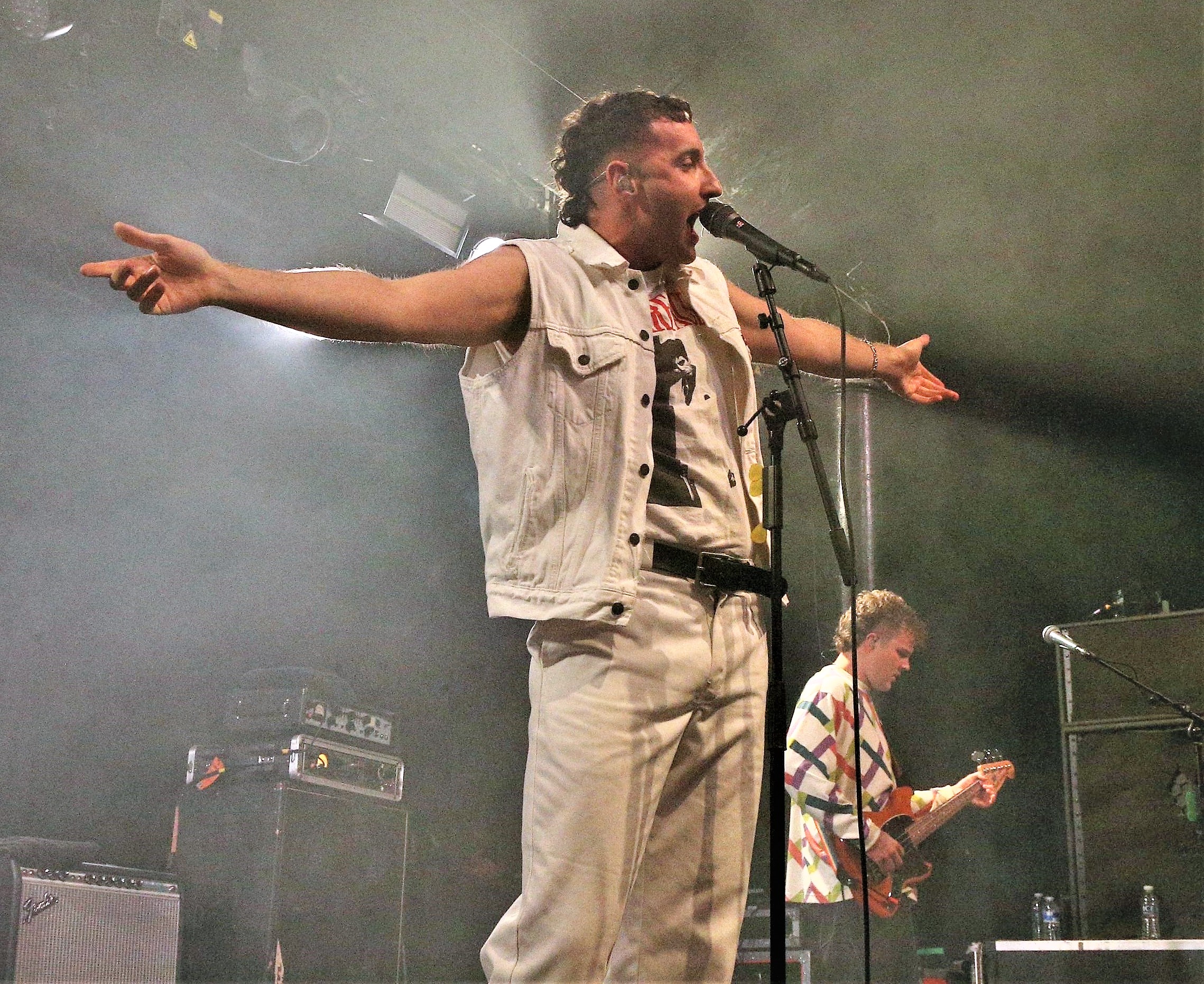 They of course gave us a slew of tracks from "Homesick", their second long player which dropped in the spring of this year from Polydor, and flew to # 3 in the UK chart.
A single "Lonely" got a great reception, and tracks from their debut album " Open Up Your Head" made an impact – which also peaked at # 3 in the chart.
They blasted into "Damage Done", "Lucky", "Open Your Head", "Falling Apart" and Transplant" with aplomb (who uses that word these days? lol – first time I have ever written it in a review I think, but it fits….), before "Hometown," "Too Much Fun" (from the "Adored" EP), and "Moving On".
"Ready For More" was presumably a rhetorical question in the song title, as we know the unanimous answer from 2,000 fans at this venue which opened in 1980 with The Undertones and Orange Juice.
It has seen the likes of Nirvana, David Bowie, Guns N' Roses, Oasis, Blur, The Cure, Ed Sheeran, REM and Arctic Monkeys grace the stage. The place is owned by the same company who promote Nottingham's Splendour Festival.
"Violet" from "Open Up Your Head" was great tonight, and probably my fave track on the current album "Sick", was superb. The lyrical content of "Sick": "I'm sick of your friends, they're all f***ing boring….I'm sick of the Beatles…." , is main songwriter/singer Henry's rant about all the things that pee him off.
I also really like the "Homesick" track, "Sleeping With You". The main set finishes off with "Paracetamol", before three-song encore of "Daisy Daisy", (from "Call Me Out" their 2017 EP), "All I Want To Hear You Say" (from 2018 and the debut album), and last but not least, "Call Me Out".
Faultless. Fun. Fu**ing fabulous. That sums it up nicely, methinks…..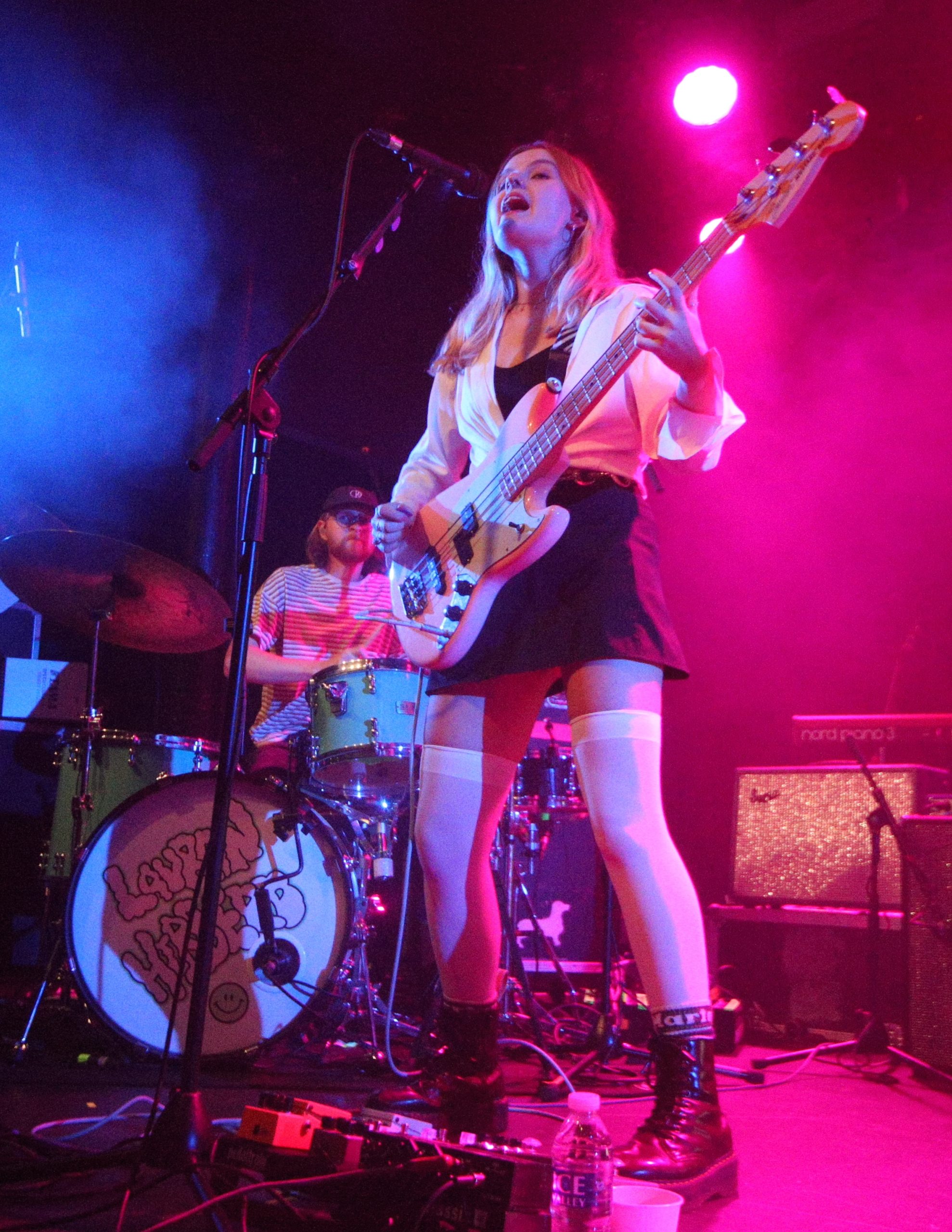 Not to forget the lovely Lauran. Ms Hibberd and her fizzing set of what she calls "slacker pop".
Fun factoid about 25-year-old Lauran: She used to live next door to a "dinosaur farm" on the I.O.W. and says that is perhaps where her "weirdness" comes from.
She's got her own thing going on for sure, a very commercial pop sound with heaps of attitude and fun, and perhaps subtle nods to some of her influences such as Weezer, Smashing Pumpkins, Phoebe Bridgers, Soccer Mommy and Courtney Barnett.
Lauran (on guitar and lead vocals) and her band of bass, guitar and drums, play plenty of tracks from her super 2022 debut album "Garageband Superstar".
The likes of Beabadoobee, Holly Humberstone, Self Esteem and Bella Lathum aka Baby Queen, are leading the way as super talented female artists with a truly original style, for me.  I now add Lauran Hibberd to that list without hesitation.
Note to self: Go see Lauran Hibberd in her own right PDQ. No reason why she should not be filling venues like this herself in the next few years… By the way: Check out her new single, "Hot Boys".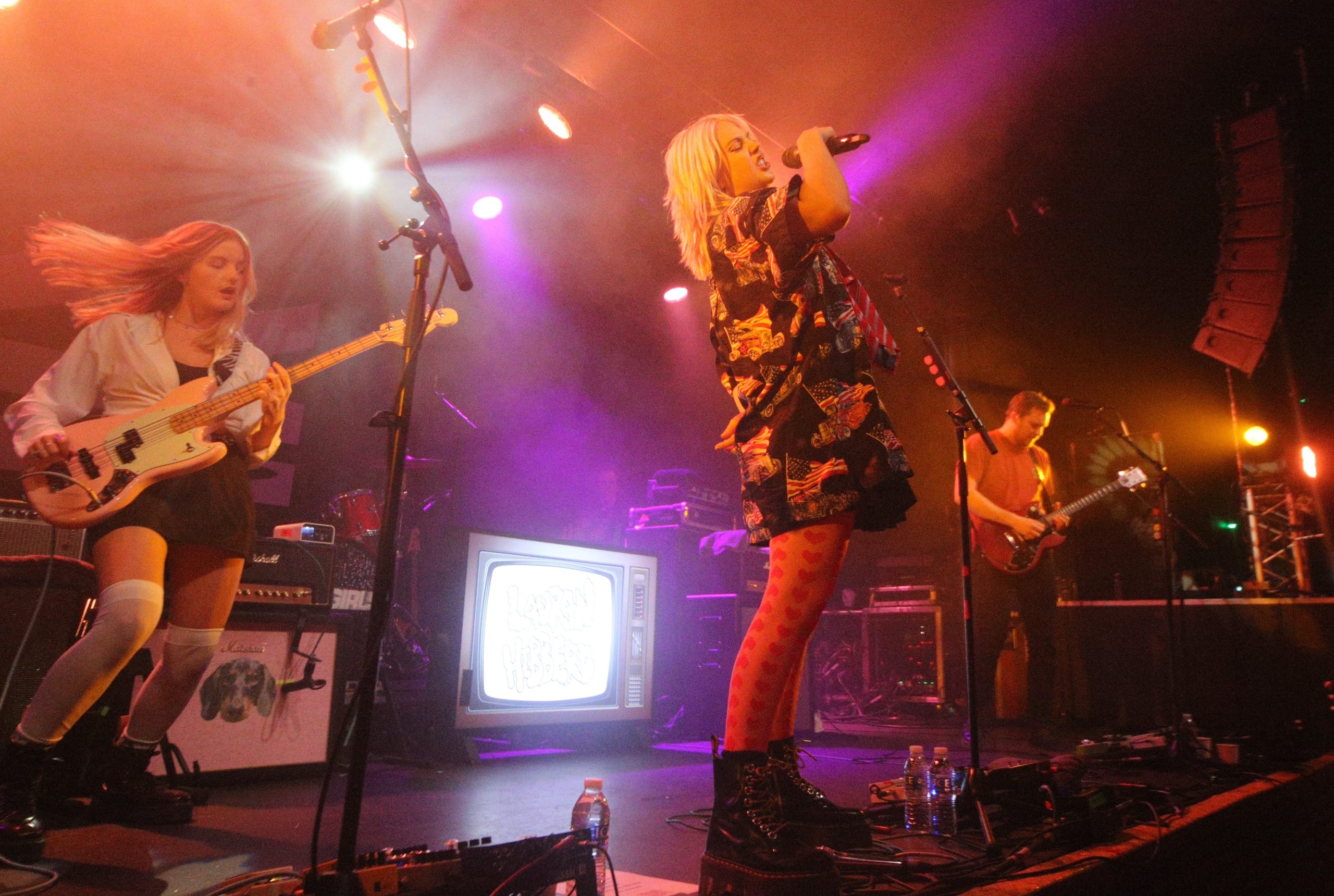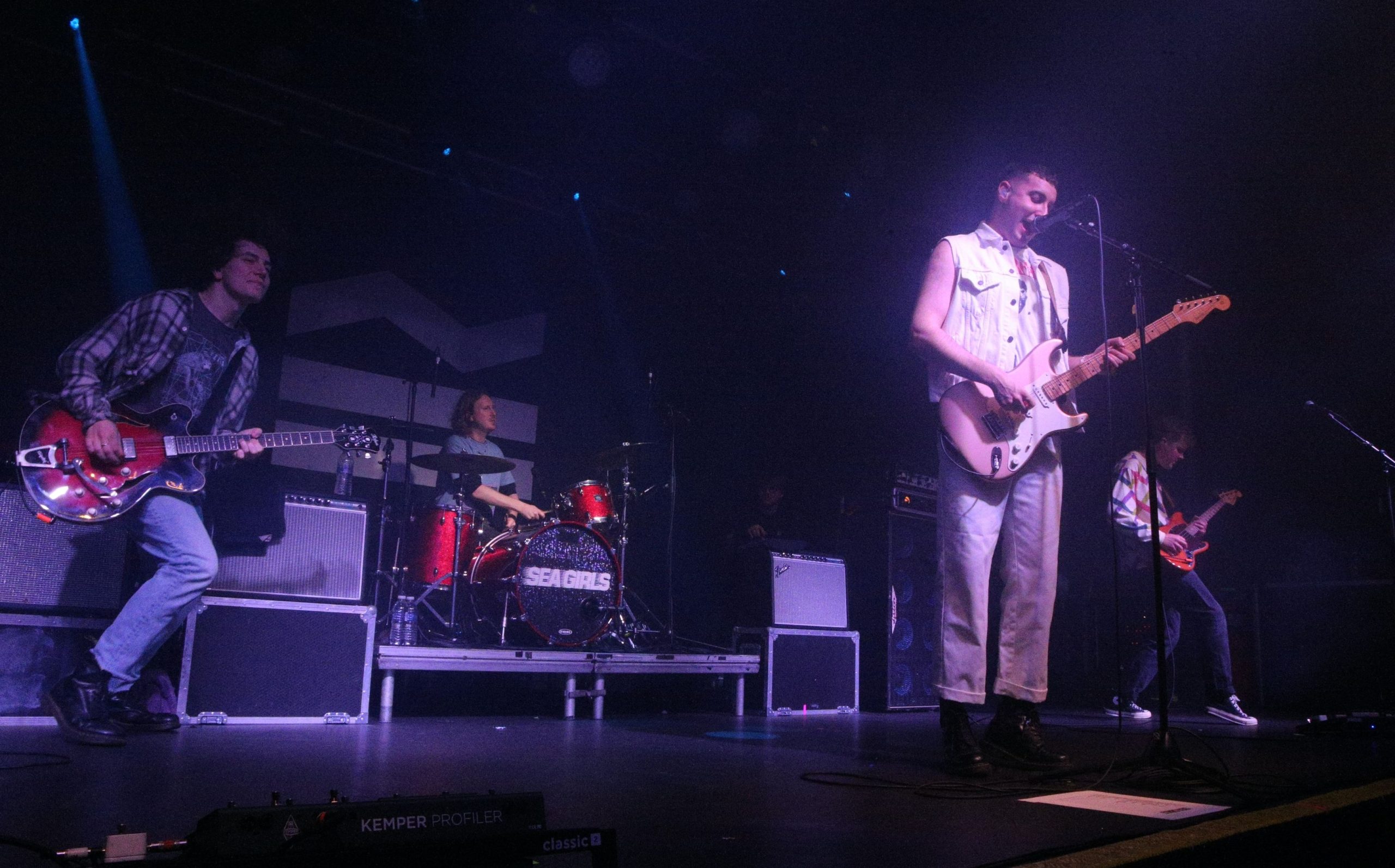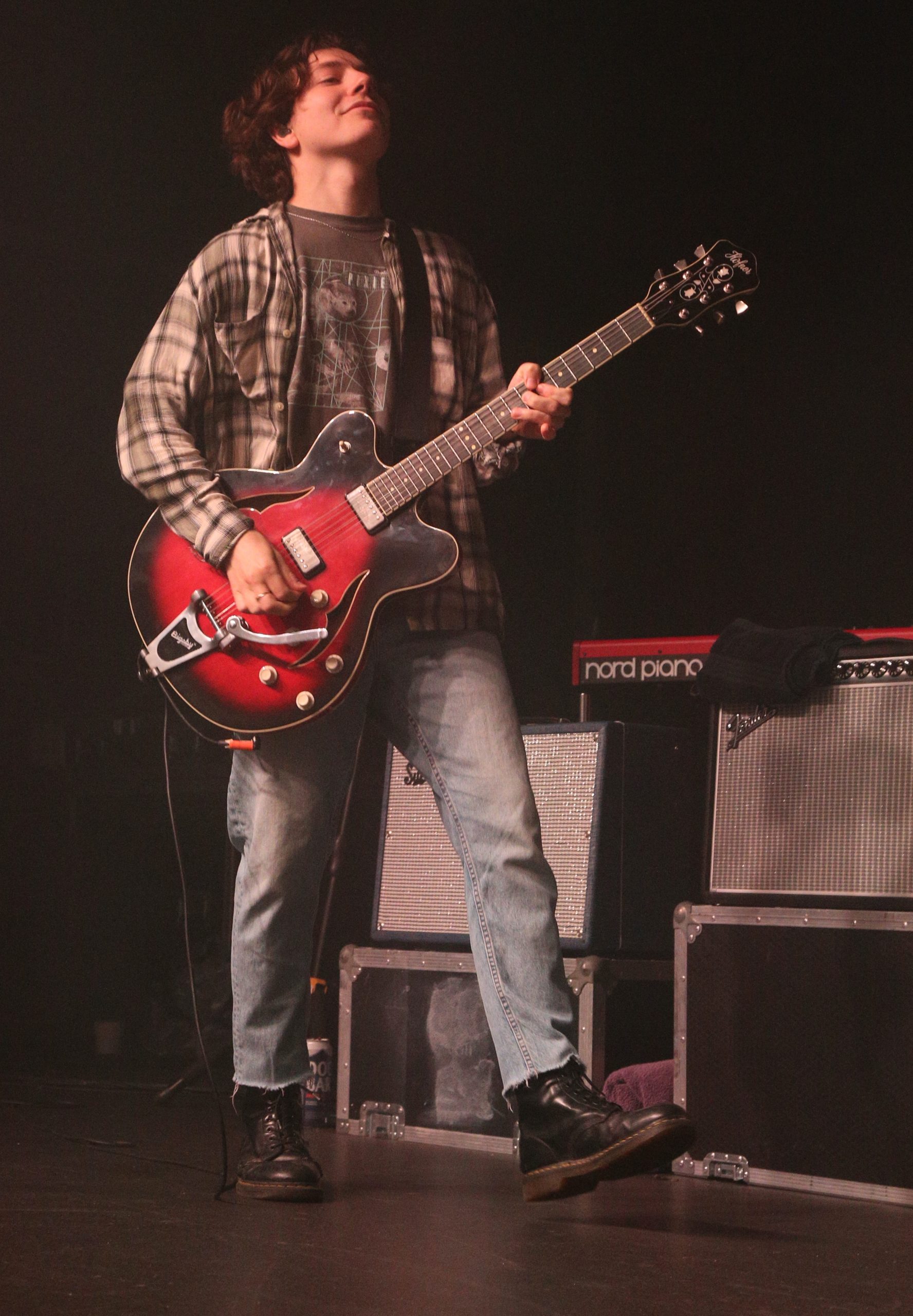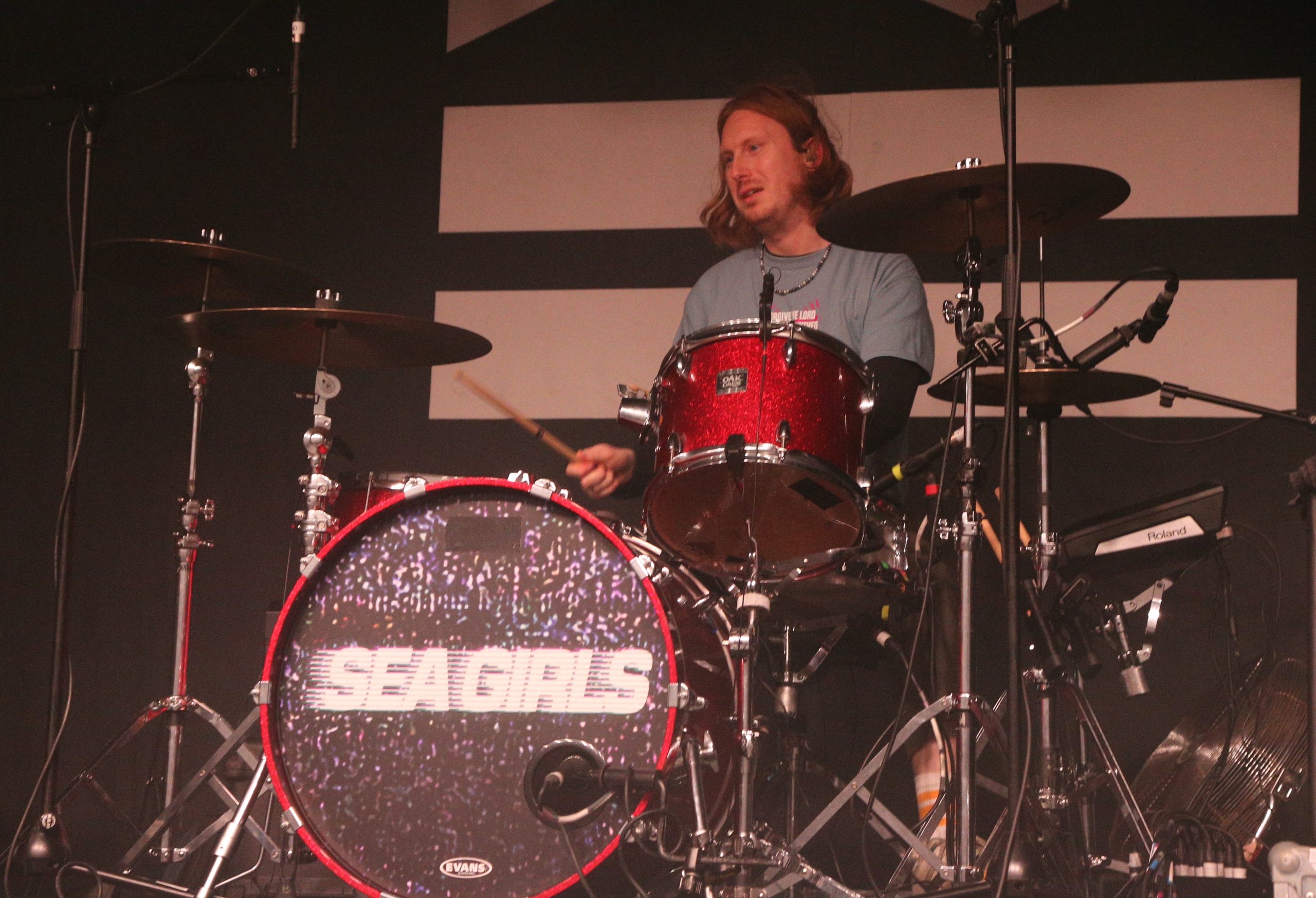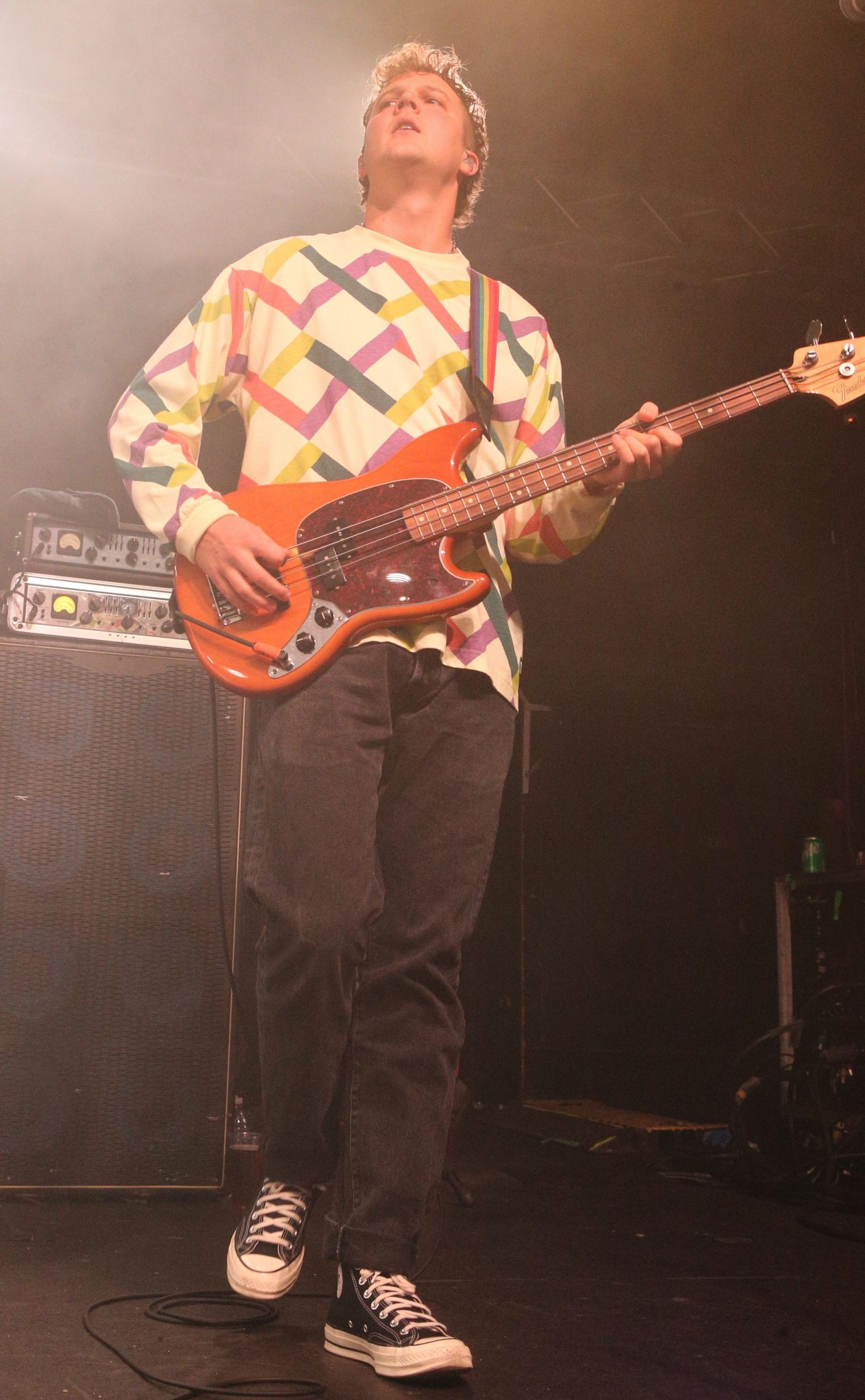 Sea Girls were Music Republic Magazine's "Best Live Act" of 2021, and "Best Band", in the magazine's end of year round-up for last year. Deservedly so, on both counts.
I see no reason, based on tonight's activities, why they should not repeat that feat for 2022. Or why Lauran Hibberd should not feature heavily too.
Note to the editor: As the newest writer/contributor to Music Republic Magazine, I hereby nominate both acts for major props in our annual "Best Of" wrap-up.
Check out our "Best Of 2022" in the Features Zone from 30th November 2022 to see how they do….

---
---
Photos by Rothschild
Words by Sami Wright