It's always interesting to ask visitors on tour on these shores for their thoughts of the UK and its people, and for any unusual aspects of their trip. Nashville-based singer and songwriter Jill Andrews has a unique memory from her debut trip here for 14 shows.
Around the same time as she is on stage at a Surrey venue and plays probably her most well known song, "Sanctuary", the show-stopping track she co-wrote and was featured in the the hit US TV drama "Nashville", broadcasting legend Bob Harris is spinning the same song on his BBC Radio 2 country show to the nation. Neat anecdote to take back home.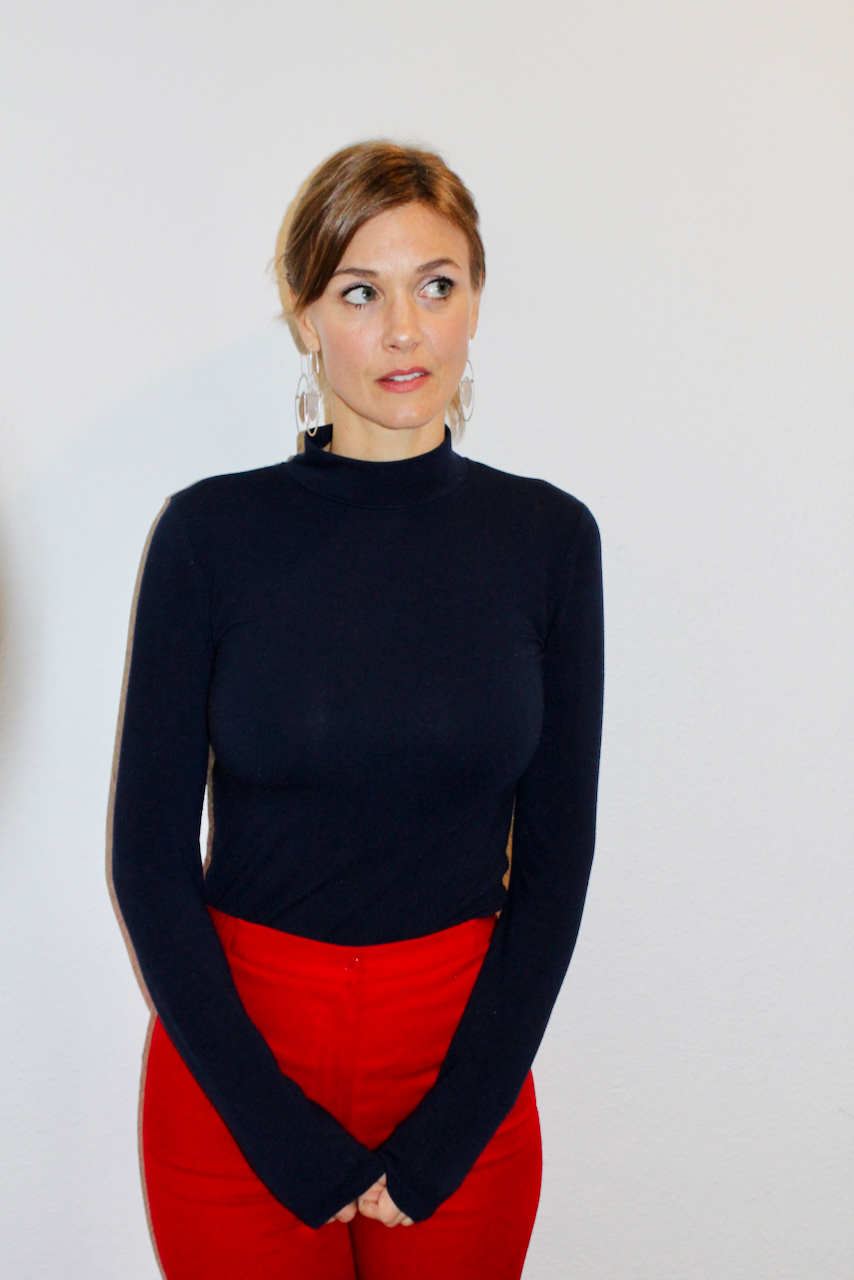 Tonight, we have a star songwriter and a superb performer who will surely be back to the UK to bigger audiences as the word spreads about just how good this artist is. That is the thing; she is not just a writer of songs, Jill is a world class artist in her own right.
In an intimate setting laid out with tables and chairs for the modestly-sized, but attentive and very appreciative audience, Jill's crystal clear and pure vocal delivery, and her likeable personality when chatting between songs, meant the room stayed "pin drop" quiet. and respectful throughout her set, so folk could soak up every word of her songs – apart from the warm applause after each song.
Opening for her here are two talented young British artists. First up, joined by her electric guitarist, is pop artist Olivia White, followed by the wonderful Maya Lane who this magazine is tipping to be a big success in the next few years.
Her voice, her songs and everything about her screams out: STAR. She has management, she has a publishing deal and she has a record deal, at 19-years-old. Remember where you read about her first…
Our main attraction at tonight's gig, Jill Andrews, is an acclaimed multi-genre singer-songwriter, on her first UK tour, a prolific songwriter, who has achieved more than 100 million Spotify streams.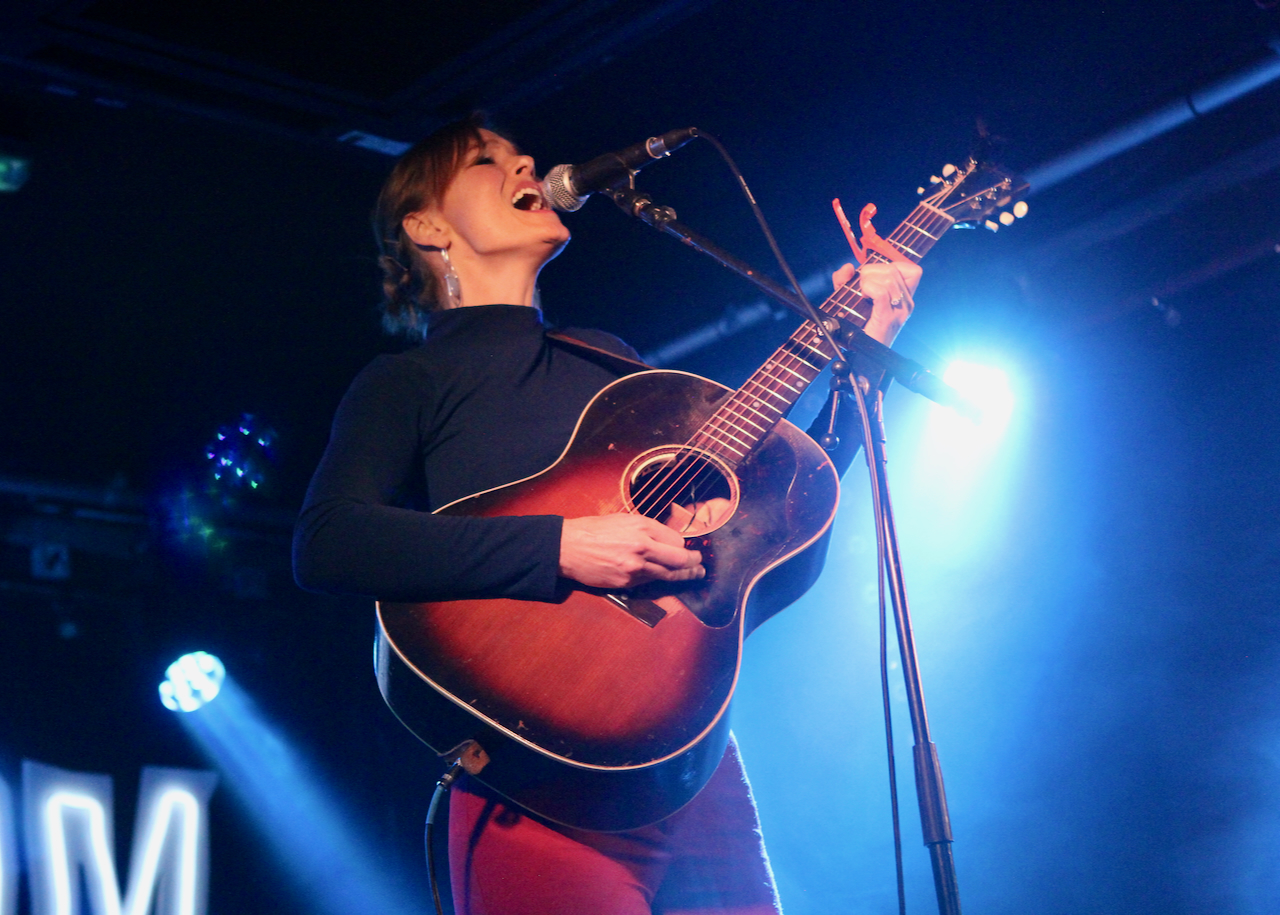 Her music has been featured on hit TV shows, including "The Good Wife", "This Is  Us" ("Only Love Can Break Your Heart"), Nashville ("Tell That Devil"), "Wynona Earp" (theme song), Grey's Anatomy and Beauty and the Beast ("Rust Or Gold").
She released "Rust Or Gold" as a single, and within days of it airing on the TV  show, the song ranked within the Top 10 on the U.S. Singer/Songwriter iTunes chart.
Speaking on her first UK tour, Jill said, "It has long been a dream of mine to meet all of my fantastic fans across the UK and I can't believe in 2022 I am actually, finally getting to do it. I keep hearing how much people in the United Kingdom love and respect music. So, I am excited to experience that for myself."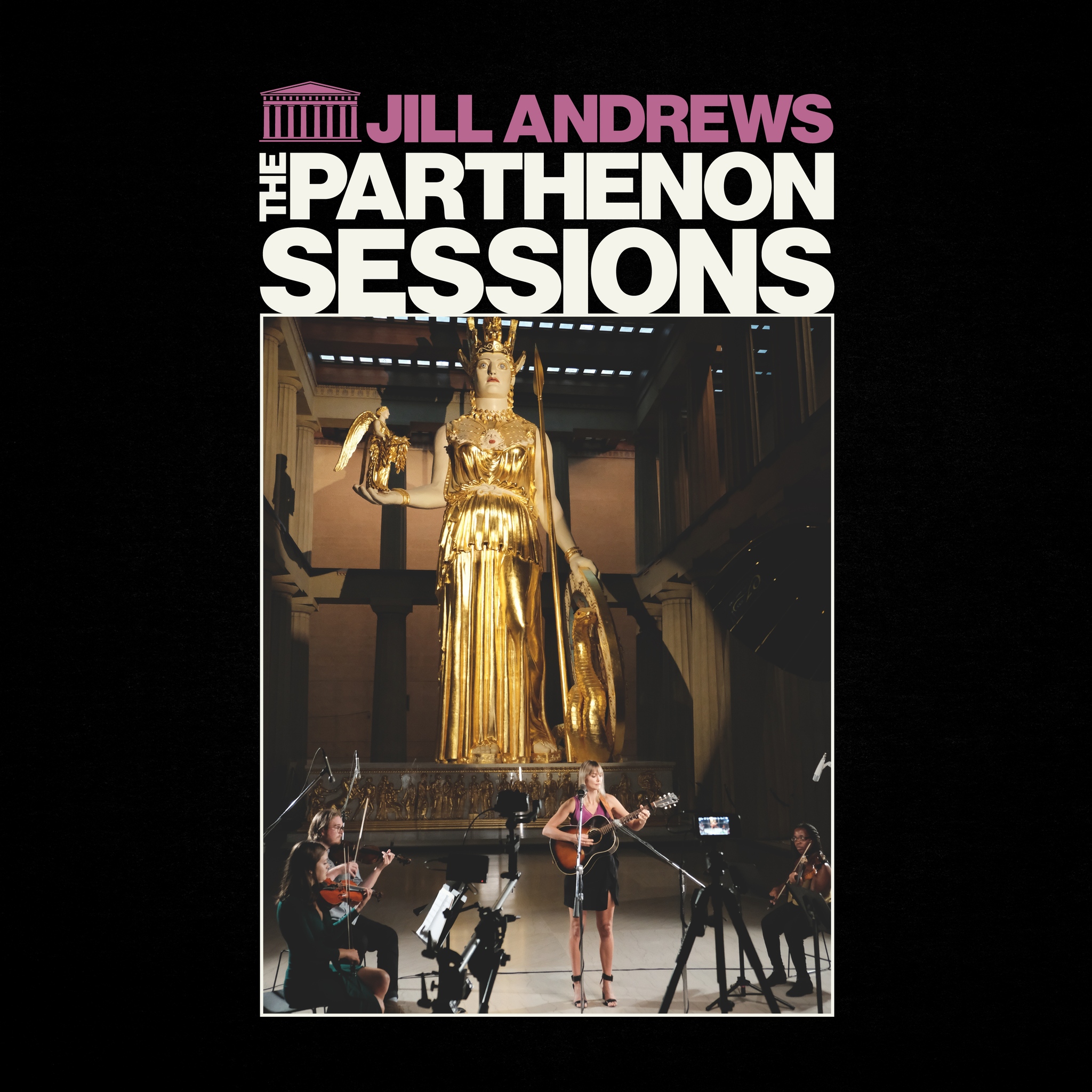 She released her latest project, "The Parthenon Sessions", in June 2022, created in collaboration with the Nashville Conservancy.  It features the re-imagining of some of her favourite songs with the added benefit of a string section.
The EP was recorded in Nashville's Centennial Park's Parthenon, which is the only full-scale replica of the ancient Athenian temple in the world. All the recorded songs are tailored to the unique five-second reverb of the building's 42-feet-tall ceilings.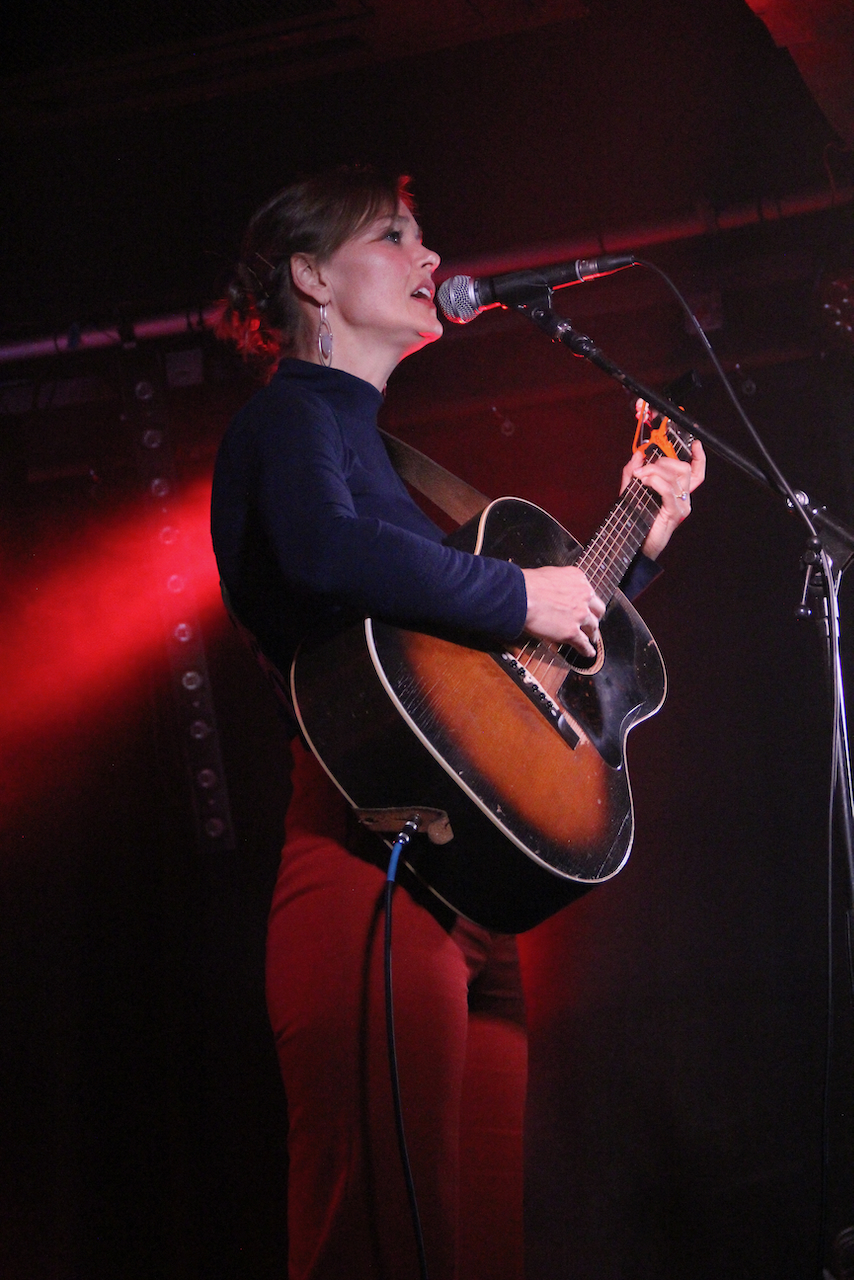 The EP features strings and four songs from Jill's catalogue, including her only recorded version of "Sanctuary."
The song, written by Jill Andrews, Gary Nicholson and Sarah Siskind, was originally performed in the TV show "Nashville" by Charles Esten and Lennon & Maisy Stella, and deemed by The Tennessean newspaper to have "led to 'Nashville's' most powerful musical moment."
Jill is working on her fourth as yet untitled album, due to be released in summer 2023, follow-up to 2020's acclaimed "Thirties". The tour opened in Yorkshire on 4th November and closes in Weston-super-Mare on Nov 19th.
Jill is a talented musician, songwriter, mother of two (Nico and Falcon) and wife to Jerred. Before her solo career, Jill fronted Americana group, the everybodyfields (stylised lower case and all one word).
Jill has dropped three albums and four EPs, plus more than two dozen singles. She has written a book and was one half of the duo Hush Kids with Peter Groenwald, who have released an album and EP since 2018. She has guested on various other artist's projects, including with Buddy Miller.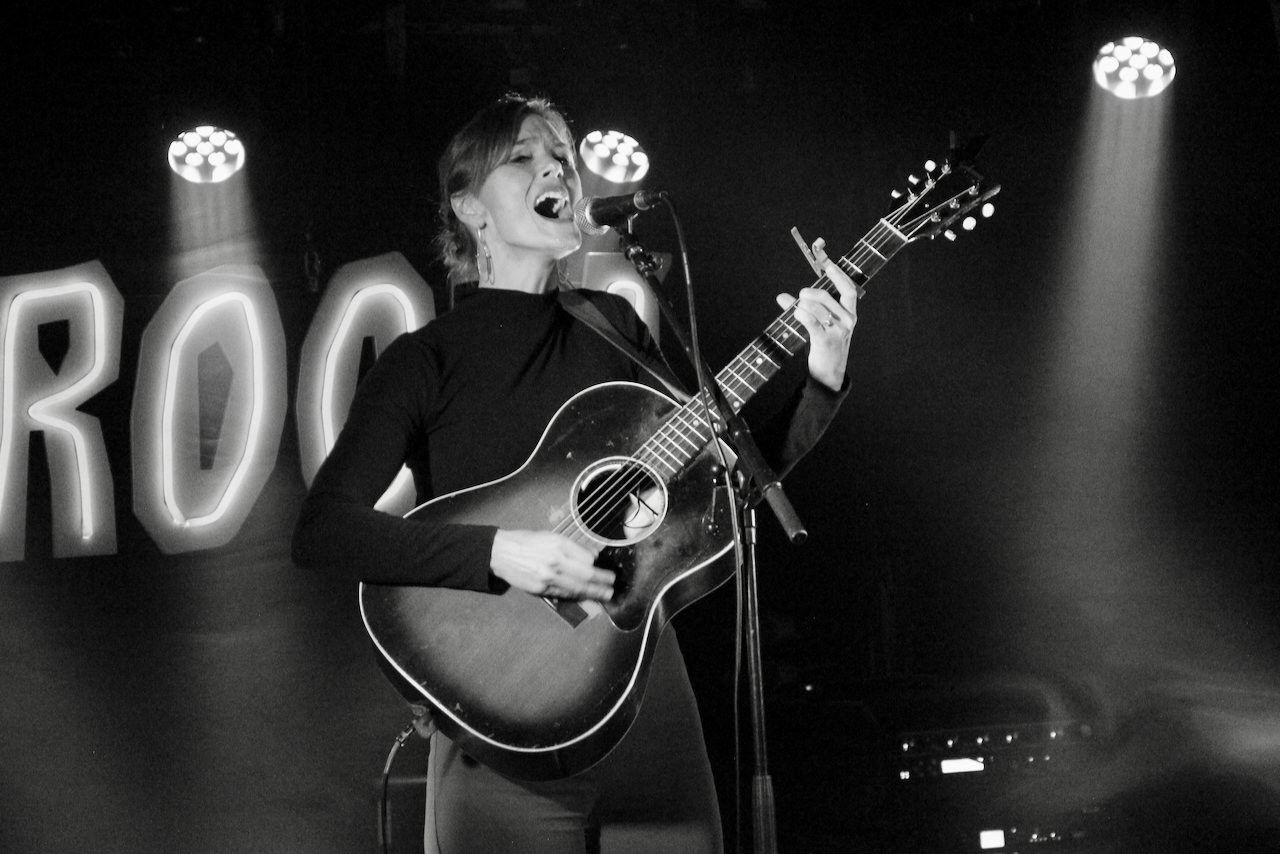 She has collaborated and shared the stage with countless celebrated artists including the Avett Brothers, Langhorne Slim, Drew Holcomb & The Neighbors, and the Secret Sisters.
Tonight at The Boileroom, Jill sticks to her own songs – and as good as they all are, why wouldn't you? – apart from one cover, Neil Young's, "Only Love Can Break Your Heart". Her song "Take Me To The Party" is magnificent, which she wrote late at night while feeding her infant daughter and feeling "very alone". She wrote her encore song, "Blue Eyes" for her baby son, who is now 13.
Her voice has such a gorgeous timbre/tone and can soar, hit the solar plexus and connect so emotionally. She has her own sound, but does put me in mind of the great Emmylou Harris and a tiny weenie bit of the great Judy Collins (as regards the higher end of her register).
Summing up Jill's circa 70-minute performance: Faultless and very special. I'd certainly not wish to follow her if I were a performer, no sir.
So, so, so hope she gets back to us in 2023 and far more people get to experience the sheer joy of a Jill Andrews concert.
A quirky start to Jill's set when she performed an emergency procedure – trimming a dodgy nail on her finger with clippers, for better guitar playing, as she usually wears a false nail for a "pick" (plectrum) for strumming and finger picking techniques, but hers was too long and catching on the strings.  But she deffo nailed her set – see what I did there?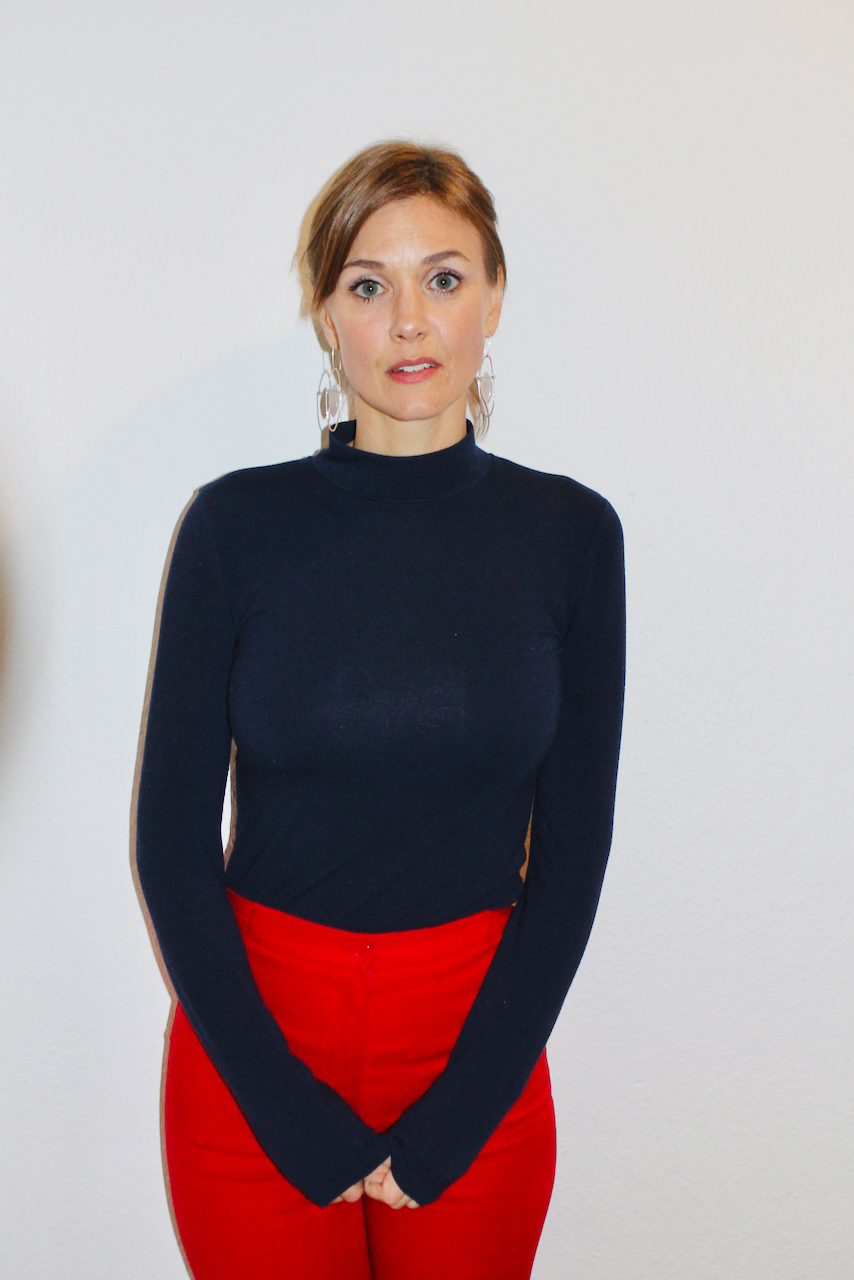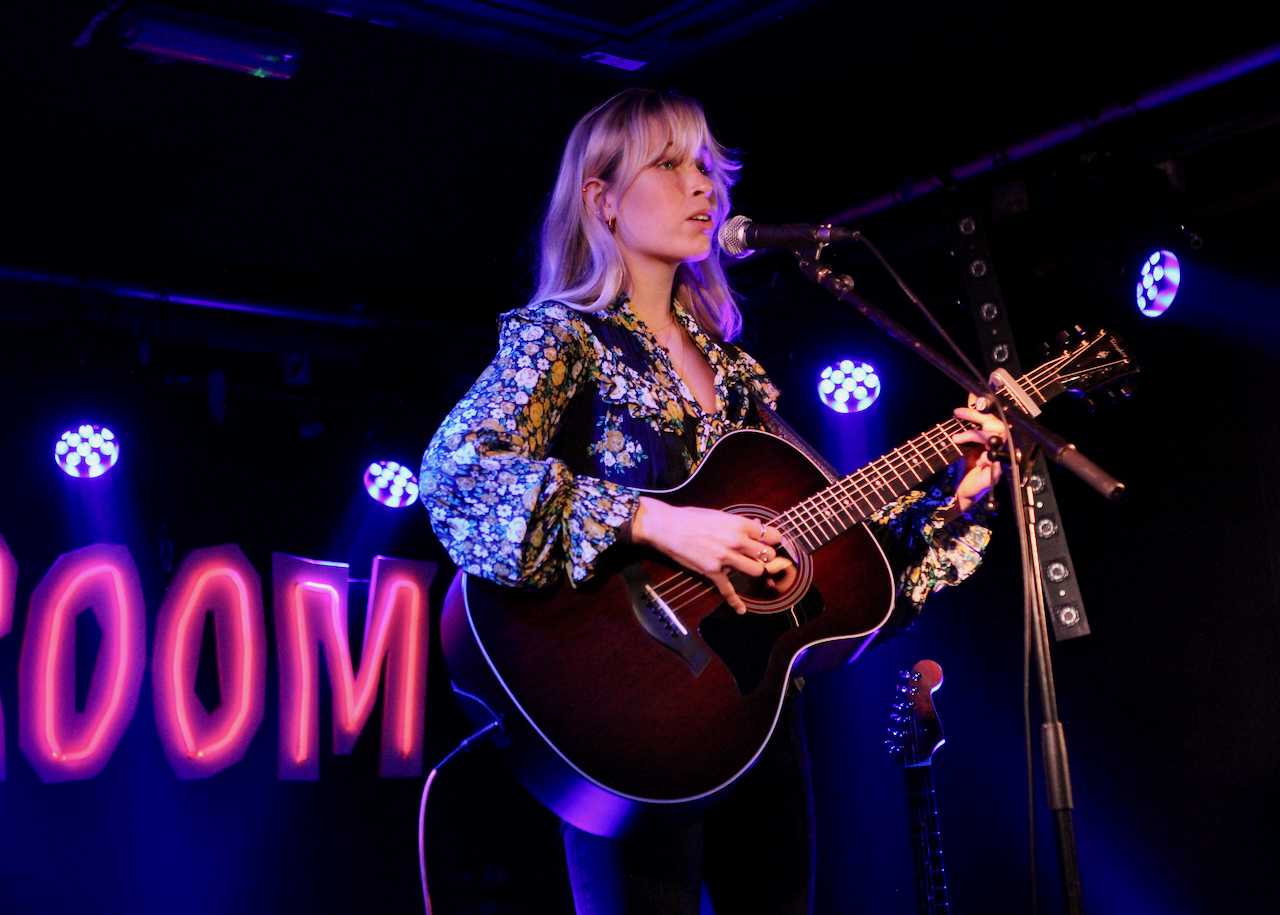 So to opening act, Maya… Maya Lane is a 19-year-old singer and songwriter from London, in the acoustic folk-pop style and she nods towards the likes of Kacey Musgraves, HAIM and more retro acts such as Fleetwood Mac and Joni Mitchell.
Song writing chops beyond her years, emotionally mature lyrical content and a voice that'd melt ice. A real find.
She has honed her stage craft since she was 12 at festivals and gigs, and tonight her dad and her manager sit proudly watching their 'girl.' She also performs with an all-female band when not doing her solo thing. It is her songs, her voice and her style which will give her big success though…
She is writing with Wayne Hector (Tate Mcrae/Birdy), Jonathan Quarmby (Tom Walker, James Arthur, Lewis Capaldi), Benjamin Francis Leftwich (Holly Humberstone), Jonny Latimer (Ellie Goulding, Anne Marie), Hayley Gene Penner (The Chicks – formerly The Dixie Chicks) and more.
"Still The Same" is her debut single which dropped in February this year, and you can see the video of a live performance, above. It is a cracking song and my bet is it will come back round and be a hit for Maya as an artist, or as a songwriter as a cover in the next few years. Maya's vocal on this – live and on the record – is utterly mesmerising.
She has released three singles from her debut EP which came out in September 2022. A very exciting young discovery whose career we will be following and supporting all the way to the top – starting from….now!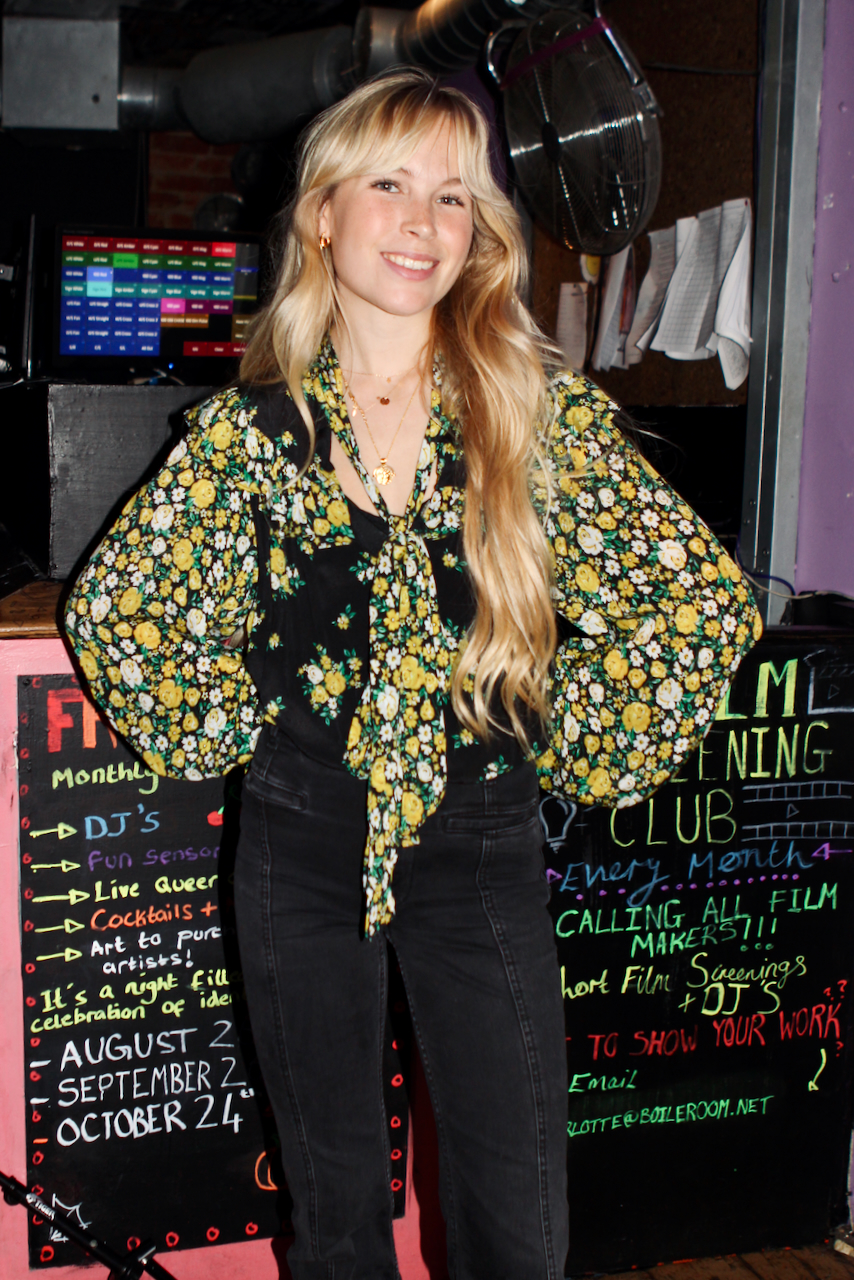 Last words to Jill, who Alex Asprey, our multi-skilling man with the camera and a tape recorder caught up with backstage after the show in Guildford.

How's the tour gone for you? "This tour has been awesome and I've been all over the place. The audiences seem really grateful that I am here.
"Some people have come up to me and said, I've been waiting for years for you to come over here, and I am so happy to see you. I have had so many people say that.
"It is an incredible feeling that I have been playing music for such a long time and there are people way, way, far away who like my music."
Jill's first shows in the UK, but she was here briefly some years back, in London as part of a month-long trip across Europe with a German friend when she left college.
She has recently recorded and released her first version of her song "Sanctuary", after it was sung on the TV show "Nashville" by two of the programme's characters. "It felt so cool to record it for the first time and have my own version, with a string quartet. "I wrote it with two friends, and we were not writing it for the show. It is a love song about taking care of somebody and being patient, supportive and comforting.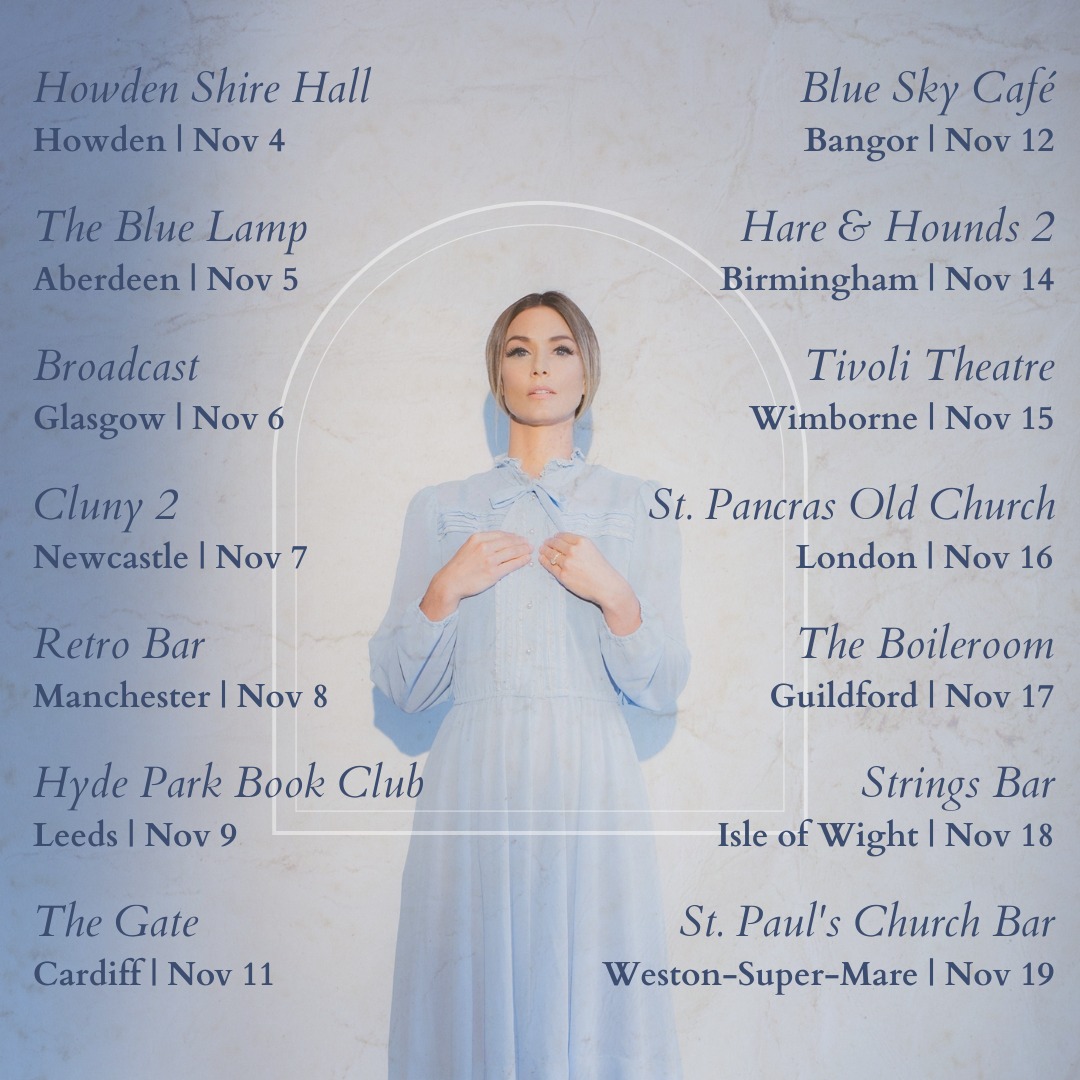 "I thought it was a beautiful song when we wrote it, and I thought it had potential, but I have written a lot of songs that are beautiful and had potential that no one has heard! I think it is a really special one, and it makes me happy it has been used in a really cool way.
"The actual creation of a song is such an incredible feeling, when you know that you have written something that is moving, and you feel it is beautiful. I am one of those people that gets chill-bumps, very intensely when I am moved, and that is the way I take the temperature of whether something is good or not."
Has Jill come across anything surprising about this trip? " I guess, how rainy it is and how you guys deal with it. It's so dark and so rainy. But you jog in it, you walk in it, you take the dog out in it!" She is full of praise for UK audiences who she says have been "so respectful and grateful."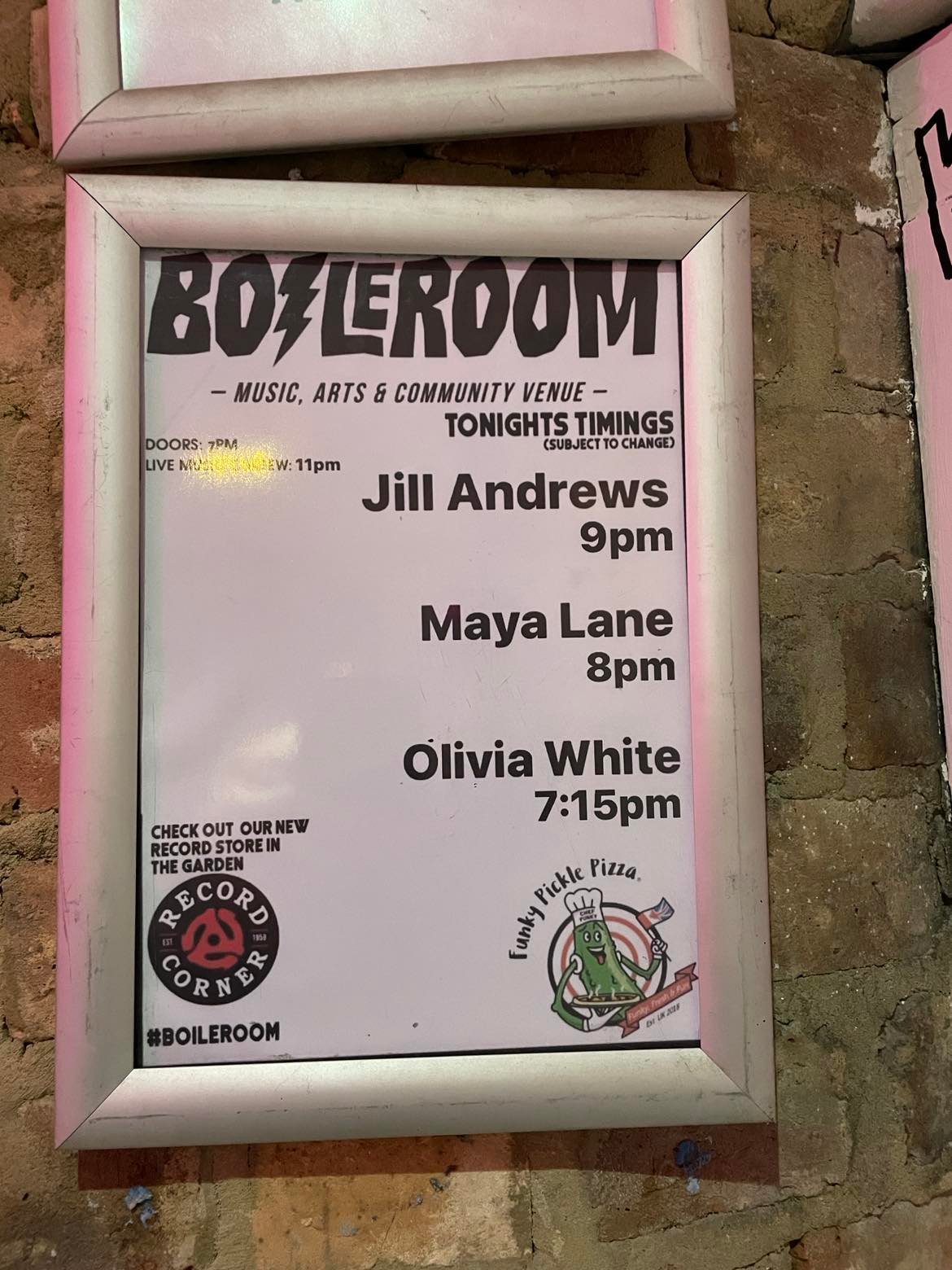 Any souvenirs going back to Nashville? "My green coat and my pink coat I bought here! I need to buy some Christmas presents when I am in the Isle of Wight and Weston-super- Mare for the last two shows of the tour."
Jill reveals her next album will be 10 new songs, and they are at the mixing stage right now. "I am really excited about it. There is a lot of reflecting on my childhood and comparing my childhood to modern day times.
"Looking back, which I do not usually do; I look forward or to the present in my songs. This a slight left turn to the previous albums. This album is gonna be awesome…". We have no doubt…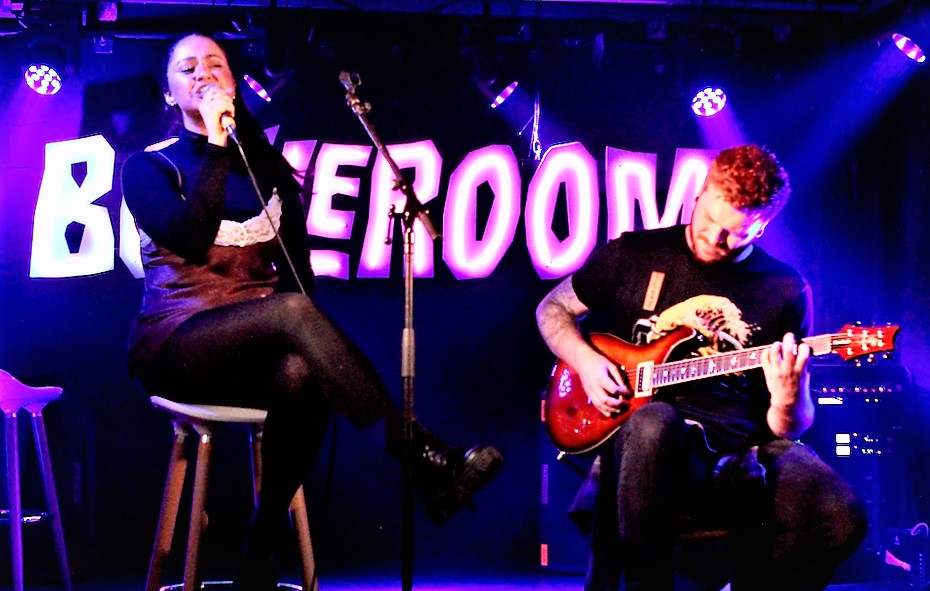 ---
---
Photos: Alex Asprey
Words: Steve Best & Alex Asprey