Machine Gun Kelly's first arena tour, the UK leg part of a 52-date run across North America and Europe, tonight, sold out in Birmingham with 15,000 fans well up for it after the first show at SSE Arena Wembley in London.
Their vocal appreciation probably loud enough to disturb PM Lizz Truss and her Tory cronies just down the road at their annual party conference.
Leeds, Glasgow and Dublin are next and those fans are in for a heck of a treat with a triple bill of US acts who brought their A-Game in Birmingham. MGK, 44 Phantom and future superstar Iann Dior.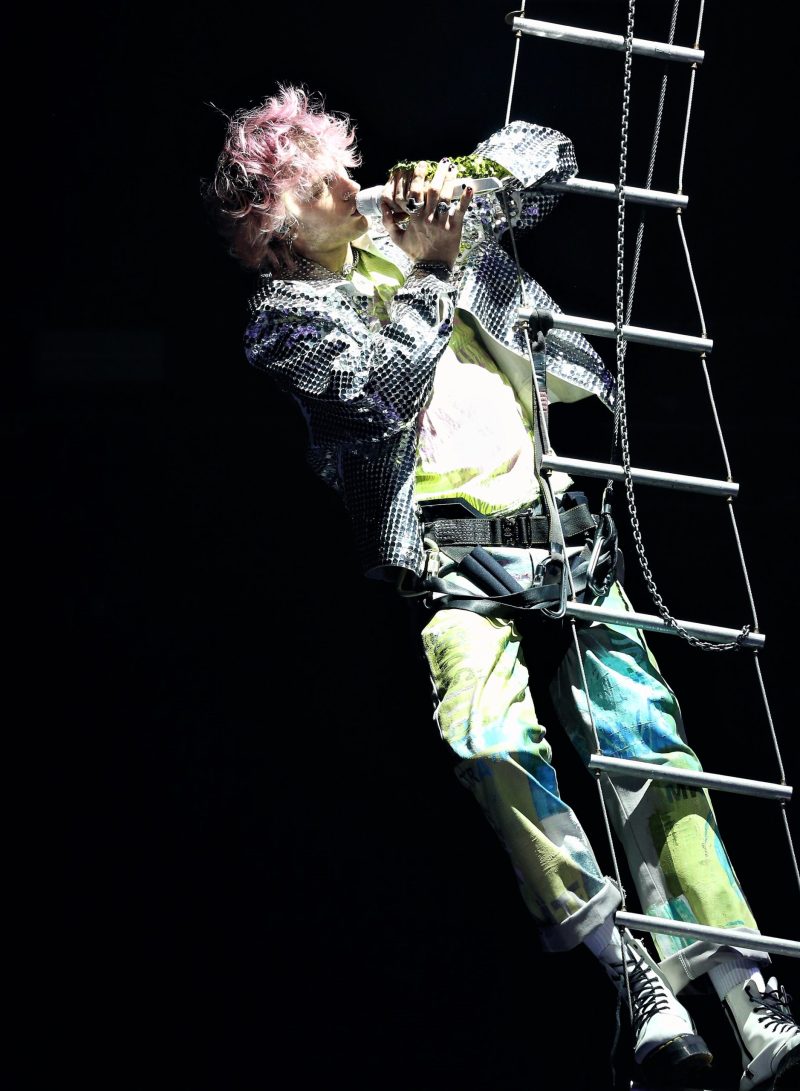 There was a fourth star shining brightly tonight on the arena stage, and she's a Brit' (London-based) and a Youtube star, Sophie Lloyd  – now lead guitarist in Machine Gun Kelly's ace band.
Black leather trousers, long blonde locks flowing as she shredded and soared on her axe looking every inch the rock queen and sounding fantastic.
If Michael Jackson was still with us, he'd be poaching this gal in a heartbeat. Muse's Matt Bellamy was so impressed with her Youtube performances, he sent her a guitar as a gift last year.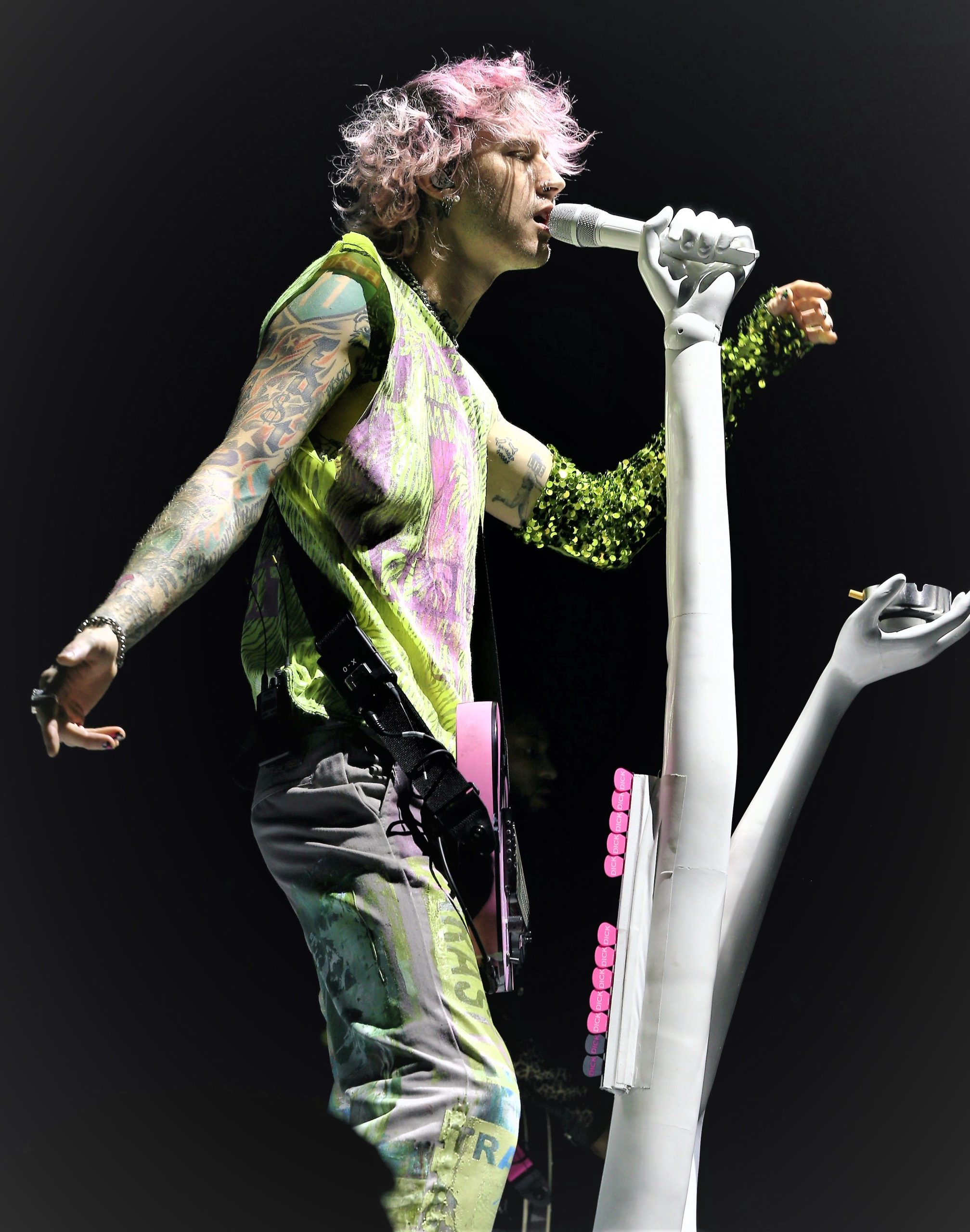 Previous UK trips has seen MGK appear in the 02 Institute and the 02 Academy in Birmingham, to circa 12,000 and 13,000 less fans in the audience. But a vast arena and arena stage is a snug fit for this red hot star, and his "entrance" – he walked on stage before hanging from a pink "helicopter" high up in the roof, from a rope ladder like a circus act or James Bond stunt man  – was a strong statement of intent.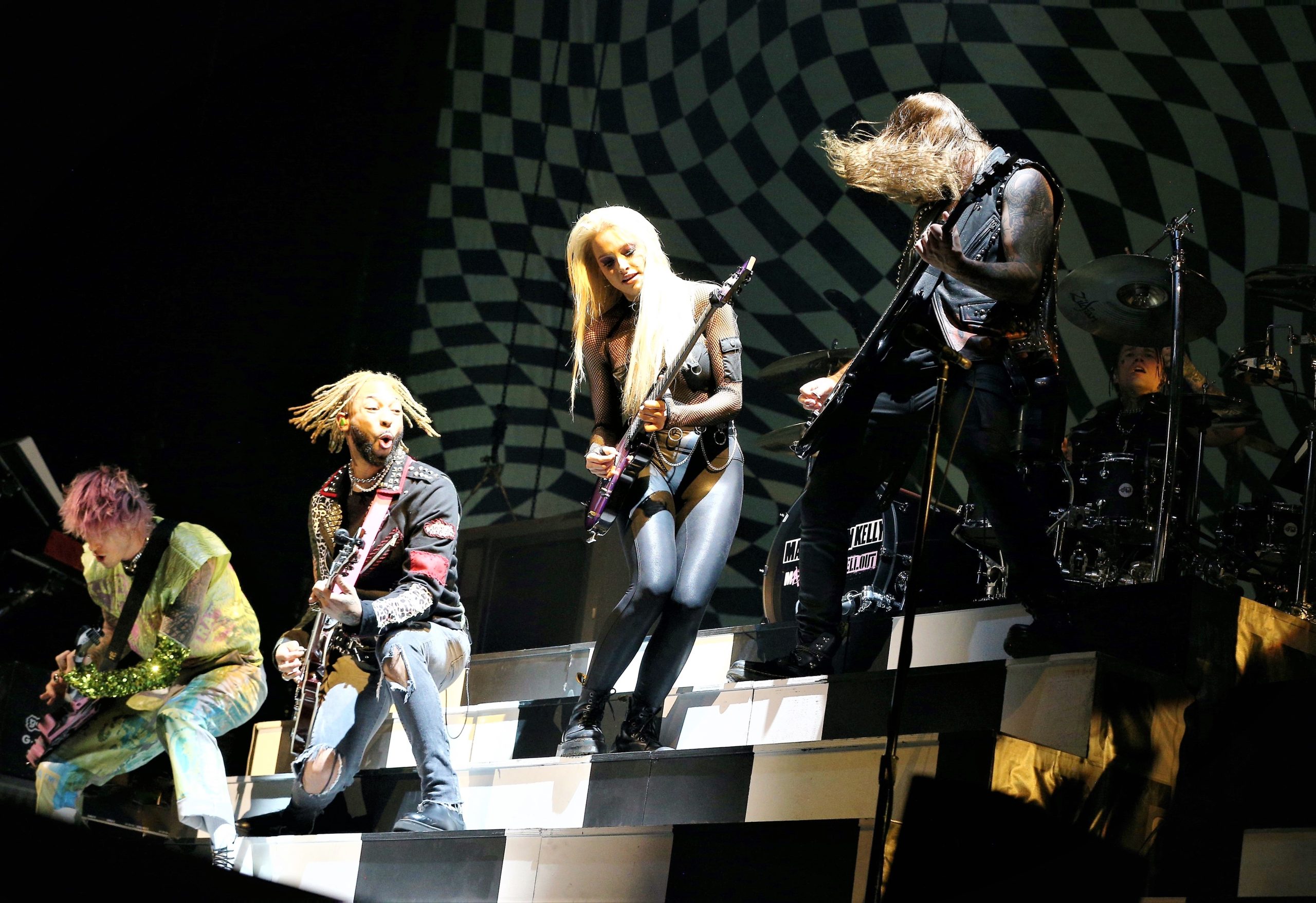 The 32-year-old, born Colson Baker, tore the place a new one with a frenzied, high energy, rockin' set of 27 songs, plus a four-song acoustic medley to give some light and shade to the pace.
If I were a band or artist on a festival bill and had to follow this guy and this band, I'd be worried and probably realise that adrenaline is brown!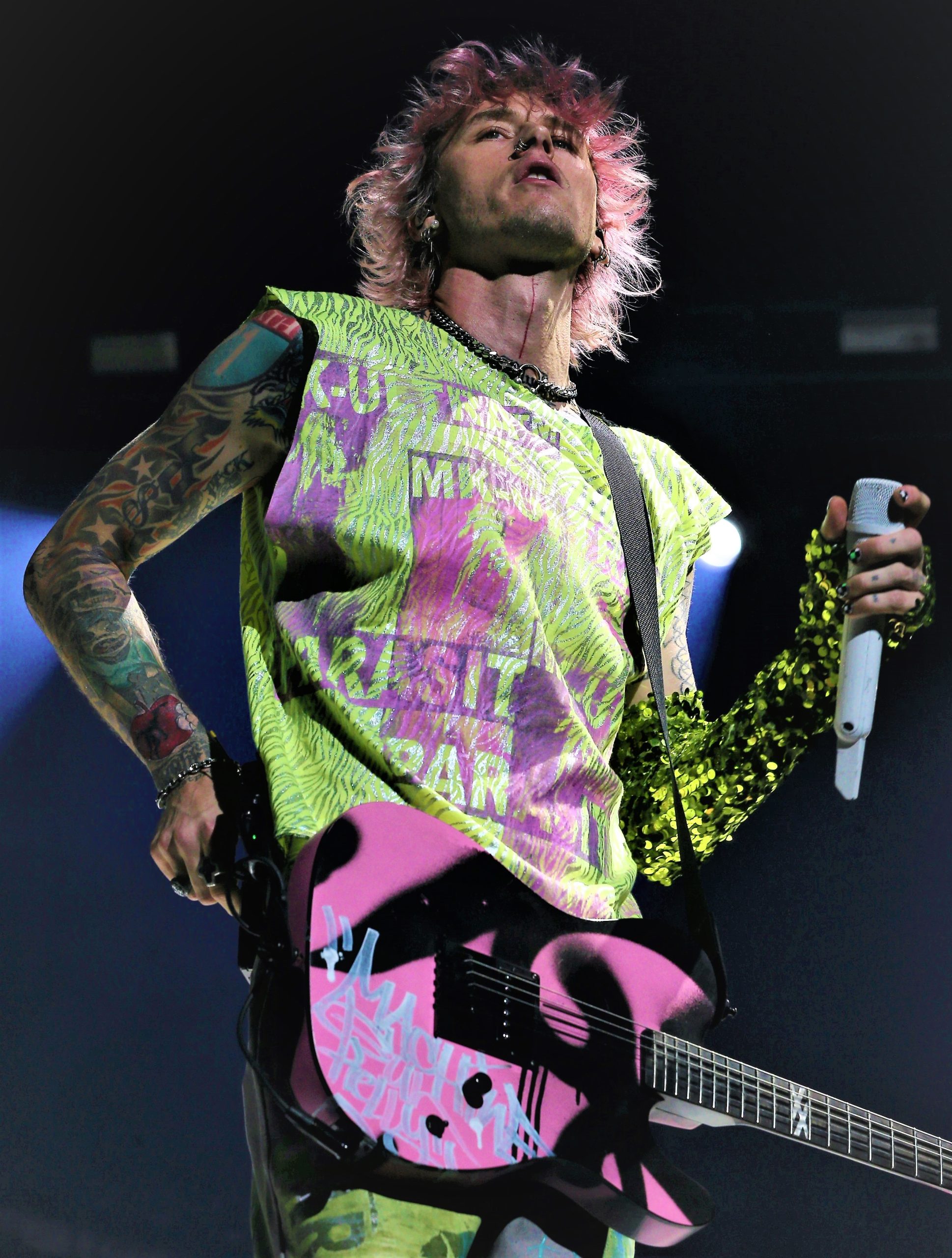 Tracks from all six of his albums, and some new stuff and a couple of covers. Support acts Iann Dior and 44 Phantom joining him for a number each; Dior on "Fake Love Don't Last" and Phantom on his song "Don't Sleep, Repeat".
At his London show, MGK was joined by guests Yunglbud and Skepta. Support acts on the overseas dates include Willow, Avril Lavigne and Travis Barker.
A bunch of tracks from his latest album, the superb "Mainstream Sellout", also the name of the tour went down well with the fans, singing along to every word, in between moshing duties!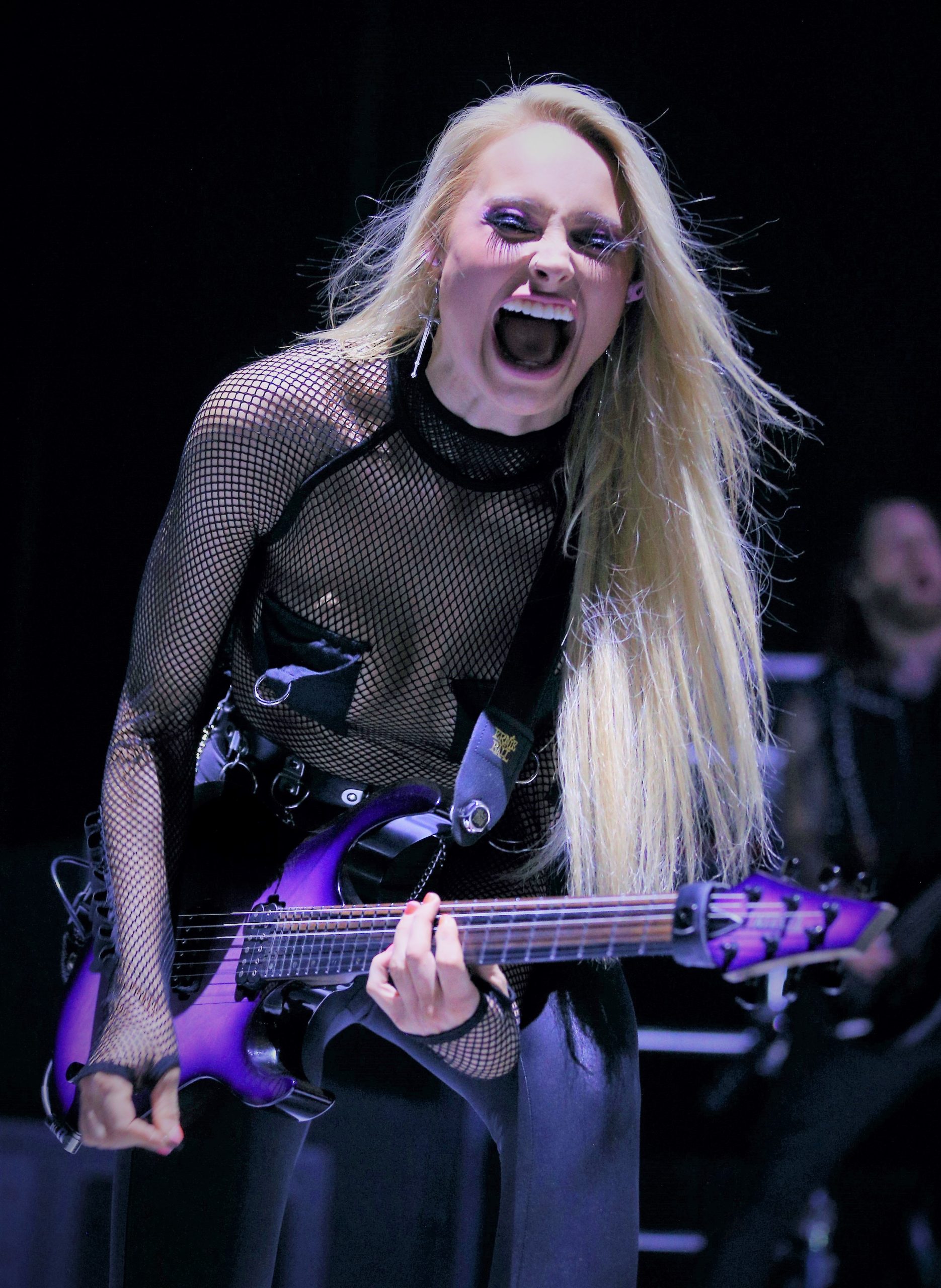 Impossible to pigeon-hole this artist; he really is genre fluid, and his music has attracted in excess of 16 billion streams and more than 10 million album sales. Kerching!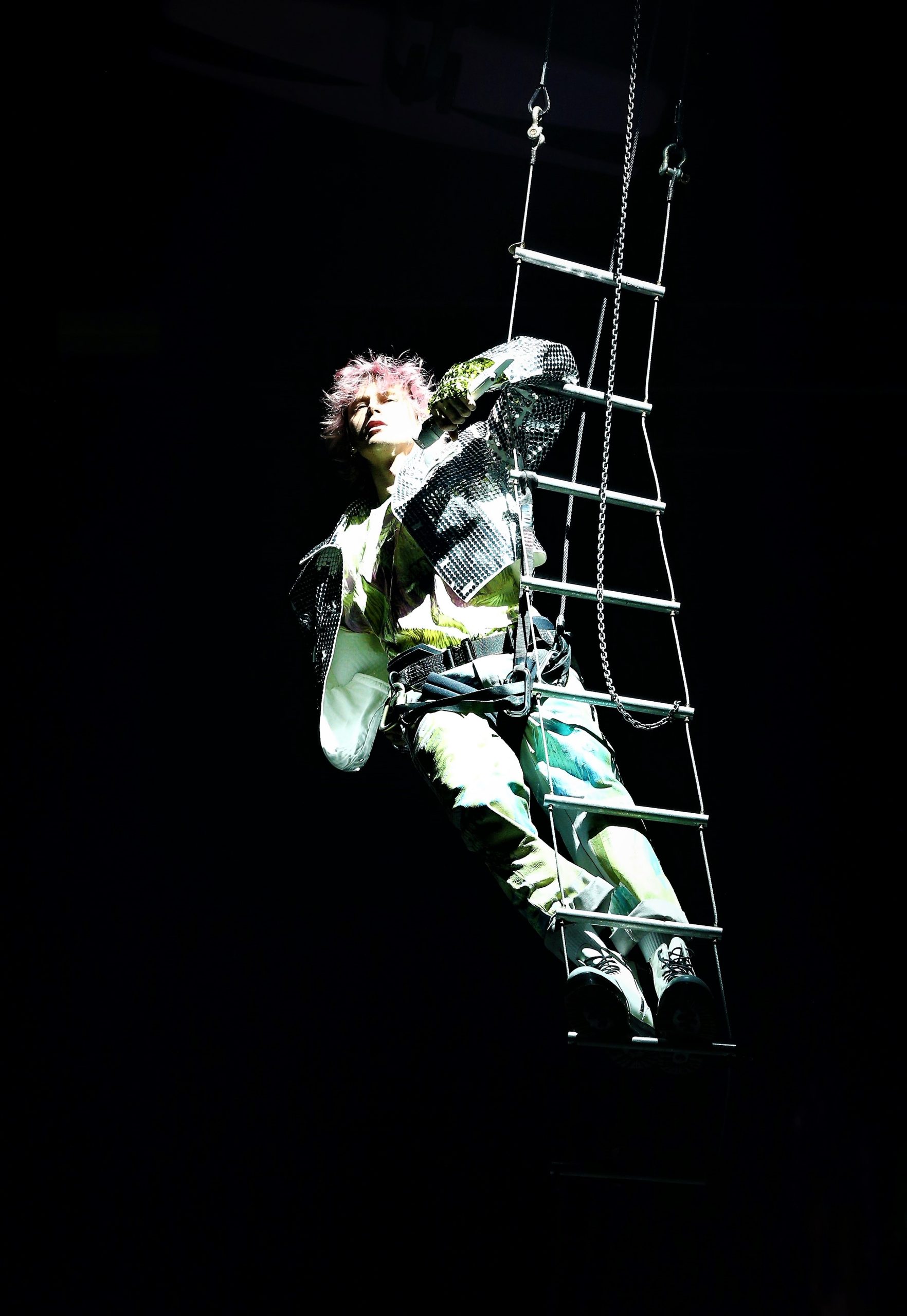 The star took off his jacket in the set, to show off his extensive body art.
It was rumoured that his Hollywood actress and model fiancée Megan Fox (36) was in the building, having been seen on Instagram Live the night before, applying makeup to her fella along with his assistant, from his hotel suite in London.
Kelly has a teenage daughter from a previous relationship.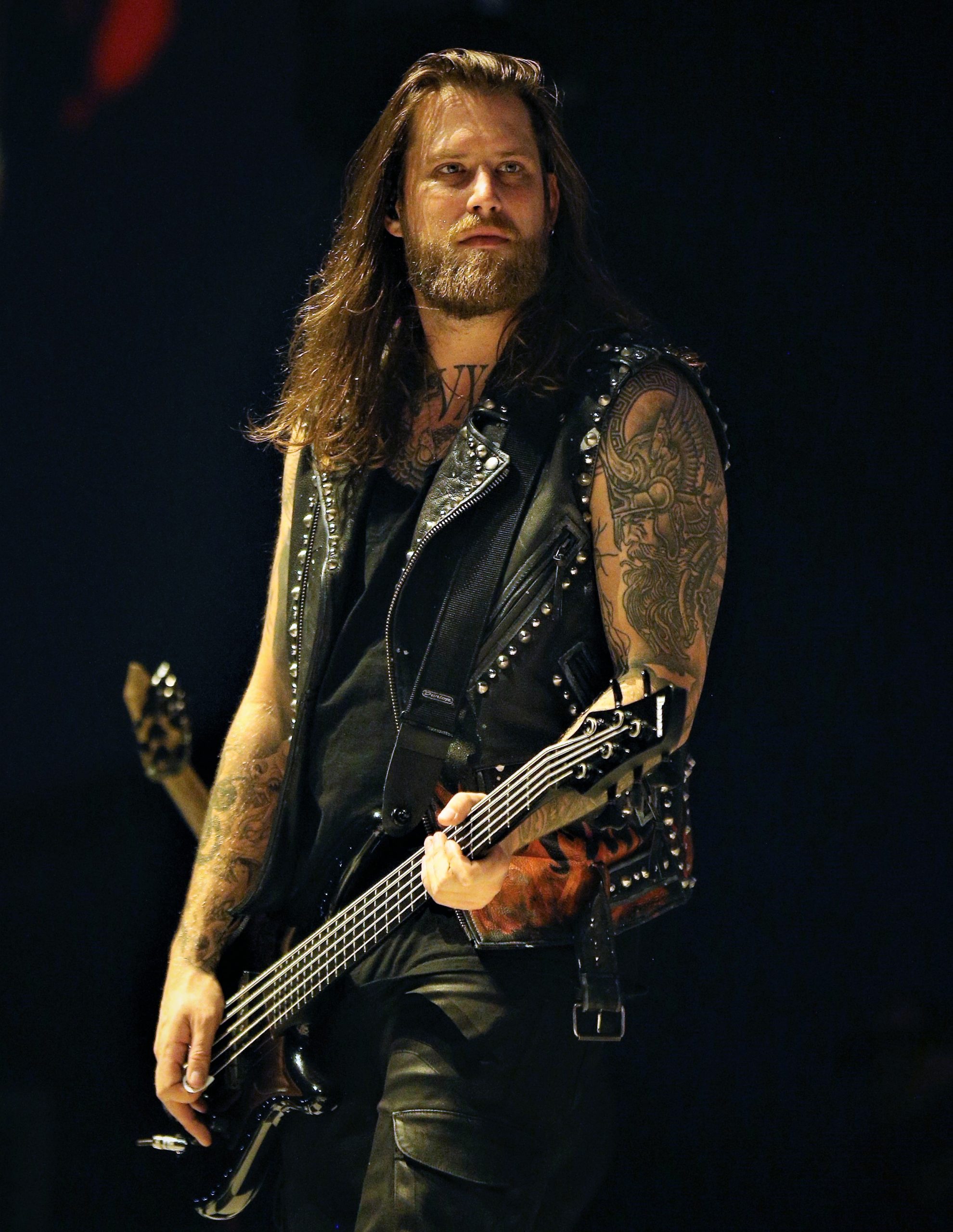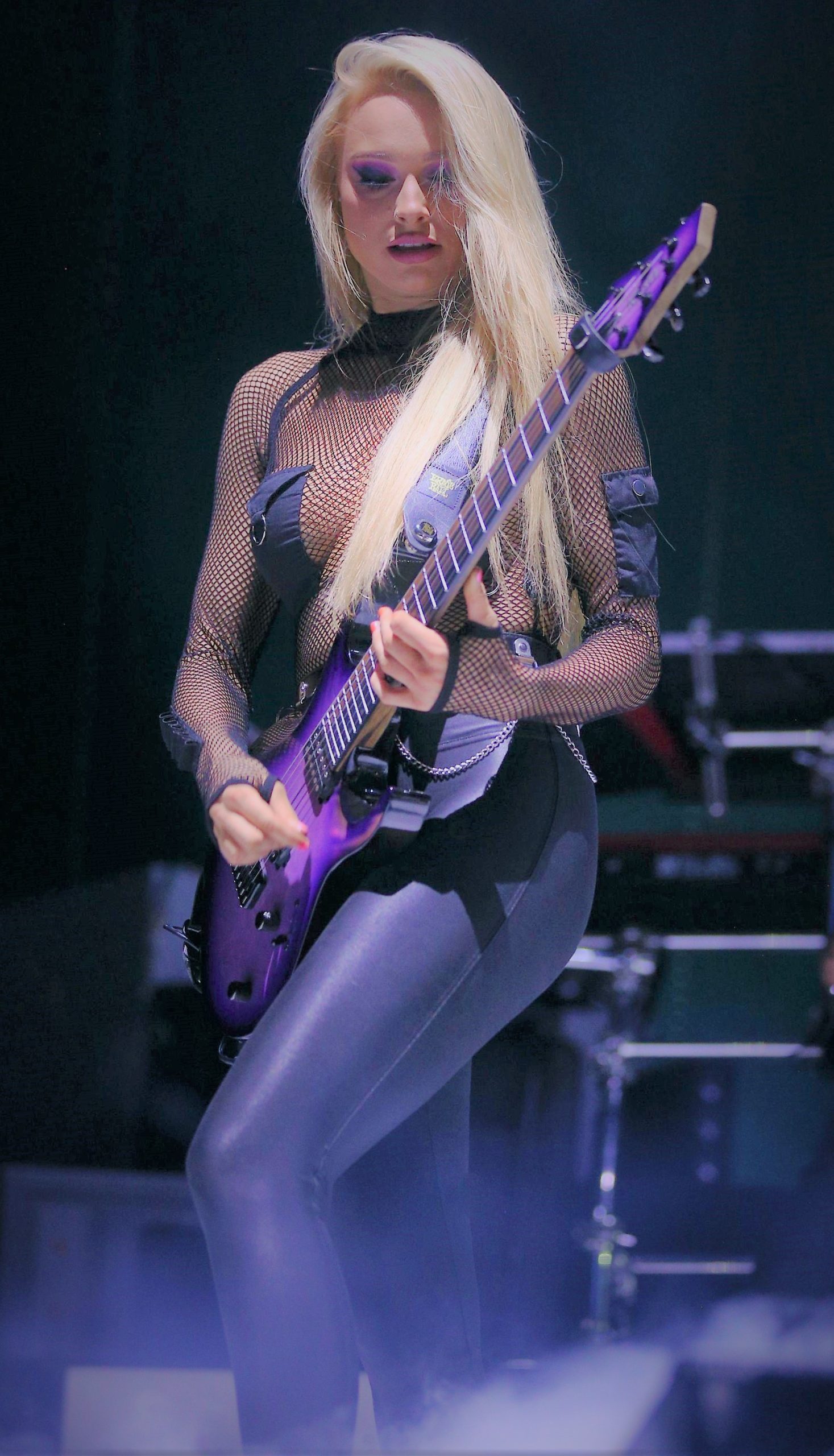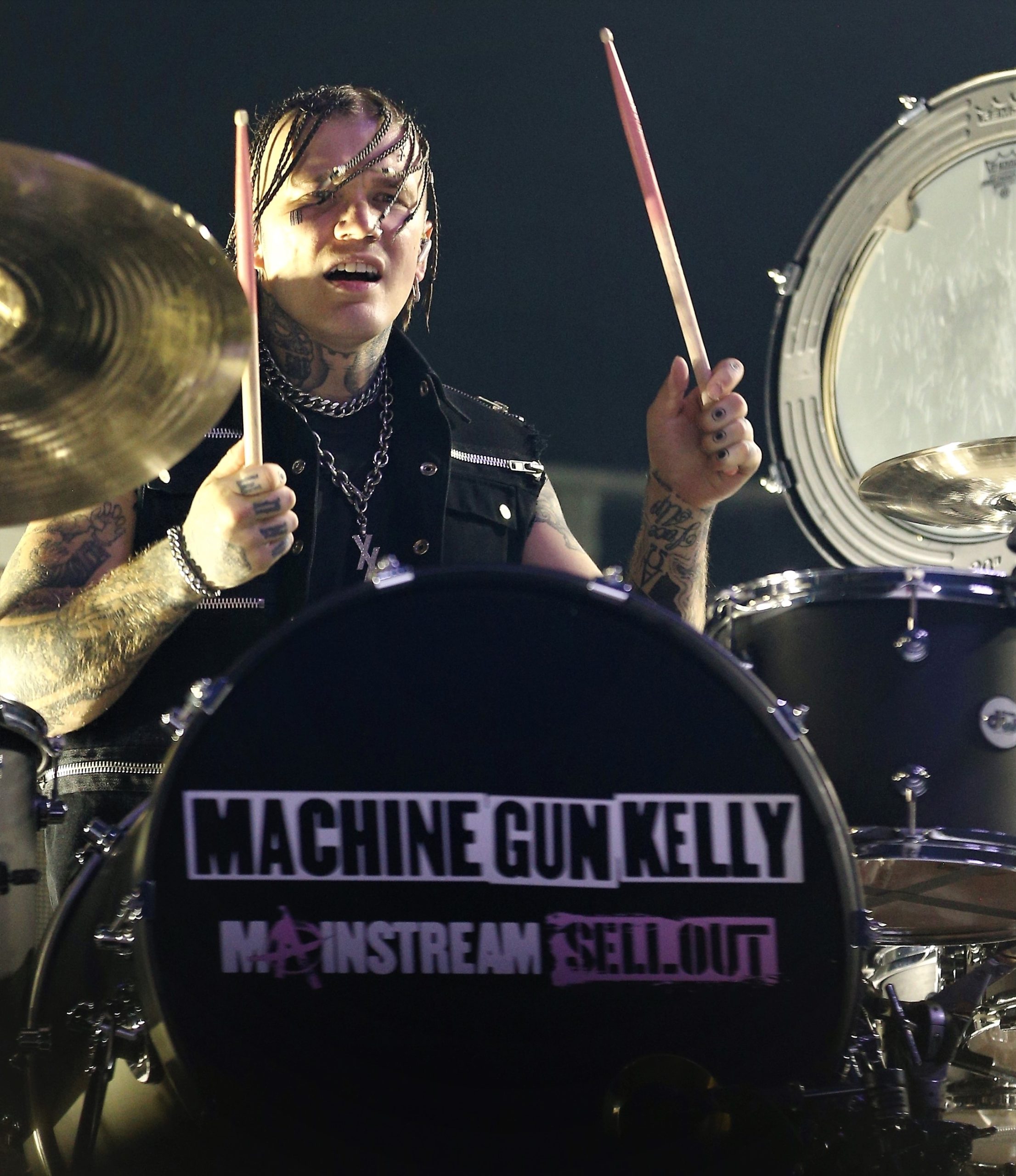 Fans got value for money tonight, with a two hour set, plus the two support acts.
Props included the helicopter model, a giant inflatable creature and pyrotechnics.
His mic' stand was unique; a white mannequin's arm, the hand holding the mic' and a shelf holding what looked like an ashtray with cigarettes (unlit) in it. * Until he lit them and smoked them. Naughty naughty!!! "For those of you offended, at least it's not crack", he told the crowd!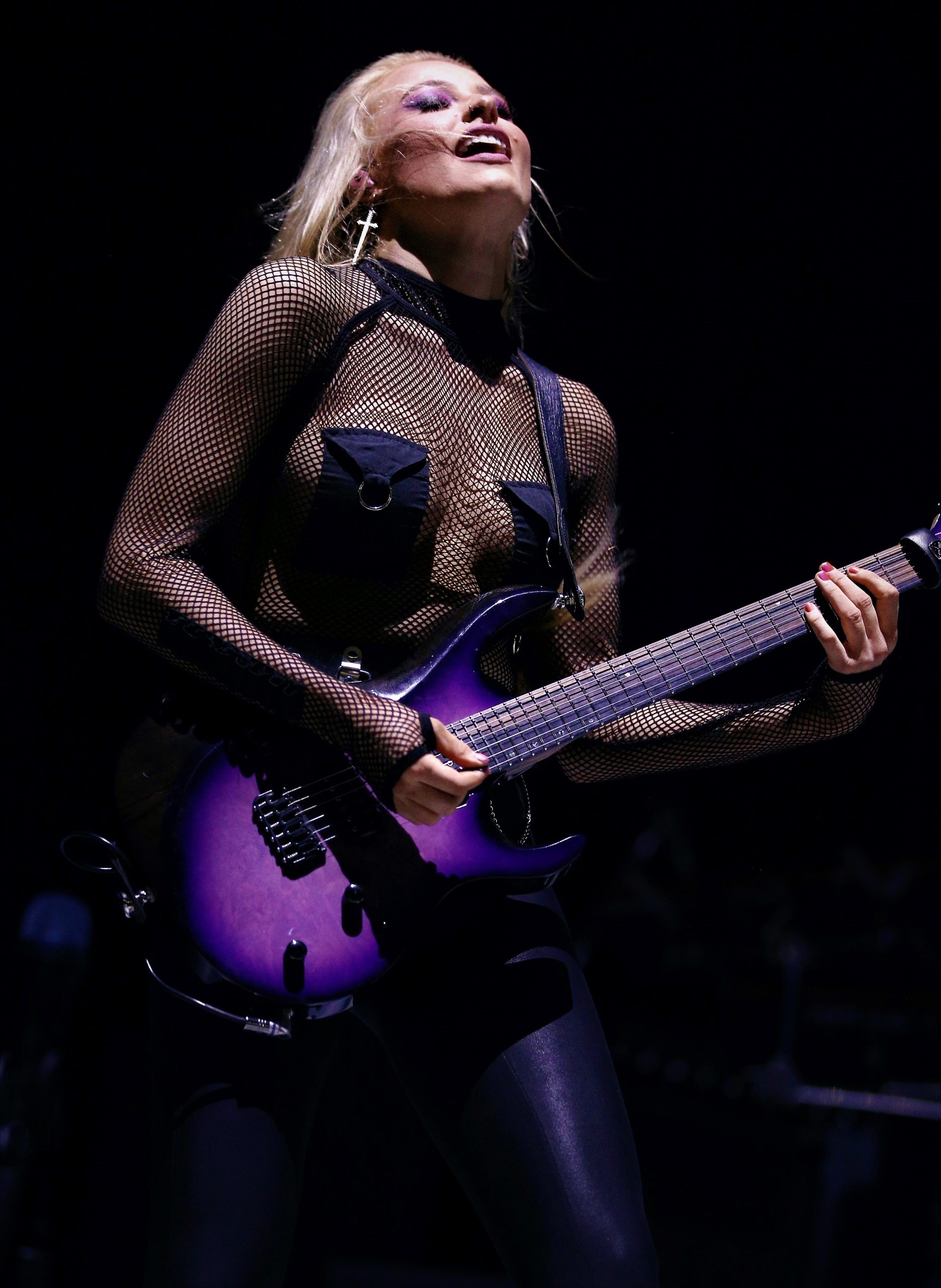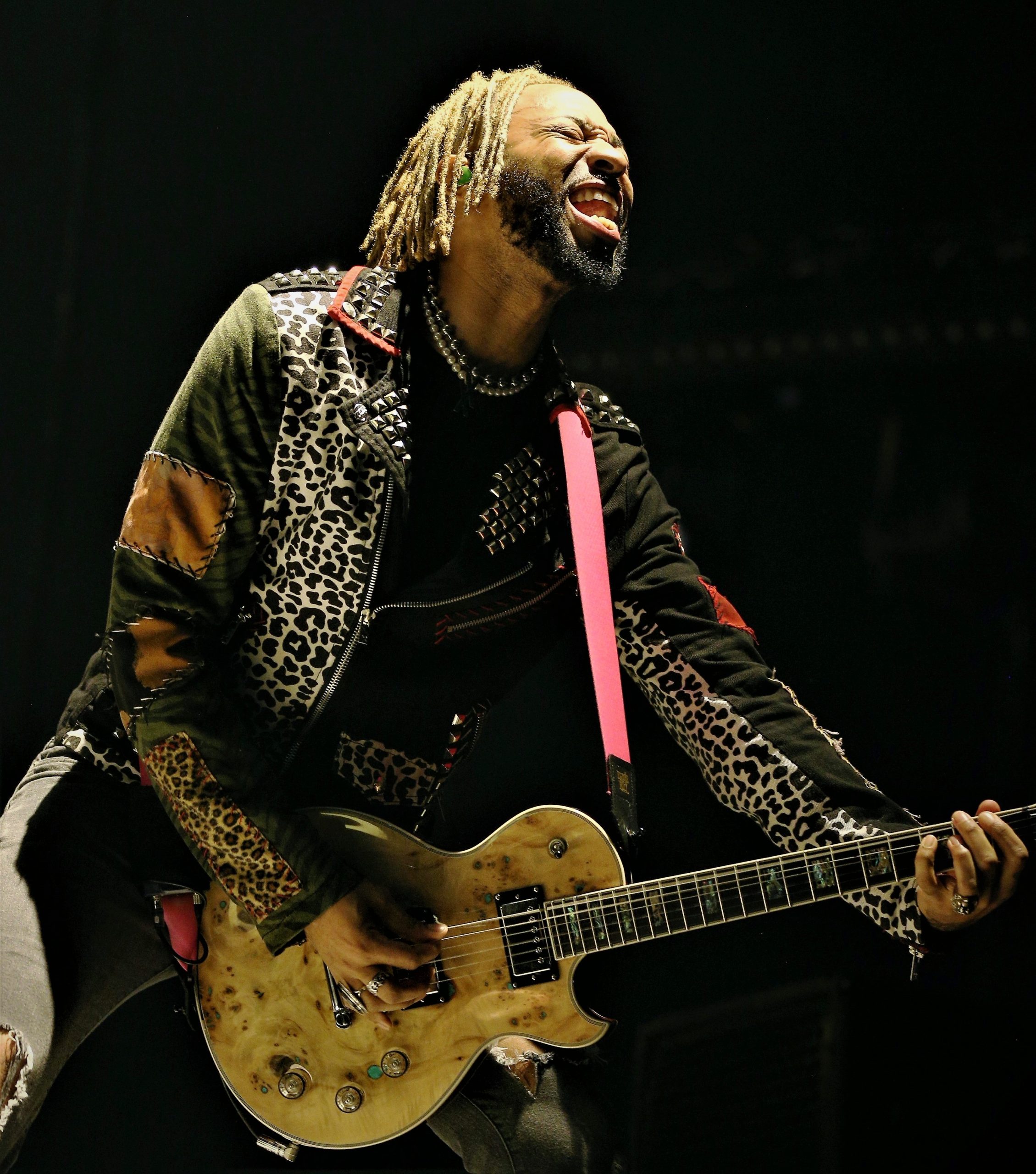 Highlights from the set that got the best reaction from the set included recent singles "Papercuts", "Ay!" and "Maybe", plus the aggression of  "Concert For Aliens", the rocker "Lonely", the grime vibes  of "Don't Sleep, Repeat" with 44phantom, the rap cut "Floor 13" and the anthemic "I Think I'm Okay".
Not a duff track in the set, methinks. The energy never dips.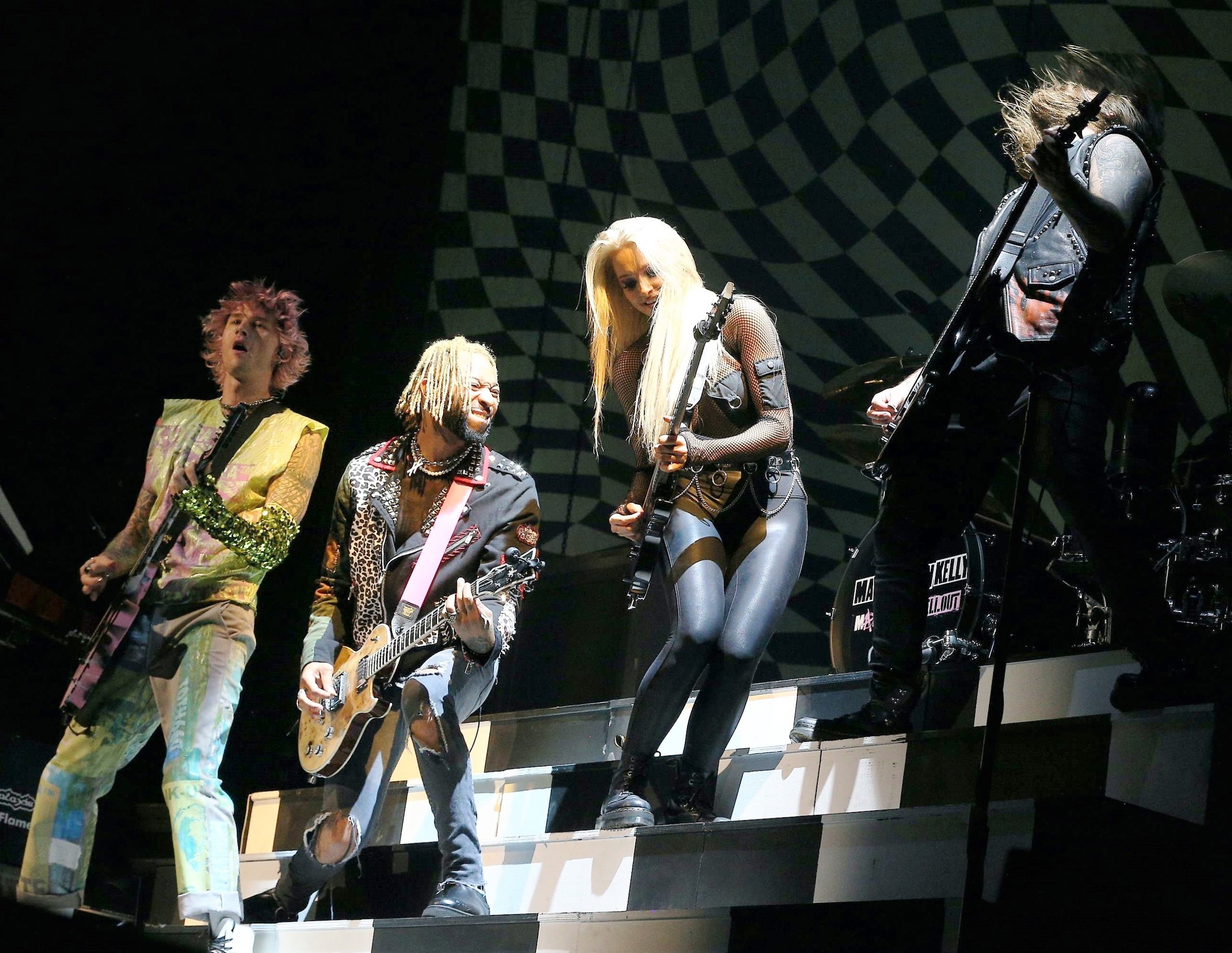 MGK told the audience on the first night of the UK tour at Wembley Arena that he wanted to play Wembley Stadium some day, and do you know what? I'd put serious dosh on it today that he WILL achieve that dream in the next few years.
One of the most exciting gigs of the year from the irrepressible Machine Gun Kelly, a natural born killer…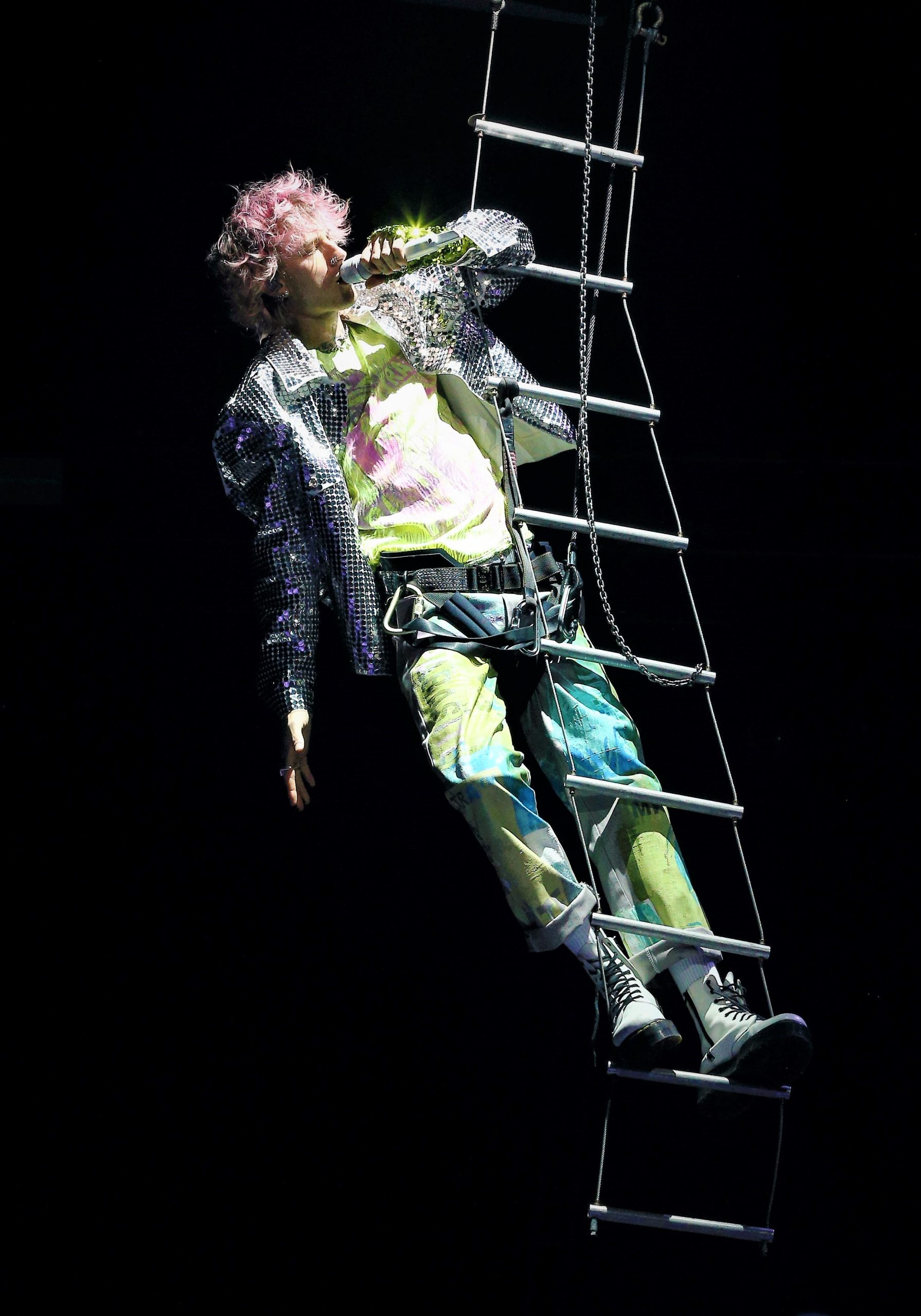 Machine Gun Kelly set list: Birmingham UK, 4th October 2022
born with horns
god save me
maybe
drunk face
fake love don't last (with iann dior)
concert for aliens
ay!
don't sleep, repeat (44phantomcover – with 44phantom)
more than life
die in california
Floor 13
papercuts
title track
kiss kiss
bloody valentine
roll the windows up
El Diablo
WWIII
WW4
emo girl
Glass House
lonely
I Think I'm OKAY (Yungblud cover)
love race / why are you here / jawbreaker / sid & nancy (acoustic medley)
forget me too
make up sex
my ex's best friend
twin flame

---

---

---

---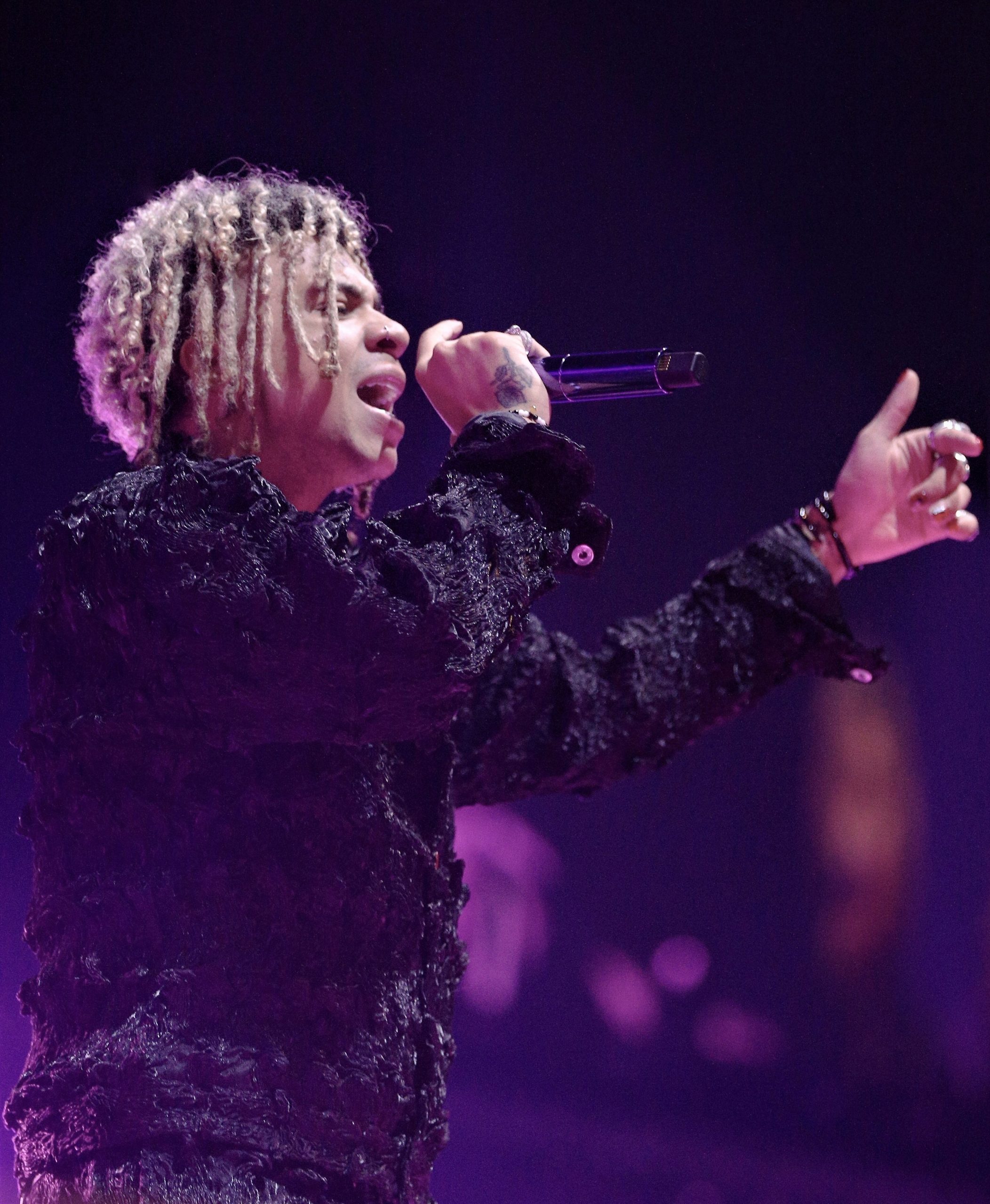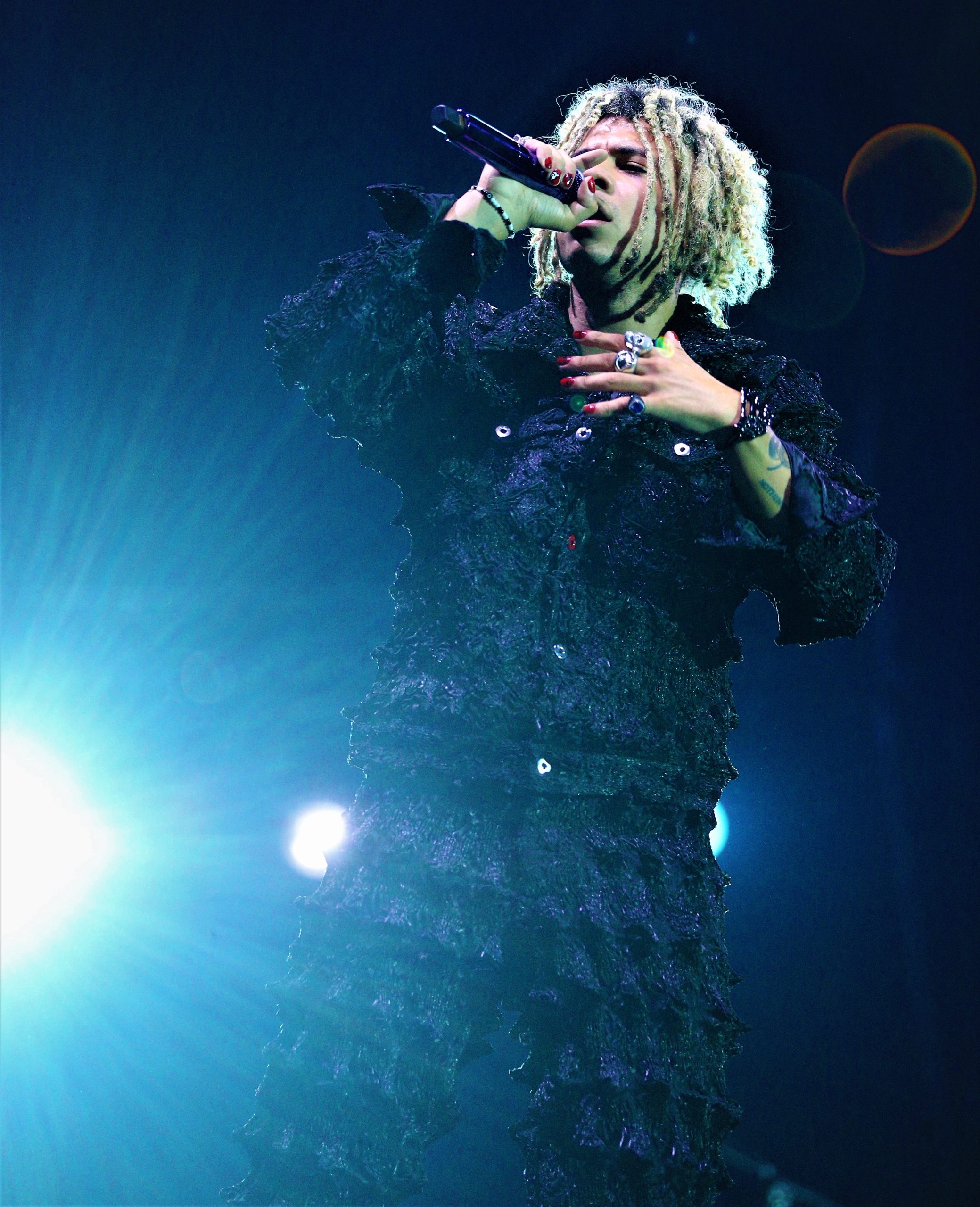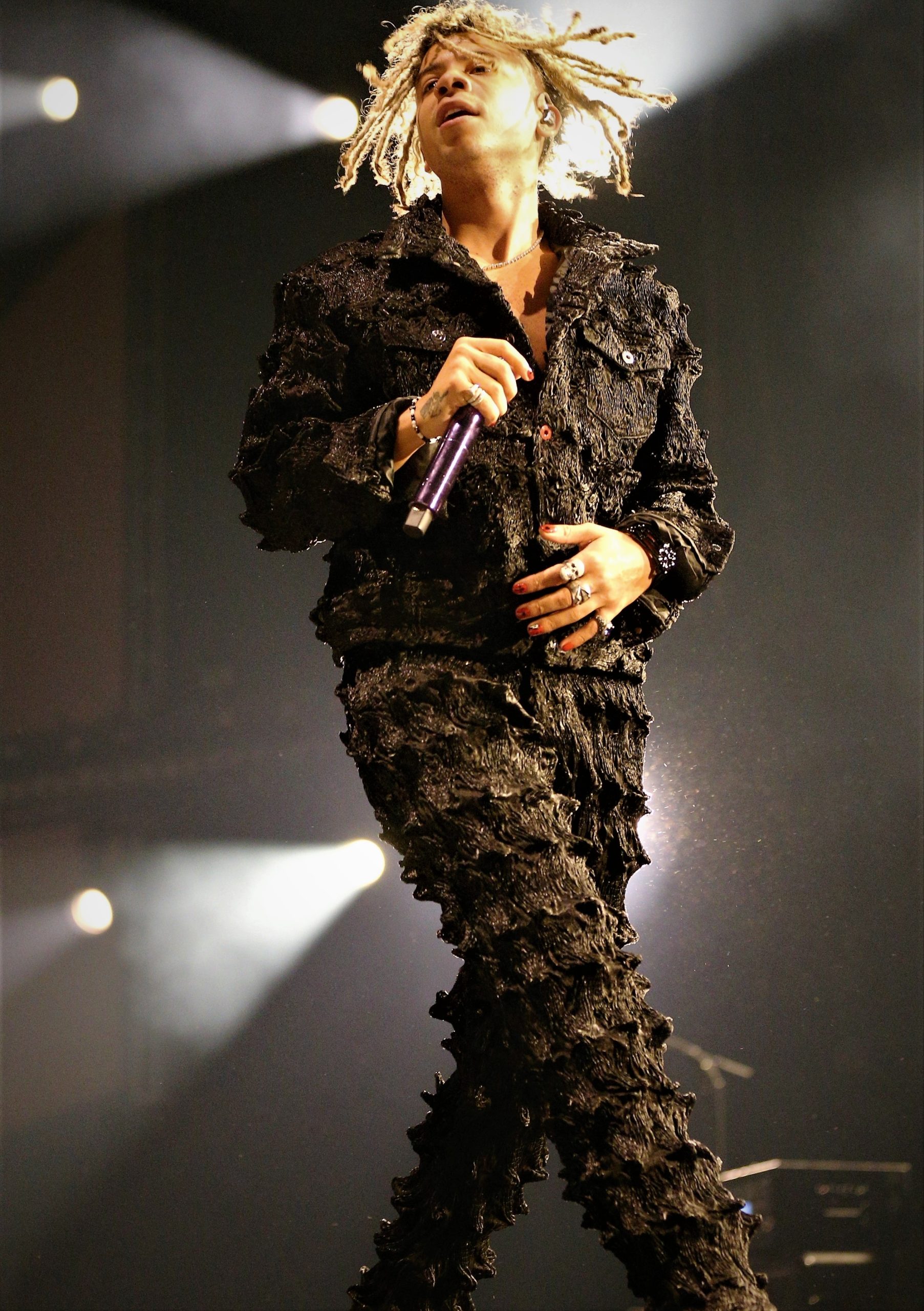 ---
---
All Photos by Rothschild
Words: Steve Best