"I never listened to Boyzone music back in the day, it was never my style of music"
Soap fans loved Keith Duffy's character Ciaran McCarthy when the former Boyzone star turned actor, appearing in the iconic TV drama from 2002 to 2005 and again from 2010 to November 2011.
But it's no drama for him to stick to music for his successful pairing with former Westlife heartthrob Brian McFadden for their 27-date UK tour which kicked off in Liverpool at the end of September and closes in Truro, Cornwall on 1st November. All dates and ticket link can be found below.
Boyzlife "Old School" headline tour sees the band perform new songs from their recently released (May 2022) original material studio album, "Old School", and classic hits from Boyzone and Westlife.
The duo is backed by a full live band and audiences get to hear their recent and first original single "The One" – co-written by Brian and legendary songwriter Guy Chambers (Robbie Williams, Kylie Minogue, Rufus Wainwright), with production by rising producer Jackson – who has honed his skills engineering and programming for the likes of Shawn Mendes and The Libertines. See the video for the excellent track, below.
The hit maker duo also perform many of their greatest hits with Boyzone and Westlife, from a catalogue which includes a record breaking eighteen # 1 singles and nine # 1 albums, which notched up combined record sales of more than 30 million.
McFadden and Duffy originals…
Since their inception, Boyzlife have performed for more than 70,000 fans. In between last year's tour dates Boyzlife have been busy in the studio writing and creating new music for their second album, "Old School".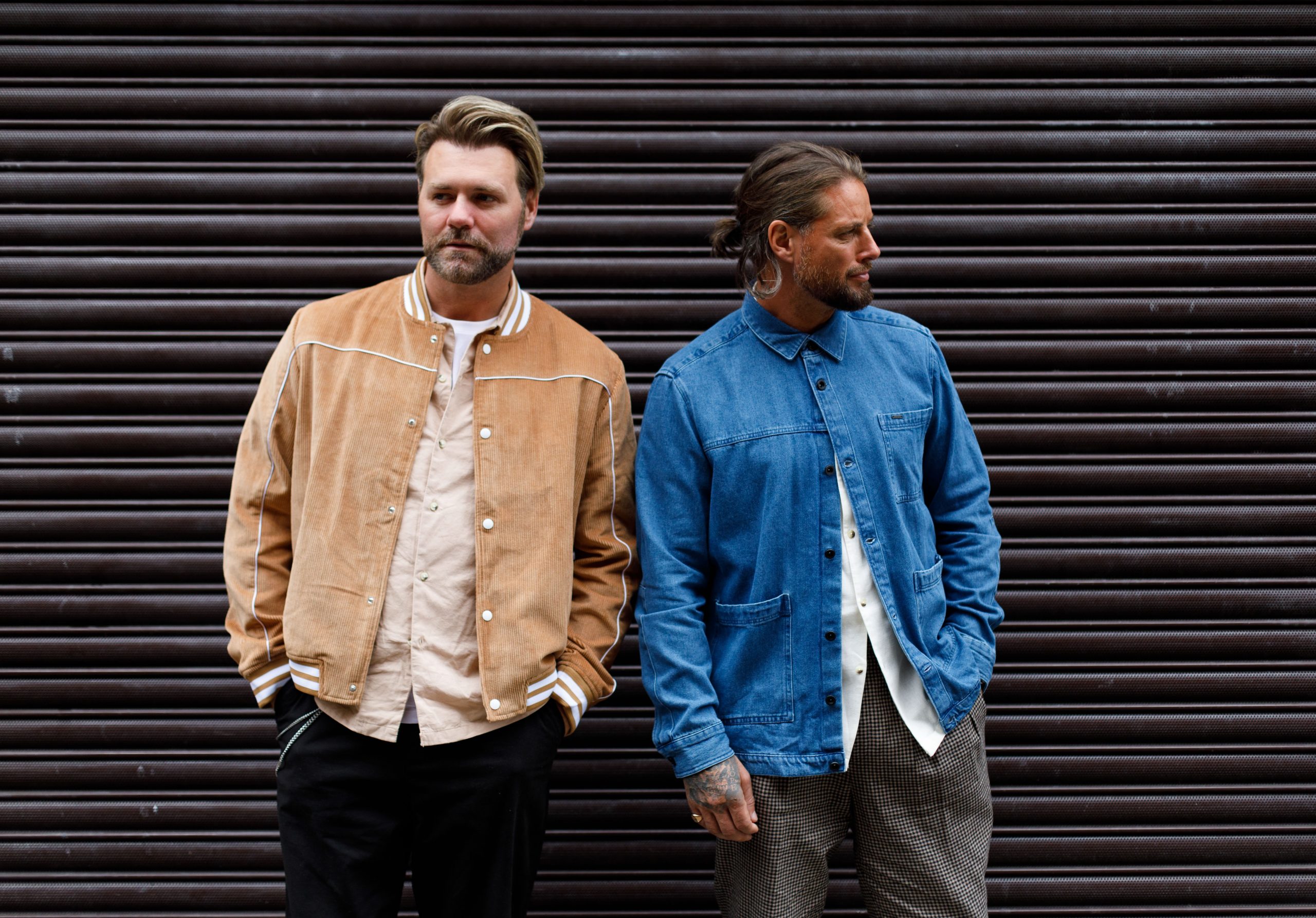 "Keith and I grew up in the 80s and 90s, the sound of that era is what made us want to be musicians in the first place. When we first started talking about making this record as Boyzlife's first studio album, we naturally talked about those influences a lot and have loved bringing these familiar sounds into our studio sessions and onto this record…".
With Boyzone, Keith Duffy enjoyed six UK number one singles and 16 out of 17 of their first single releases making the top five. With five number one albums also to their credit, Boyzone achieved worldwide sales of more than 25 million records.
Brian McFadden has enjoyed similar success, including 12 UK and Ireland number ones as a member of Westlife, and a record breaking seven top spots in a row. The band also boast four # 1 albums and in excess of 30 million record sales in total.
Since Westlife, Brian has embarked on a successful solo career, including a UK # 1 single with "Real to Me".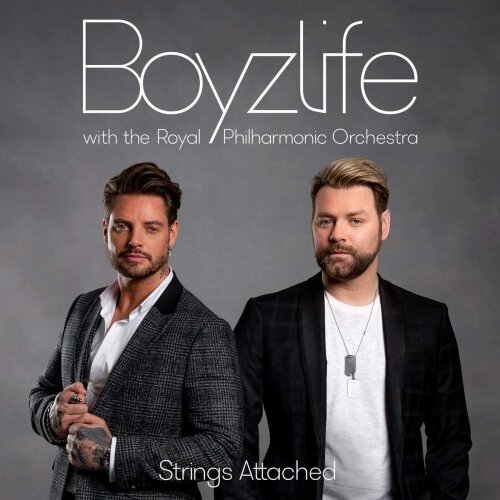 "Strings Attached", the debut album by Boyzlife, featured nine UK # 1 songs from Boyzone and Westlife, performed by Keith, Brian and accompanied by the world famous Royal Philharmonic Orchestra in London.
The band's debut record was released on 17th July 2020 topping both the UK & Ireland's iTunes and Amazon music charts immediately, the album charting at #12 in the UK Official Album Chart.
48-year-old Keith, speaking from his Dublin home on the eve of the tour, was passionate about his music collection and tastes, and lamented about the drastic change to the music business and how people consume music, since his days in Boyzone, and how hard it is to get radio airplay unless you are a young, on-trend band or artist today.
"I always used to carry a portable CD player with two little speakers so I could play my music in hotel rooms. I spent years and years buying CDs in the airports and building up my albums' collection. I had one of those books you could slide CDs into, so you've pages and pages of all your favourite CDs.
"I was very proud of my collection and then overnight, the way the music business was ran (sic), it changed to downloads and streaming. Apple Music and Spotify and all these different platforms, and although it is so convenient and all music is so accessible now, it really has changed the way of music forever.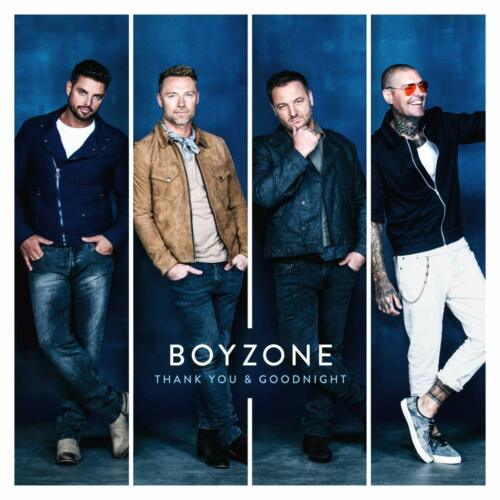 "What I mean by that, you take a song like 'White Christmas' with Bing Crosby; if the music business was like it is now back then, that song could have come and gone without anybody even realising.
"That's the problem we are living with at the moment, unless you are a very, very current artist and the young generation are all over you, you could be an amazing songwriter, but songs are being written and recorded at the moment and are not getting any radio play.
"They are just disappearing, because we don't have the ability we had back in the 90s, of TV shows, Top Of the Pops, The Chart Show and new music being played on the radio.
"For older artists who are coming out of hibernation, it is so difficult for their music to be heard…"
"It is so difficult to get on mainstream radio now unless you are the likes of Lewis Capaldi or Ed Sheeran. So many great songs are getting written and recorded and not seeing the light of day, because radio will not play them.
"Streaming stations can only do so much, and if the bands are credible and current and they bring out new music, you are going to hear those songs on the radio. But for new artists that are coming in or older artists who are coming out of hibernation, it is so difficult for their music to be heard.
"If the masses do not hear the songs; dropping the kids to school in the car in the mornings and the radio is on, if you are not popular enough to get on those playlists….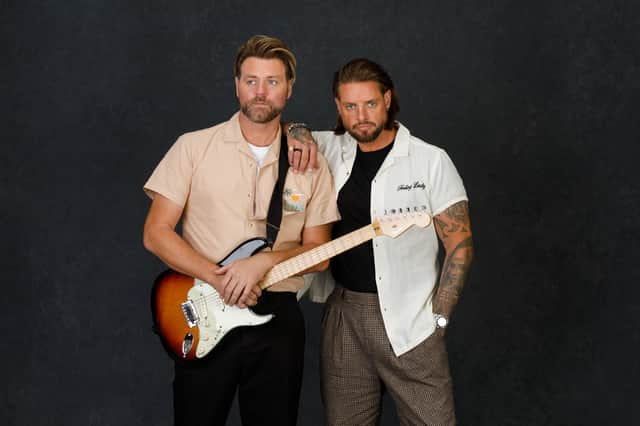 "Or going to work with the radio on – I know people have streaming music in their car, but a lot of people still listen to the radio –  the radio is so influential. My wife and daughter travel together in the car quite a bit and they listen to the radio all the time, and they'll come home singing the new Harry Styles song after listening to it two or three times in the car, and if you have the credibility and the popularity of the likes of Harry Styles, radio stations are gonna play your music.
Proud…
"Brian and I have just written and recorded a new album and I love it, and even if the songs on that album weren't mine, I'd definitely play it. I do play it in the car because I love the songs, we are proud of them.
"It is the first time. I never listened to Boyzone music ever, back in the day, it was never my style of music, but the stuff I have written and created with Brian is definitely my kind of music and definitely something I'd listen to.
That's why I am so much more passionate about what I do now than what I did in the 90s. It's such a shame the music business changed so much".
---
---
Keith Duffy's Track Record
1. First song you recall hearing as a child?
Leo Sayer: "When I Need You".
2. First single you owned?
Poison: "Every Rose Has A Thorn".
3. First LP/album you owned?
U2: "The Joshua Tree". (Keith used to be a drummer in a marching band and Larry Mullen, U2's drummer was a big hero and is now a good friend).
4. First CD you owned?
I can't recall the exact one, but it was one Christmas and I had a voucher for Abbey Discs (record store in Dublin) and I bought one of those "Now That's What I Call Music" compilations.
5. Last music you bought and in what format (CD/vinyl/digital download)?
It was the Boyzlife album, "Old School" as a download. I needed to hear it to be able to select tracks for the tour's set list and to refresh my memory of the tracks.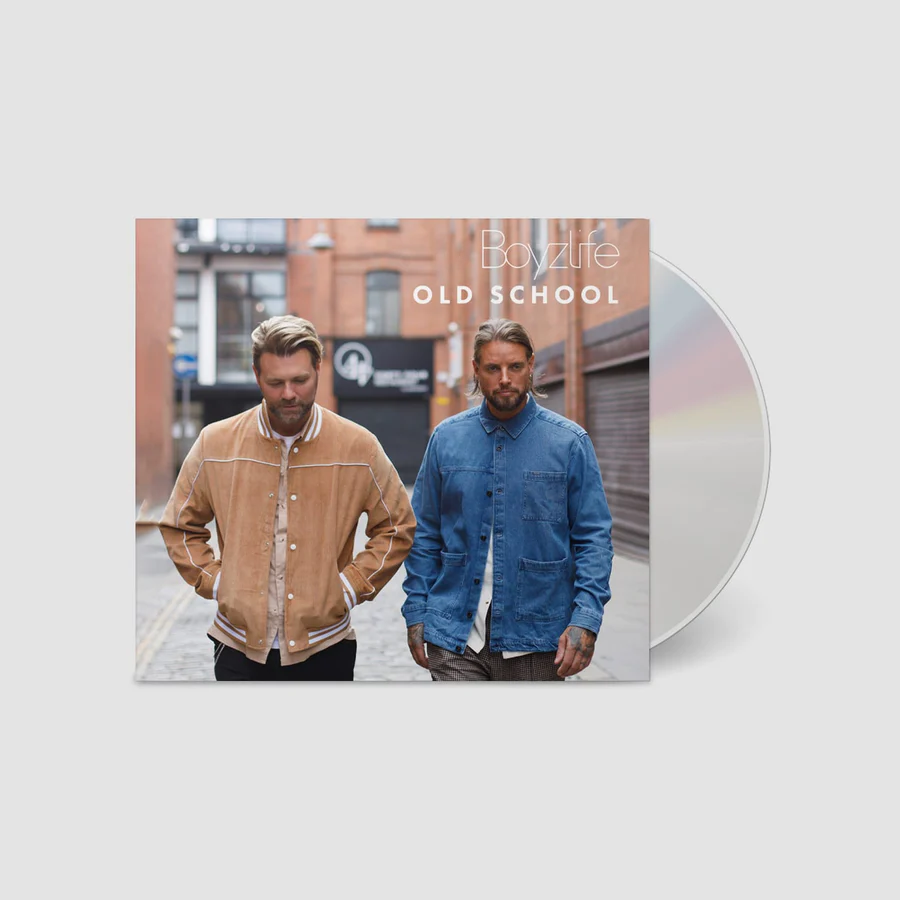 6. Which album would you be happy to receive as a gift?
U2: "18 Singles. I love the gift set approach to albums and this has it all, the earlier singles and a live concert from Milan.
7. Favourite album? 
U2: "The Joshua Tree".
8. Best record ever made (can be single/album/EP – and choose more than one if need be)?
"Bohemian Rhapsody" would have to be one of the best songs of all time. It's just a piece of absolute genius. What Queen did to make that and the fight they put up to get it released; the whole story behind that song is phenomenal.
My favourite song in the world is "Piano Man" by Billy Joel. I just love that song and I have great memories of my dad singing that song. I lost my dad this year and it's been a really, really tough year. One of those things you can't really prepare for, but I have great memories of my dad with music."
Tears From Heaven" by Eric Clapton is also a beautiful song I like.
9. Guilty secret (or anything unusual or perhaps unexpected) in your music collection?
(Keith laughs loudly at this question.) This is what I was hoping you weren't going to ask me, because I'm honest to a fault. Probably 'Bonnie Tyler's Greatest Hits.' I bought it for my mother when I was about 13 or 14 for Christmas – an LP on vinyl.
We didn't have a lot of money growing up, so the only way to play music was on a really old timber (sic) turntable. My dad got a new turntable, and I got the old wooden one up in my bedroom.
It was the only album we had; well, my dad would never let me near his collection, and I don't blame him because we didn't know how to treat vinyl properly back then. I used to listen to the Bonnie Tyler album going to sleep. That is my guilty pleasure.
10. What does music mean to you and how does it make you feel?
Music is an expression. It can make you feel happy, sad…. For me, music can also transport you to a different place: a happy place, a sad place. If I'm down, I know what songs to play to bring me back up again…..If I am happy, what songs to push me further. Music transports you to memories, smells, places, times….
11. Which song or album is a guaranteed mood booster?
U2, "With Or Without You" a million times over. Always. If I'm down, U2 is my go-to, feel-good music.
Black Eyed Peas, "Tonight's Going To be A Good Night" will bring me to a dark place, but it will also make me smile. It was the song I was dancing to when I got the 'phone call to tell me my friend Stephen Gately (co-lead singer of Boyzone) had passed away. That song will never ever leave me for that reason.
They were supporting U2 in the Rose Bowl in Pasadena three weeks after Stephen died. I didn't know they were supporting U2, and Larry Mullen very kindly invited us over to their concert in Pasadena. At the time a lot of the Irish press were hanging around trying to get photographs and stuff when we were mourning.
Larry Mullen flew me and Ronan and our partners out to L.A. and put us up in the Sunset Boulevard Hotel, and put us into the police escort from L.A. to Pasadena to watch the U2 show, and it was an amazing experience.
But Larry brought me out to the pit before they went on stage and the Black Eyed Peas were singing 'Tonight's Gonna Be A Good Night' and I just remember falling apart, because it was the song I heard when I got the 'phone call. Music is powerful, you know. It can be very positively powerful, and it can bring you down.
12. Which song or album would be the soundtrack to a film about your life?
Maybe the Monkees, "Daydream Believer" (Keith laughs loudly!).
13. Your favourite driving track – or music to exercise to?
I'll find a playlist of 80s rock ballads and I'll blast them out on the speakers in the car. I'll sing at the top of my voice and relive my youth.
14. Best song or album for a romantic moment?
"True" by Spandau Ballet. "In The Living Years" by Mike and the Mechanics. "St. Elmo's Fire" by John Parr, what a classic.
15. Which song was played for the "First Dance" at your wedding (if you are married) or which song would you choose if you did get married?
I got married in Vegas, 24 years ago. It was R. Kelly, "I Believe I Can Fly".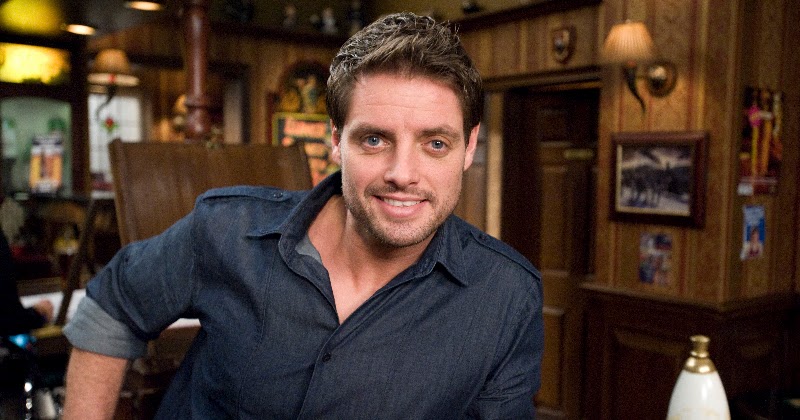 16. Your choice of song to sing at karaoke?
"Piano Man" by Billy Joel.
17. Which song takes you back to your childhood – and to which specific memory/memories?
Cyndi Lauper: "True Colours." I remember on a Sunday morning my dad playing music in the house and we'd go to mass about 9 o'clock or half nine. We'd come back, my mother would clean the house up a bit and put the roast in the oven and we'd have time in the house, but no television, only music.
I remember having your bath on a Saturday night and wearing your clean pyjamas, getting up on a Sunday morning, putting on your Sunday best to go to mass, coming home, dad putting on music, and my mother putting on the roast.
TV wasn't allowed to go on until after dinner. Cyndi Lauper, "True Colours" was always a song that me feel secure and happy, at home and a part of my life that I won't forget.
18. Favourite band (or bands)?
Current favourite: Picture This from Dublin. They are massive in Ireland, but not broken into the UK market yet. Amazingly talented band and definitely ones to watch.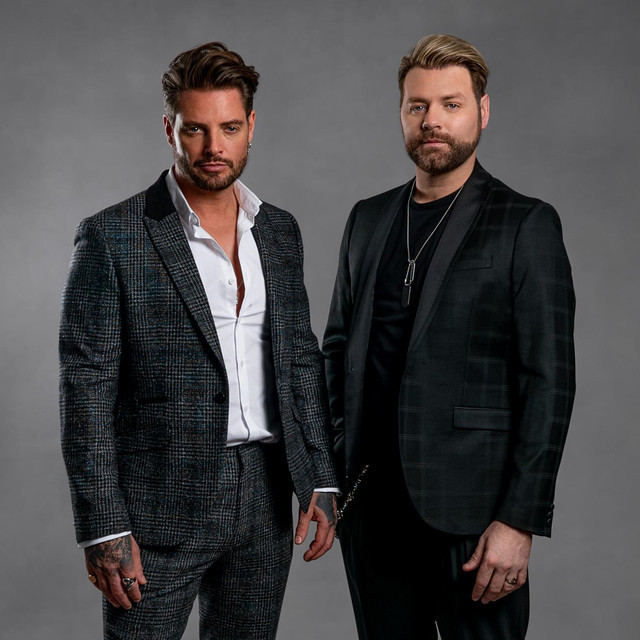 19. Favourite singer (or singers)?
Billy Joel has a great voice. I love the Boss, Springsteen. Jon Bon Jovi. I love U2, but no disrespect to Bono, he was never an amazing vocalist, but he's one of the best frontmen of all time. I'm not the best singer of all time, I know my limitations, so I can't be harsh on Bono, because he's far better than I'll ever dream of being!
Michael Bolton; what a voice; it's just ridiculous for a white man. Stevie Wonder. Lewis Capaldi.
I got to say, Brian McFadden. His voice is phenomenal, such a talent and effortless. His range is unbelievable, his falsetto is fantastic, he doesn't wear in-ear monitoring when we tour, and his pitch is perfect every night. He's a great singer.
20. Which song would you like played at your funeral?
I know they will play Billy Joel's "Piano Man" as that song has travelled with me for 30 years for different reasons. I sang Frank Sinatra's "My Way" at my father's funeral and he sang it as his mother's funeral, so that might be a song that might come up.
---
---
Interview: Ian Shipley