If you have ever worked in a music store and had to listen to guitar noodlers and out of tune shredders day in, day out, there's a universal "banned" list of tunes not allowed for fear of a prompt invitation to Foxtrot Oscar out of the shop – or else!
Probably top of that list is a little ditty called "Smoke On The Water" – along with Led Zepp's "Stairway To Heaven". Young or old seem to gravitate towards those tunes when trying out guitars and amps.  And if you had to hear those damn tunes, (and quite often being murdered), a trillion times, trust me; you'd get sick of it too.
But tonight Matthew, I am gonna be Deep Purple and I am gonna play – for the delight of circa 5,000 fans at Utilita Arena in Birmingham – that very "Smoke" song that instils fear in the hearts of many a musical instrument retailer!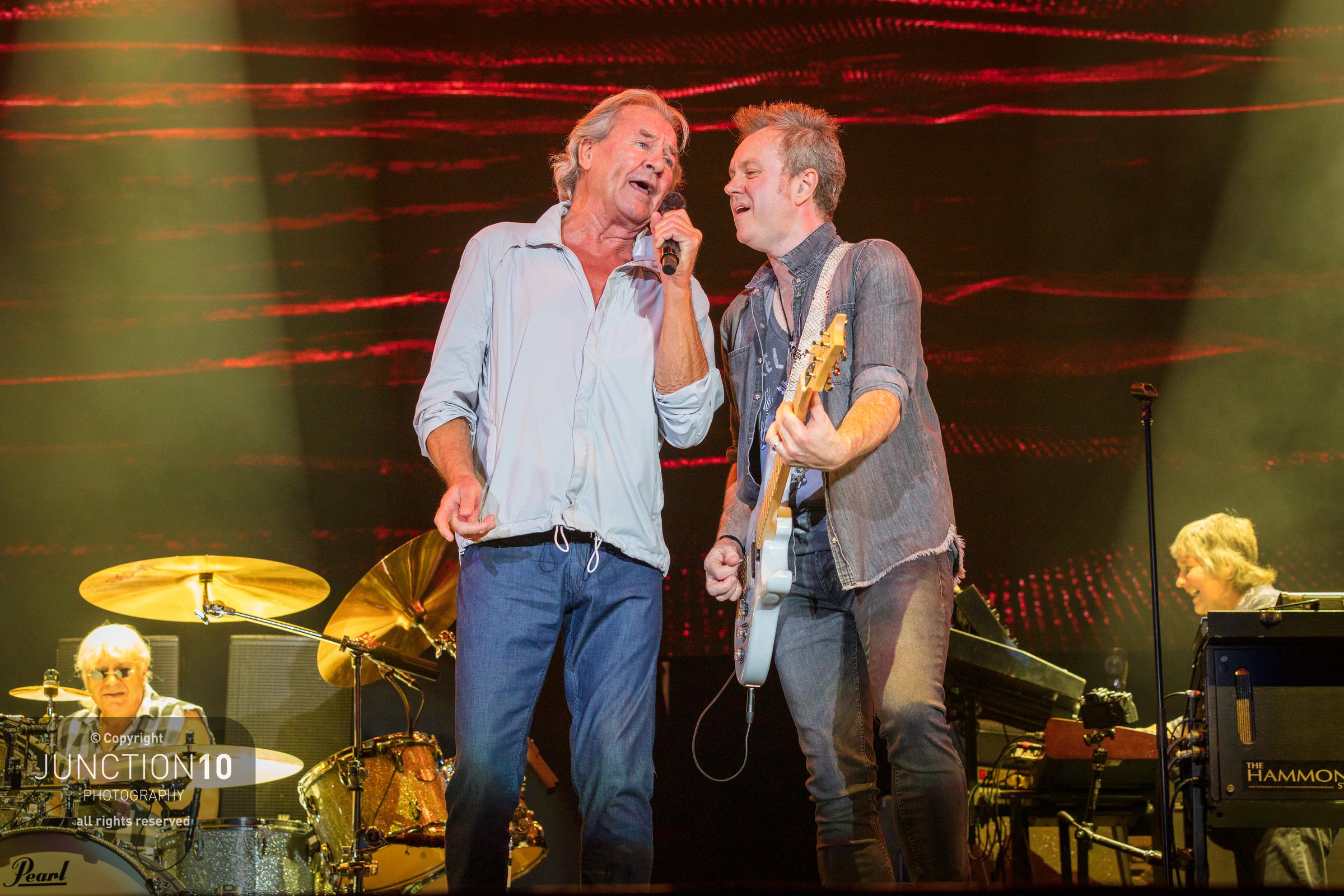 But fear not, this is the dog's wotsits played by a master axeman in the form of Purple's latest guitar hero, Irishman Simon McBride. A real star find and deservingly adding his name to the starry roster of guitarists who have graced the ranks of one of the world's best known and biggest selling rock bands.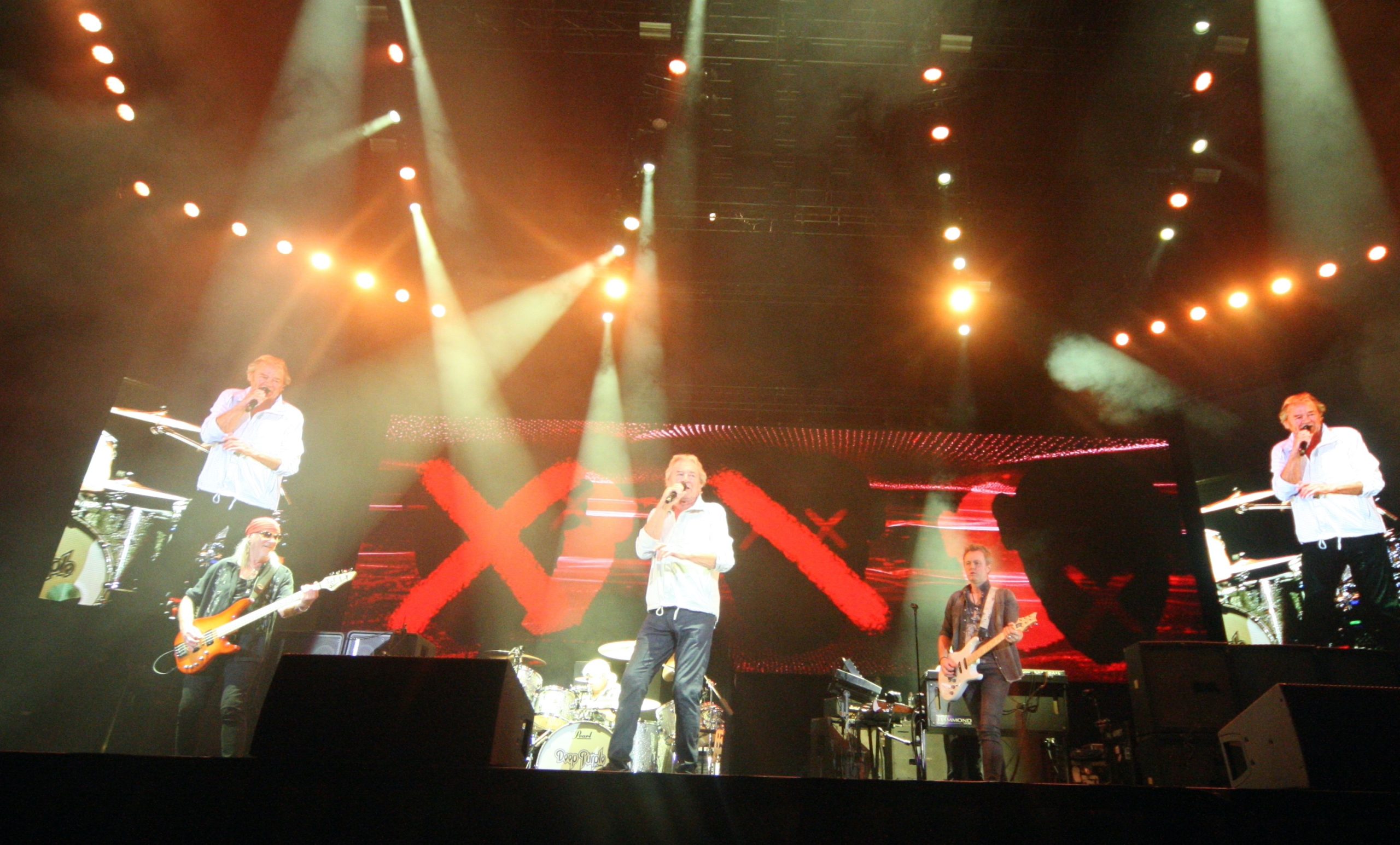 Ritchie Blackmore was THE man, of course, as the original guitar God in the band and the man who came up with the main riff  in "Smoke On The Water" recorded in 1971 / released in 1973 – a song written by Blackmore, Gillan, Glover, Lord and Paice.
Since then, there has been a glitzy array of ace guitarist in the DP ranks: Joe Satriani, Randy California, Christopher Cross (Yes, that one!), Tommy Bolin and since 1994 to 2022, Mr Steve Morse.
Simon McBride has big boots to fill then, and he does it with ease. A huge asset to this iconic rock outfit and as worthy of praised and admiration as any of his predecessors. Bringing fresh air and energy into the band.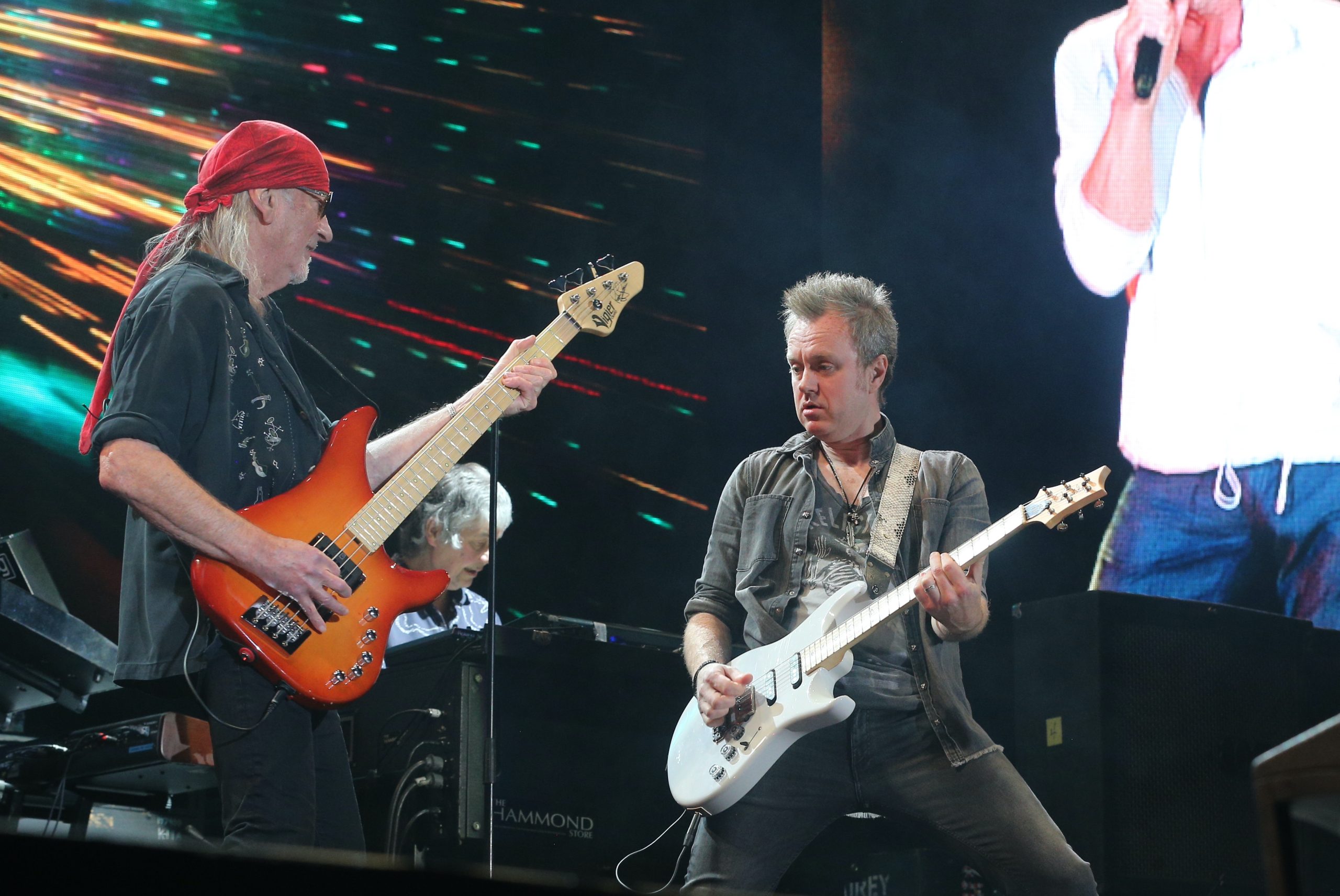 Today's lineup on the "Whoosh!" Tour, is Ian Gillan on lead vocals, Roger Glover on bass, Ian Paice on drums, Don Airey on keys and synths (channelling the late and great Jon Lord) and Simon McBride on guitar and backing vocals.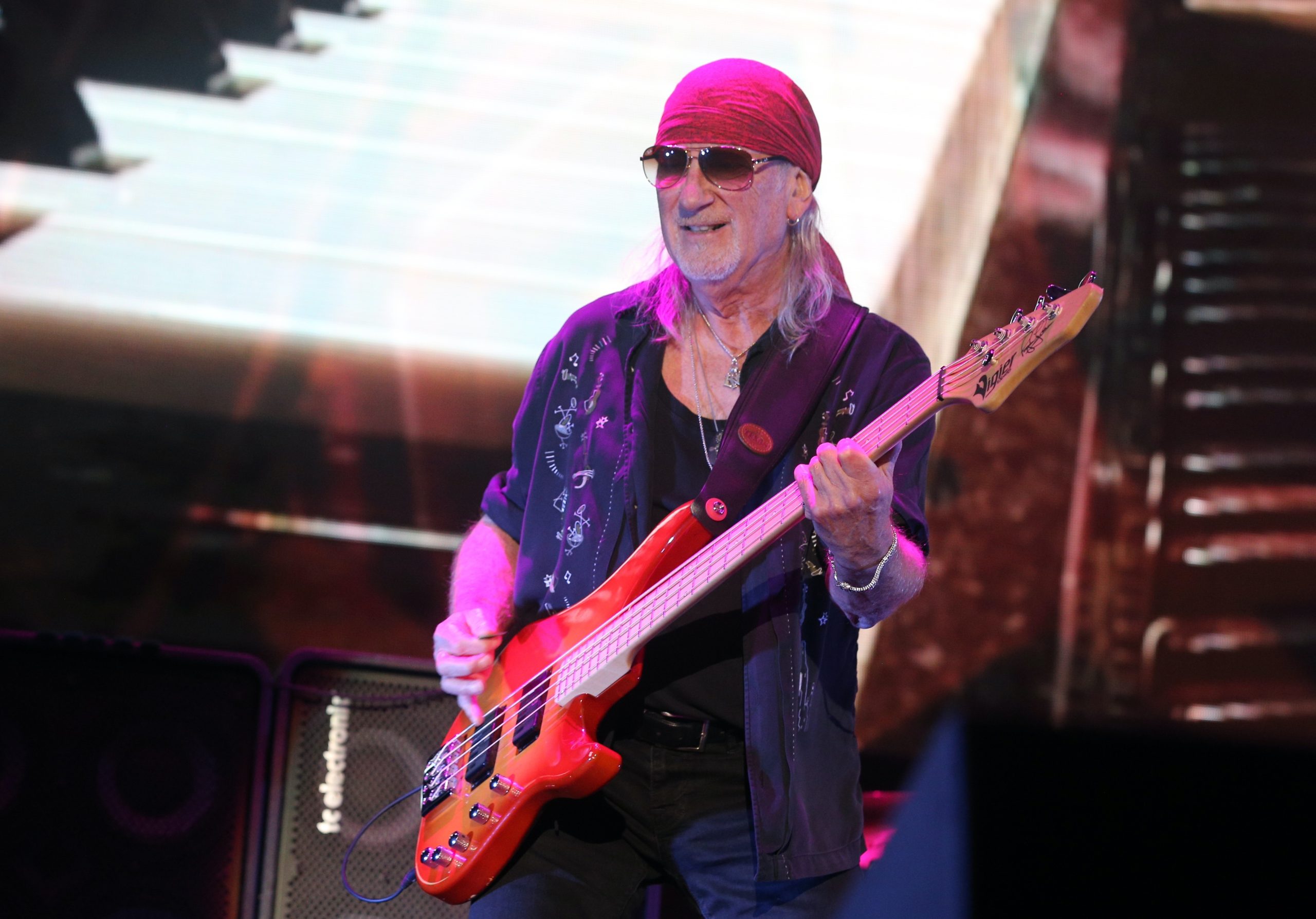 Most of these guys are in their 70s now, apart from Mr McBride who is a spring chicken in his 40s, but their energy levels are firing on all cylinders and there is a palpable chemistry between the veterans the newbie youngster!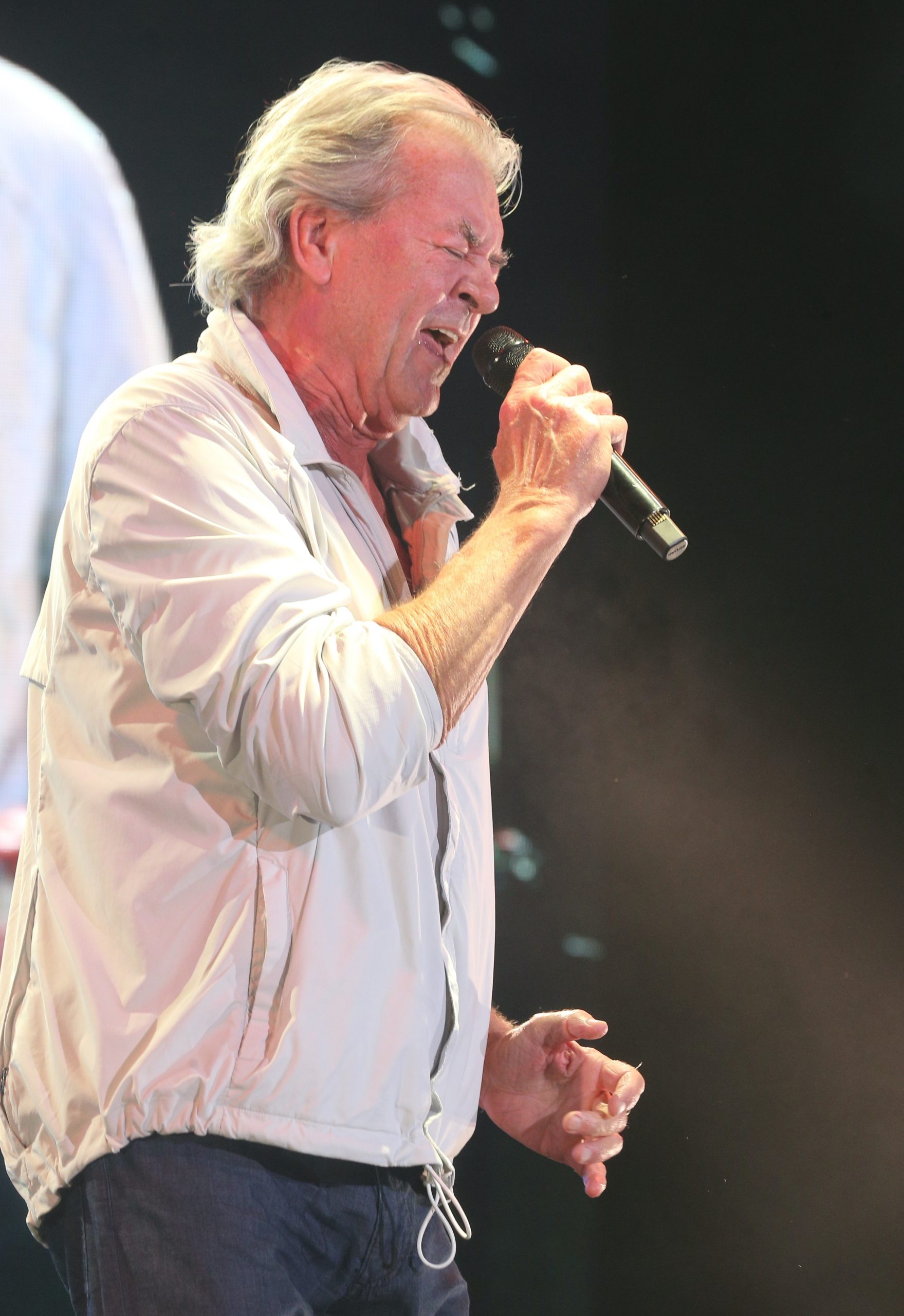 Gillan at 77 may not be leaping in the air or wazzing about the stage in a frenzy, but he fulfils his front man rock and roll star duties well.
OK, his vocal cords have clocked up high mileage and are not gonna allow those high-pitched rock screams any more. But, so what? Try doing this job night after night all over the world when you are heading towards the big eight oh!
There are a good number of extended solos and instrumental parts in the songs live tonight, which gives Ian's voice a rest, but this is a rock gig and that is to be expected – and enjoyed.
Their name carries clout worldwide. They are in the rock and hall of fame for a reason. Purple have influence shed loads of rock bands and musicians across decades.
It is great here we have so many original members, when many veteran acts are still trading on the name of the original band and its past success, even though they are missing any original members at all these days, or maybe have just one left in the ranks.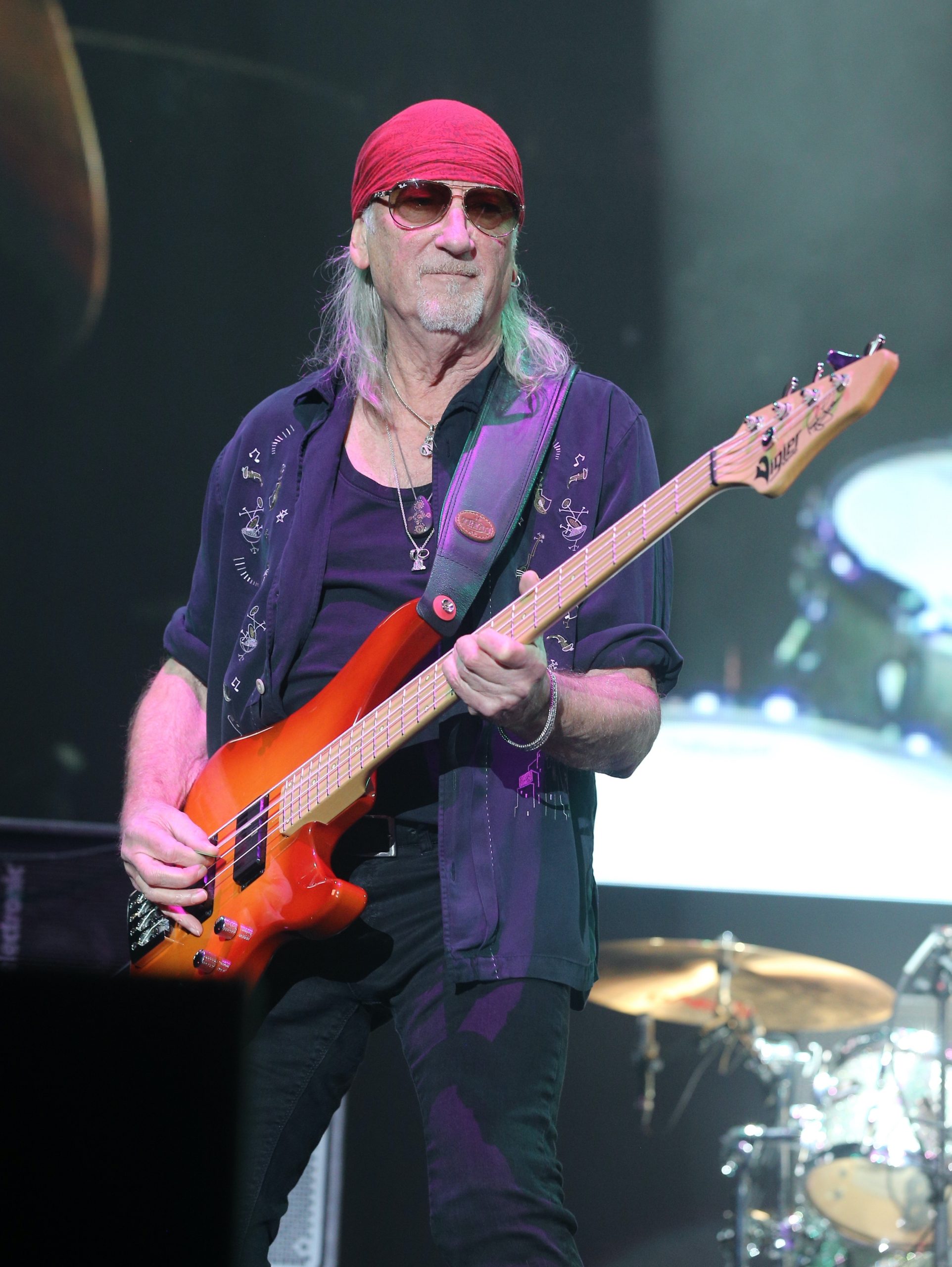 This magazine was pitched a famous and much loved 1970s UK band's new album to review the other day, but the editor rejected it because there are zero original members in today's lineup. But they trade as that famous band. That's just not on.
So, it's a result tonight we have these legends up there doing their thing with three originals, as they have been since the band formed in the 60s.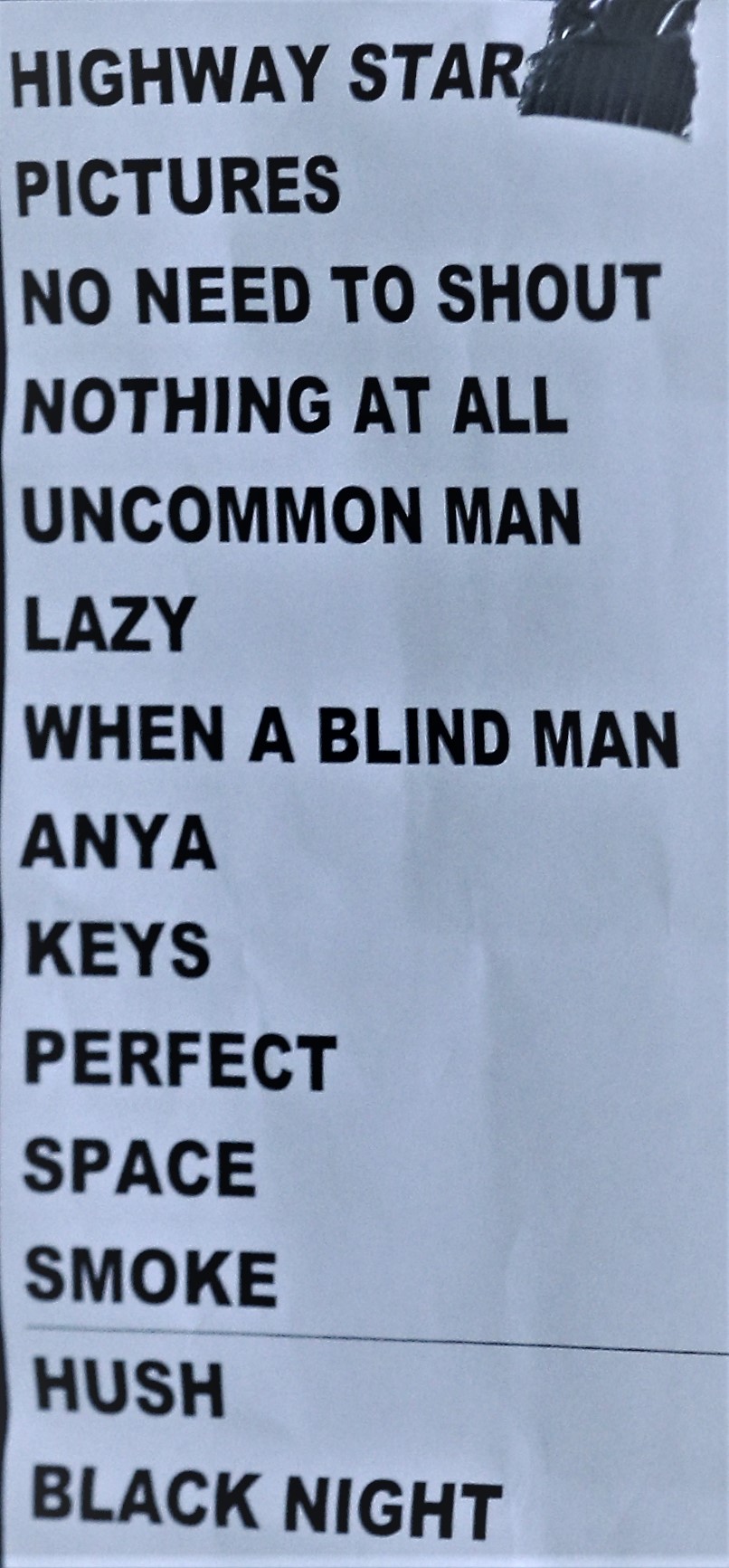 Not going to bother going through the set list to pick out the best songs of the night, as it is all of the same level of quality and class. Our esteemed celeb' snapper Rothschild, got a shot of the set list taped up for the crew at the gig, so we have published that for you to see which songs they do on this tour. It's a cracking set of tracks from across the years.
That song, you know, the 'smoke' and 'water' one is saved until song 11 of a 13-song, 95-minute set – plus a two-song encore. They finish with the wonderful "Hush" and "Black Night".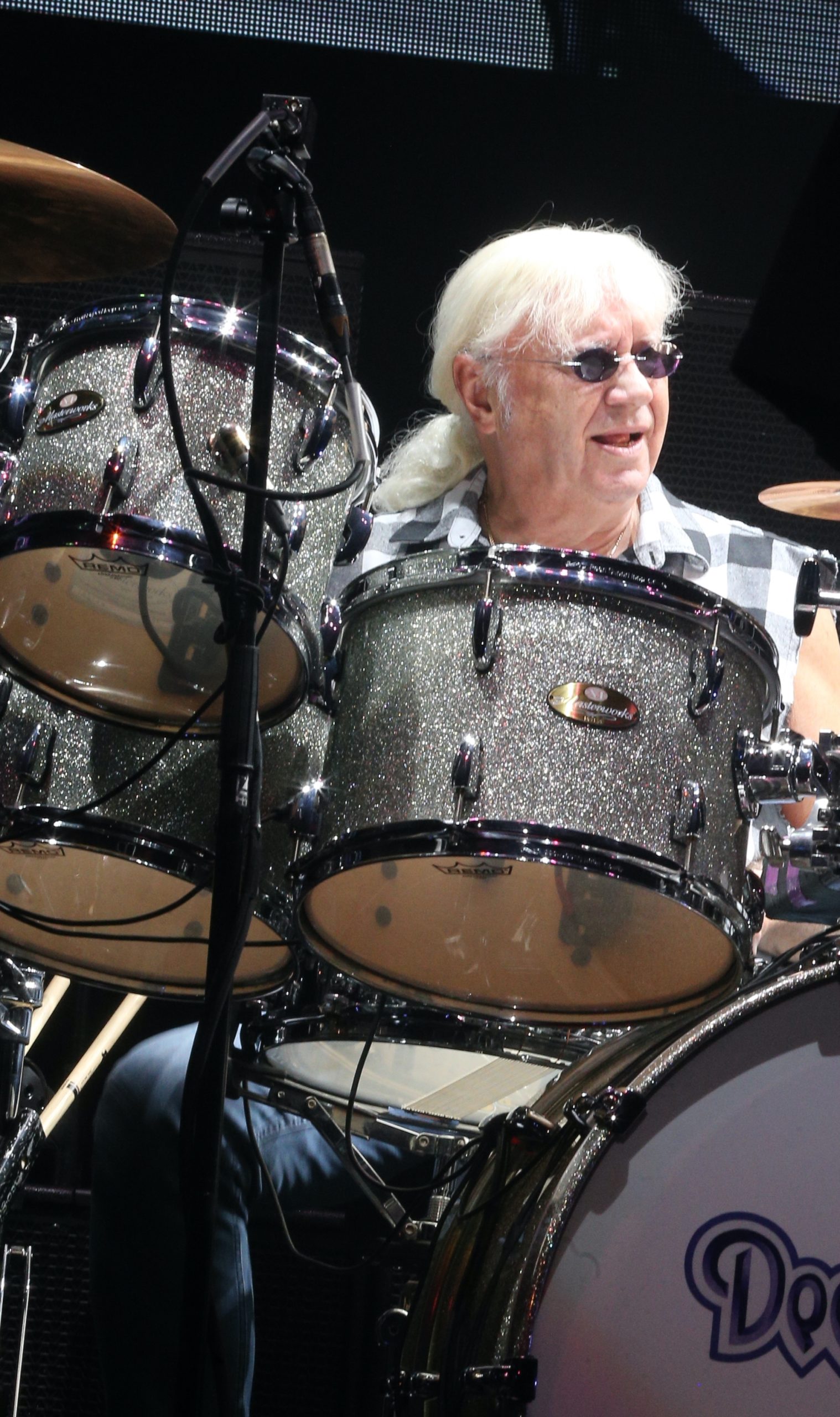 The Rock and Roll Hall of Fame inductees have made 22 studio albums and 45 live albums and sold in excess of 100 million records.
Just about half of the songs played tonight are lifted from 1972's classic Deep Purple album "Machine Head" – and there's some much newer stuff early on in the set.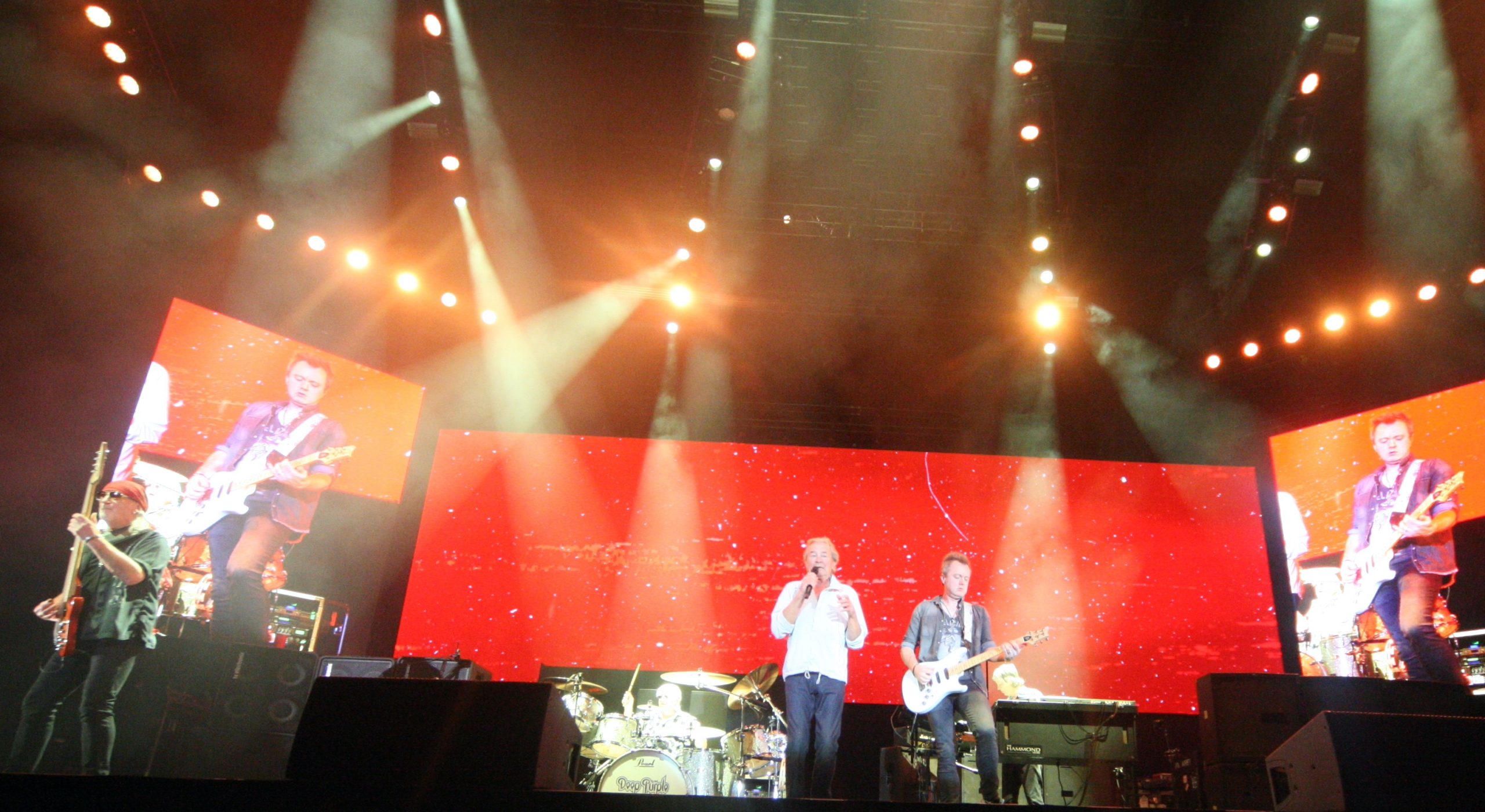 All in all, this band are still well worth the admission price if you love, loud – DP are in the Guinness Book of Records (1975) as the loudest group in the world – rock music and virtuoso musicianship. (The extended keyboard solo is to marvel at on its own, as # nine in the set.)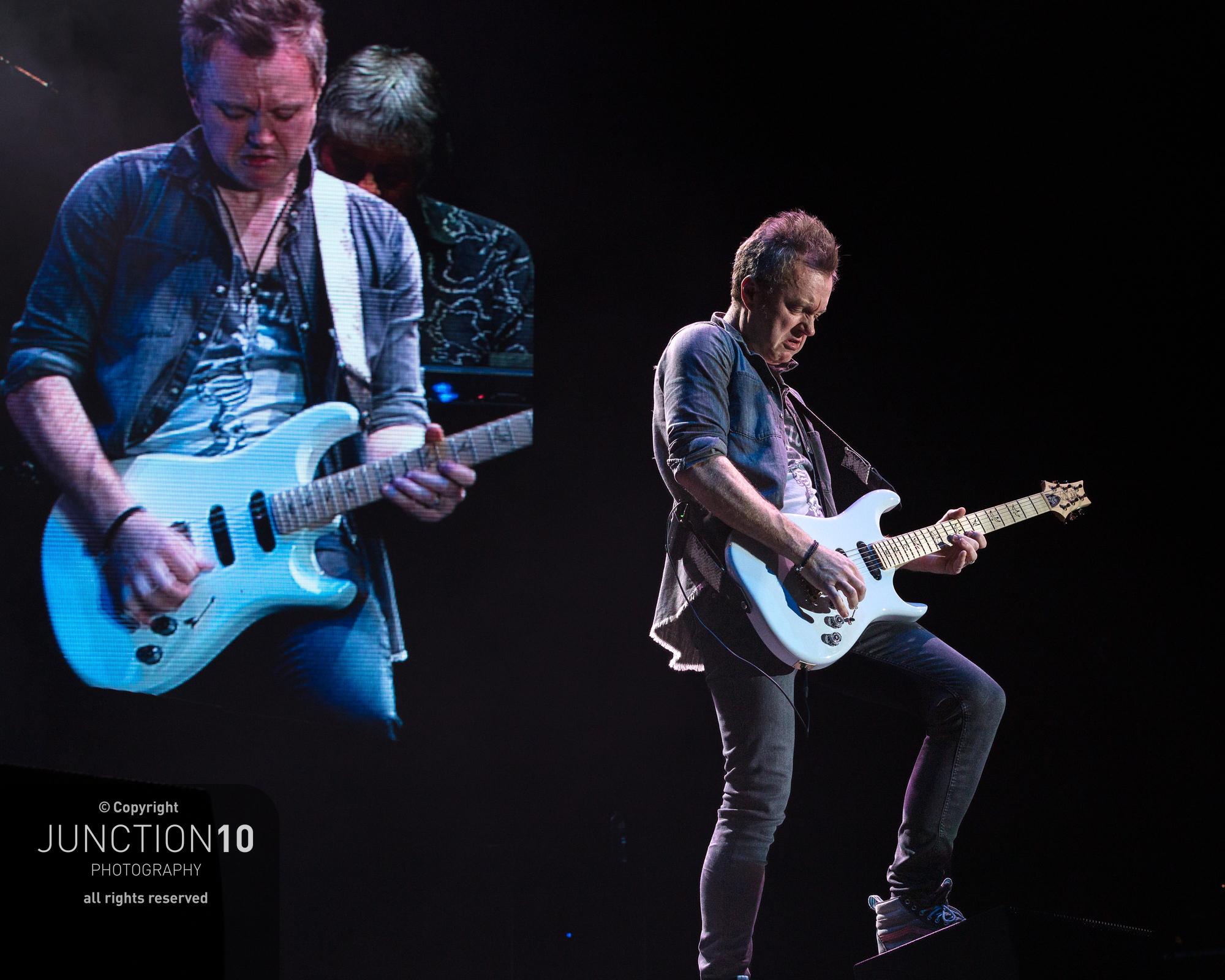 If you've never seen or heard Simon McBride play guitar – this magazine has been tipping him since we launched in 2016 – catch him on this tour and prepare to be impressed. Very.
Also to marvel at is the opening act: US legends Blue Oyster Cult. Celebrating their 50th – having made 15 albums and sold more than 24 million records – and tonight turning in a fab but short set of five songs. Closing with their timeless mega-hit "(Don't Fear) The Reaper" – which sounds as good as it did as it did on release back in 1976 on their album "Agents Of Fortune" and as a Top 20 UK chart hit single in 1978. Latest album (2020) is "The Symbol Remains".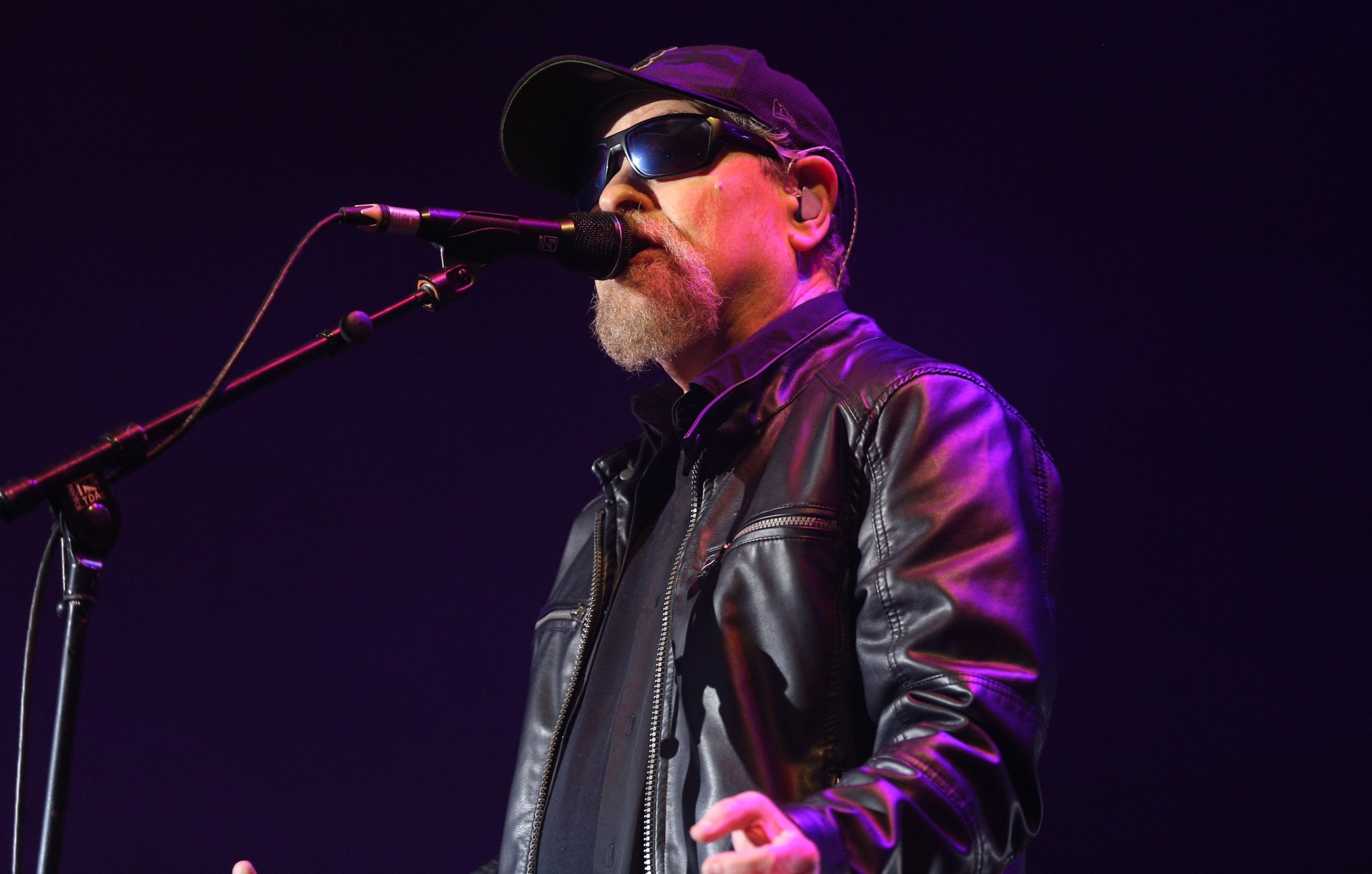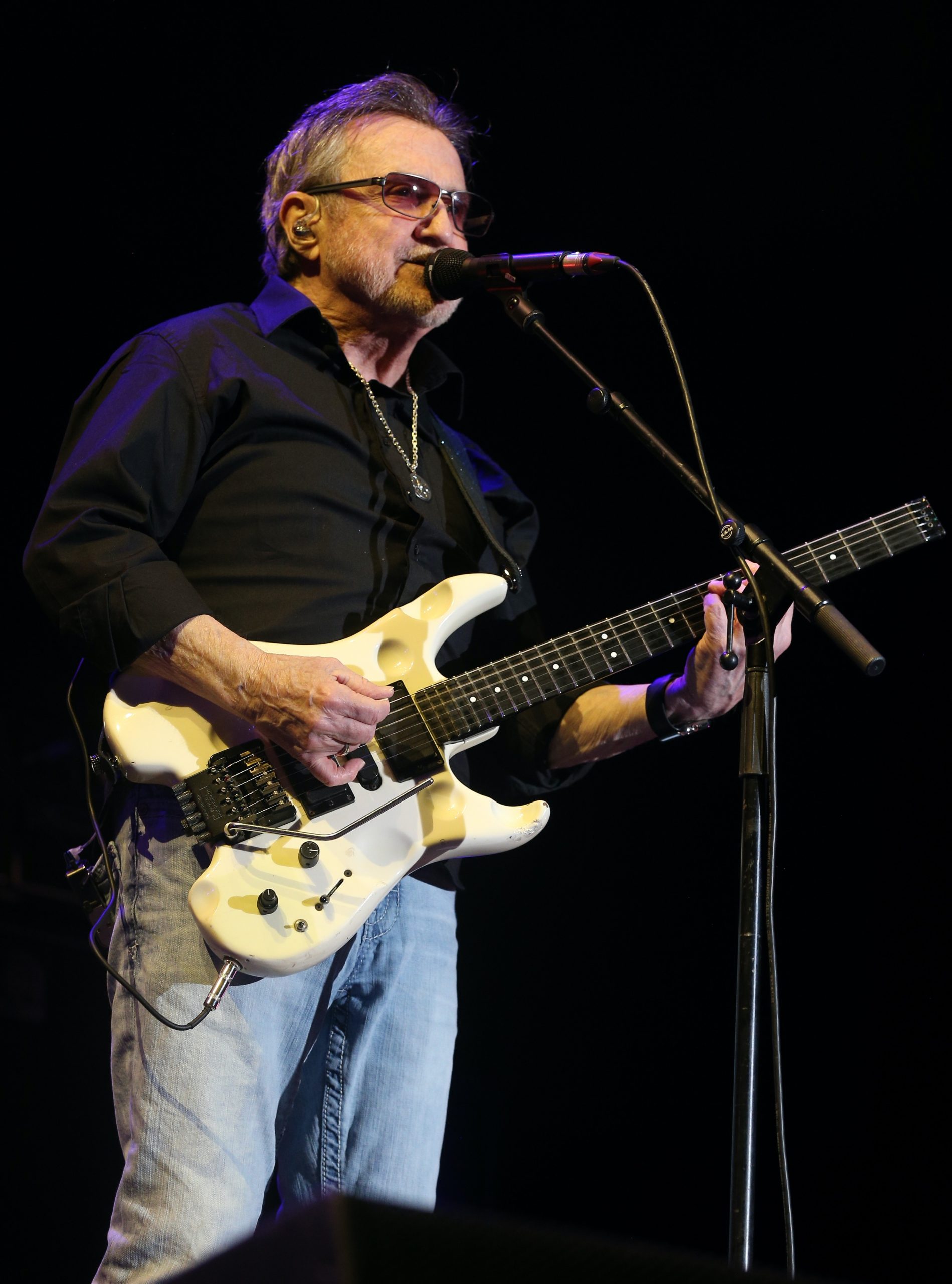 ---
---
Photos by Rothschild *
* Except: Ian Gillan (top of the page), Ian Gillan and Simon McBride in same photo and Simon McBride solo shot: Jason Sheldon/Junction 10 Photography  
Words: Steve Best