Ralph McTell has undeniably earned the accolade "legendary". His iconic hit, "Streets Of London", was written when he was 23-years-old, and sadly, those emotional lyrics still paint a factual picture of the huge number of the homeless on the streets of the capital, and in fact, in almost every town and city in the UK.
Ar 77, and with circa 50 albums to his name, far from thoughts of retirement or trading on past achievements, Ralph is very much still active as a touring singer, as a songwriter and a recording artist.
His latest album "Hill Of Beans", is a superb 11-track offering, produced by another legend, Tony Visconti, recorded back in 2018 and released in 2019. The pandemic put paid to touring to promote the album, so his 18-date tour across September, October and November will remedy that issue.
The tour opens in Winchester on 16th September and closes in Falmouth on 19th November. The London show is at Cadogan Hall on 4th November.
Ralph is in fine voice and still very enthusiastic about songwriting and performing, some 57 years after his career began. One of the great storytellers, and known for his virtuoso guitar style, he is gifted songwriter, with a style that invites us into a unique world, where he weaves a narrative that is both significant and poignant.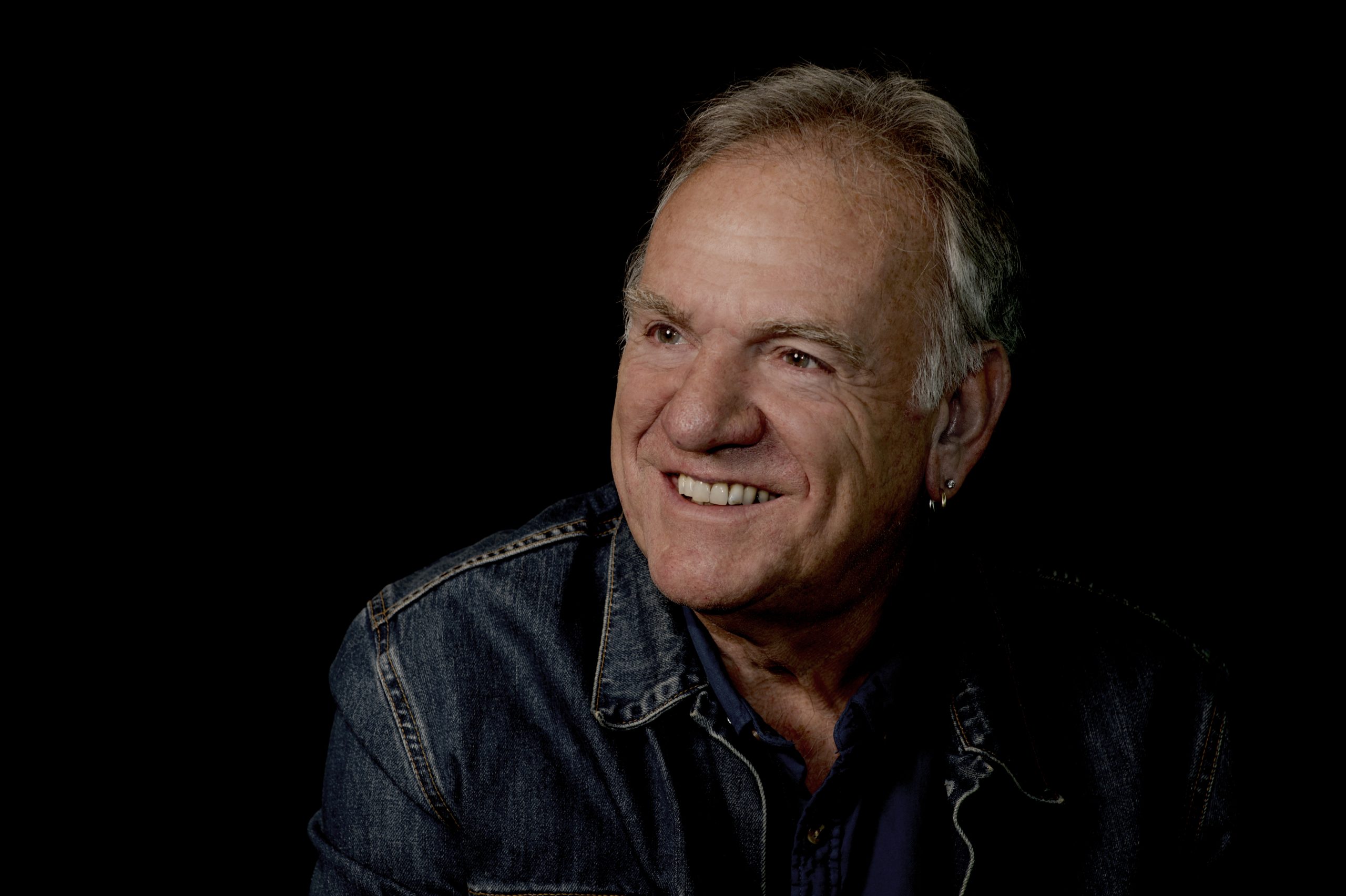 Ralph made his debut in 1968 with the album "Eight Frames a Second", but did not include "Streets Of London" on that LP, instead waiting until his second album, "Spiral Staircase" in 1968. He re-recorded the track in 1974 when it was first released as a single, featuring backing vocals from folk stars Prelude, earning him a coveted Ivor Novello award.
The song was inspired by Ralph's experiences busking and hitchhiking throughout Europe, especially in Paris and the individual stories are taken from Parisians. It was originally called "Streets Of Paris", but changed to London. The song has been covered by more than 200 artists. The single was selling 90,000 copies a day at its peak in the 1970s and has sold more than a million copies worldwide.
In 2002, Ralph was presented with the prestigious Lifetime Achievement Award at the BBC Radio 2 Folk Awards.
Ralph McTell (born Ralph May, 3 December 1944) modelled his guitar style on American country blues guitar players of the early 20th century, including  Blind Willie McTell. These influences led a friend to suggest his professional surname.
---
---
Ralph McTell's "Track Record"…
1. First song you recall hearing as a child?
Great question. Apparently, I used to sing "I'll Take You Home Cathleen," when I was about three. What do I remember after that? I think it might be a song called "Rose, Rose, I Love You", which was a Chinese hit that was translated into English, and it's so jolly I have learned to play it on the piano recently.
The other one was some sisters singing "On Mockingbird Hill", I think it was called. (The Lennon Sisters and The Tanner Sisters recorded the song – "Mockin' Bird Hill" – in the 1950s). I was always singing as a little boy.
2. First single you owned?
I inherited a load of 78s which I absolutely loved, but the first time I parted with cash was probably Everly Brothers: "Bye Bye Love".
3. First LP/album you owned?
I managed to persuade a girlfriend to buy an album for me called "Blind Gary Davies Street Singer" and it was a treasured possession for many years. I didn't really buy pop records, I just bought blues records and Woody Guthrie and people like that. But let me get this straight in my head; "Woody Guthrie "Bound For Glory" may be the first LP I owned. Yes, I think it was. On the Topic Record label.
4. First CD you owned?
Sgt Pepper's Lonely Hearts Club Band on CD when it came out in the box set. Billy Connolly and I did a concert together and Billy bought me a CD player to play it on. He said, it'll sound much better now with one those! I got Paul, Paul McCartney to sign it for me, 'Streets of Liverpool!'. It's a treasure.
5. Last music you bought and in what format (CD/vinyl/digital download)?
I bought a beautiful album by Miles Davis and the Gil Evans Orchestra. I got it second-hand because I do not know if it has been re-issued. It's called "Porgy and Bess". It's just gorgeous and was a soundtrack to me when I was about 17 and I was living in a squat down in Poole in Dorset. Got to be in the right mood, but it's rather exquisite isn't it, the balance of the spare notes especially against Gil Evans beautiful arrangements of those lovely tunes.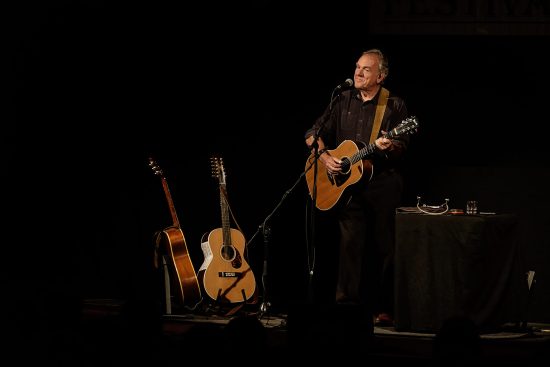 6. Which album would you be happy to receive as a gift?
The Best Of The Beatles, probably.
7. Favourite album? (Choose more than one if need be…)
My favourite album and one that never ceases to delight and enthral me, is the one that was put together when Robert Johnson died. It first arrived in England in 1964, but I got it as an import in payment for a gig and it remains a favourite.
But anything by the great Randy Newman would be second choice; anything at all by Randy Newman. I've got most of the albums and I met him and did a gig with him in America, and I've never heard anyone combine all the things I most respect in music like the symphonic structure, economy of line, the bitter sweetness of the lyrics, the poetry and the fantastic tunes and piano playing, he's got the lot and it's grown-up music and I love it.
8. Best record ever made (can be single/album/EP – and choose more than one if need be)?
I think one of the most complete and perfect albums is "Blue" by Joni Mitchell.
9. Guilty secret (or anything unusual or perhaps unexpected) in your music collection?
Not really….It's pretty conservative, I'd say. Mostly guitar orientated things; the Band, Bob Dylan, a bit predictable I'm afraid. Oh, "The Ying Tong Song" on an EP on my Juke Box (Spike Milligan), would that count? Spike said some nice things about some of my music. I wrote a letter to him about 15 years ago, and I said no reason for writing this Spike, just to say thank you for a thousand laughs and he wrote back. He sent a little picture which I'vr had framed.
10. What does music mean to you and how does it make you feel?
I would say as a slightly bewildered little boy and a bit lonely, and a bit left of field really….I never was one of those kids that got picked on. I had the skills early on to get on with everybody. I spent equally a lot of time on my own just pondering the great universe of things.
Music made people happy and when I got older, I could make people think, and it reassures, and I now regard it as the most important spiritual thing in life. It just reaches out and with the right words can affect mood, and I used to say music was so important and now I say it is vital.
That is what a guitar does for me too; I spent today playing guitar for an hour and I've been on the piano for an hour, and time just stands still for me. It's a way of holding back the years almost, music. It suspends time when you're writing it or listening to it, it's massive. It's as big as Brian Cox's Universe!
If you're a kid and you get jazz, life is going to be richer than not getting it and I was one of the lucky ones, I got it and thought it was so fabulous.
11. Which song or album is a guaranteed mood booster?
One guitar player and singer who always fills me with Joy is Joseph Spence. A Bahemian guitar player I first heard in the 1960s, (died in 1984 at the age of 73), he plays finger style and influenced Ry Cooder above everybody else. I write a song called "Hands Of Joseph", dedicated to the joy he exudes in his playing. I was invited to contribute to a documentary that has just gone up on YouTube. He is always guaranteed to make me feel good, always.
12. Which song or album would be the soundtrack to a film about your life?
I haven't written it yet! (I say, surely, it'd be "you know what?", meaning his biggest hit "Streets Of London". Ralph's response:) I don't have any negative feelings about that song at all, but I did write it early on and if you feel you peaked at 23, what's the rest of your life been about, you know. I think I've got better at writing, and I think I know more about it. I probably play the guitar better.
I don't think I would ever write a song like that again, but I suppose that's the one, if I'm lucky, people will remember I guess, and I can't fight city hall when you create a monster like that, you don't know it at the time…
All the songs on that album were all kind of related but that one hit the spot. I still get people who have never heard it before! I don't really understand why it was such a success, and I can't deny its success and I can only show it respect and be very grateful.
13. Your favourite driving track?
We were lucky enough to have a little place down in Cornwall and my wife always liked to drive with music on. I'd say it's got to be "Band On The Run" by Wings. That went into our heads and all the parts of it and all the mood changes. It's an extraordinary piece of work and I am a big fan of Paul's, just on the melody side of things alone.
14. Best song or album for a romantic moment?
"Ella Fitzgerald sings Cole Porter". Those songs are exquisite.
15. Which song was played for the "First Dance" at your wedding? 
My wedding didn't involve dancing. Very formal dinner with some uptight parents 55 years ago. My wife is Norwegian. I'm a softie for the old romantic songs; my mum used to sing Bing Crosby songs around the house. She brought us up on her own.
16. Your choice of song to sing at karaoke?
Never thought of it before. Let me see; "Time Goes By" (sic), how about that? ("As Time Goes By" is a jazz song written by Herman Hupfeld in 1931. It became famous when it was featured in the 1942 Warner Bros. film "Casablanca", performed by Dooley Wilson as Sam.
17. Which song takes you back to your childhood – and to which specific memory/memories?
"The Runaway Train" which was played on Uncle Mac's morning radio programmes on Saturday mornings. It had a harmonica on it and all little boys had a harmonica and I was no exception, I played the harmonica from the age of about five.
18. Favourite band (or bands)?
The Band.
19. Favourite singer (or singers)?
As I've got older, I have appreciated how good Sinatra is as a singer. Tony Bennett. The good ballad singers always impress me. Ella is still my favourite. I saw Ella live once, at Ronnie's (Ronnie Scotts jazz club in London), and that was absolutely wonderful.
20. Which song would you like played at your funeral?
I never even thought about it. Well, probably something light-hearted, I think. I've told my family I don't want a funeral; I don't want all that weeping and gnashing of teeth! I just want it over with, and they said, it's nothing to do with you, it's to do with how we feel. So I'll have to surrender to that! I don't know which song, and I won't be there, so it won't matter. I'll let them choose.
---
---
Interview: Steve Best
Photographs courtesy of Ralph McTell
Sincere thanks to Ralph McTell, Tom May, Camp Bestival Shropshire, Hugh Royle and Carousel PR.