Fatboy Slim aka Norman Quentin Cook, born Quentin Leo Cook in 1963 in Bromley, Kent. A superstar DJ and producer whose sparkling career has earned him an estimated wealth of circa $20m as of 2021. Currently on a world tour, playing to vast audiences in stadiums, arenas and on beaches.
In the 1980s he was bassist in Hull indie band The Housemartins, before his career as a DJ. He holds the Guinness World Record for most top-40 hits under different names. As a solo act, he has won a Grammy, nine MTV Video Music Awards and two Brit Awards. He has sold more than 10 million records.
In 1996, Norman adopted the name Fatboy Slim and released "Better Living Through Chemistry" to critical acclaim. Follow-up albums "You've Come a Long Way, Baby", "Halfway Between the Gutter and the Stars", and "Palookaville", as well as singles such as "The Rockafeller Skank", "Praise You", "Right Here, Right Now", "Weapon of Choice", and "Wonderful Night", achieved commercial and critical success.
In 2008, Cook formed the Brighton Port Authority, a collaborative effort with a number of other established artists including David Byrne. He has been responsible for successful remixes for Cornershop, the Beastie Boys, A Tribe Called Quest, Groove Armada, and Wildchild.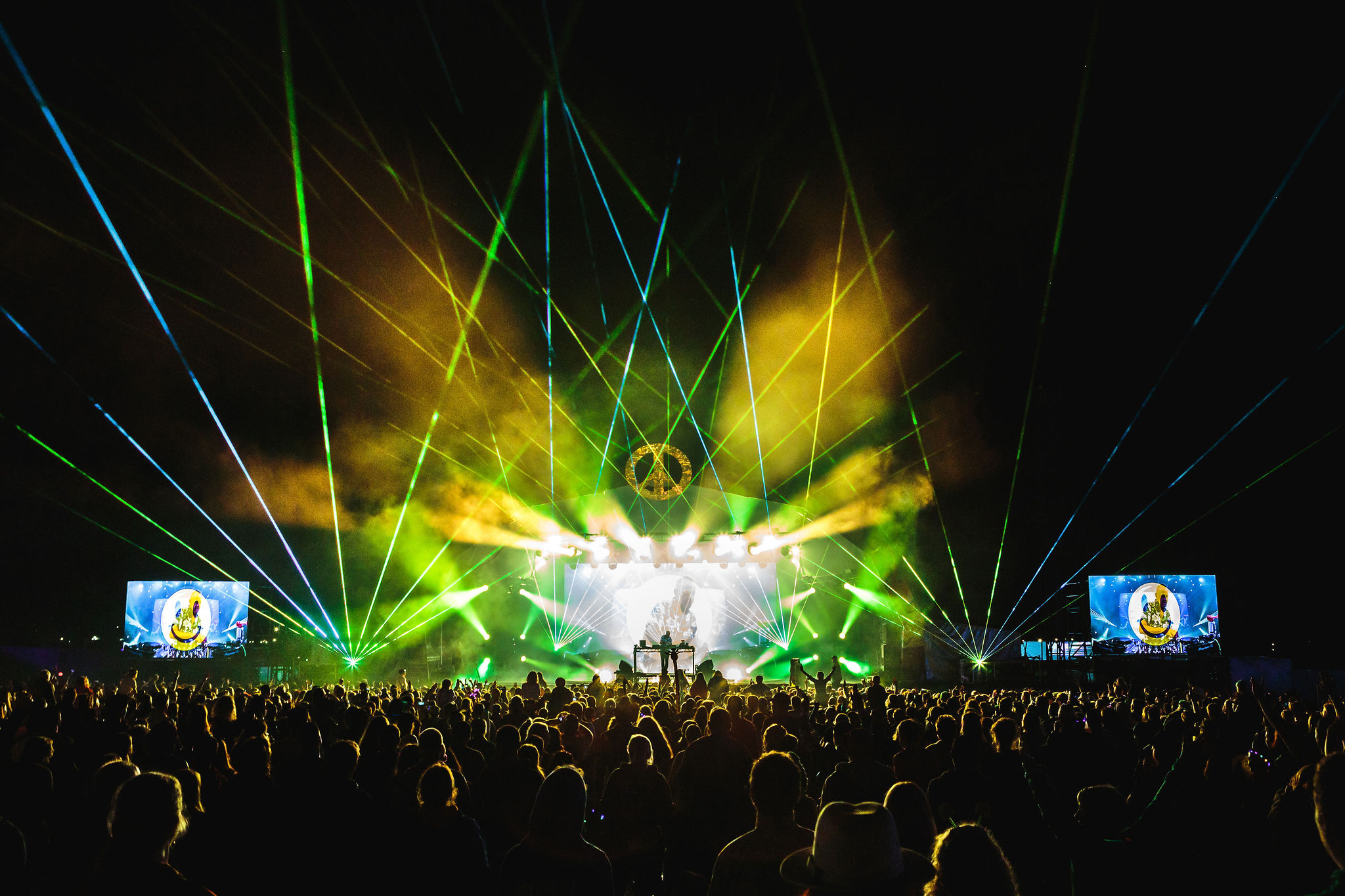 On 13th July 2002, Fatboy Slim performed the second of his free open-air concerts on Brighton Beach. Organisers expected a crowd of around 60,000 people, the event instead attracted an estimated 250,000 who crammed the promenade and beach between Brighton's piers.
Local police forced the event to end early amid safety concerns, overcrowding and one death. In July 2022, Cook returned to Brighton beach for the 20th anniversary of Big Beach Boutique. He was joined by Carl Cox, Eats Everything, and others. Norman Cook was awarded a star on the city of Brighton's Walk of Fame, next to that of Winston Churchill.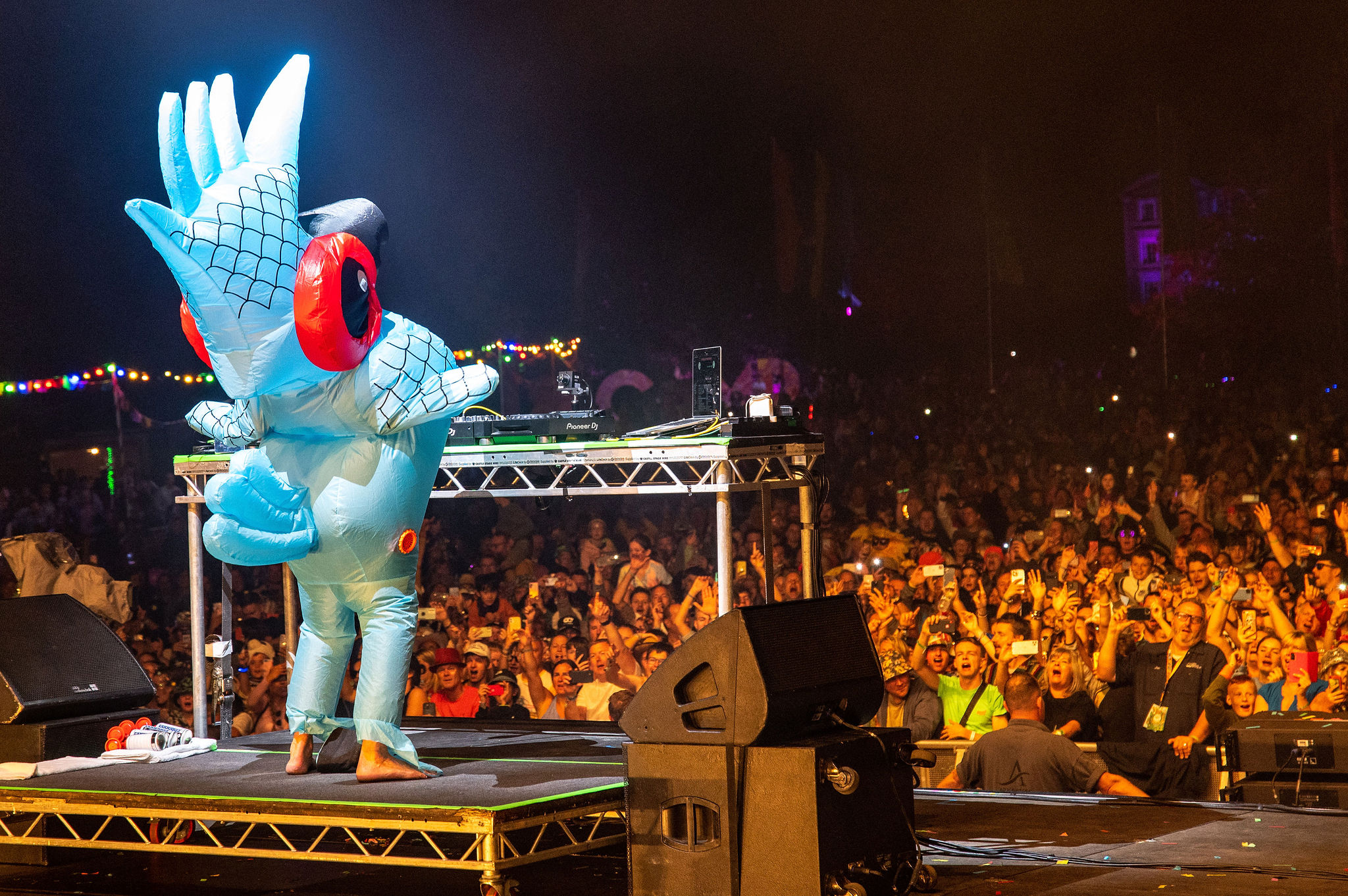 He married TV and radio personality Zoe Ball in 1999. They have a son, Woody Fred Cook, who appeared on the Channel 4 show The Circle in 2019, and he stars in Gogglebox and is an Instragram favourite.
Norman and Zoe also have a daughter Nelly May Lois, who premiered a DJ set as Fat Girl Slim with Camp Bestival during the COVID-19 pandemic to raise money for the Ellen MacArthur Cancer Trust and The Trussell Trust. Cook and Ball split up in 2016 after 18 years.
Norman Cook is a shareholder of Brighton and Hove Albion, the football club he has supported since moving to Brighton in the late 1980s. In March 2009, Cook checked into a rehabilitation centre in Bournemouth to fight alcoholism. He has been clean ever since.
We caught up with Fatboy Slim backstage at Camp Bestival Shropshire in August 2022, before his main stage headline set, to ask him for his "Track Record" and to grab a few exclusive photos… 
---
---
Fatboy Slim's "Track Record"…
1. First song you recall hearing as a child?
"Morningtown Ride" by the Seekers. My mum used to sing it to me.
2. First single you owned?
"Devil Gate Drive" by Suzi Quatro (# 1 in 1974.)
3. First LP/album you owned?
"Black and Blue" by the Rolling Stones.
4. First CD you owned?
Didn't really buy CDs. Probably being given one of my own.
5. Last music you bought and in what format (CD/vinyl/digital download)?
Digital format, a WAV file off Juno Download of "Ghost Town" by The Specials. I've got this new piece of software that breaks the tune down into stems and I keep making dub mixes and all my mates request a song and I do a dub mix of it. Someone requested "Ghost Town", so I have just done that one. I wanted a WAV copy so it was best quality.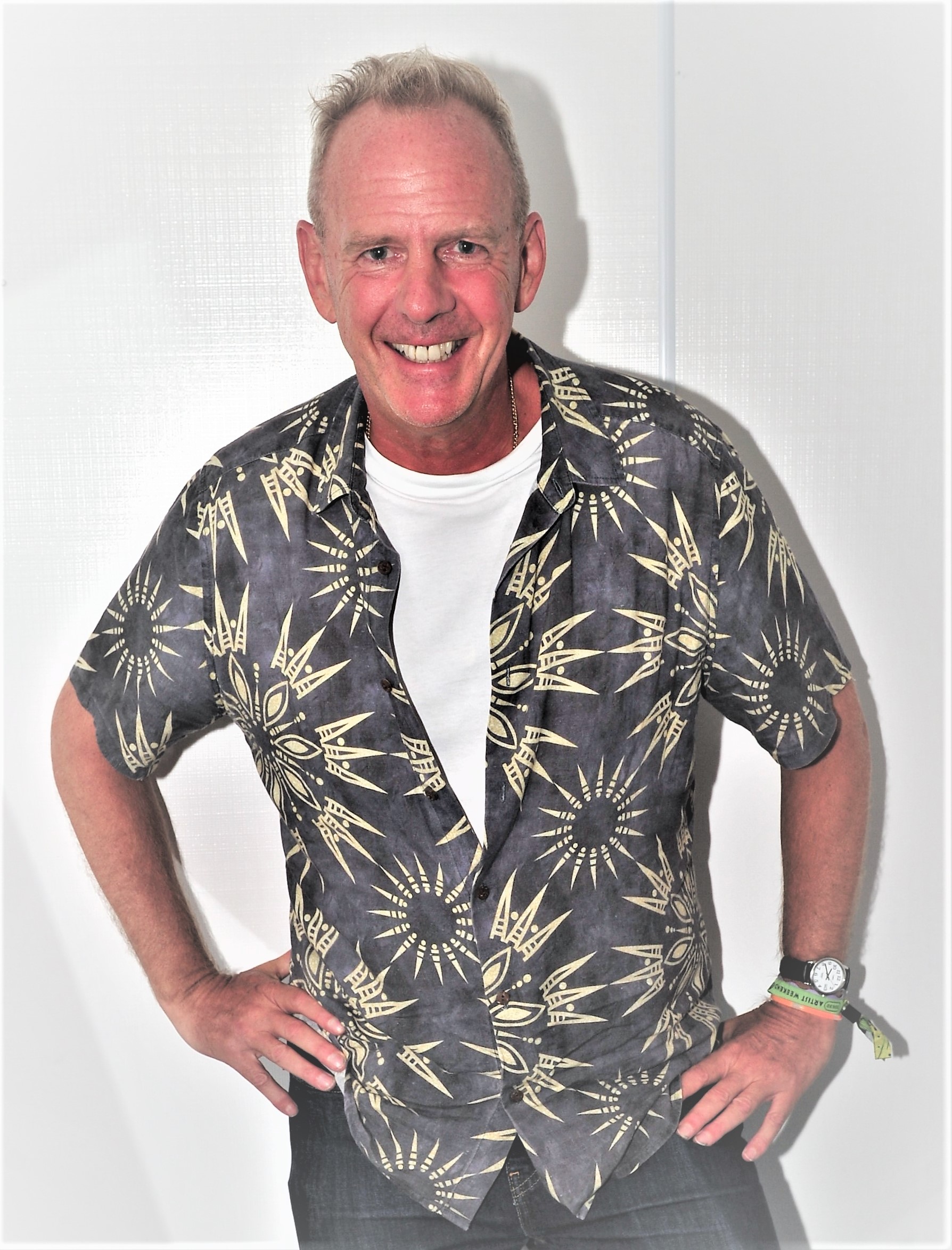 6. Which album would you be happy to receive as a gift?
I've got so many records – about 8,000 I reckon. I think I've got every record that I know about that I want.
7. Favourite album? (Choose more than one if need be…)
"What's Going On" by Marvin Gaye for songs. For production and for ideas, "Duck Rock" by Malcolm McClaren. I don't what whether you've noticed, but I have kind of based a lot of my career on that magpie thing of taking bits from different genres. Musical magpie, yeah…
8. Best record ever made (can be single/album/EP – and choose more than one if need be)?
"Abbey Road" by The Beatles. The best produced record and the best songs.
9. Guilty secret (or anything unusual or perhaps unexpected) in your music collection?
I've a passion for The Carpenters, I grew up on them. There's lots of a capella and parts and versions on the internet you can get.
10. What does music mean to you and how does it make you feel?
Music is the soundtrack to our lives. It's interwoven into the fabric of our experiences and loves and life; and everything that goes on, it's the soundtrack to it. In the same way the soundtrack is integral to a film, music is integral to everything that I do, and every friend I've had, l've got a tune that reminds me of them.
I love football, but I'm rubbish at remembering players names or any kind of statistics, but I can tell you, the first football match I ever went to was Charlton Athletic at The Valley, and I can't tell you who we were playing, or what the score was, but I can tell you they played "How Can I Be Sure?" by David Cassidy and "Mouldy Old Dough" by Lieutenant Pigeon (1972).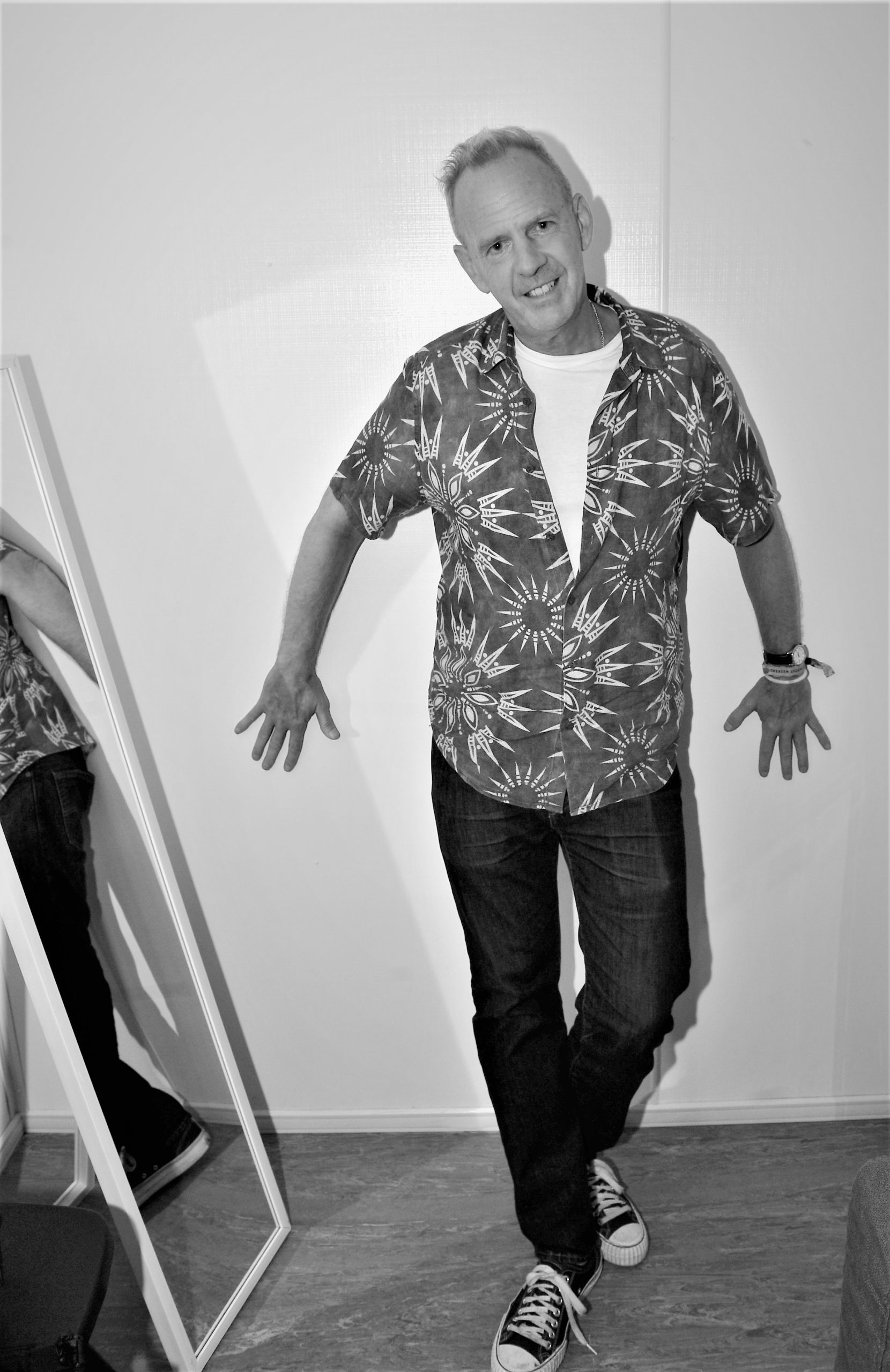 11. Which song or album is a guaranteed mood booster?
"Give 'Em Enough Rope" by The Clash. Gets me going every time.
12. Which song or album would be the soundtrack to a film about your life?
"Duck Rock" by Malcolm McClaren.
13. Your favourite driving track – or music to exercise-to?
This morning I was exercising to Calypso. I get to choose the music in thr gym that I go to; it's a very, very small gym. I'm fed up with hearing all that kind of motivational stuff. I like dreamier music; Bossa Nova or Calypso is really good to train to. For driving; Techno. It makes me drive faster and feel like I am in a slightly edgy film!
14. Best song or album for a romantic moment?
"Let's Get It On" by Marvin Gaye.
15. Which song was played for the "First Dance" at your wedding (if you are married) or which song would you choose if you did get married?
It was "It Must Be Love" sung by Suggs (Madness). He was there.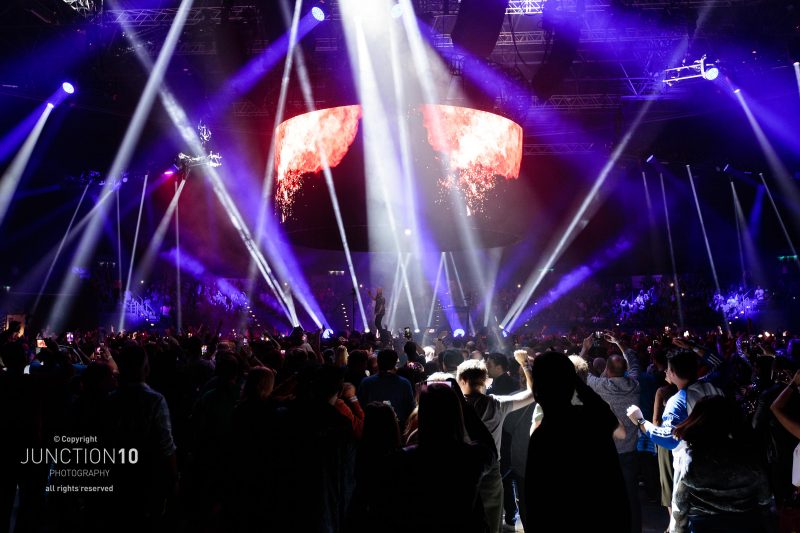 16. Your choice of song to sing at karaoke?
"Hey, Did You Happen To See The Most Beautiful Girl In The World", by Charlie Rich. I do a pretty mean version of it.
17. Which song takes you back to your childhood – and to which specific memory/memories?
Anything by the Beatles, really. I completely grew up on the Beatles, apart from The Carpenters, the only things my parents liked that were any good.  I was born in '63 which is when they (The Beatles) started; which is literally the first seven years of my life, all I heard was Beatles songs. Do you want to hear my Beatles story, about my Uncle being in the Beatles?
My uncle was in a band and he used to rehearse at my nan's house on Saturday mornings and one weekend I was staying with my nan and I listened to them rehearsing and they were doing Lucy In The Sky With Diamonds and "Ob-La-Di, Ob-La-Da" , and then later that week, "Ob-La-Di, Ob-La-Da" came on the radio.
I went, Oh, that's my Uncle Den's band. And they went, your Uncle Den's in the Beatles and I went, yeah. I obviously had no concept of what a cover version was, and I told everyone at school my Uncle was in The Beatles.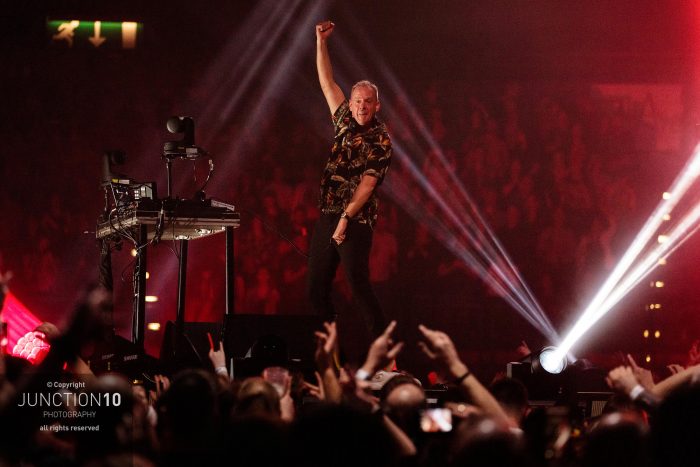 18. Favourite band (or bands)?
The Clash. Not just the coolest band ever, but they educated me about music and politics and life, and style. They were just the greatest, pushing musical boundaries, using different styles of music but also just writing the coolest songs about the coolest shit.
19. Favourite singer (or singers)?
Al Green. I think he's got the sweetest voice.
20. Which song would you like played at your funeral?
It will be "In My Life" by The Beatles. I have that in my Will.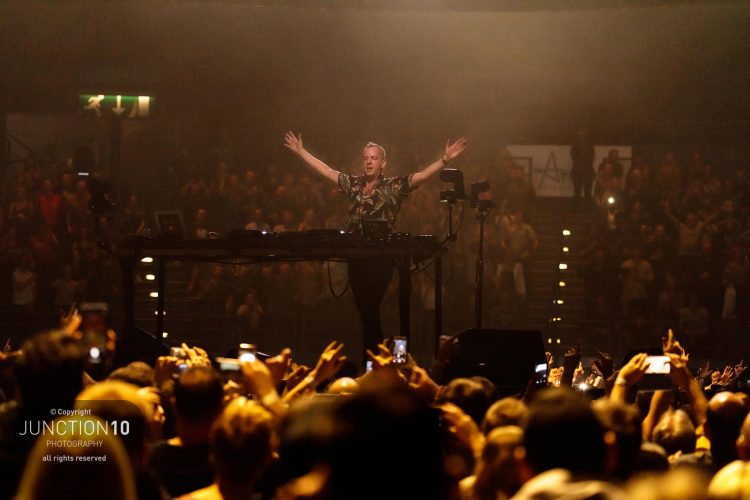 A supplementary question… What advice do you give to your son Woody, following in your footsteps as a DJ?
"I tried giving him advice. The thing is, he didn't start being a DJ until he left home. All the while he lived with me, I said, do you want to be a DJ and he said no, you are a tough act to follow, big shoes to fill. He said, I'd just be your son, so I don't want to be a DJ.
"Then he went off to university and two months later he says; Oh, I've taken up DJ'ing. We've done gigs together and I've tried to give him advice, but he says the thing is, when you try to give me advice about DJ'ing, sometimes you don't half sound like my dad! He said, it comes out of the same mouth that told me to eat my vegetables.
"I can't teach him anything. He's 21 now. The music business is so different and he's carving his own niche, and that's the nicest thing, because I don't feel there's any nepotism, because I didn't shape him, only as a person maybe."
---
---
---
Interview: Steve Best
Posed portrait photos: Steve Best
First two Live DJ show photos: 'Hello Content' For Camp Bestival Shropshire
All other Live DJ show photos (3): Jason Sheldon (Junction 10 Photography)
Sincere thanks to Norman Cook, his tour manager "Al", Camp Bestival, Hugh Royle and Carousel PR.