Would he show up to hotly tipped US singer and songwriter Alyssa Bonagura's first London headliner? If he does, will he get up and sing "their" song together? He? Aerosmith legend Steven Tyler.
It has been known for the man to rock up with an entourage at an Alyssa gig and not only jump up on stage and sing with her, and invite her on stage at his shows, but also spot a red hot song from her self-penned catalogue during her set and say, "Hey, Alyssa, I want to record that song, is that OK?"
Er, let me think about that, Steven? Hell, yeah, says Alyssa. And the end result, a cover of her song "I Make My Own Sunshine" on Steven's 2016 solo album, "We're All Somebody From Somewhere".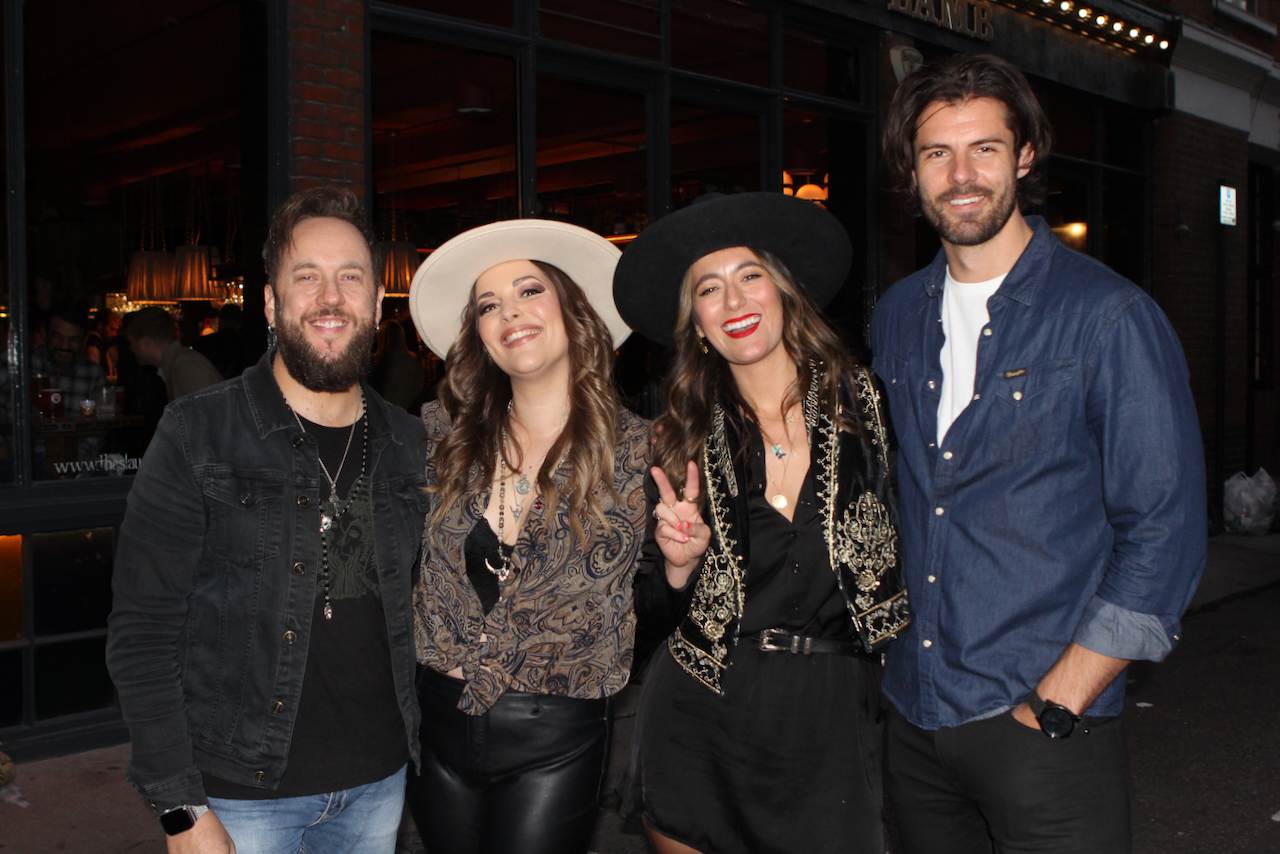 Before Alyssa takes to the stage at the just about sold out Slaughtered Lamb in London's East End near The Barbican for her set, joined from song # three by her guitarist Steve Shirley (also a British actor who appears in the video to her latest single, "Other Side Of The World") and before her support act from Birmingham (UK, not Alabama!) Gasoline & Matches do their lovely thing, Alyssa tells Music Republic Magazine's Alex Asprey how the Steven Tyler cut came about.
"Yeah, it was amazing and quite the honour. I was playing a show in Nashville at 3rd and Lindsley, it was my 27th birthday and Steven was in town because he was recording a country record, and he had moved to Nashville for a minute and was trying to figure out what was going in in Nashville at the time.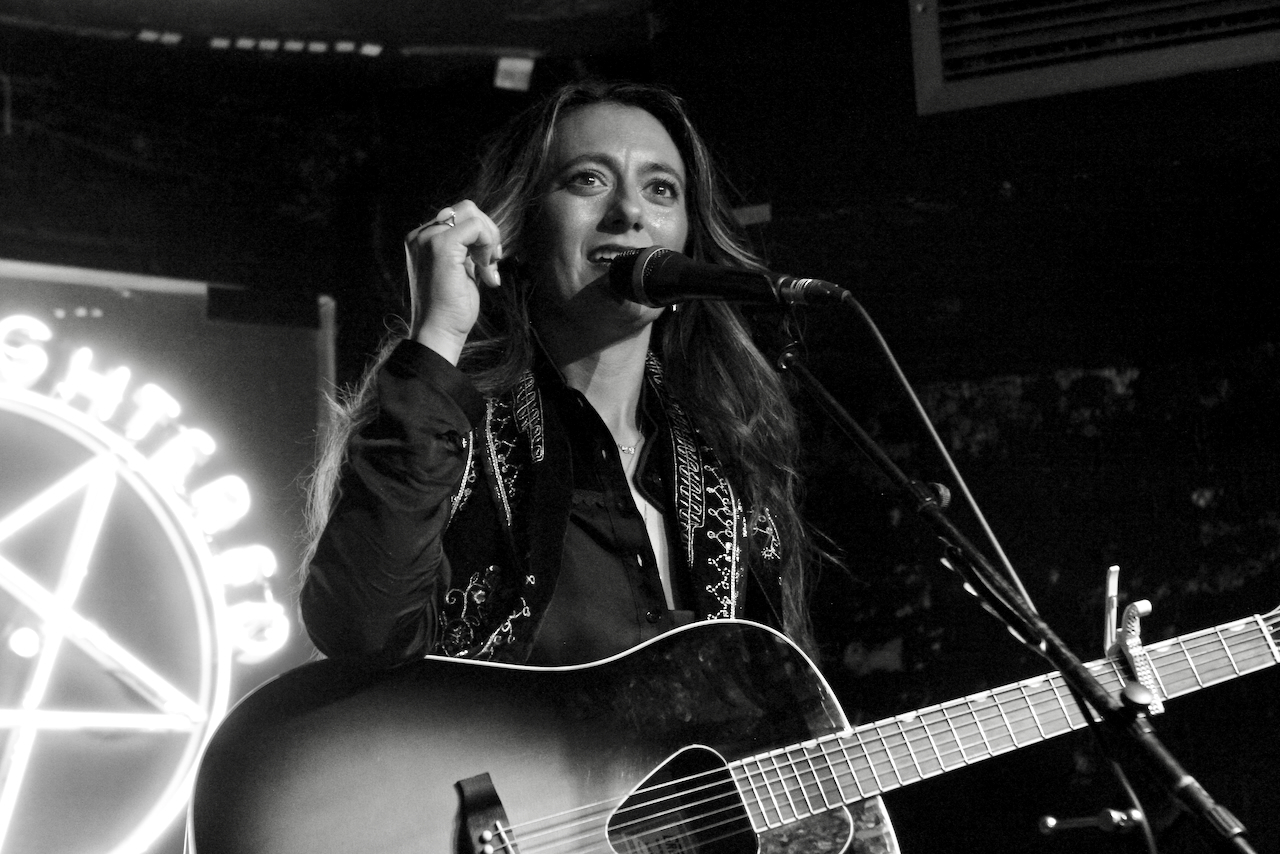 "He showed up at my show and he brought a whole crew of people and they stayed to the end. He  ended up coming on stage with me and we did "I Don't Want To Miss A Thing" together (Aerosmith hit), and there's a video on YouTube of it. At the end of the show he came up to me and said, Alyssa, what is that 'Sunshine' song?
"I said, oh, it's a song I wrote and he said will you send it to me, I want to cut it. I was like, are you kidding me, of course. So I sent him the song and three months later I was here in the UK with Ruby, (Ruby Stewart) – we were in the Sisterhood band – and I got a call from an unknown number and it was Steven calling me from Hawaii.
"He says, I just put ukulele on 'I Make My Own Sunshine' on my record with the best ukulele player in Maui, and I can't wait for you to hear it.
"That is how it got cut. Wild. It's really cool I got to sing it with him at some of his shows, and he gave me a shout out at The Ryman when he played there. It's just a total crazy dream."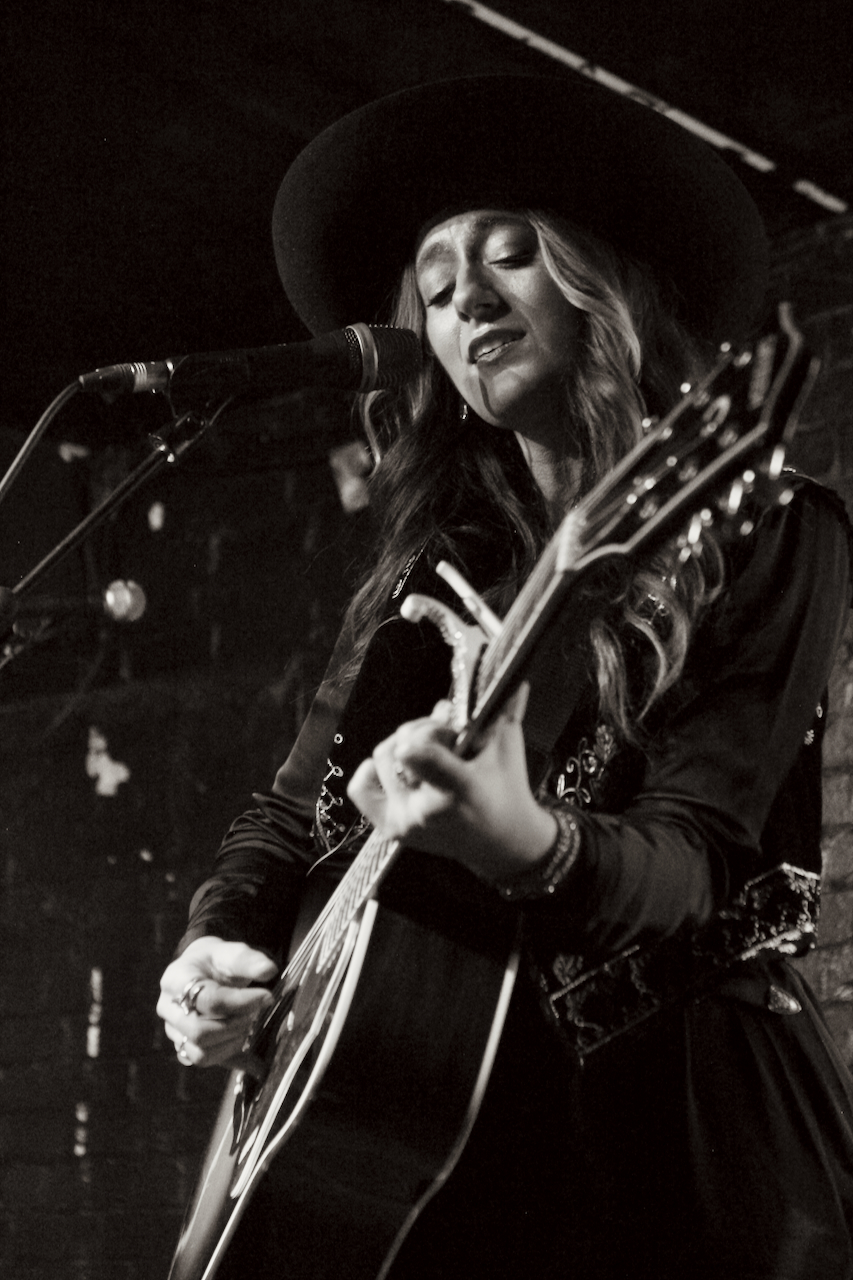 How does it feel to hear his version? "Oh my God, it's the best honour in the world that Steven Tyler's singing your song. It's funny, when you listen to 'I Make My Own Sunshine, it's a real, happy, bouncy song and you don't imagine him singing a song like that.
"But it is so him; he is sunshine. Every time I got to hang out with him, I got to understand why he chose that song; sunshine, that's his vibe.
"I wrote it by myself when I was living in Liverpool and it was raining all the time, and I went to college up there at LIPA, so I wrote 'I Make My Own Sunshine' as a pick-me-up to make myself happy when I was sad.
"Because music for me is my therapy, so every song I write is about something I've been through, and I am so grateful it connected."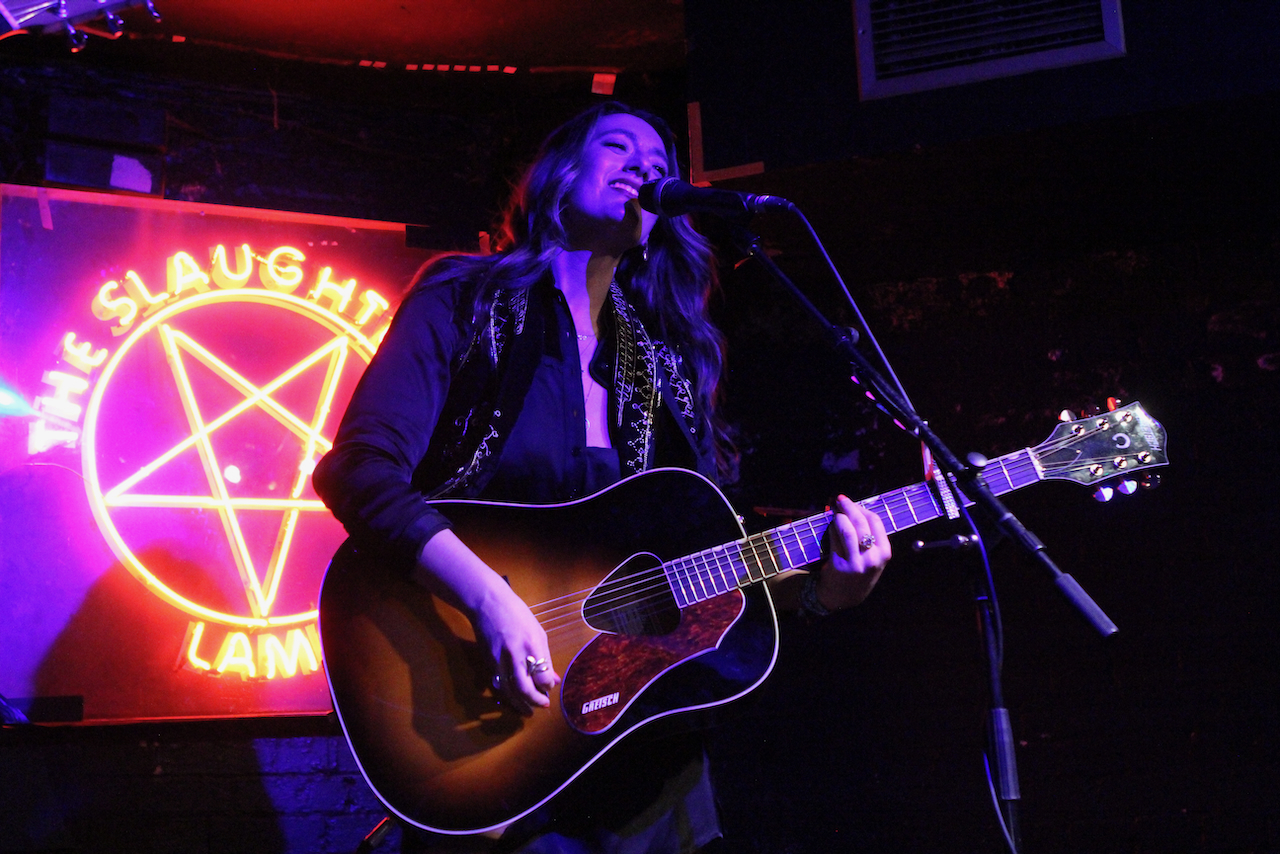 Alyssa is a songwriter, producer and multi-instrumentalist who has spent the past decade fine-tuning a sound that reaches far beyond her Nashville roots.
It's a sound that blurs the boundaries between genres, mixing the Southern storytelling of country music, the free-thinking spirit of rock and roll, and the cinematic sweep of Brit-pop into its own hybrid.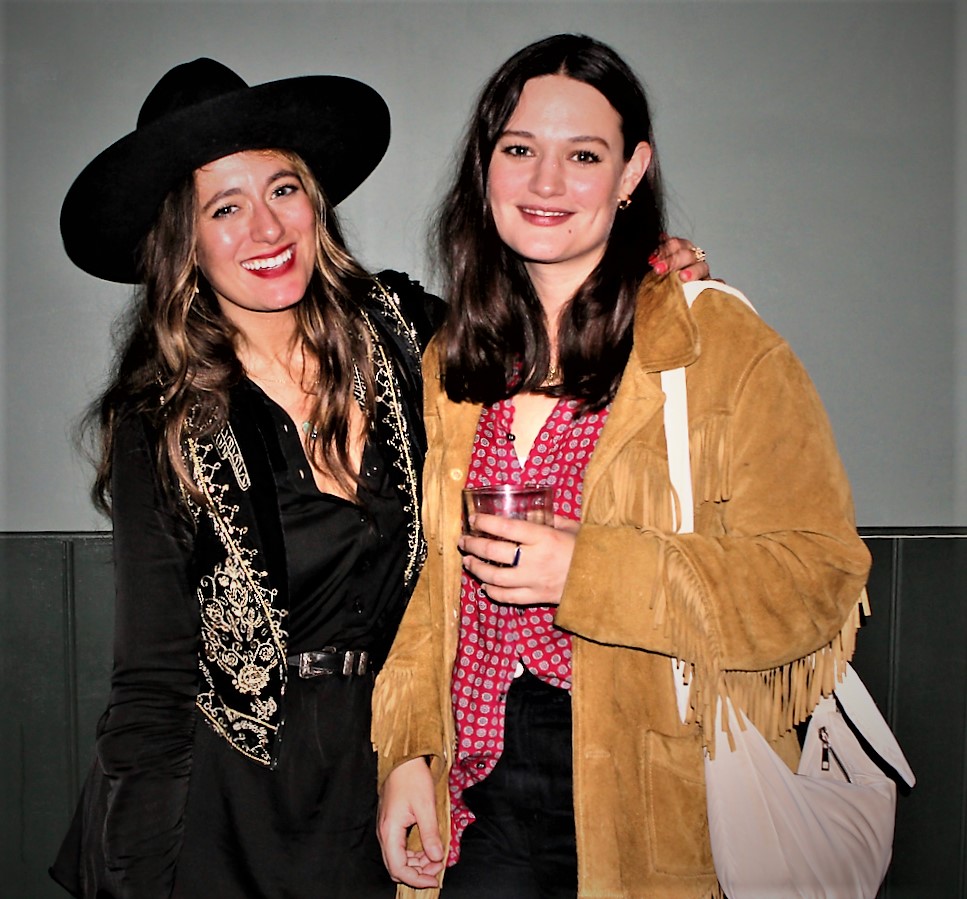 Alyssa was born in Franklin, Tennessee and is now resident in Nashville, a lifelong road warrior who spent her infancy aboard a tour bus with her parents Michael Bonagura and Kathie Baillie of Baillie & the Boys, singing since the age of two and now a multi-instrumentalist.
Alyssa recorded a duet with Kenny Rogers at 10-years-old for his Christmas album, received her college diploma from Sir Paul McCartney at LIPA in Liverpool, and currently balances her critically-acclaimed solo career with an ongoing gig writing songs (and some producing) for Jessie James Decker, Jo Dee Messina, Morgan Evans, Sarah Jarosz and more.
Alyssa's latest solo projects mark her first releases post her collaboration in The Sisterhood Band, with her best mate Ruby Stewart, daughter of Rod, which took her across the world touring two successful Sony Music EP releases, with performances at the iconic Grand Ole Opry in Nashville, main support for Rod Stewart on his UK and Ireland stadium tour, and a sold-out UK headline tour, along with numerous major festival appearances.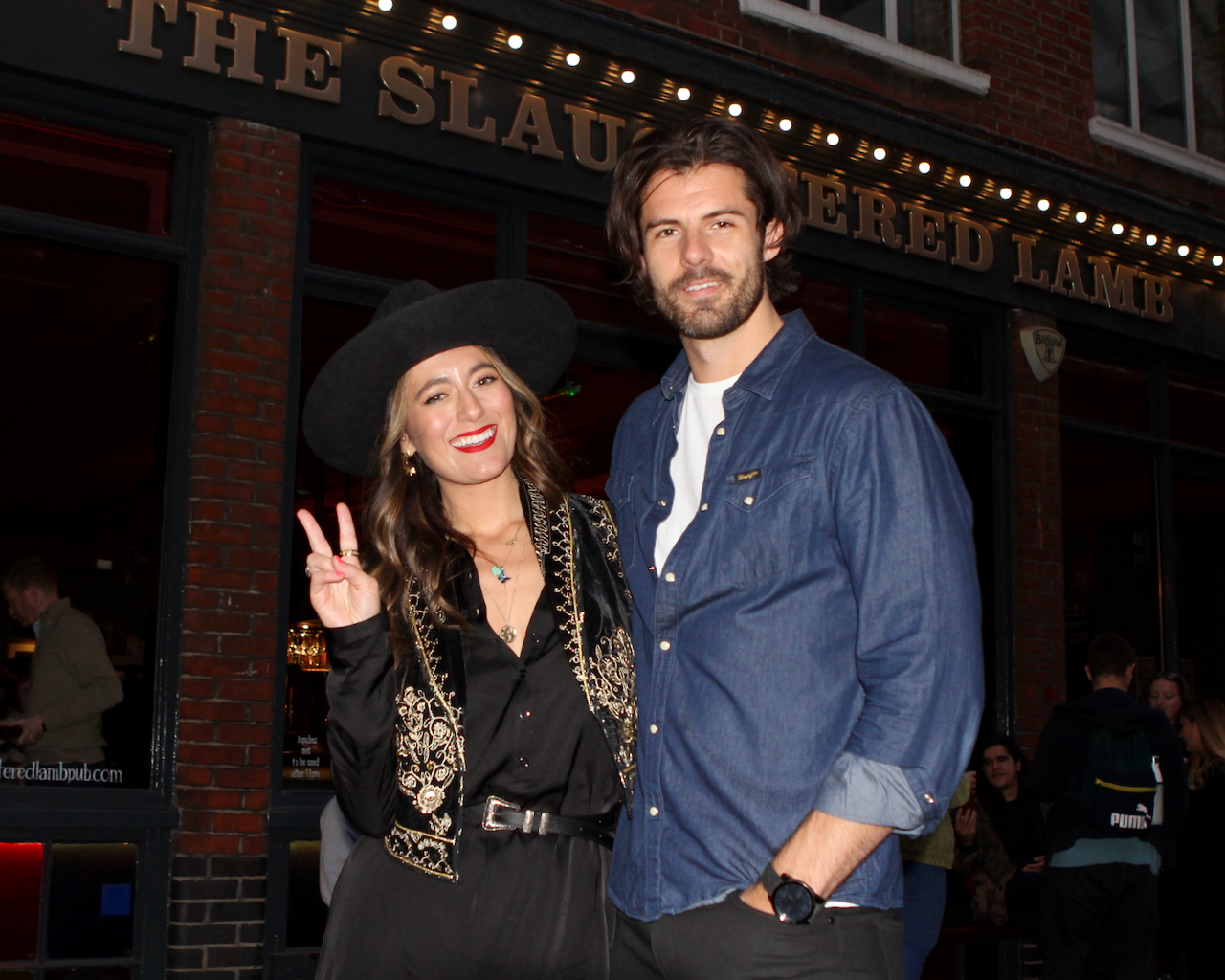 She has dropped for solo albums thus far between 2008 and 2016, and a slew of singles. Alyssa's latest release is the superbly catchy single, "Other Side Of The World' released in April 2022. Video here:
Her track, "New Wings" is well worth a listen too…For us here at Music Republic Magazine, a hit waiting to happen:
More new music is expected in the months to come…
For the London gig in the basement of the hip Slaughtered Lamb, Jessica Staveley-Taylor, one third of The Staves turned up to cheer on her good pal Alyssa. They were both at LIPA together. The pair performed Alyssa's song "Heavy On My Mind" together without guitarist Steve, sharing their "utterly beautiful" harmonies to a delighted audience.
Alyssa's cover of Avril Lavigne's "I'm With You" went down well too, as did THAT song, "I Make My Own Sunshine" which Alyssa closed her set with, solo and playing ukulele.
By the way, Steve Tyler was not present at the gig on Tuesday night, but his loss. He missed a real treat. Alyssa is a magnificent songwriter and my bet is there are a lot more covers by big names of her material to come.
She is also a super performer and her debut London headline gig really was perfect. Shout to Gasoline & matches too – who are Stephen John Marks and Sally Rea Morris – for a lovely set, and to Alyssa's guitarist Steve for his skills. Come back soon Ms. Bonagura and bring your own sunshine with you.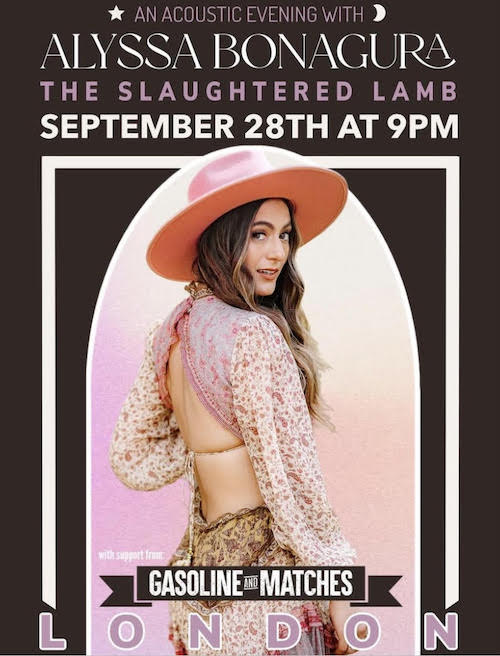 Historic Factoid: The original Slaughtered Lamb was a pub in a small town, just to the north of London, said to be "cursed with the bloodline of the Werewolf". The residents of the town, East Proctor, would sacrifice a lamb of their flock and smear the blood over the doors as part of a ritual to ward off the evil spirit of the Werewolf. I wonder if that's why Steven Tyler didn't show up? Could he be a secret W……
---
---
All Photos: Alex Asprey
Words: Steve Best (with input from Alex Asprey)