A dozen bands/artists in one day and one venue. A mini festival featuring new acts and those tipped for big success and on the verge of their big breakthrough.
Rock and roll tastemakers This Feeling – with menswear retailer Scotts – curated this musical feast and they have a tasty track record of finding the next big thing.
Noel Gallagher says This Feeling is the best club in the UK for future rock 'n' roll stars."  Libertines star Carl Barat agrees: "If you're going to see the emergence of a new great band you'll find them at This Feeling first." Kasabian's Serge Pizzorno says: "Flying the flag for British guitar music." Blossoms are grateful: "This Feeling were the first to take a real punt on us, they helped kick start it all."
It's the second year of Rewired, with Leeds and London venues housing the event on consecutive days; Leeds first and then The Garage in London next day. Both venues headlined by Pastel. Liam Gallagher's favourite new band recently opened for the iconic frontman at Knebworth Park.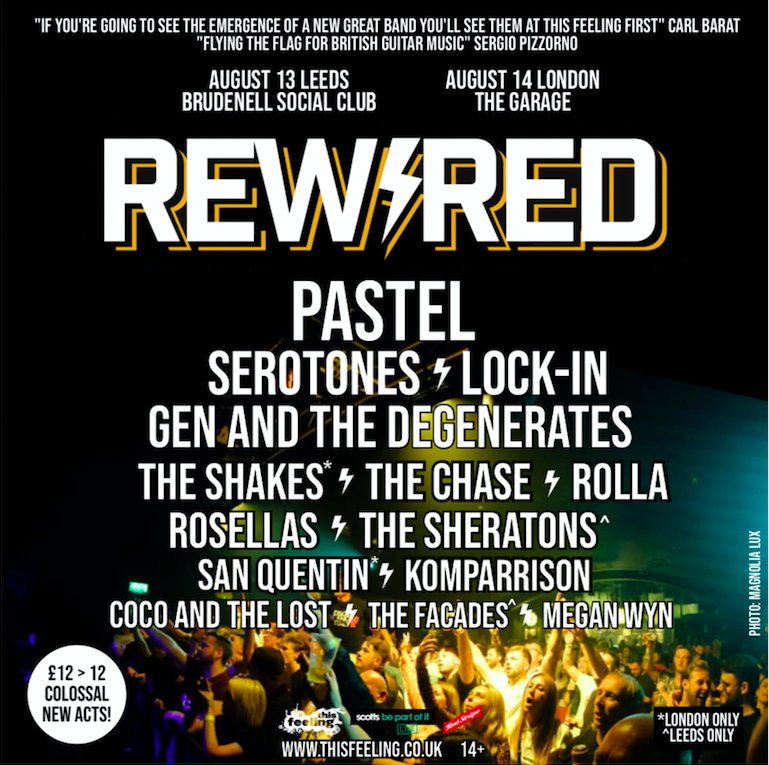 Both venues feature local co-headliners. Yorkshire's Serotones co-headline Leeds and Lock-In co-headline London. Serotones and Lock-In perform at both venues, joined by a selection of rising talents.
They include Gen and the Degenerates (who toured with Skunk Anansie), Manchester guitar bands Rolla and Rosellas; The Chase, one of the north-east's brightest new hopes Komparisson, Welsh teenage singer-songwriter Megan Wyn and Brighton's new Britpop queen Coco & The Lost.  The Leeds show also features The Facades from Wigan, and from Yorkshire The Sheratons.
Our intrepid lensman/scribe Huw Williams caught all dozen acts for this review and photographs……………….
---
Megan Wyn. Anglesey-born singer songwriter, 19-year-old Megan Wyn now based  in Manchester. An indie-driven vibe underpinned by five years of classical opera training. Pretty unique, fusing together a wide variety of genres. She played a set of mostly unreleased work, topped off with her 2021 debut "Polaroid", and her latest offering "Better of You".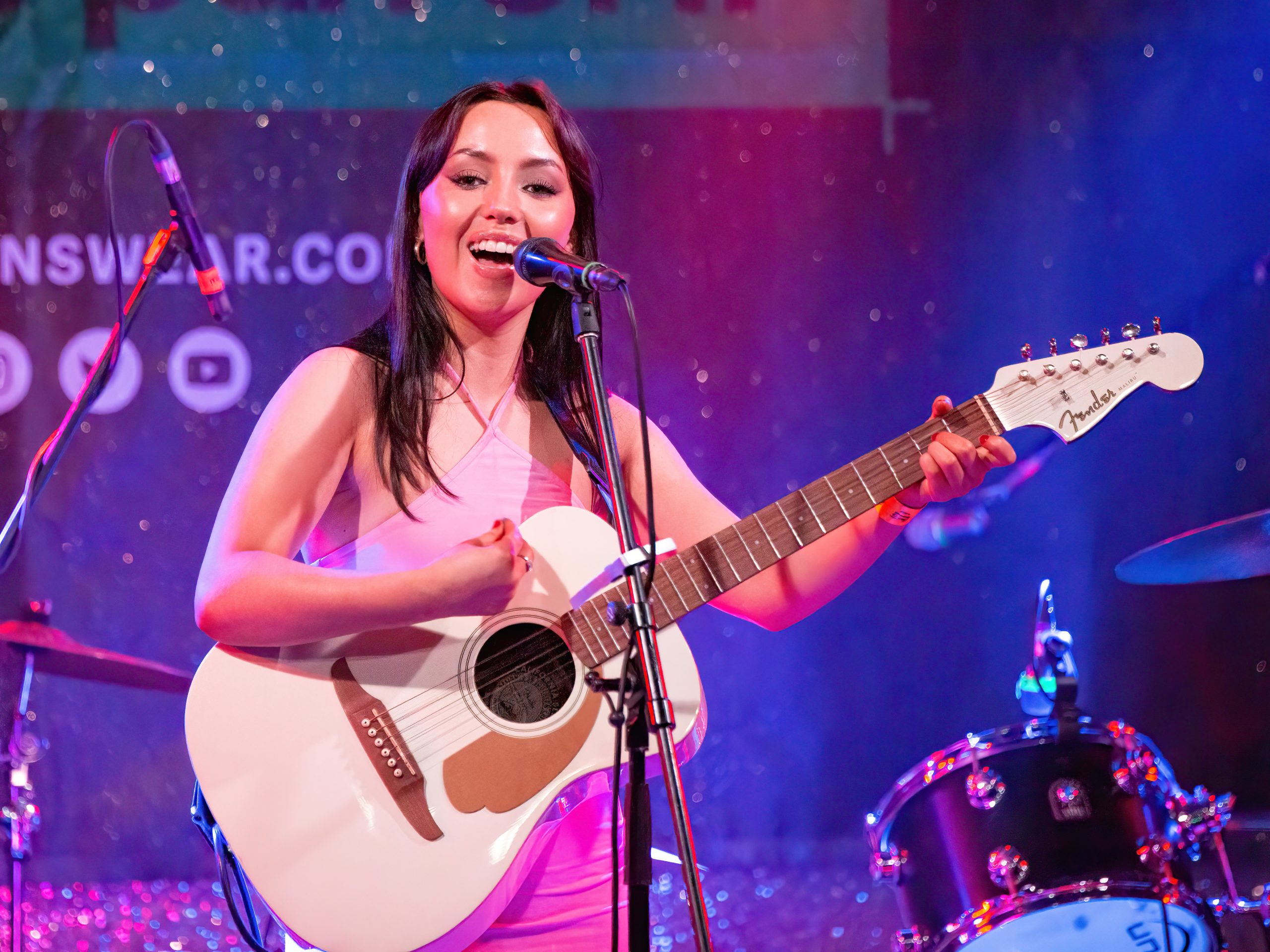 Inspired by the likes of Stevie Nicks, Wolf Alice and The Mysterines, this acoustic set was more stripped back than her recordings, but she engaged throughout. With such exposed production, the voice is everything, and this showcases Megan's soaring vocal ability.
The set accelerates towards the finale, her debut single. It's her first time playing Leeds, and having been in this room to see Sam Fender in December last year, she's ready to return here as a headliner.
Coco & the Lost. Brighton-based alternative pop-rock outfit challenge the genre boundaries, mixing classic Britpop with shimmering production, creating a sound that feels just right for a hot summer.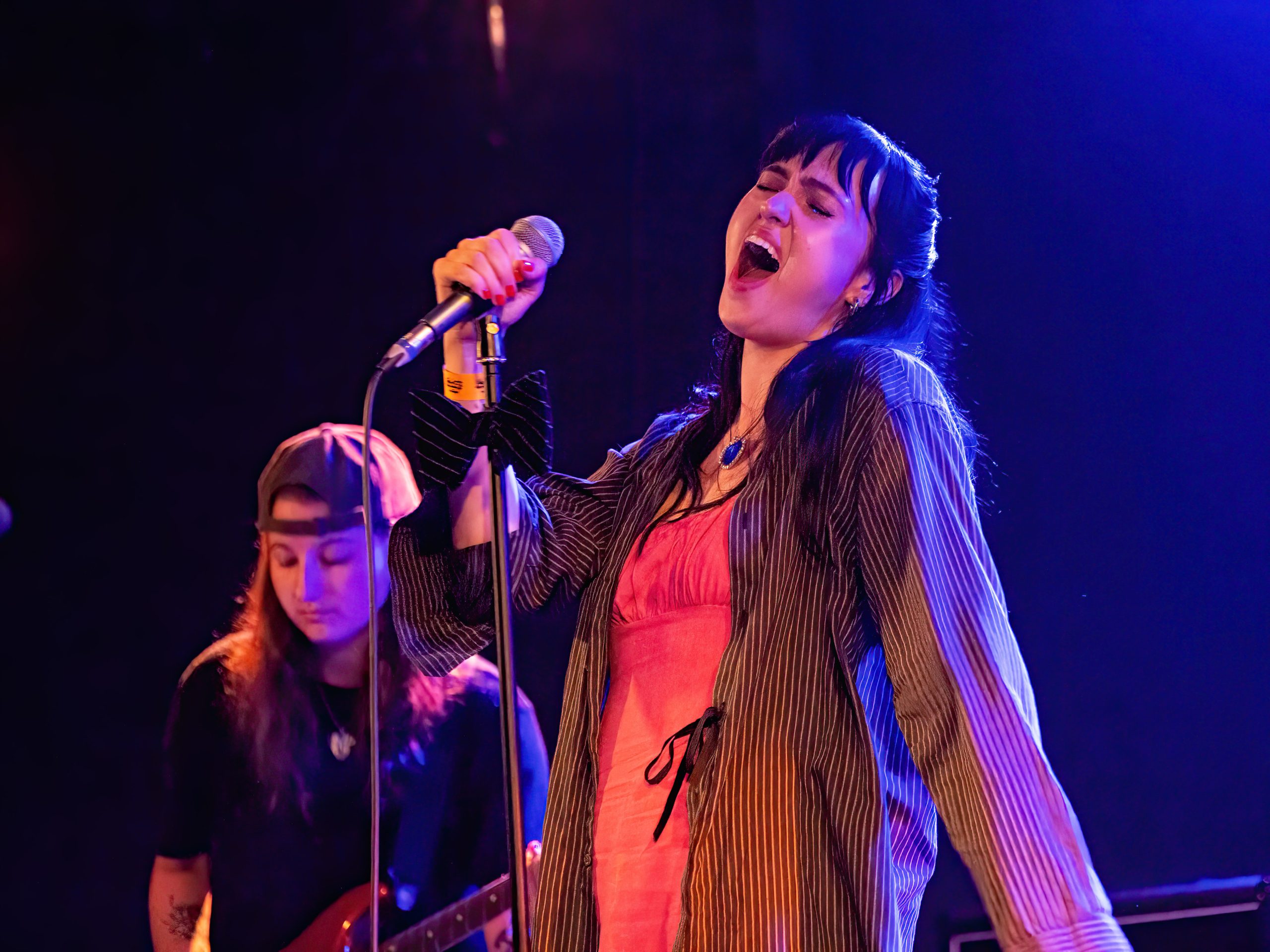 Lead singer Ella Flannery commands the space at Brudenell and even though it's early in the day, the first song, "Something's Going On Here" gets the crowd engaged from the off. By the time we get to "John", which its hits insistent drum beat, the crowd is bouncing in unison. The highlight is the closer and current single, "Crying in the Bathroom", rounding off a charismatic and energetic performance.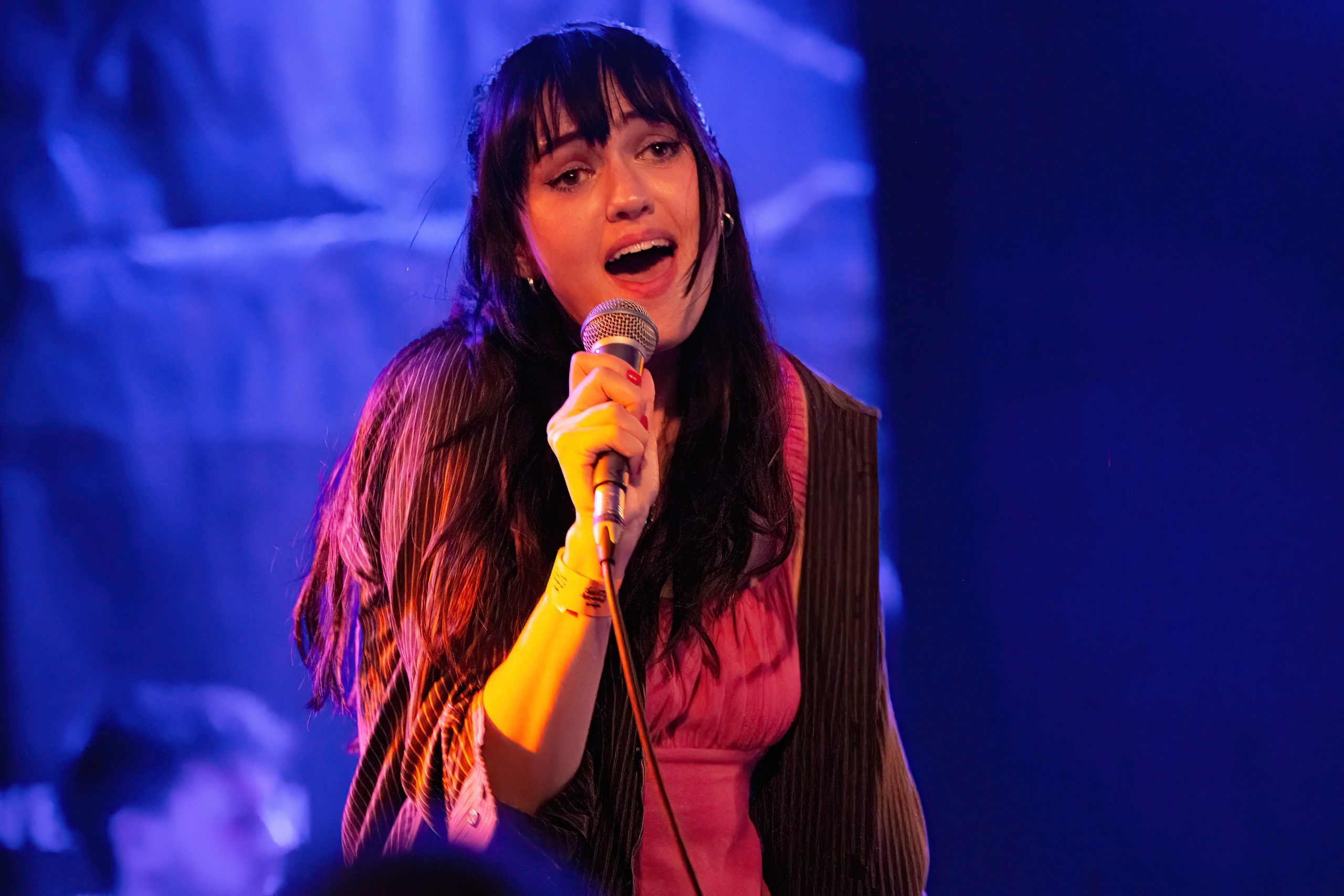 The Facades. Four-piece from Wigan have three singles to their name, playing ther Isle of Wight Festival this year and support slots at the legendary Cavern Club in Liverpool and Manchester's Gorilla. Their driving guitar-led sound on the singles "That Letter" and "I Might Stay", is balanced with the crystal-clear vocals of Alannah Webb (also plays guitar), joined by Evan Armstrong (lead guitar), Luke Ashton (drums) and Sam Bowery (bass).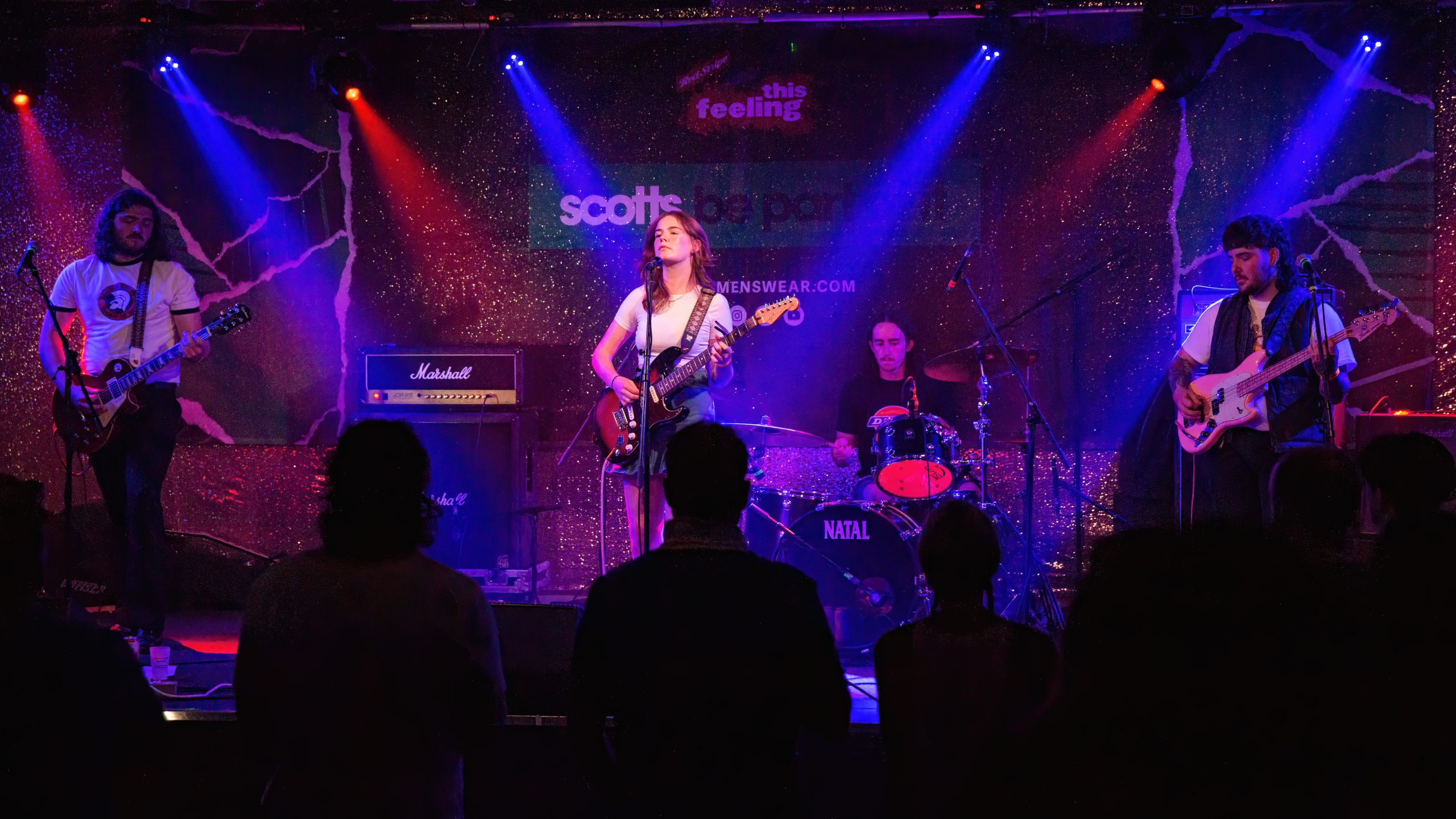 They're a much heavier prospect when playing live. A bass-heavy sound, the kind you can feel right through your chest. Arguably it took away from the vocal in this small space, but the feeling they generated was undeniable. Catch them at the Made In Manchester Festival in Bolton in September.
The Sheratons. Leeds-based indie rockers are back on home turf today, and they knocked out an epic set, rich with driving riffs and relentless drumbeats. The four-piece of guitarist and frontman Kane Bulleyment, Finley Ryan on guitar, Emma Liu on drums and Alex Creasy on bass dropped a recent EP, "Truly Gone Fishing".
The EP covers most of their releases to-date and makes up most of the set for today's outing. This is where Rewired really jumped into life. Cramming nine songs into their 30 minute set, they are clearly revelling in the love of their local fans.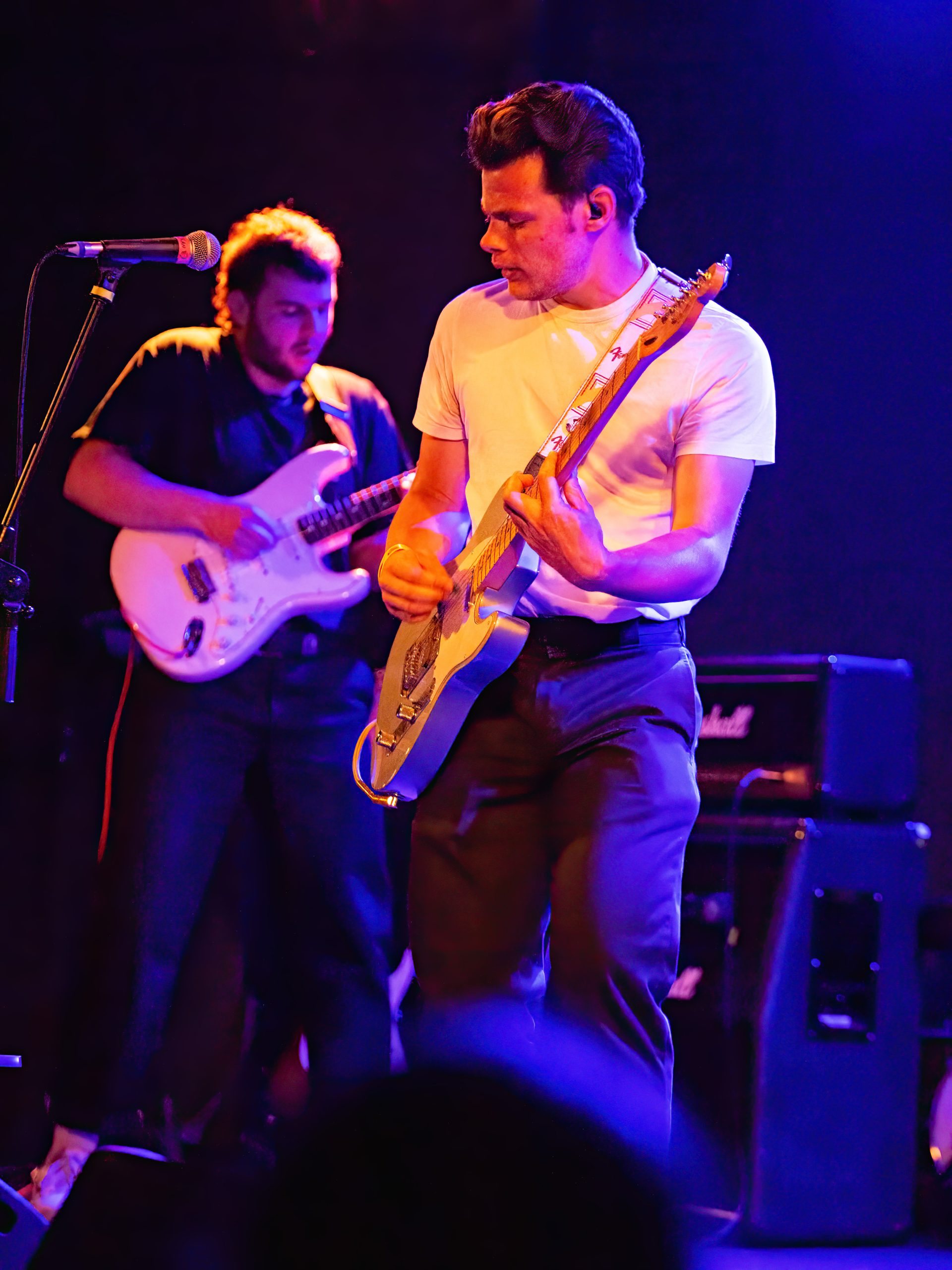 A style honed through this summer's festival circuit. Bulleyment gave an energetic display; a commanding presence with both vocal and guitars. He's a great frontman, interacting throughout with the audience as he struts back and forth with his guitar.
The next minute, he's back alongside Ryan as they create a deep and affecting rock soundtrack together. It's an infectiously dynamic performance, the highlight of which was the so far unreleased track "Hook, Line and Sidney". They've caught Steve Lamacq's attention on BBC Radio 6 Music, and they'll be catching yours soon enough.
Rosellas. Manchester-based indie rock five-piece Rosellas, are made up of Drew (lead vocals), Euan (rhythm guitar), Ollie (bass), Luis (keys, backing vocals), Mark (drums). You can hear the North West influences, with shades of Stone Roses, The La's and in particular Morrissey and the Smiths.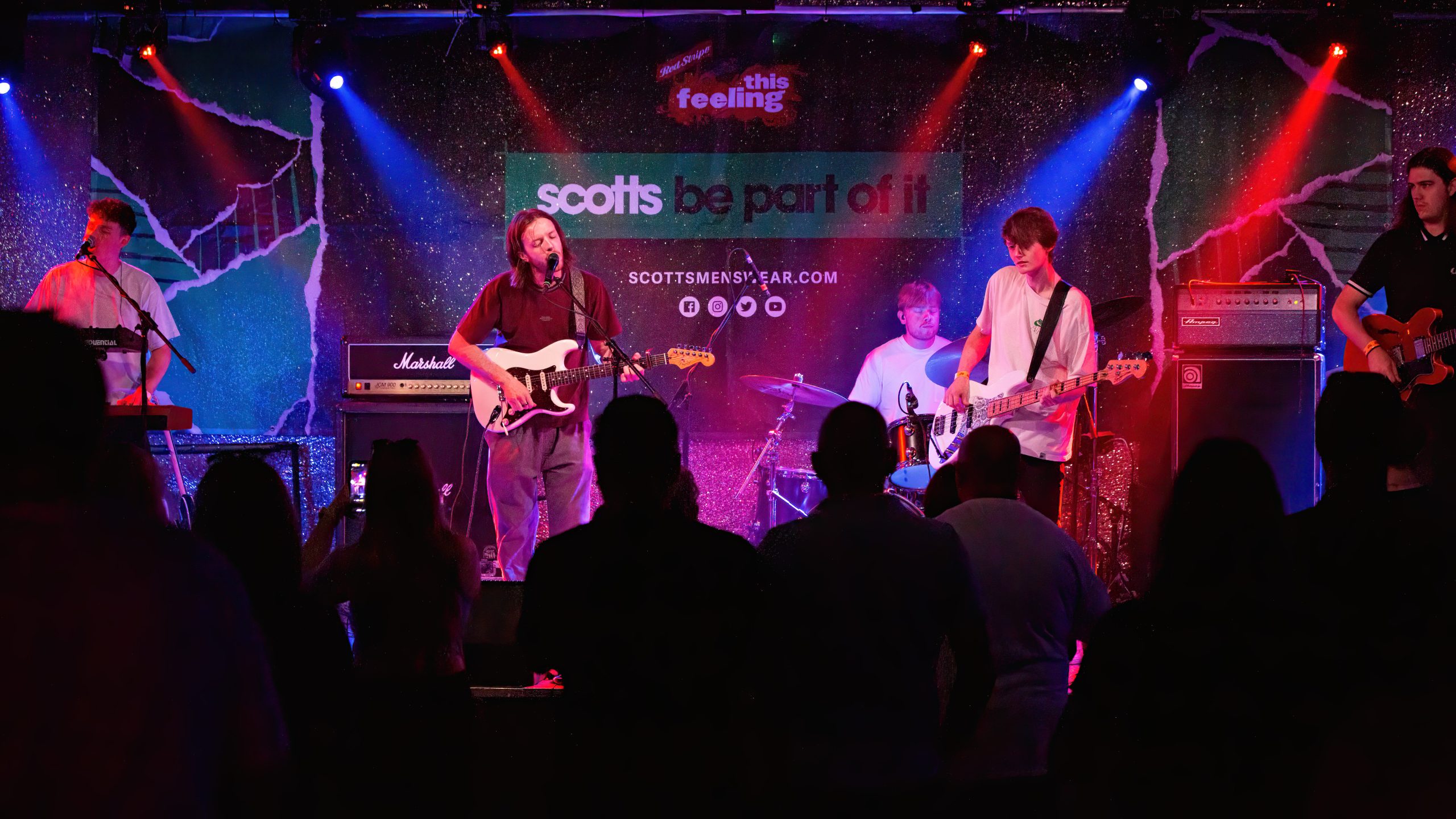 Much of the set is from a fairly prolific 2021, but the highlight is actually a cover of New Order's "True Faith", with the drumbeat setting a very different tone, bringing the Brudenell dance floor to life. Guitar and synth dominate the genre defying sound, despite the obvious influences, while "Common Ground" and "Come Alive" begin with ethereal synth generating a totally different atmosphere.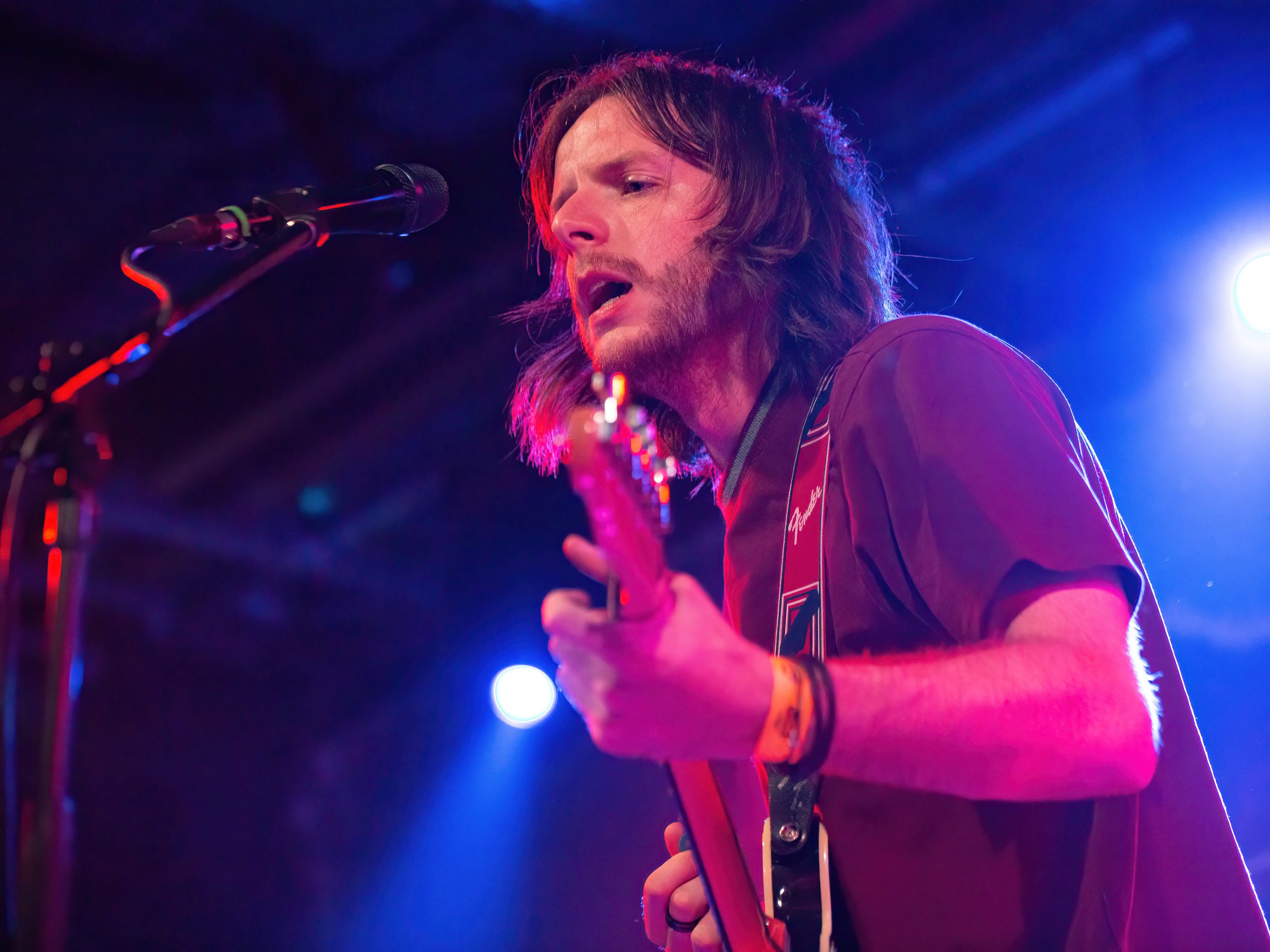 Komparrison. Releasing their debut EP, "You Say She's Satisfied" in December 2021, Komparrison's indie pop sound keeps was a good fit for Rewired. Easy to see why This Feeling and BBC 6 Music have got behind this band. Lyrically one of the strongest on the bill today, it's backed up by solid indie guitar, reminiscent of Arctic Monkeys and Royal Blood.
They deliver an infectiously energetic set, with great chemistry between the two lead singers, Elise Harrison and Kaitlyn Kempen, while Elliott Smith hands out an electrifying guitar performance. In front of a crowd that sang back with as much enthusiasm as the band themselves, this was a set to remember.
Lock-In. formed in 2019, Lock-In barely had time to get started before the pandemic threw a massive spanner in the way of their progress. Despite that, the band spent lockdown mastering their craft, and despite the relatively sparse opportunities to play live, they're a force to be reckoned with on stage. They're the best thing I saw all day.
Singer Benjy Leak owns the crowd. Hanging out from the stage above the audience, braced only by his mic' stand, he looks an inch away from a stage dive. They'd have caught him too, such is the visible adulation. This is a crowd that followed this band to the North of England, and as Benjy acknowledges, they've been with them all the way.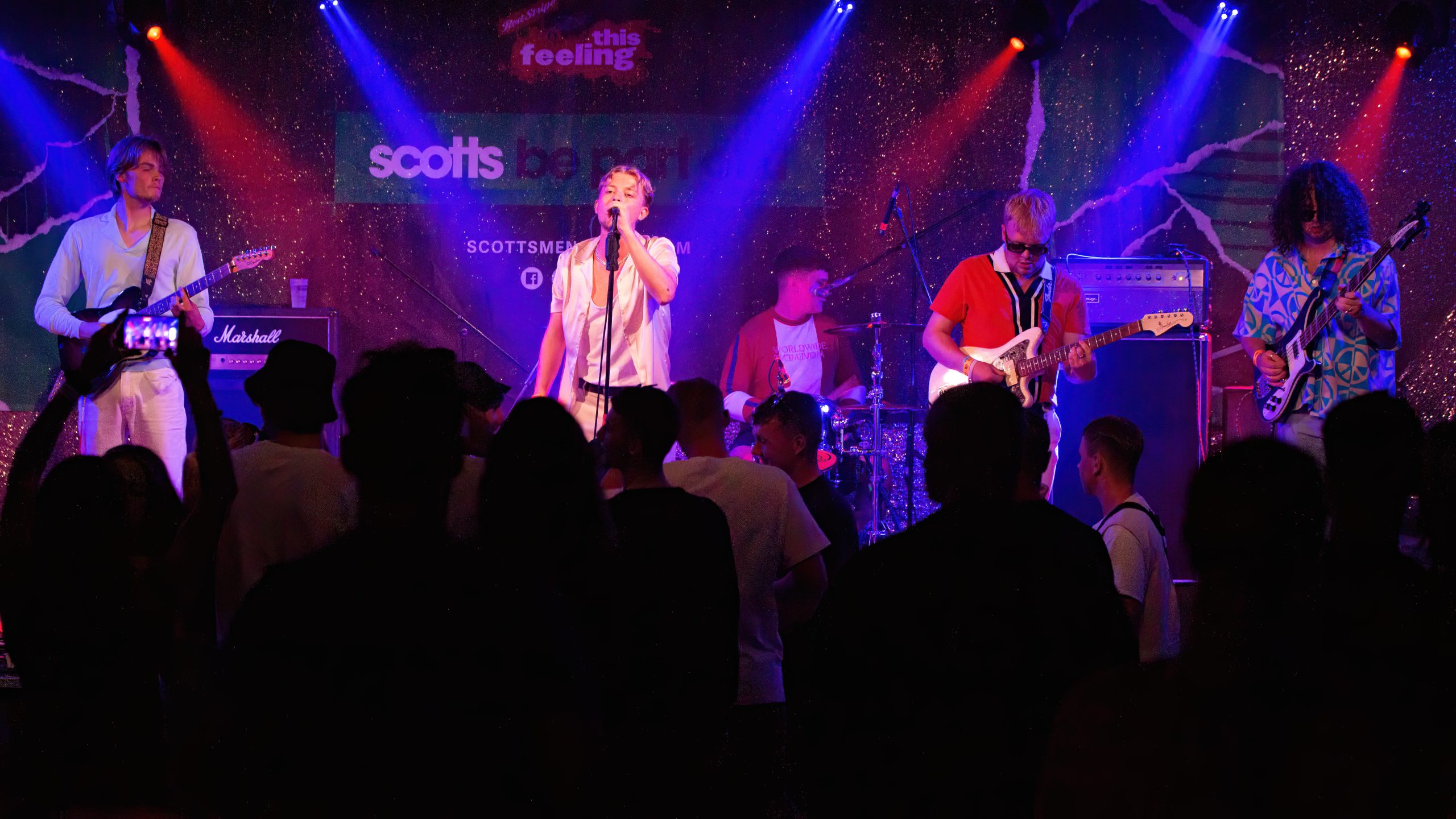 Backed by Ollie Stacey on drums, Sam Collins on bass, Joe Leak and Angus Moore on guitars, their output is described as "happy people music", and the bright indie-pop melodies are the backbone of this stellar set.
Delivered with the swagger and confidence of a much more well-established band, LOCK-IN are the real deal. Guitarist Joe, brother of lead singer Benjy tells me they're like the Gallaghers, only less rock and roll! They happen to still get on with each other too, which also sets them apart from the Britpop legends. They crafted an eight-song set of real quality, and I wouldn't be too surprised to see these guys appearing on bigger bills in the next 12 months.
Rolla. There's anticipation building for Rolla in Brudenell's main room. As the lights go down and the spoken word intro plays, emerging to cheers, they couldn't look more "Manchester" if they tried. Rock and roll in a pure Mancunian style, they're all about 90s nostalgia…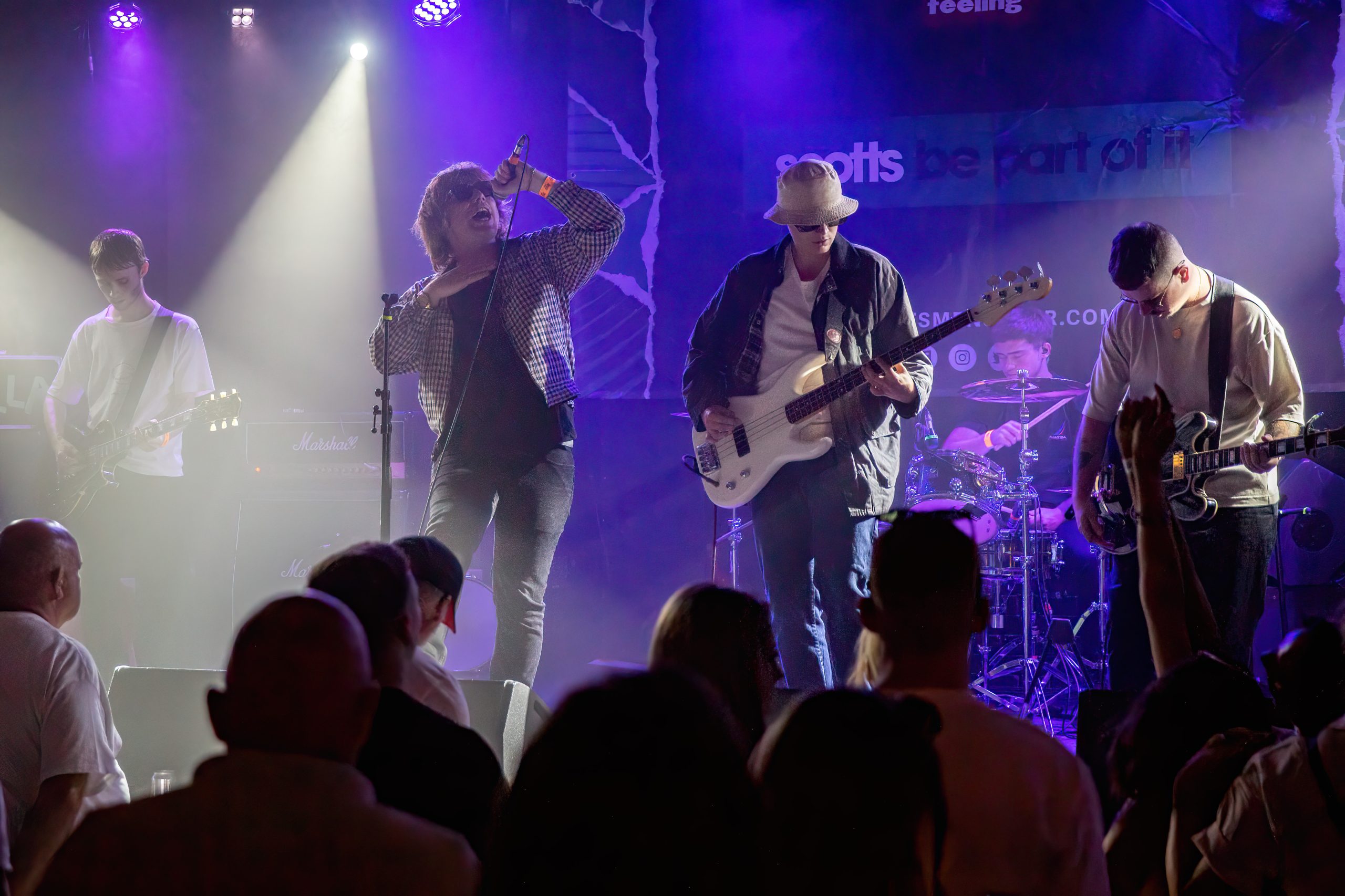 Oasis and Kasabian, but with a proper hard edge. While the comparisons with Oasis are no doubt copious, it would be unfair to peg these guys as a Gallagher brothers tribute. Sure, there's a Liam-esque swagger and attitude behind the sunglasses, but they are a band that can clearly stand in their own right.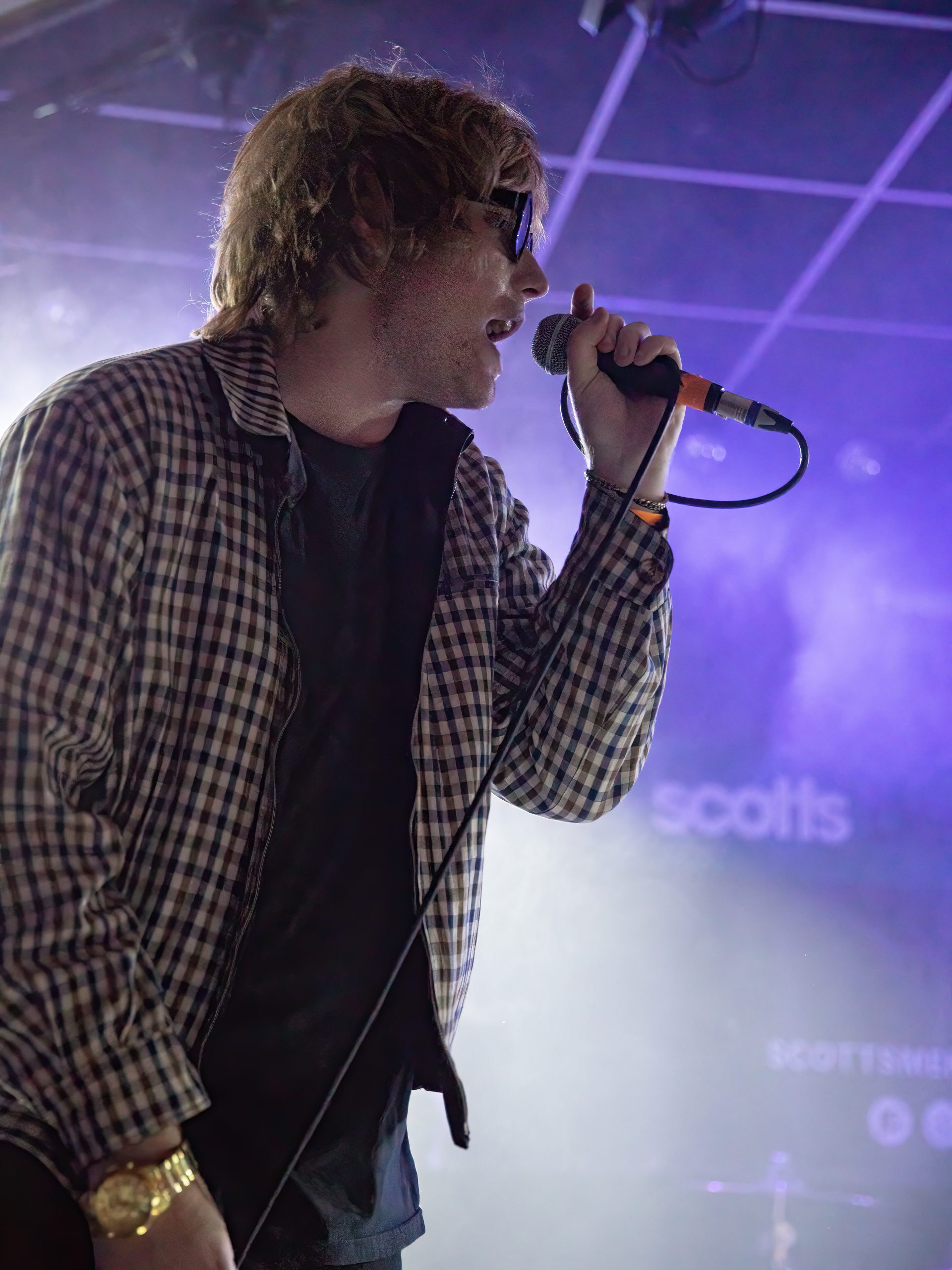 There's already a loyal following for Rolla, and they're a formidable live act, with lead singer James Gilmore strutting the stage like he owns the place.
He's almost goading the crowd to get involved, while guitarists Luke McConnell and Tom Padden, Luke Gilmore on bass and drummer Marston Robinson keep the sound relentless and full, so the audience can do little to resist James's challenge. Go see them at Neighbourhood Festival in Manchester in October.
Gen and the Degenerates. Delivering one of the most visibly memorable performances of the day, attacking the Brudenell Community room stage with the aggression and style of a band worthy of much bigger venues. The alternative punk rockers are a hot tip for the coming months. They are Gen Glynn-Reeves (vocals), Sean Headland-Stone (guitar), Evan Reeves (drums), Jacob Jones (guitar) and Jay Humphries (bass).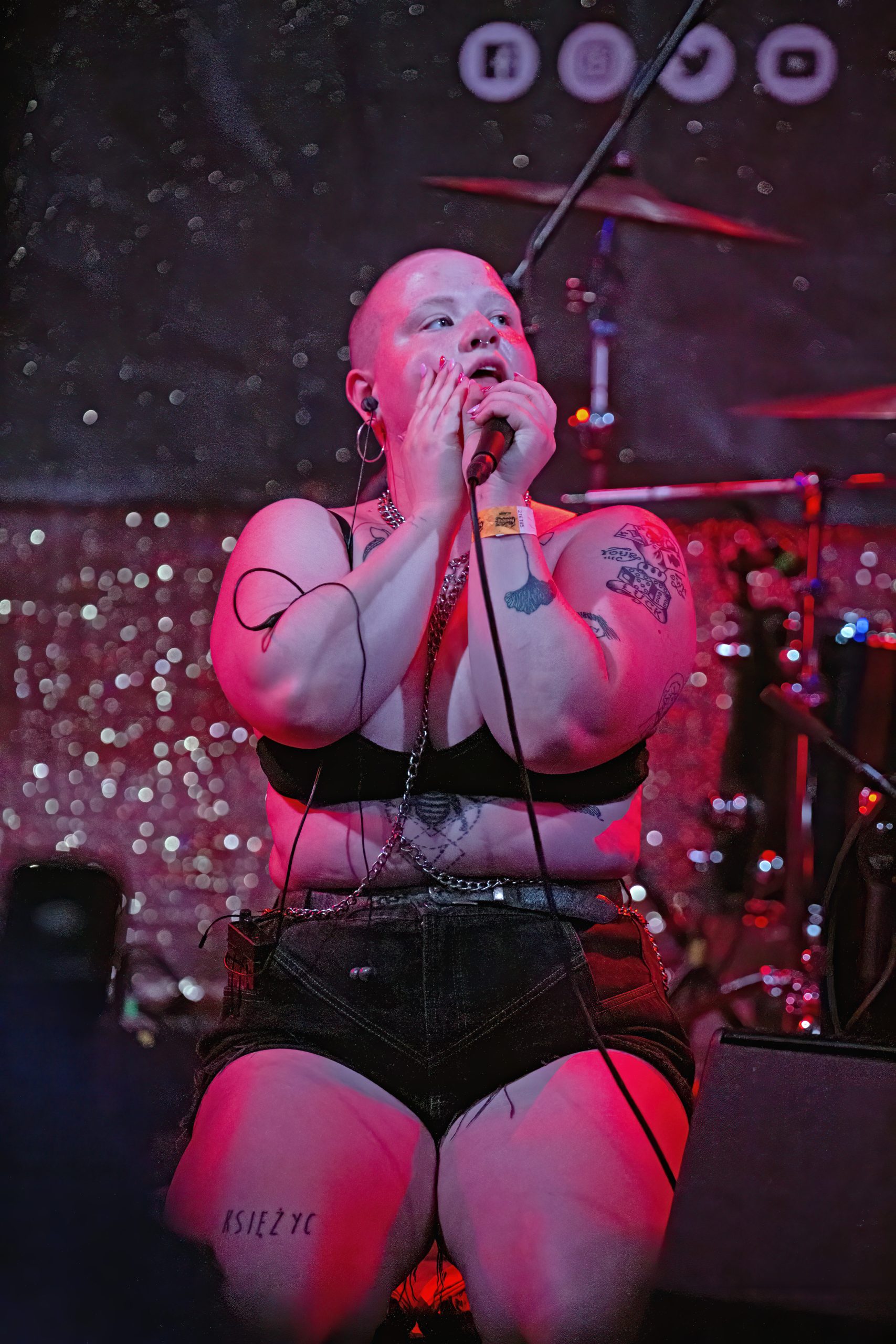 Gen's vocals are backed by a brace of rock-solid guitars, giving it a hard-edged punk feel. What the vocal sometimes lacks in pitch is more than made up for by the uncontrollable energy of Gen, tearing around the stage to the extent that she loses her in-ear monitors and her mic' disconnects on several occasions.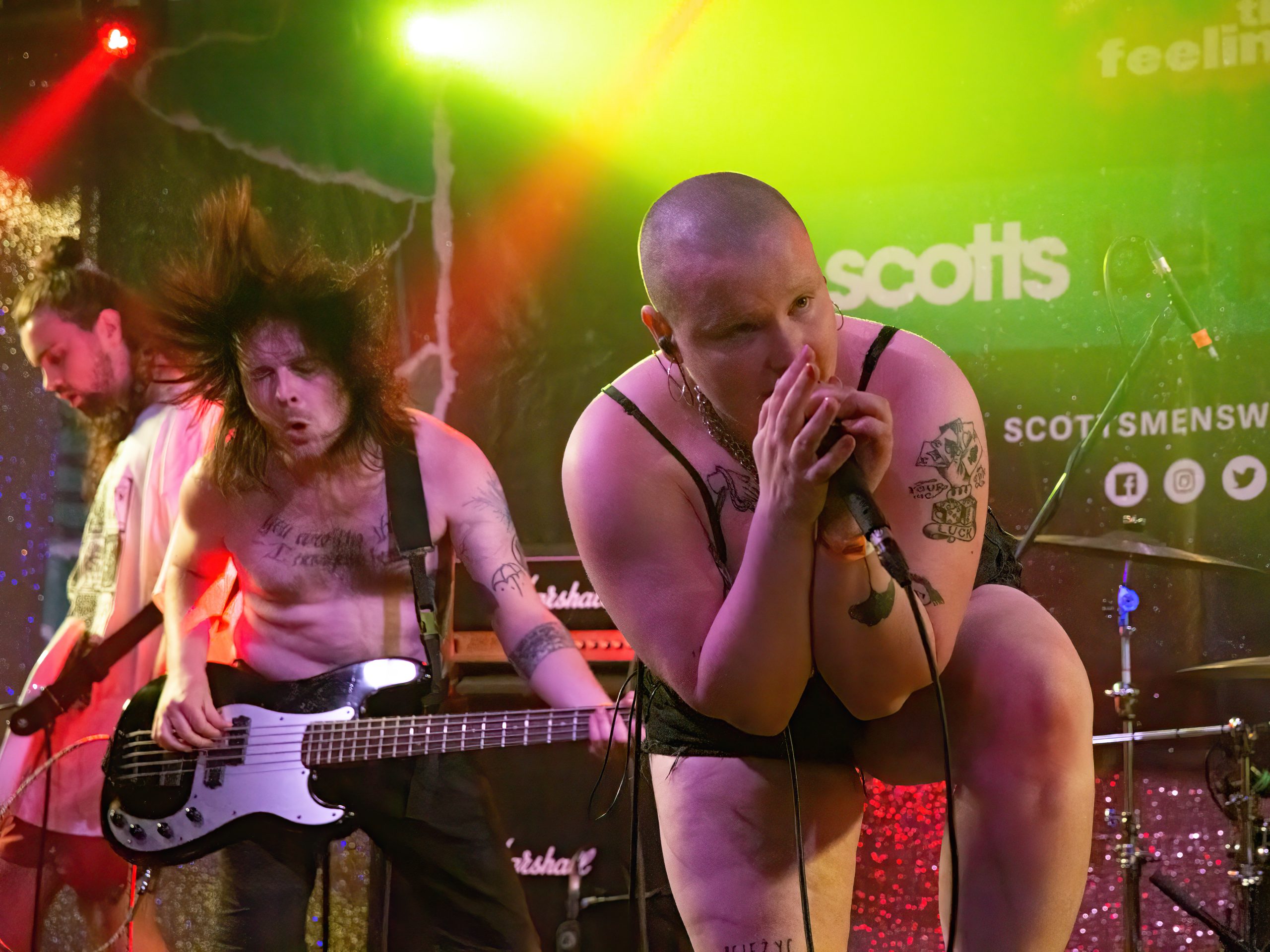 She is lying down, bouncing around, spinning and turning, all while keeping up the vocal onslaught in support of first-class lyrics; fighting for queer and trans rights and speaking out against abuse of all kinds. Ending quite literally on the floor along with guitarist Sean Headland-Stone, this was a tour-de-force, smashing out every number with relentless purpose. Well worth checking out on tour in Sept/Oct.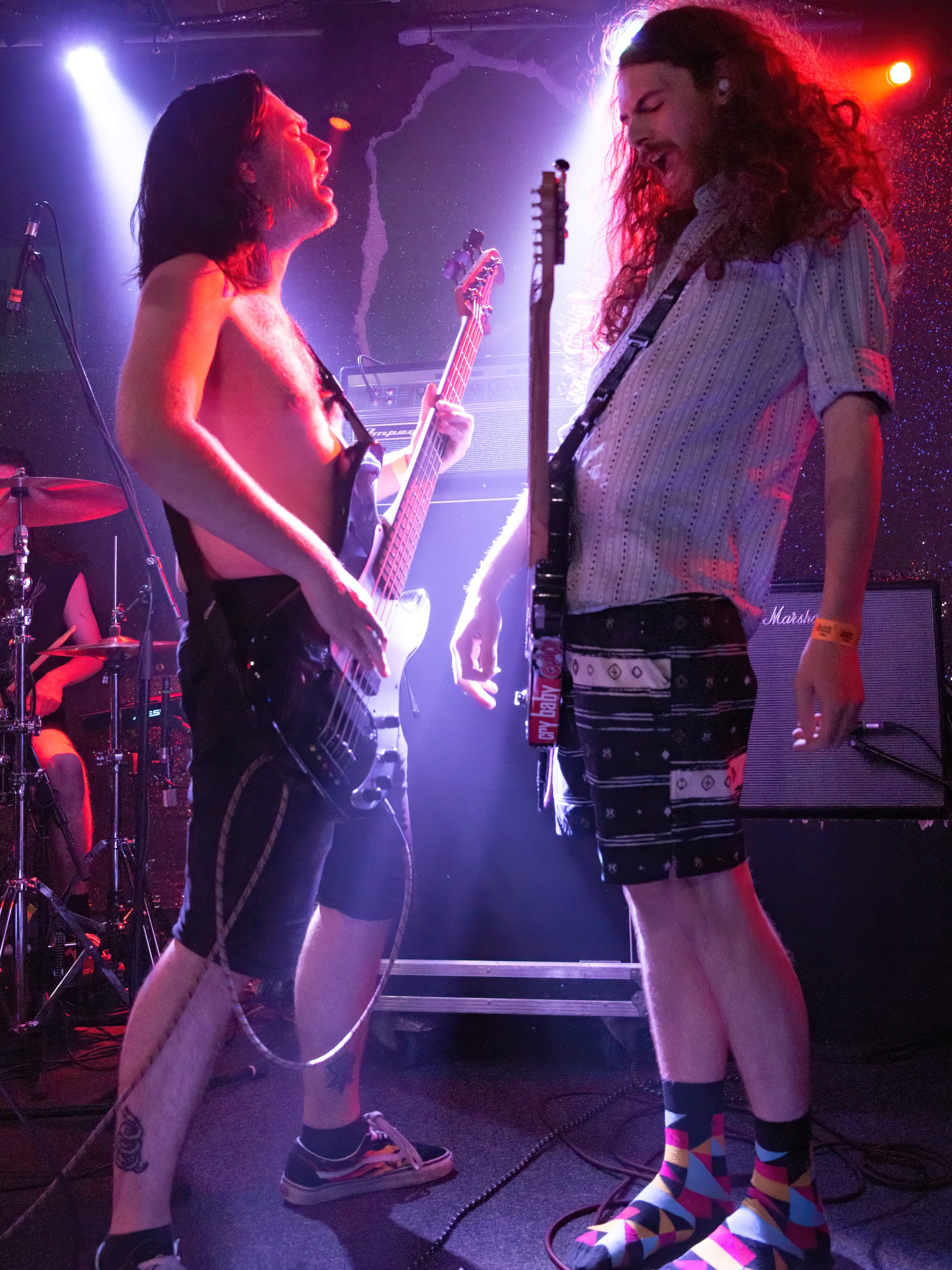 The Chase. Their  set is full of singalong, feel-good anthems, a band just waiting to break out into the country's bigger venues. The crowd are bouncing from the start, singing along from the very first chorus. It's a clever ploy by the four-piece from Ireland, with at least three of their hooks relying on "la la la's" making it a cinch for the crowd to jump, join in and party more than they have all day.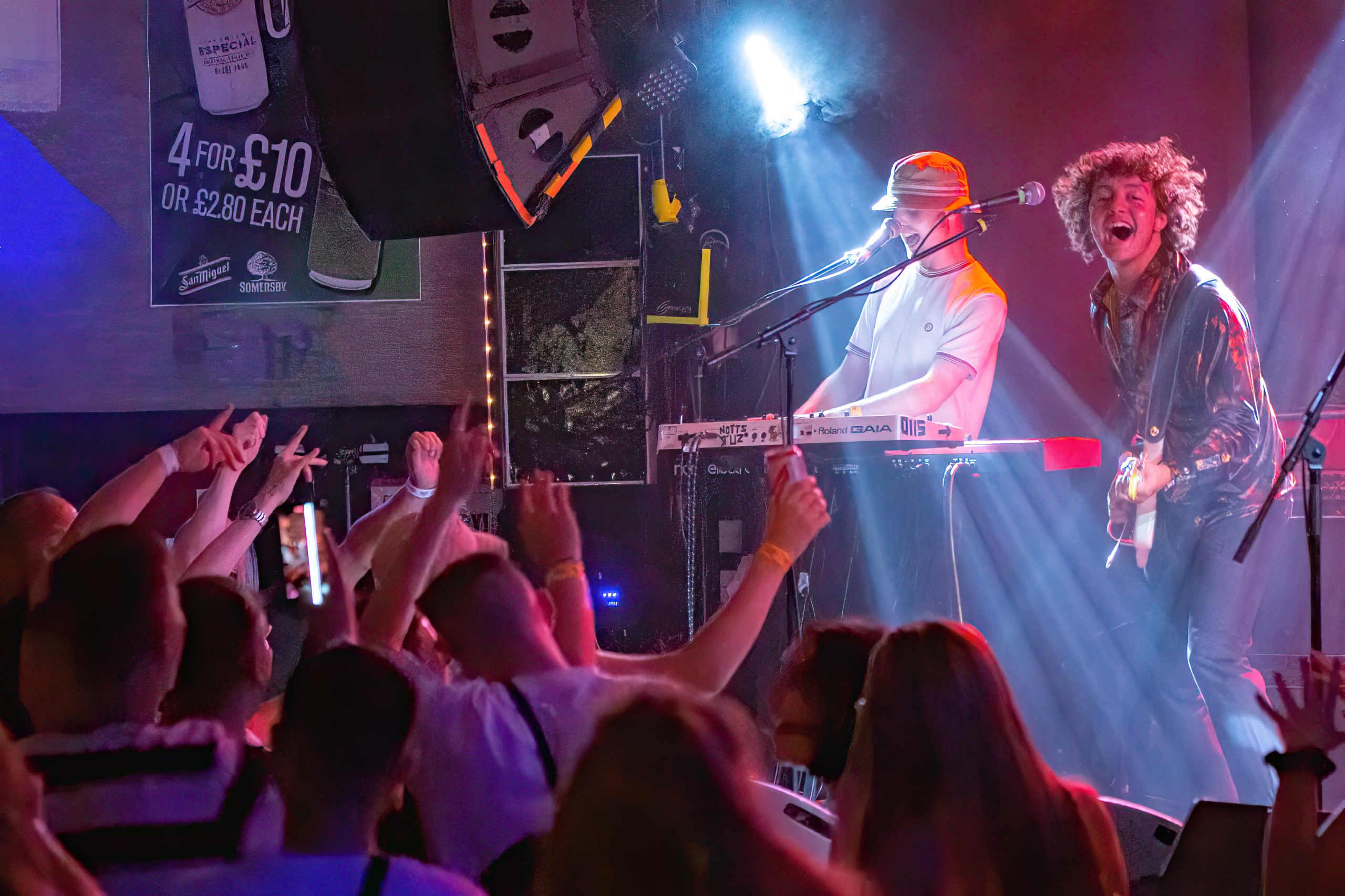 There's a great dynamic on stage between lead singer Tyler and his brother Dion on the drums. Fun and outstanding tunes throughout. Unlike the TV quiz show of the same name, they're not playing games here. These are definitely guys destined for greater things.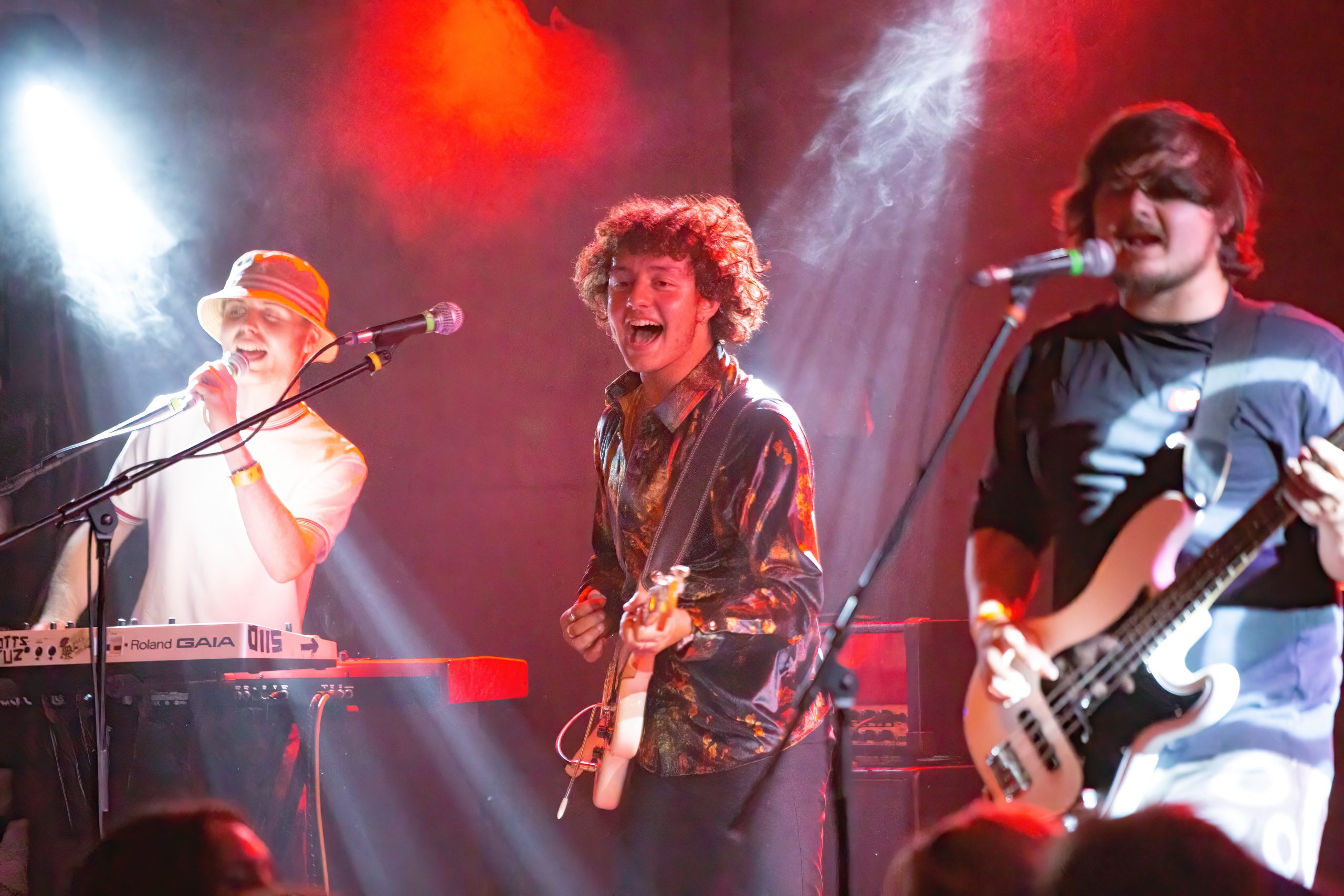 Serotones. This five-piece rock band from York have real stage presence. Frontman Duke Witter has a confidence that demands your attention, while the band behind him delivers an authentic old school rock sound.
Sam Lambert and Joe Adams guitars are full and heavy, while bass player Sonny Leach and Tom Elliot on the drums form the linchpin around which this high quality sound revolves.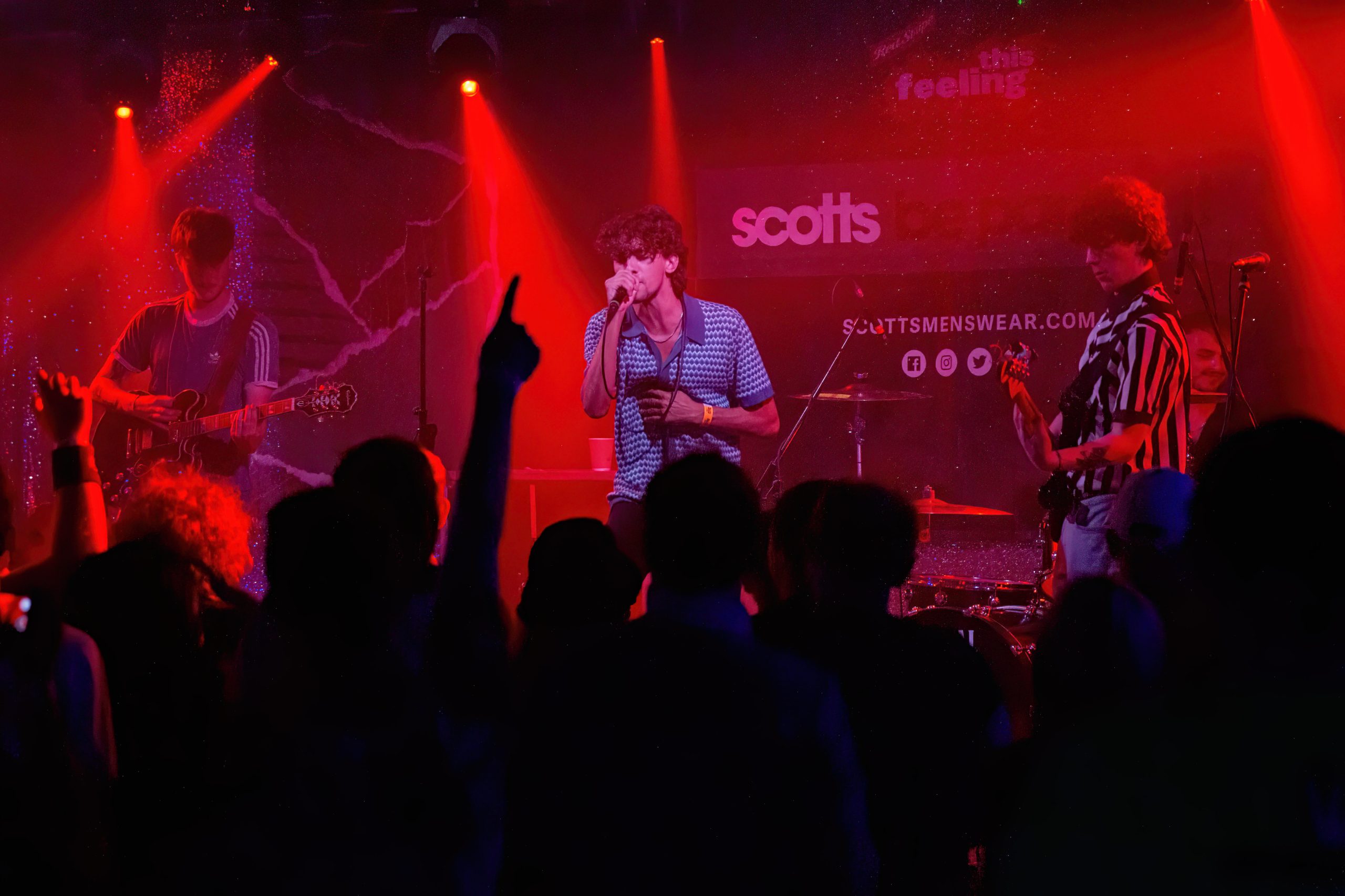 It seems Duke is struggling with his voice tonight and it's taken a little away from his performance. The overall sound of the band though is still great, and there's a loyal crowd down at the front keeping things going. Chants of "Yorkshire, Yorkshire!" ring out in support, and the songs keep coming. They've already graced the Isle of Wight Festival and Y Not? stages among others. Expect to see a lot more of these guys on bigger stages in the future.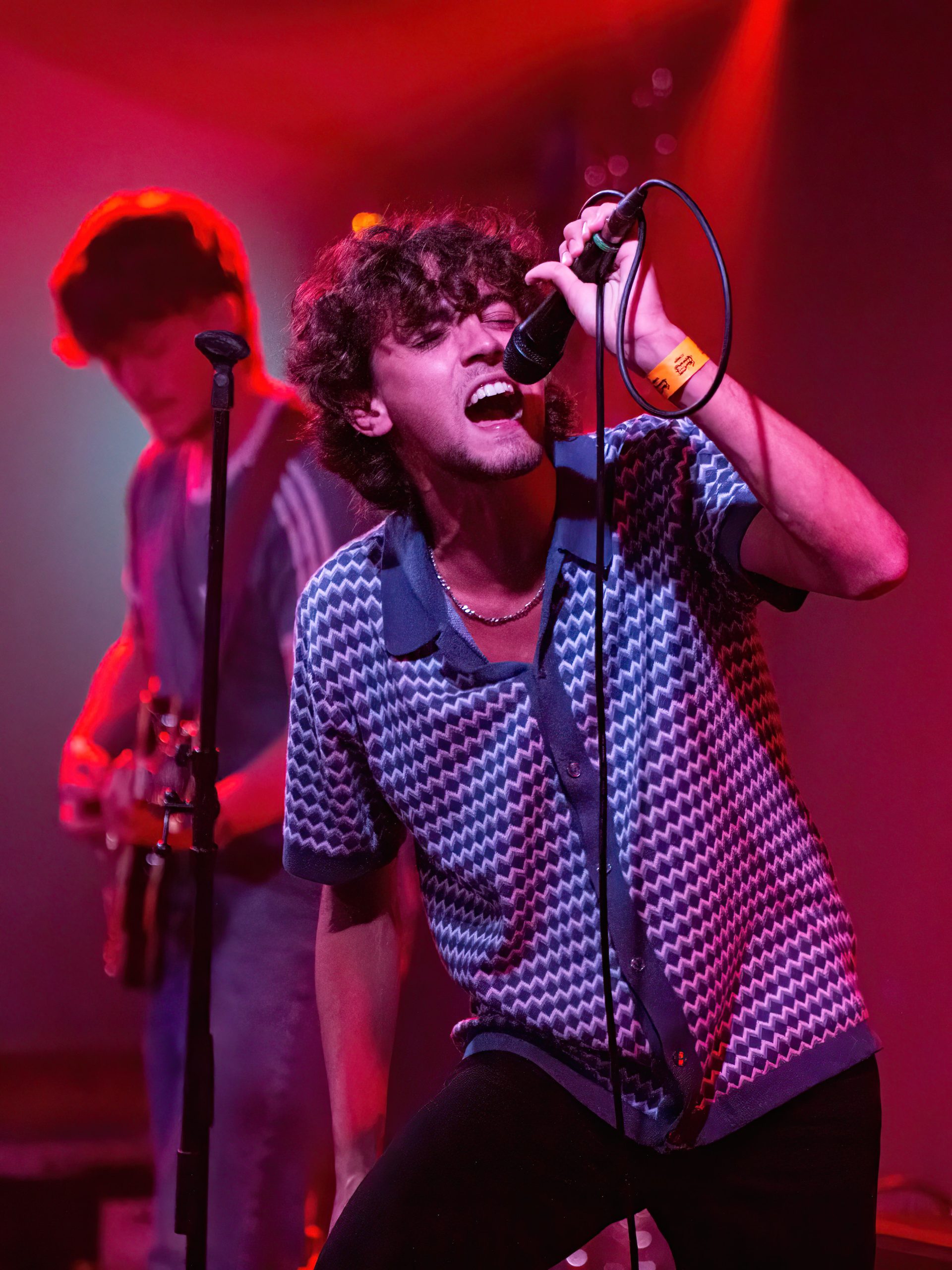 Pastel. Fresh from an opening slot with Liam Gallagher at Knebworth, personally selected by the Britpop legend. The Manchester quintet are riding high into this headline slot at Rewired. With that in mind, it's a disappointingly small crowd at the end of the festival which is made up of about half fans and half bands who had played earlier in the day.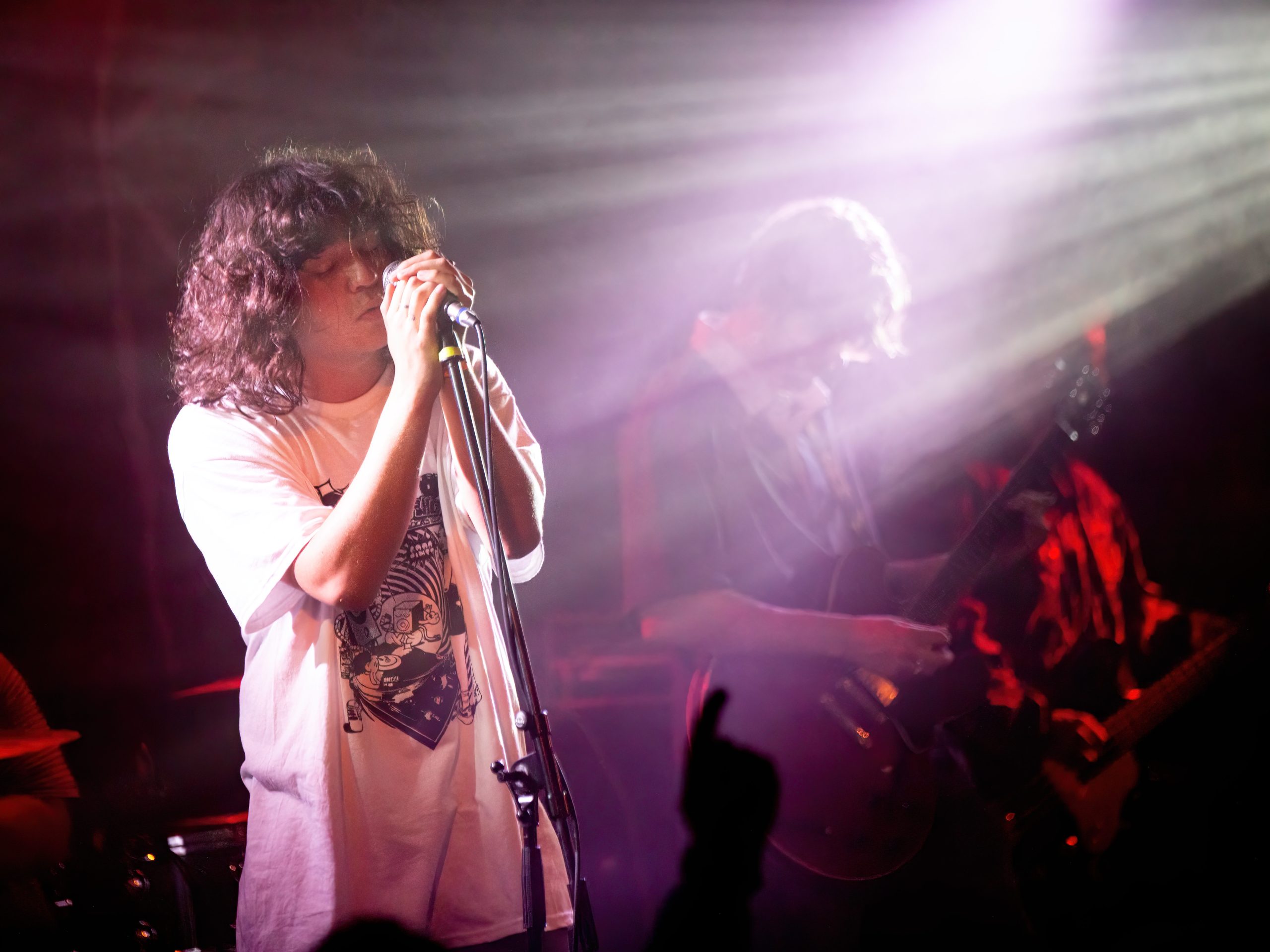 Fronted by cousins Jack (singer) and James Yates (guitar) with Liam O'Shea (bass), Joe Anderson (guitar) & Rhys Wheeler (drums), they're quite low key on stage but there is a richness to their sound that is enough on its own to keep the audience moving.
Sonicly one of the best of the day, Yates ethereal vocals, with drumbeats that echo the Stone Roses, and complex guitar licks underneath, generate the only mosh pit of the day.
Singer Yates warms into the gig as the set goes on, vocals reaching higher and further into the audience. It's a small, but very satisfied crowd that leave the Brudenell at the end of a long day. A dozen reasons to be cheerful…
Words & Photos: Huw Williams (Super job he did, too!)