(SATURDAY) – Review & Photos
---
Thursday was the day many campers arrived, but the main stage kicked off on Friday with some superb acts, and Becky Hill headlining the first year for Camp Bestival at Weston Park in Shropshire.(See our review and pix from day one in our "Live Zone".) Fat Boy Slim headliner for Saturday and Rag 'N' Bone Man top spot Sunday.
Circa 18,000 adults on the site across the four days. Tickets already on sale for 2023. Weston Park the site for the now defunct V Festival. Camp Bestival a family focused event. Today (Saturday), the kids have Cosmic Kids Yoga, Mr Tumble and Brainiac Live to start their day on the main stage. Camp Bestival runs every year at Lulworth in Dorset, operating since 2008, run by Radio 1 DJ Rob da Bank and his wife Josie.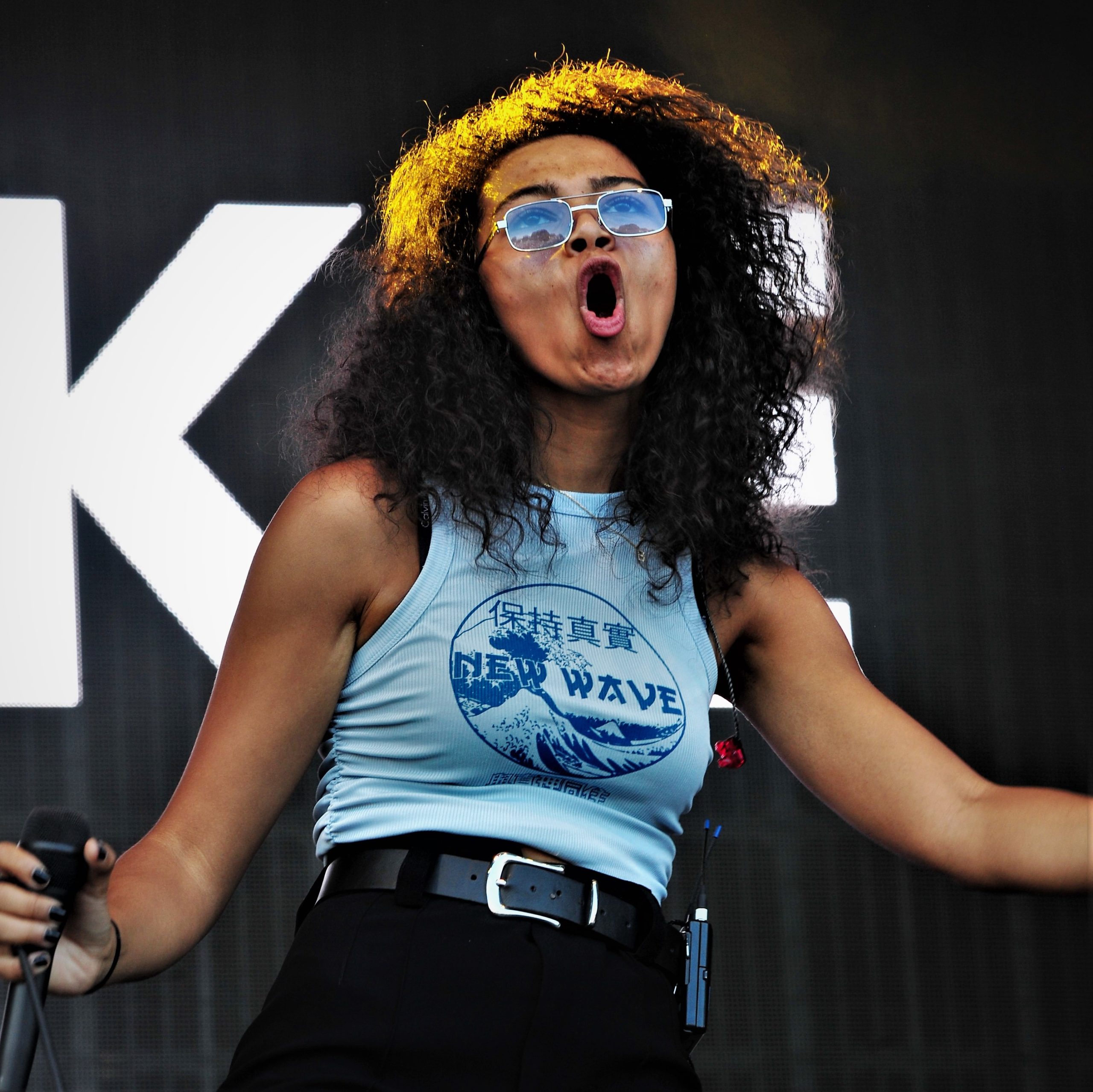 Music Republic Magazine hot tip, Brooke Combe delivered a cracking 45 minute mid-afternoon main stage set on Saturday with her excellent band. See our exclusive interview and photo shoot with Brooke earlier in the summer at Neighbourhood Weekender festival in Warrington.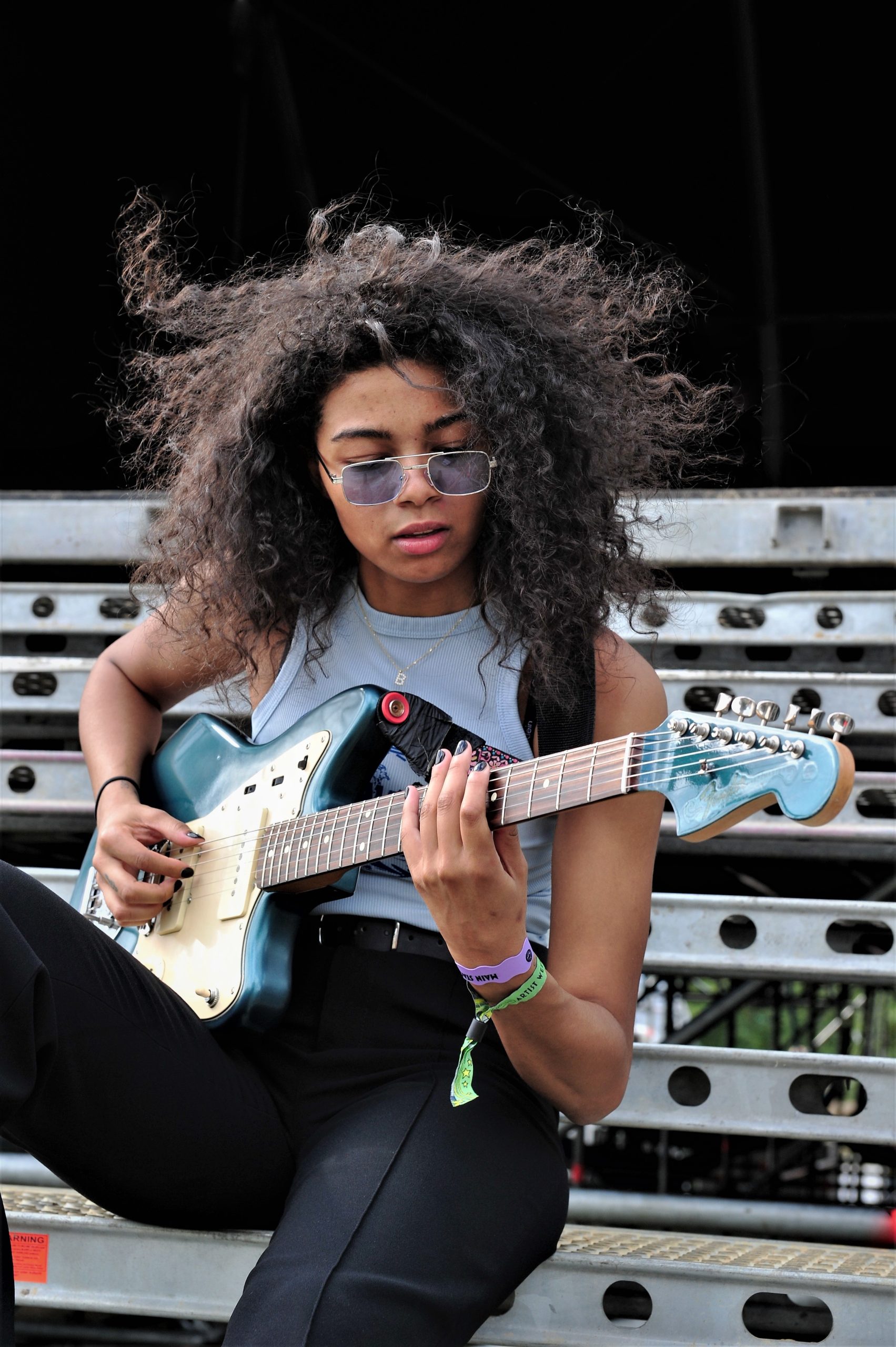 I caught up with the young Scottish singer and songwriter who is signed to Island Records, after her set today and she was telling me her father called her very excited a while back, when he saw our interview and photos with Brooke, and told his daughter, "Have you seen this, Brooke. It is awesome!"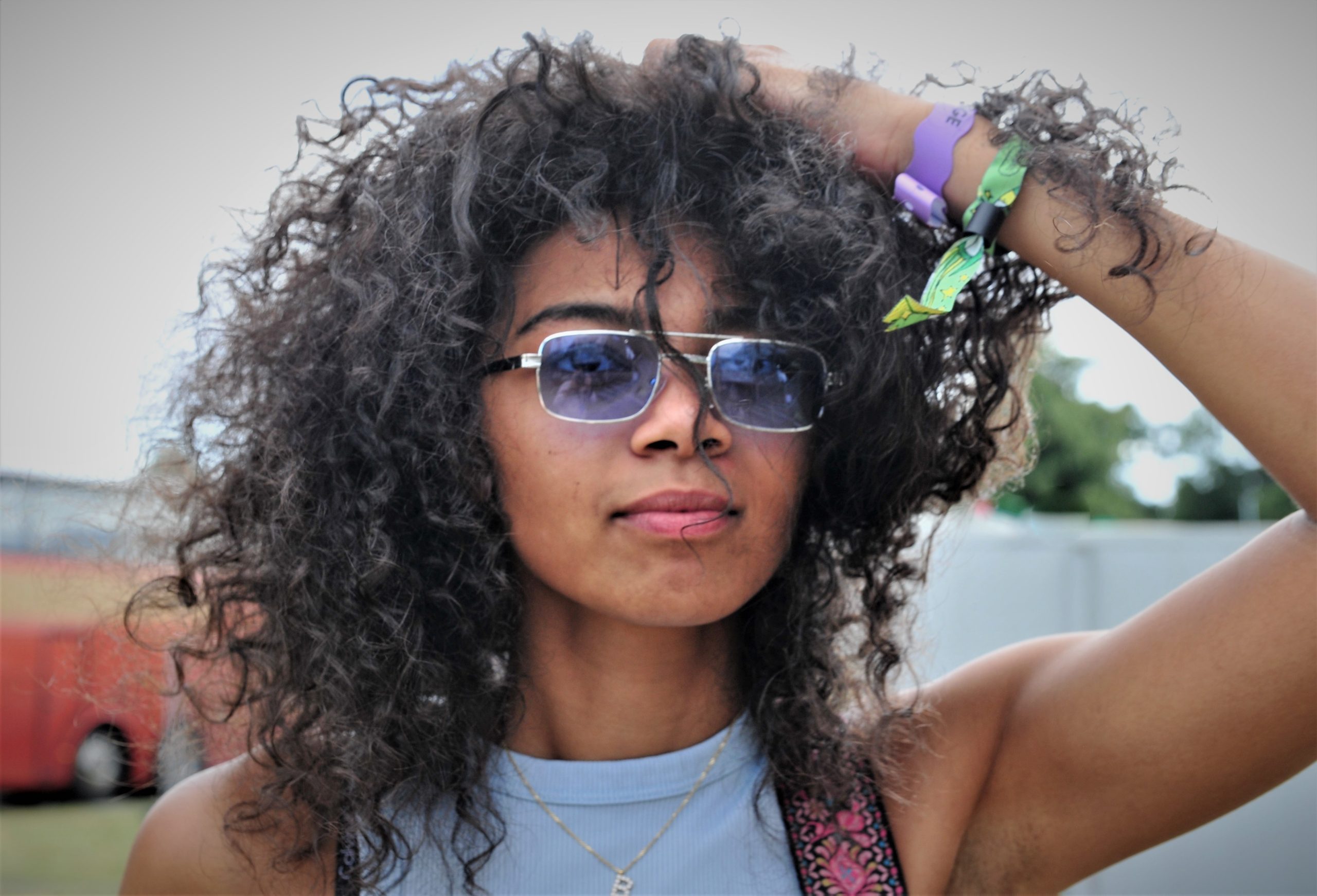 So is she and she's gonna be a big star one day, mark my words.Lovely down-to-earth person too.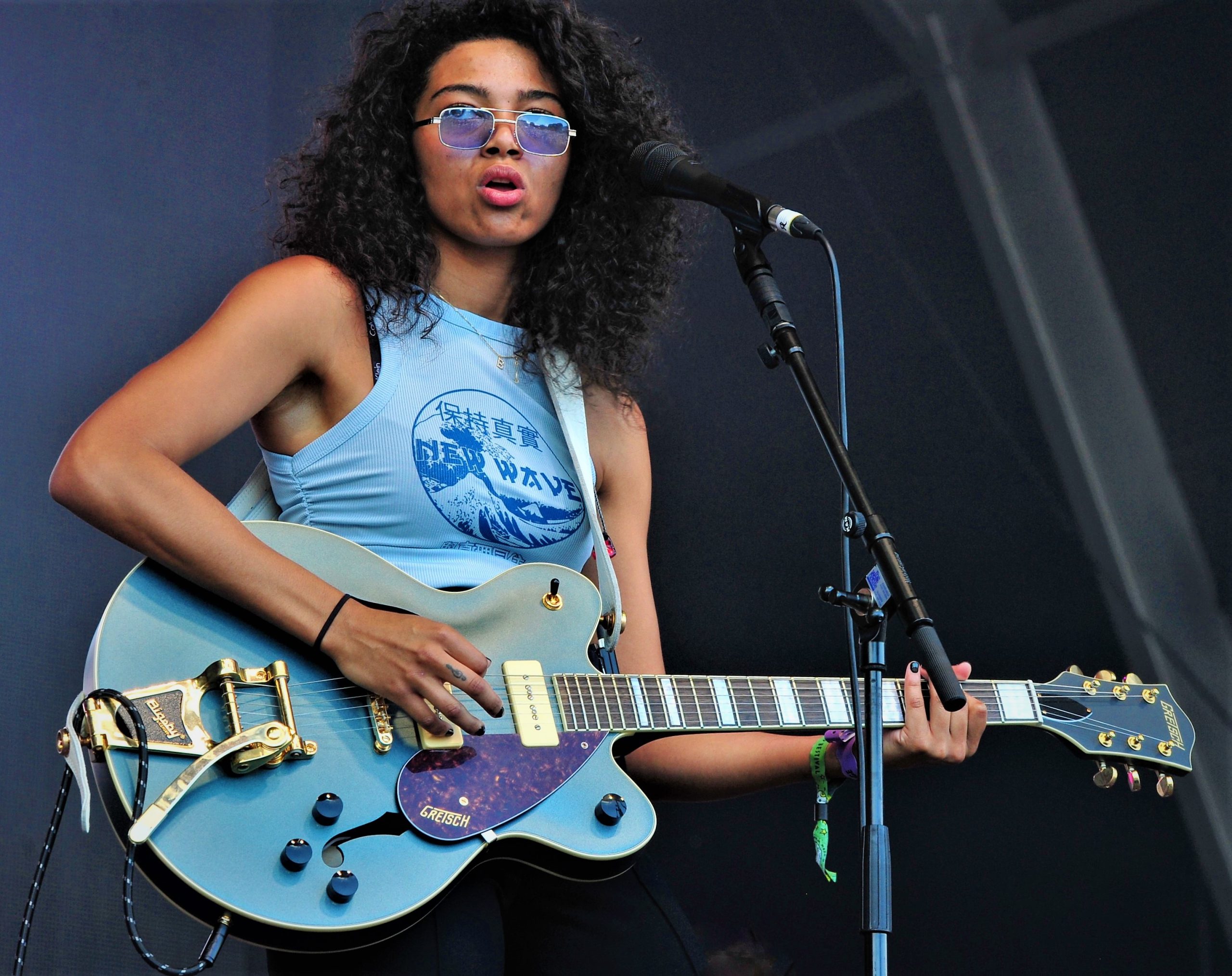 Indie band Plastic Mermaids followed Brooke. Not my cup of tea. I had not seen The Cuban Brothers for a good few years, until their main stage stint today.
The three of them and DJ decks. When I last saw them, they had a full band and all three did acrobatics, but today just the youngest gets upside down! Still good fun and the comedy banter is worth hearing.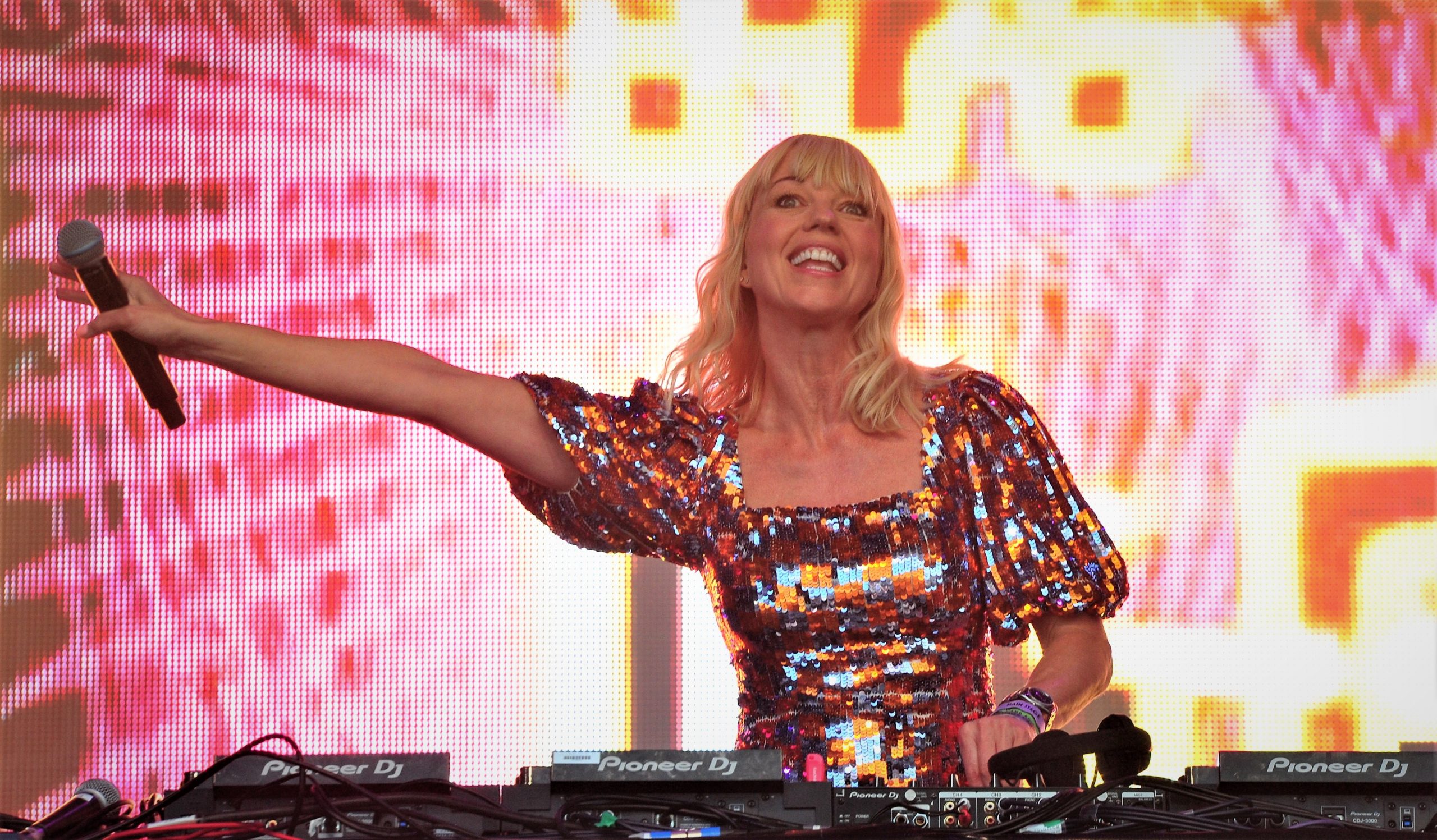 Radio and TV broadcaster Sara Cox went down a storm with her DJ set of 80s bangers. Had a quick chat backstage with Sara and she was lovely. Had family and friends with her. Sara judged the family fancy dress competition earlier that day. A family of panda's were in the winning entries.
Elliot Gleve, aka Example has popped up at several festivals I have covered this summer and we usually grab a chat backstage to catch up. Today I ask about his move to Australia with his wife and their two young sons, and did he miss the UK and would he move back here.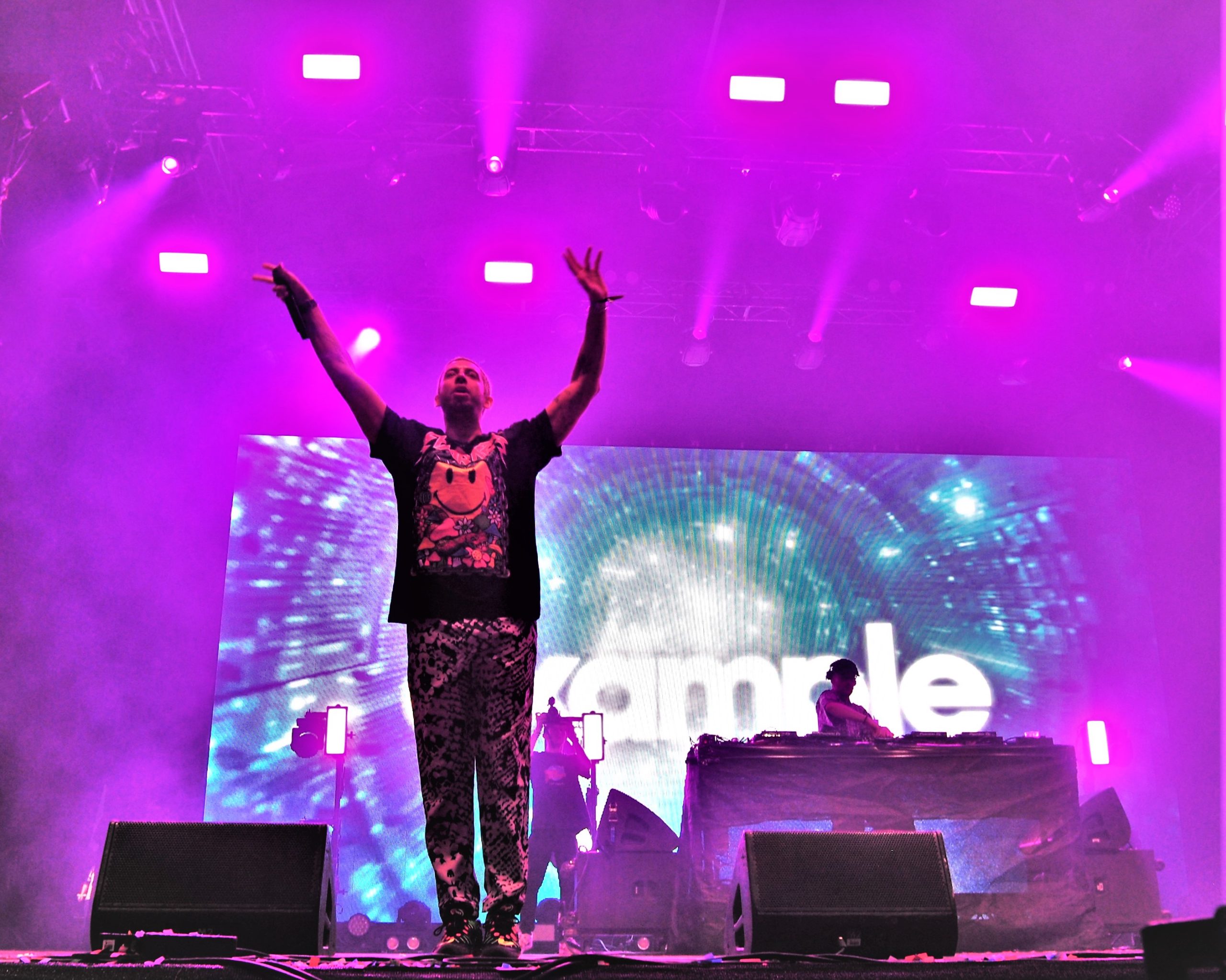 As he tours here, he says he doesn't miss the UK, but he is missing his family "like mad" who are back in Australia while he does summer gigs here. But he does not miss "the traffic" etc over here and loves living down under. So now you know!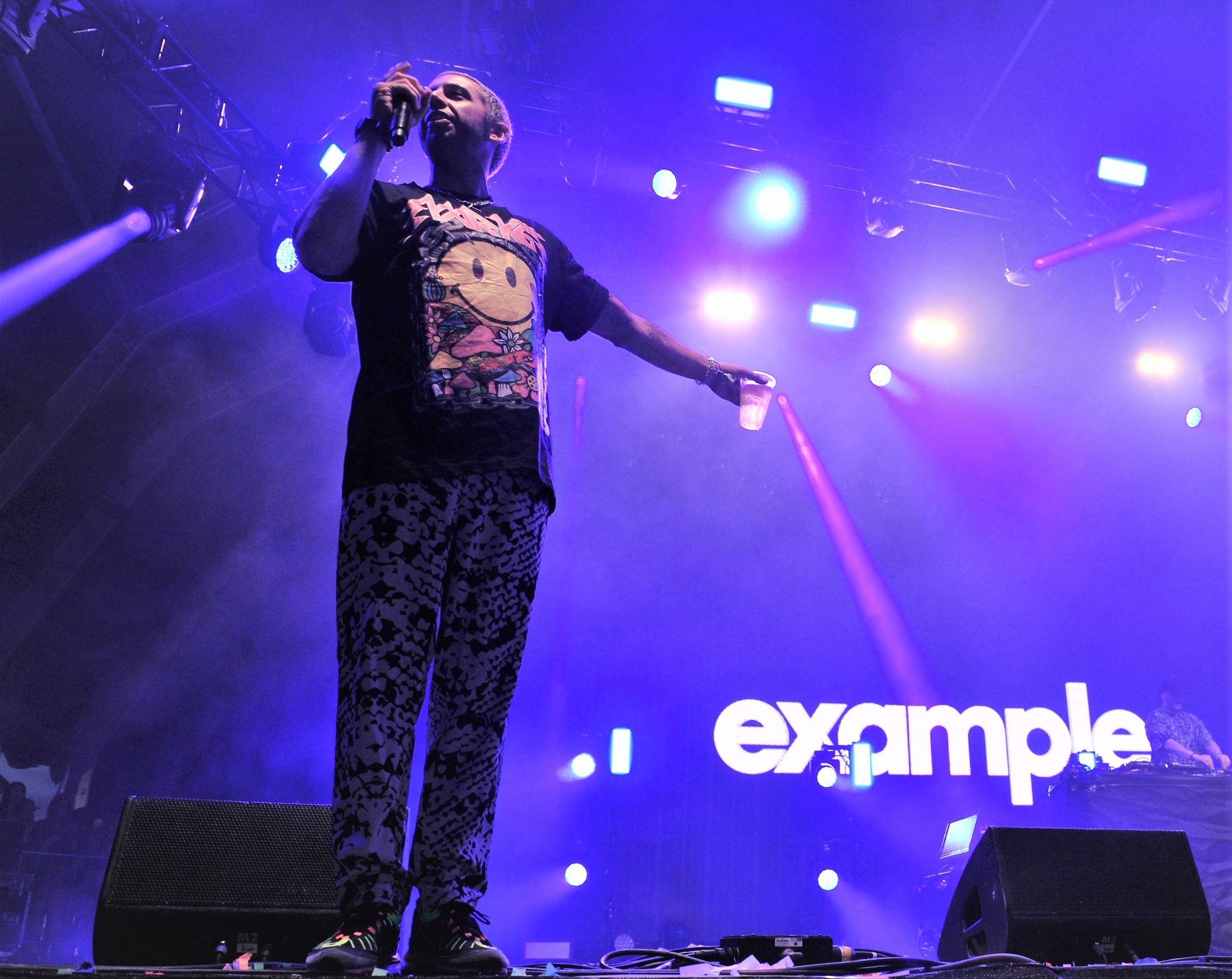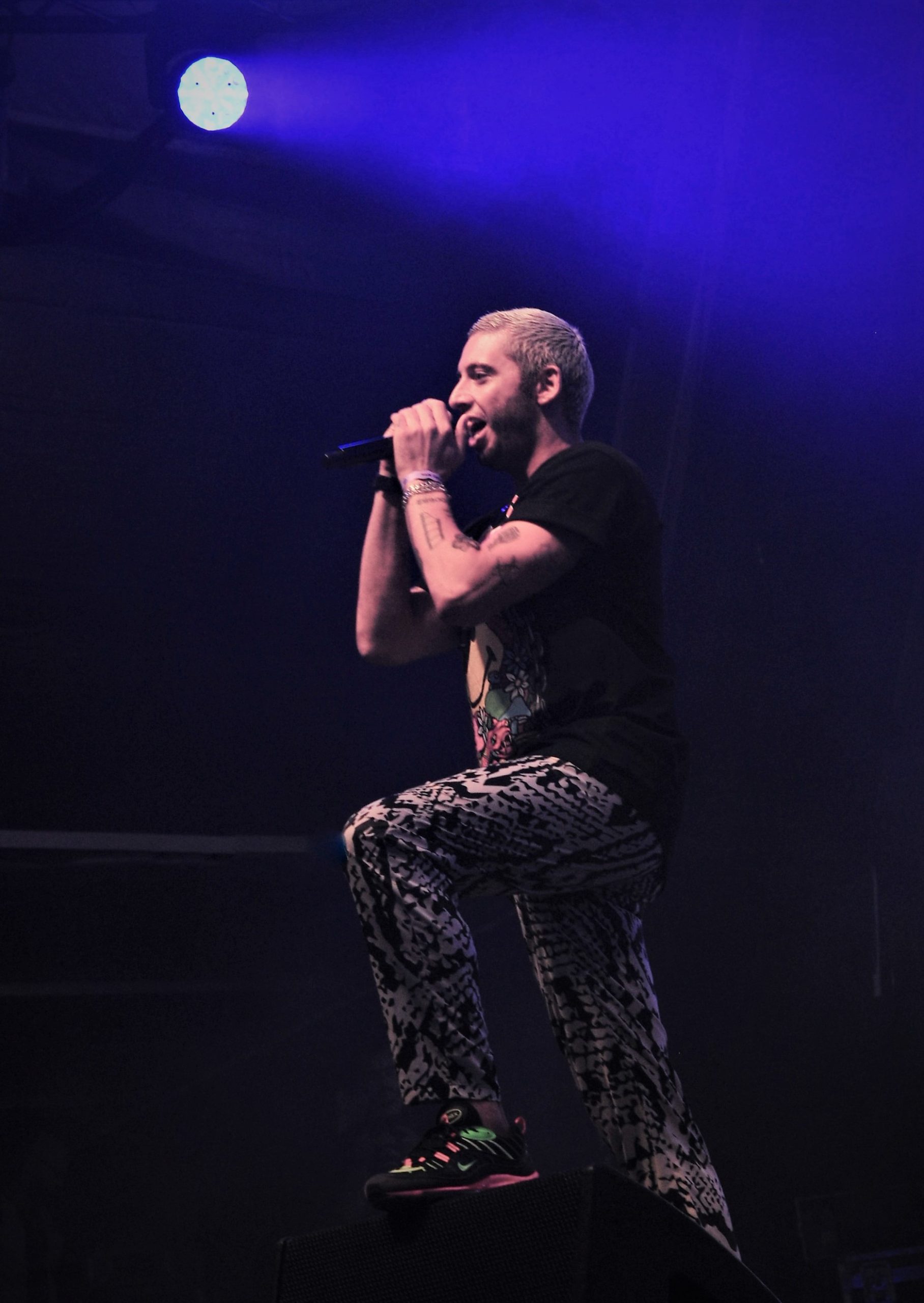 Another belting high energy set today accompanied by his DJ. He brought on a young female singer for his third song of the set, but I did not catch her name. She did a good job too.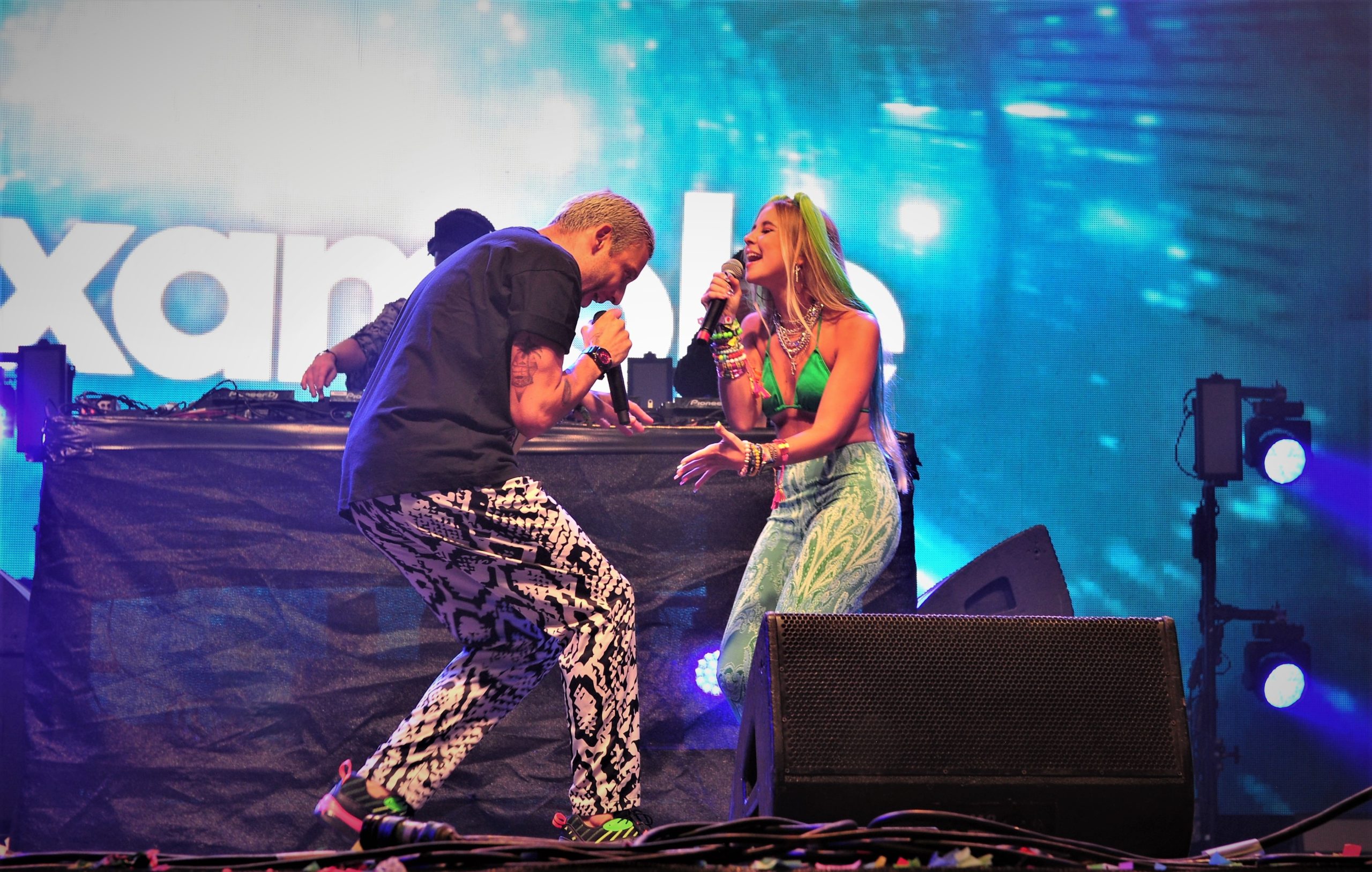 Elliot popped into Fat Boy Slim's dressing room backstage for a hug and to say hello to his old pal, as soon as he came off stage from his set.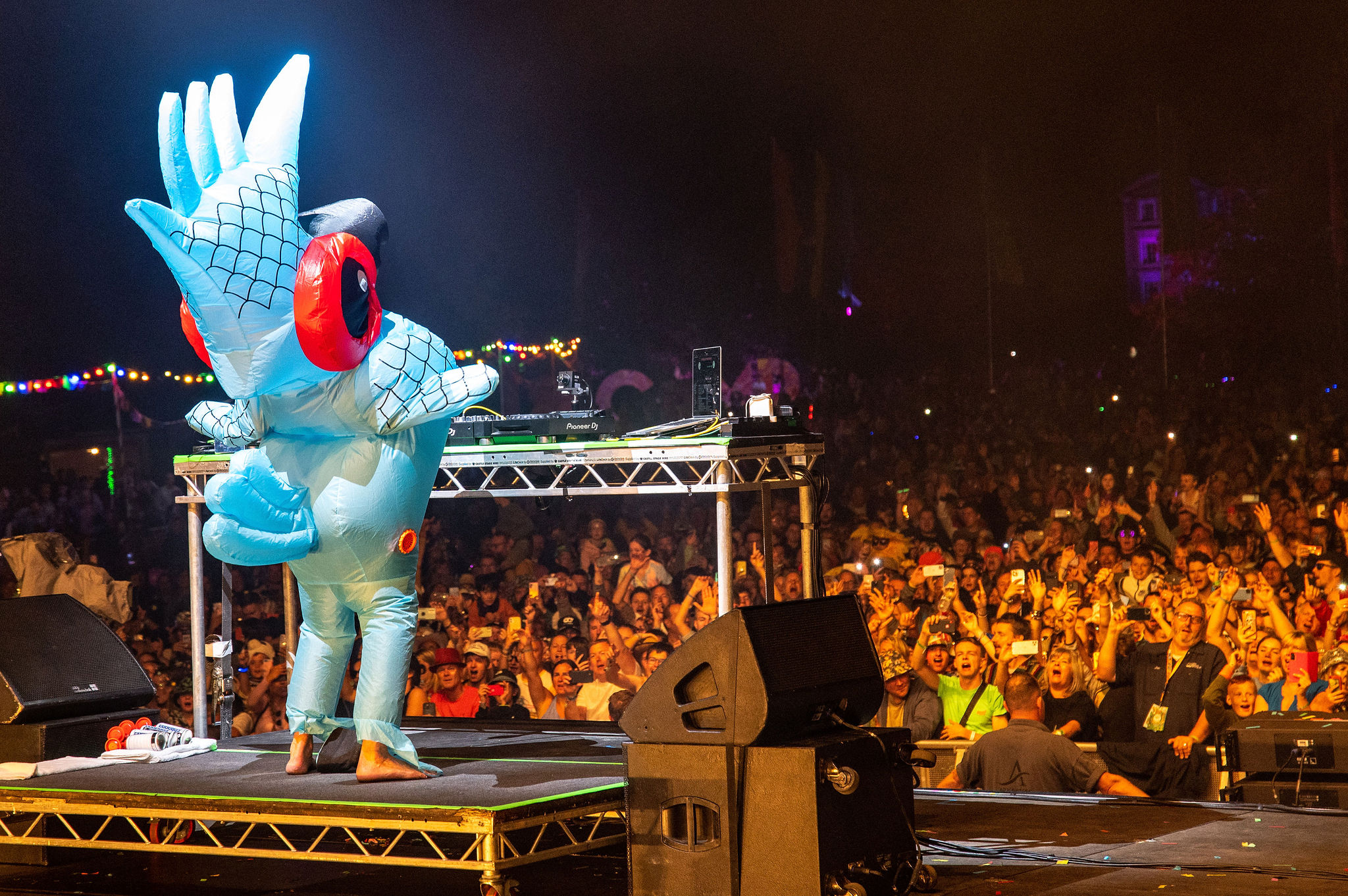 Norman Cook, aka Fat Boy Slim was in fine spirits when I spent some time with him in his dressing room before his set. He did a TV interview for a documentary and then gave me some time to do one of our popular "Track Record" Q&A features, and to take some pix of him. You can read that fascinating feature soon in our "Track Record" Zone. Down to earth, nice bloke.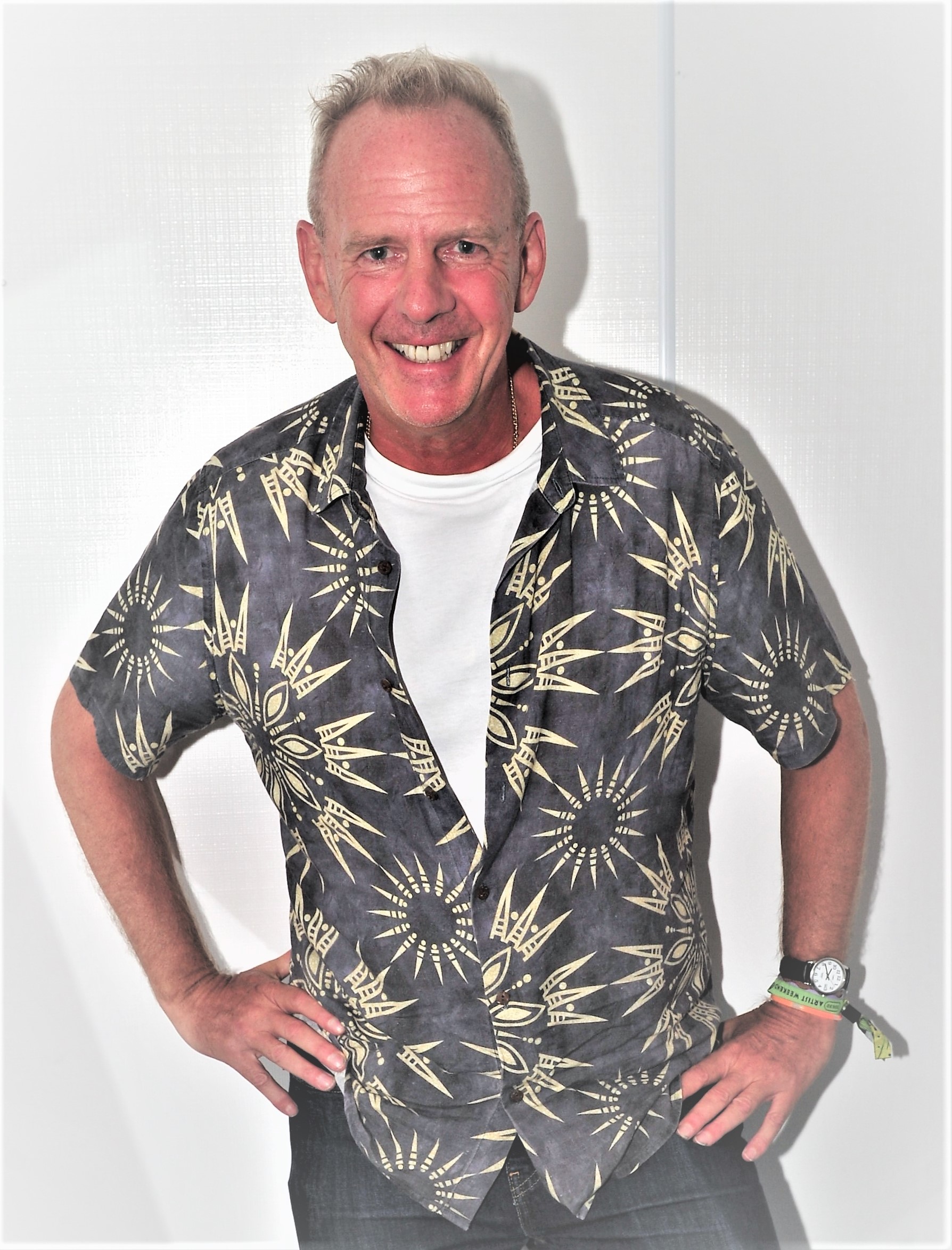 We chatted about his (and Zoe Ball's) 21-year-old son Woody (Gogglebox & Instagram star) now following in his dad's footsteps as a DJ. Fat Boy Slim's headline set on the main stage pulled a huge crowd and was a triumph. As it always is.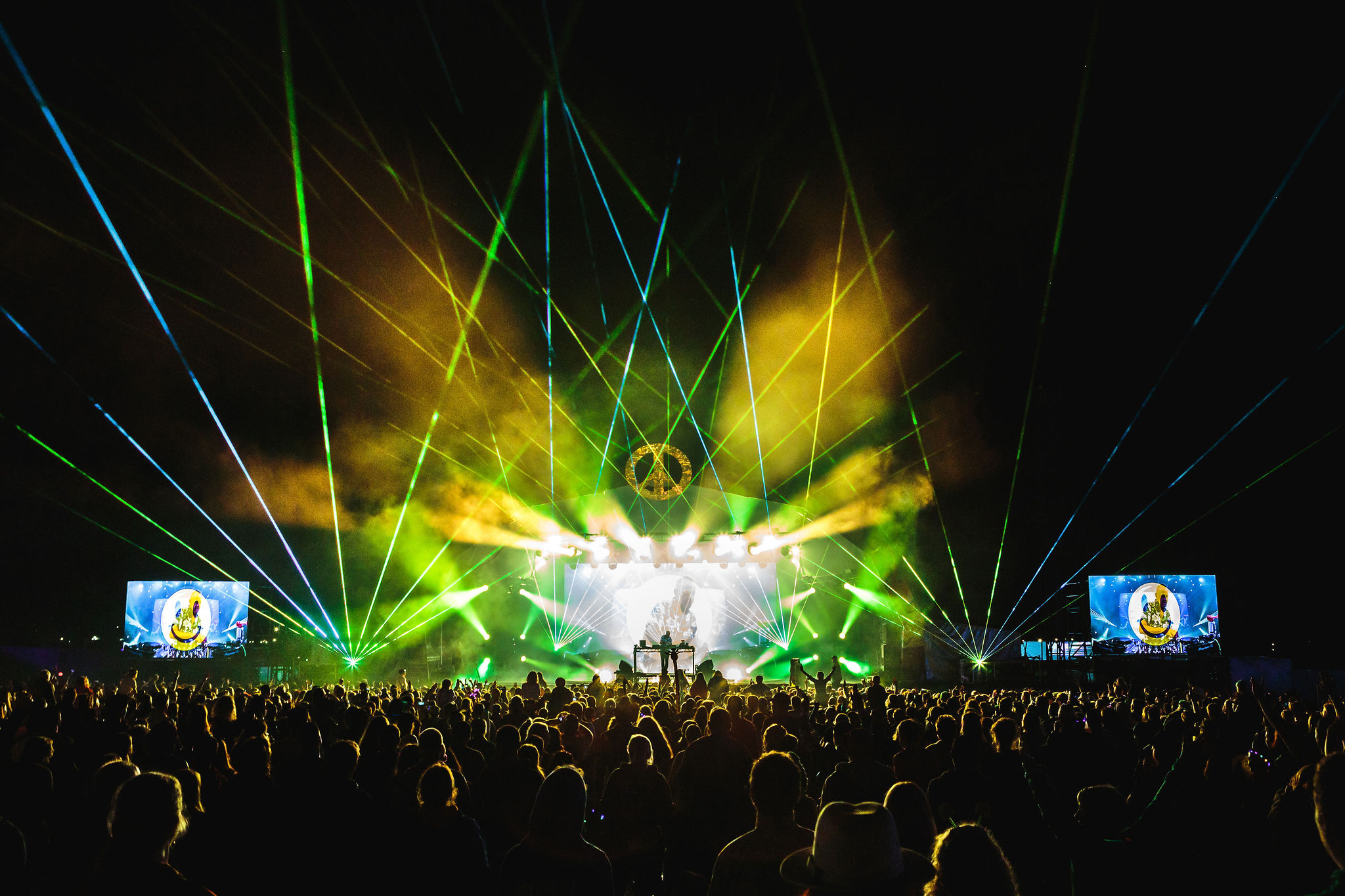 When asked recently who his favourite Camp Bestival act was, festival promoter Rob Da Bank has no hesitation: "Shropshire: me old mate Fatboy Slim – I first went to interview him when I was in my early 20s in Brighton and he was just about to become a megastar, and we've been raving politely together ever since".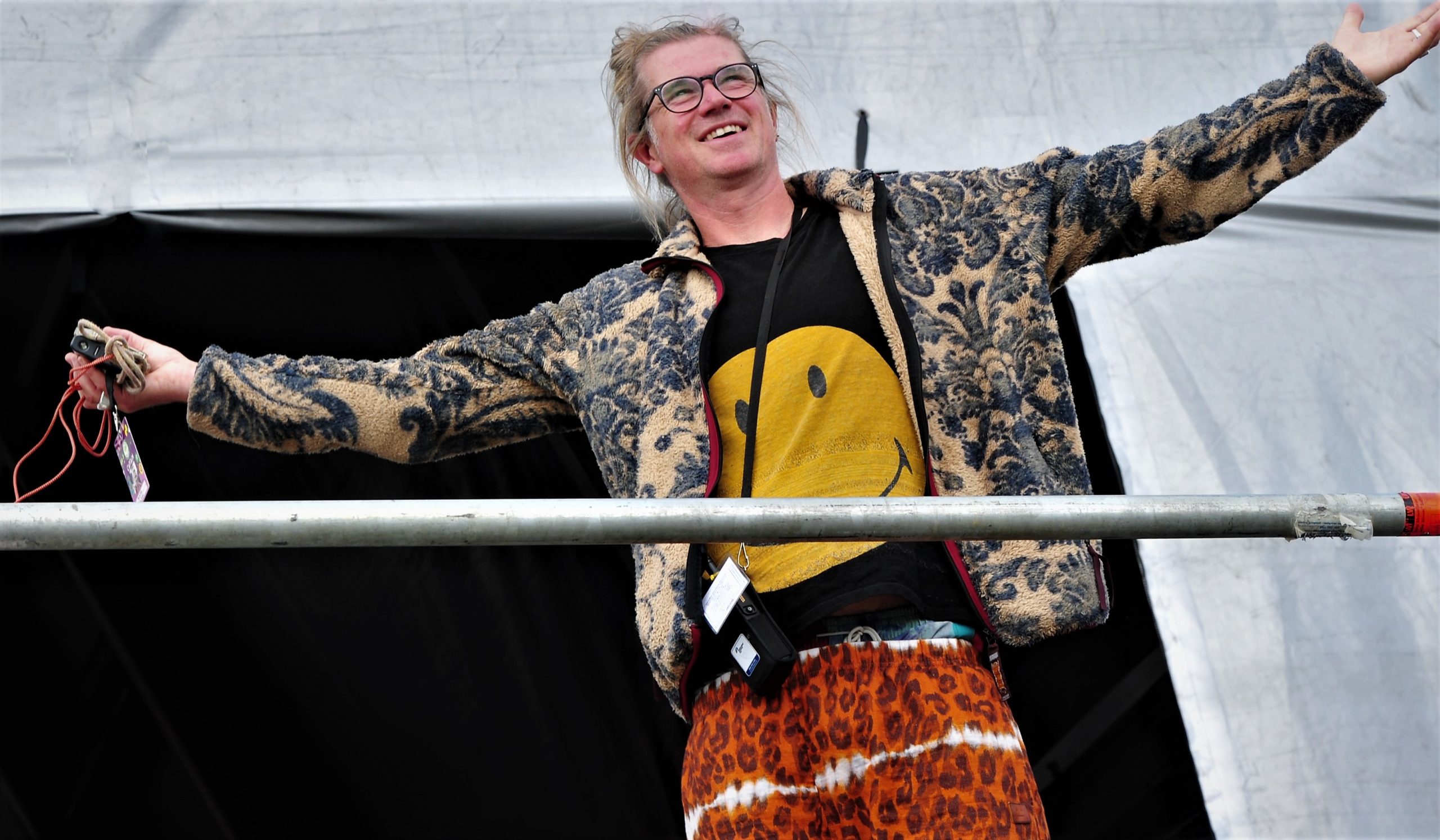 On the Big Top stage on Saturday, Gracey, EMF, DreadZone and 808 State were the main attractions. Brit-nominated Gracey's set was excellent. But, she's a photographer's nightmare – eyes closed for much of her set!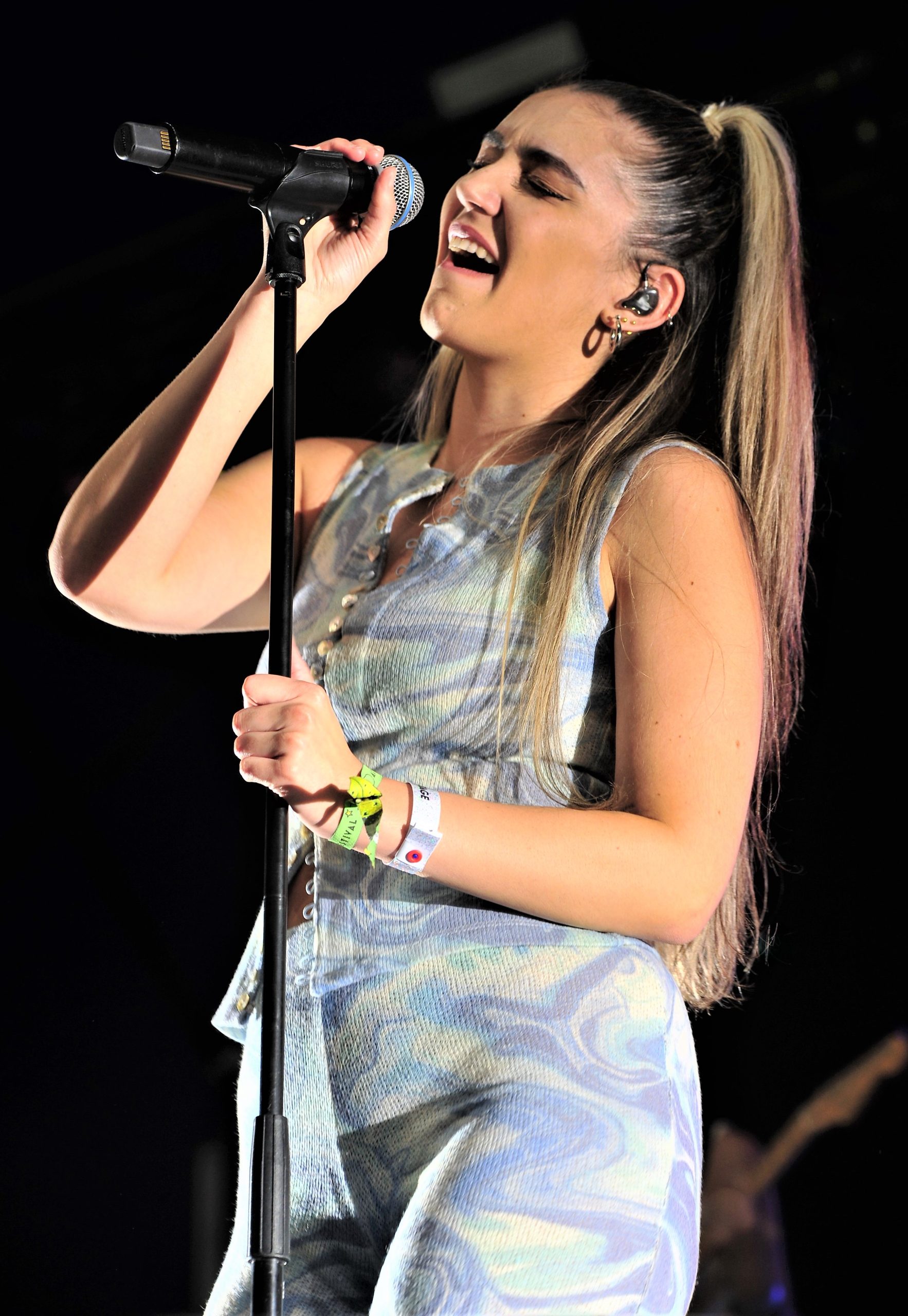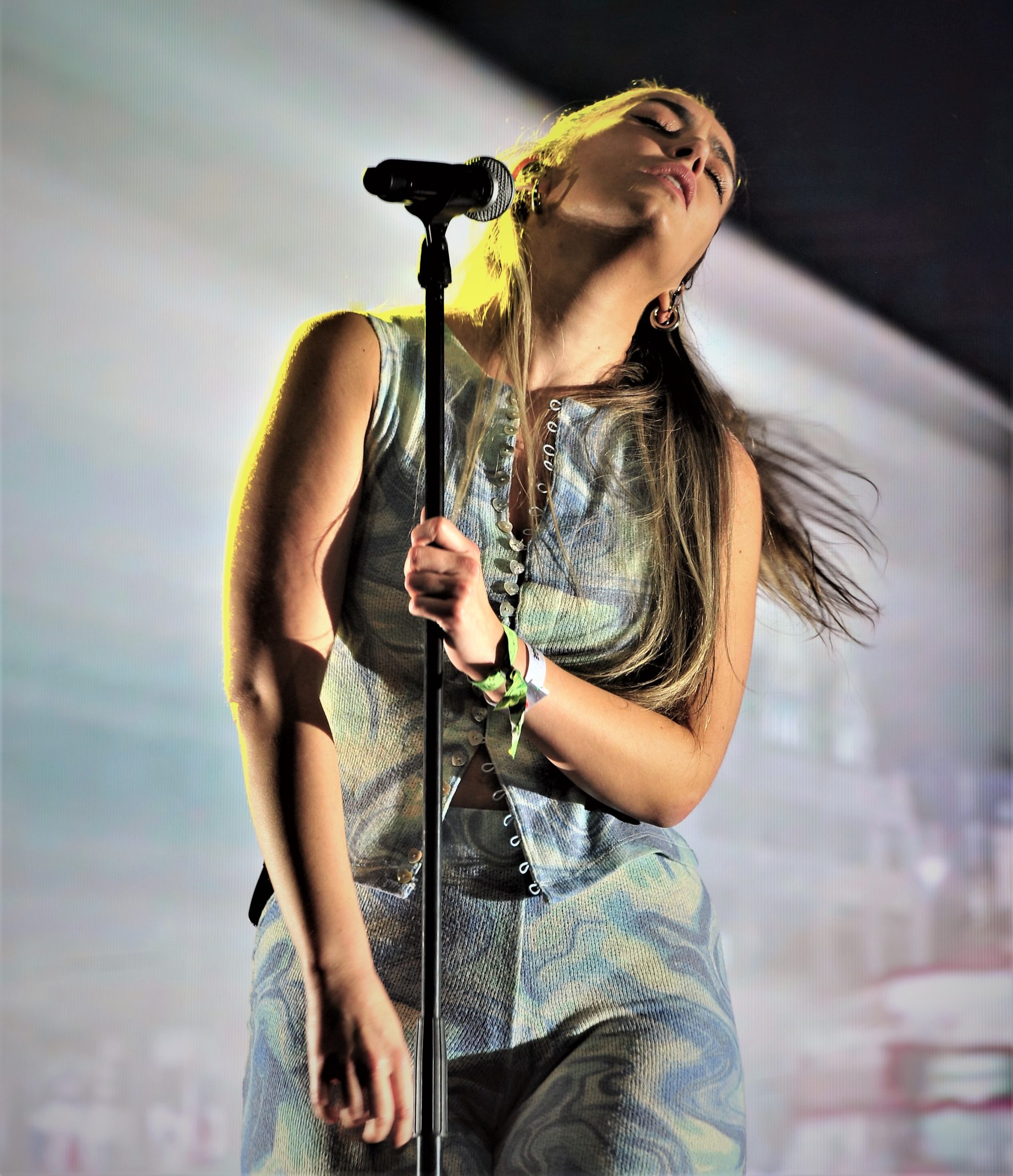 Got to say, it was really good to hear EMF, my first time, and they were sounding brilliant. That hit, "Unbelievable" is still a cracking track.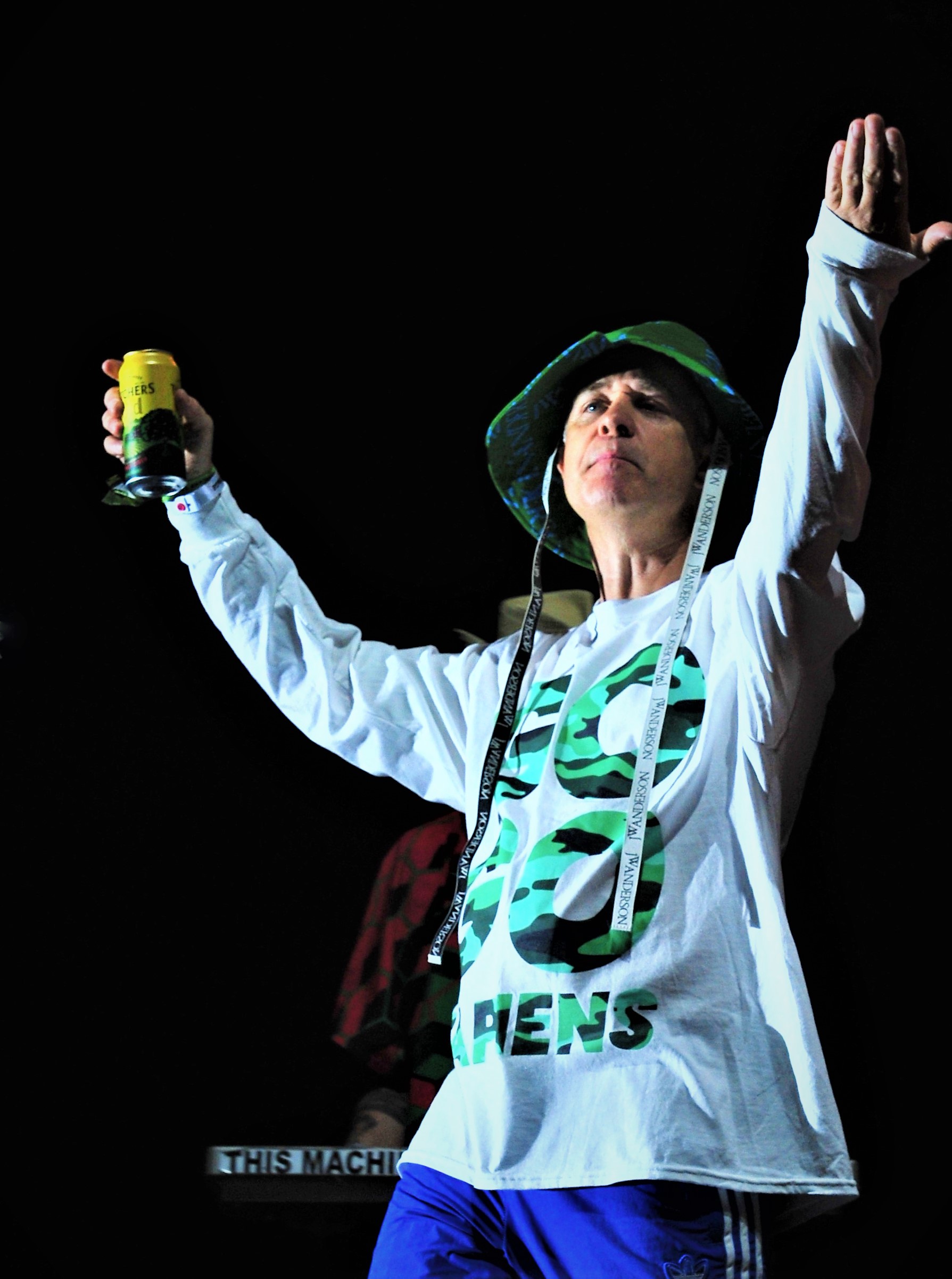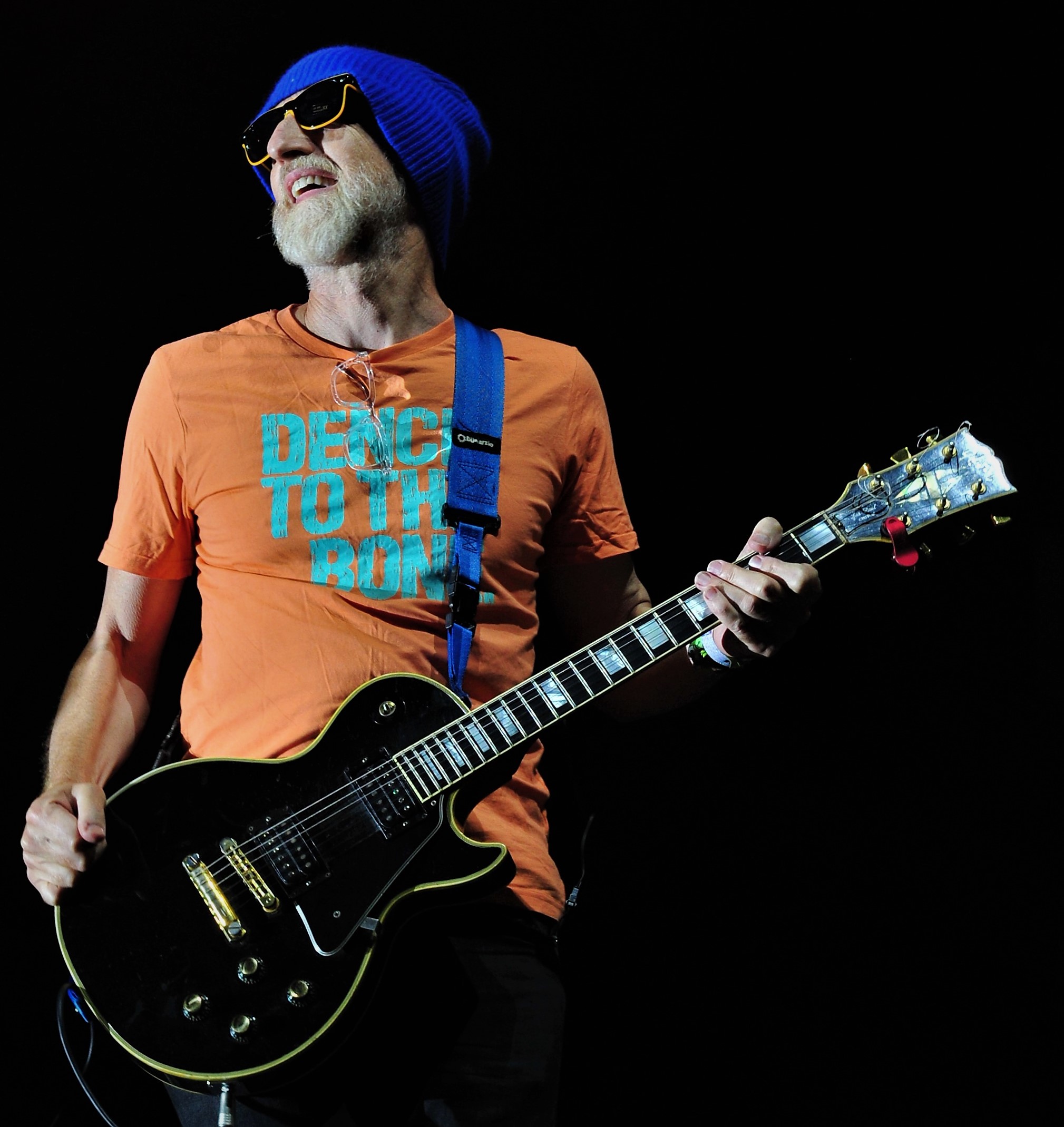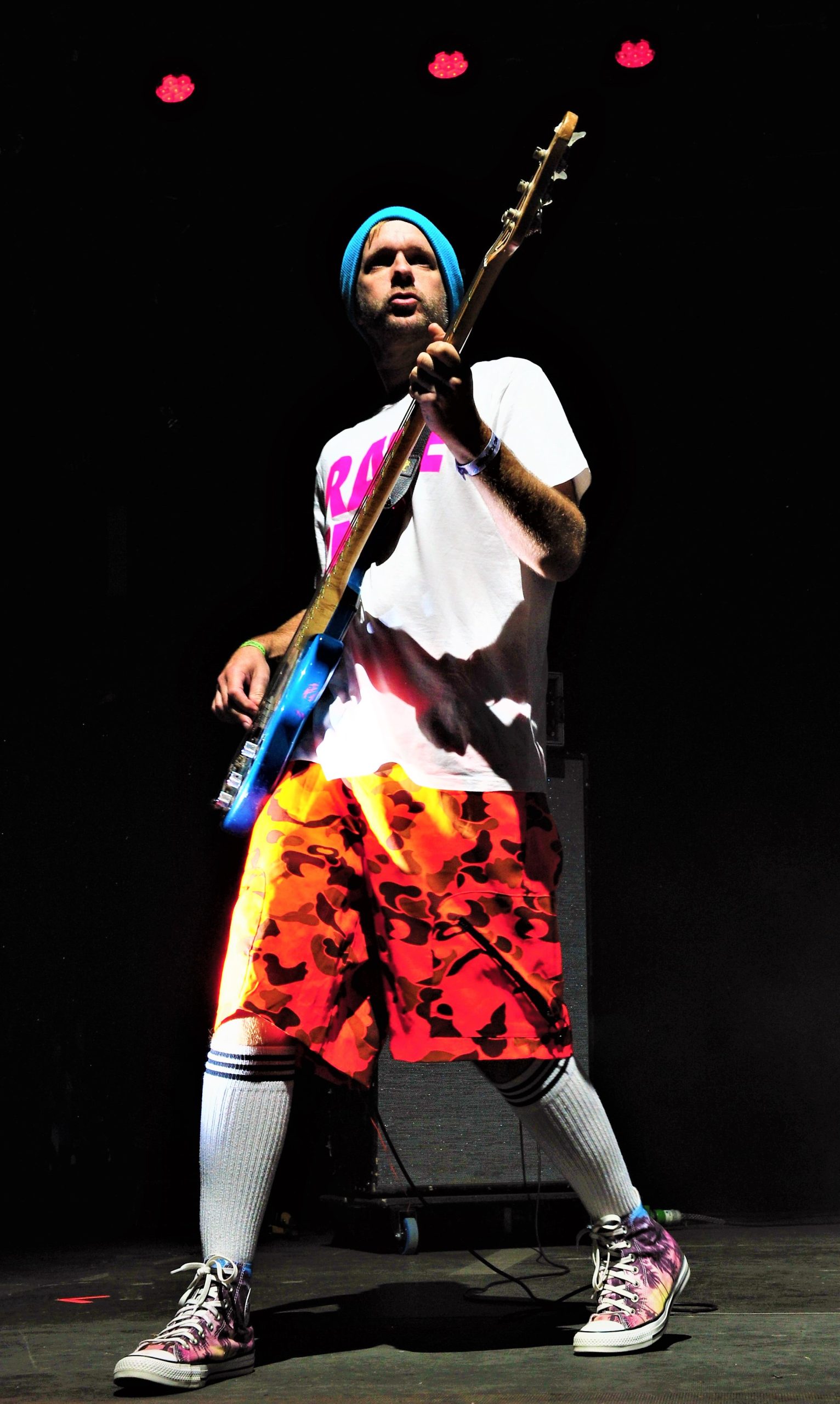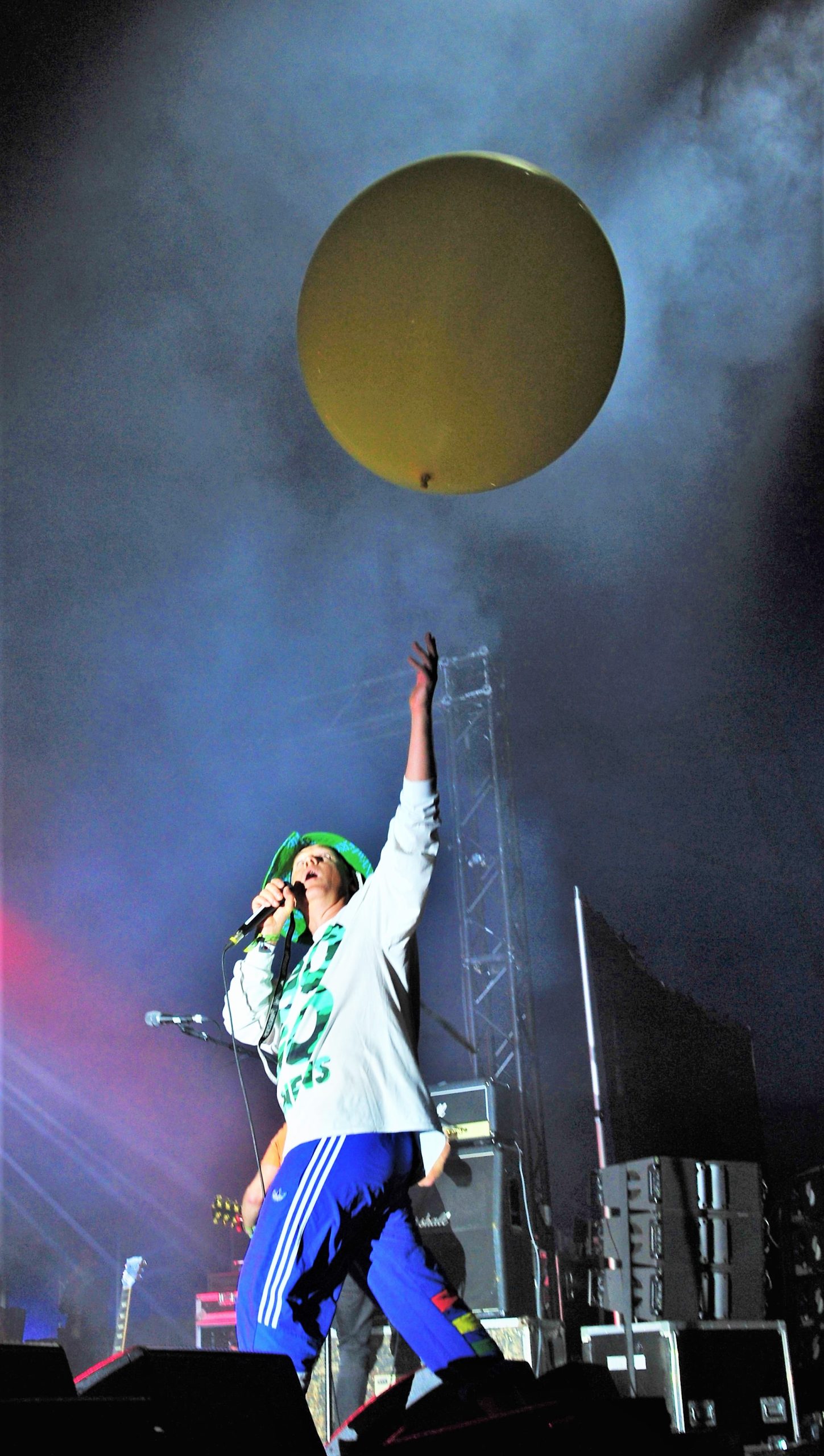 Goldierocks, Panjabi MC, Bobby Friction and Manchester DJ star Mr Scruff were the main acts in the Bollywood tent.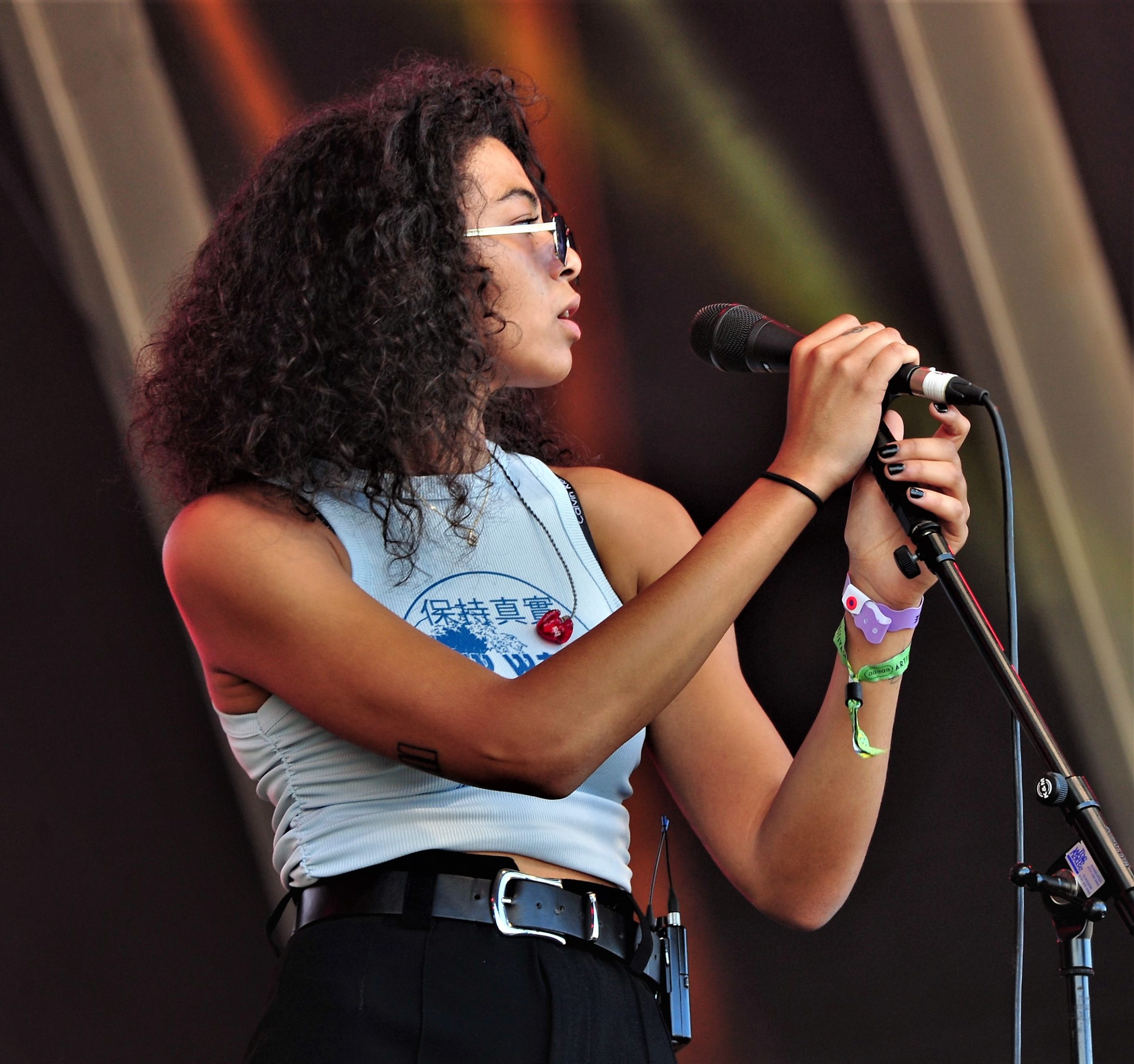 Best set of today for me: Brooke Combe. An exciting rising star with some fantastic self-penned songs. Brooke's headline tour dates below:
29 Sep | Jimmy's, Liverpool
30 Sep | Headrow House, Leeds
01 Oct | Neighbourhood Festival, Manchester
03 Oct | The Louisiana, Bristol
04 Oct | Rough Trade, Nottingham
06 Oct | Courtyard Theatre, London
07 Oct | The Garage, Glasgow
---
* Coverage of Friday & Sunday in our Live Zone now…
---
Words & Photos: Steve Best
Fat Boy Slim live shots x 2: 'Hello Content' for Camp Bestival Shropshire.
(Fat Boy Slim exclusive backstage posed shots: Steve Best)