The 02 Institute in Birmingham was turned into a sauna for one night in July 2022, and not just because the nation was sweltering from an unprecedented heatwave, either.
The Struts were back in blighty from their L.A. base and the boys turned up the rock and roll thermostat to 11.
A blistering gig in more than ways than one, from the hot house effect of the weather and the bodies moshing it up in the room, to their incendiary performance.
Not seen a live band so pumped up and on fire as this lot since the likes of The Stones and the J Geils Band with mighty frontman Peter Wolf. A few days before this gig I saw The Darkness for the first time, at a festival, and thought Justin Hawkins was a brilliant showman. But this band and their singer pipped that performance by miles.
There may well have been some respite tonight from the temperature after Luke, Adam, Jed and Gethin tore the roof off the place. It wasn't quite sold out, but the hundreds of fans who queued in the blazing sunshine to nab prime spots made enough noise to fill an arena.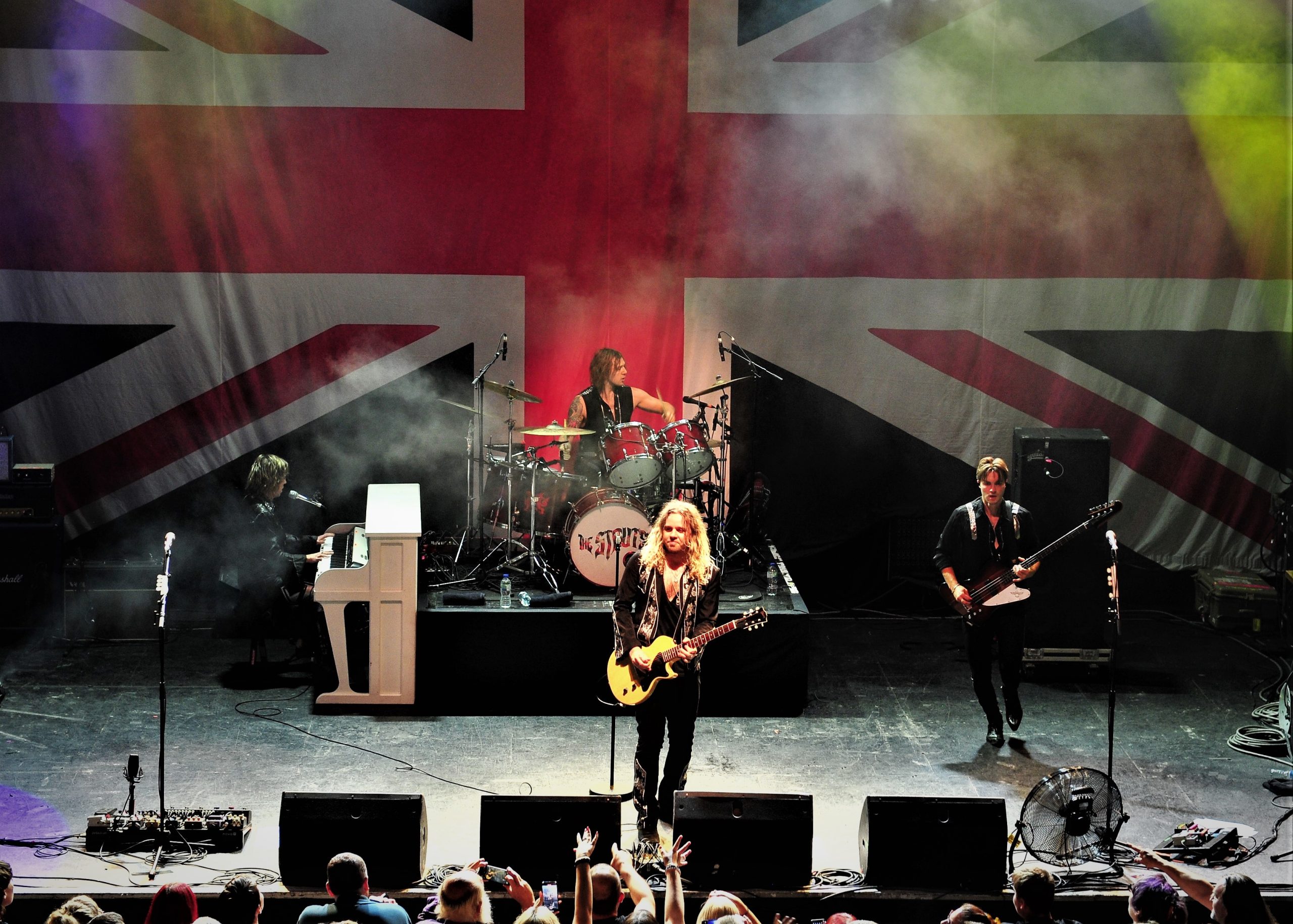 And this band really should be playing arenas and stadiums if power, attitude, energy, showmanship and top end performance is anything to go by. Great material too.
Of course, they do play stadiums and arenas when touring as support to the likes of The Rolling Stones, The Who, The Foo Fighters and others. But they deserve to be headlining those vast venues in their own right, based on what I saw and heard tonight.
Formed 10 years ago in Derby, Adam Slack on guitar and lead singer/front man Luke Spiller recruited Jed Elliott on bass and Gethin Davies on drums for the band's second line-up, and it has stuck. The chemistry between them is undeniable.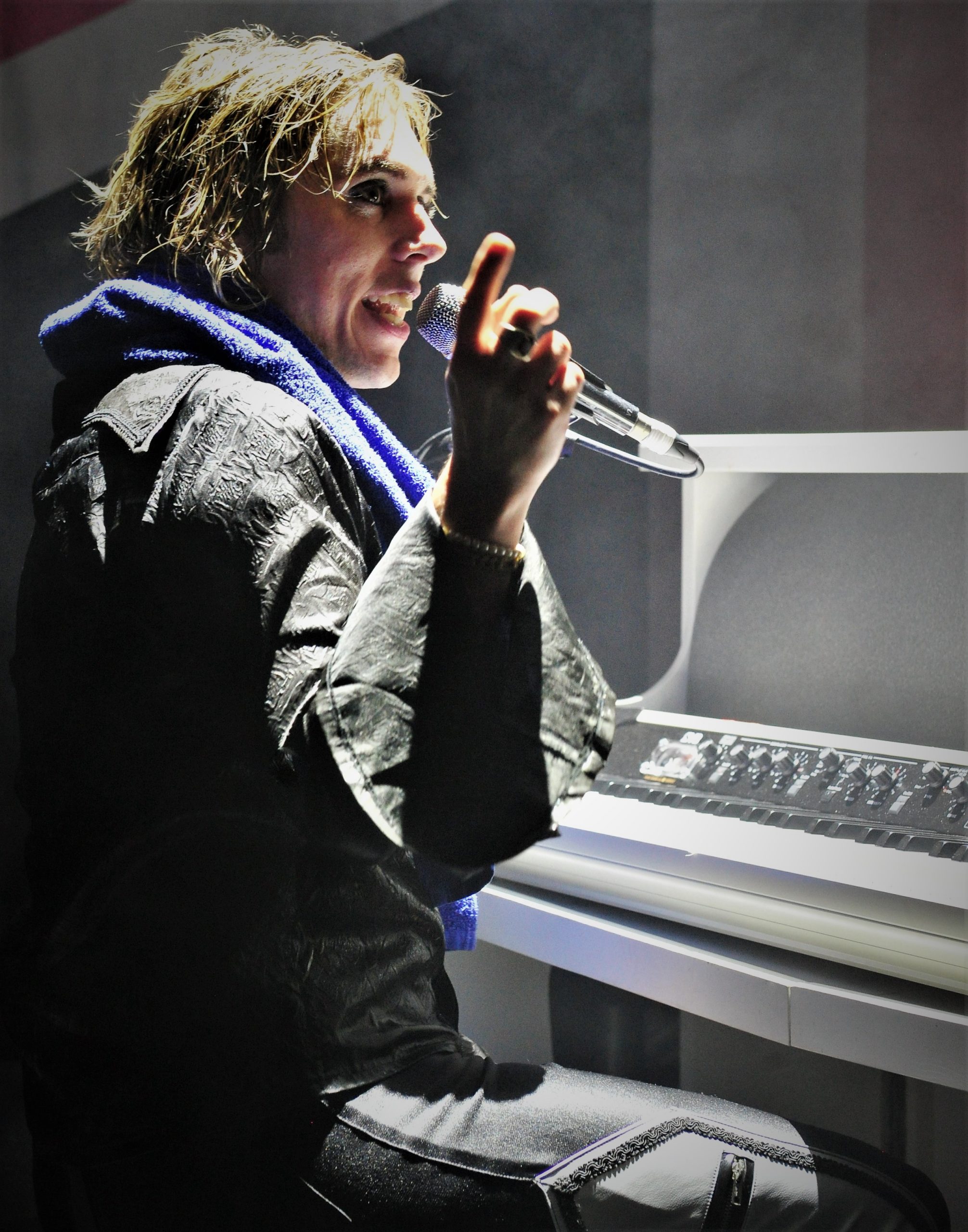 I spent some time with three of the lads in the afternoon at the venue, while Luke rested his voice and re-charged his batteries at the hotel, a tad under the weather. But he was fighting fit for the gig, that is for sure.
Their first headline tour here for almost three years, called 'The Homecoming Tour', opening in Nottingham where friends and family from Derby rocked up to Rock City for a sold out show, and a great night by all accounts.
Second show of the tour tonight, before London's Shepherd's Bush Empire, Bristol, Manchester and Leeds, and a bunch of European gigs, before jetting back to the USA where they have all lived since 2015.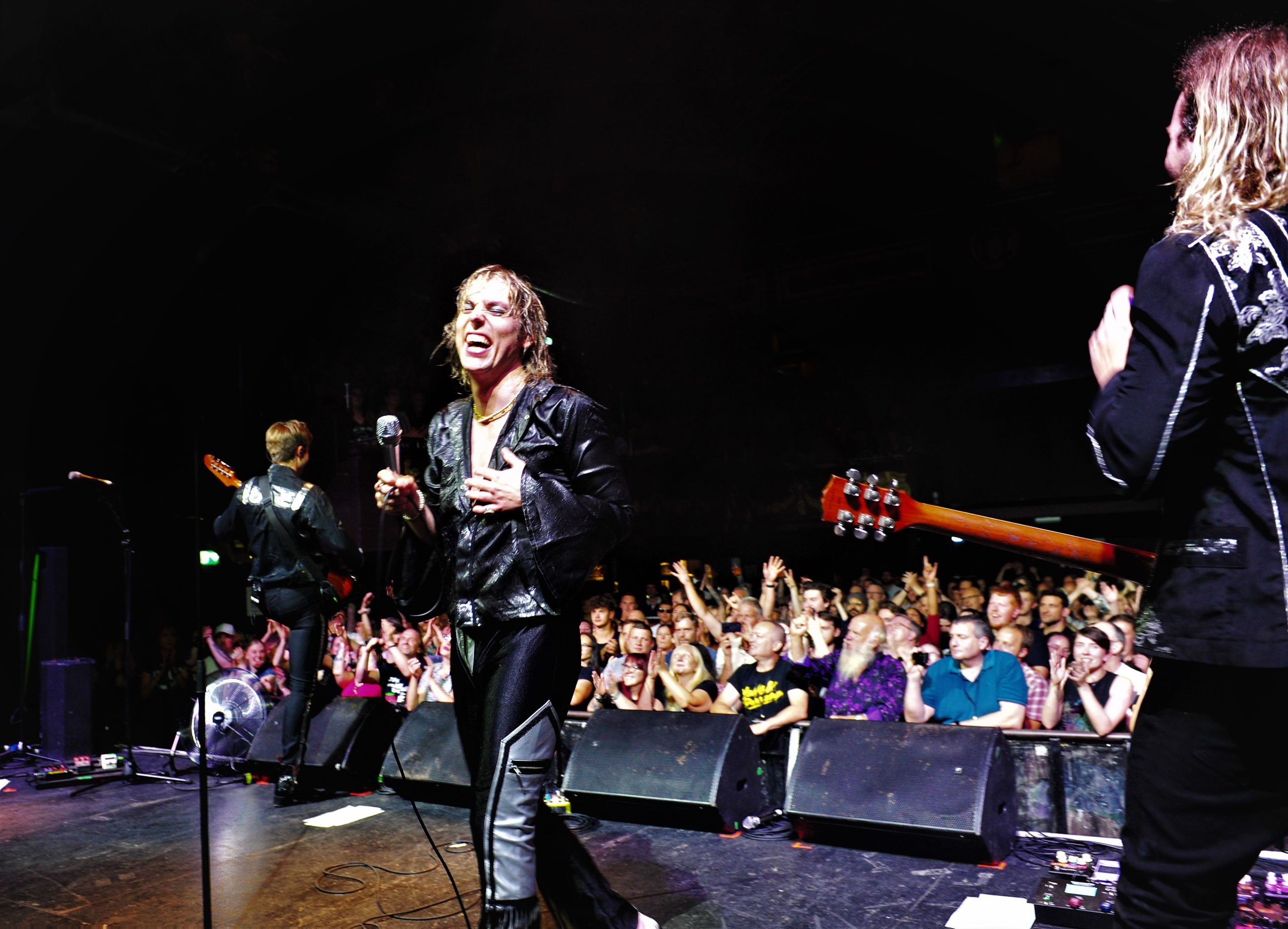 I really cannot praise this band's set enough. All four are superb musicians, but Luke really does have the chops to become a bonafide superstar. One part Freddie Mercury, while channelling Jagger and all the glam rock heroes before him. But this is no tribute act. He and this band have their own identify for sure in bucket loads.
Luke is one of those dynamic performers you cannot take your eyes off. A sparkle emitting from his entire being. Great voice, but the way he commands the audience and like a puppet master; when he says jump, they do. When he says sit down, the entire house drops to the floor. It is far more than a bit of showbiz schtick. This folks, is a master craftsman at work and a joy to see.
Tired me out just watching him. And in that heat. He is rarely still, and uses every inch of the stage. You can bet when he was a kid, he hogged his mother's full length mirror to practice a lot of these moves and mannerisms.
There are many high spots in the circa 100-minute set, especially when Luke sits at the white Roland piano and the mind flashes back to Lennon and to Freddie.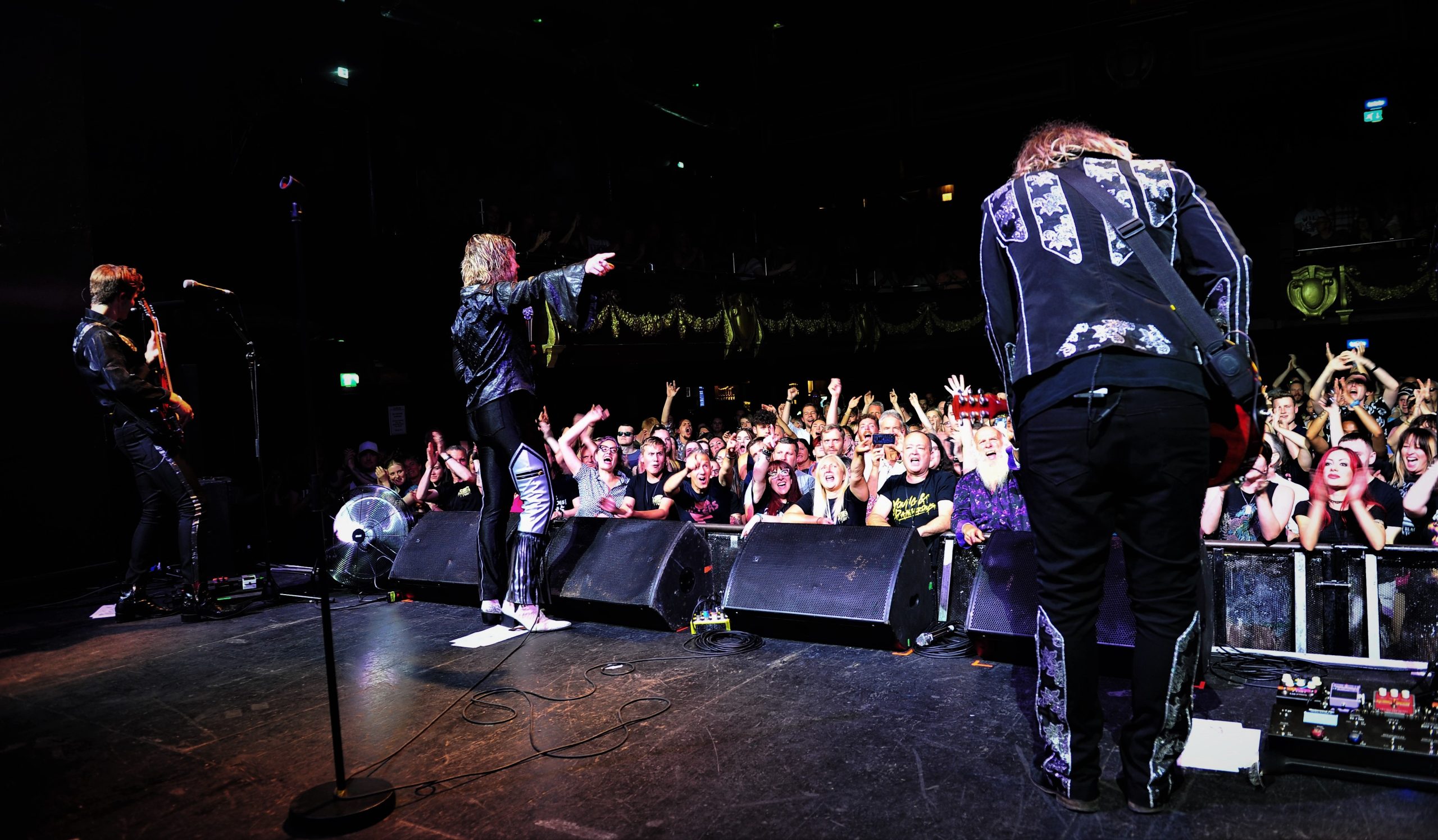 The audience spanned a vast age range from teens to those whose wallets and purses contain a bus pass and a pension book. Many diehard loyal Struts fans, or Strutters as they are known, who have championed the band for their full decade of existence, from the days when they played to a handful of rock folk in Midlands' pubs.
Old fans and new fans were not disappointed by the circa 20-song set list, as the band bashed out some very early material that promoted a rousing sing-a-long, and stuff from their more recent output including their latest album, "Strange Days" which dropped in October 2020.
Opening with "Primadonna Like Me", then "Body Talks" and the hit single "Kiss This", had the fans lapping it up from the off.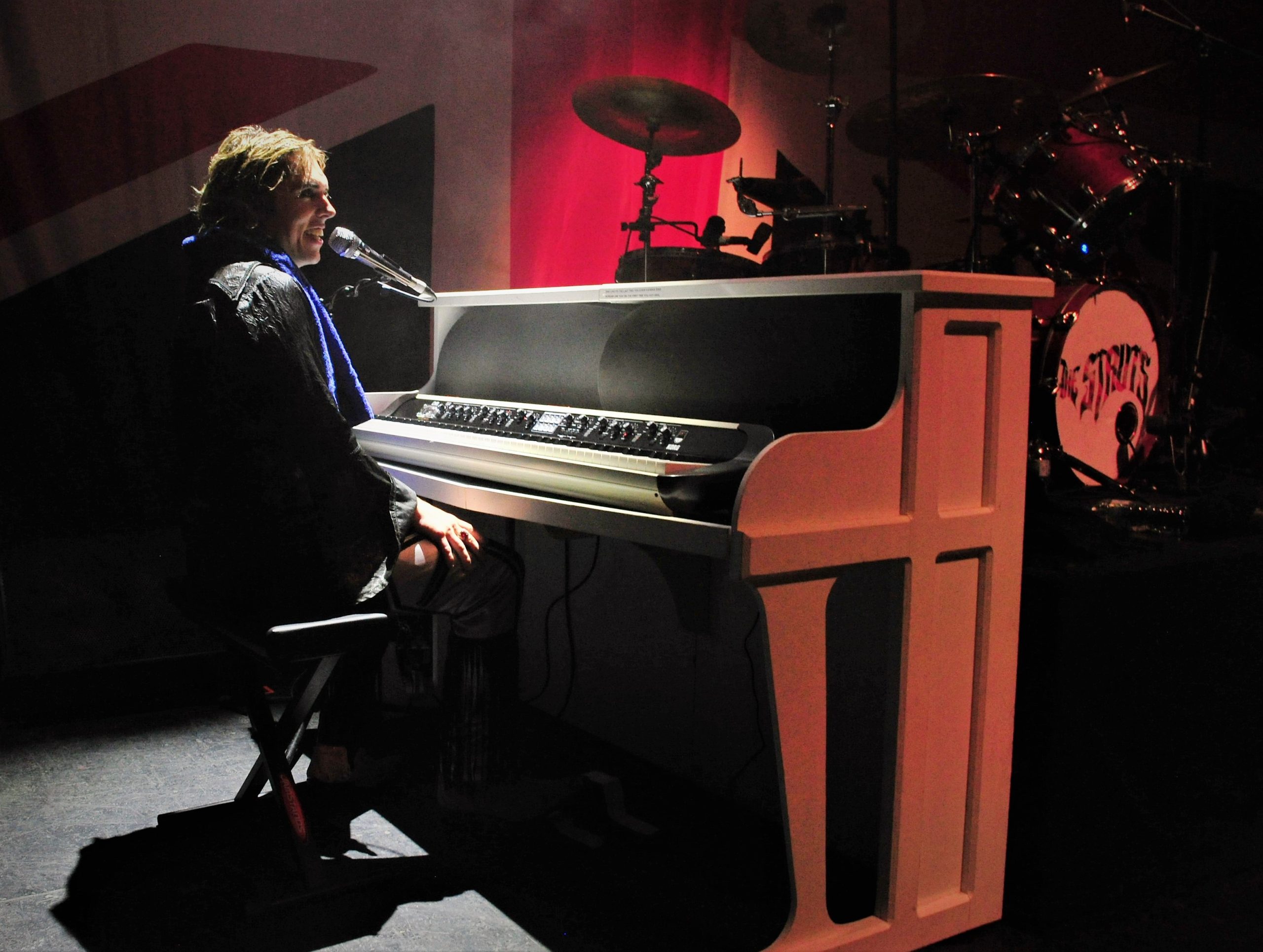 Later prize moments included "Fire", "One Night Only" when Luke sits at the piano/keyboard, the brilliant "Dirty Sexy Money", and on "Mary Go Round" the acoustic guitars get an airing and the house lights go down and the twinkling mobile phone lights set the tone for a spine tingling moment.
Another cracker was "Put Your Money On Me", before they took a deep dive into the older early stuff written on the set list as "Medley", before "Champagne" and then a cracking version of the 1989 Chris Isaak track, "Wicked Game" – where Luke's versatility as a vocalist comes into play.
Last brace of tracks before the two-song encore keeps the adrenaline pumping with "Wild Child" and then some fun audience participation on "I Do It So Well", when Luke gives the order to the fans to sit down on the floor and they duly oblige. Not one abstainer.
The band kneel down on stage and Luke barks out the banter and has some fun, before yelling at the crowd to jump, jump, jump…and they do, to a man and a woman. Quite something.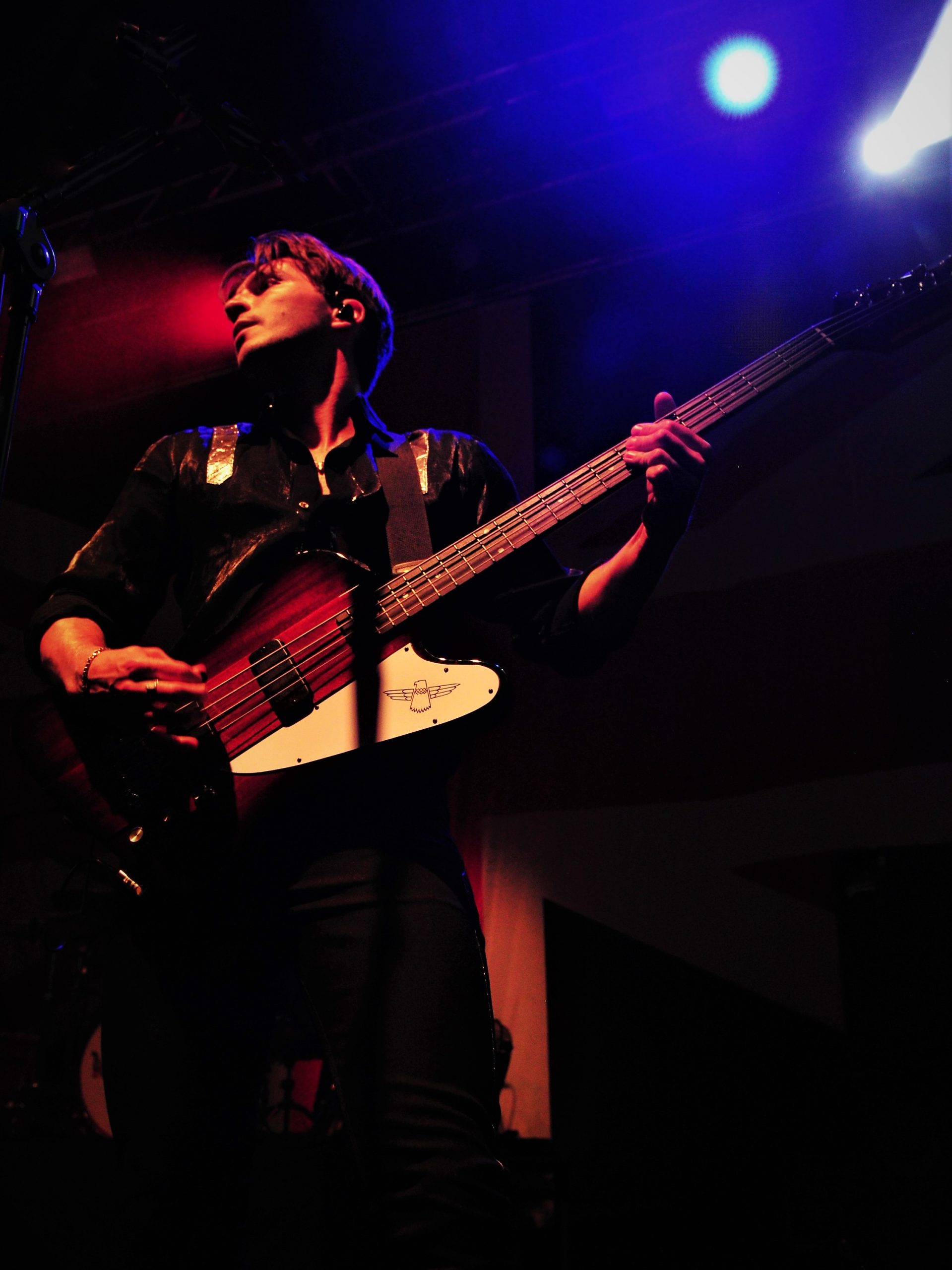 Off stage the soaked-in-sweat lads go, the fans' deafening roars for more would wake the dead….Luke, Adam, Jed and Gethin huddled on the stairs to get some air and catch their breath, before legging it back to the stage for Luke to plonk himself at the piano for "Strange Days".
They drag an embarrassed guitar tech crew member on stage to get the audience to sing happy birthday to him (they operate a real family vibe among the band and crew, you can tell….) before the last song of the night, the hit, "Could Have Been Me", the video of which has been viewed many millions of times.
This track prompted a frenzied and deafening response and sent many hundreds of fans out into the balmy night with smiles the size of a coat hanger. This was one hell of a gig they'll always remember. Me too.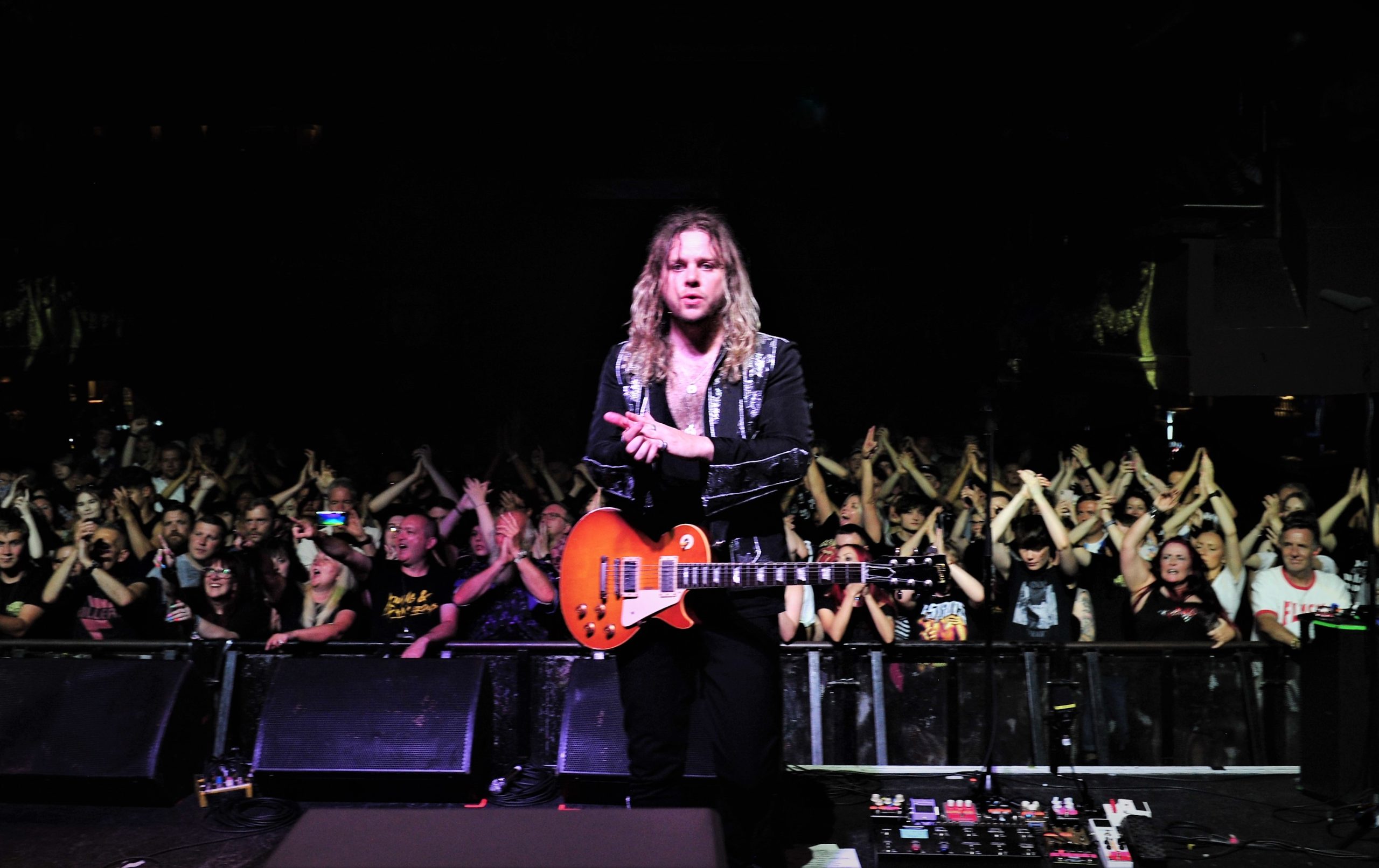 I can bring you exclusive news from The Struts camp, in as much as there is a new album in the works which might, and I emphasise might, see the light of day this autumn/fall, but my bet is it is more likely to get released early next year.
The band tell me they have one song ready called "Falling", which they may premiere on one show of this tour. Not tonight. You can find out much more about the next album and the direction of the songs on that long player in an exclusive interview coming soon in our "Features Zone".
Been seeing and working with bands for many, many years and I can honestly say this band knocked me off my feet as a live act. Killer songs, great players, brilliant to watch, faultless musically….but Luke Spiller is a sparkling jewel in the band's crown and makes it look so easy to have the crowd eating out of his hand.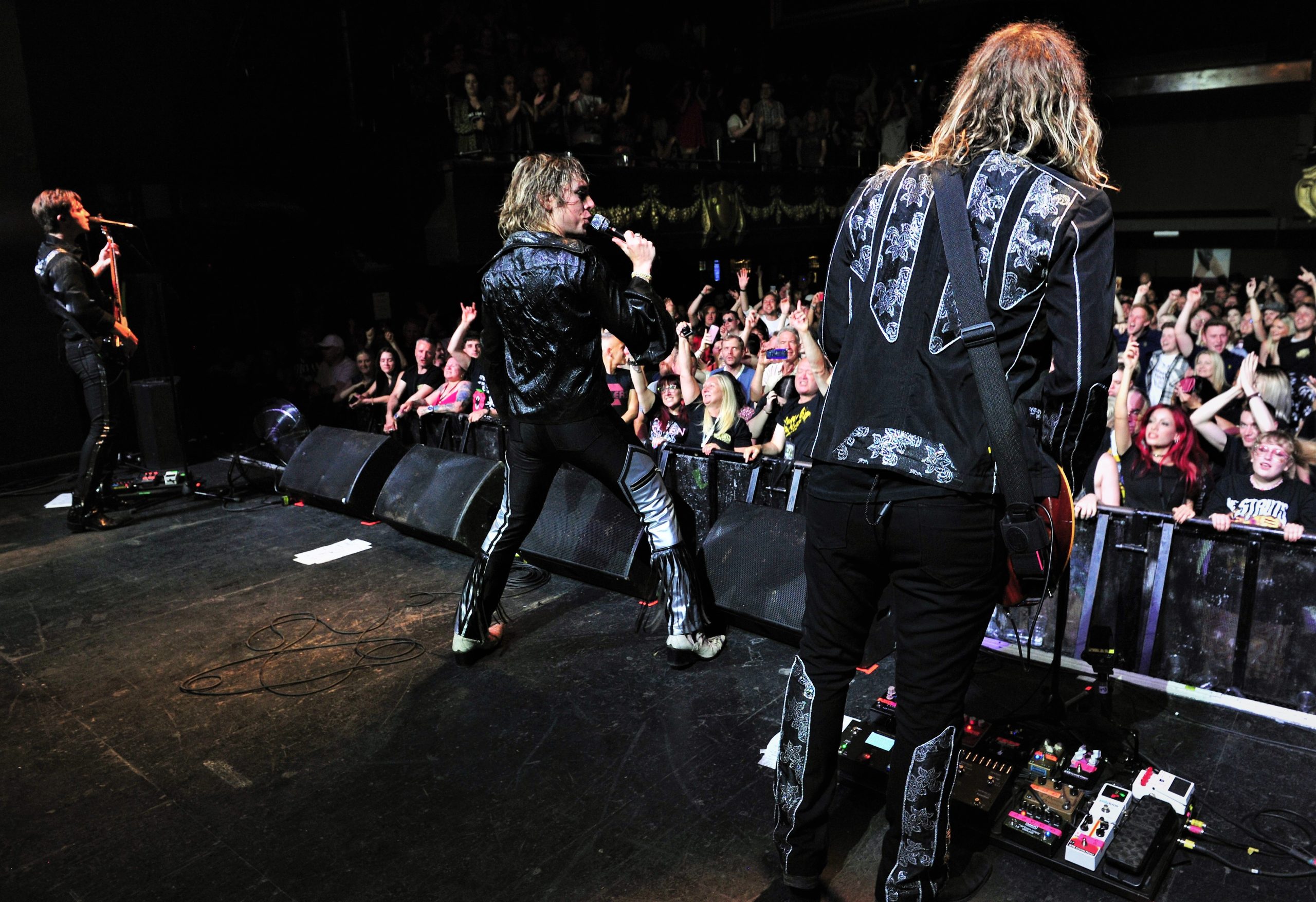 He turned in such a larger than life, theatrical performance, which in many respects is very OTT. But it is never corny or contrived, the same as Freddie and Jagger never were/are. It is innate; you are born to do this stuff….
I am gobsmacked that the makers of the Queen Biopic movie didn't tap up Luke to play a young Freddie. If there is a sequel, he is a shoo-in for the part. That glam rock camp arrogance combined with a serious rock and roll front man persona is very special. But the other lads play their part so well too, and this really is a four-part ensemble.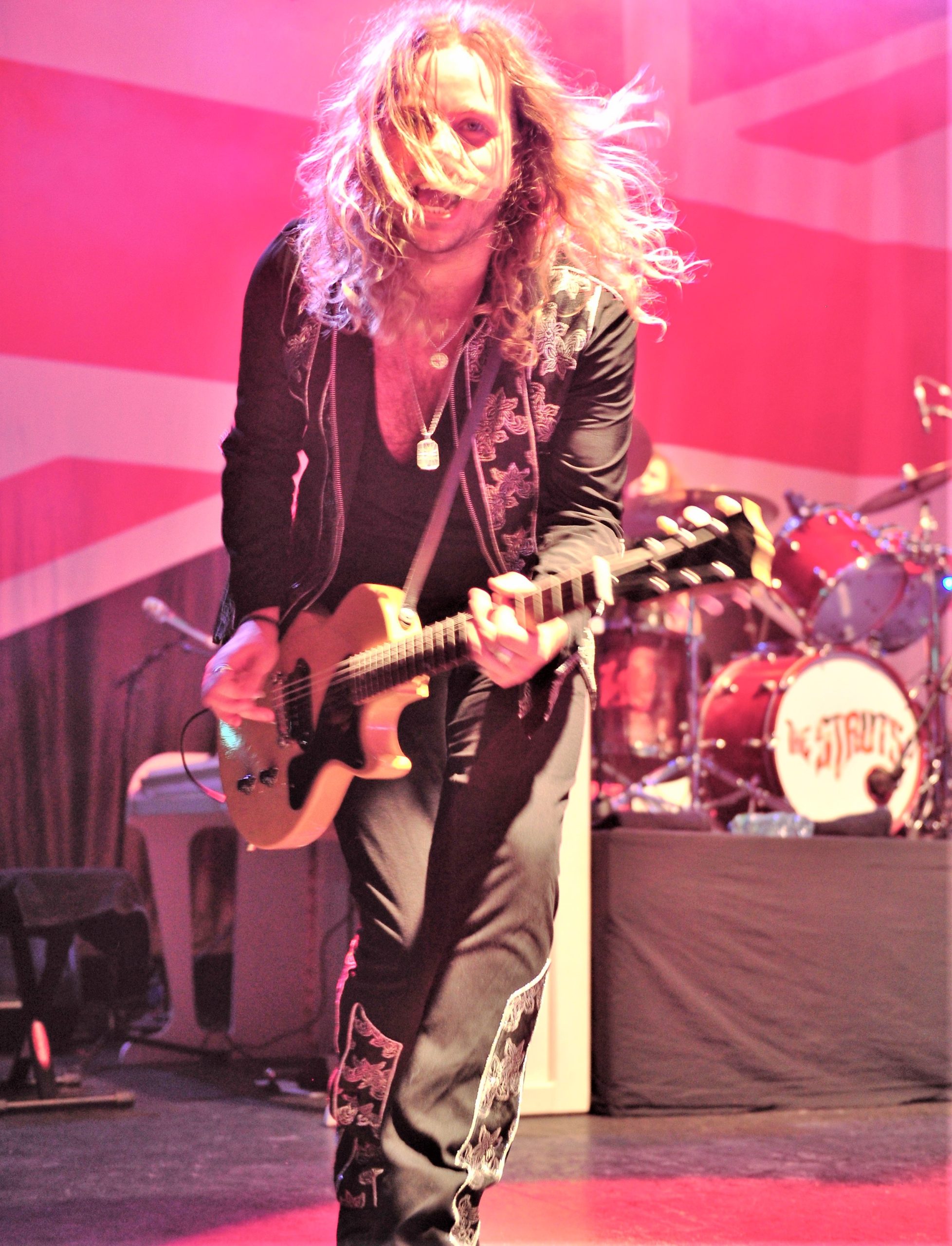 Justice dictates, that after a decade of slogging around the world in cars, vans, tour buses and planes, this band deserve to be filling huge venues as headliners…..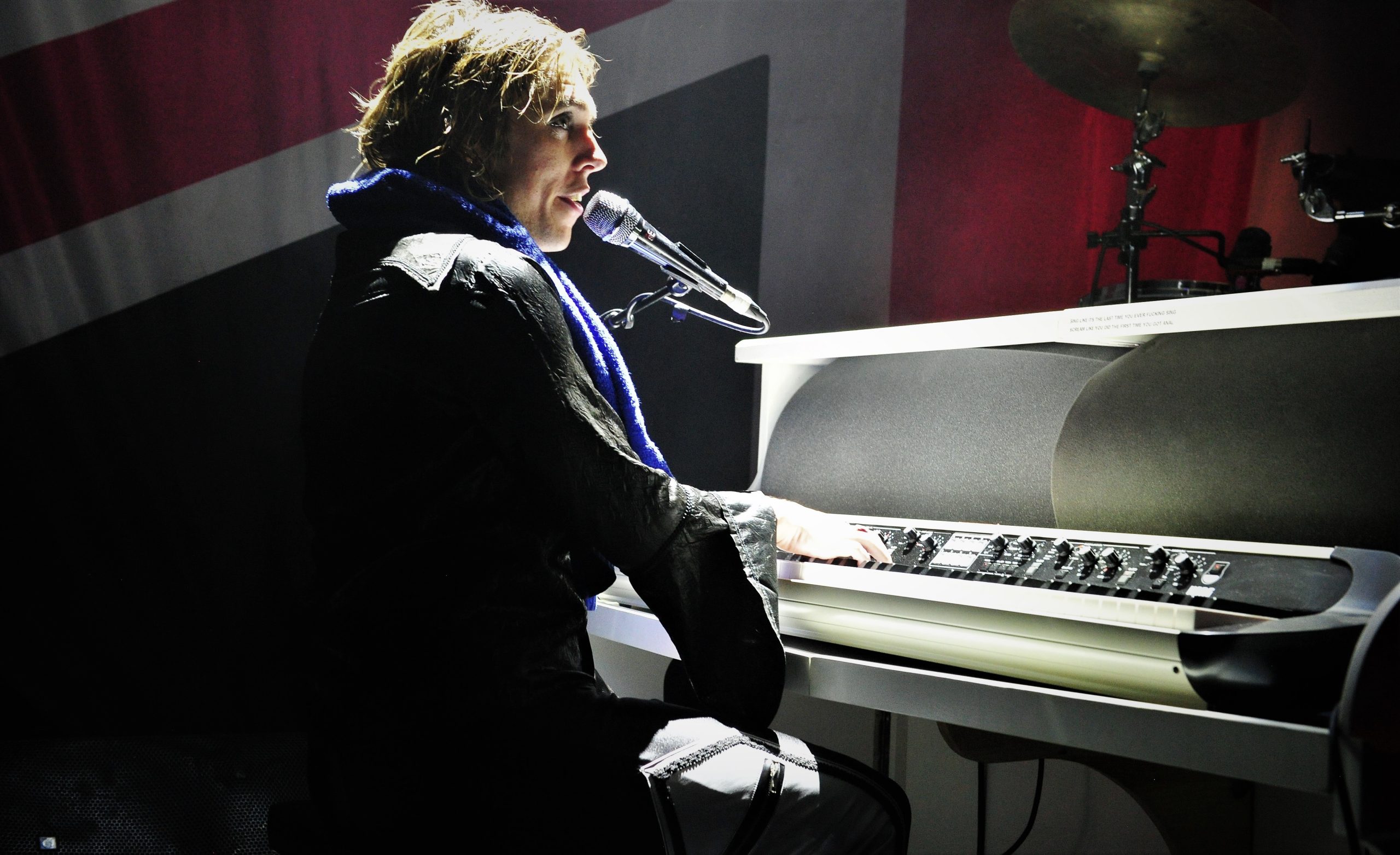 Even after 10 years their star is STILL most definitely on the ascent. Bet your house on it! If you shelled out a grand a ticket for tonight, you got your money's worth for the experience. Gig of the year for me and doubtful anything/anyone will beat it. We will see…
Support act tonight Cardinal Black were superb. Powerful Welsh band fronted by hugely impressive and powerful vocalist Tom Hollister, and with killer guitarist Chris Buck in their ranks, they were a tough act to follow for any band. Surely only a matter of time before this outfit get to snag a major label recording deal and are denting the album charts and headlining their own major tours. They have been close to big success in the past in the US, but it didn't pan out. Now is their time…. Check 'em out. Really special.
Words & Photos: Steve Best