DAY TWO COVERAGE –  Sunday – Review & Photos…
---
---
Nottingham boasts Torvill and Dean, Brian Clough and Robin Hood. The famous annual Nottingham Goose Fair has been running for maybe 1,000 years. But there's a more recent event that brings many thousands of people in to the vibrant city every year since 2008.
Splendour Festival. Nottingham's annual jewel in the live music scene crown held in the beautiful 500 acres of Wollaton Hall Park.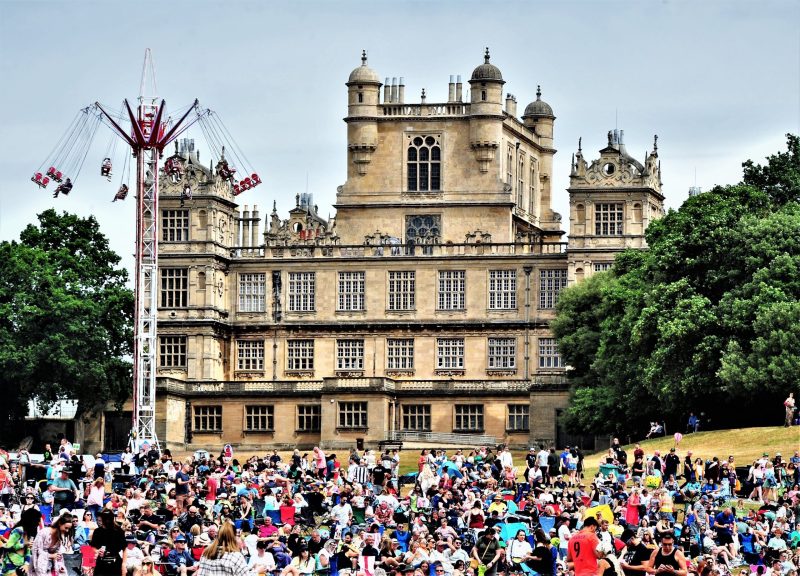 2022 is the festival's first two-day event since it began 2008. Back this year after a two year lay-off due to Covid.  Circa 40,000 people bought tickets. A Splendour record.
Five stages. Main stage, Confetti stage, Courtyard stage and Fringe stage, plus a comedy stage. Courtyard and Fringe offering up 14 acts between them on day one and on day two, and the comedy stage featured five comics and a compere each day. Britain's Got Talent star Daliso Chapondo pulled a big crowd on day two. 10/10.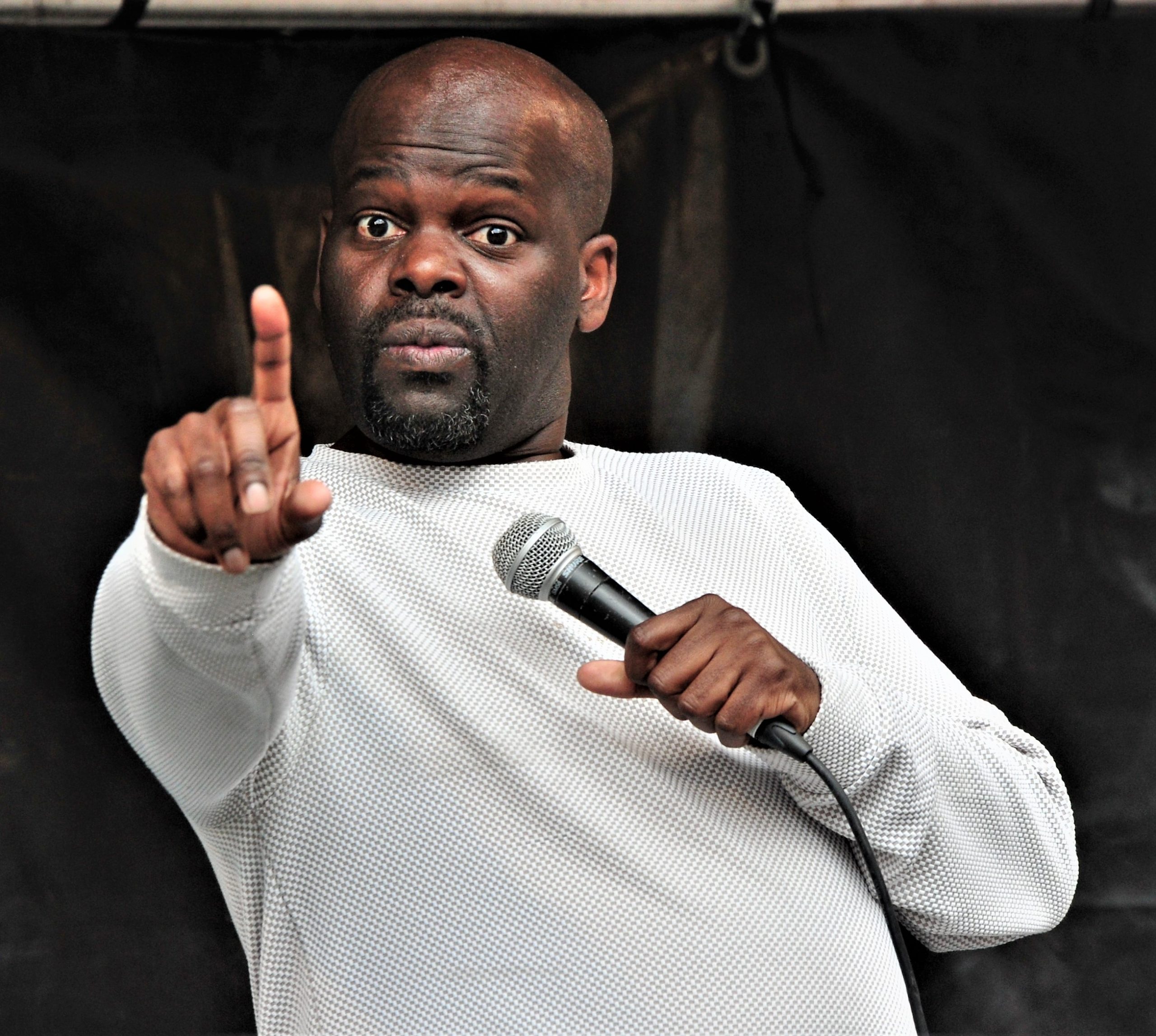 Sunday on the main stage, local acts Betsey B, Deco and Beka kicked things off. I was very impressed with Deco, a soulful unit who had that Simply Red meets The 1975 thing going on and some funky, catchy material. Only act of the two days I saw with a saxophone in the line-up.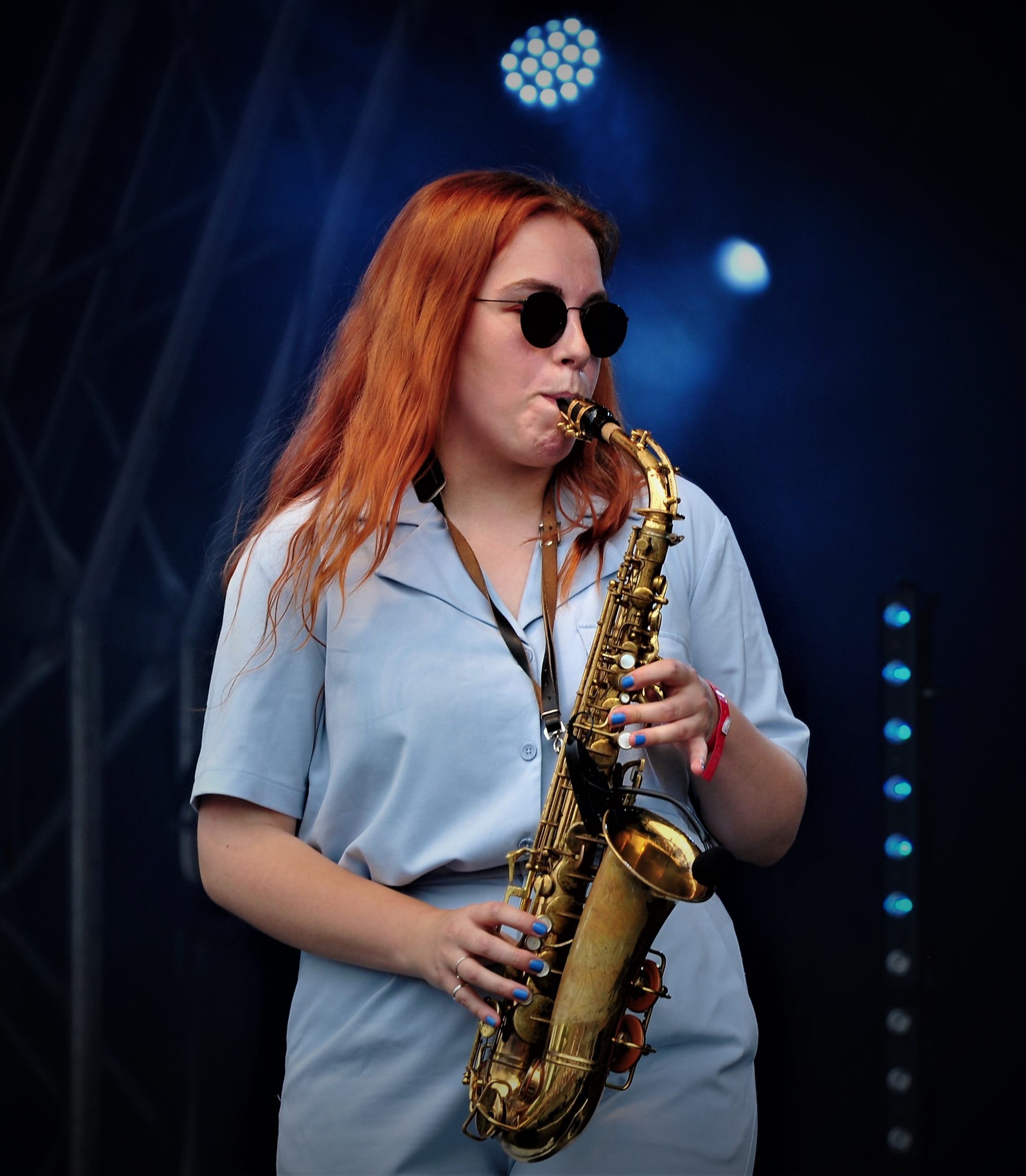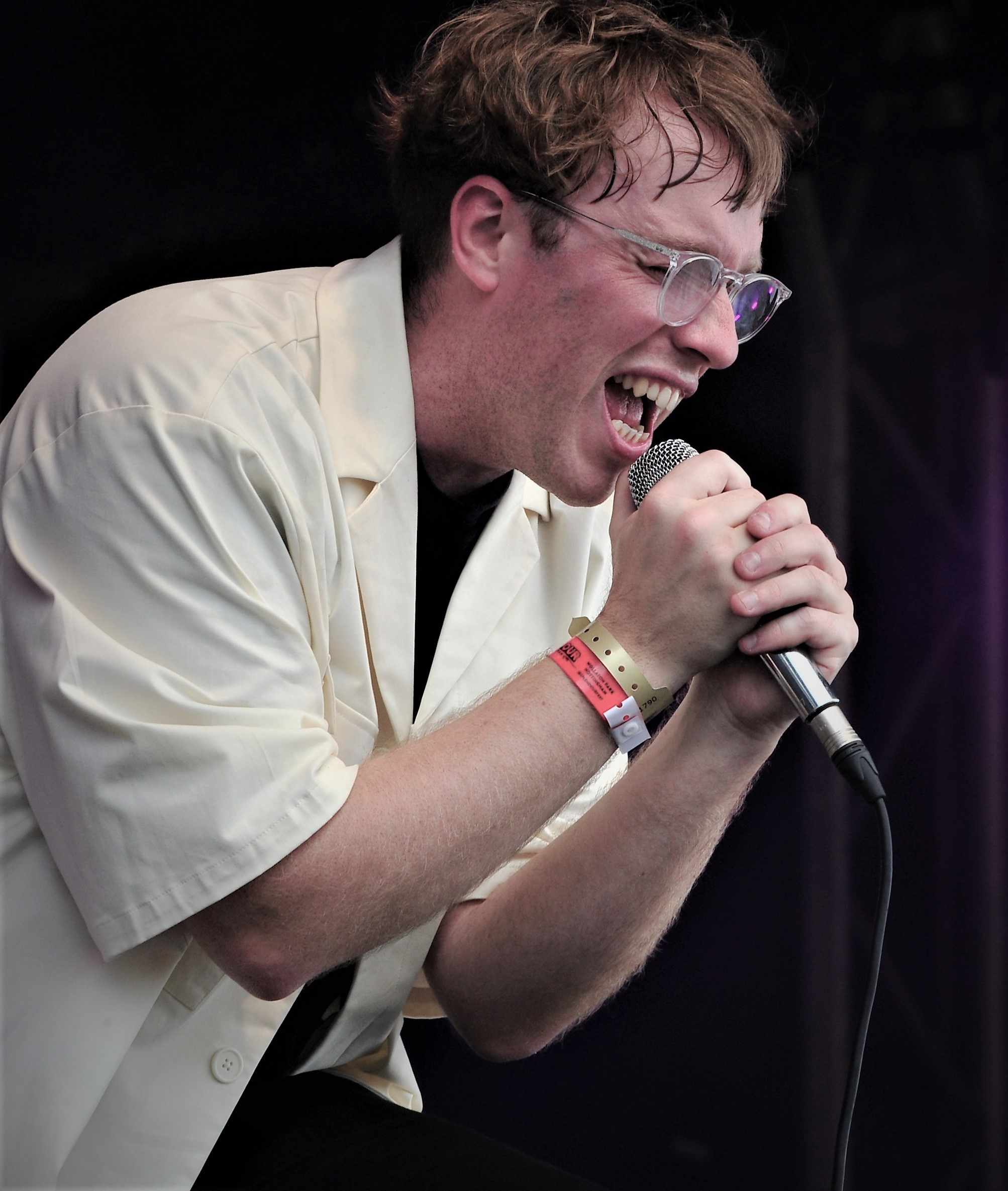 Fun when lead singer gets the entire audience to sit on the ground and then leap up and down in the last song. Impressive for 1pm on a Sunday afternoon in the sunshine! (8/10).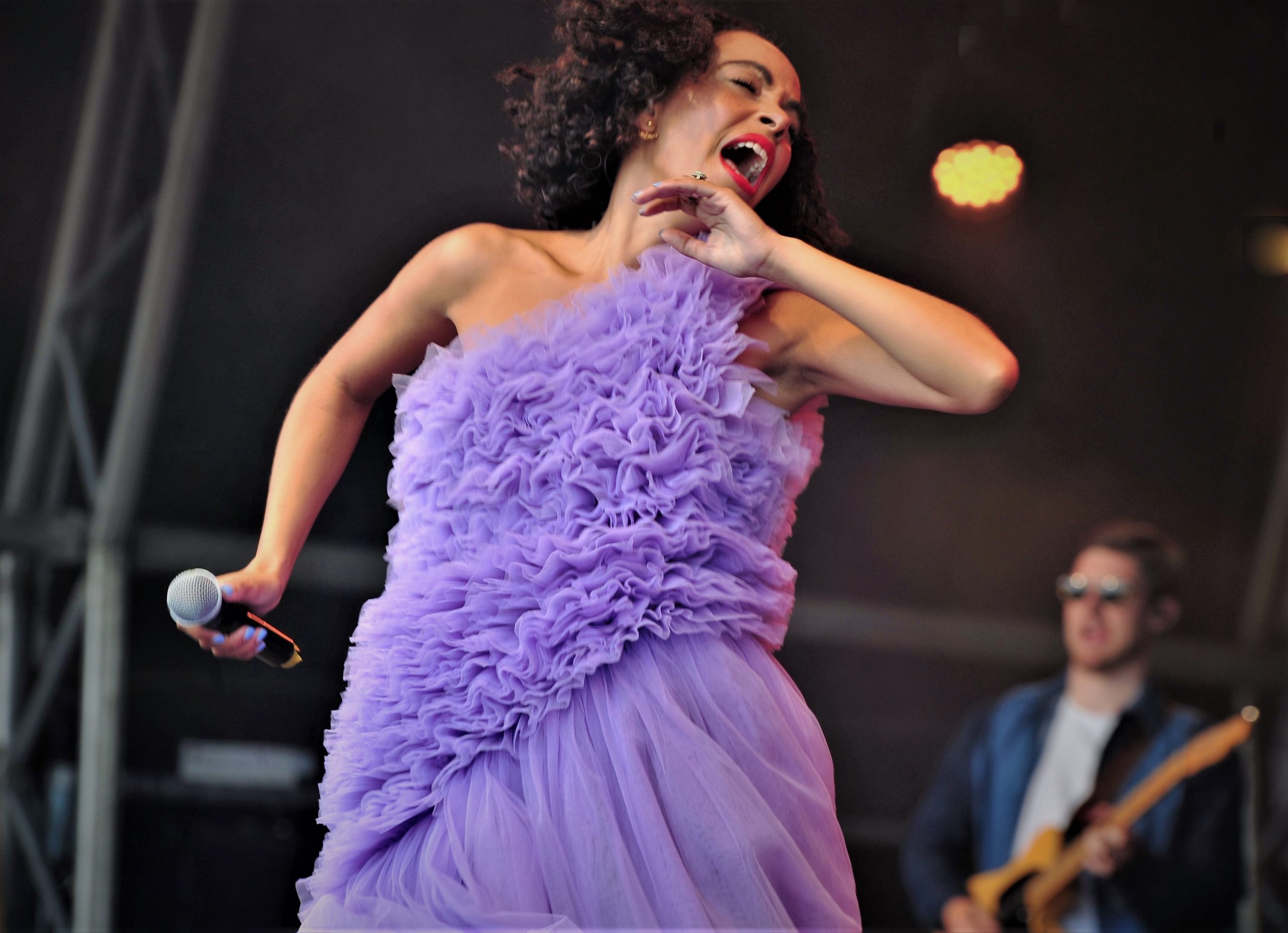 Beka is a star – or she will be. Already toured in the US and she's blowing up around the globe, including airplay on BBC Radio 1. Strong set, and the Nottingham-artist looked a million dollars.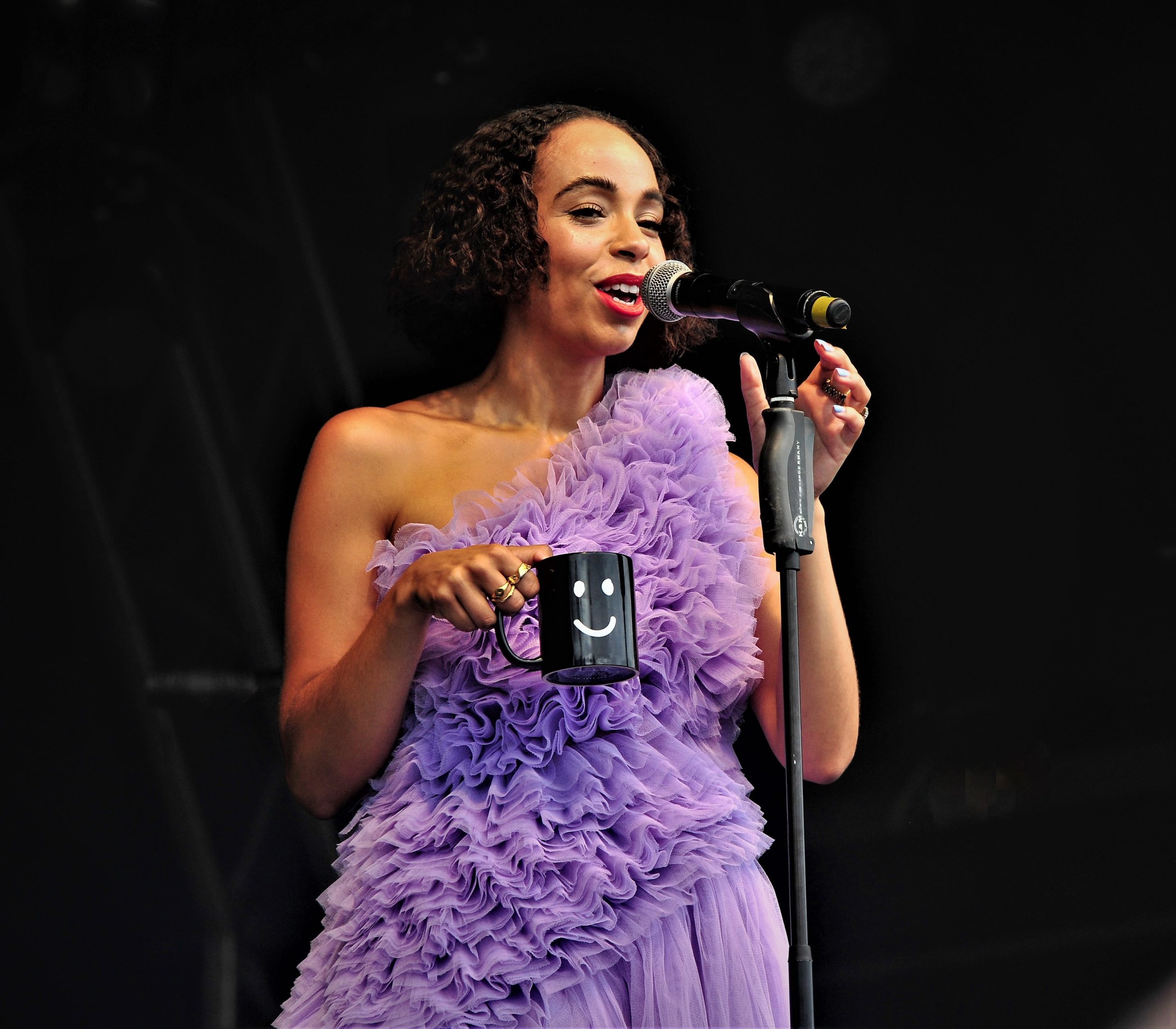 Perhaps a bit too much between song chat for an early afternoon 30 minute festival slot, including a rambling story about how she met her husband. But that aside, trust me she will soar……Big talent. (9/10)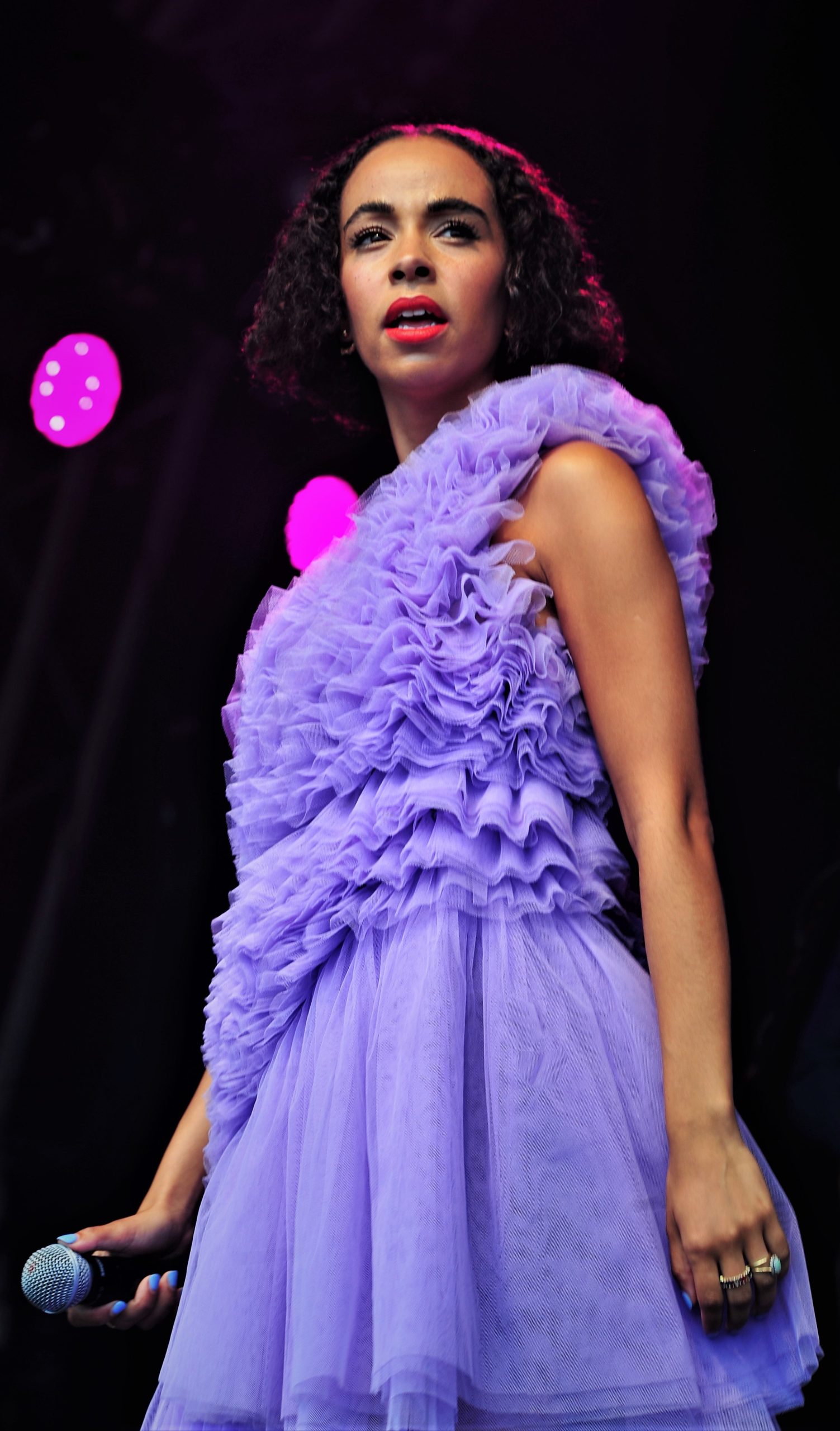 Missed The Magic Numbers, but heard them across the field for a few songs and they sounded great. Did catch them at Cornbury Festival very recently and they really were excellent.
15.30 on Sunday, Vicky McClure's Dementia Choir took to the stage, with chart star Tom Grennan, and to end the set, surprise guest Shaun Ryder from The Happy Mondays joining in on the Neil Diamond-penned, Monkees' classic "I'm A Believer".
Emotional stuff with the speeches from Vicky and from a fairly young dementia sufferer.  Tom gets 10/10. Vicky gets 10/10. Guess what? The choir gets 10/10 too. Shaun….well read on for The Happy Monday's performance later in the day.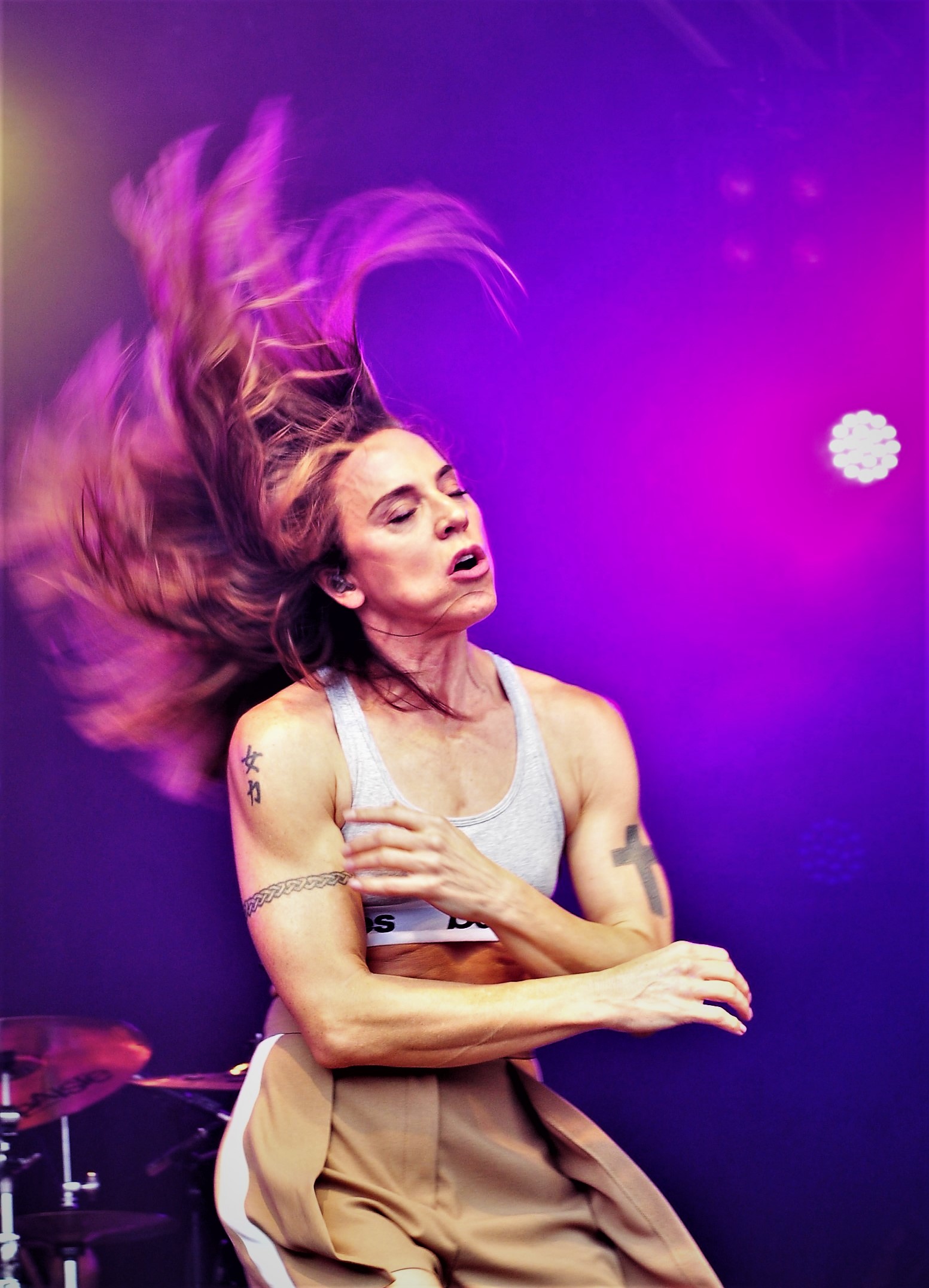 Spice Girls' fans were in for a treat with Melanie C's dynamic set. Surprised me how good she was vocally and how strong her material is.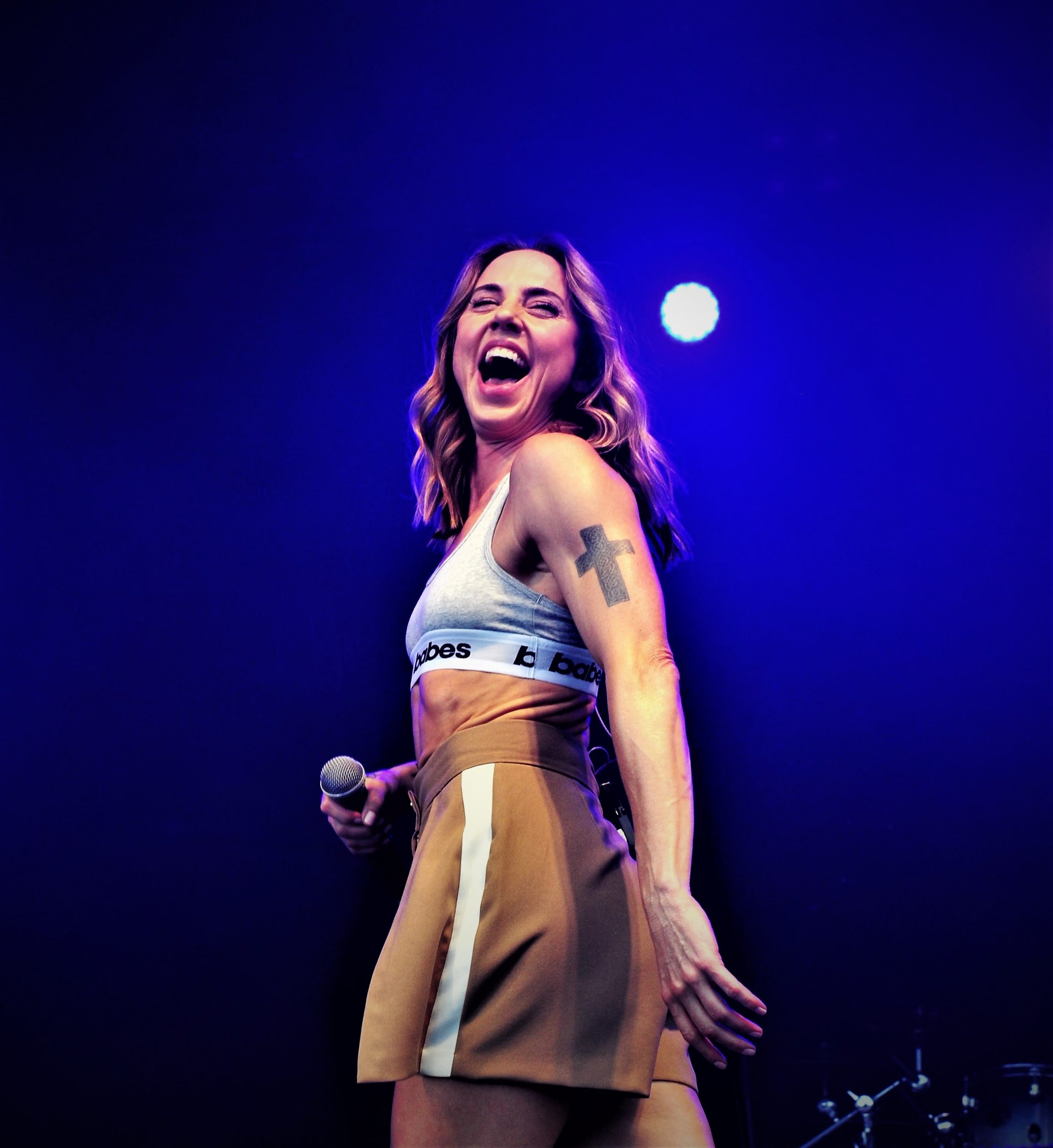 She dished out the Spice Girls hits in fine style and her own solo hits. Lots of energy bouncing around the stage for half an hour and looking very toned, like she spends many hours in the gym every day. Then again, she is Sporty Spice!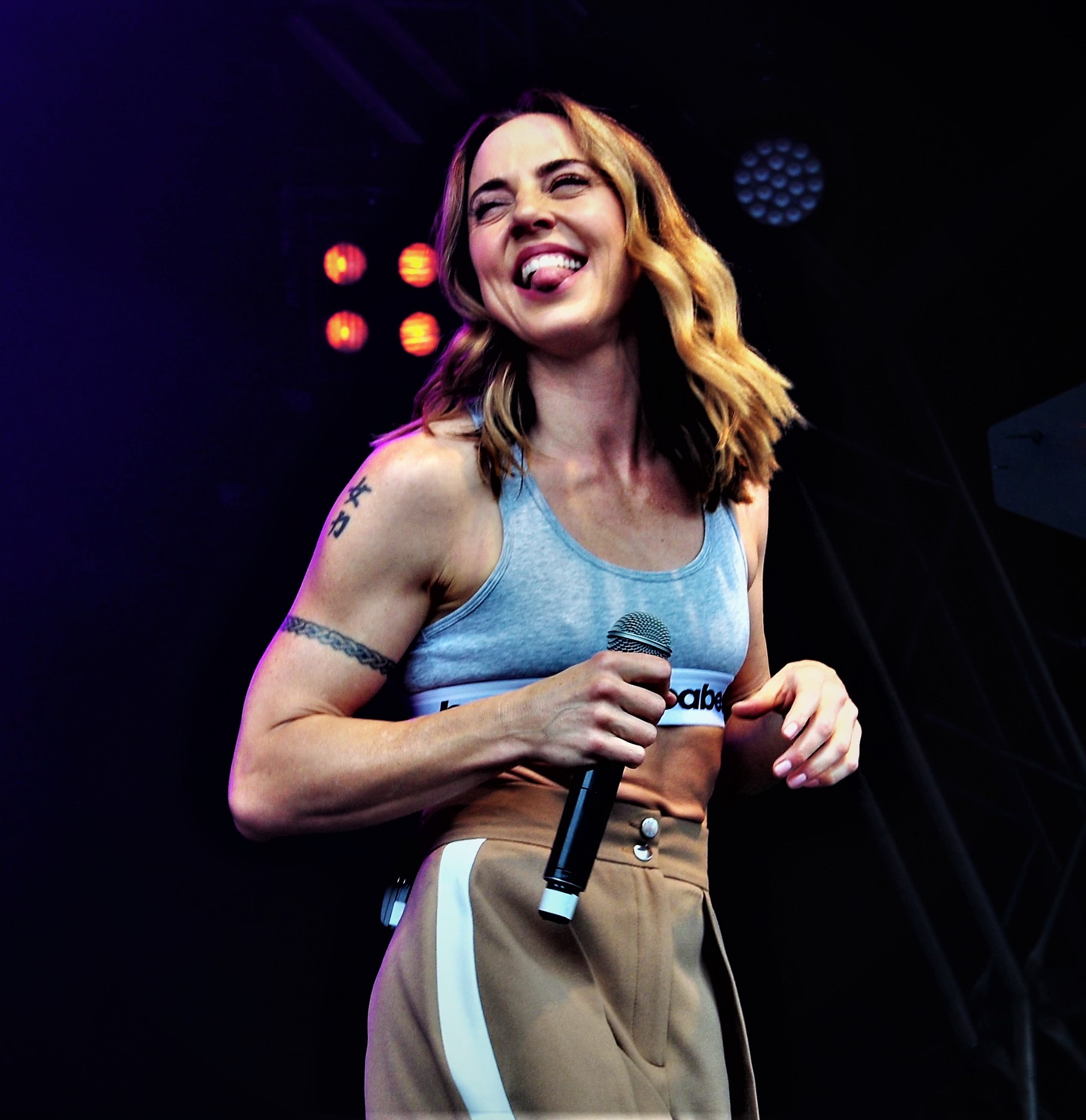 Melanie C launched her solo career with the huge hit "When You're Gone" with Bryan Adams and has since gone on to achieve more than three million album sales, two number one singles and six Top 10 singles.
Mel was in jovial mood in her dynamic set, when she sniffed her own arm pits, telling the crowd "my pits might be a bit sweaty!" 10/10.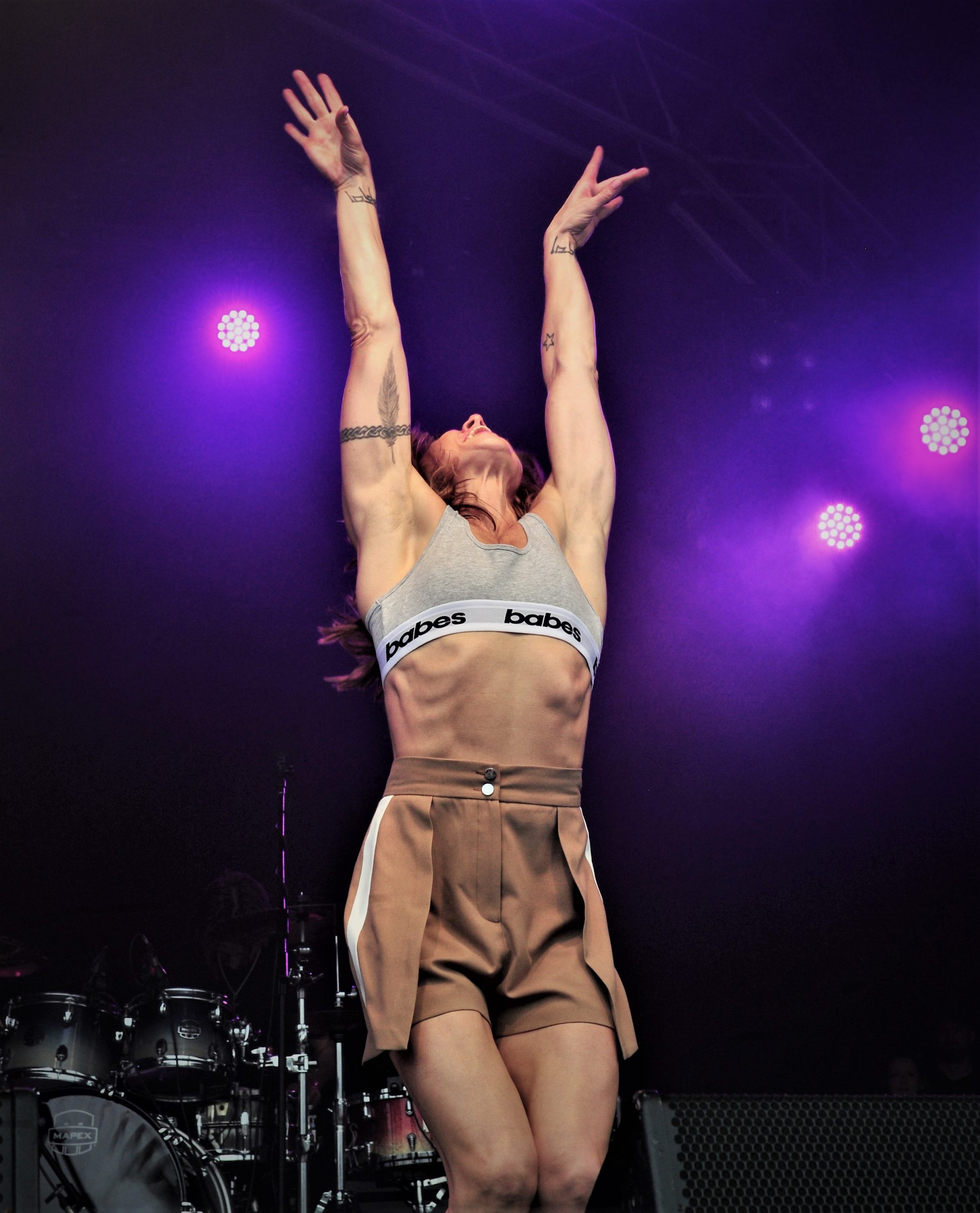 Was elsewhere for Razorlight's set, but I was told positive things by others though. Seen them before and they are always a reliable festival act. Performing as their original line-up after a decade-long hiatus.
Soulful pop queen Anne-Marie is red hot right now as one of the UK's biggest pop stars. Quirky material and her vocals are banging. Such a great voice. Reminds me a bit of the great Jessie J as regards how superb the vocals are.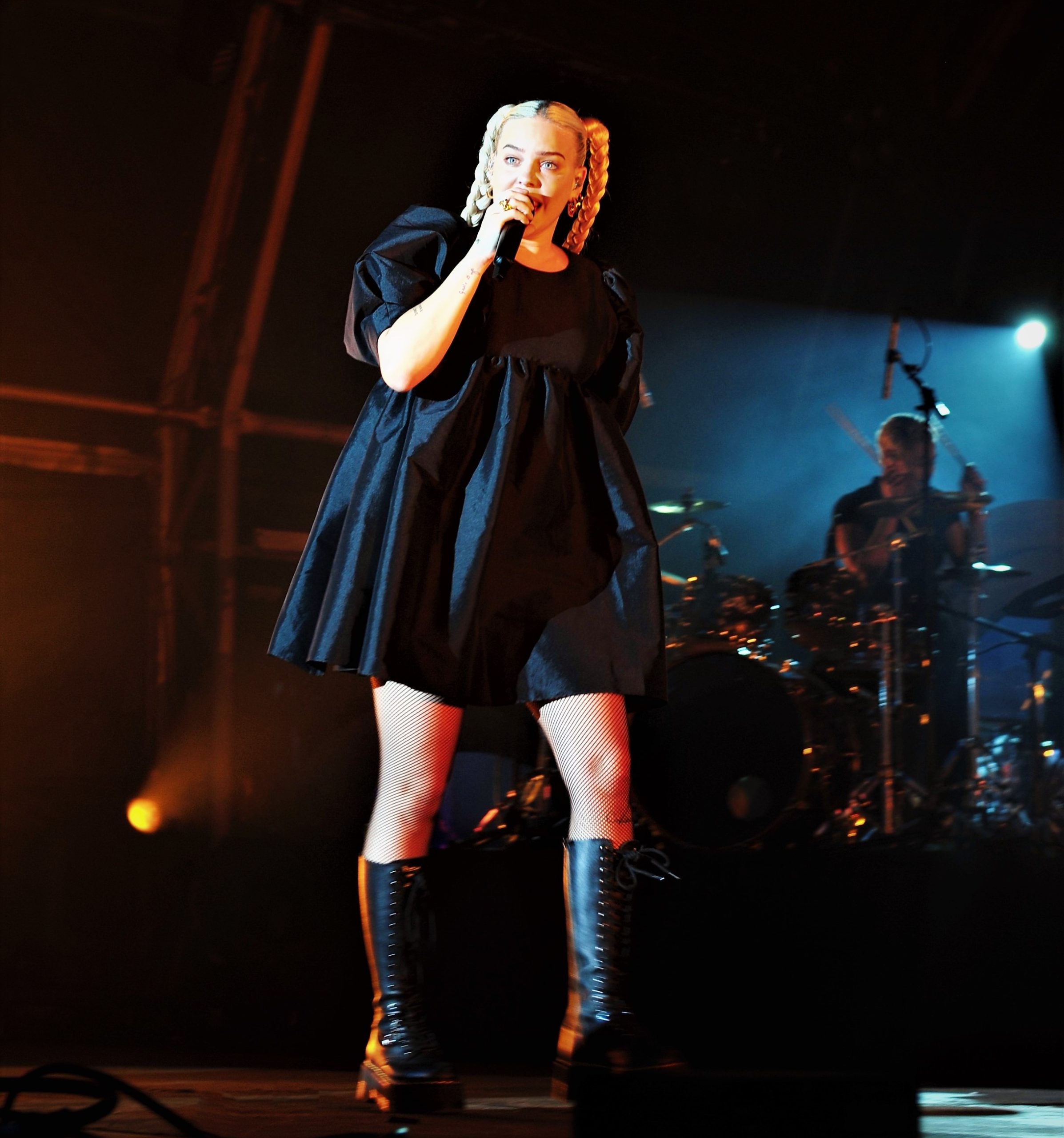 Anne-Marie first shot to fame when she guested on tracks by Rudimental and then went on to score a number one hit as the main vocalist on Clean Bandit's worldwide number one single, "Rockabye".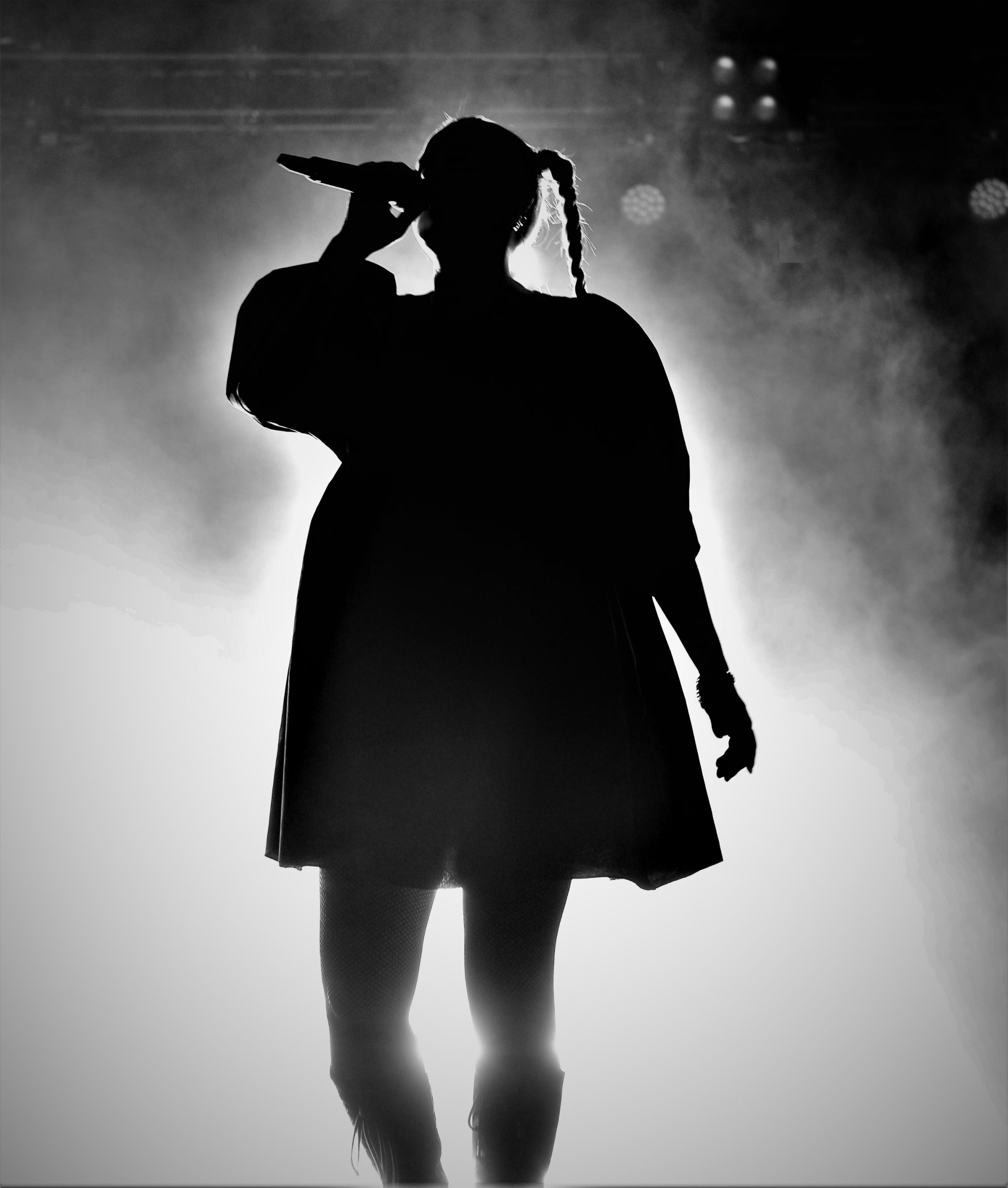 Anne-Marie was recently seen performing live at The Brits, along with Adele and Ed Sheeran. Anne-Marie is a coach on The Voice UK. Her first solo album, "Speak Your Mind" was the biggest debut album in the UK upon release.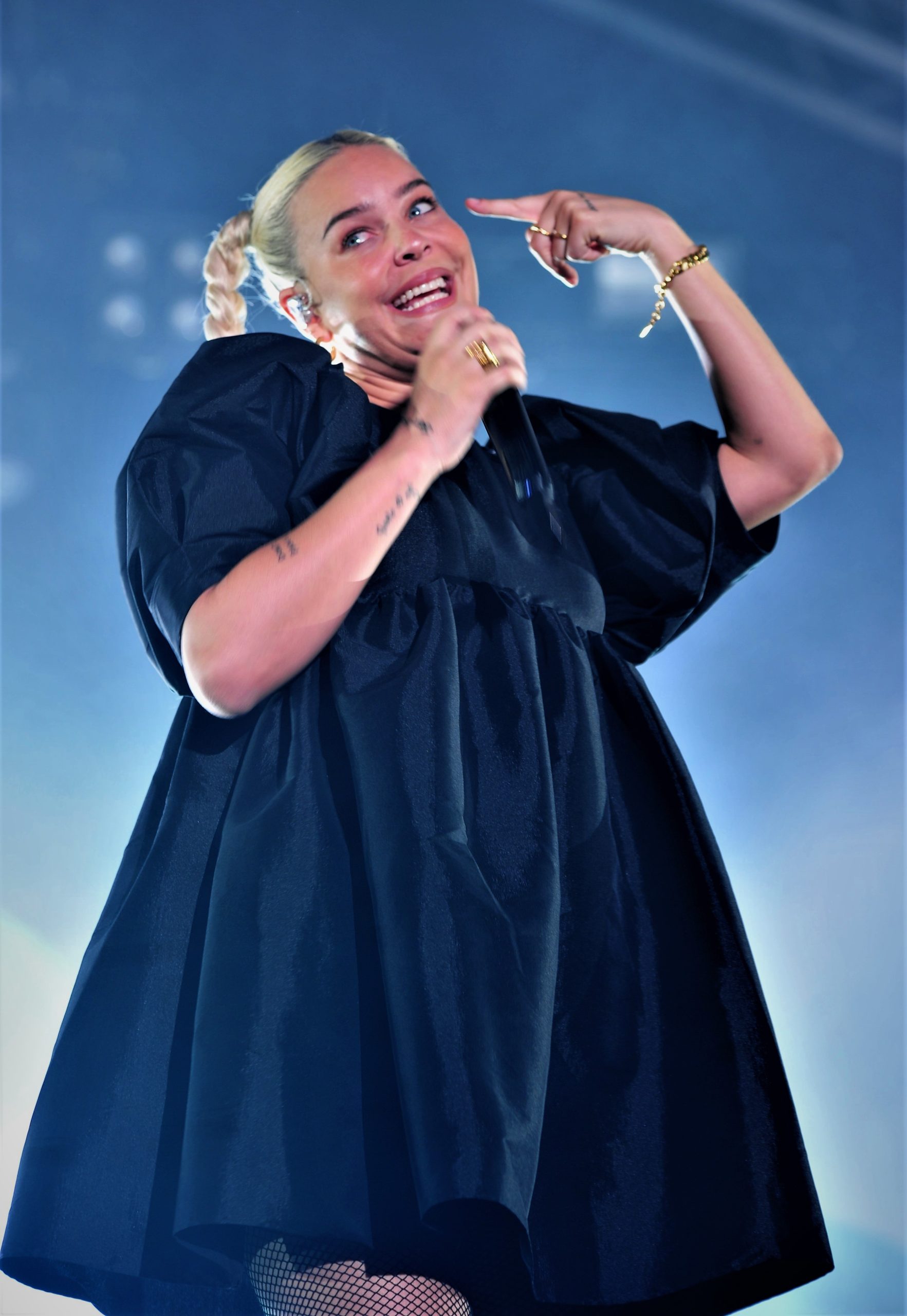 Tonight, the stage is set up as a nursery with giant toys scattered about, and Anne-Marie in pigtails and a black shiny over-sized party frock.  She drew a huge crowd and many youngsters among them coming with parents only on day two for her set.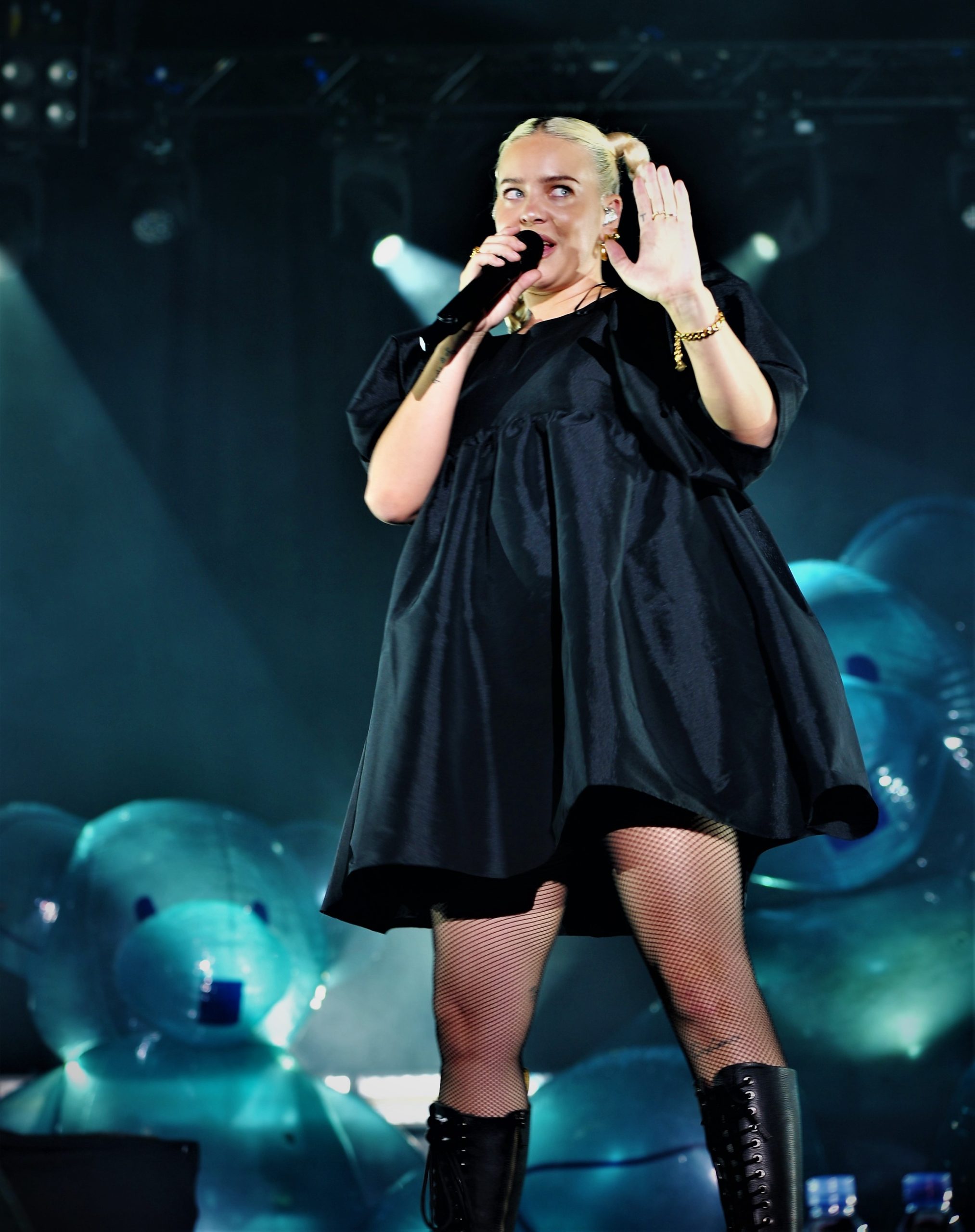 I saw her in a tent at the V Festival years ago in a day time slot, and a relatively small audience, before she shotm to fame.
I think she'd had one single out at that time,  and I said then she'd be a star. I was right. She earned her headline spot tonight and delivered a sparkling 70-minute set. 10/10.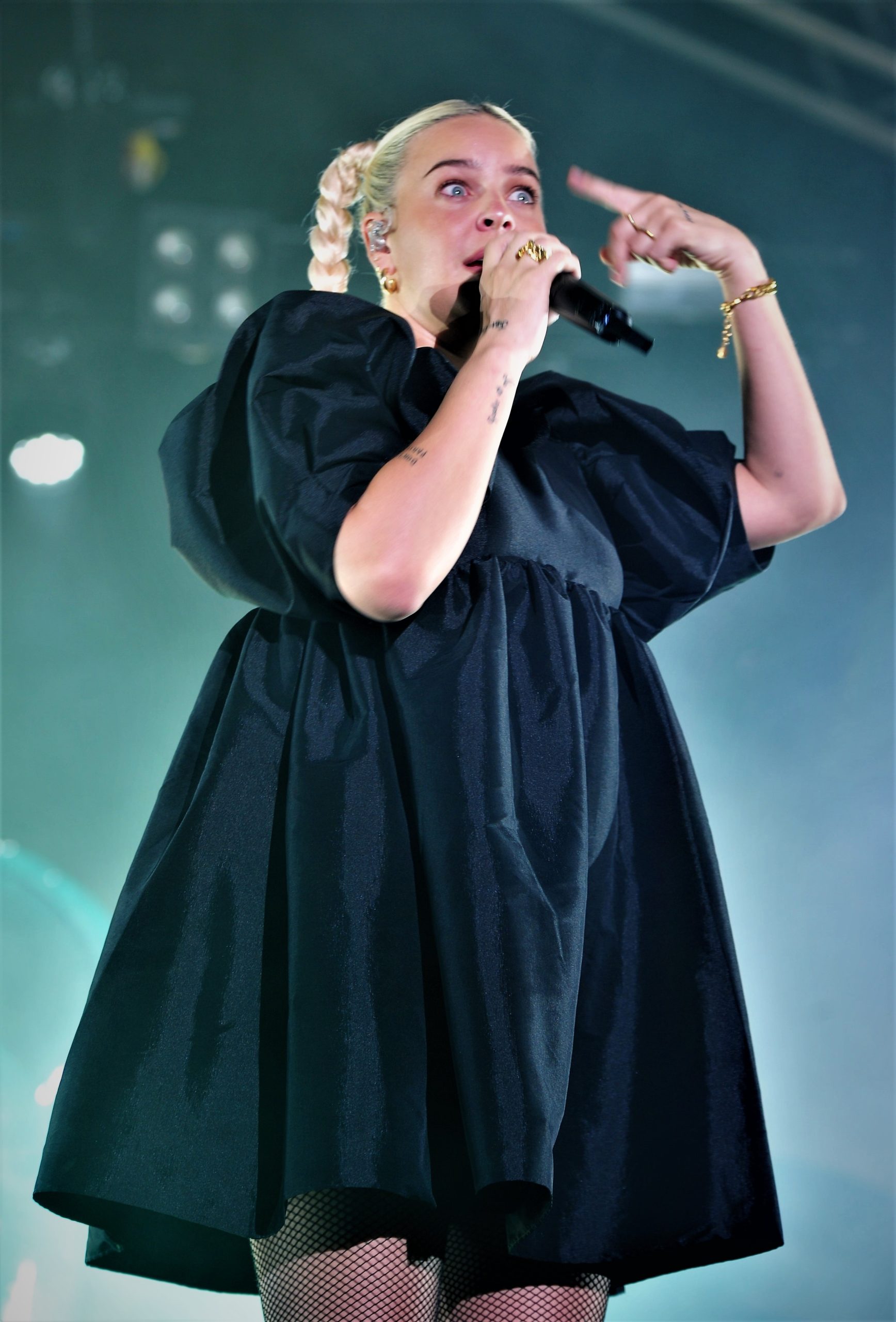 Funny backstage anecdote: Anne-Marie had the backstage area 'locked-down' for her set and afterwards. The Human League star Philip Oakey fancied a snifter in the VIP bar after their cracking set and sent someone along to bring their guests backstage to share a drink.
Security say sorry, Anne-Marie has this area locked down. "Good luck with that", says the Human League rep' and waves the guests through. Phill and company get to the VIP bar and security refuse him entry – because he was not wearing his pass!
A squeal goes out, "OMG, it's him…..it's really him", and the red-faced security cotton on and allow him and his party entry!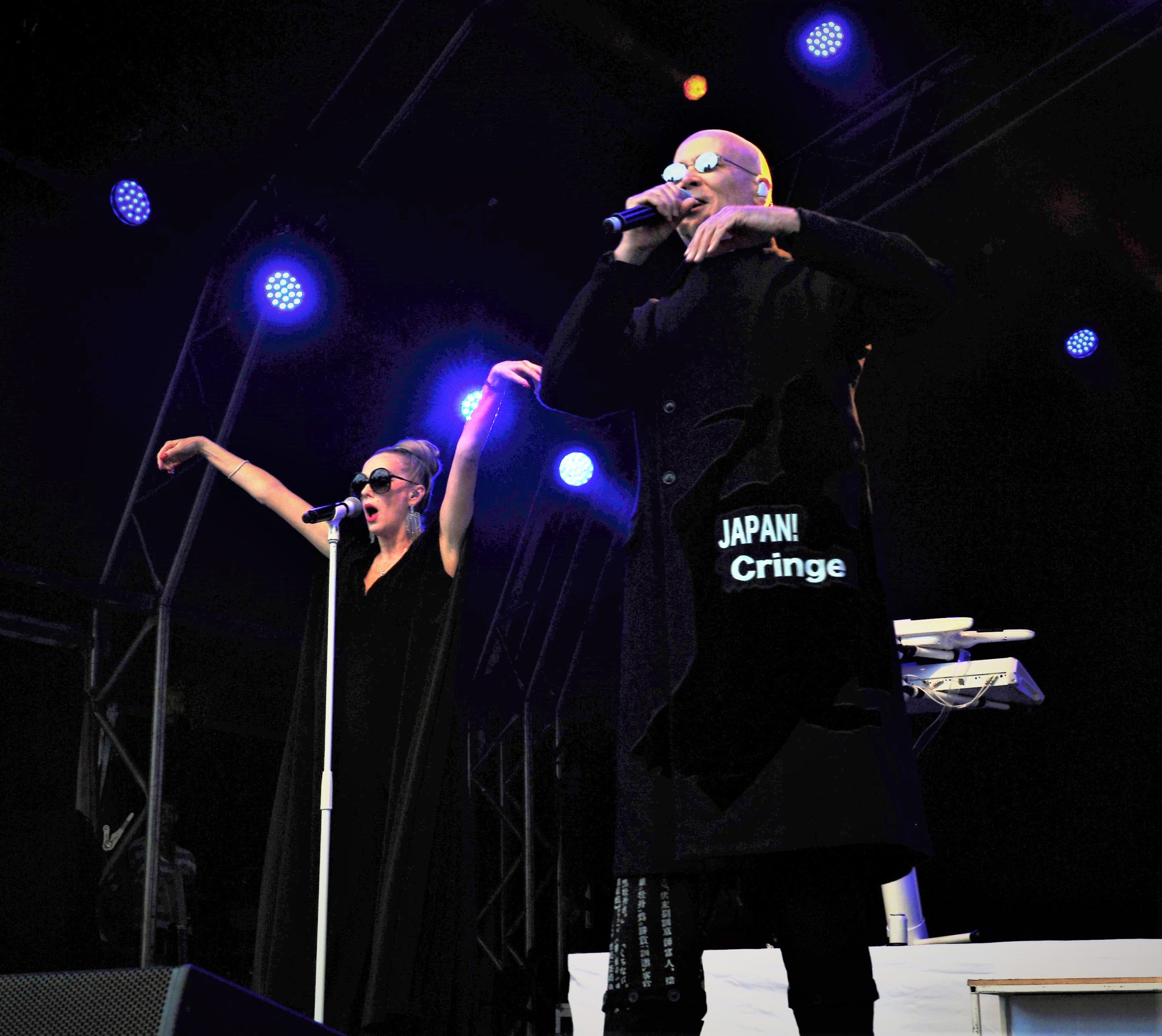 The Human League's main stage set on Sunday before headliner Anne-Marie was utterly stunning. 100% sounding like their hit records. The stage set was clean, minimalist and looked as cool as they all did. Phill looking like the baddie from a Bond movie.
The Human League could easily have headlined here. They were magnificent. Philip Oakey, Susan Ann Sulley and Joanne Catherall, the sole original members, along with three younger musicians. Here is their set list for this gig: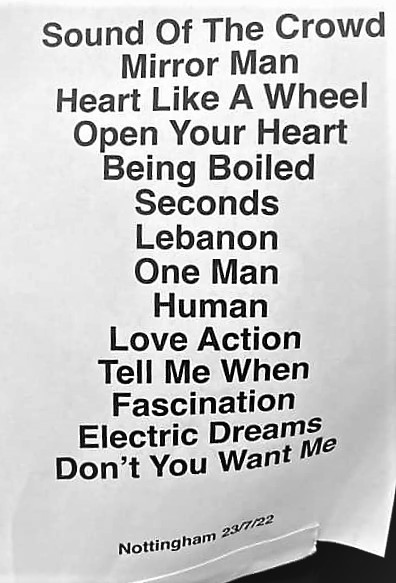 The Human League last played the festival in 2016. A legendary band with an outstanding back catalogue stretching back more than 40 years, The Human League formed in Sheffield in the late 1970s and evolved into one of the seminal 80s electro pop bands.
The band has sold more than 20 million records and their classic pop masterpiece "Don't You Want Me" was a number one hit around the world.
They got a big reception for "Electric Dreams", which they usually end their set with, but for Splendour they wanted to finish with a real banger;  a faultless rendition of their biggest hit, "Don't You Want Me", joined by at least 20,000 backing singers! 10/10.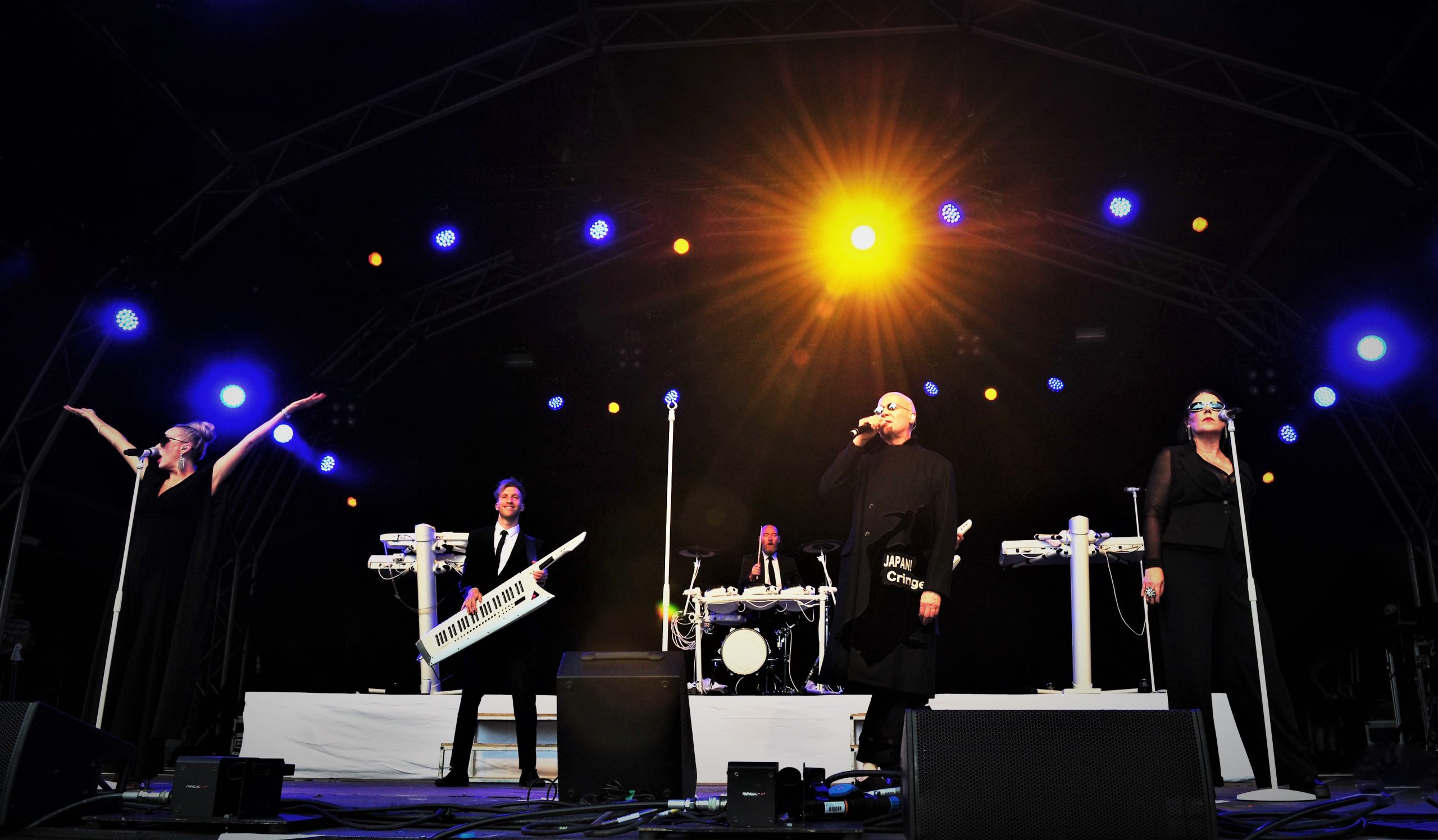 Funny sight of a group of dog walkers lined up in the parkland along the fence with their dogs and their humans all listening to The Human League!
Barry the (real) parrot and his friend Morris were back on day two, being flooded with selfie requests. See our day one coverage for photos and more info. There's a big ape in the crowd too! No, it was not me!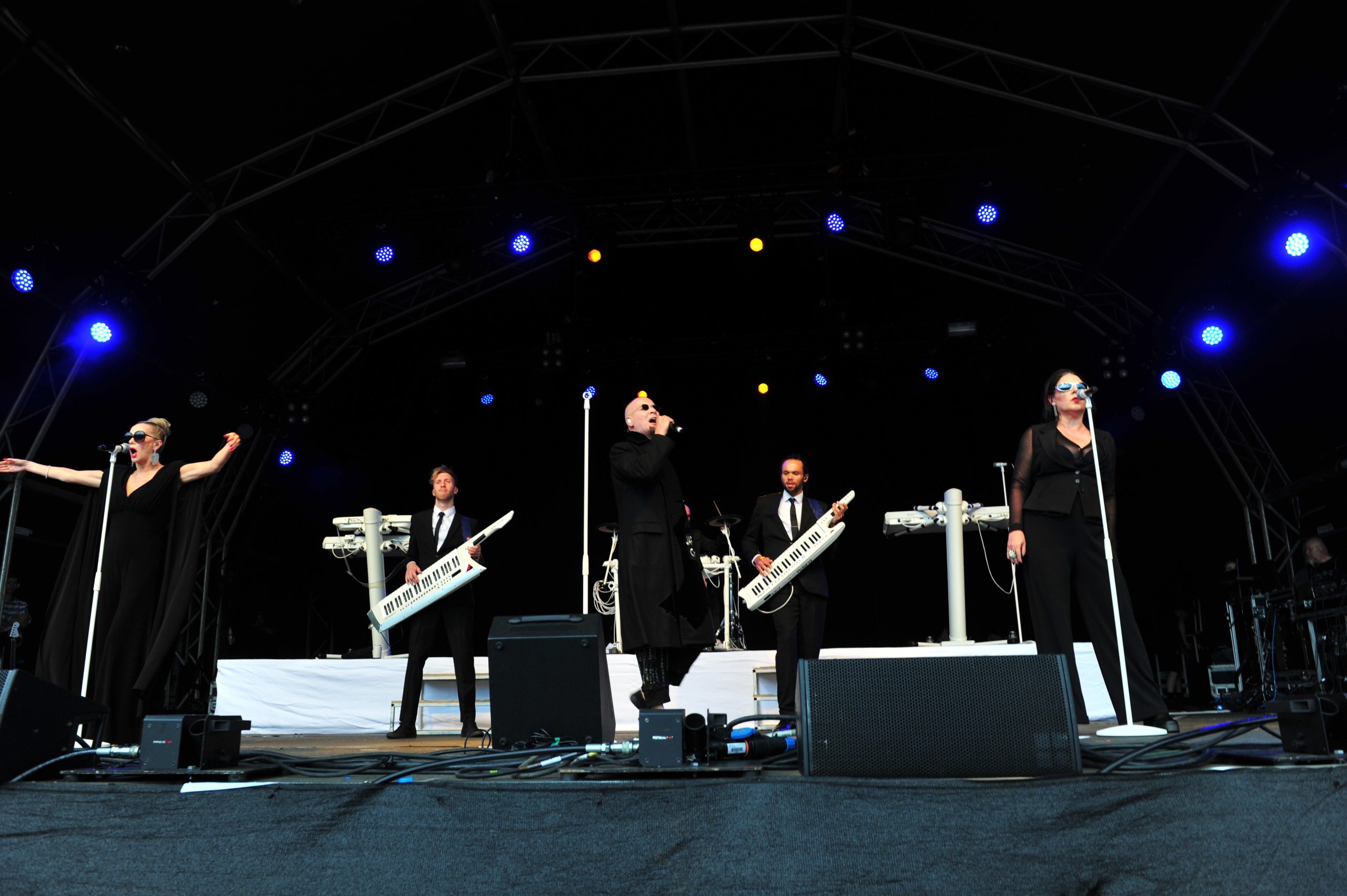 Apparently, there were a few complaints about the sound on day two, but other than the technical issue with Steve Cradock's guitar pedals at the start of Ocean Colour Scene's set and a minute or two when the sound went off as The Happy Mondays began their set, I did not hear any other issues across all five stages on either of the two days – two 11-hour days on site.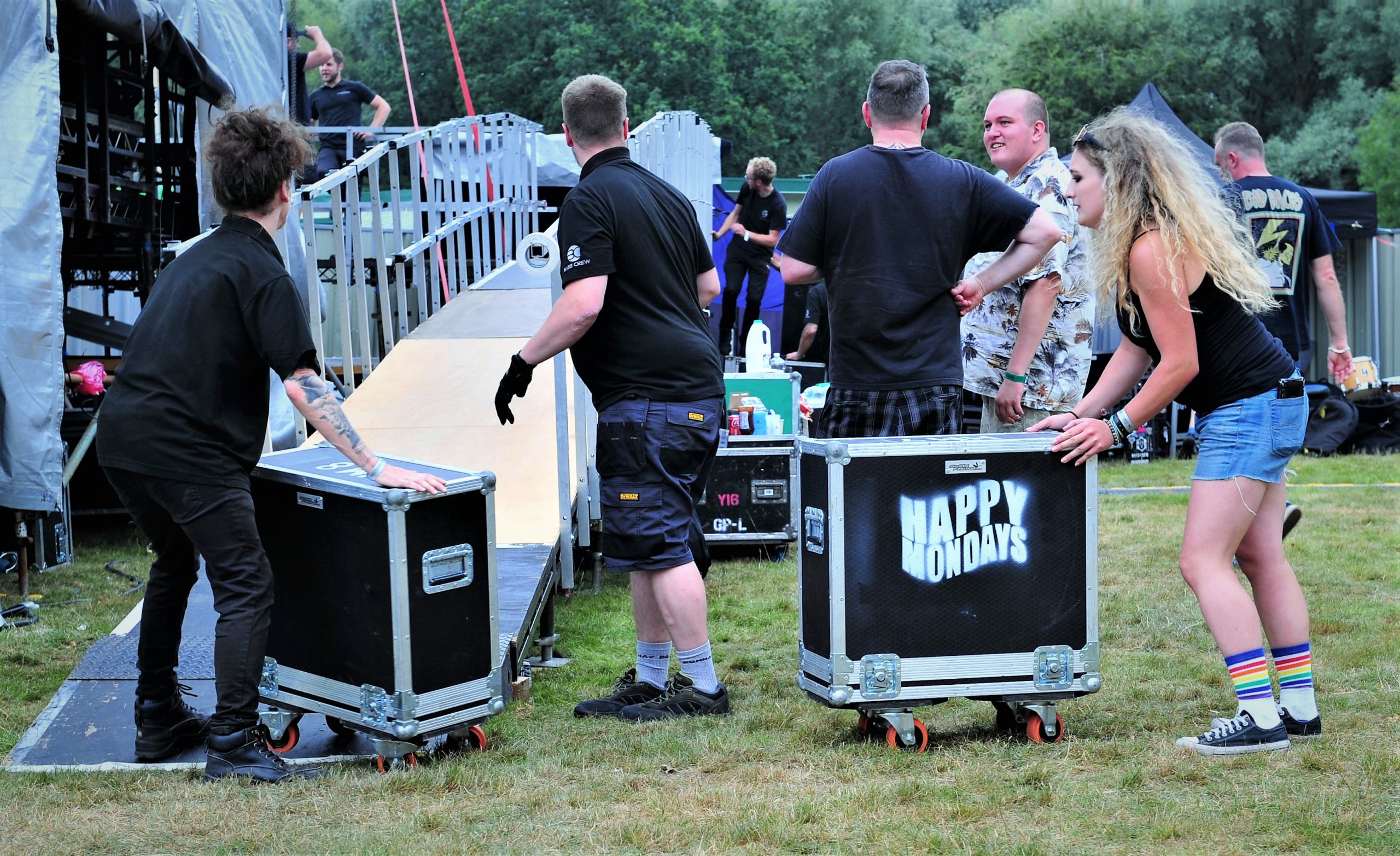 But it's live music, it happens, get over it! The stage crews and the sound and lighting teams did a marvellous job across the two days, and for the set up and take down. All stages ran on time, give or take five minutes here or there.
All acts advertised turned up and did their thing. It was hot and humid both days too. So, bravo, and those who bellyache about sound issues can always stay home and listen to iTunes next year!
Over on the Confetti stage on Sunday, local acts Left Hand Lane, Bee-Sides and The Black White opened proceedings. But at 3pm, the brilliant Skinner Brothers tore into a storming and aggressive set more akin to a late-night club set than a daylight festival slot on a Sunday.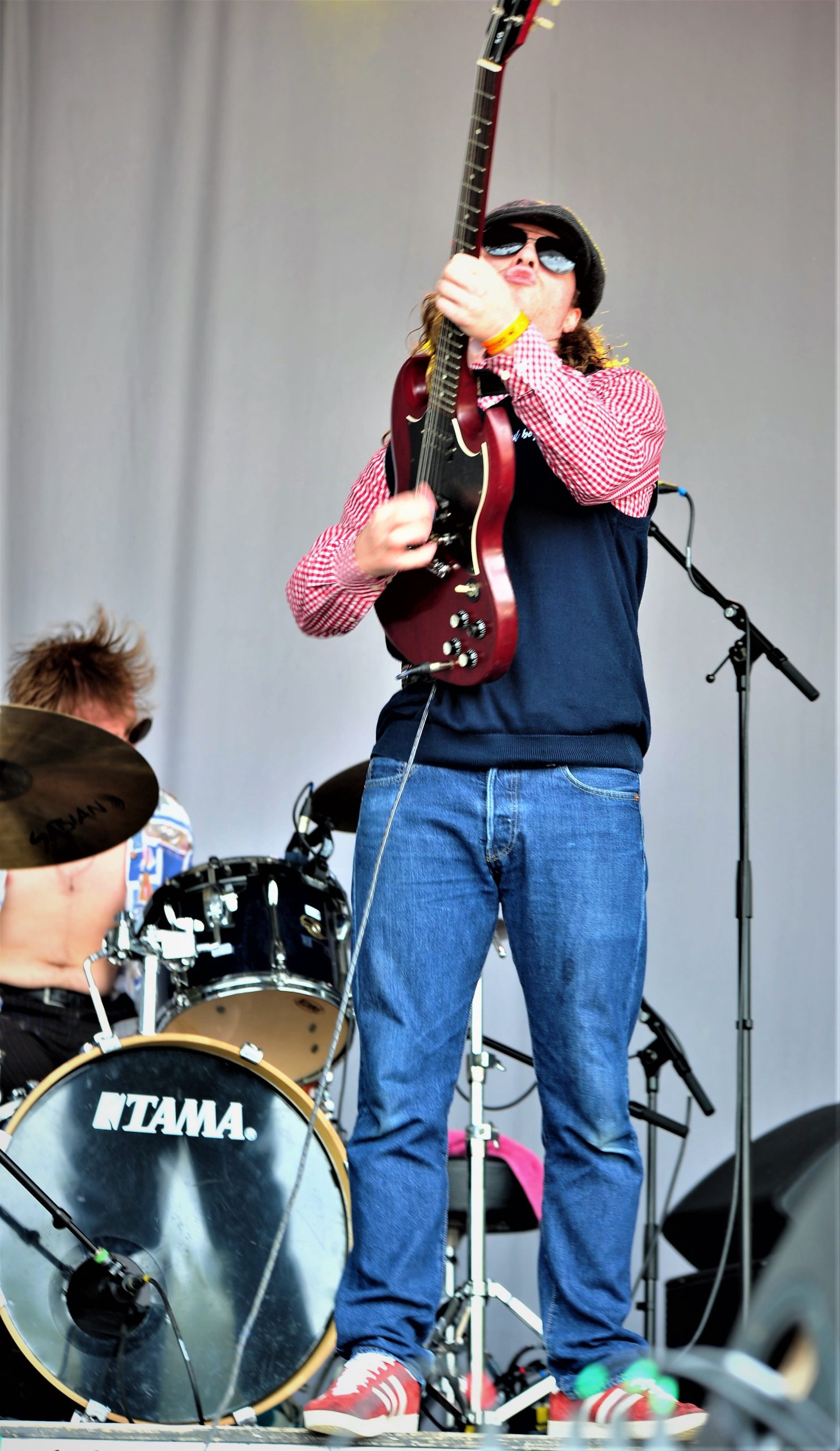 Music Republic Magazine gave this lot "Best New Band" in our 2021 "Best Of" round-up. We'd been tipping them since 2018/19.  The Skinner Brothers, London-based siblings' outfit who won many new friends opening for Kasabian and The Streets, and with their blistering festival slots. They bloody smashed it today, and whetted my appetite to go see them in their own right asap. (10/10).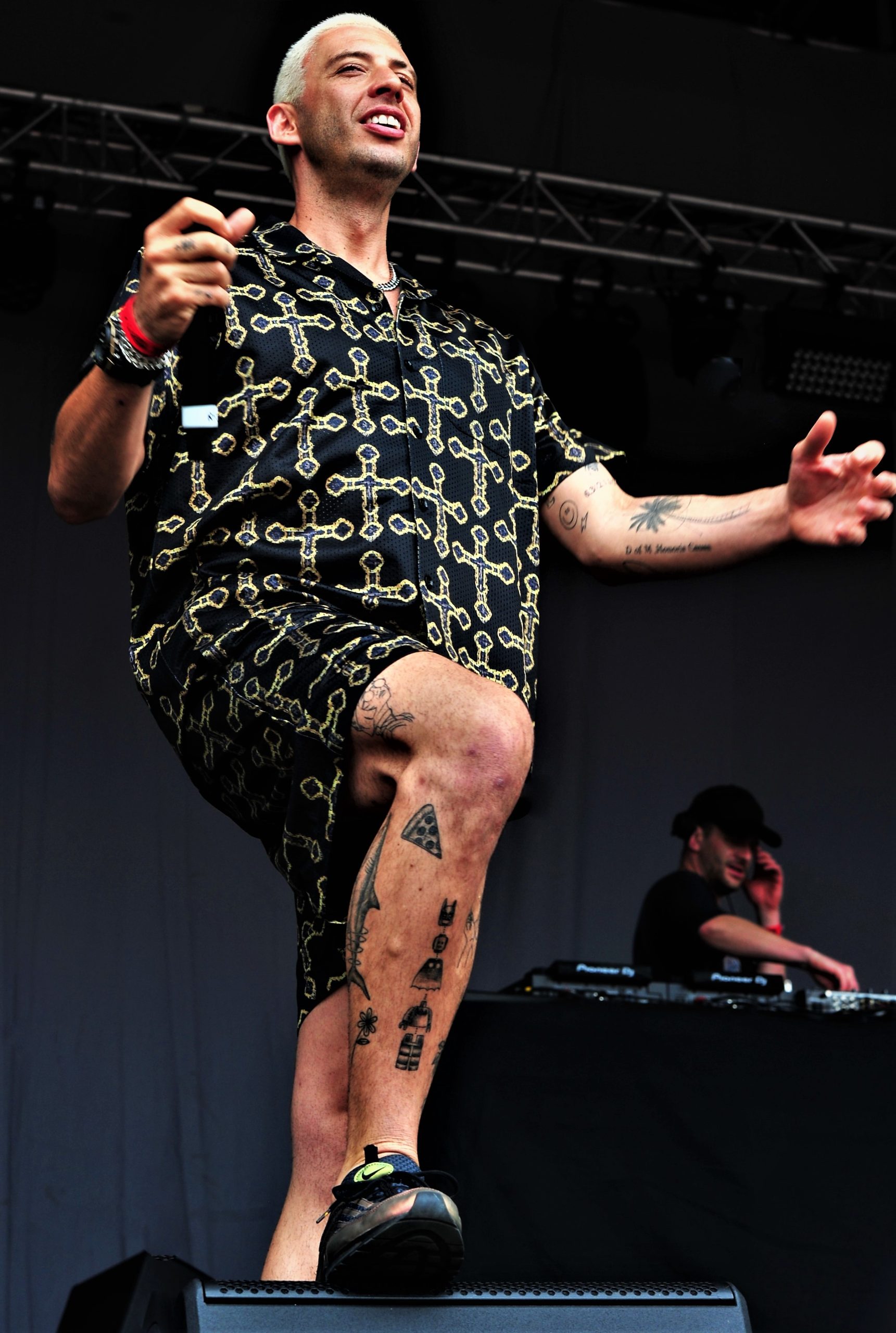 Example aka Elliot Gleave and his DJ brought the pumping club vibe and as usual, fired off a seamless and loud set, and got the Sunday teatime crowd jumping, literally.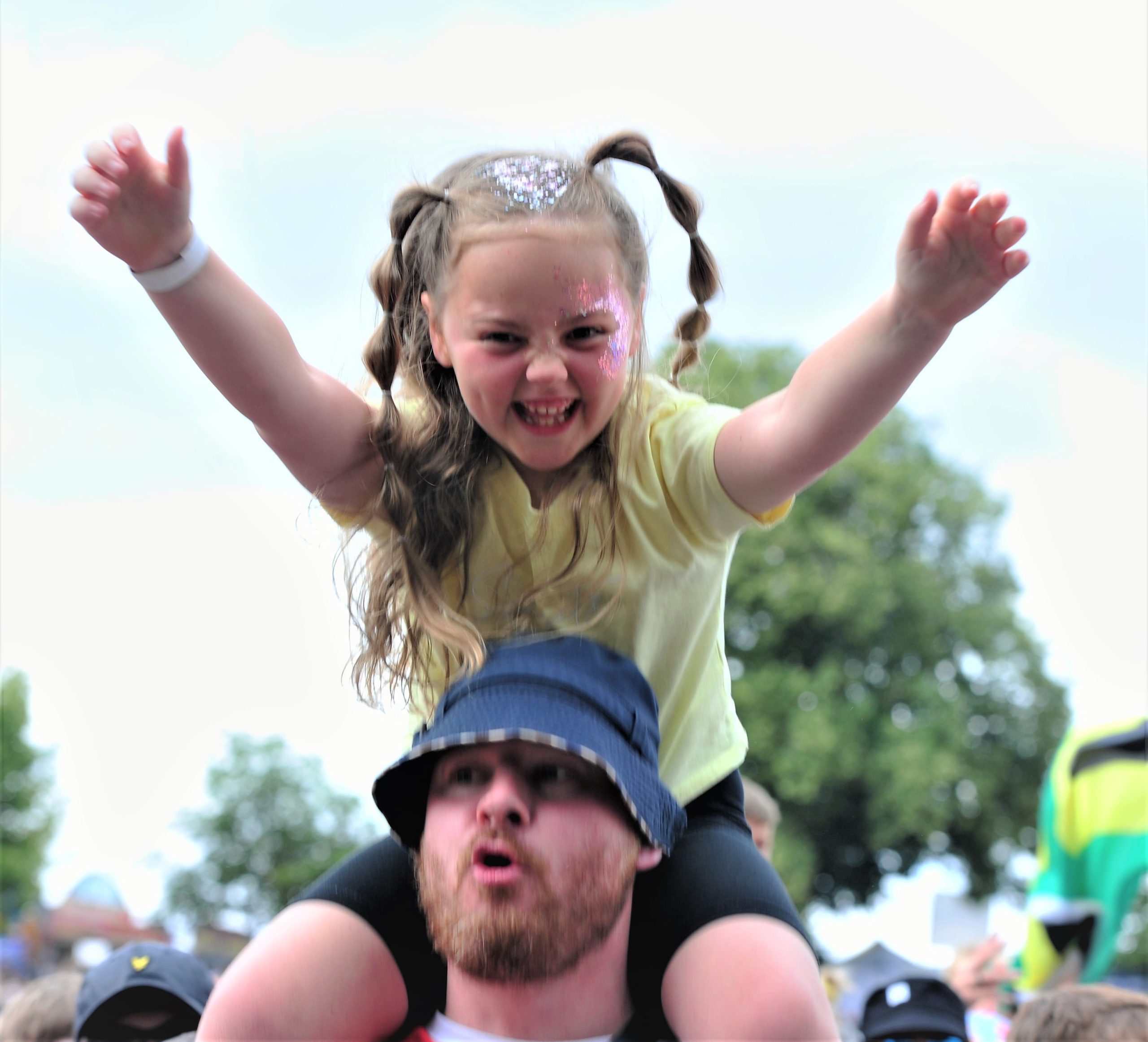 Straight out of the site when his set had done, off to do a second gig of the day. Now residing in Australia. 8/10.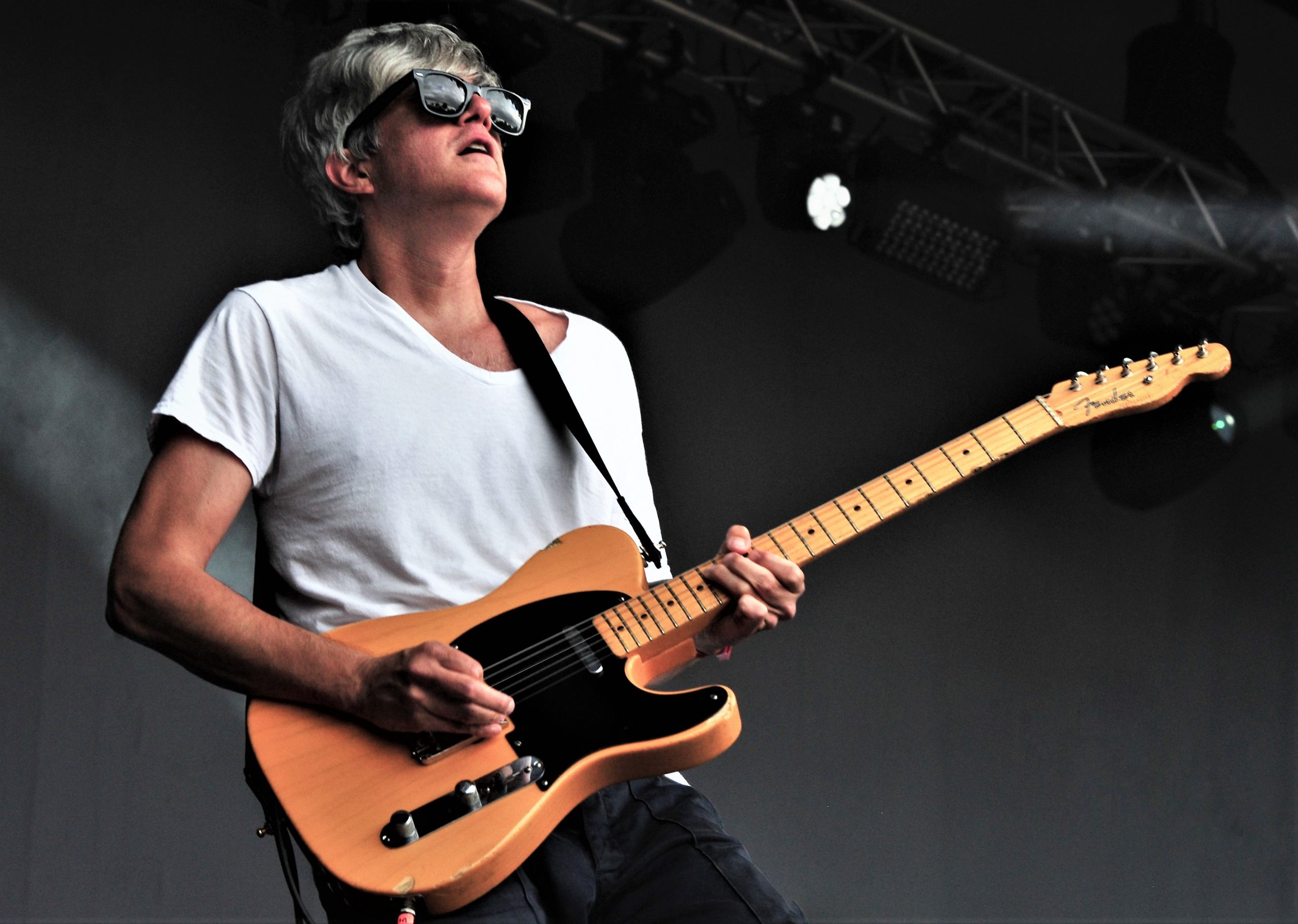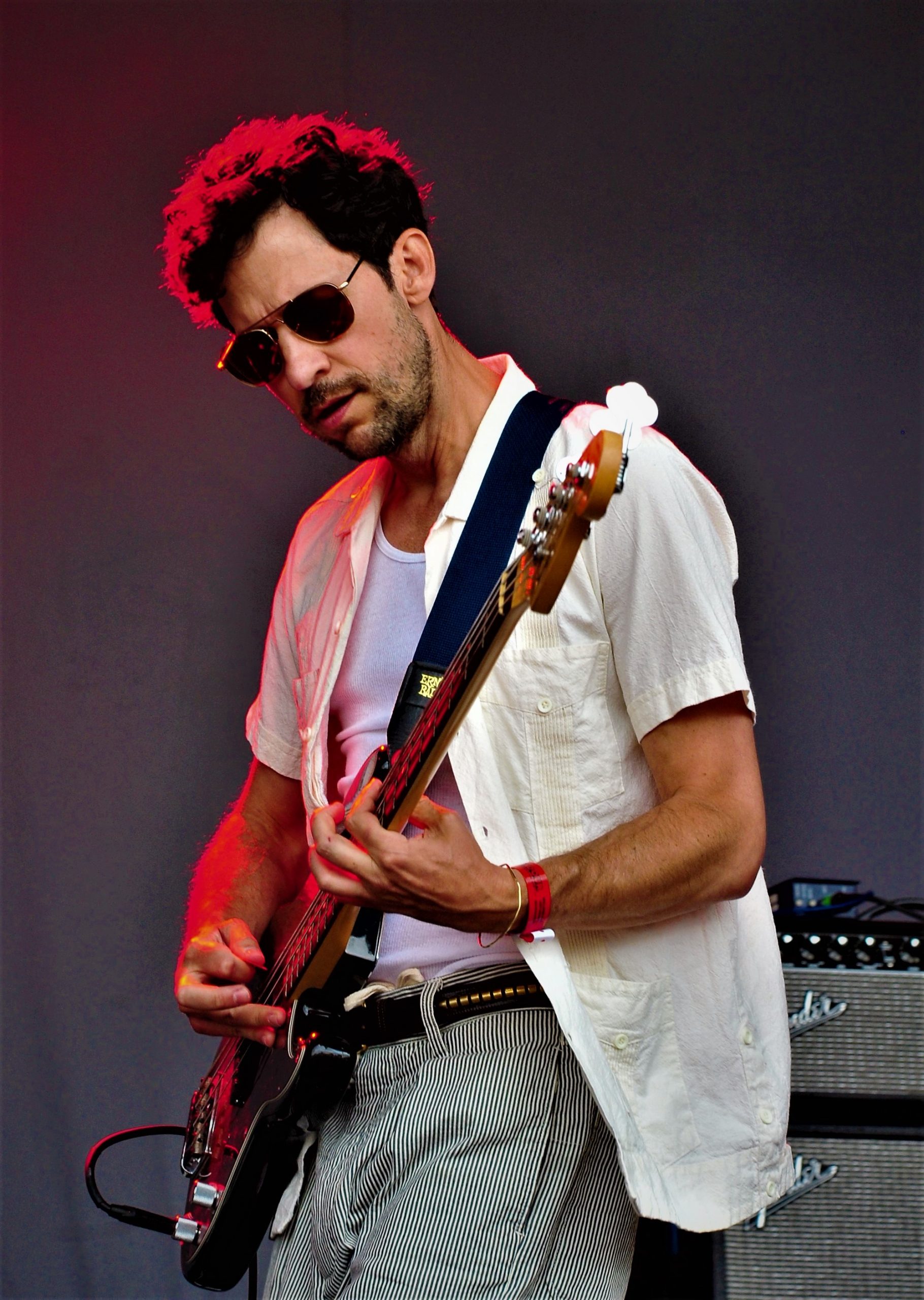 Californian-formed, New York -based indie band We Are Scientists were not on my radar before today, but they deffo are now. Really powerful set . 9/10.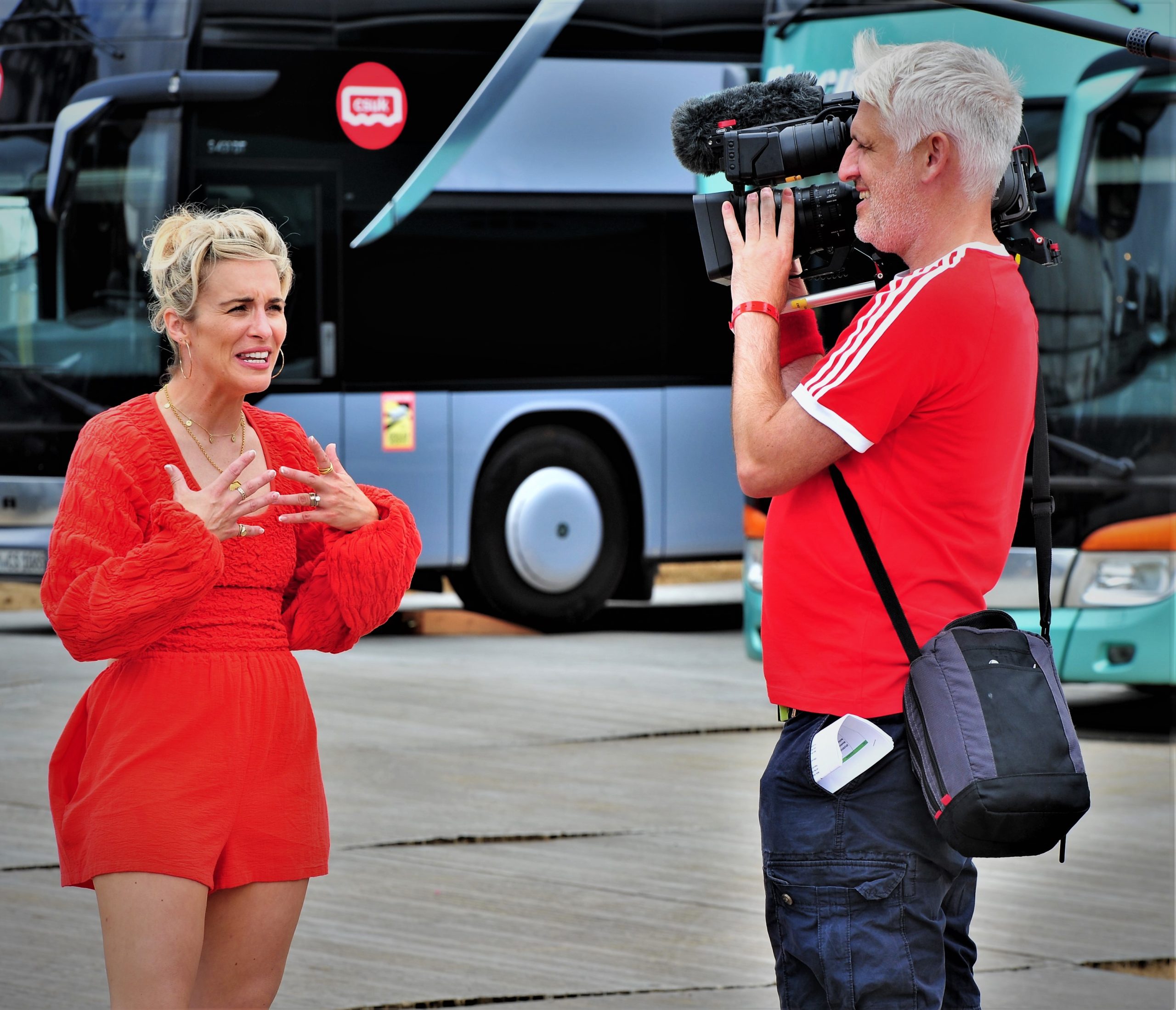 On day two, Wollaton-born, Nottingham based actor Vicky McClure was on site early being followed around by several TV crews, making a follow-up documentary on her Dementia Choir project, which first screened in 2018 and then again in 2020.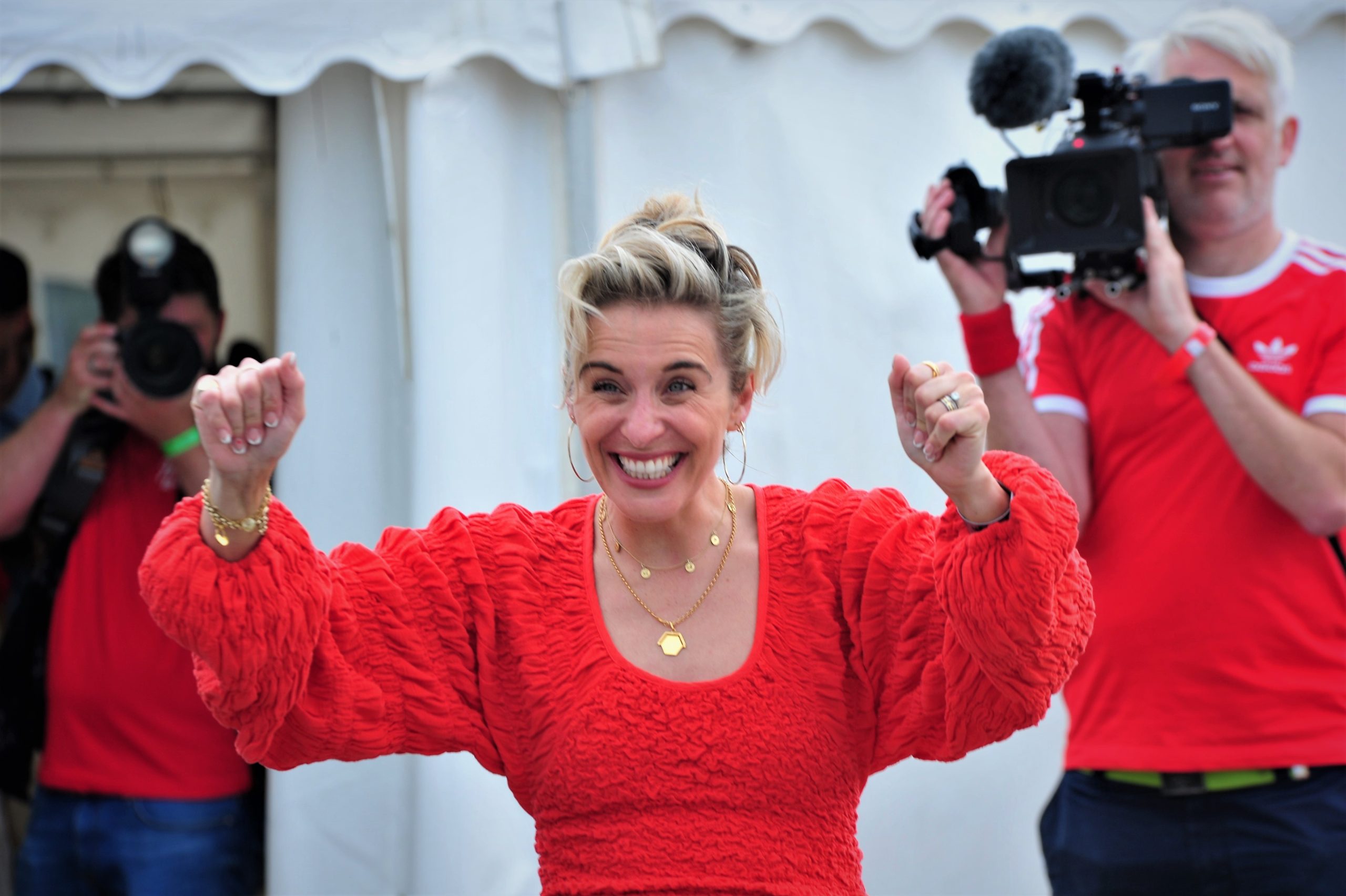 This time the choir is filmed in the run up to their biggest concert to date, in front of up to 25,000 people on Vicky's home turf.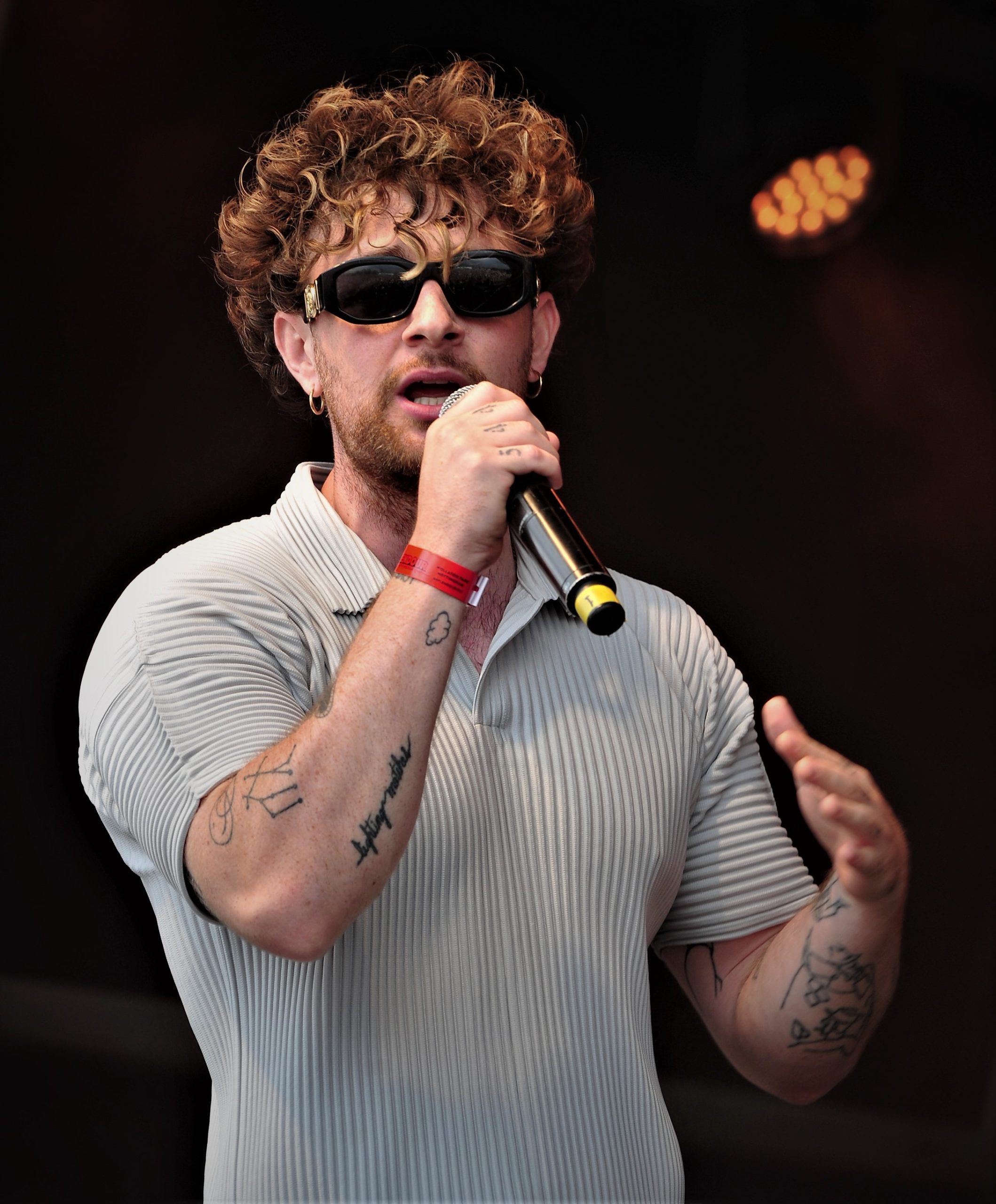 The choir's slot on the main stage at 3.30pm on Sunday was a triumphant and emotional affair, with the pit rammed with photographers and TV camera crews – news and documentary.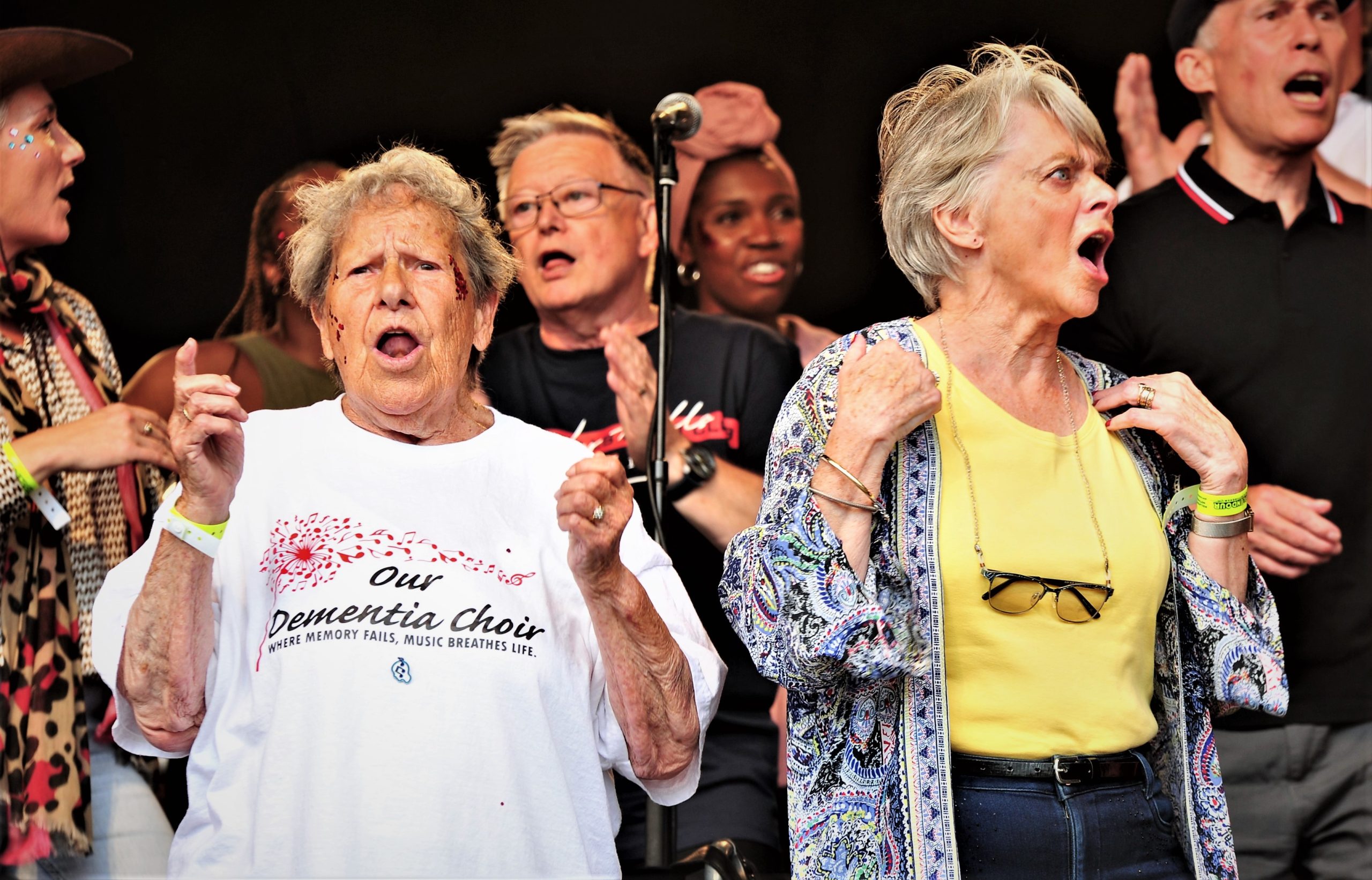 The set opened up with pop star Tom Grennan performing two of his hits to the huge sing-along crowd, before introducing Vicky and the choir. Big hugs as she arrived on stage.
Later in the 30-minute set, Vicky brought out surprise guest, Happy Monday's and Gogglebox star Shaun Ryder, to join her, Tom and the choir in a rousing rendition of The Monkees' hit, the Neil Diamond-penned "I'm A Believer".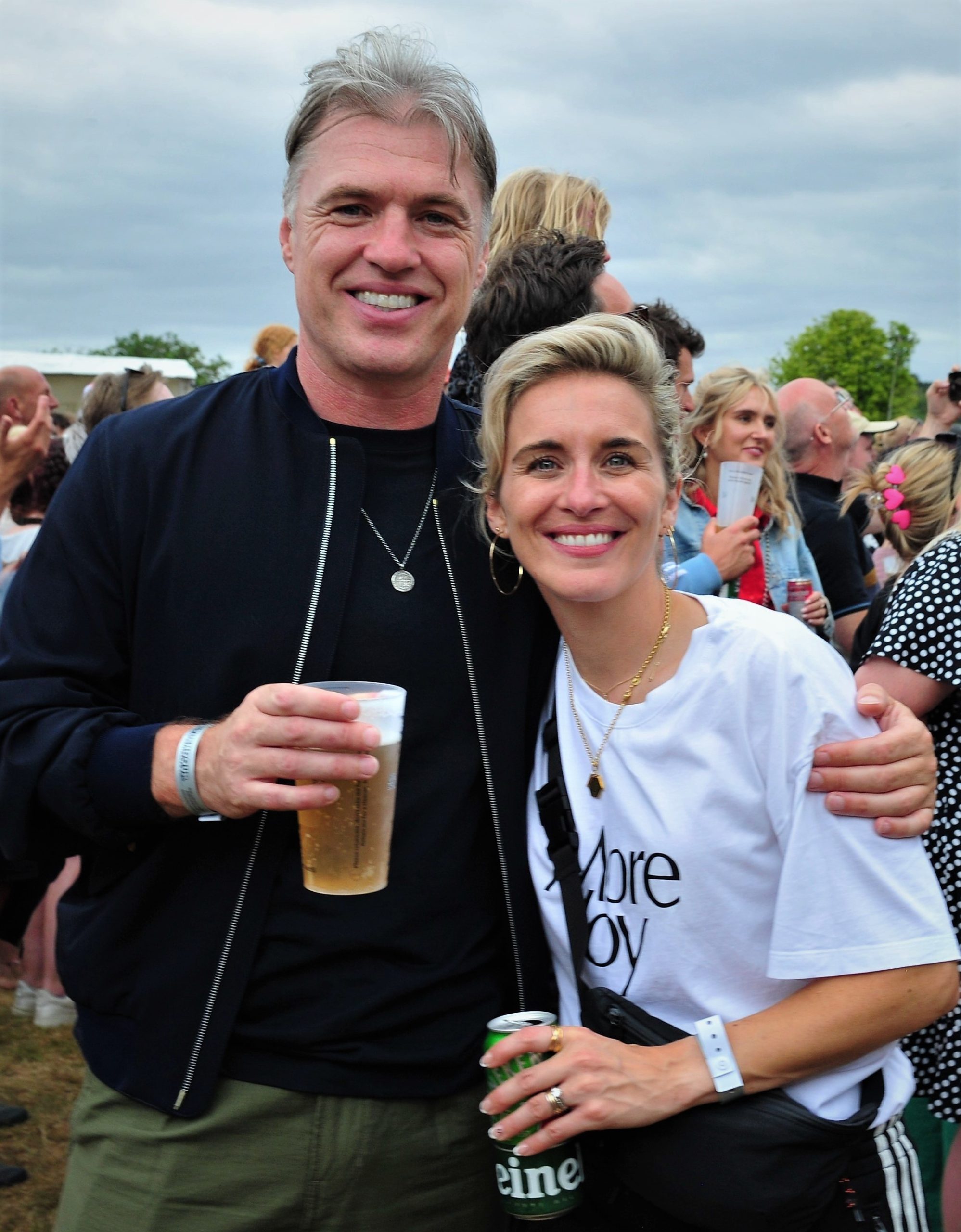 Shaun returned the favour later when his iconic band graced the Confetti stage, bringing on stage Vicky and her fiancée, TV and film director/Notts Forest director Jonny Owen to join in the fun. Vicky and Jonny were spotted in the crowd watching The Happy Mondays from the start of their set, enjoying a beer and a boogie. Vicky in trackie bottoms clutching a beer can.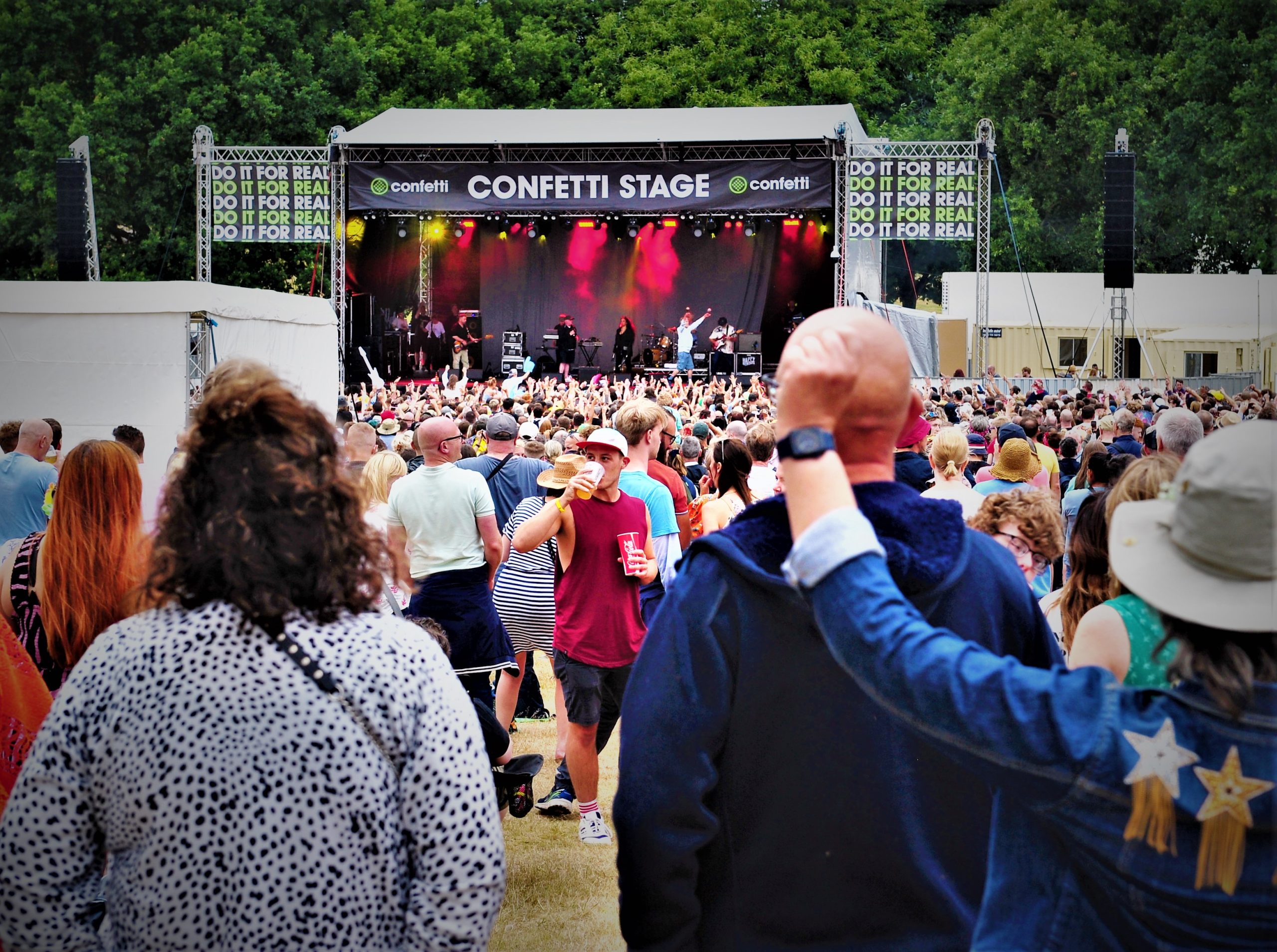 Fans asking for selfies were greeted with smiles and warmth and she duly obliged. My chat with her that day gave me the impression she is a genuinely caring, down to earth woman. Her dementia choir and campaigning prompted by her grandmother's battle with dementia.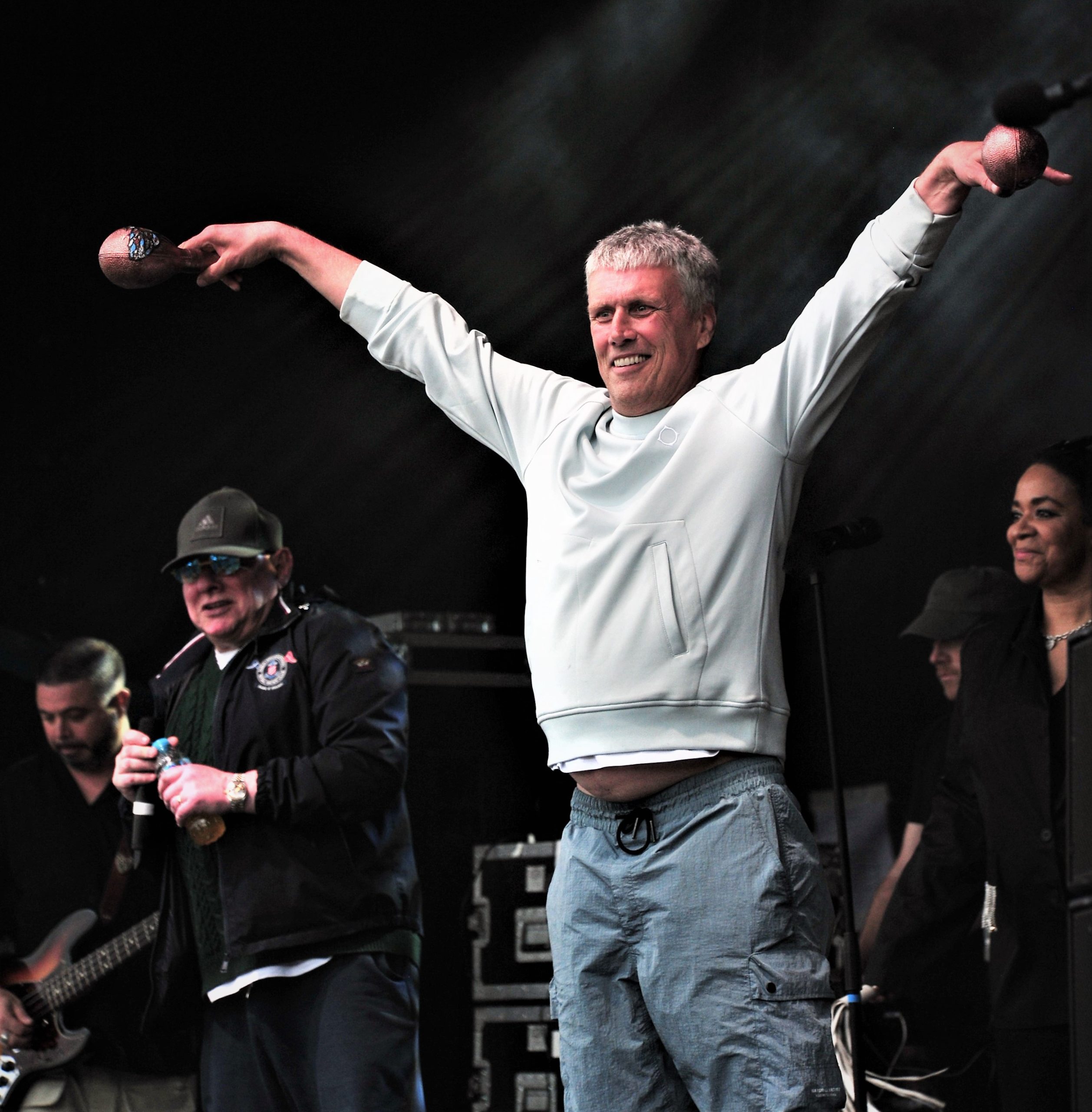 The fans chucked a load of bucket hats on stage during the Happy Monday's set, and a constant stream of little yellow balls, which Bez booted off stage. The balls turned out to be marketing material for the local volleyball team, Nottingham Rockets.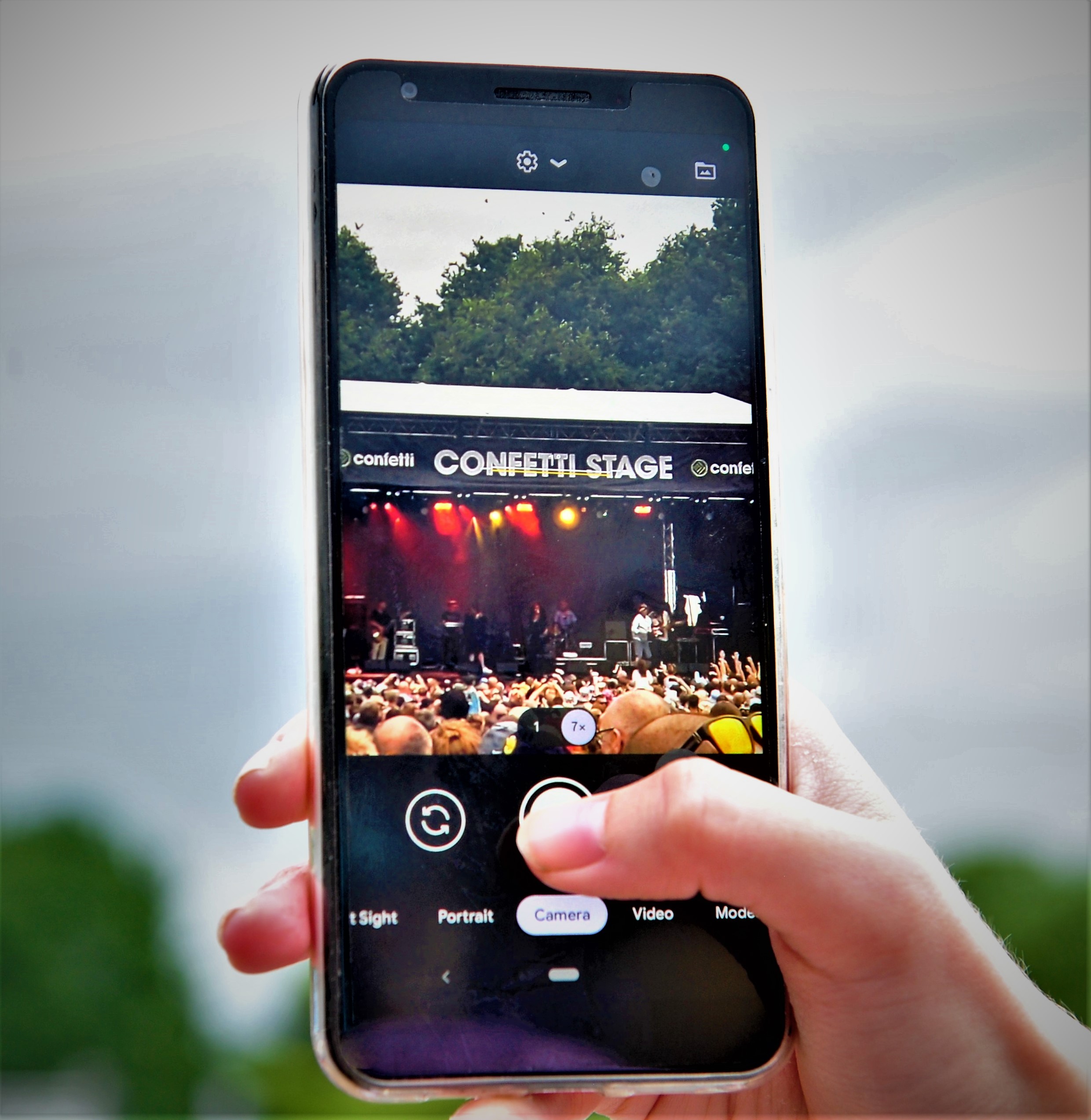 The bucket hats were of course, one of the band's trademark styling decisions back in the day and many bands followed suit. So, Tom Jones gets ladies undies lobbed at him, Bez and co get balls and hats!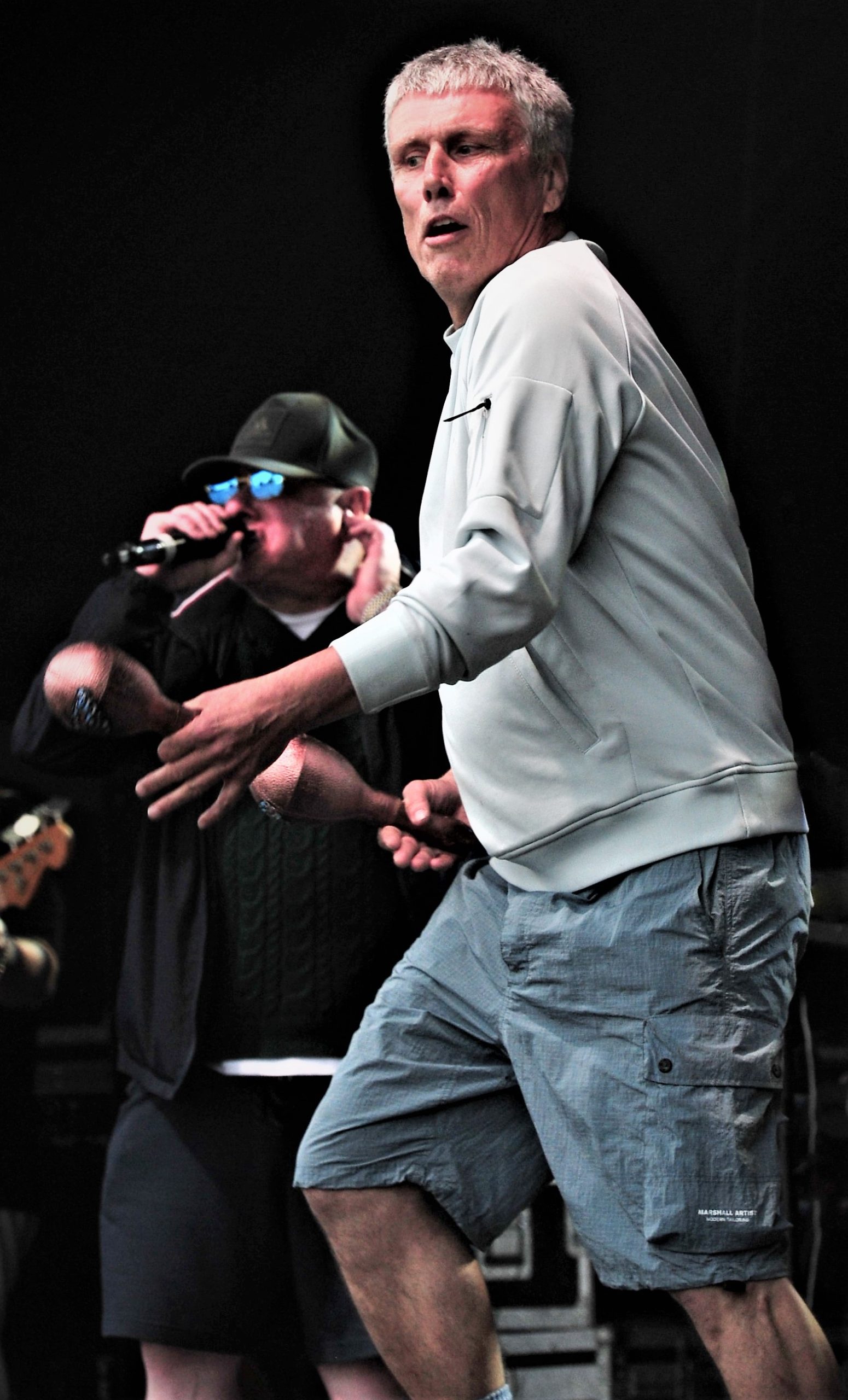 Shaun told the crowd Bez was a "walking miracle at 60". Dancing On Ice star Bez, whose autobiography is out soon, didn't need his Melon safety helmet he wore on the ice, for tonight's gig! Instead, he brought along his trademark maracas. Rowetta's powerful voice was on point, as usual.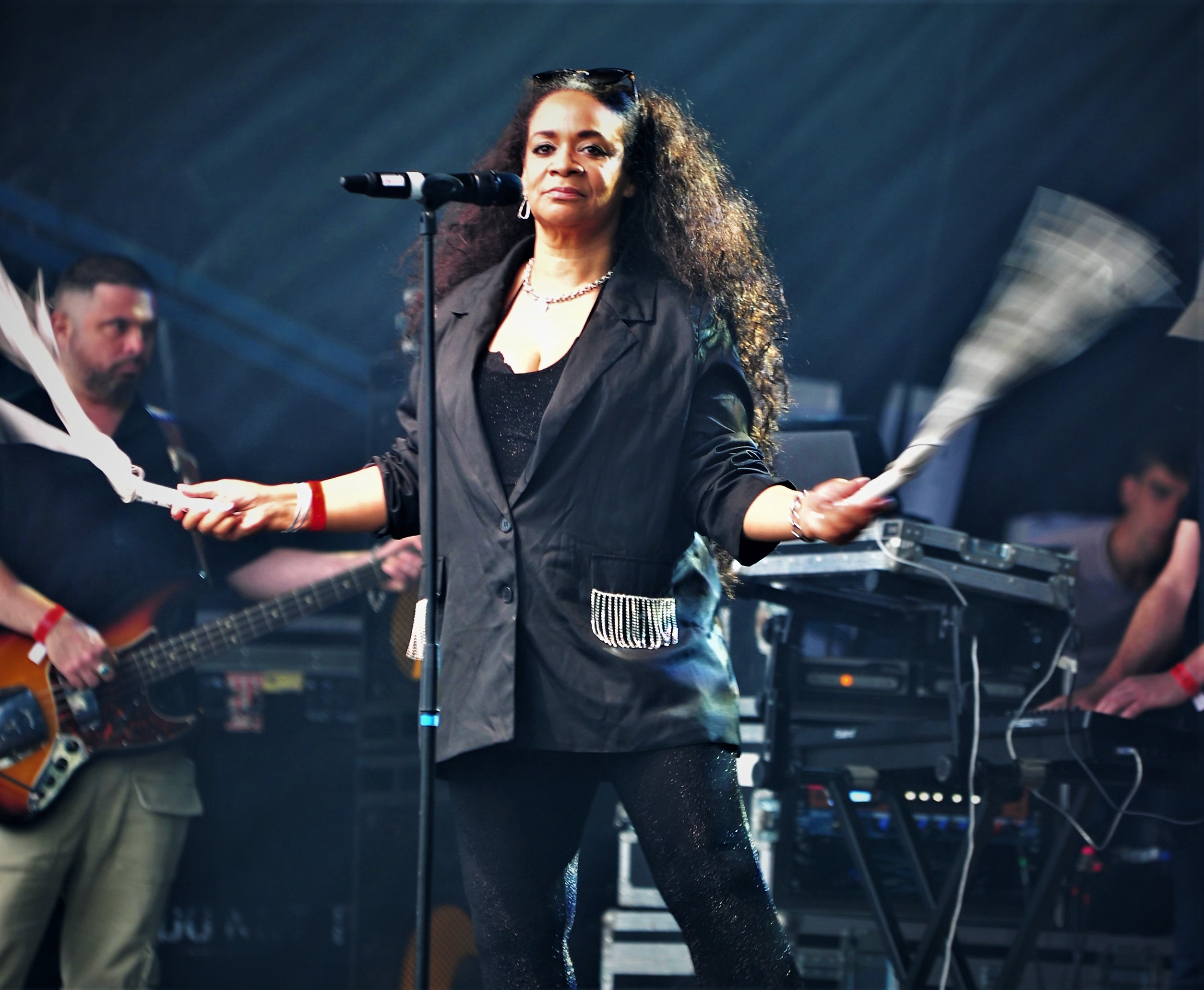 In the crowd was Rob with his eye-catching limited edition Happy Mondays' jacket, which he told me he bought for £200 about two-and-half years ago and had saved it for a special occasion and had only cut off the tags that day to wear it for the very first time, to go see his heroes.
On a serious note, this was only the second gig back for The Mondays after Shaun's brother Paul, bassist in the band, was found dead by their mother at her house nine days before Splendour, after he flew in from his LA home for the band's festival appearances.
He was 58, and cause of death is as yet unknown. The band played Cardiff Castle on the Friday before Splendour with Primal Scream and then Splendour on Sunday. The bassist from Shaun's other band Black Grape, stepped in for the Mondays' shows.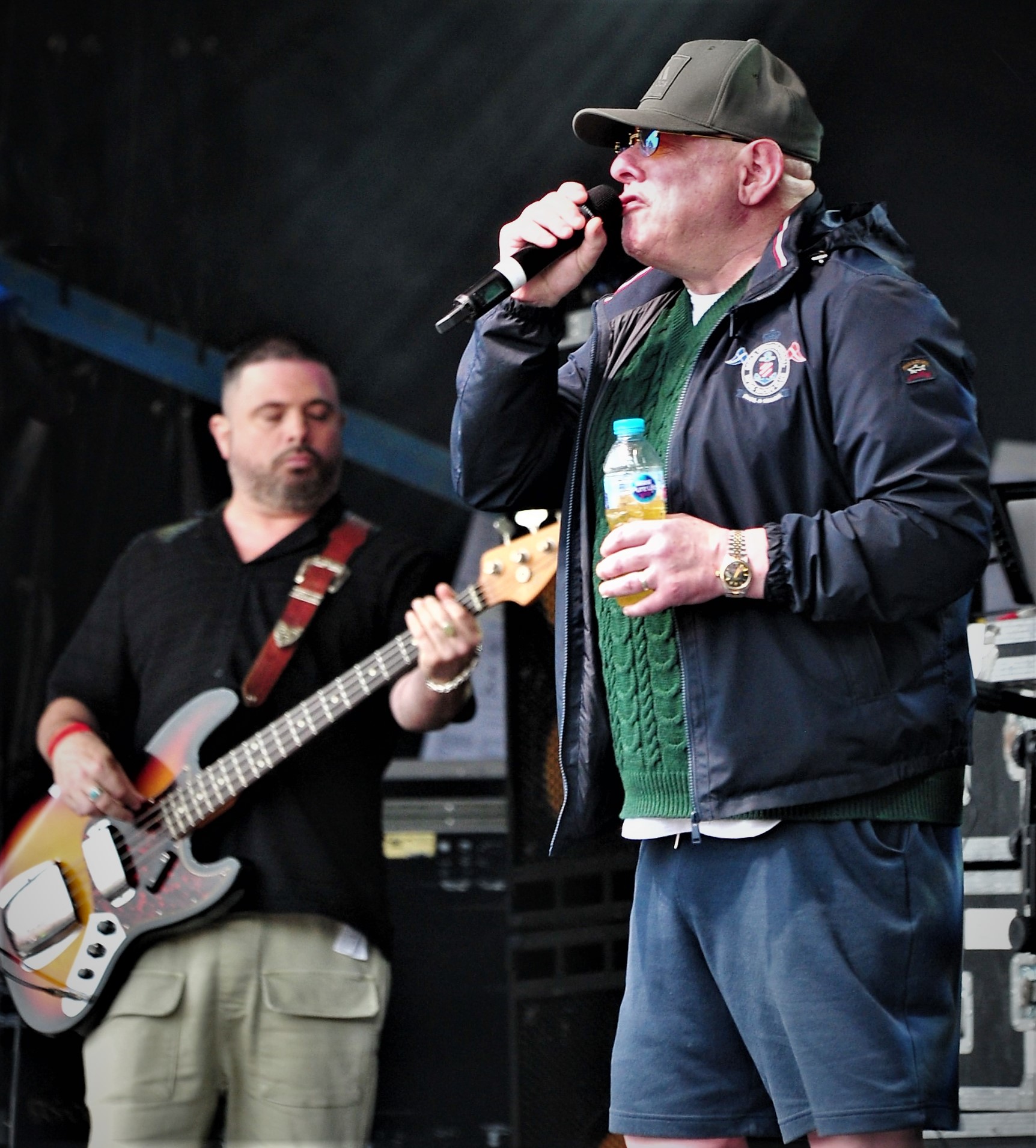 So. The Happy Mondays at Splendour. What can you say? The Manc' legends never disappoint. 10/10! Following Shaun, Bez, Rowetta and co who made it a very happy Sunday, were Ocean Colour Scene on the second stage. They too have also still got it! Sounding mighty. Such an underrated band.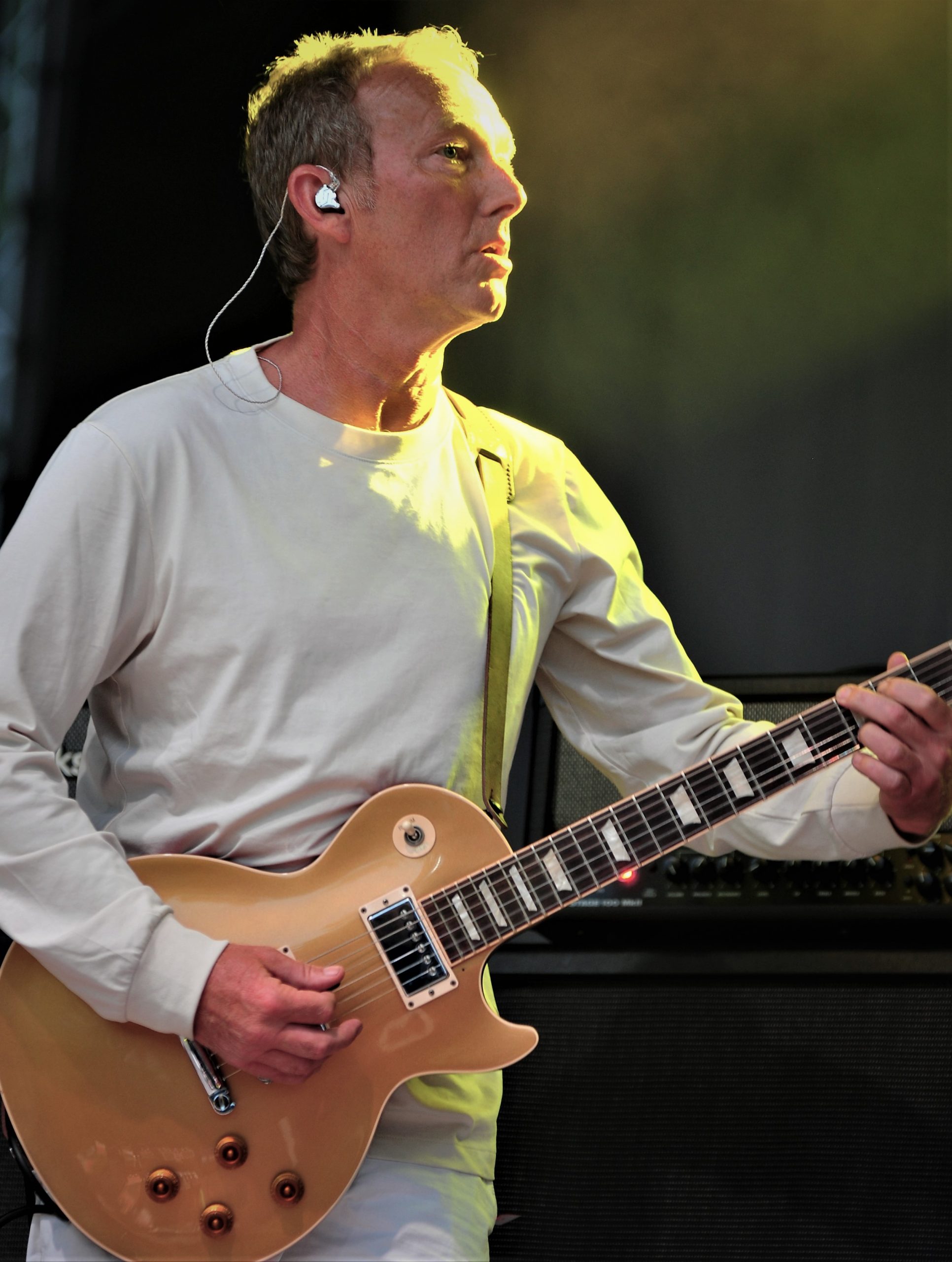 Ocean Colour Scene performed at the first-ever Splendour back in 2008. The Birmingham band has had five top 10 albums including a number one, "Marchin' Already", in 1997.
They achieved 17 Top 40 singles and six Top 10 singles, including "The Day We Caught the Train" and "Hundred Mile High City".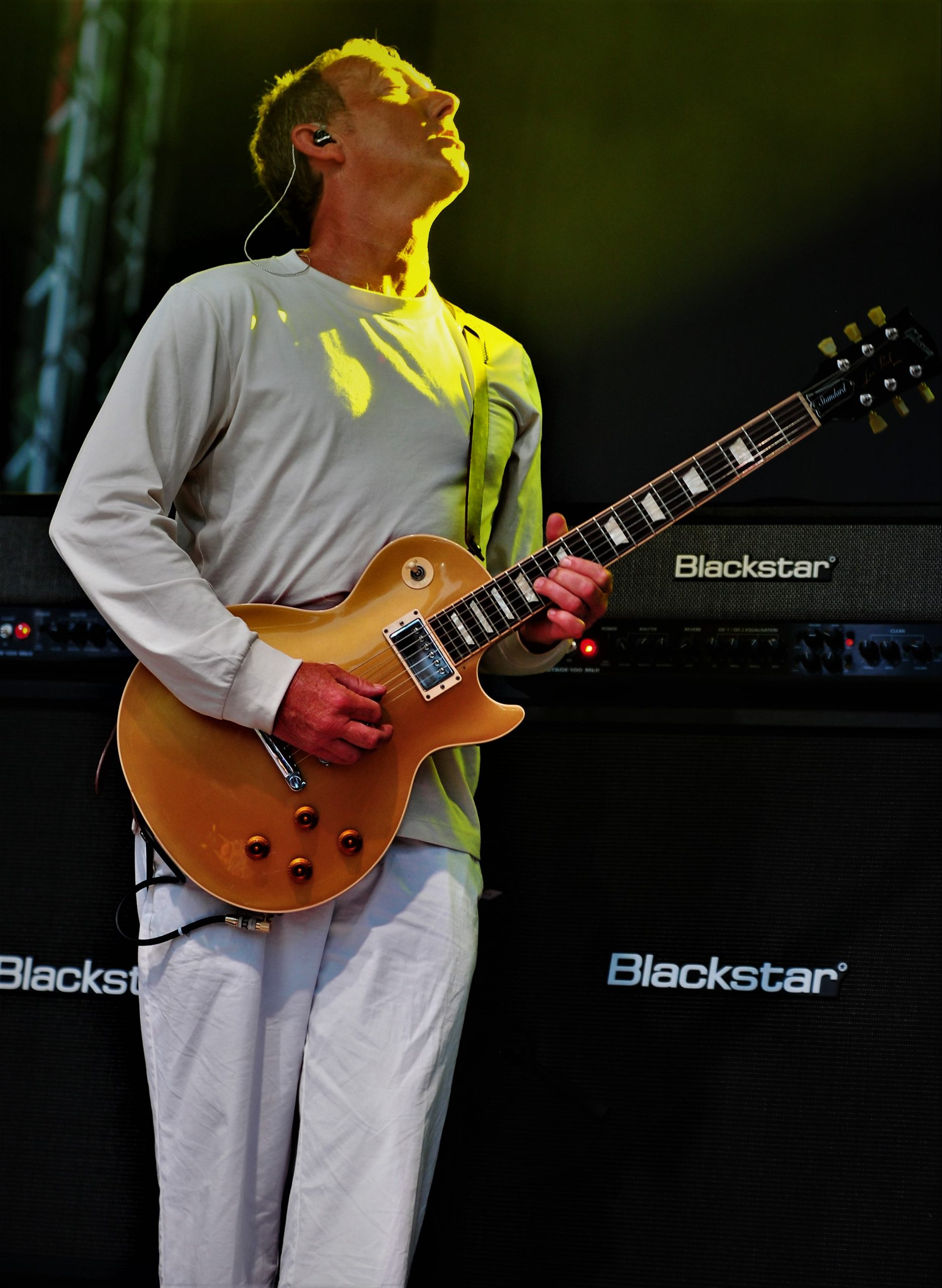 Opening with their popular track, "The Riverboat Song", (what a song!) but technical gremlins scuppered that song half way through when Steve Cradock's guitar pedals went caput and the gig was abruptly halted while three of the band's tech crew sorted the issue.
Mr Cradock got the right hump, audibly and visibly and had a go at the three crew guys trying to sort the issue and he left the stage for a bit. The crowd cruelly chanting, "You'll be sacked in the morning". It took a while to fix, and Mr Cradock came back and sat on the drum riser muttering to the roadies about his dismay.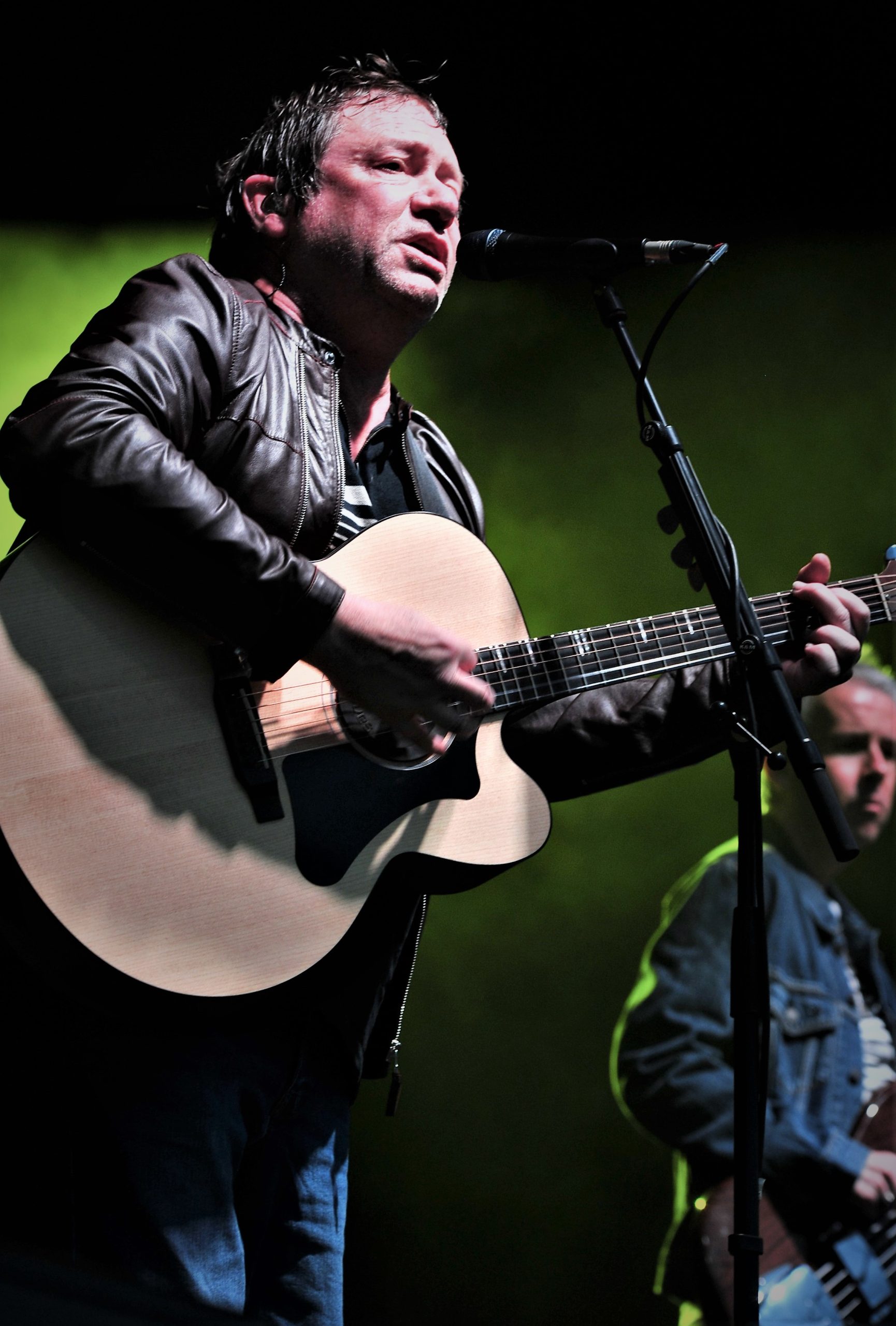 But once the gig resumed, they were well and truly at it. Simon Fowler in great voice (one of the UK's best male rock voices for me) and Steve Cradock flipping awesome on guitar. These days Mr Weller's first choice of guitarist, on all of Paul's solo work.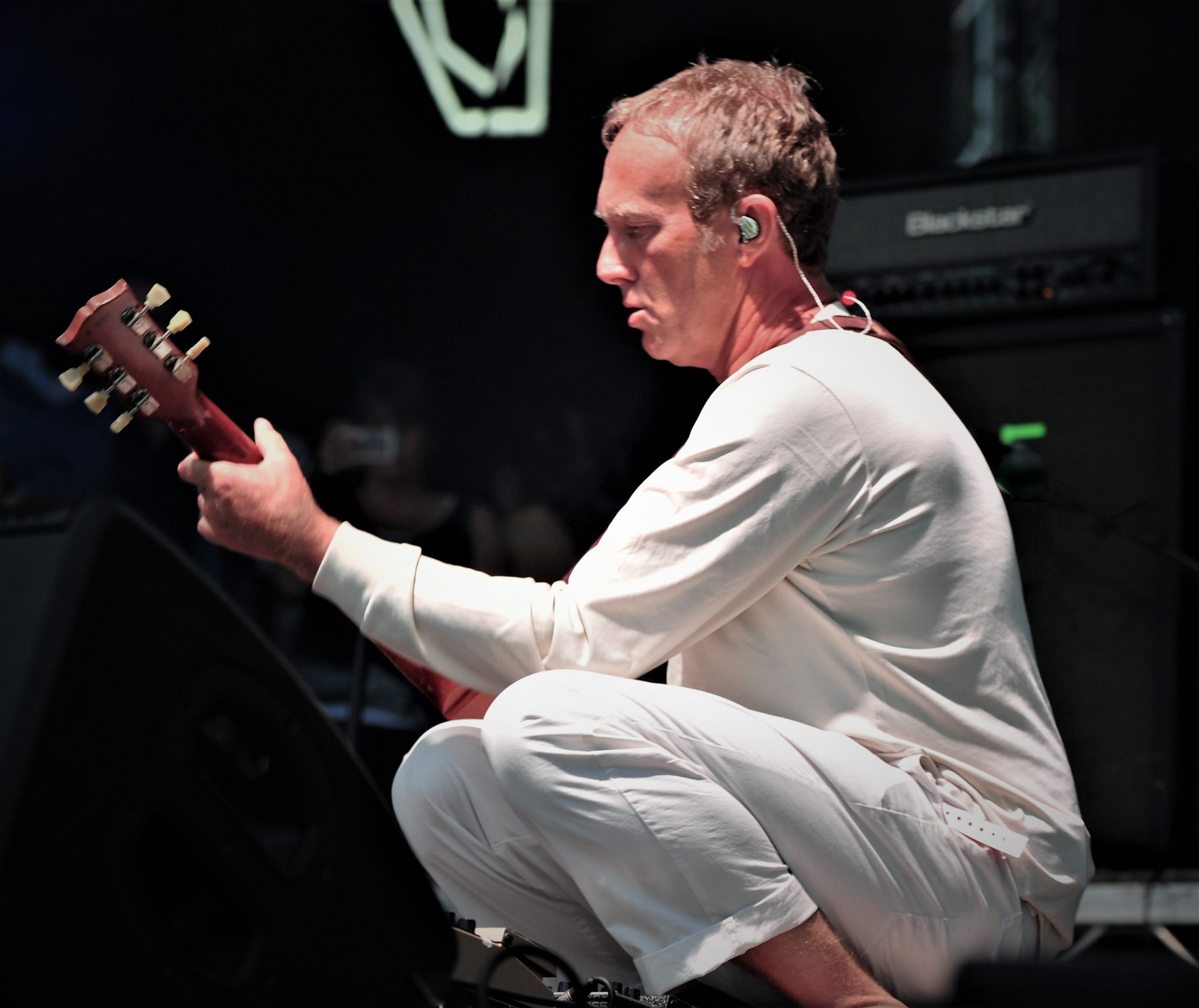 Really, really impressed with OCS tonight and keen to go see them again soon. Touring in August, September, October and December. Big outdoor home town show in Birmingham on 26thAugust.
So….Ocean Colour Scene at Splendour: A blindin' set and proving they ain't done yet. 10/10.
Splendid, special, spectacular Splendour smashed it. DHP Family (the festival's promoters) and Nottingham City Council did a great job. As did all the acts.
Just ask Melanie C: "I'll tell you what I want, what I really, really want…" What's that, Mel? Same again, this time next year? Oh yessss!
Check out our extensive coverage – review and photos – of day one at Splendour 2022….
---
Words & Photos: Steve Best