After numerous delays, Haim finally hit town for the first of two sold out nights in support of 2020's "Women In Music Part III" from which the vast majority of tonight's set is drawn.
The sisters arrive on stage one by one during opener "Now I'm In It", building the song to a rapturous reception that sees pounding the drums set up at the front of the stage to end the track.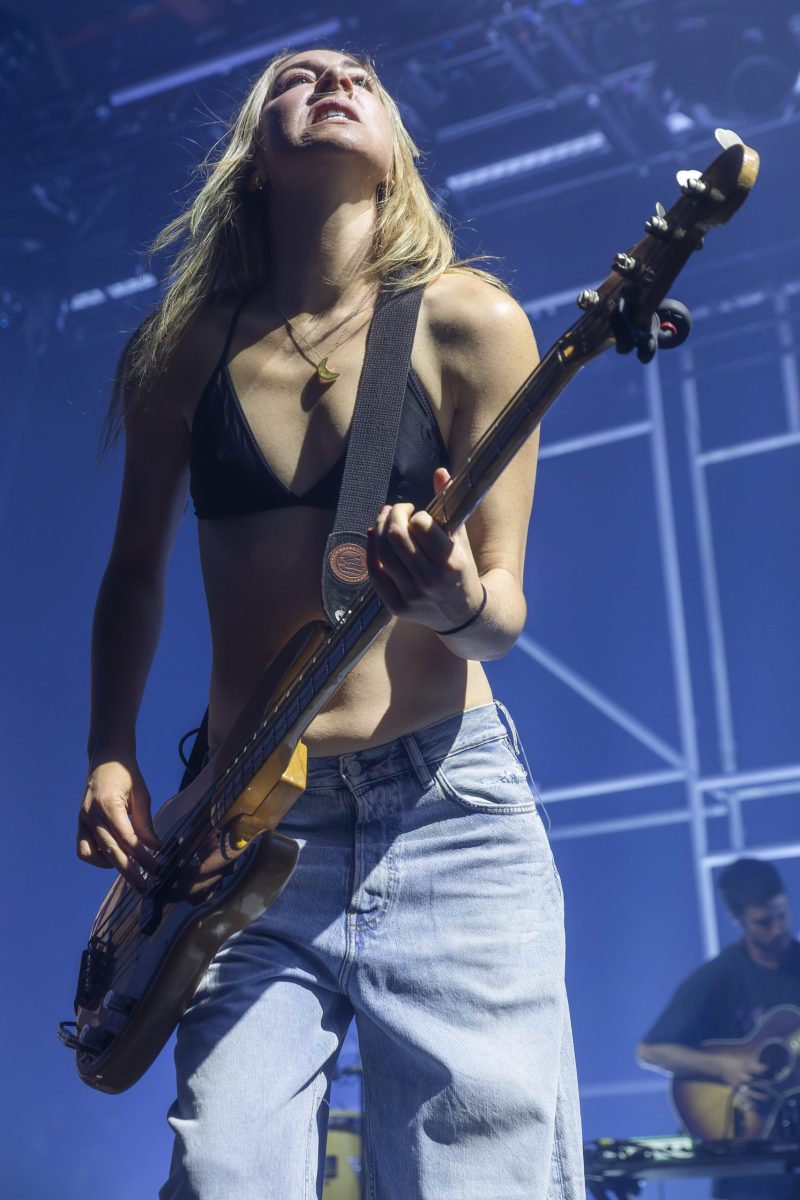 Performing with an infectious enthusiasm that sets the tone for the rest of the evening – slick, slightly choreographed and full of enthusiasm.
It's this enthusiasm that helps them get away with the weaker parts of the set – some corny banter and a somewhat cheesy "which side can sing loudest" moment with Este and Alana egging their respective side on, in the song "I've Been Down", carried by their evident delight in live performance.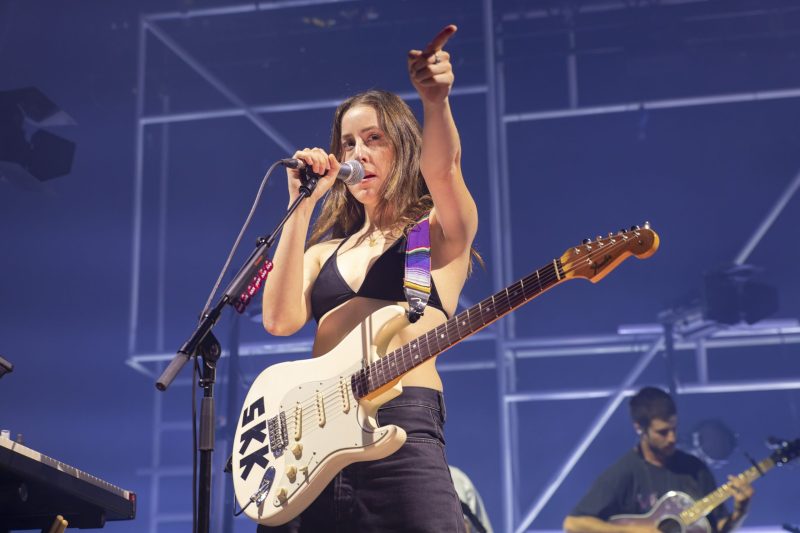 All talented multi-instrumentalists, Danielle spends a good chunk of the show on drums, Alana splits her time between keyboard and guitar, and Este spends the evening gurning away as has become traditional on bass and drums.
Tonight, they are augmented by a drummer, keyboard player and a saxophonist who is picked out in a spotlight before the set highlight, "Los Angeles."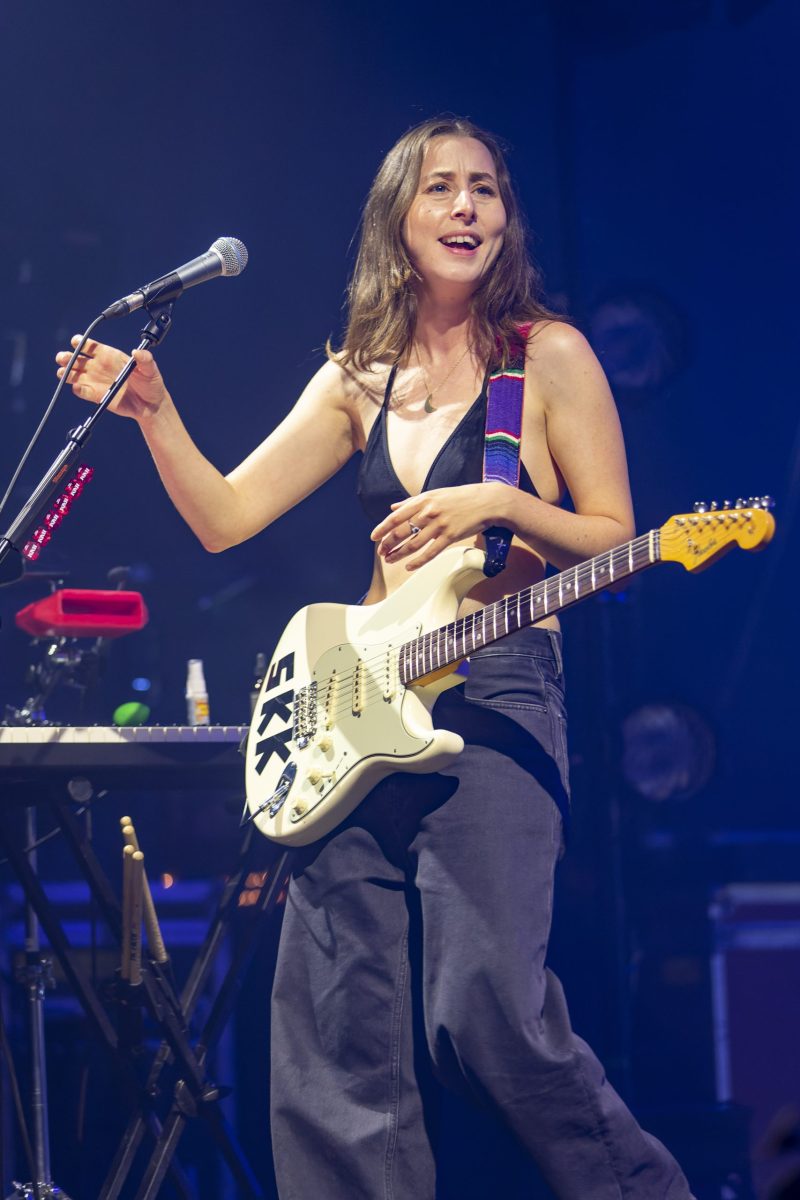 For "3 AM", following a brief skit about looking for a boyfriend, Este gets among the crowd, moving along the front row, noting "I smell bad and I'm sorry". The crowd will empathise – with temperatures more suited to their native California than Manchester, the room soon becomes a sweatbox with paper tickets serving double duty as fans, in an attempt to cool down.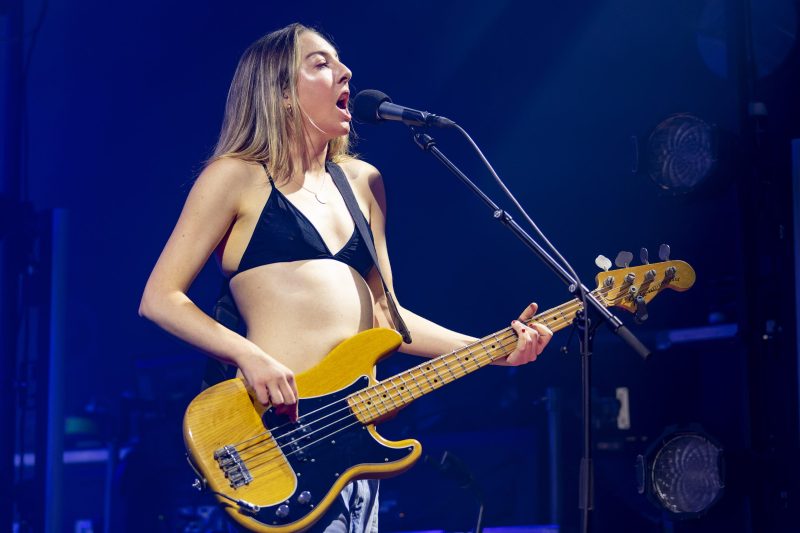 Speaking of the venue, it's unfortunate that the 02 Victoria Warehouse is a soulless concrete box with iffy acoustics and worse sightlines, as this renders the mid-set acoustic interlude and solo number from Danielle both inaudible and invisible from my spot towards the back.
Drowned out by the noise from a bar that is completely open to the main auditorium, teeming tonight with audience members who can't see a thing so have decided to have a loud chat instead. It's testament to the band that the show is mostly a triumph despite the room it's played in.
"Gasoline" (which features Taylor Swift on the album) is introduced by Danielle as her favourite from the new record, but ultimately fails to set the audience alight.
On the other hand, "Forever" gets a rapturous reception, finally silencing the talkers and heralds a brilliant final run of tracks, culminating in "The Steps", which brings the show to a close in a flurry of confetti and sends a happy crowd out into the night.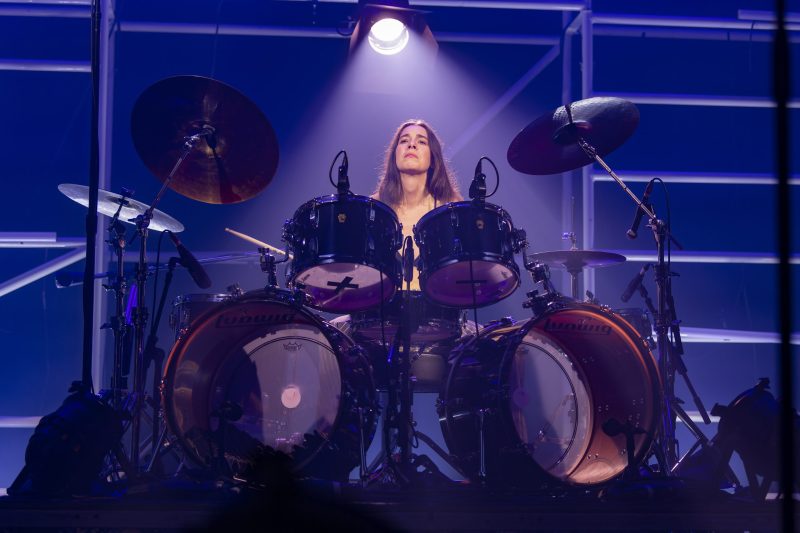 The opening act was the always fun Georgia, who brought an enthusiastic and enjoyable up-tempo electro set, connecting well with the audience despite being behind her drumkit for much of the set.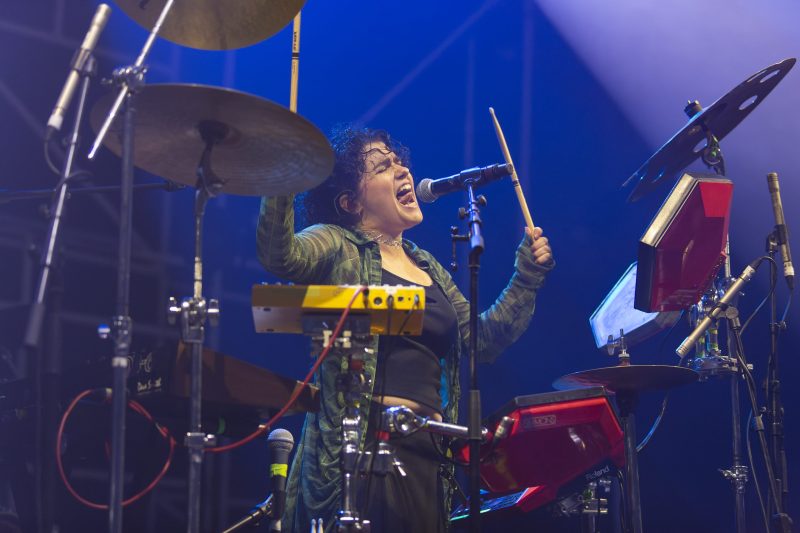 Words & Photos: Mike Gray
---
Haim set list:
Now I'm in It
I Know Alone
Up From a Dream
My Song 5
Want You Back
3 AM
I've Been Down
Gasoline
Leaning on You (Acoustic)
Hallelujah (Acoustic)
Man From the Magazine (Danielle solo)
FUBT
Los Angeles
Don't Wanna
Forever
Summer Girl
Encore:
The Wire
The Steps