Day Two: Saturday 9th July 2022
---
Day two at Cornbury brought more red hot weather, and after a late night, especially for the partying campers, 2 Tone All Skas woke everyone up with a high energy set of ska covers at noon to kick off day two.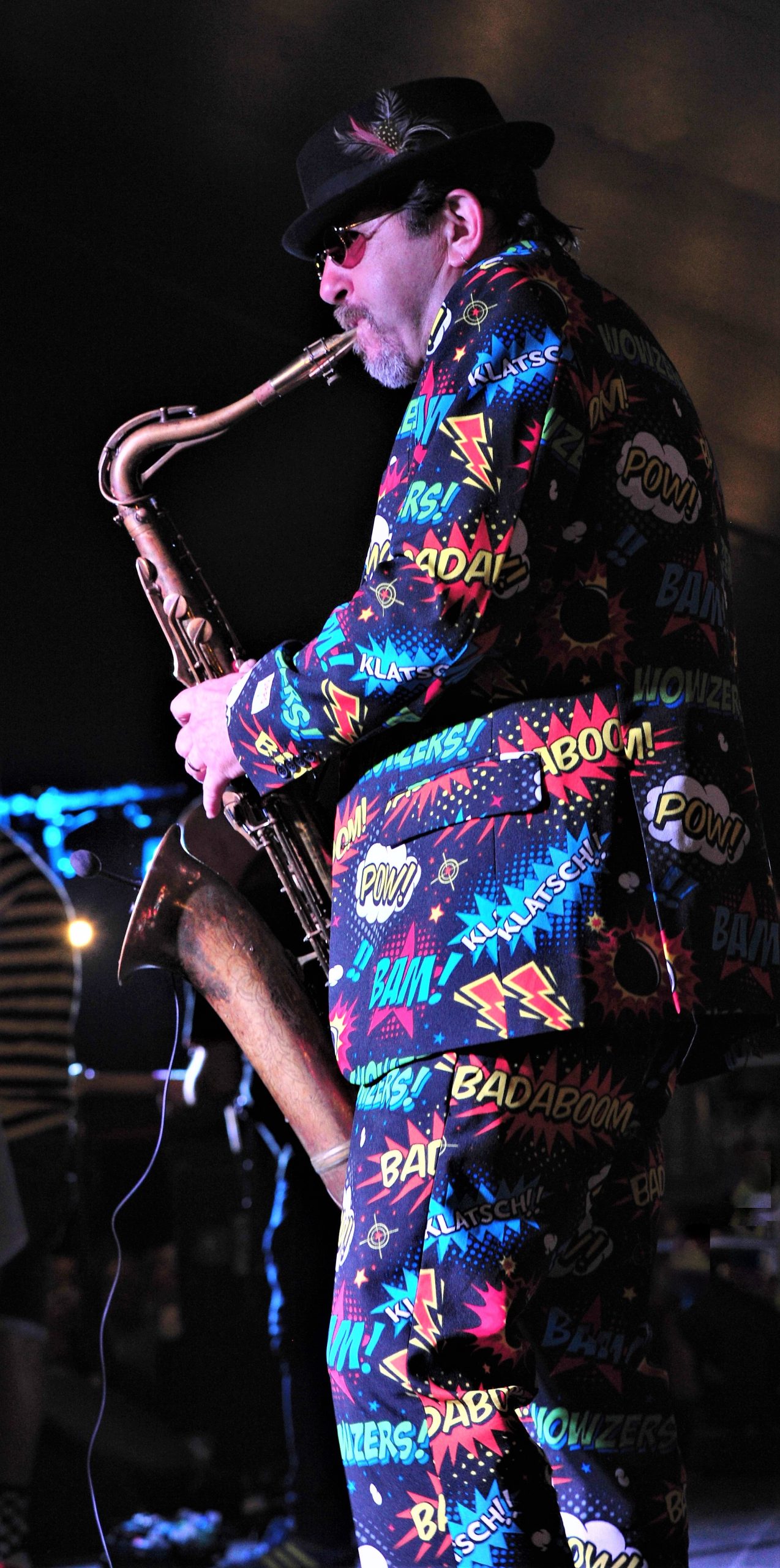 Their first main stage set after years of appearing on the Riverside stage. I missed them this time, but did catch their blistering set to a rammed big top tent at the camping site stage and bar that night.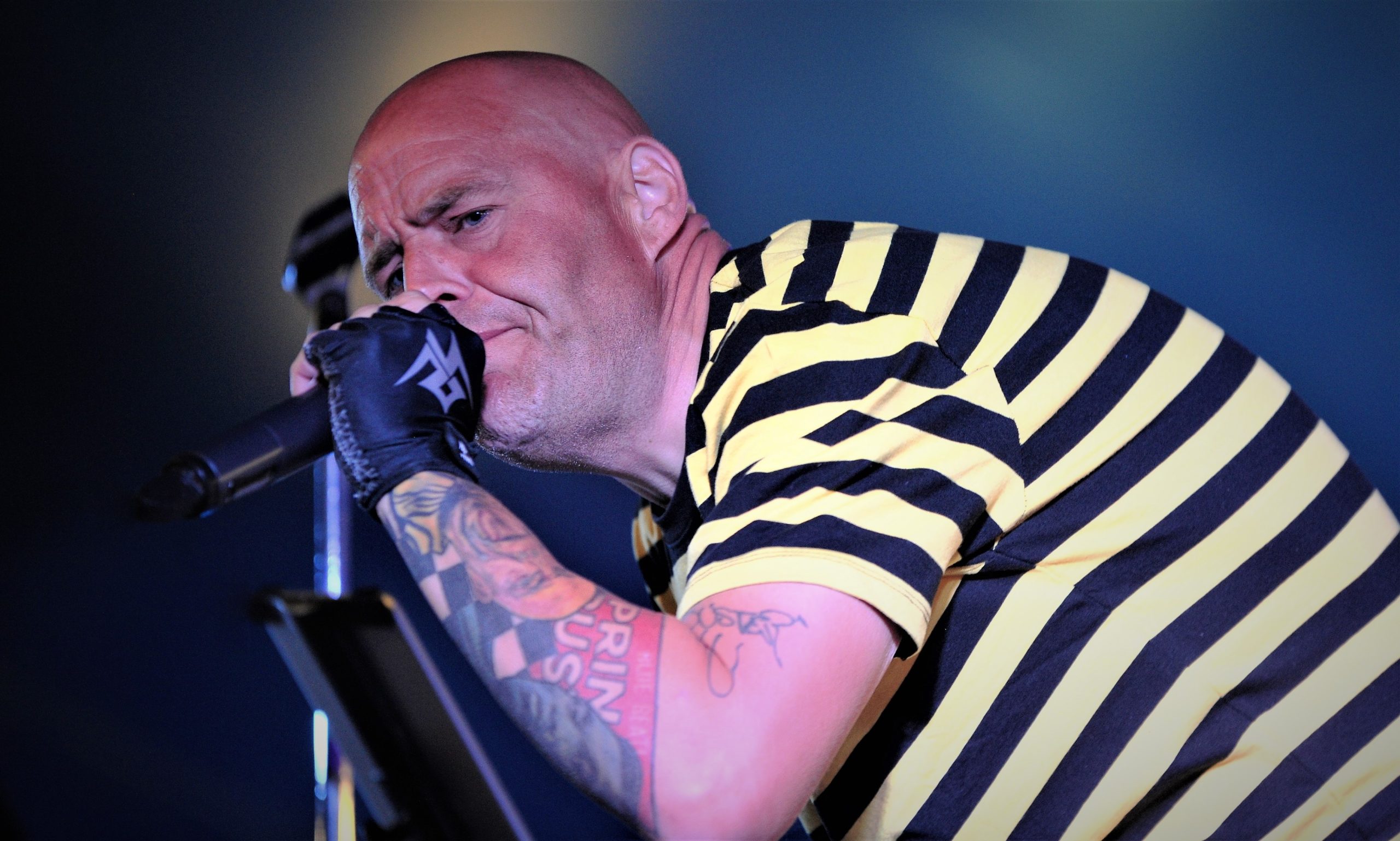 If your festival or private party need a band to guarantee the dance floor is full, these are the boys for the job.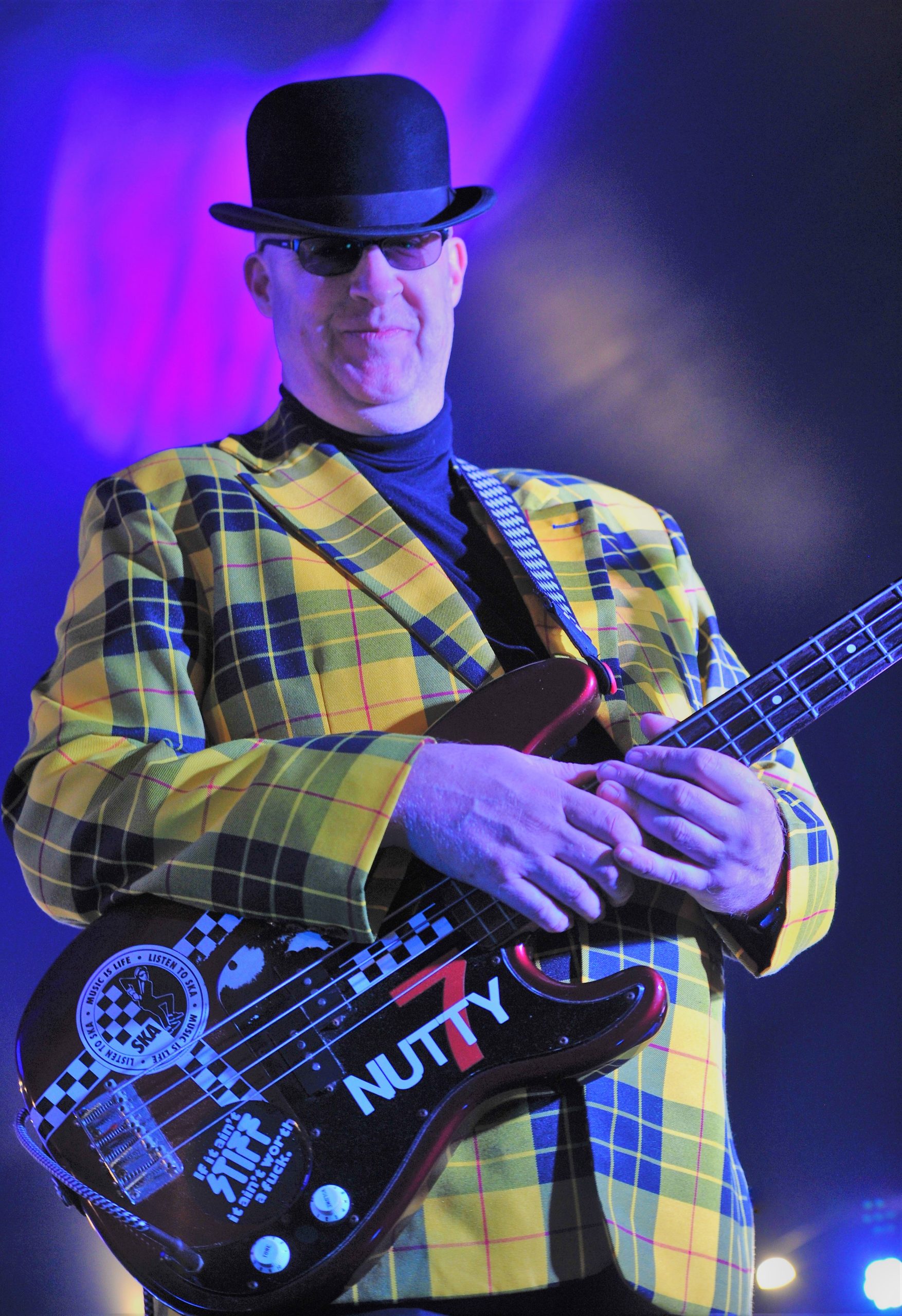 Young guitar slinger Toby Lee, local boy made good, stormed the second stage on Saturday lunchtime. His voice and playing have matured and improved greatly since I began championing him as a real young kid. He is now 17.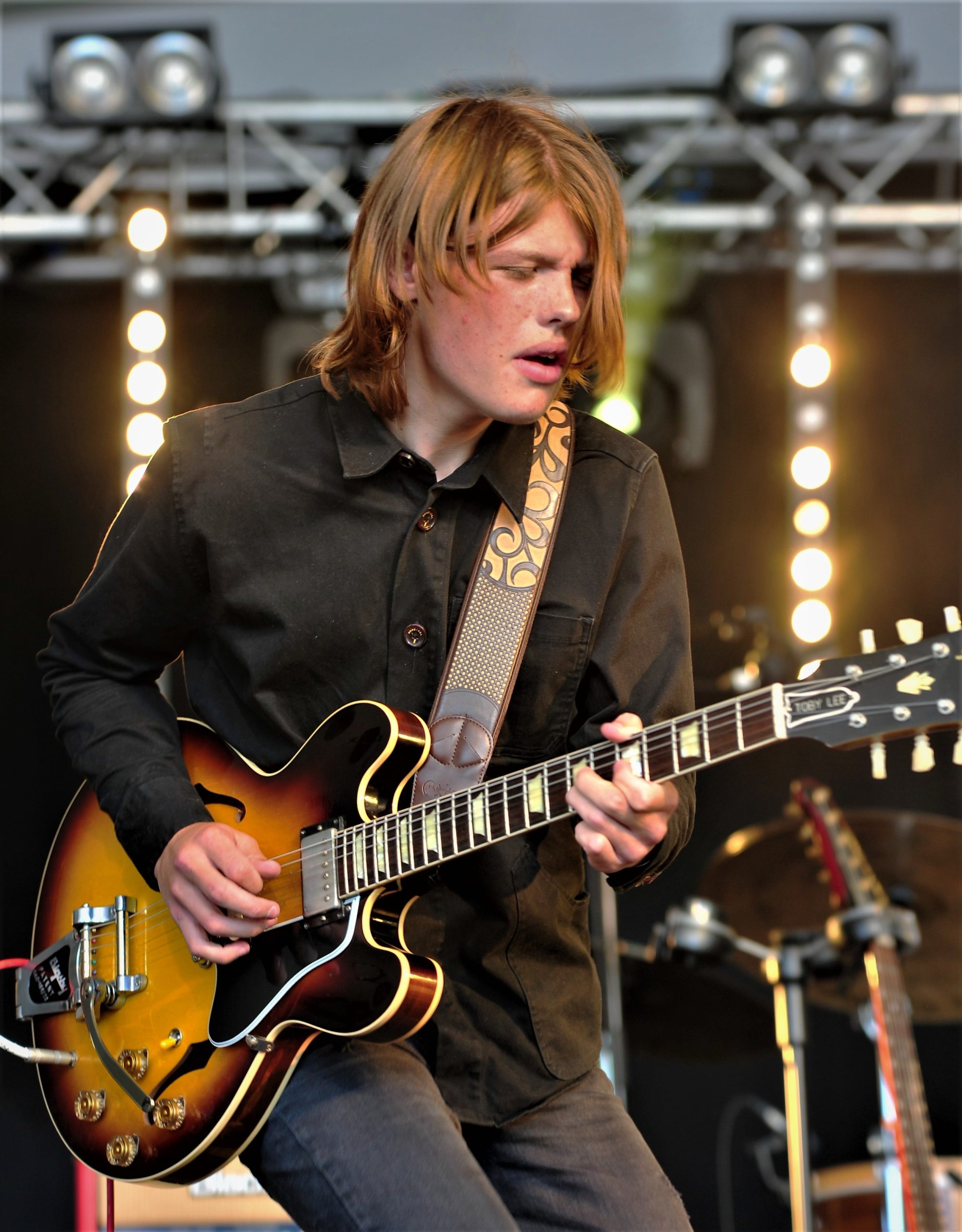 He has some decent self-penned material now and pulled a big crowd who adored him. Treading the same kind of blues territory as US star Jonny Lang – and doing it very well. Toby was a bit of a child star jamming with a slew of famous guitarists in UK, Europe and in the US. Lots of TV appearances and he landed a leading role in the hit West End musical "School Of Rock".
On rhythm guitar, many did not recognise blues and rock star Oli Brown, an ace fretboard man himself…. plus top drummer and producer Wayne Proctor. Toby will continue to grow and one day, could well be headlining main stages around the world. One to watch.
Cardiff reggae band Captain Accident were superb on the camp site stage big top on Friday night, as a warm up to their Songbird stage appearance on day two. Also on the Songbird stage on Saturday, Beans On Toast, the fantastic veteran Andy Fairweather Low and his ace band – including two drummers – who pulled a huge crowd and was one of the best acts of the three days for many.
Second stage on Saturday headlined by soul diva Mica Paris who turned in a sizzling set.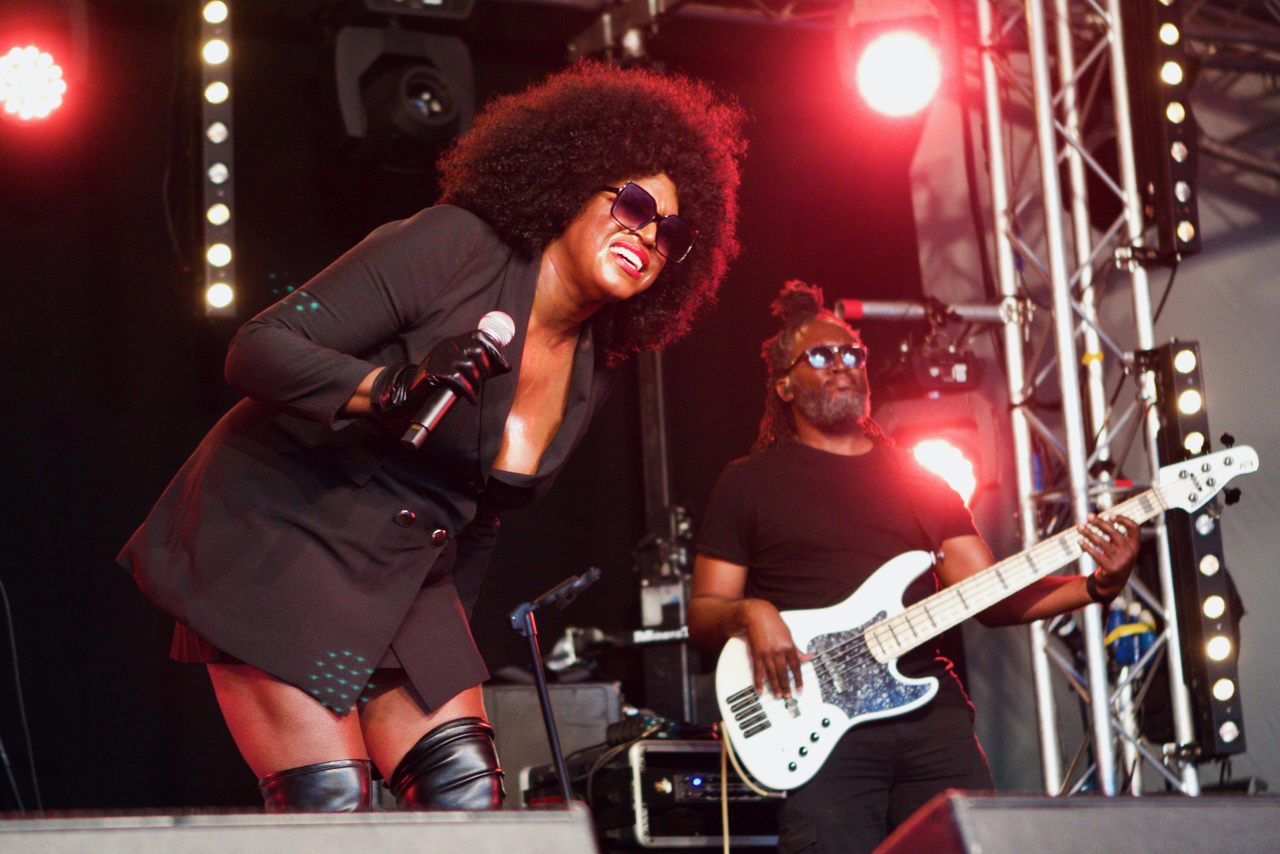 Clapton, Van the man and Tom Jones…
My old mucker Ian Jennings on bass with AFL. Ian has played with everyone from Clapton to Jeff Beck, Tom Jones, Van Morrison and many more. Currently out with Mud Morganfield, Muddy Waters' eldest son. Ian was a founder member of the wonderful Big Town Playboys with Mike Sanchez. Time they reformed for a tour and an album.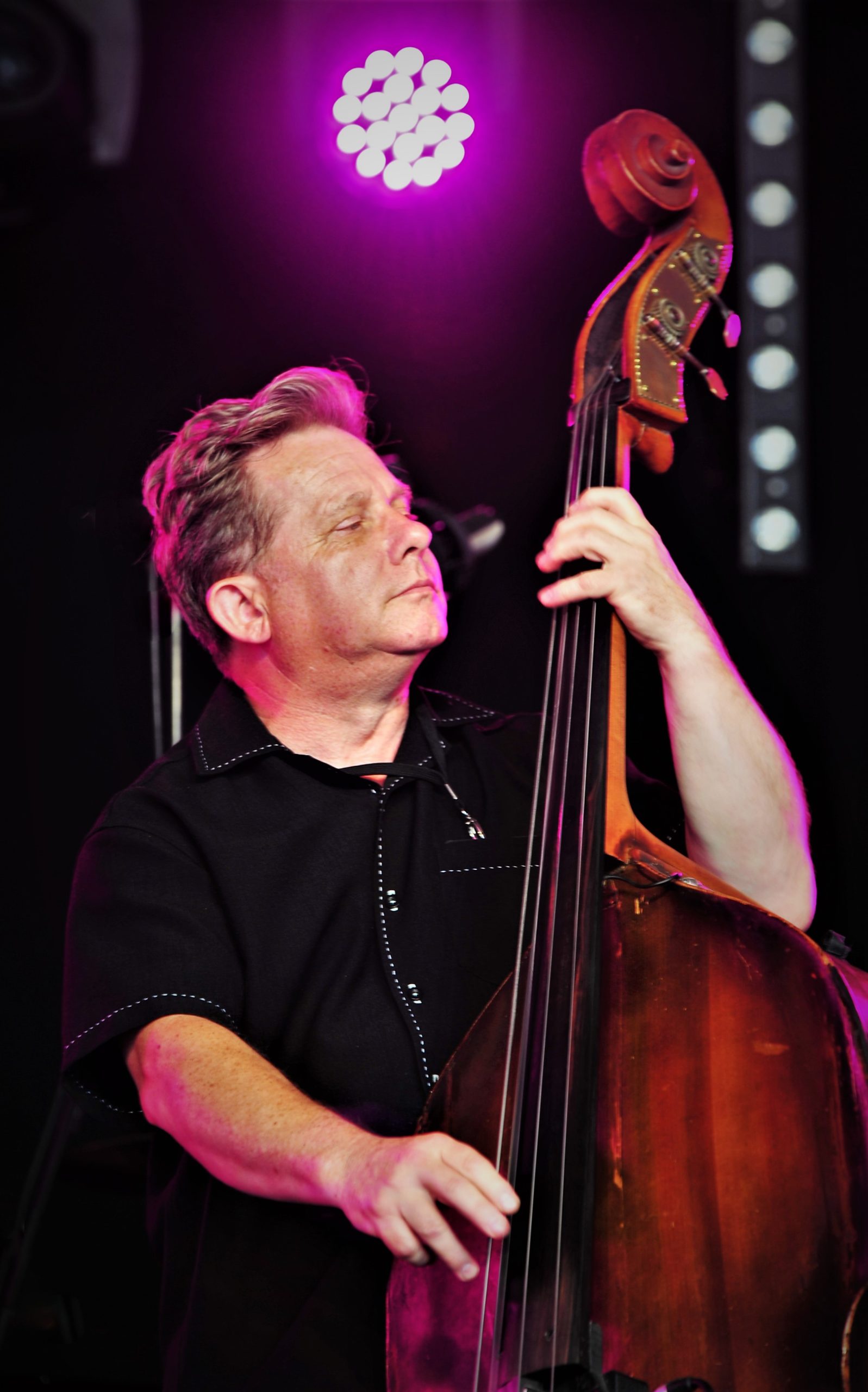 Main stage on Saturday, Charlie Starmer-Smith, Police Dog Hogan….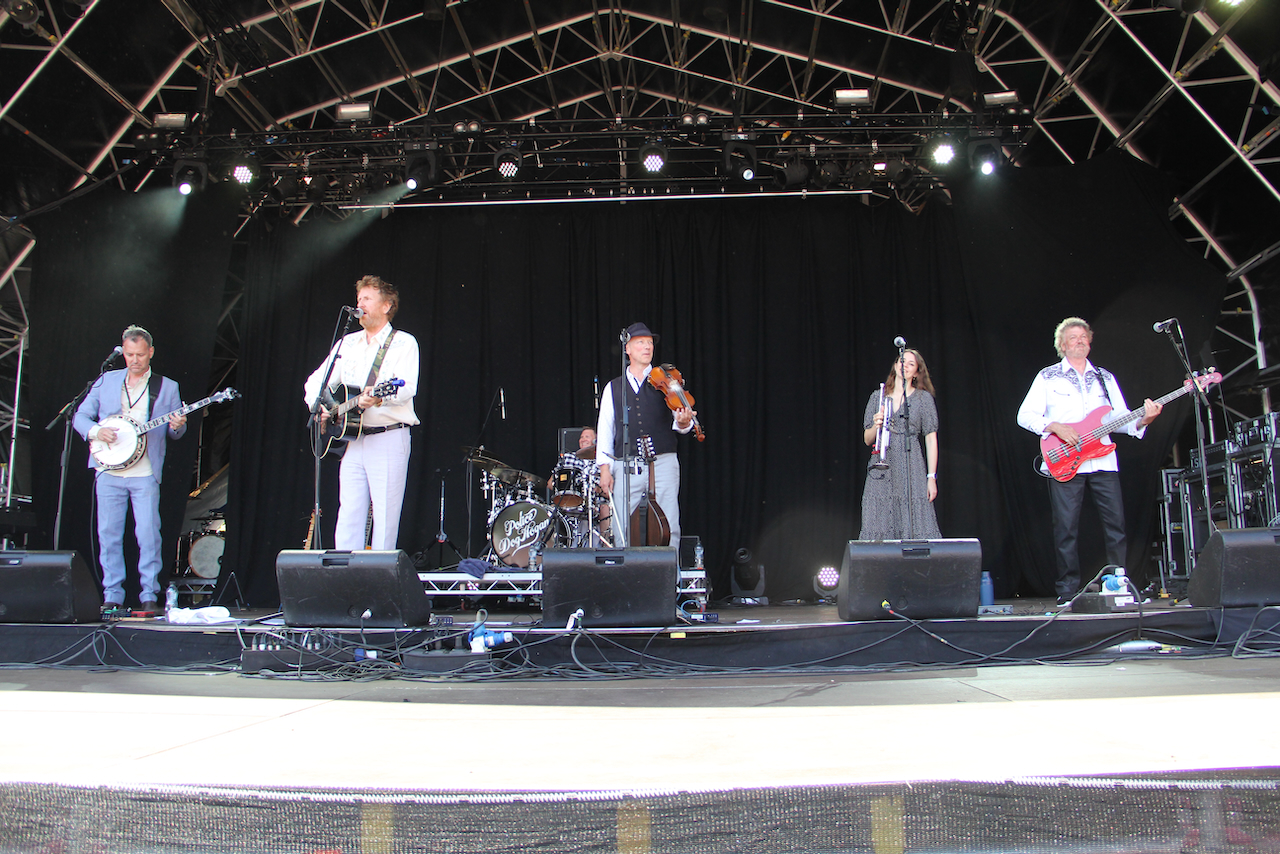 Main stage too, the excellent Get Cape. Wear Cape. Fly – aka Samuel Lloyd Duckworth…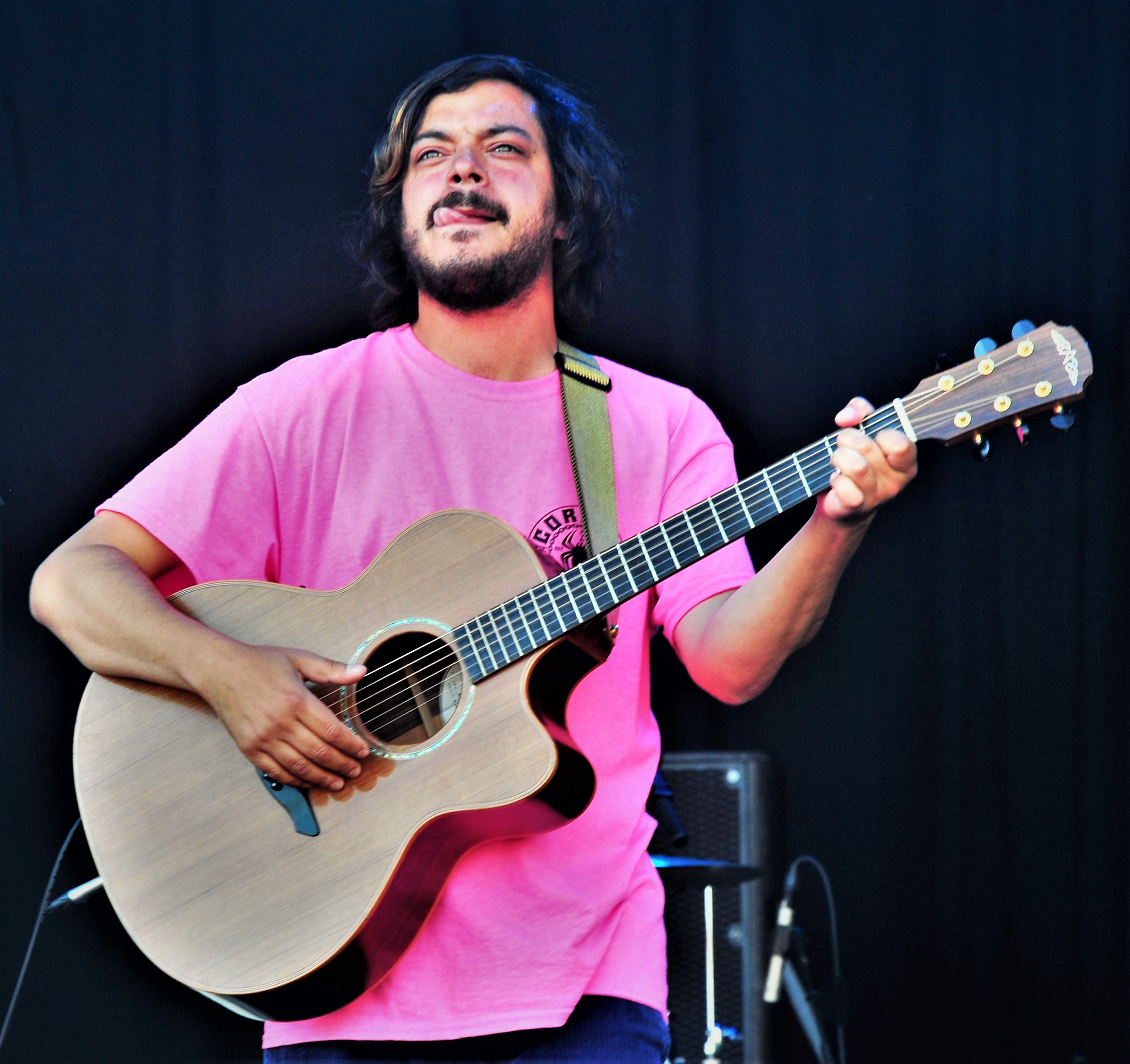 Following the man who wants to get a cape (!), the utterly brilliant The Waterboys. Waited years to see this band and they did not disappoint. (Other than cancelling a photo call backstage as they only arrived on site an hour before their set – they are forgiven…they were magnificent).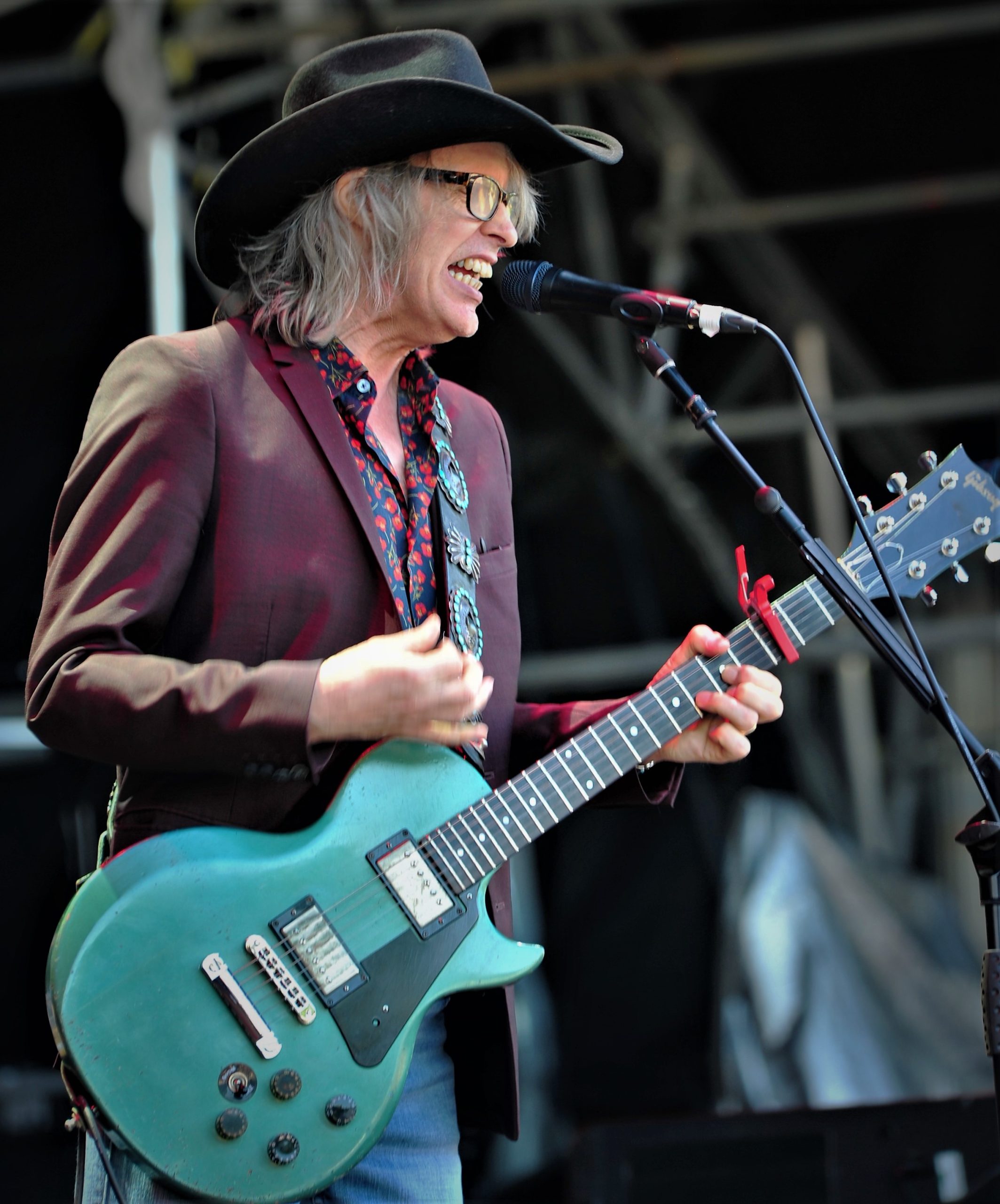 Their timeless hit "Whole Of The Moon" started their set, with Mike Scott sat at the piano sounding awesome. What a lyric: "I see an empty valley, you see Brigadoon…"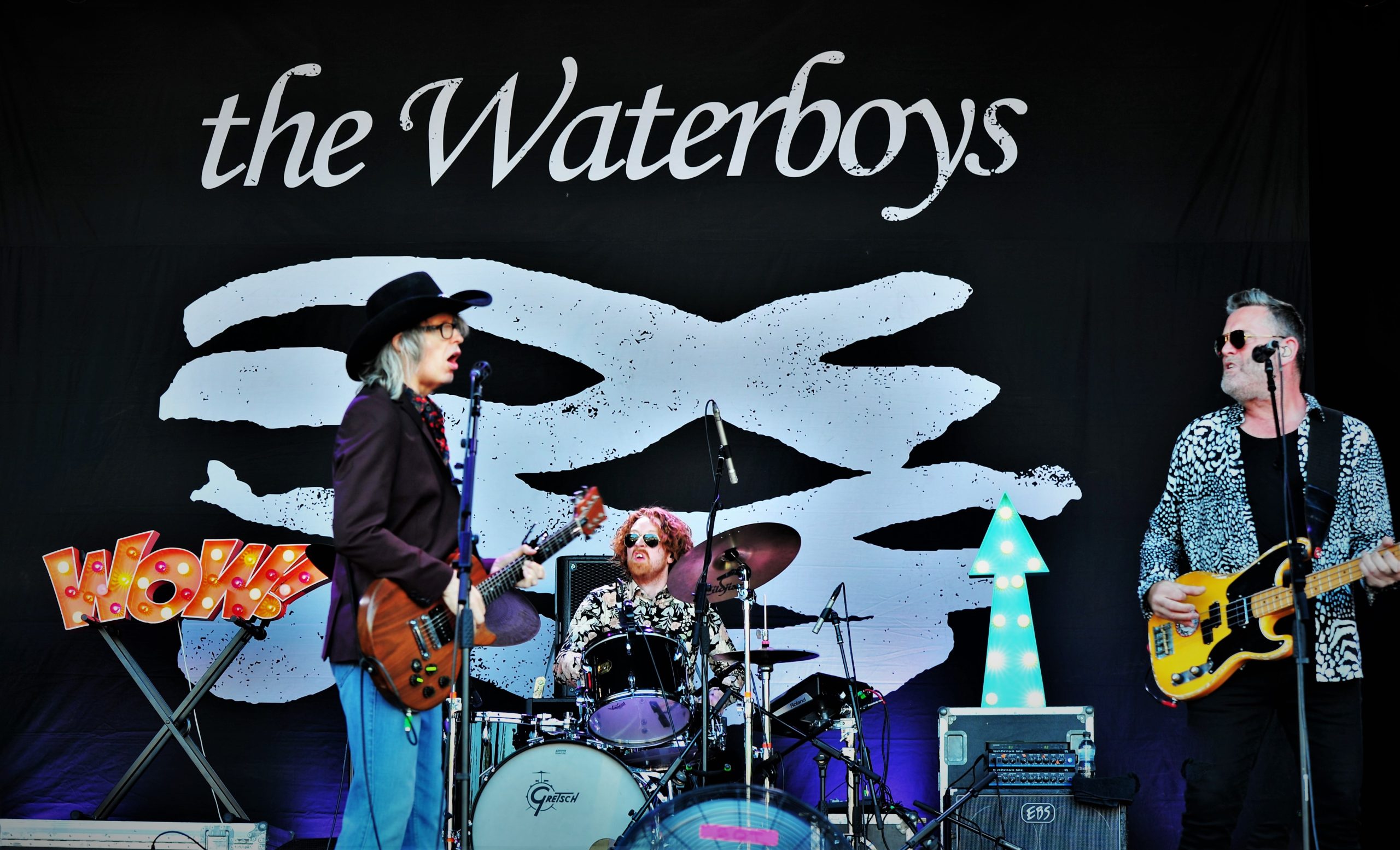 Great to hear their 1988 hit, "Fisherman's Blues" too.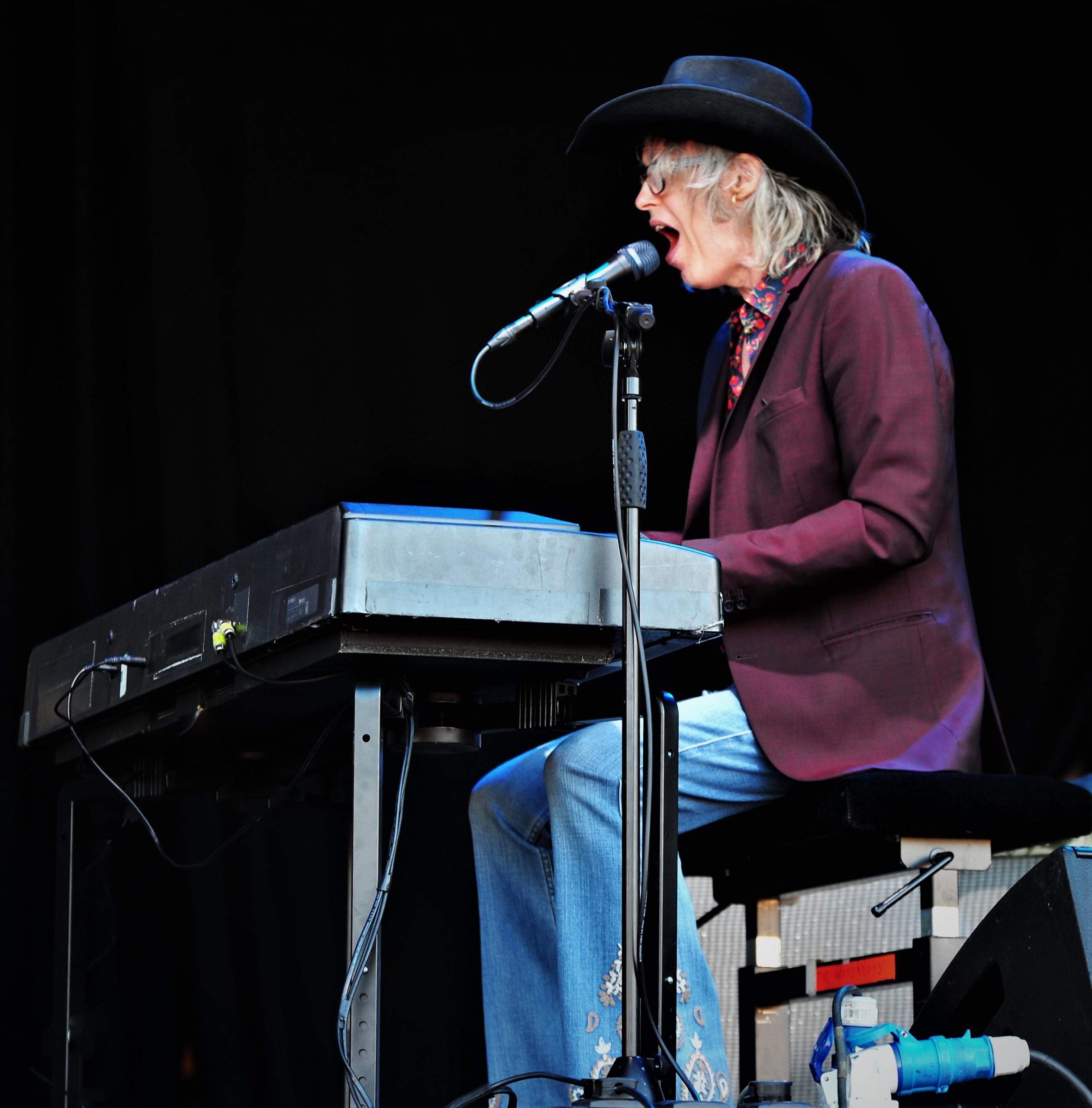 Bryan Adams pulled in a massive crowd to singalong to his countless hits for his headline set, and like he did in 2017 the last time he was here, he scored a bullseye with a faultless performance.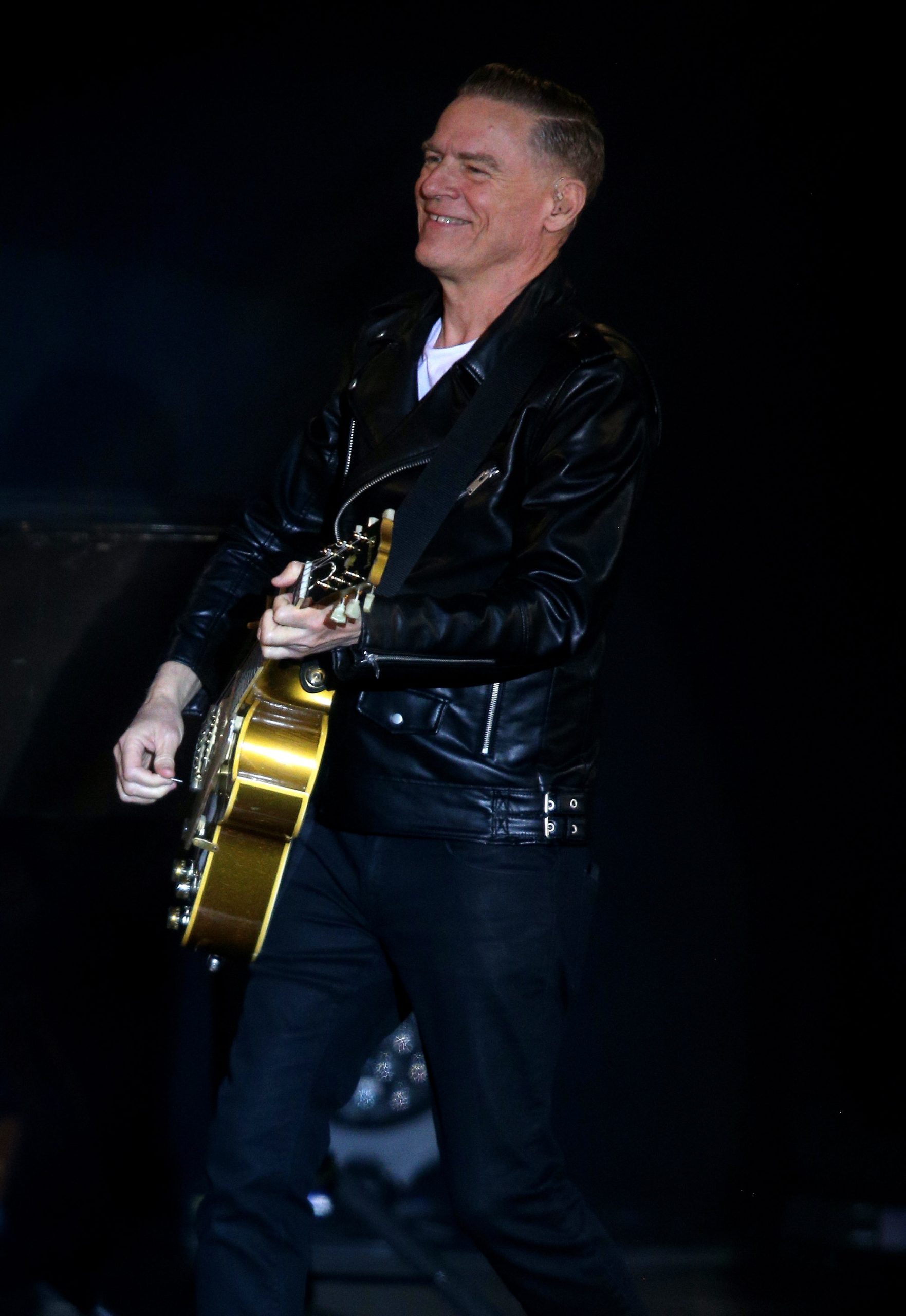 For me, the gravel and raw rock edge to his vocal has been smoothed down to a less aggressive tone; perhaps mileage on the old vocal cords, from when I heard him in 2017. But he still sounds great and the fans loved him.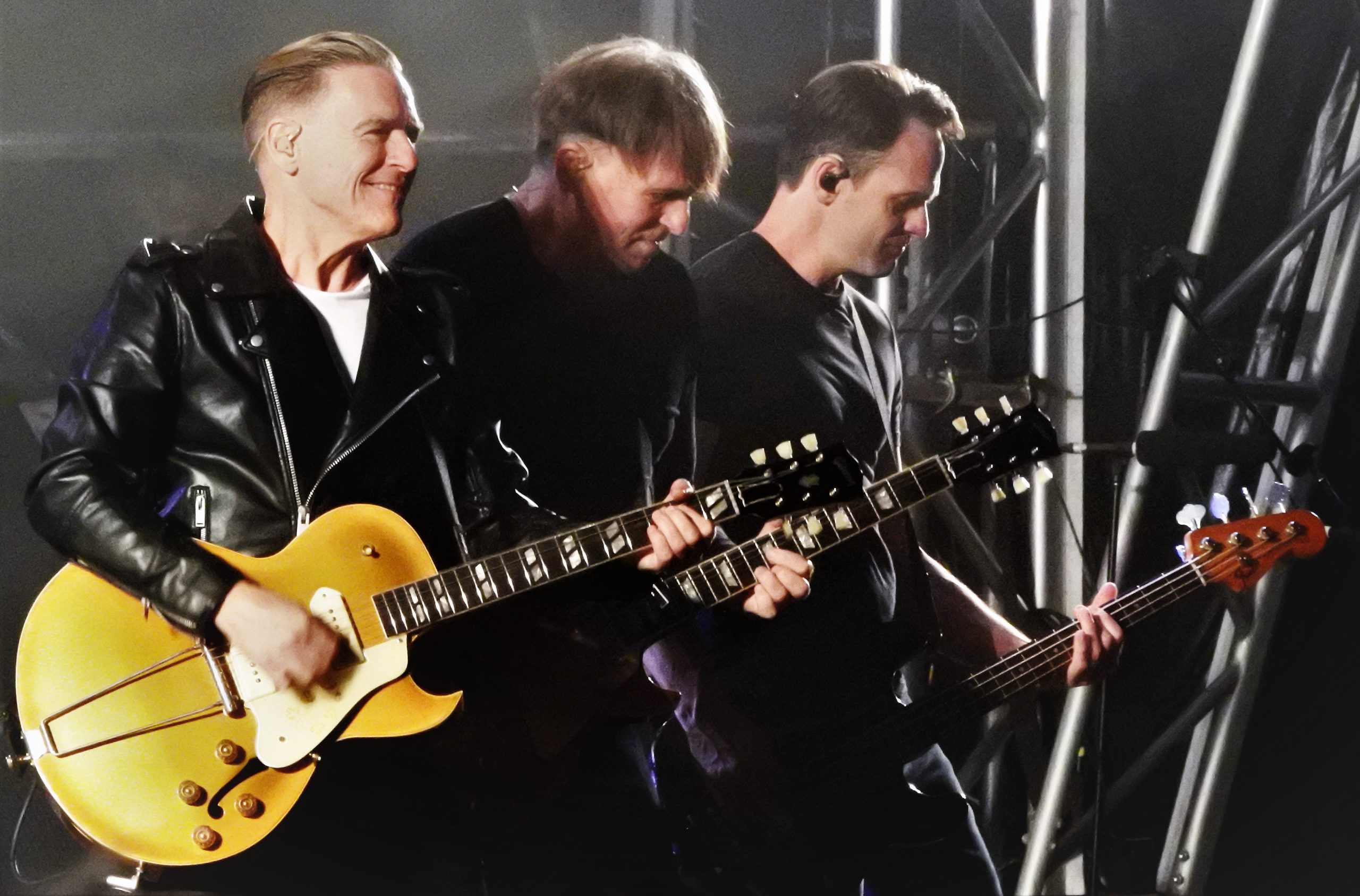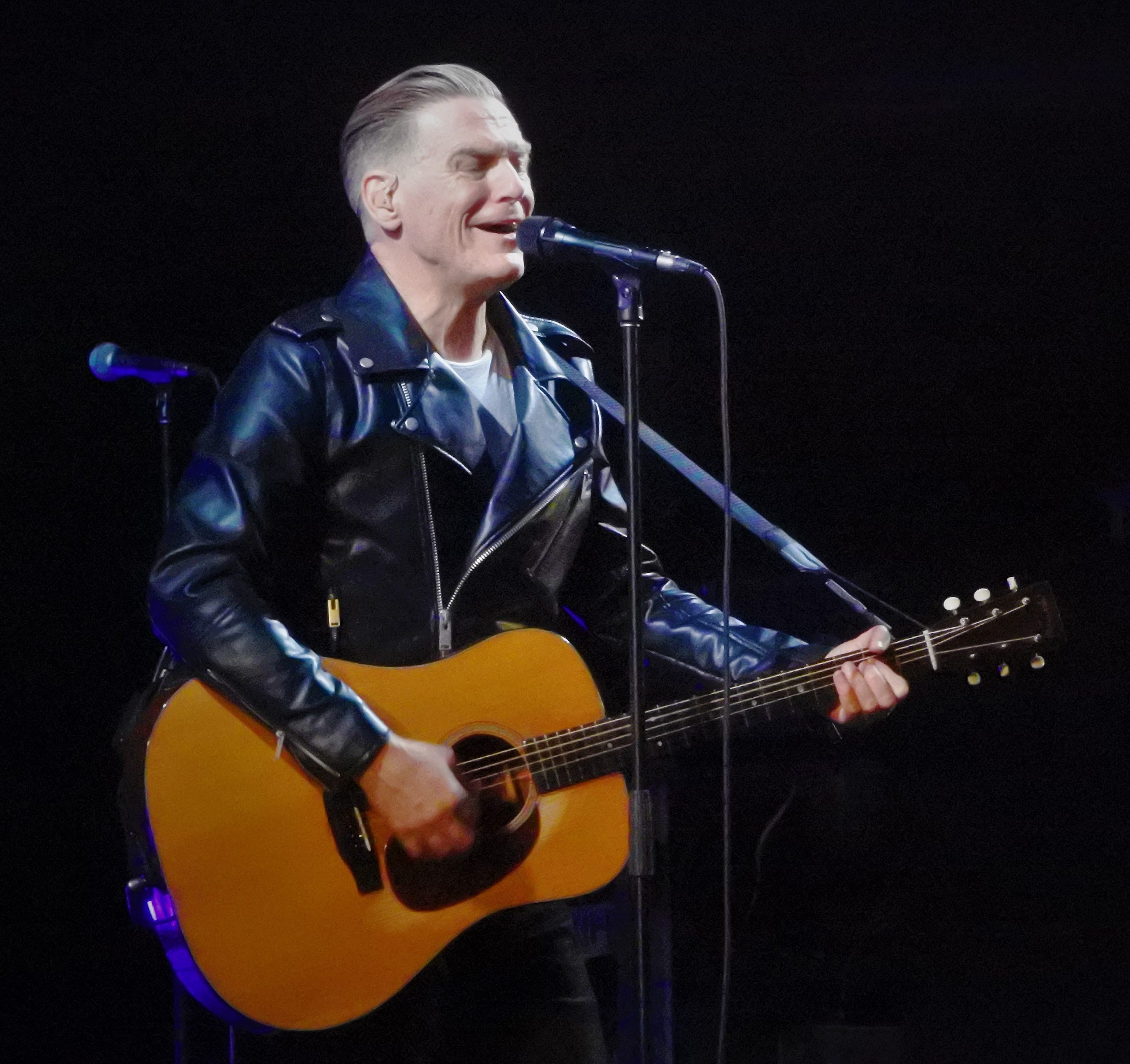 Bizarre sight of Mr Adams marching along the backstage road with about 40 kids on Saturday afternoon, but I cannot tell you where they ended up as I had to nip off to do a photo shoot with Mr Get Cape!
Bryan's first song suffered not one, not two, but three power cuts for a few seconds each, but he rocked on regardless, and there were no more problems for the rest of his set.
Day two at Caffè Nero high spots included Isabella Coulstock….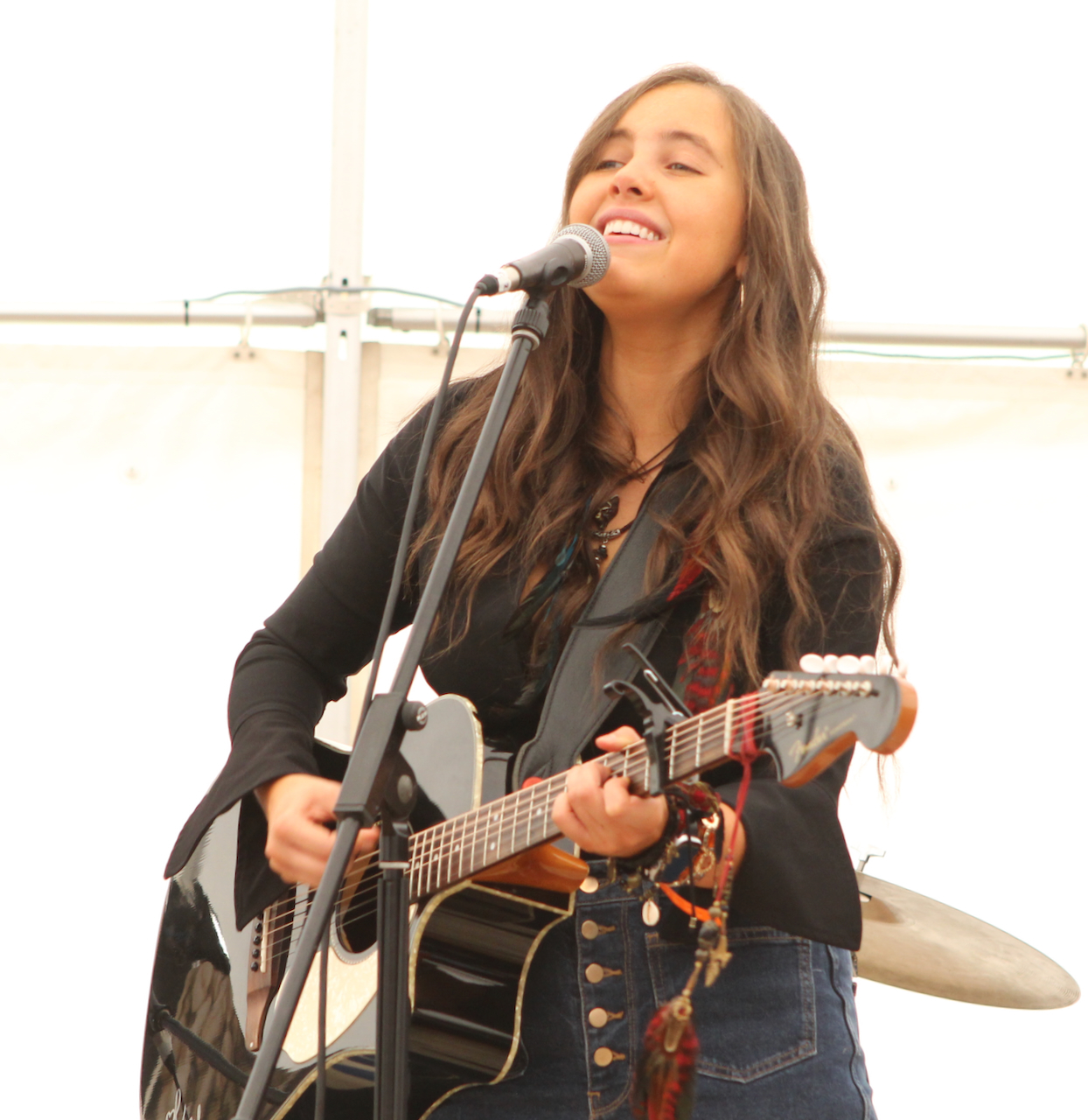 Logan J. Parker pulled off a confident upbeat performance…
Hope Winter was well received…………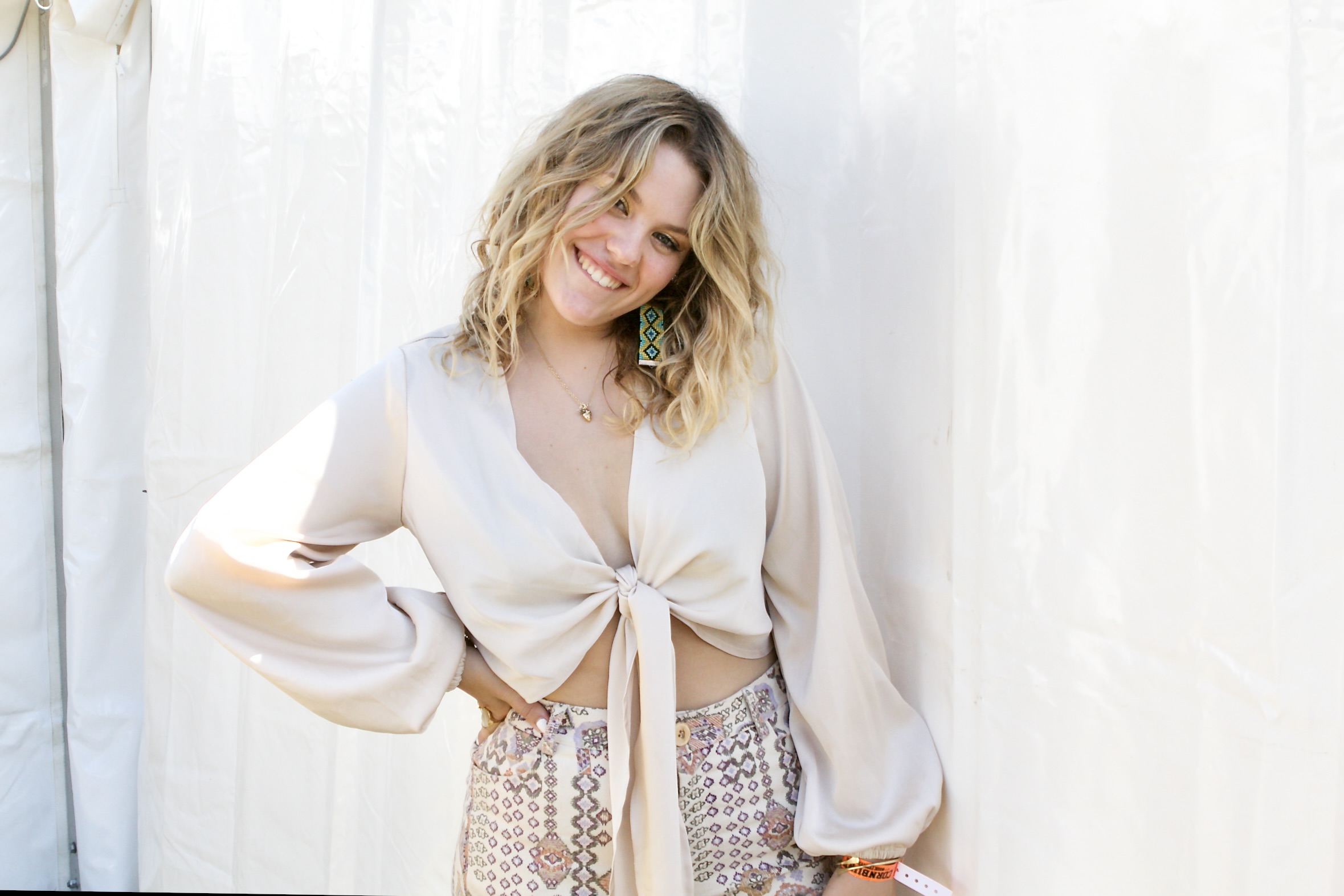 Caffè Nero also hosted a stunning set from the brilliant boogie woogie pianist and singer Tom Seals, a mate of Jools Holland, among many other celebrity admirers.
Elton John!
Tom told the crowd he had just performed at Expo 2020 (held this year due to Covid cancellations) to 7,000 people and when he appeared from the fog of dry ice around his piano, a shriek went up and many of the crowd squealed: "It's Elton John!" If you get the chance, catch this guy live because he is quite something. But be warned: he is not Elton John!!!
Morganway and then young (very young!) London trio The Molotovs packed the Caffè Nero tent, and both gave great performances. The three youngsters in The Molotovs are future stars. Trust me. Their talent and confidence/stage presence is staggering considering their ages.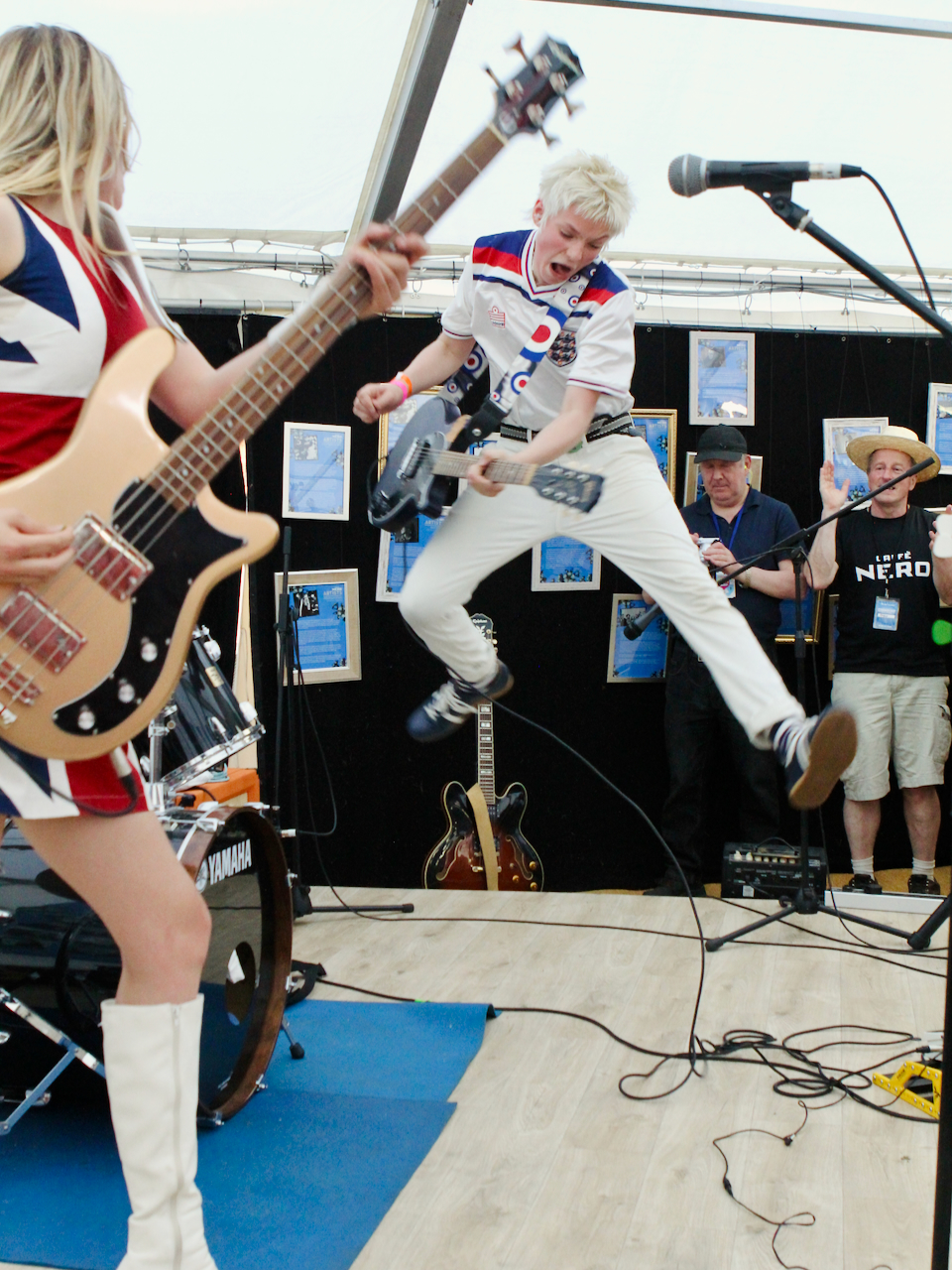 Issey Carts on bass is 16, Ice Dob on drums is also 16, (and she is also the band's producer) and Mathew Cartlidge on lead vocals and guitar is the baby at 14. Issey and Matthew are siblings, and Ice is their good friend.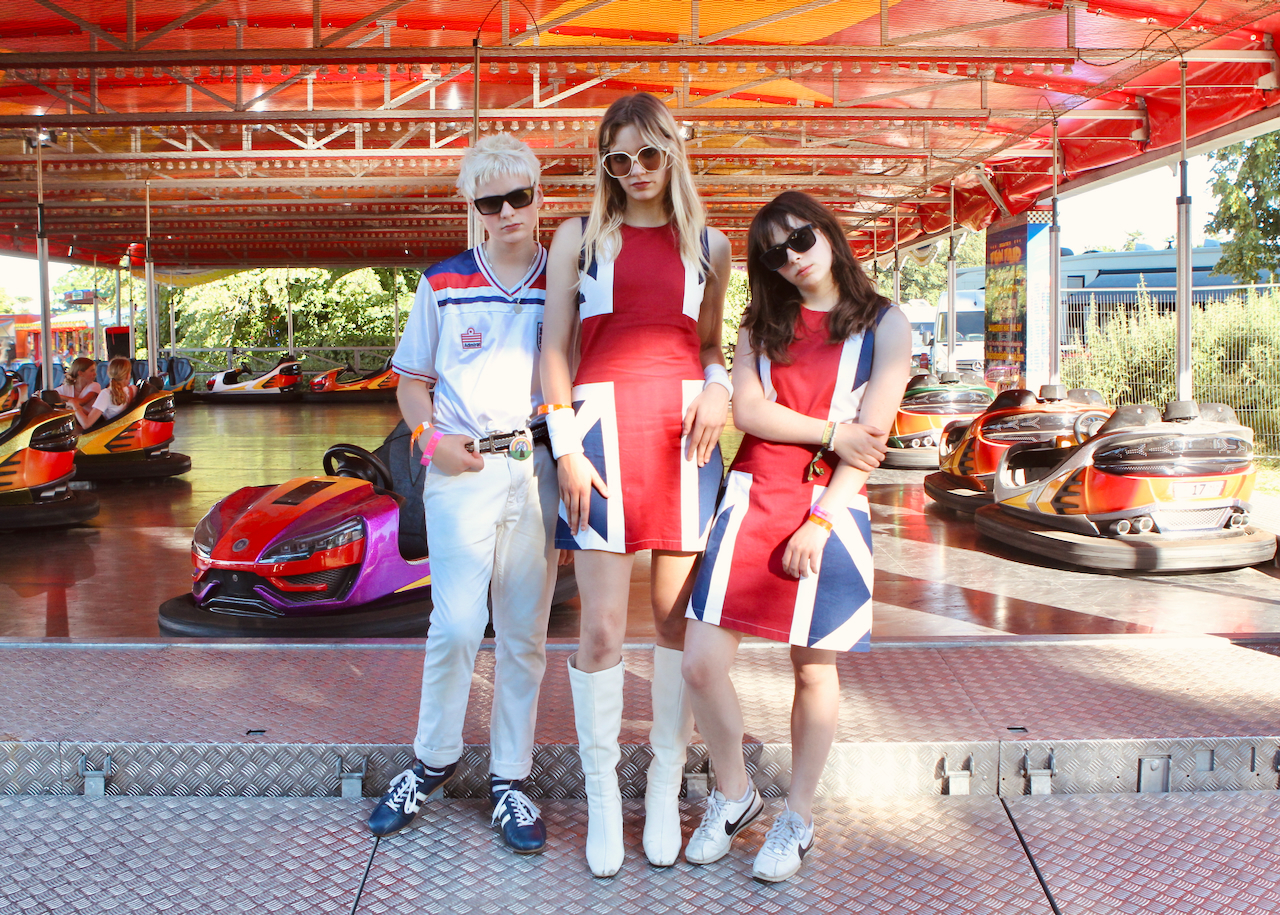 They play mainly covers – from 50s to present day; rock and roll, mod, Brit pop, post punk – but already have a few originals and will have more soon. In their set at Cornbury they smashed it with such iconic tracks The Who's "My Generation", Sex Pistols' "Anarchy In The UK" and Arctic Monkeys' "You Look Good On The Dance Floor".
Do not let "covers" put you off. Their set is so tight and so powerful, it gob-smacked me and everyone in that tent. To see Matthew leaping up in the air a few times in their set and not missing a note is something to behold.
We say: Future stars – The Molotovs…
They look superb too, in their Union Jack and England footie gear. Mr Cowell should sign these up to appear on Britain's Got Talent and my cash says they'd win it – and then land a record deal for a hit album and tour.
This is not a novelty act or kids in over their heads. They are as serious as a heart attack and could be the next big thing from the UK in the next few years…………..Remember the name. The Molotovs. They went down a bomb and their performance was fire. See what I did there? Our man Asprey is still talking about this performance and has been championing the band for sometime at gigs in London.
* We will bring you an exclusive interview feature with The Molotovs very soon……………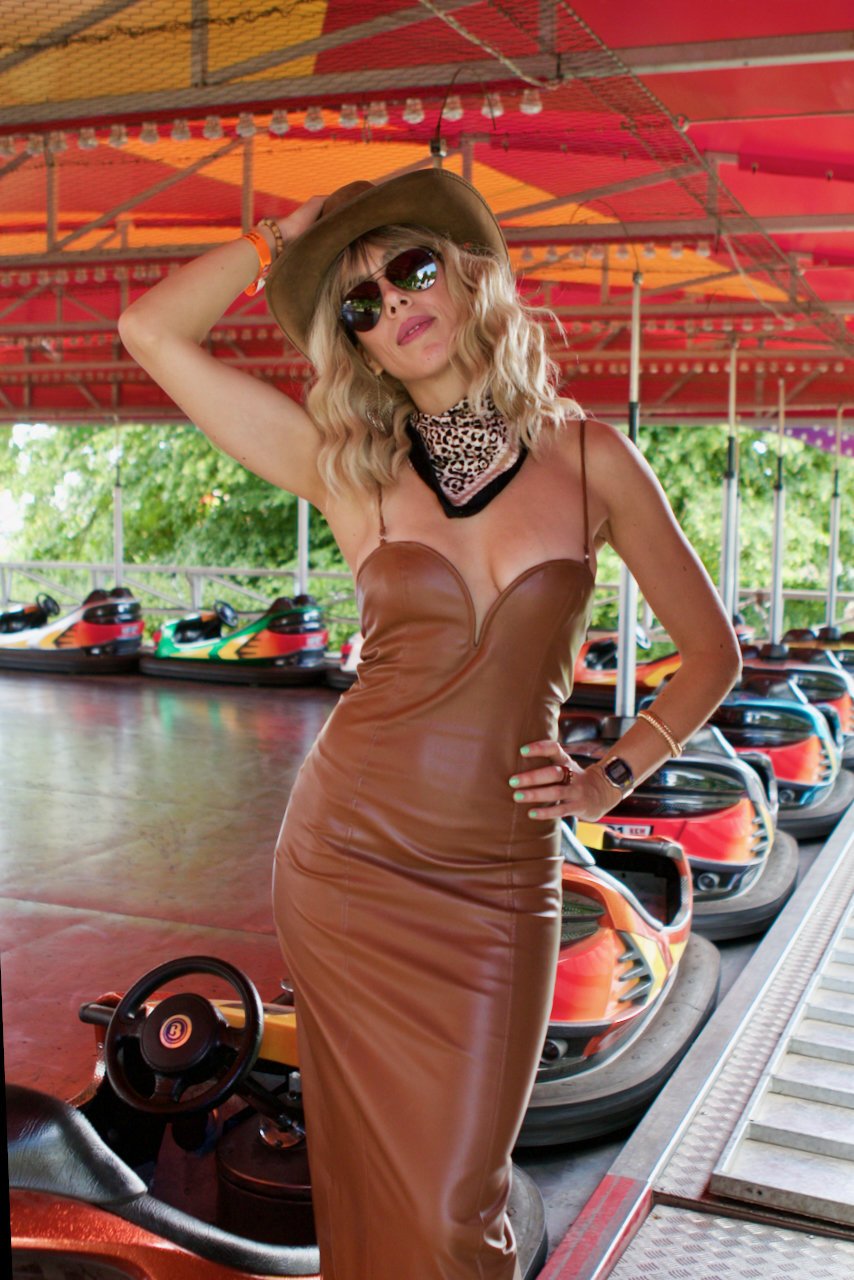 Music mogul Simon Cowell was enjoying the event with his son Eric and some friends, wandering about the fairground for at least half an hour or so from 8pm on Saturday night, while the masses were waiting for Bryan Adams on the main stage or watching soul Diva Mica Paris on the second stage.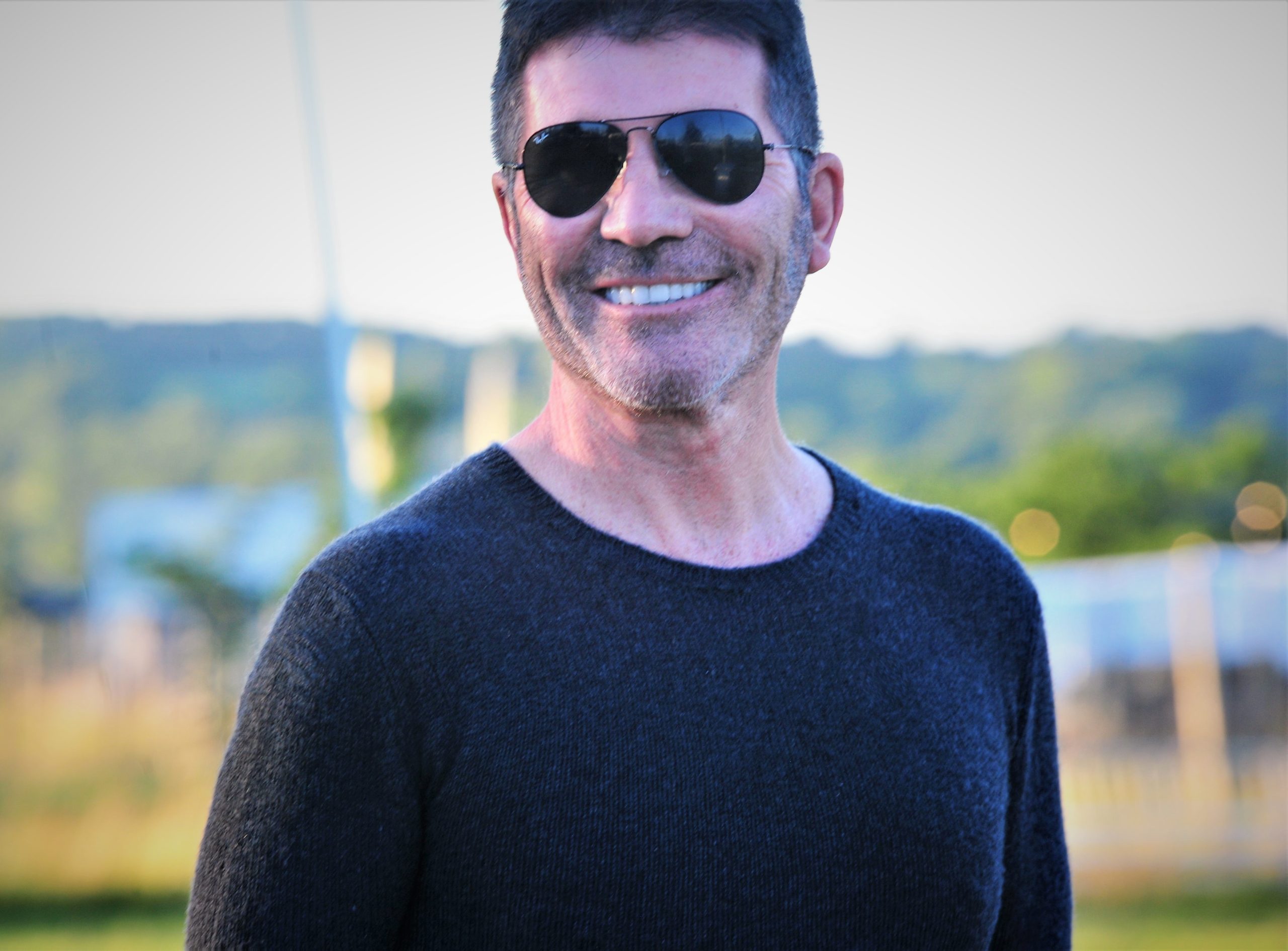 Simon was hardly noticed by the few punters walking through the fairground from camping to the main arena, or by the handful of parents and kids enjoying the rides.
Our eagle-eyed snapper (that'd be me then!) overheard a bunch of kids excitedly telling their parents they had seen him, so I dashed up to see if I could find him – grabbing a set of exclusive photographs of the globally famous TV star and businessman. He was happy to pose for a few shots before he and his small entourage walked to the waiting Mercedes 4×4 with driver and security close by, and left the area.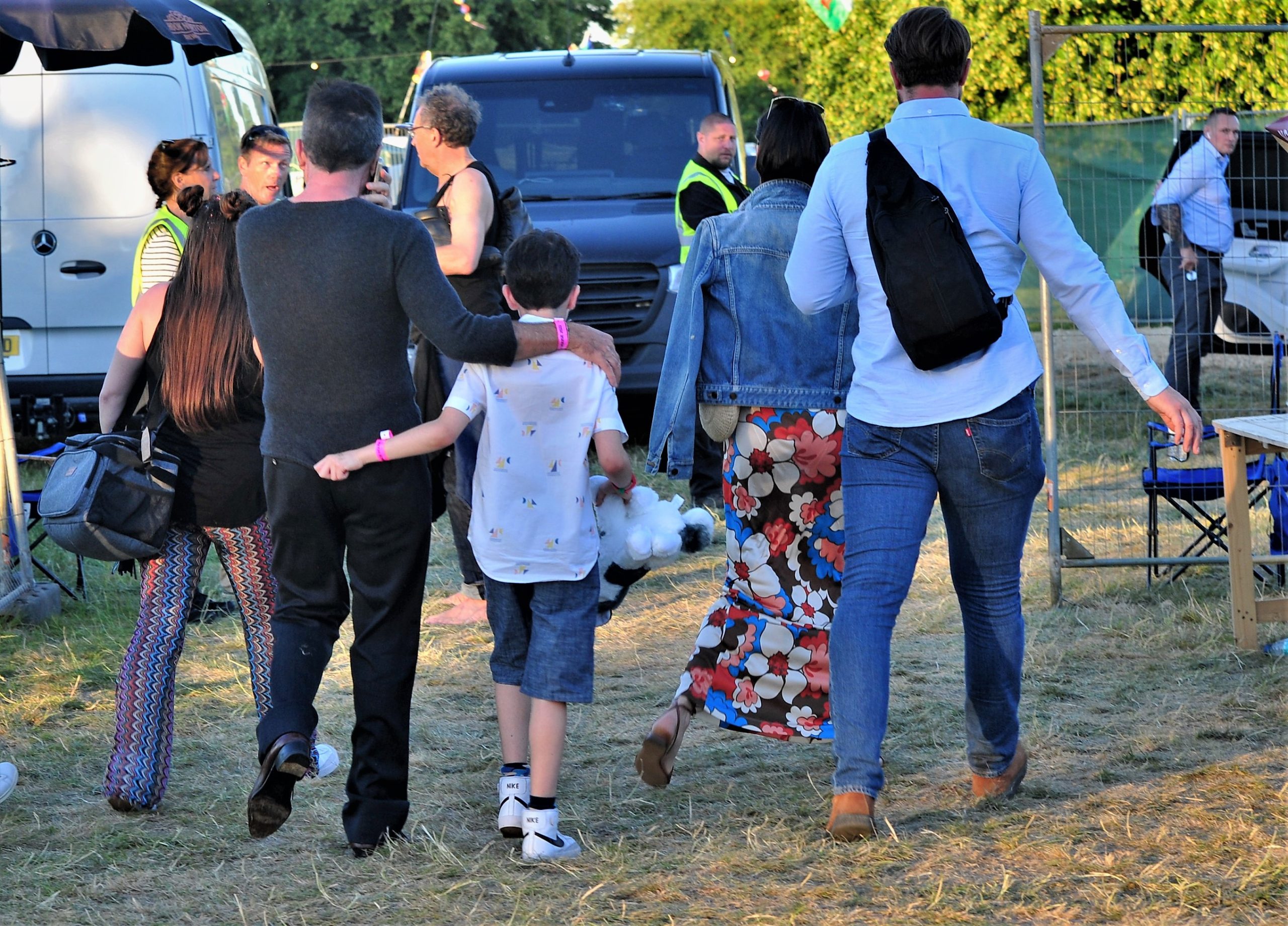 He was seen in the VIP area next day and was wearing a Cornbury wristband, as was his son, so one assumes he was there for all three days. Not sure about his attire in that blistering hot weather; a sweater and black trousers! He spent the walk from the fairground to his vehicle on the phone….maybe he was signing up Bryan Adams?
Asked if he was enjoying the festival, he gave a broad grin, showing off his expensive 'L.A teeth', and literally gave it the thumbs up. Son Eric, named after Simon's late father, clutching a cuddly toy he won at the fair and holding on to the back of dad's sweater with the other hand. Also spotted in VIP were Keith Duffy from Boyzone and TV star Alexander Armstrong.
So, what did Sunday bring…………….? Find out very soon…………. Day one coverage is now in our "Live Zone"…

---
Words: Steve Best (additional info: Alex Asprey)
Photos:
Alex Asprey (Police Dog Hogan, Isabella Coulstock, Logan J Parker, Hope Winter, Mica Paris, The Molotovs)
2 x main Bryan Adams photos by Rothschild
Bryan Adams fan photos x 2 – from the crowd (no zoom lens): Courtesy of Peter Males
All other images: Steve Best