Day Three –  Sunday 10th July 2022 – The final ever Cornbury after 20 years….
---
Sunday was the hottest I think I have ever been on UK soil and it was tough to be out in it. So humid. But us old troopers stuck at it to bring you coverage of the last ever Cornbury.
The Songbird stage opened up first with Issy Winstanley, and then the brilliant Tom Webber who I tip as a future star. Looking like a throwback to the days of Eddie Cochran and Gene Vincent, young Tom was a busker in Oxford, from a small town in Oxfordshire and spotted by former major record labels' boss Paul Conroy and his former record company exec' wife Katie.
They now manage Tom who has just finished a tour with Nick Lowe. Tom is a breath of fresh air live, and did a cracking job on the second stage at noon on day three. Good voice, great look – piercing blue eyes, square jawed, tall, male model material as a side hustle perhaps? – some strong material. We will be following his progress closely, for sure.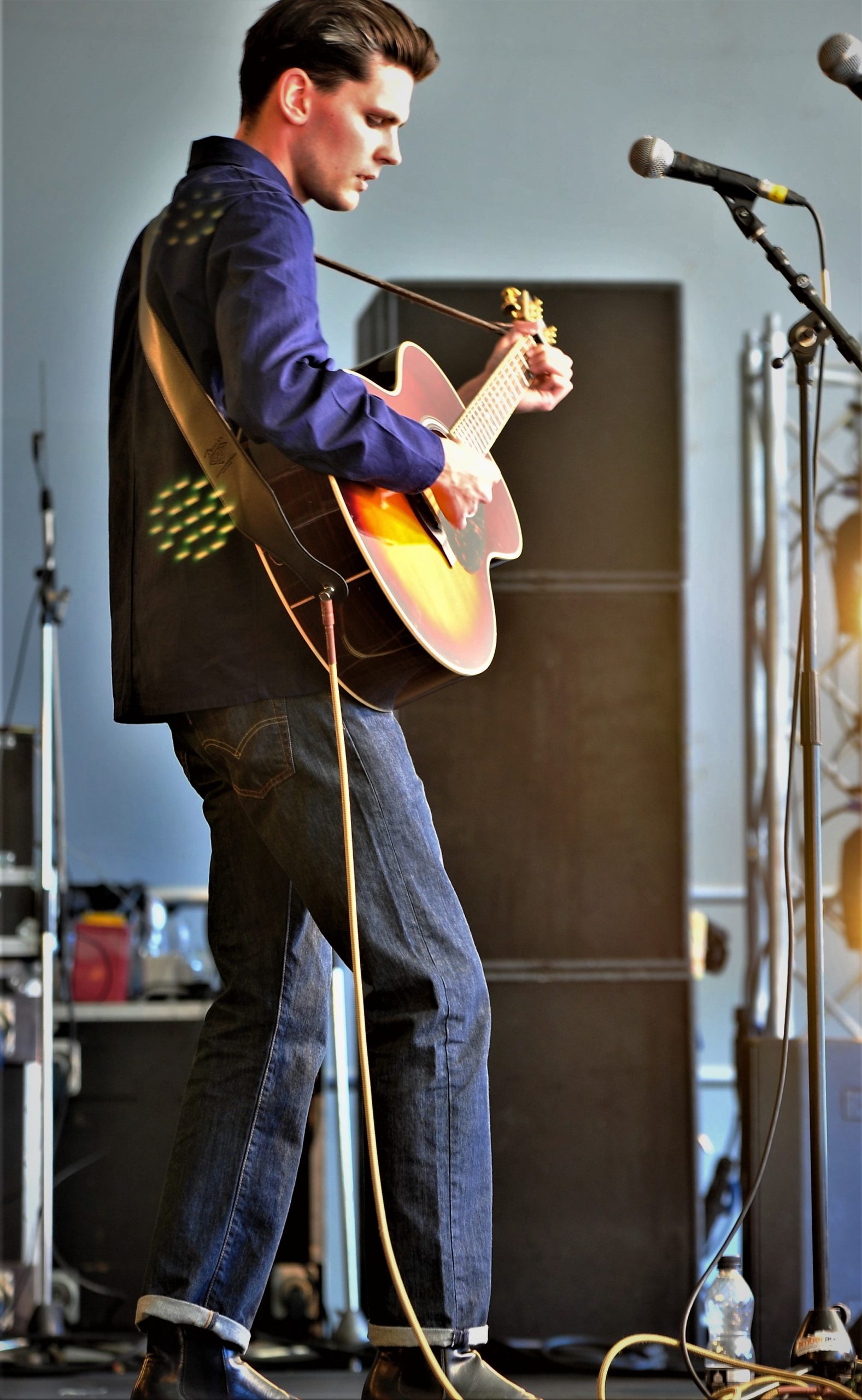 Nice kid too. He even has his own beer mats as a marketing tool. Cheers! The only artist across the three days to whistle in a song during his set! Roger Whittaker eat your heart out. (Google him!)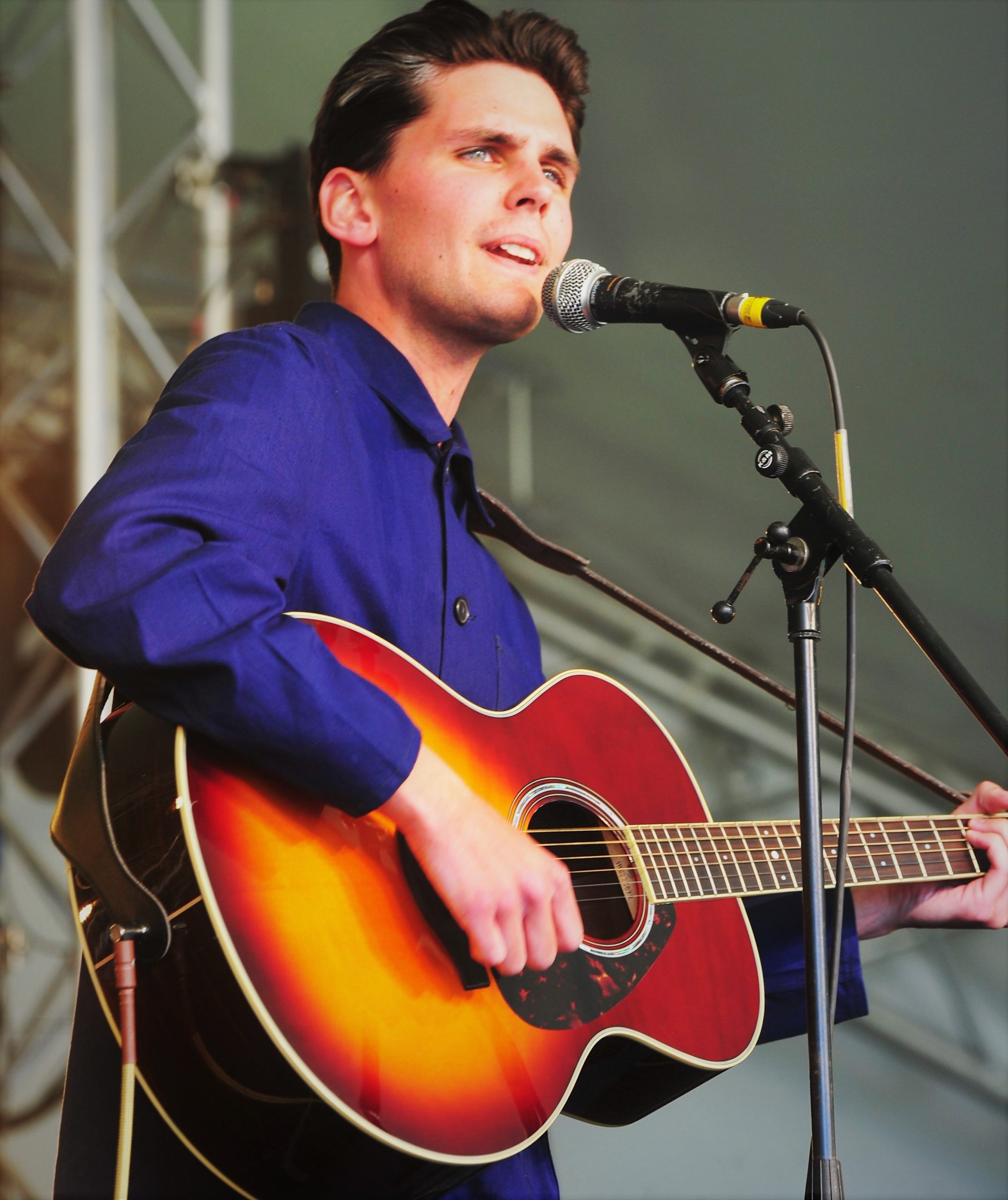 Geno, Geno, Geno….Legend!
Also on the Songbird stage on day three was Hollie Rogers, and later soul legend Geno Washington – who at 78 and having suffered a stroke – did an amazing job and was great fun with lots of cheeky banter. A gorgeous set of soul, r&b and blues numbers. Great band behind him too. Born showman. Still got the vocal chops.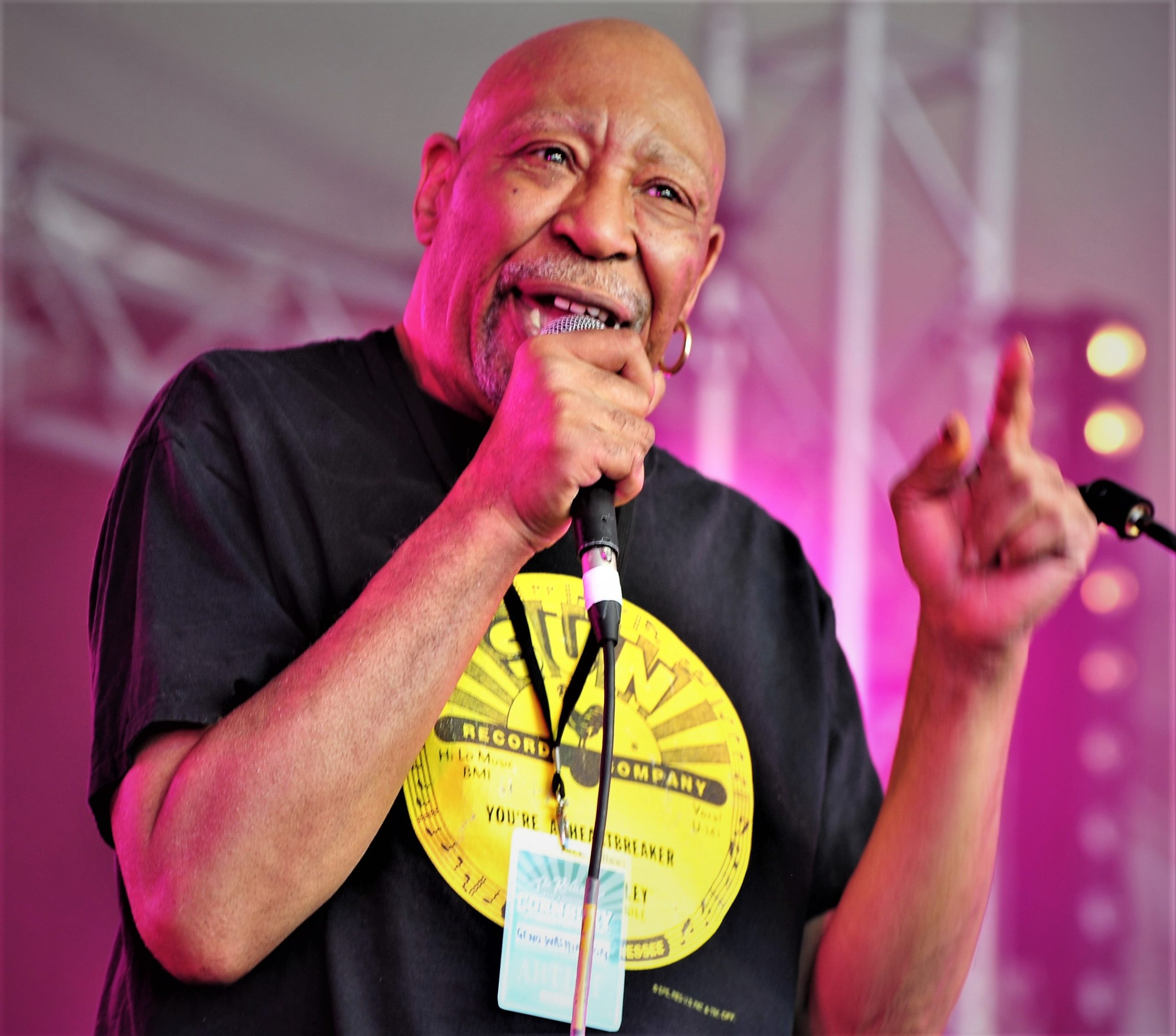 You want to see his back flip!!!! (To decipher this cryptic comment, you'll need to go see the legend's show…)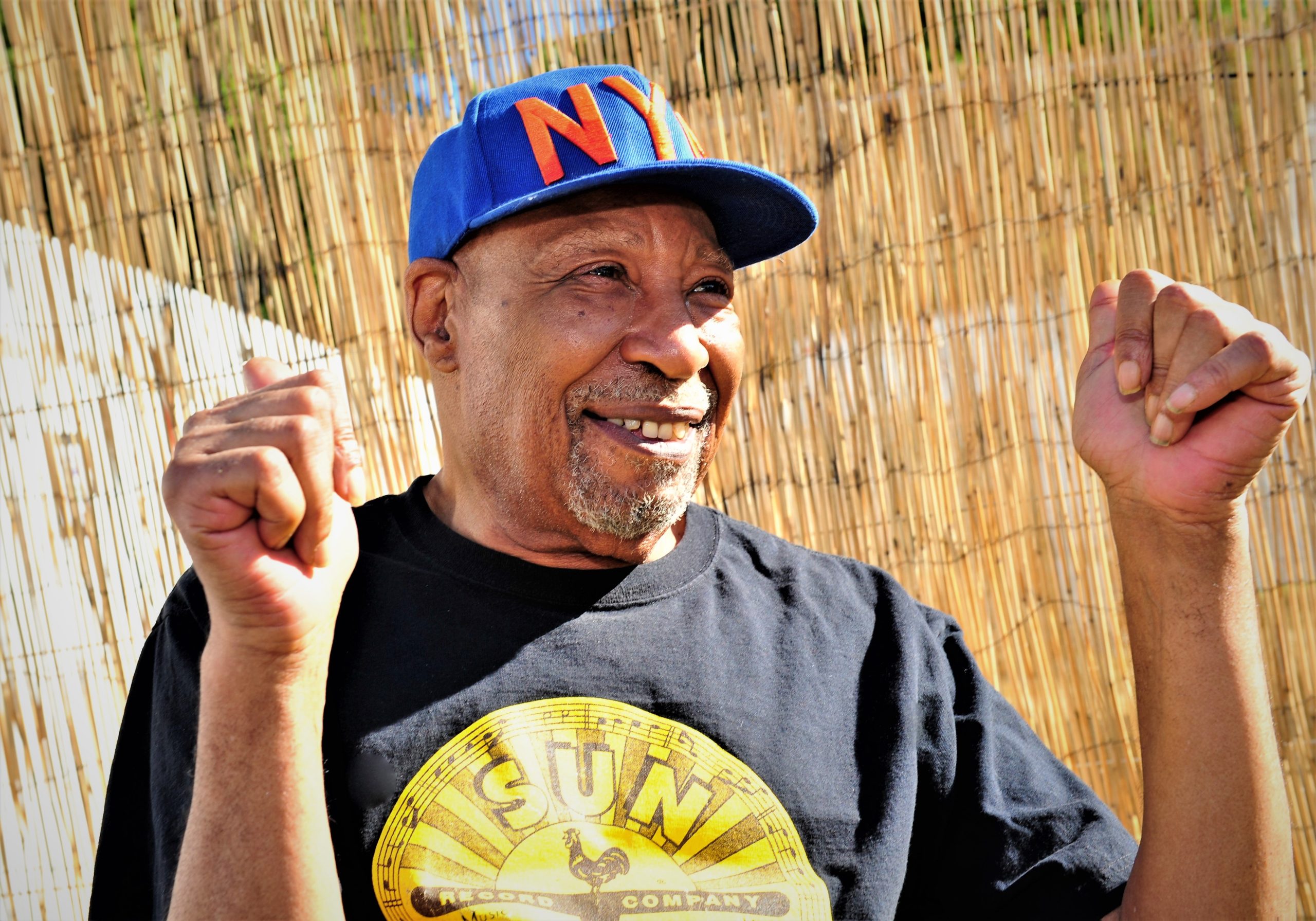 Caught up with Geno backstage for a photo shoot later, and chatted about the fascinating "Track Record" interview he did with Music Republic Magazine not long ago. Check that out….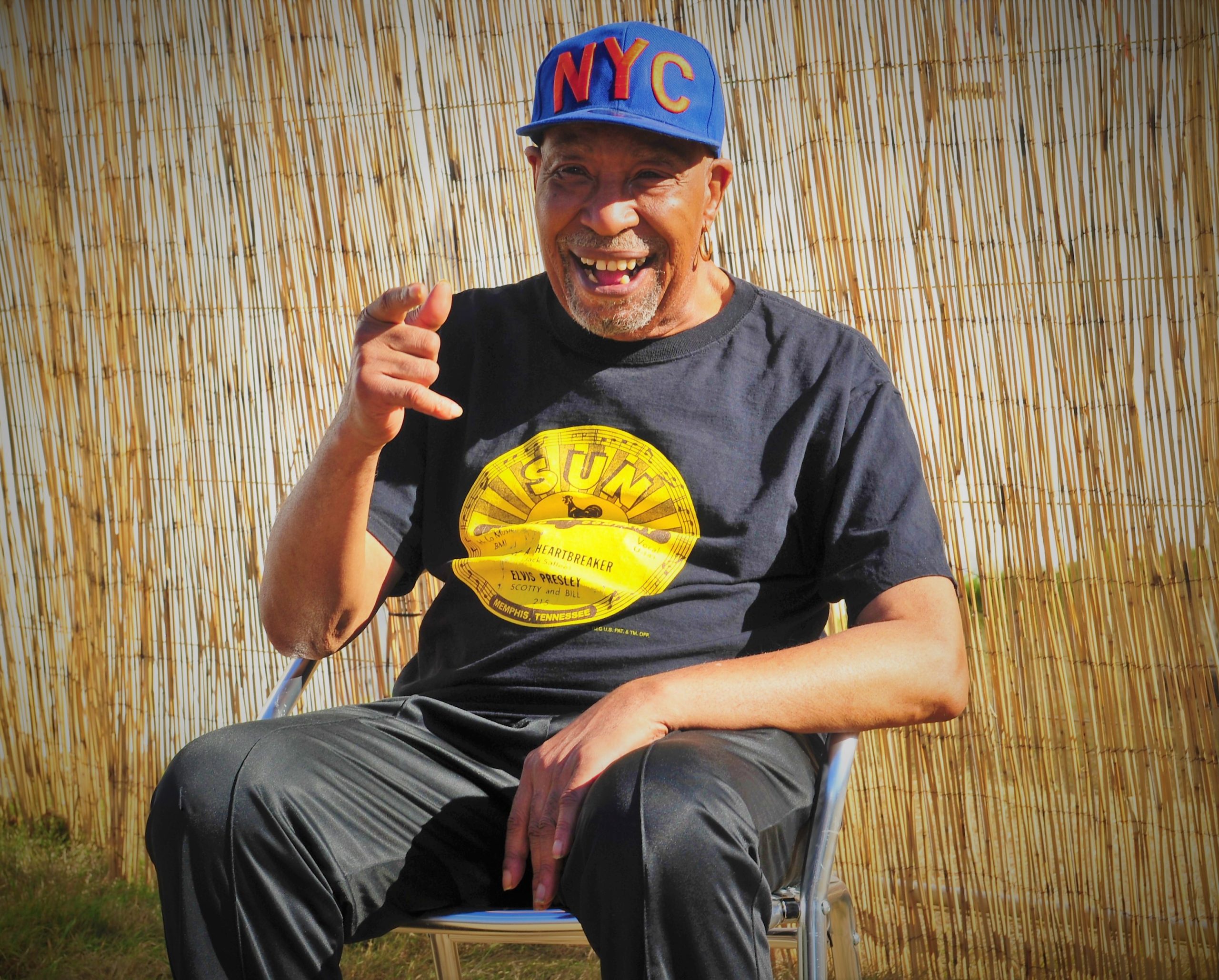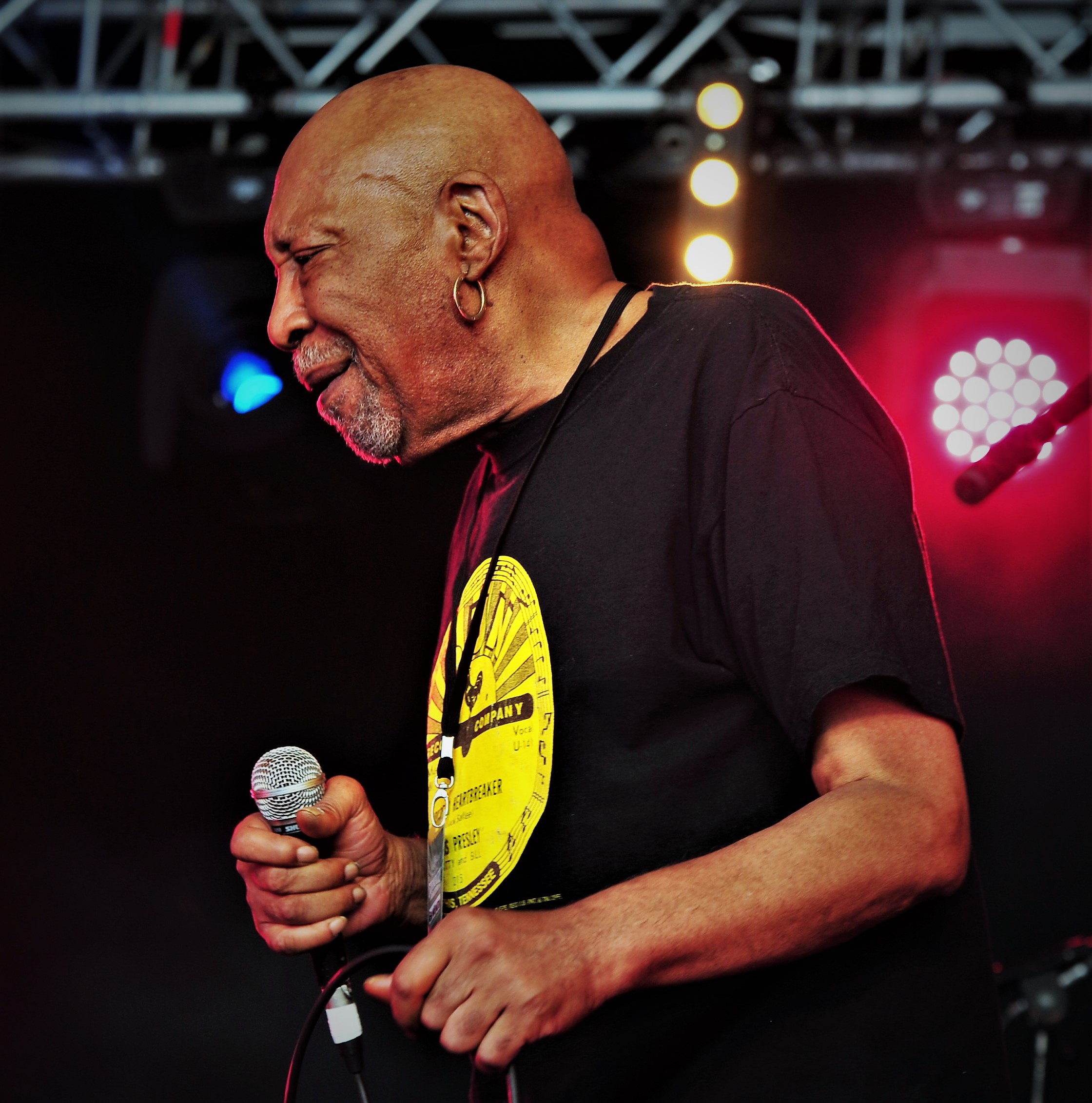 William The Conqueror and then headliners The Christians completed Sunday's Songbird stage fare. Ronan Keating's main stage set was delayed, so The Christians had to hang on a bit before they could start on second stage as it was too loud from the main stage.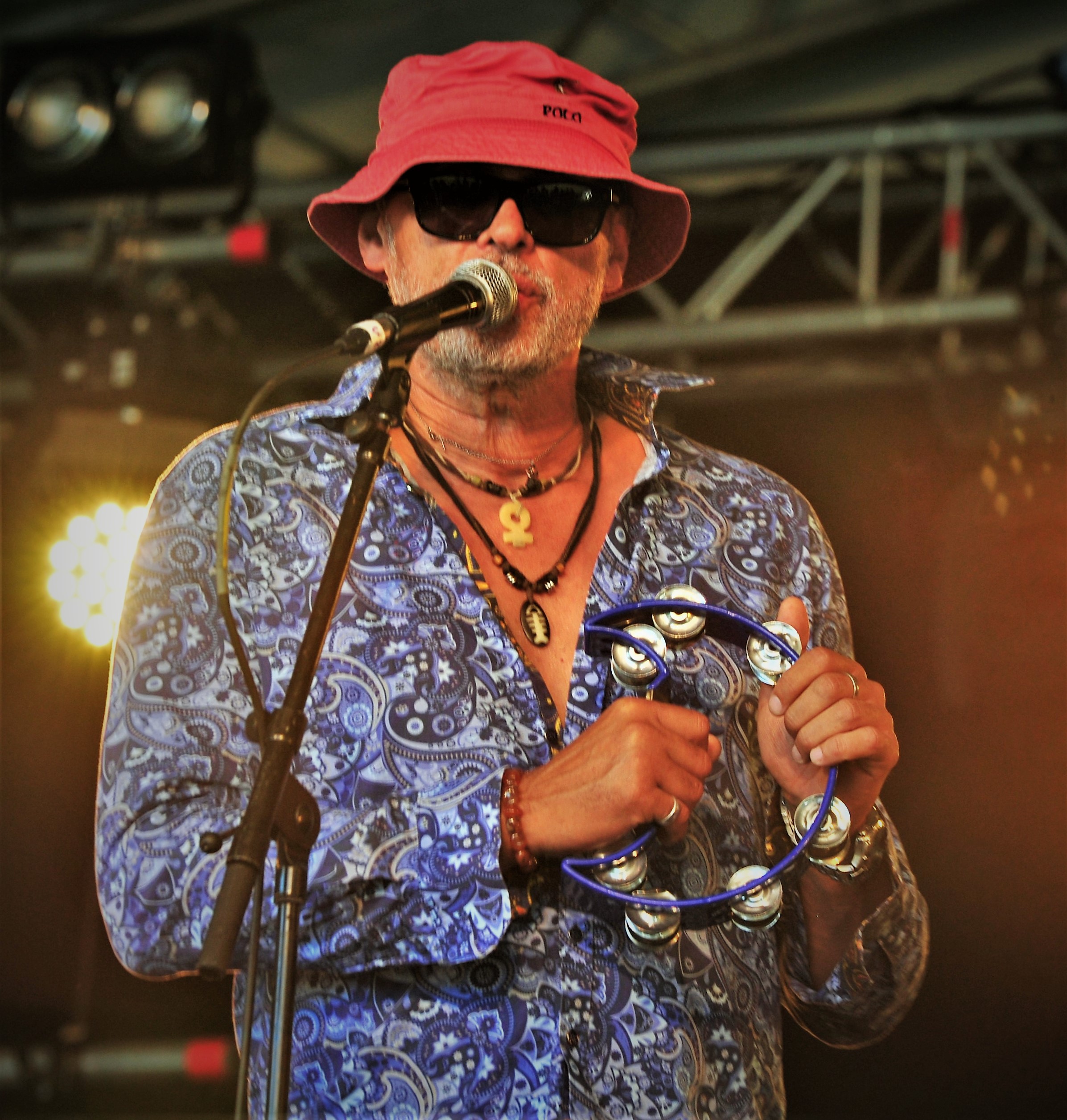 Main stage we had Tuneless Choir, Ferris & Sylvester back again after a cracking main stage slot on day one, and they gave us a second stunning set.
The wonderful Glaswegian Clare Grogan and Altered Images….her all-girl band (plus a male drummer) were such great fun and she is still in very good voice at 60. Great to hear their hits again. Starting and ending the set with "I Could Be Happy".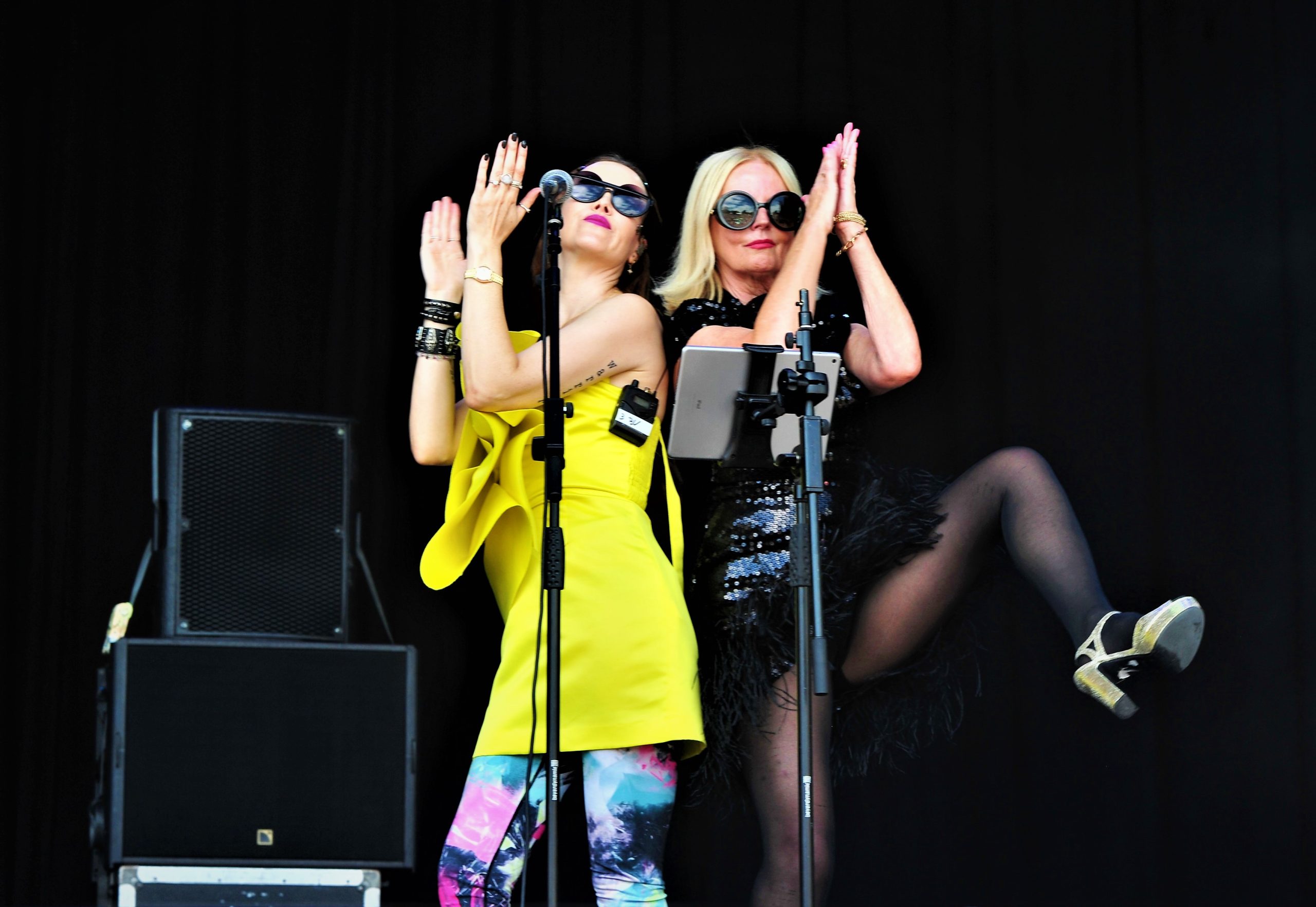 They delivered a lovely version of the Ting Tings priceless hit "That's Not My Name". Clare told us she has a new album, the first for 38 years, "Mascara Streakz", out in August, and joked: "They tell me I rushed it!"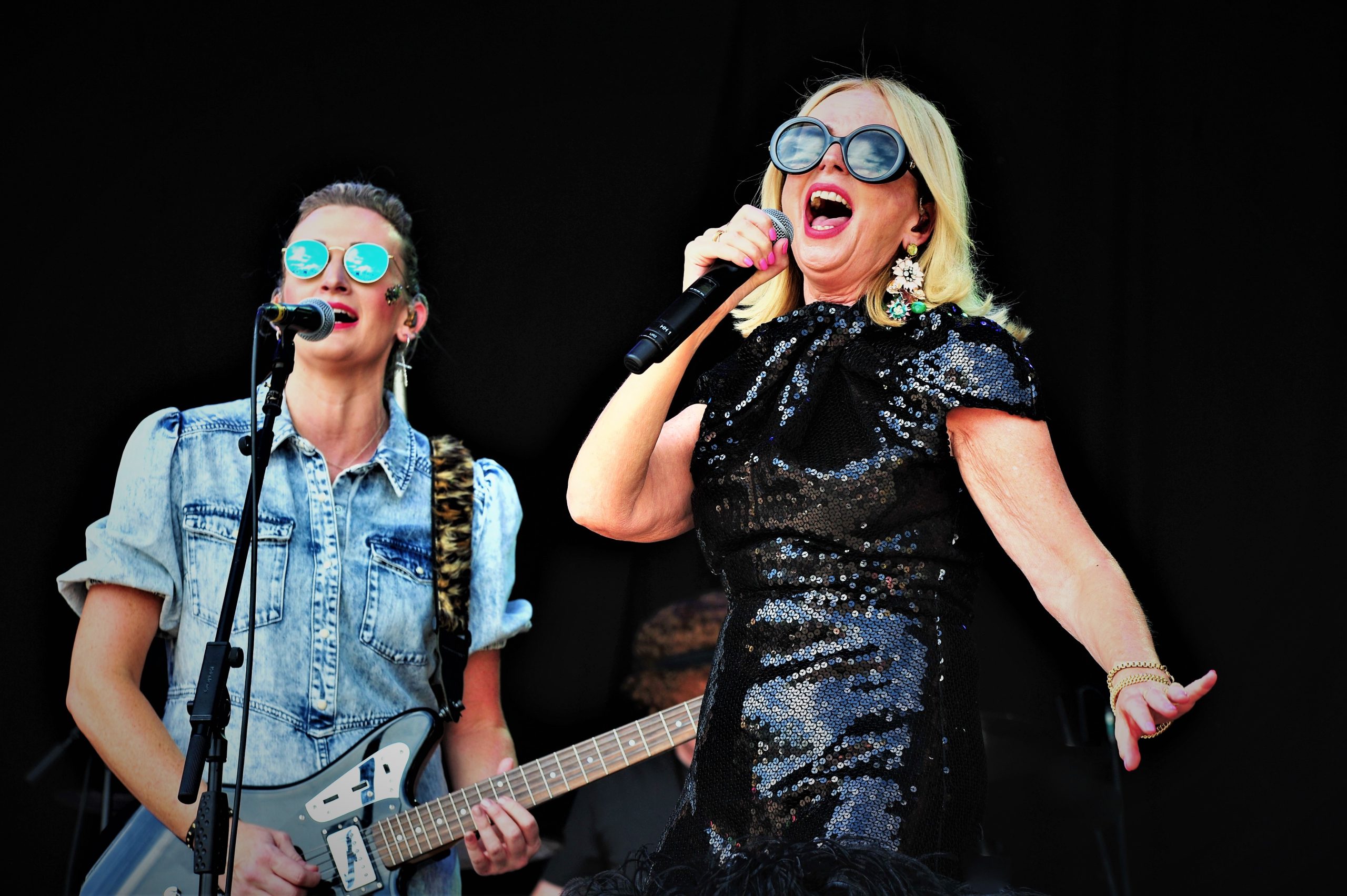 She spotted her 17-year-old daughter dancing to Mum's songs in the crowd and gave her a loving shout out.
Steve Winwood Brought Some Higher Love…
The legend that is Steve Winwood guested with Staks on Sunday tea-time, sat at the organ in a white flat cap like a cricket umpire. Sounding mighty. Also singing with Staks was the awesome Madeline Bell. Remember Blue Mink?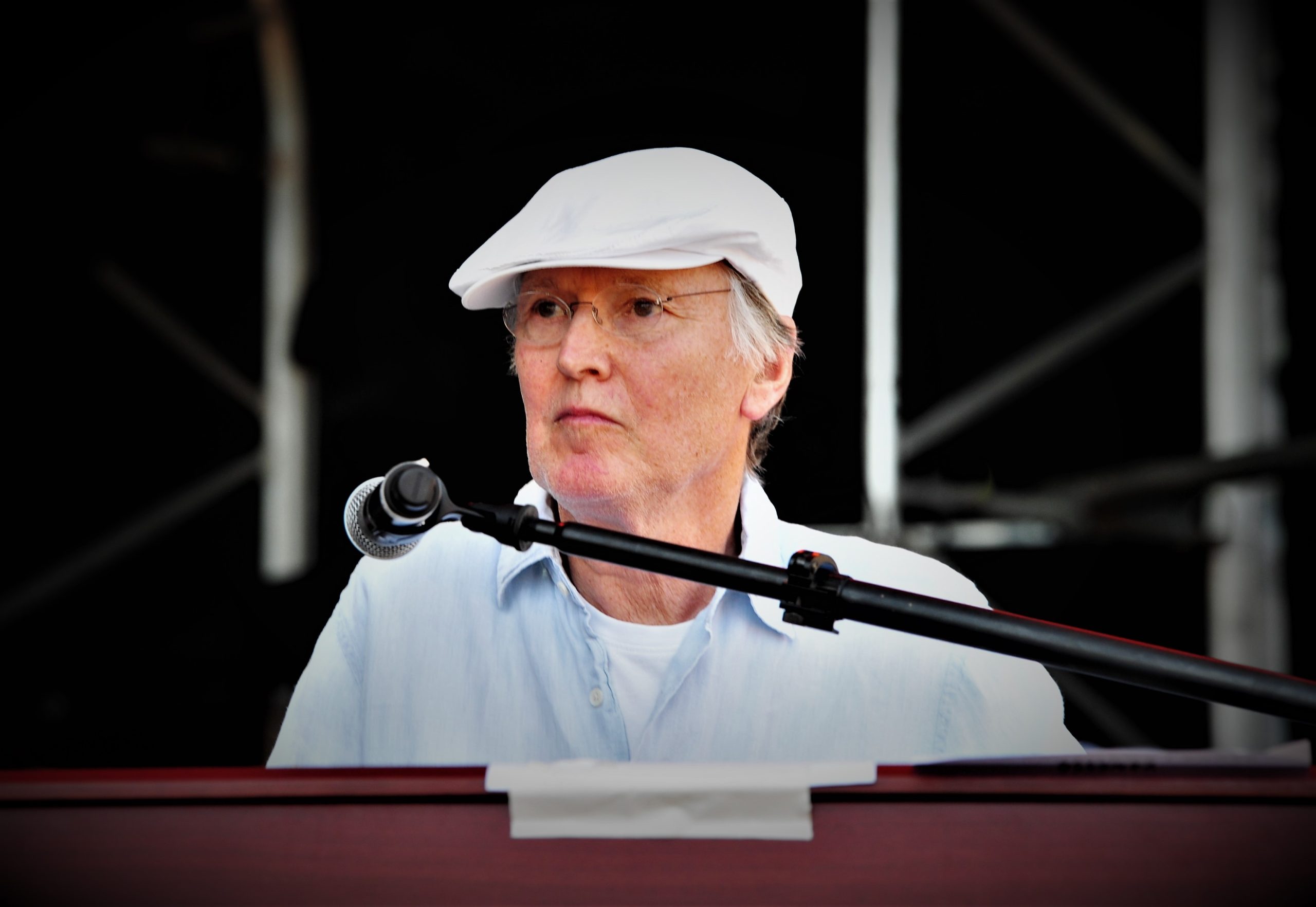 Mr Winwood started with the classic Timmy Thomas track, "Why Can't We Live Together", a single I bought back in the day…..with the intro featuring those piercing single notes on the organ. Then his big hit, "Higher Love", most of the crowd singing every word.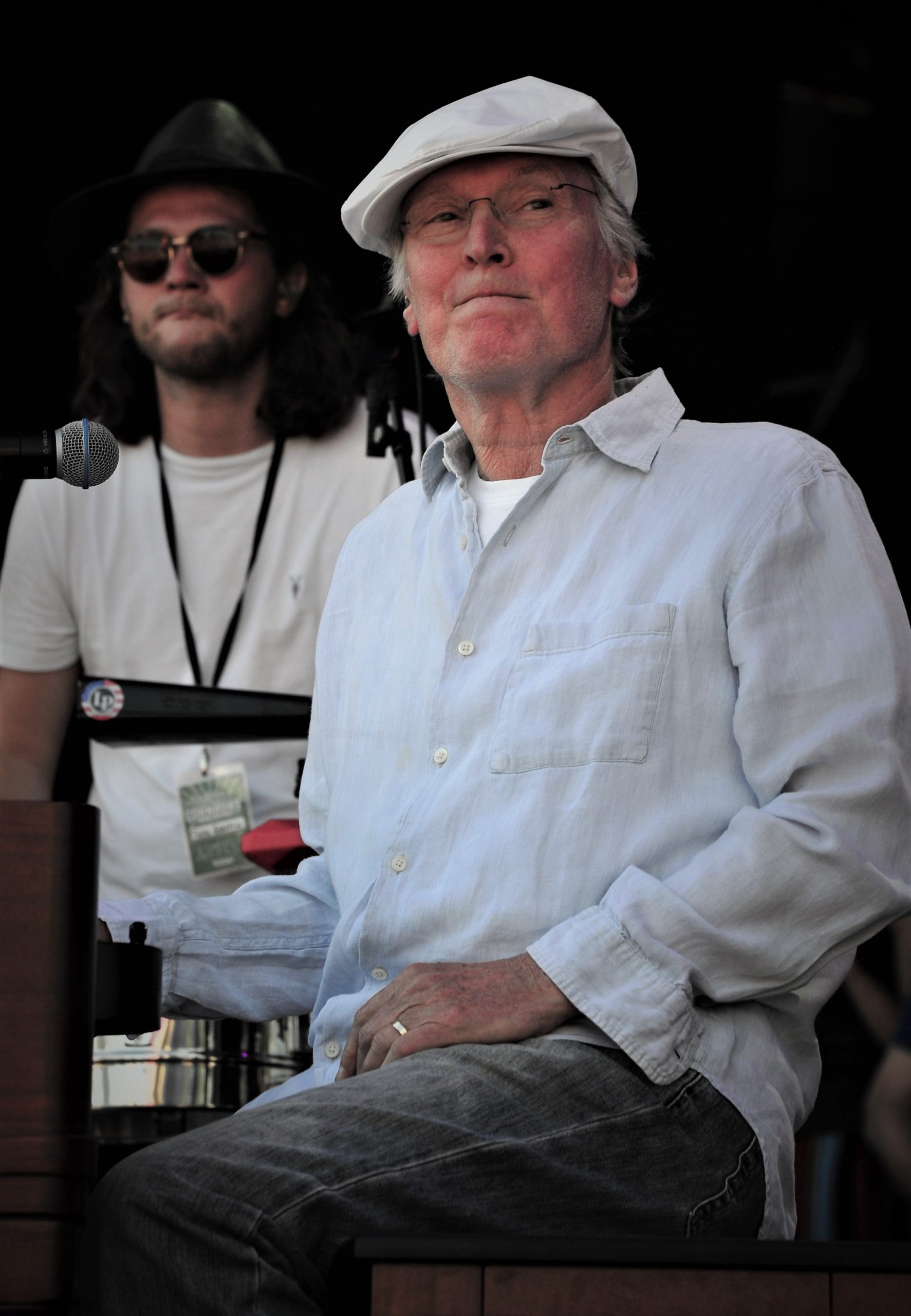 He dedicated the Procul Harum hit "Whiter Shade Of Pale" to the late Gary Brooker. He closed his slice of the set with The Spencer Davis Group's iconic "Gimme Some Lovin' ". That bass line sticks in the brain, eh? You are humming it now, aren't you?
Staks  – who today numbered at least 17 people on stage – usually play the second stage at Cornbury and have done for many years. Always with a star guest singer. Previous guests include Joss Stone, Mica Paris and Beverley Knight MBE.
Today they have Mr Winwood, Ms. Bell, Louise Marshall (from Jools Holland's band) "Vanessa H" and FM's Steve Overland.
Irish Pop Royalty Ronan…
Boy band and pop solo darling Ronan Keating took a break from co-presenting BBC TV's The One Show to grace the main stage with his set on day three, fresh from a festival in Norway which he told the crowd was hit by torrential rain, but he had come to scorching hot Cornbury to dry out and "feck it all up for you". He did far from that; never on my radar as a singer, but I must admit his set was a triumph and very enjoyable.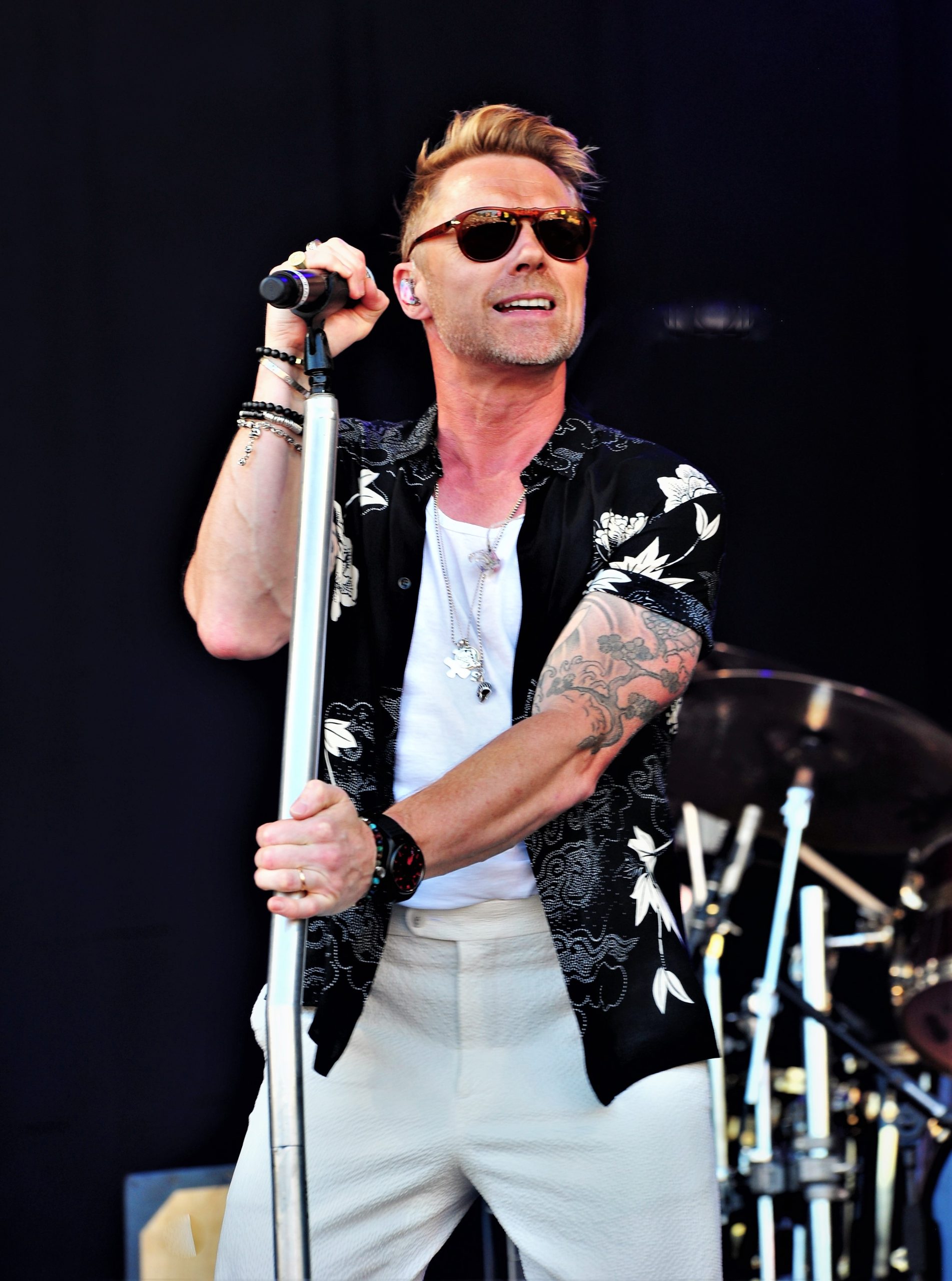 Really cool vocals, great players around him and a mainly up-tempo set apart from a deep dive back in time for the Boyzone boyband ballads. The ear to ear grin on Ronan's boat race as he looked out at a sea of happy faces singing along to his tunes told its own story.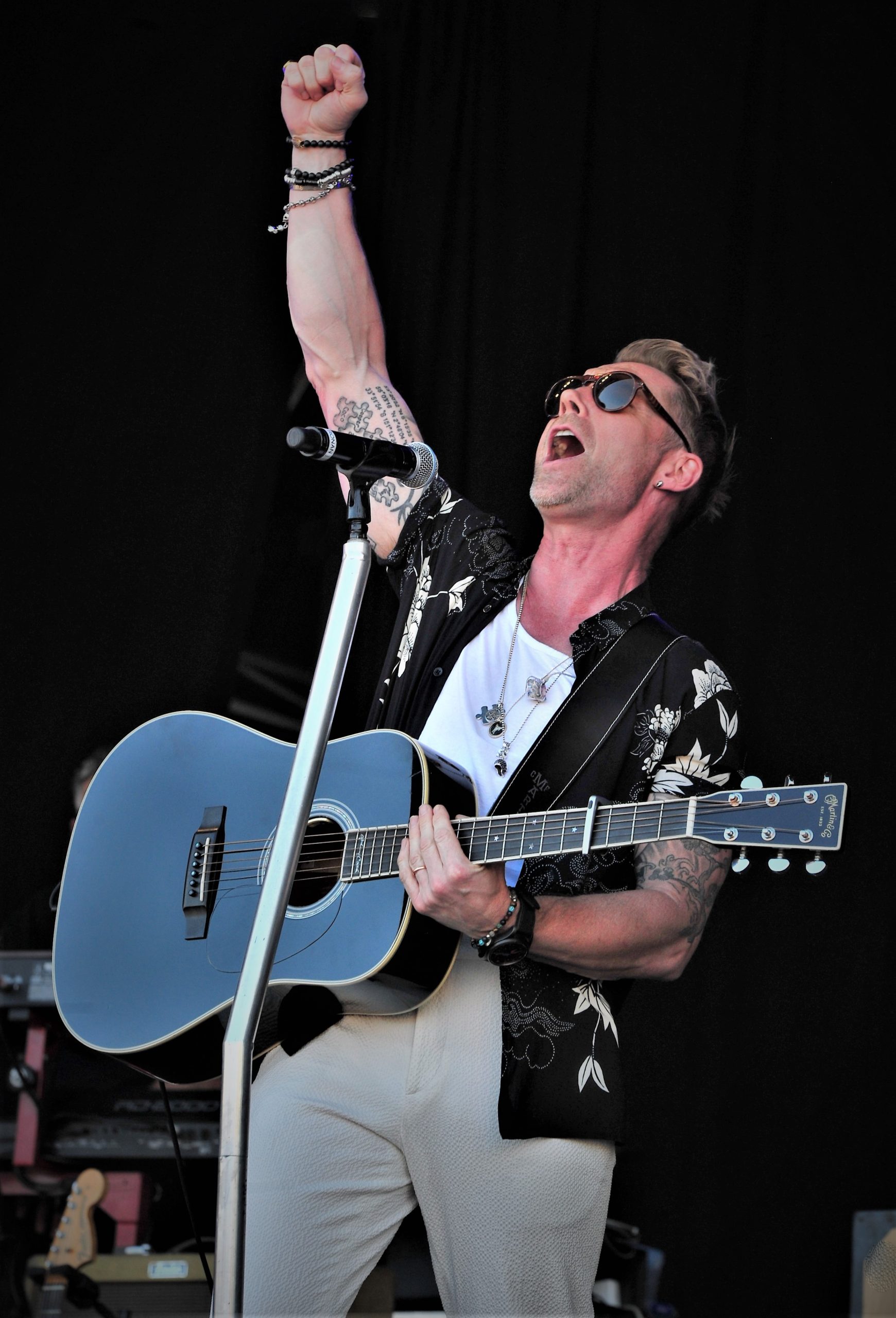 I have been singing his hit "Loving Each Day" ever since! Bloody earworm. Nice sight backstage when Ronan arrived and was given a bunch of sunflowers from an admirer, which he took up the up the steps to the main stage.
Caffè Nero patrons were treated to a lovely lineup for day three, including Say Anise (who was not too well, but managed her set superbly), Hollie Rogers, who our man Alex Asprey tips and says she has a "gorgeous voice" and really held the room.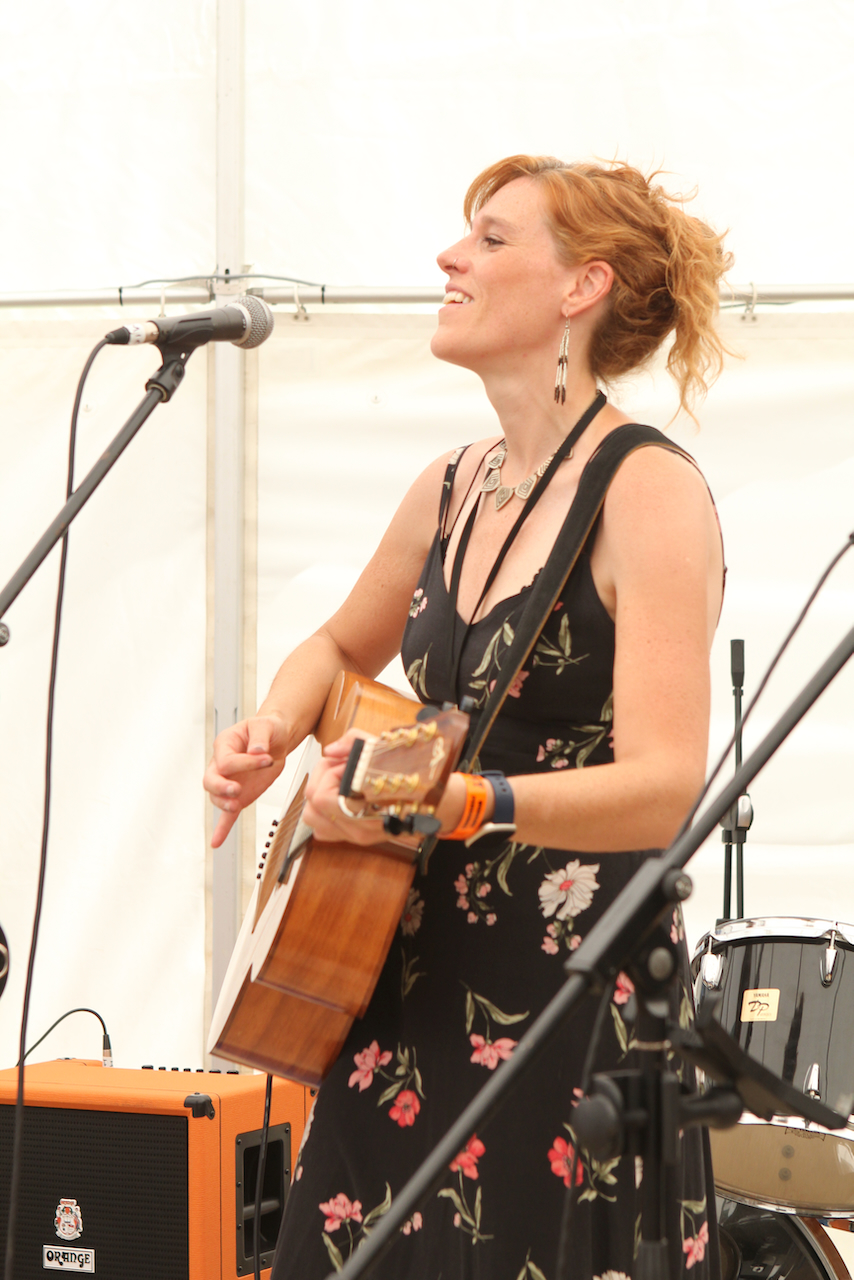 Also on the Caffè Nero stage, Sheffield lass Kat Eaton was popular.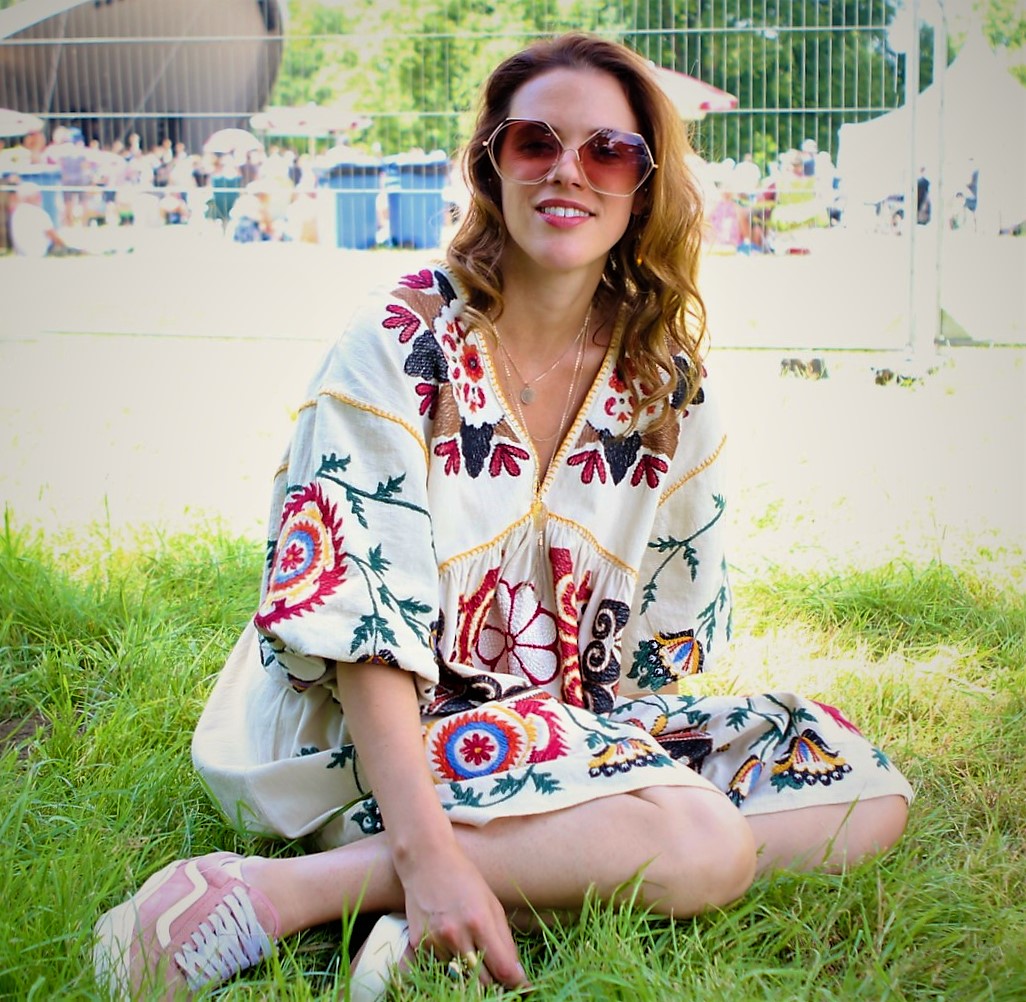 The Dunwells – the well travelled Leeds brothers' duo – packed the place and did a great job.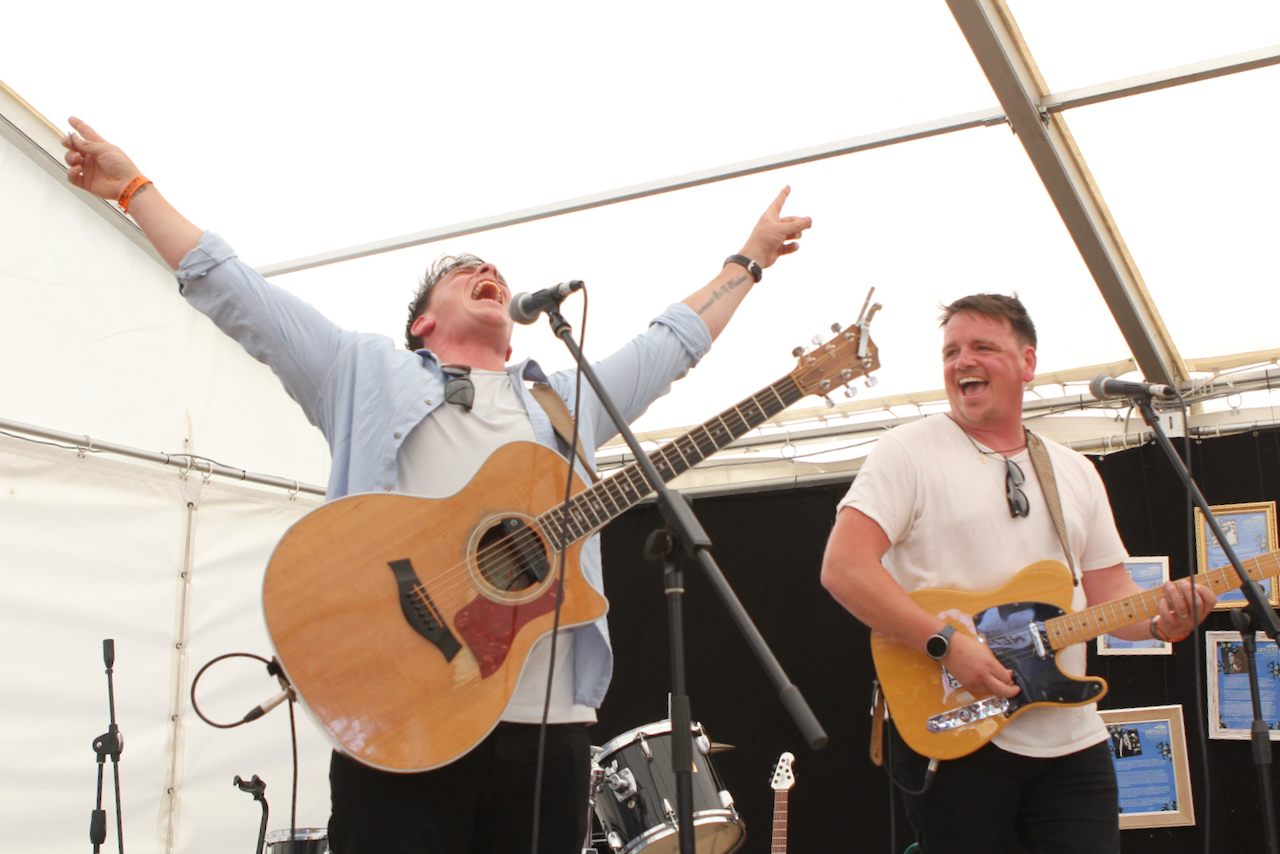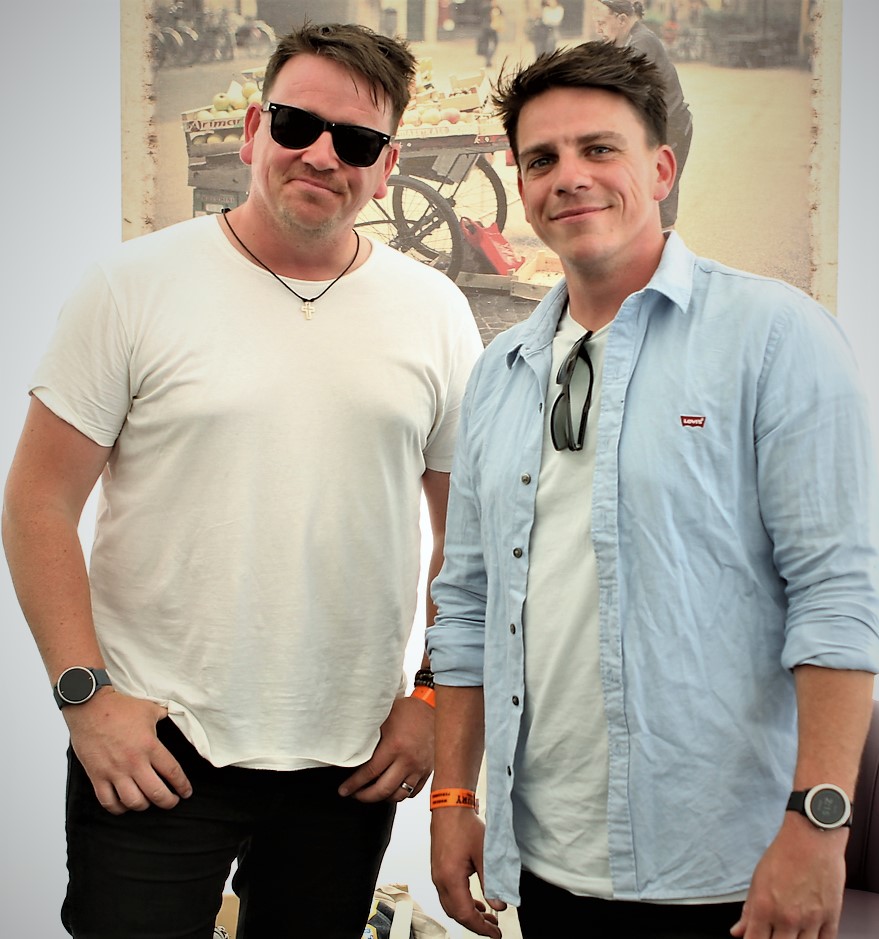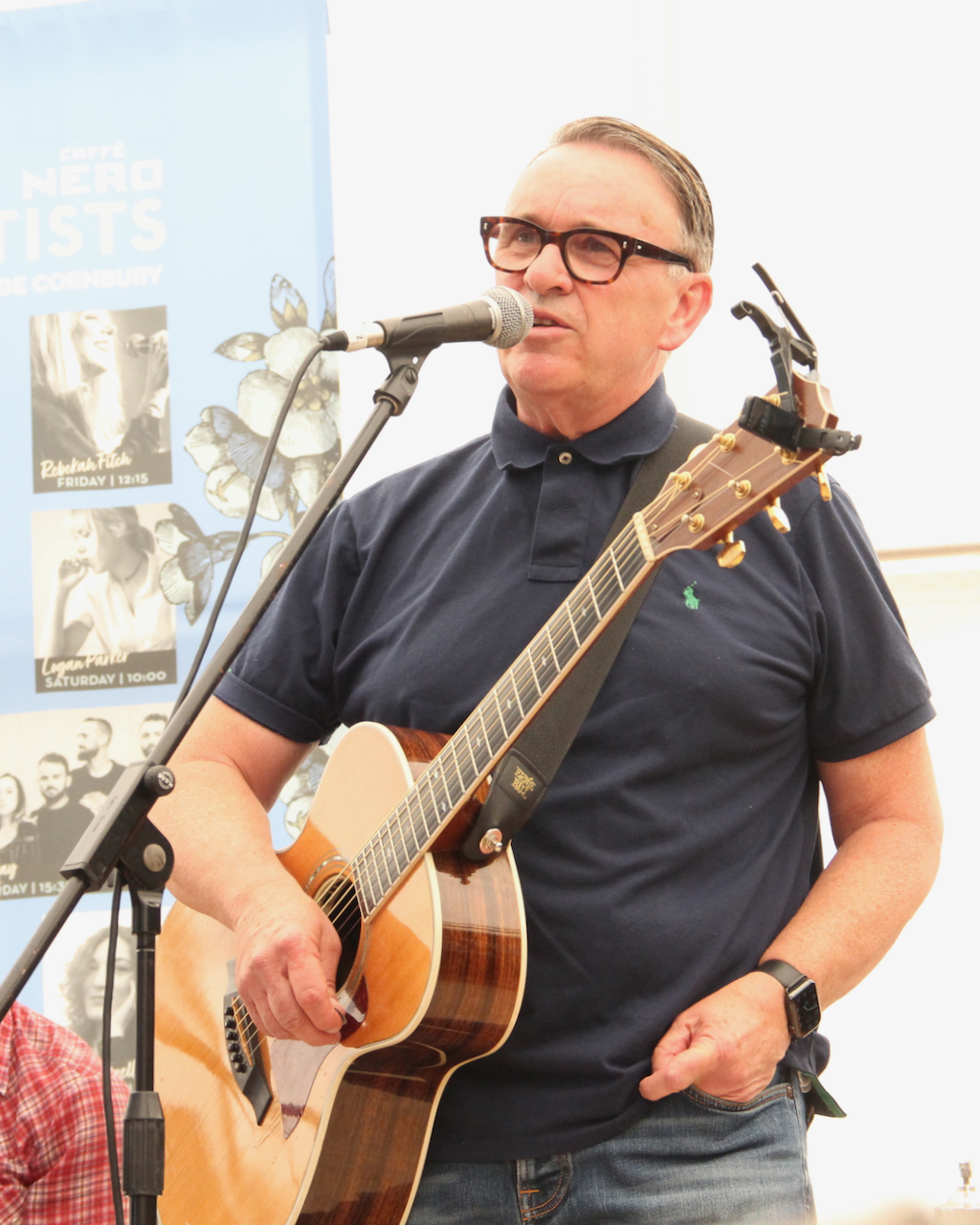 Squeeze star Chris Difford was headliner on the Caffè Nero stage before his main stage guest spot later that night with Jools Holland.
To close the night on a chilled note at Caffè Nero, Migdalia's Jazz Club gave a classy account of themselves lead by drummer Migdalia Van Der Hoven. If they make an album, I'd buy it. She/they can really nail a groove.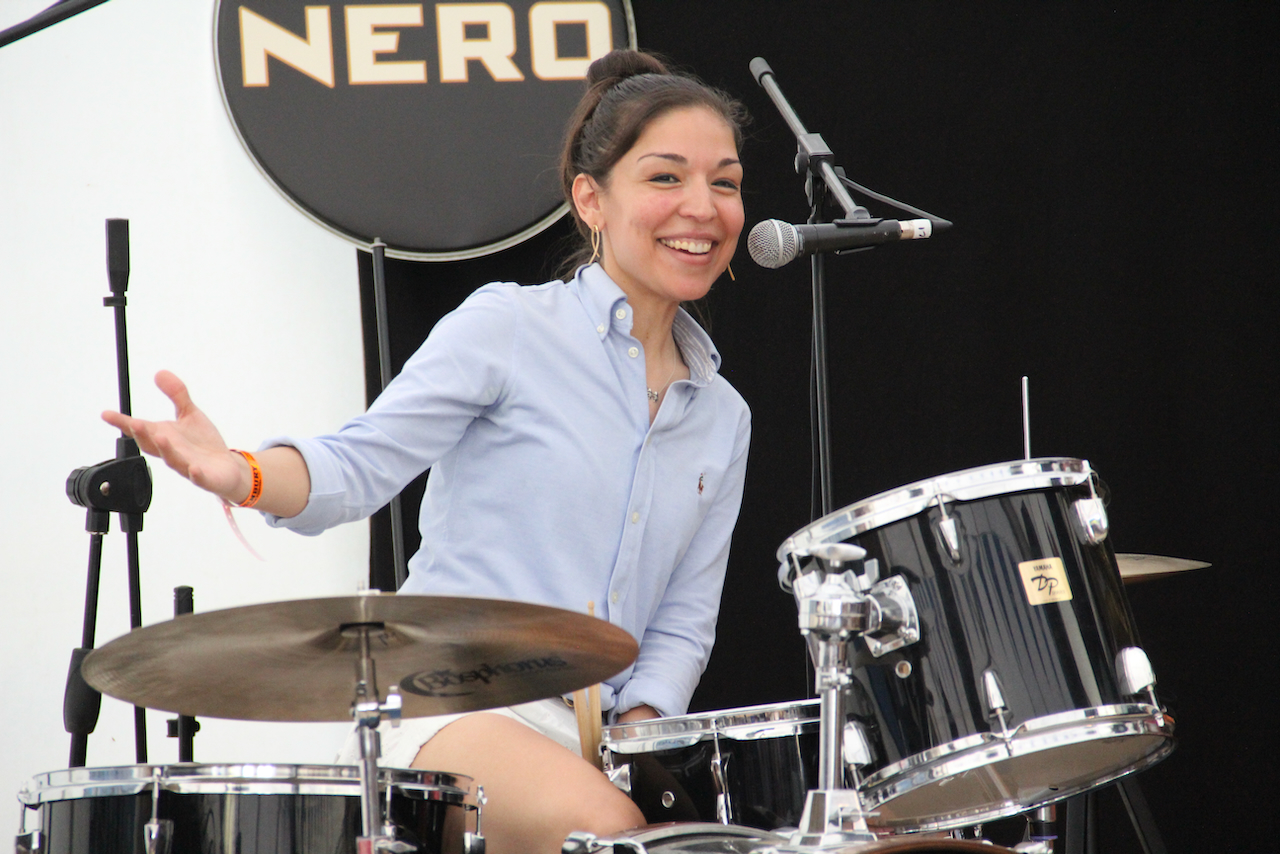 Late addition singer and songwriter Tony Moore did a good job too earlier, too. As promoter of live music at the famed Bedford in London, Tony does a lot to support acoustic artists and many singer songwriters owe a debut of gratitude to the man, a respected performer in his own right.
Caffè Nero boss Pablo once again did a superb job booking the array of acts across the three days. Bravo sir. He also performed each day, as Ivory Pablo & The Blue Notes, a very decent pianist.
Judie Tzuke and her daughters Bailey and Tallulah, both singer-songwriters like their mum, were sat incognito in Caffe Nero on Sunday watching Hollie Rogers, who Judie is said to be working with.
Bryan Adams and Simon Cowell Rumours… 
Rumours abound that Bryan Adams and Simon Cowell were spotted at the Caffè Nero venue during the festival. In 2017, Bryan Adams was in there, sat watching and videoing Twinnie, the former Hollyoaks actress and now a celebrated country artist. Bryan shot the photos for her album cover.
Back in 2017, the place was rammed and there he was, sat in his Chelsea FC bucket hat, surrounded by fans with Bryan Adams tee shirts on, waiting to see the man headline that night, and no one, apart from a few staff behind the counter, recognised him.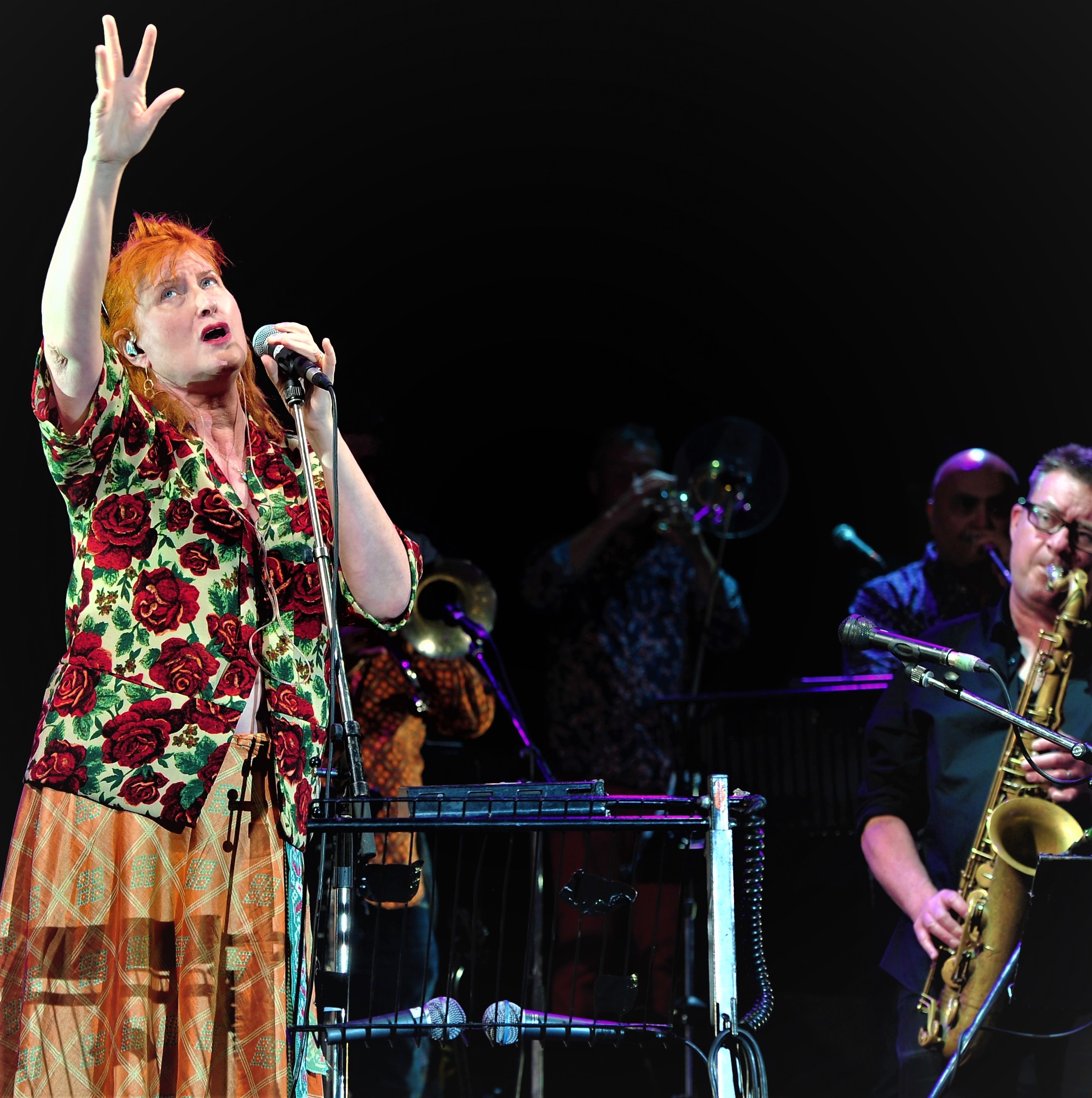 Over on the Riverside stage, 33 up and coming acts appeared across the three days this year. For celeb' spotters, David Cameron and his family are often at the festival, and spend time in the crowd watching the bands and artists. Not to be seen this year though unless he was tucked away in VIP.
Pity, because a punter in the crowd for Alice Russell and for The Magic Numbers was sporting a red Mohican hair cut and wearing a tee shirt with a slogan on it that read, "Don't Blame Me, I Didn't Vote Tory". Would love to have got a picture of Mr Cameron spotting that tee shirt!
The Beckhams were absent too, despite having a country pile literally across the road from the festival site. Harry and Megan had a cottage close by, as I believe do Boris and Carrie. Bryan Adams has a house in the area, as does Jack Savoretti.
Masterchef star Greg Wallace was spotted in the crowd….but tuns out to be lookalike Alex Asprey, our man with a camera and a penchant for……banana and chocolate crepes! Greg'd have a fit…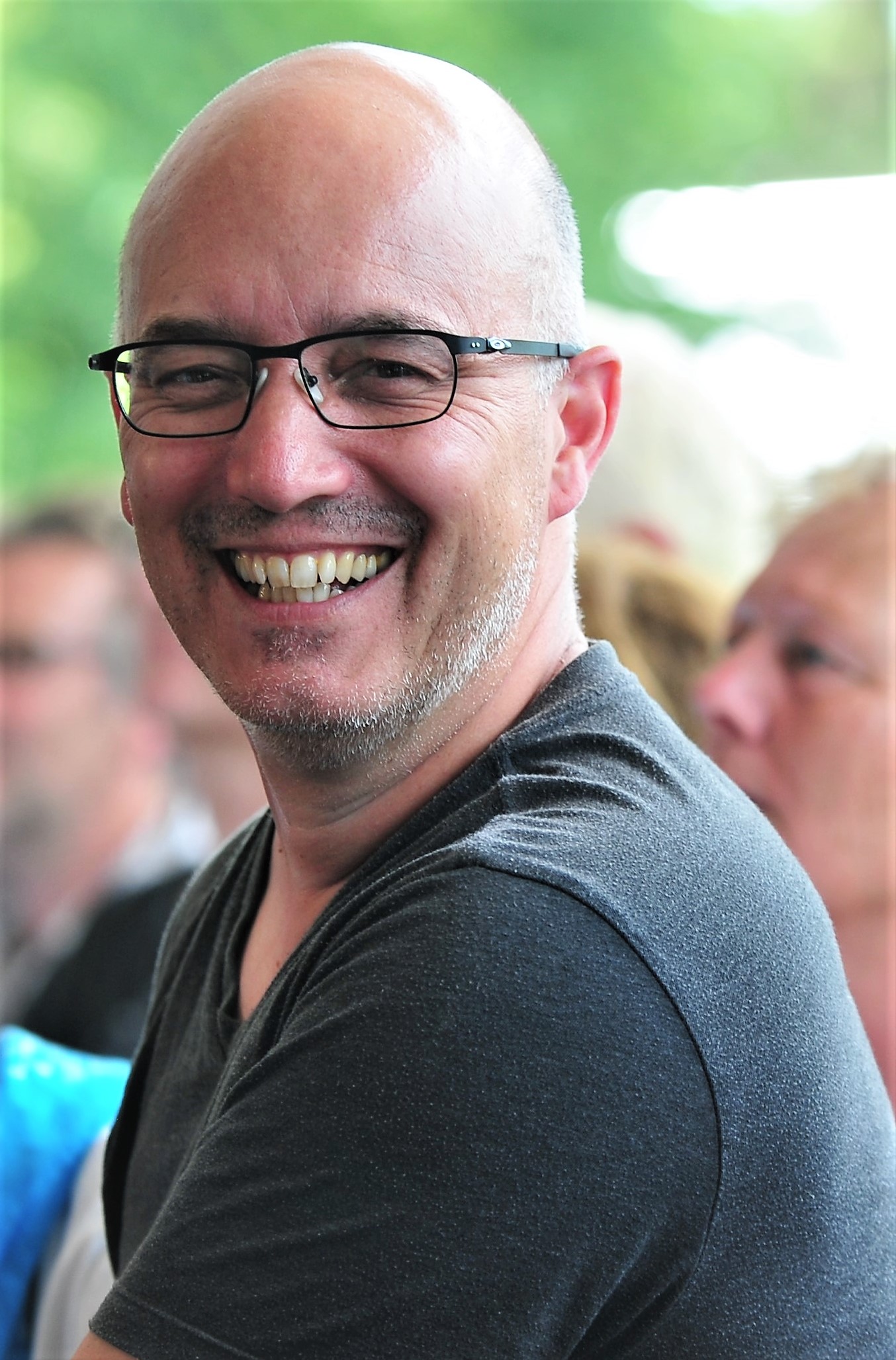 Jeremy Clarkson's farm and farm shop is nearby. I think Bear Grylls resides locally too. They were both at Cornbury in 2017, but not this time.
Squeeze trio reunion…
Jools Holland's special guest in his set to close the festival on Sunday were his former Squeeze colleague Chris Difford, after his headline slot at the Caffè Nero stage earlier that day. So there were three Squeeze guys on stage on Sunday night; Jools, Chris and drummer Gilson Lavis.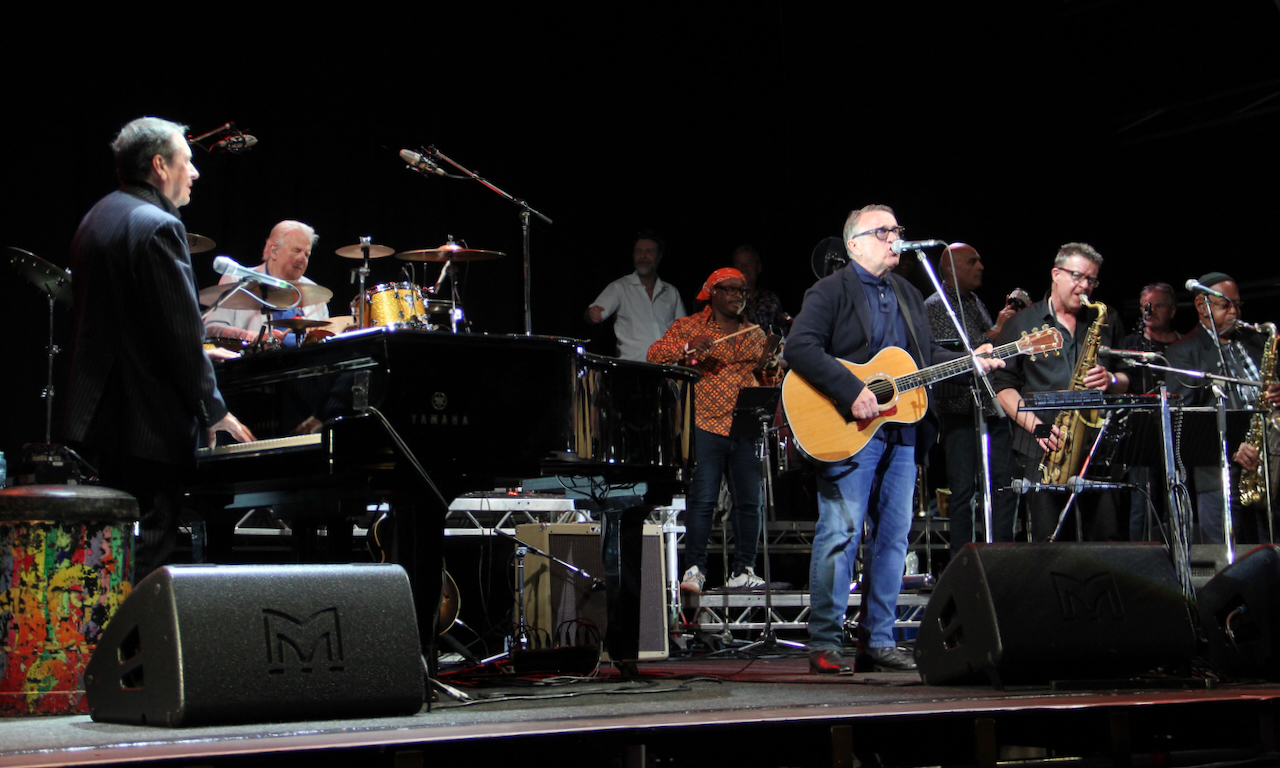 Also guesting with JH and his orchestra: the wonderful Eddi Reader of Fairground Attraction, whose version of Boo Hewerdine's gorgeous song, "Patience Of Angels", a solo hit for her in 1994 from her second album, was a high spot of the festival for me. She has such a great voice. Finishing her spot with the Fairground Attraction hit "Perfect". She was.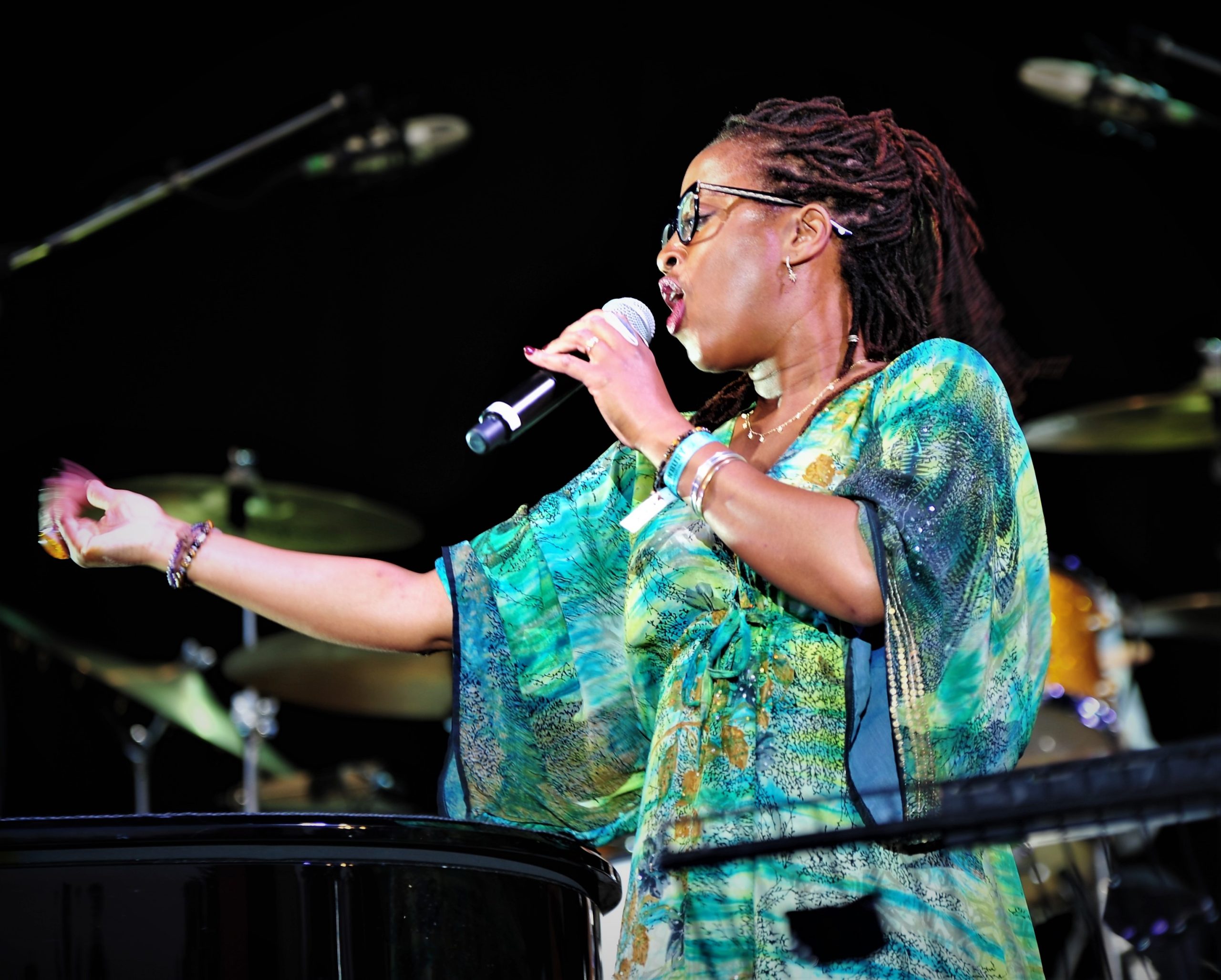 Louise Marshall, one of two backing singers for Jools Holland's orchestra, and the irrepressible Gospel queen Ruby Turner (the latter who popped across the grass to pose for some photos backstage in the afternoon, and again just before she graced the stage for her knockout performance) completed the roster of special guests.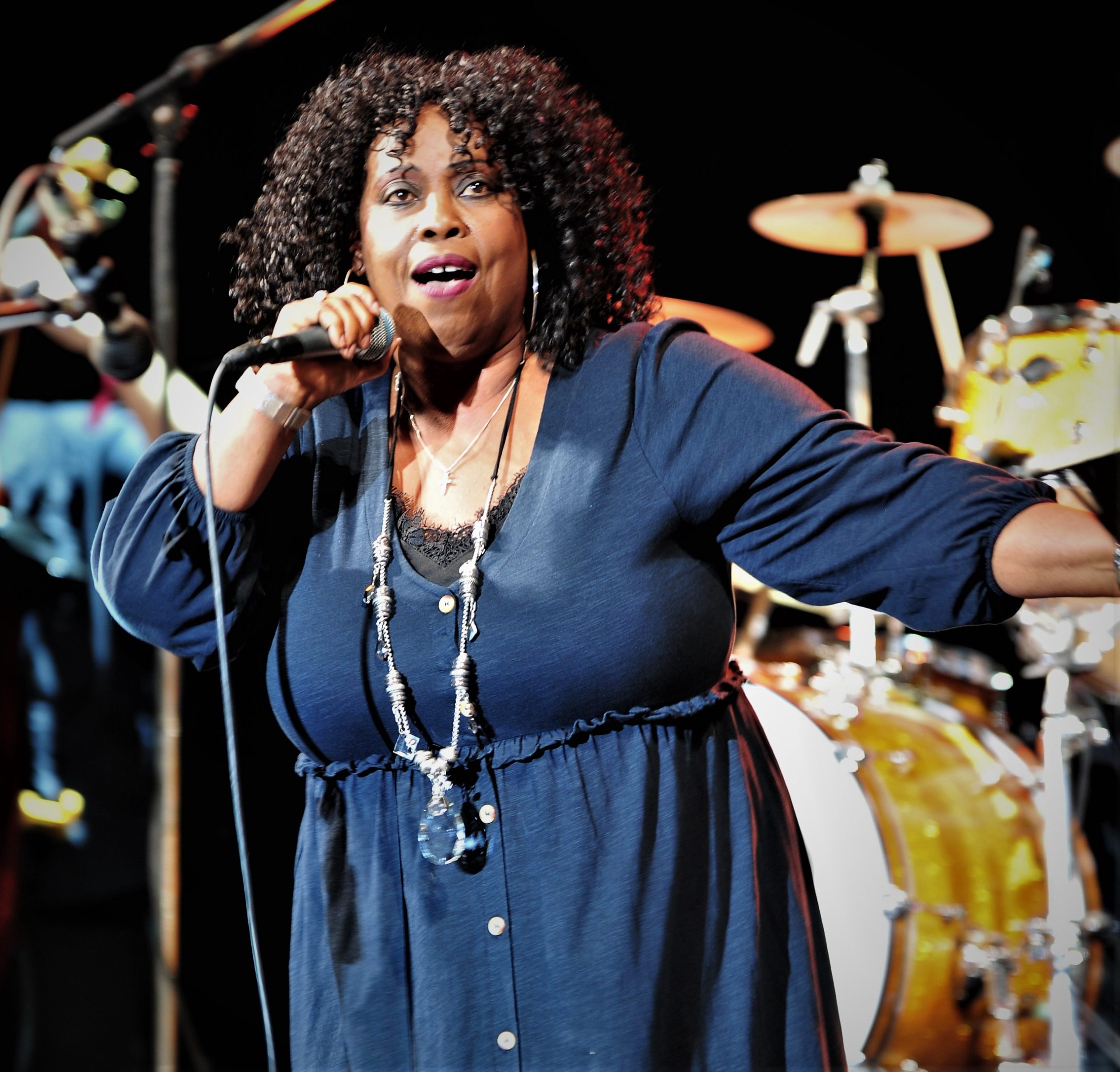 Once the live music had finished, we got a 15 + minute spectacular fireworks display and then the dulcet tones of Scott Walker ringing out across the park from the main stage PA system singing the poignant "No Regrets".
The melancholic "There's no regrets, no tears goodbye…" refrain in the chorus not lost on the 20,000 folk flooding out of the site or going off to their tents, for the very final time of this festival. Factoid: The song penned by Tom Rush, the 11th single for The Walker Brothers, released in 1975 and their first since 1967's "Walking In The Rain".….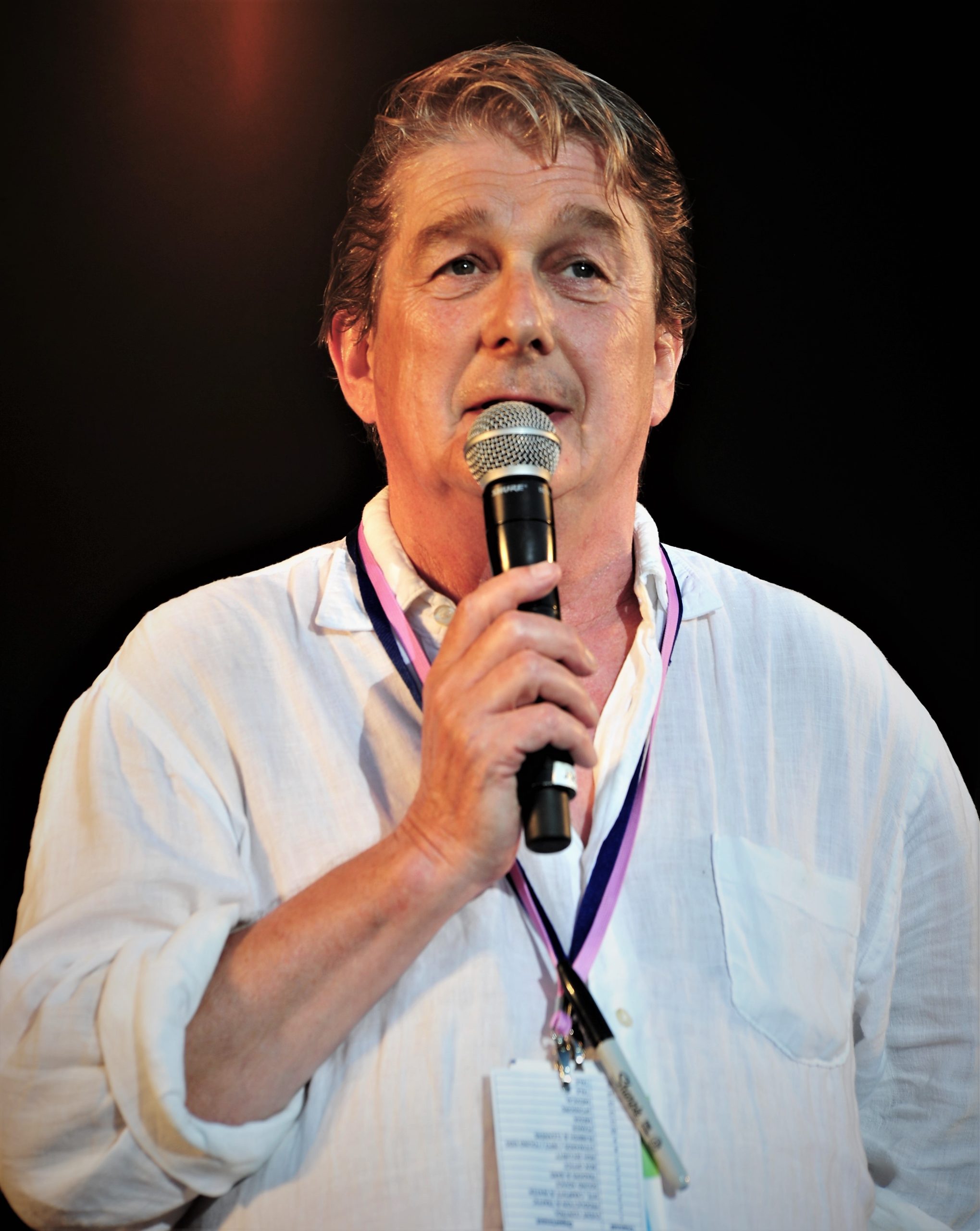 Lump in the throat time, once all the music had stopped, and the bangs and flashes were over and that really was the end of the glorious Cornbury festival. One of the nicest and most relaxed music festivals the UK has ever produced.
Bravo Hugh – Thankyou sir…
Promoter Hugh Phillimore brought the likes of Amy Winehouse, Joe Cocker, Paul Simon and many more superstar names to Cornbury. No mean feat.
But he always kept it as a friendly, family orientated, trouble-free event without the usual brash corporate sponsorship glaring at you every step of the site. It will be missed….
Last word to Hugh looking back at the "Last Hurrah": "It was amazing, incredibly hot and incredibly sad to say goodbye, but I couldn't have hoped for better weather and the line-up of our Cornbury favourites was the best yet.
"We saw stellar performances over the weekend from James Blunt, The Darkness, Mica Paris, Bryan Adams and Steve Winwood, amongst others, culminating with 20 hot air balloons sailing over the Great Tew valley as Ronan Keating performed. Spectacular fireworks closed the festival after a brilliant set by national treasure Jools Holland. A fitting end to a fantastic festival". Indeed….I think I have something in my eye….
See our coverage from days one and two at Cornbury 2022 in our "Live Zone"…But we are not leaving you with a sad image….this one picture for me, sums up the whole three days and captures the true essence of Cornbury and of the return of live music and festivals in particular after their loss due to the pandemic. Fun. Having fun. Writ large. Safe, family fun. Young and old. Legendary artists, future stars. Laughter is the best medicine….Oh, and music.Our snapper at large Mr Alex Asprey, or The AA as we call him, caught this moment when legend Geno Washington got naughty on stage with some banter with the audience. Priceless…
---
Words: Steve Best (Additional input Alex Asprey).
Photos:
Alex Asprey (Hollie Rogers, The Dunwells, Chris Difford @ Caffè Nero & on the main stage with Jools Holland, Migdalia, last Geno shot on the page, Kat Eaton.)
All other images: Steve Best.