Brooke Combe is looking likely to follow the success of fellow Scots Lewis Capaldi and Gerry Cinnamon…
* EXCLUSIVE INTERVIEW & PHOTO SHOOT *
Exciting Scottish singer and songwriter Brooke Combe is booked for nine summer 2022 festivals, currently on a 16-date UK tour with Miles Kane, has a big support spot to Michael Kiwanuka coming up in her home city of Edinburgh – and has bagged a slot at this year's Glastonbury Festival.
The 22-year-old has opened for Courteneers, The Snuts, The Coral (whose front man James Skelly produces her records) and has notched up a few million hits on social media. Recently signed to Island Records too.
All less than a year after her very first gig – which fast sold out and attracted 300 people – at Glasgow's legendary King Tuts Wah Wah Hut in August 2021.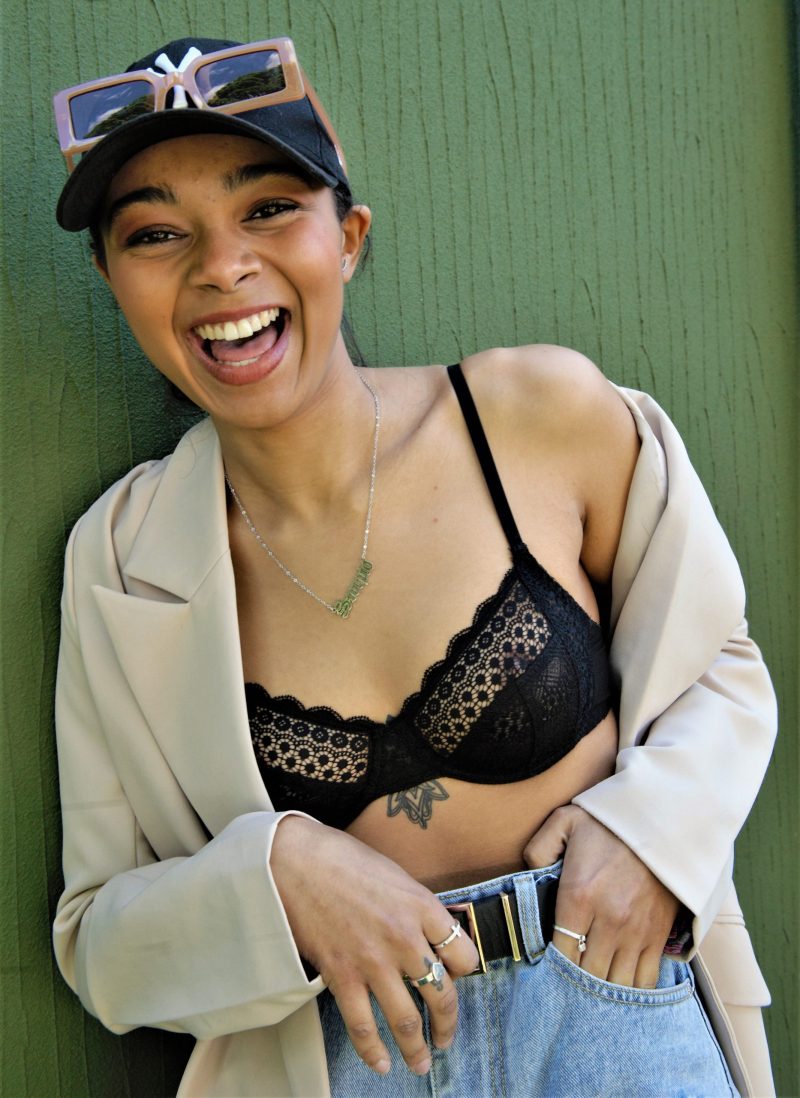 Brooke Combe – pronounced comb not coom, by the way – is well on her way to becoming one of the UK's biggest modern day music stars. Wind forward to 2023 when her debut album is expected, and methinks she'll be celebrating a Top 10 hit record.
Island Records Bagged Her…
Her five very strong singles so far, have created a loud buzz about this exciting young talent. There was keen interest from many record labels to grab her signature; Island Records winning that moniker on a contract. The same label as one of her two main influences, Amy Winehouse. The other early inspiration was Whitney Houston.
Check out current track, "Miss Me Now", a right old ear worm which in my humble opinion is a smash hit waiting to happen. Such a great hook. Brooke wrote it after seeing an old flame on a night out and ended up leaving the club with them. Not her best idea, she says!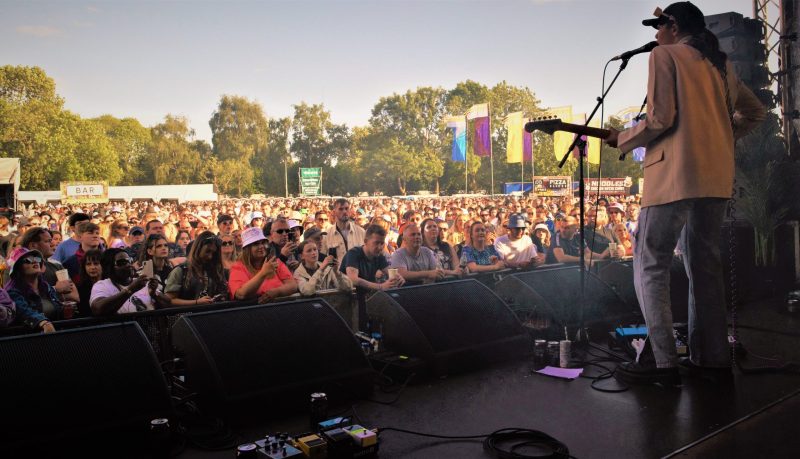 Go find the others too: Debut single, "Are You With Me?", topped the Official Vinyl Singles chart upon its release on 7". Since then, she has dropped "A-Game," "Used To Love Me", "Impress You", and the fabulous "Miss Me Now". All massively impressive opening statements.
A skilled multi-instrumentalist, Brooke discovered a love for music at just five-years- old, after getting her first toy drum kit. Eventually she taught herself to play saxophone, trombone, guitar, bass and piano while at secondary school, and soon began to discover her own voice too. Influenced by the '90s r&b played in her mum and dad's house, as well as the Motown her grandparents would play her.
Live She Is Dynamite…
On stage she can walk the talk too, having just caught her absolutely smash it on the third stage (Viola Beach) at Warrington's Neighbourhood Weekender Festival with her band, pulling in a huge crowd for a daytime spot.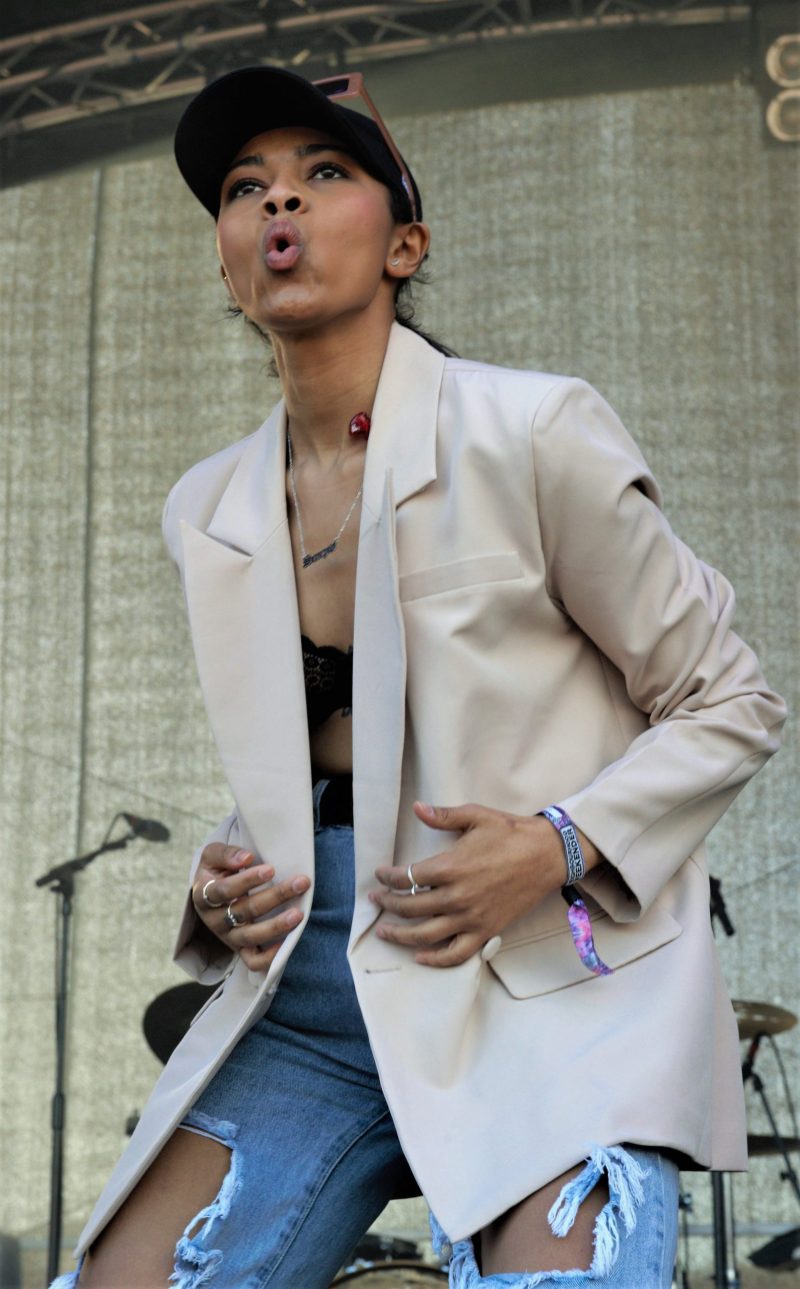 Brooke sat down with me backstage in the Artist's Village at the Warrington festival for an exclusive chat and photo shoot. She was bubbly, good fun and very down to earth – excited to be doing the thing she loves as a career.
We covered lots of topics, including tracing her start in music to the present day – and her lightning speed progress to be signed to a major record label, to be touring and to be playing to big crowds.
Working for her mother on the admin' side of a private care home business, she has had to let that go to focus full time on her music career as things were taking off at 100MPH for her. Home is in Edinburgh, but Brooke spends much time in Liverpool these days, where her band, her management and her producer James Skelly of The Coral are based.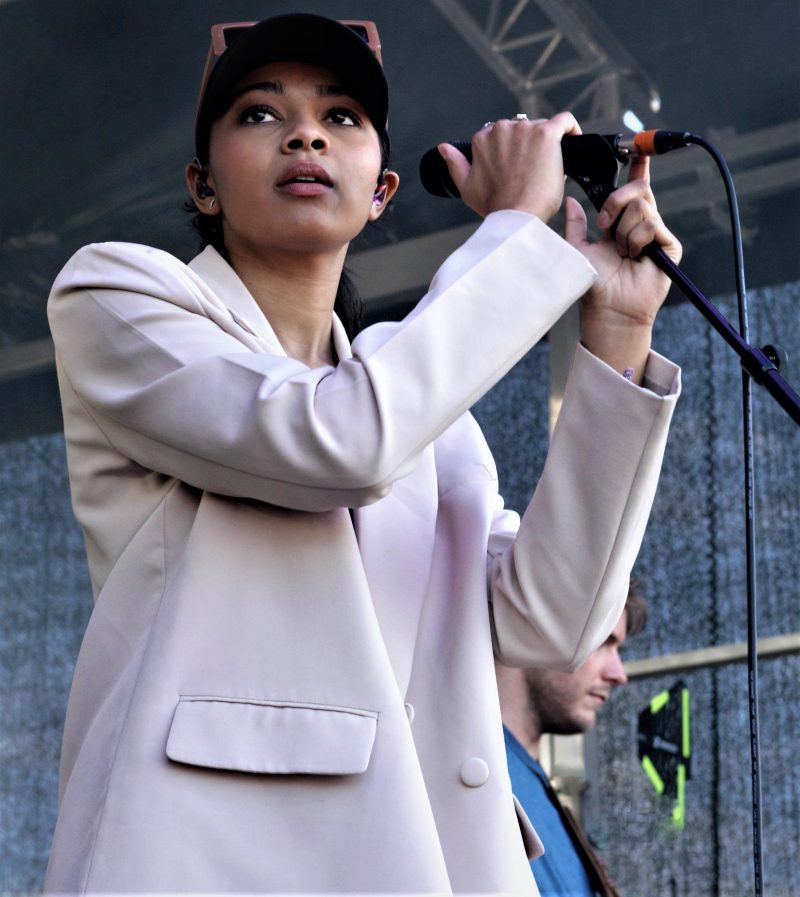 Brooke vividly remembers when she was just eight-years-old, hearing Amy Winehouse for the first time, singing "Back To Black" on the Playstation game SingStar. "That was my go-to tune on SingStar and I'd get 100% on it by the end of the tune. I was obsessed."
So, when was the 'light bulb moment' where she decided music was what she wanted to do for a living? "I was talking about this the other day. It was the band Haim, and I remember watching them live at festivals on YouTube, and I was thinking, 'wow, three women, doing what they want to do. Making tunes, playing instruments live, I want to do that, and obviously I'm there and so I am happy with that."
Your first gig: "Oh, yeah, that was King Tuts in Glasgow last August. It sold out, 300 people, from the social media exposure to me doing the cover song 'Yes Sir, I can Boogie'. Absolutely mental to go from nothing to a sold out first gig like that".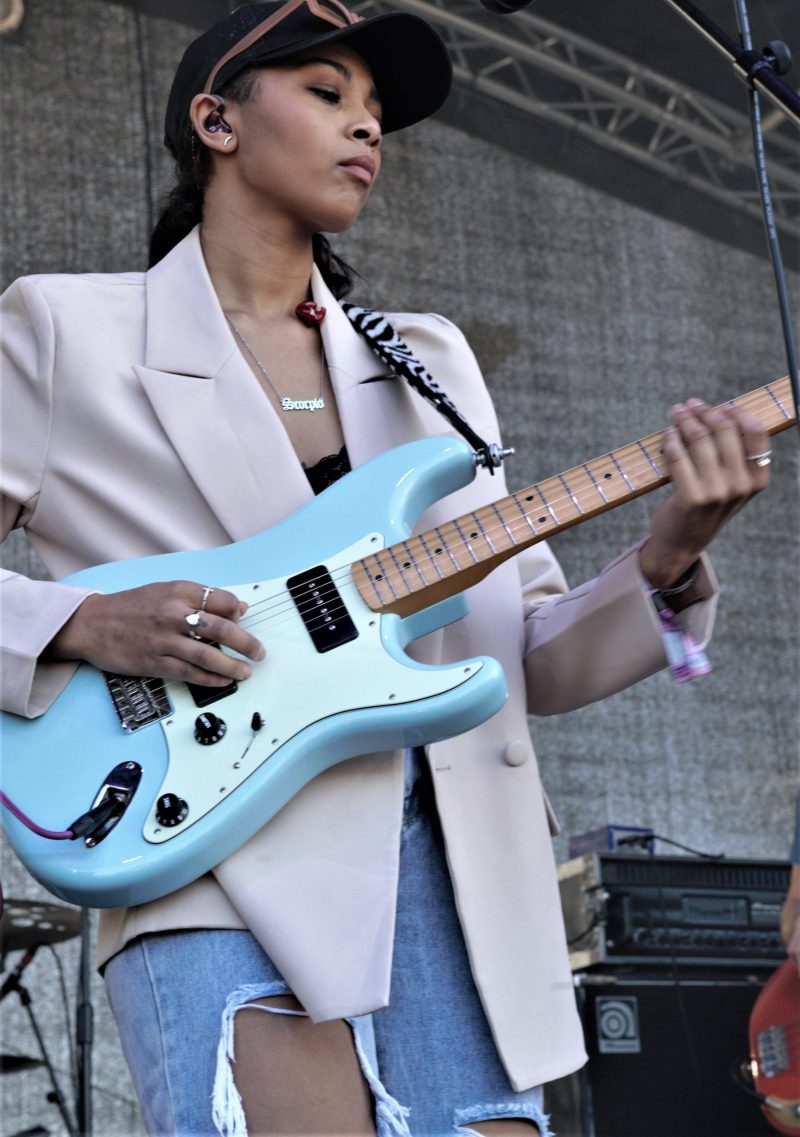 Brooke is associated with her national football team, after seeing a video clip of the Scottish players bouncing around to the 1977 Baccara hit , "Yes Sir, I Can Boogie", in the changing room after qualifying for the Euros, which prompted her to post a video singing and performing the song on acoustic guitar in her Edinburgh bedroom.
It instantly went viral on Tik Tok and Twitter. Sadly the Scottish team did not qualify for the 2022 World Cup, so any thoughts of a follow-up from Brooke are redundant. But it'll keep! She also has social media to thank for landing a manager, after she posted a cover of a Joel Corry song, which he retweeted, and which her manager saw.
She hopes to follow the success of Scots acts Lewis Capaldi and Gerry Cinnamon, both of whom came to fame via social media.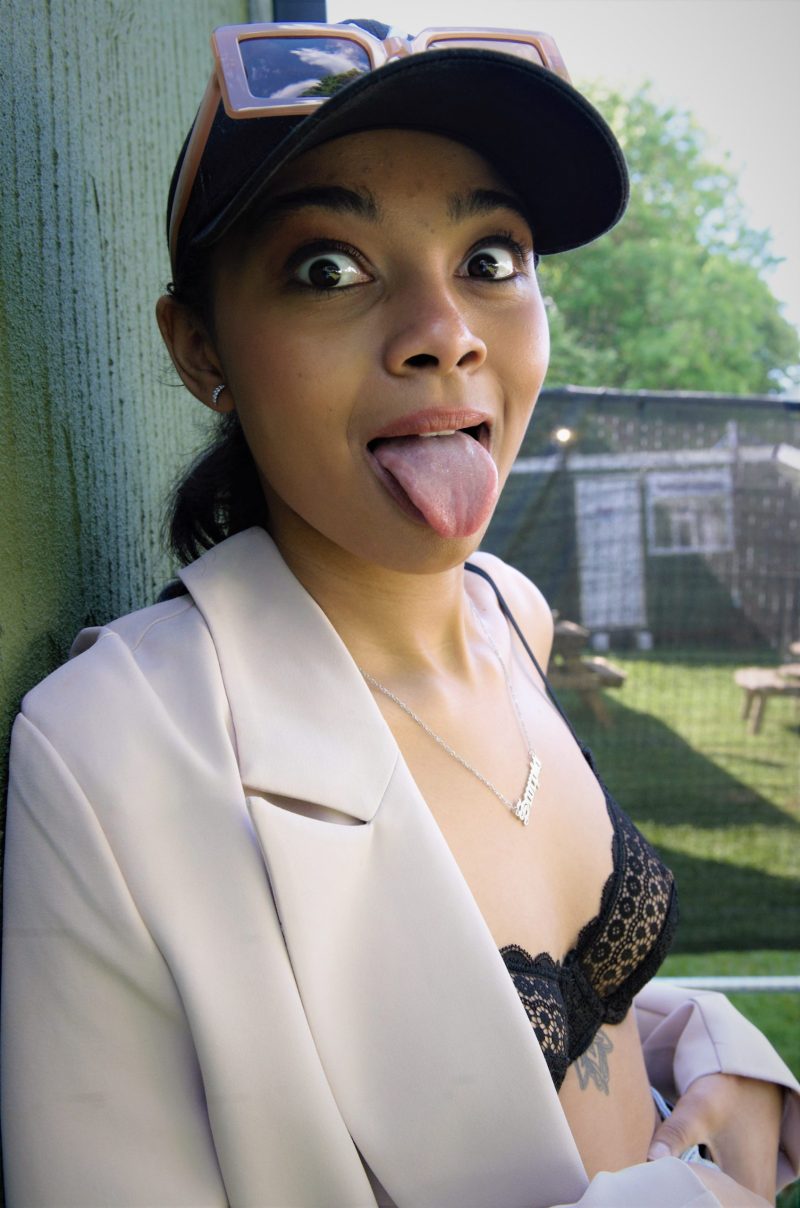 How was your lockdown? "Lockdown, as hard as it has been for people, including myself, it's been really beneficial in that sense of getting my tunes out and getting the name out there to be honest."
Following Amy…
Did she freak out when mega record label Island wanted to sign her? "The talks about signing to the label were a pinch-me moment, as we had meetings upon meetings with different labels for weeks, and then we were just like, Island is the one.
"I was like wow, I am only 21 at the time, and it was a huge thing and I felt really proud." Bob Marley, Amy Winehouse, Brooke Combe. Let's 'av' it!
She has already scooped one gong for her talents, with the Breakthrough Female prize at the Scottish Music Awards. How did that go down? "When I got it, I was a bit like, 'how?' I was madly confused. I am quite critical of myself, to be honest.
"The fact I am able to be here right now with you, I am just proud of that, do you know what I mean? I guess it's the icing on the cake (Scottish award), but hopefully there will be many more to come."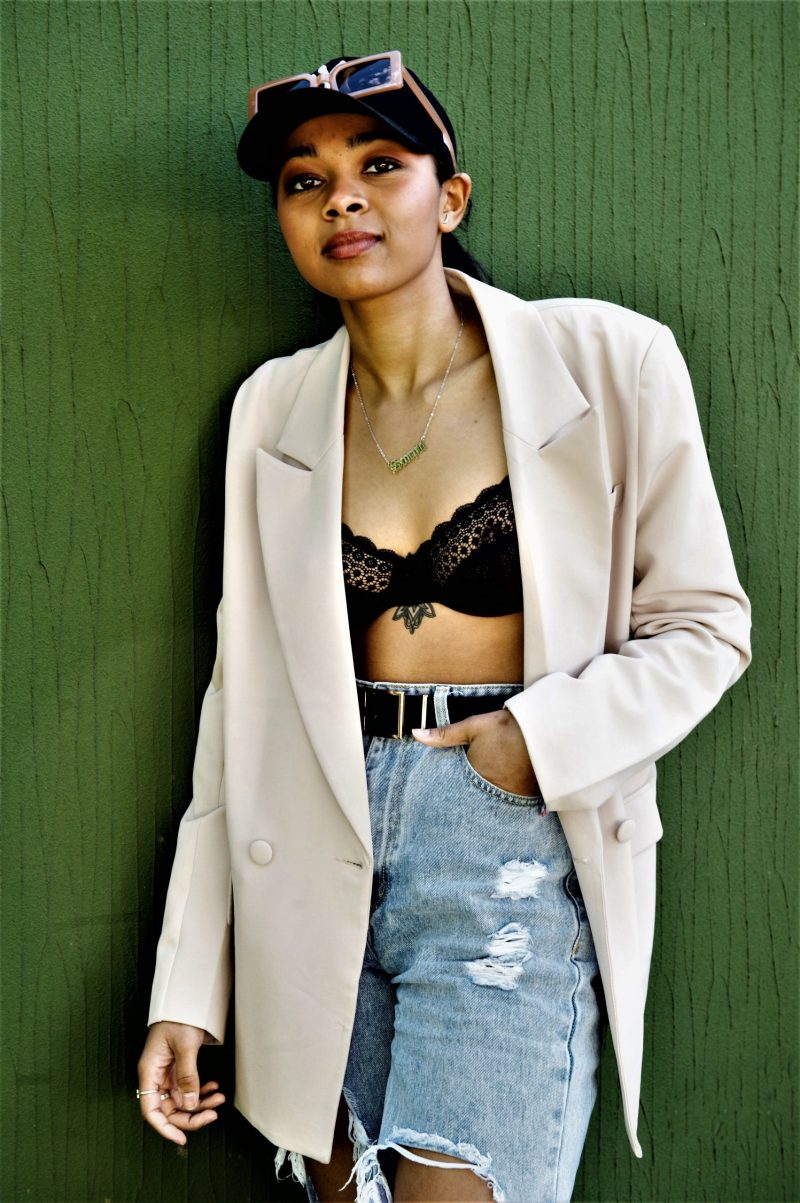 Yep, a Brit, Mercury Album Prize, Grammy etc. they are all out there and within reach one day, perhaps. Big dream, but dreams do come true. Talking of dreams. Who would be Brooke's dream collaboration? "Oh, that'd be Rihanna. Got to be Rihanna. She's boss. Amy, of course, if she were still with us….".
Also on her bucket list is to work with The Arctic Monkeys, after covering their anthemic song, "Why'd You Only Call Me When You're High?" and maybe to record a song for her fave football team Celtic and sing it at the ground on a match day.
"Finding My Sound…"
Brooke sees herself as "a soul singer first and foremost." She also fits in with the indie fans, having won their love by supporting a bunch of big names in that genre.
So, why wait until next year to bring out a debut album, when she is hot property right now? Brooke will not be rushed. "It's important to me to find that sound. I wouldn't want to make an album before I had."
So, you still feel you need to find that niche sound? "Yes. 100%. 100%. The core sound is soul, but the actual tunes are all very different. You are also gonna get some pop.  'Miss Me Now' is a real pop banger, and I guess I've been kind of put in with the indie crowd, because of the people I support, as well."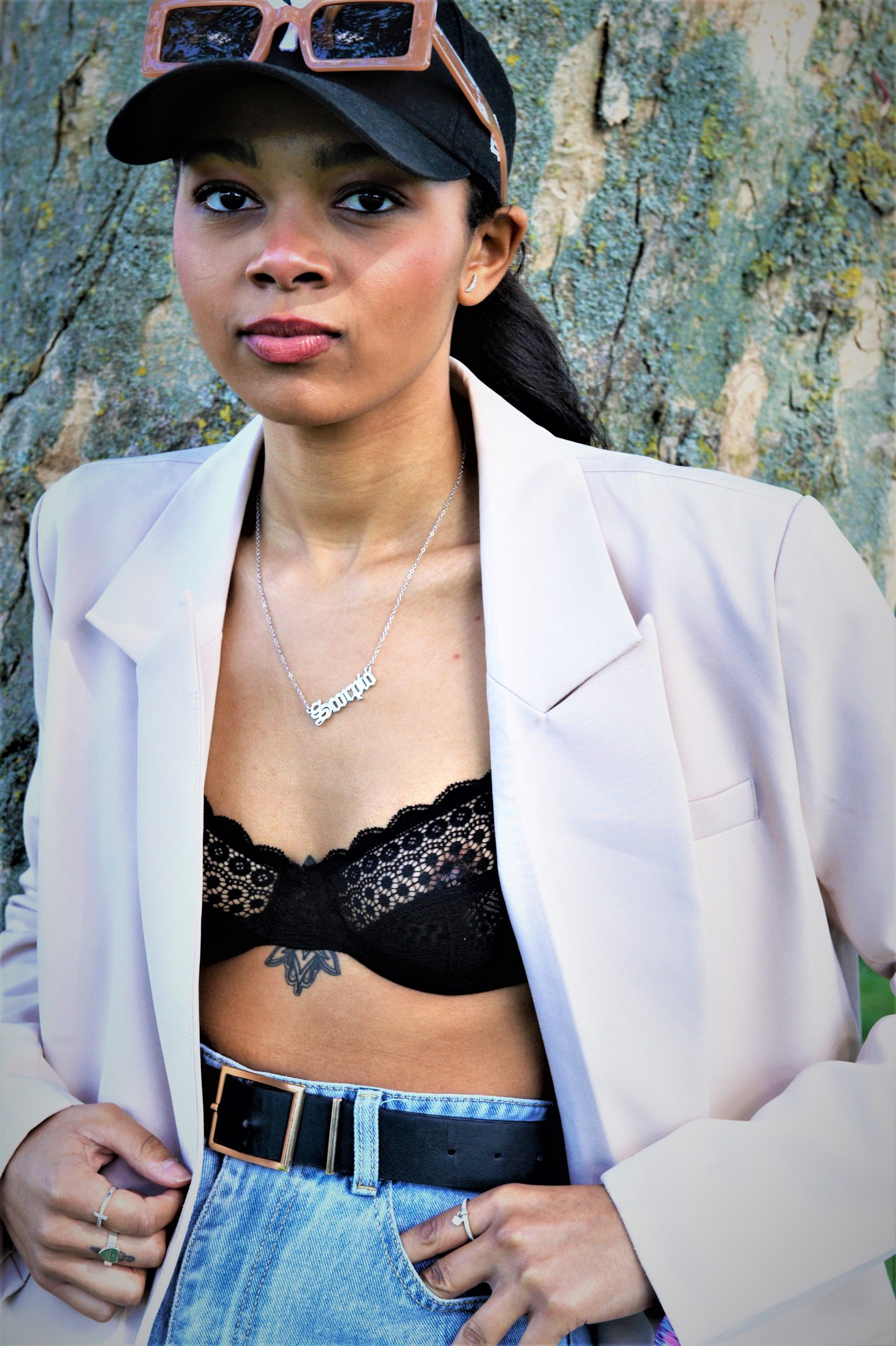 Brooke has penned around 40 songs that are ready to go, and more on the way soon. Her latest new song, "Talking 'Bout Heartaches" has a Northern Soul feel  about it, a song she is trying out on audiences on the Miles Kane tour.
"Talking Bout Heartaches, I'd hope to be a single. I have been in the studio in Liverpool with James Skelly a couple of weeks ago, after my manager Alfie sent me a few soul tunes and said the way the music moves, try a tune like that. I ended up writing some lyrics and we got that tune out of it. I love it."
So, how's the Miles Kane tour going? "Being on this Miles Kane tour, 16 dates total, my first ever tour, not even a year after my first ever gig – it's just madness. But I am feeling blessed. I am grateful. I'm just buzzing to be doing it to be honest."
The feedback from fans across social media about Brooke's performances on the tour are super, super positive. As they are for all of her released singles.
Simon Cowell Can Do One!
While many young singers who dream of fame and fortune will apply to audition for the TV talent shows such as The Voice and The X Factor, that route was never of interest to Brooke. "No. It's staged. I would say I am very authentic….."
Straight question then. How do you prove you are authentic and real? "Er, you'll see that at the shows, I think. I give my heart and my soul to be honest". I can attest to that being a factual statement, based on her brilliant set at Neighbourhood Weekender just under a fortnight ago.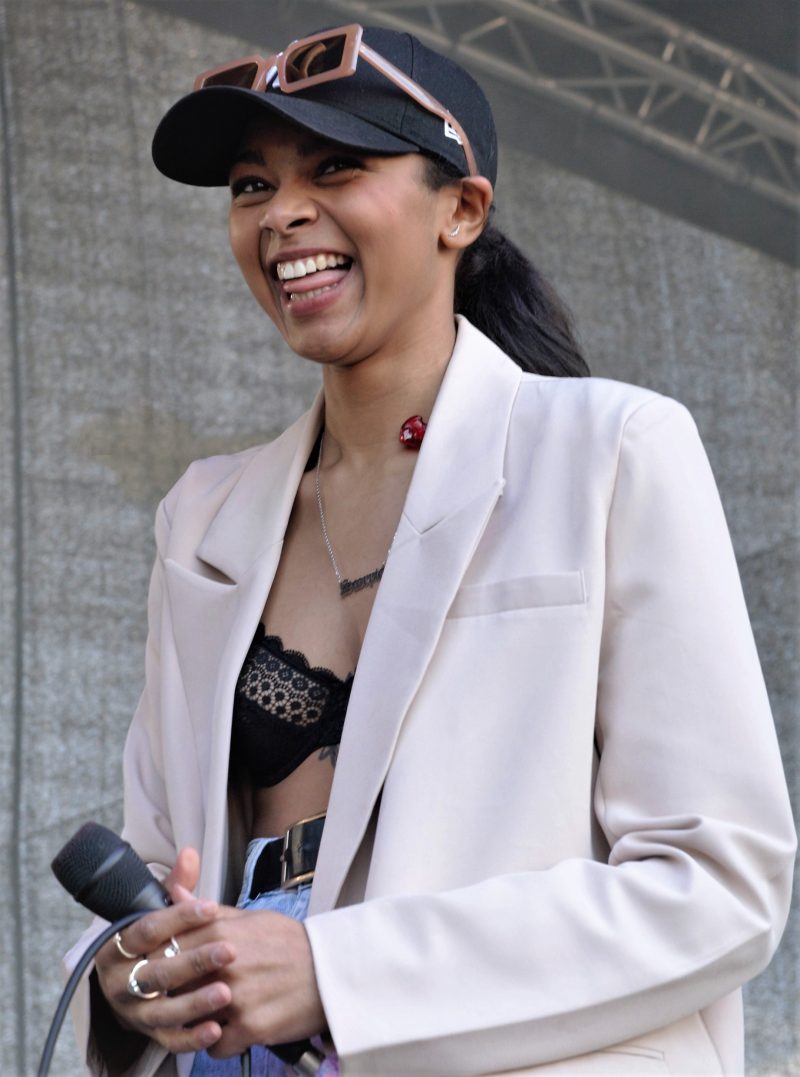 Getting to the end of our chat in the sunshine, let's see what ambitions/dreams/plans Brooke has for career. "I want to just release (sic) some albums and play at huge fucking crowds to be honest mate. With my mates; my band are my best mates now. Two Scousers and my drummer is from Bermuda."
I tell Brooke that I was first or very early to cover the likes of Lianne La Havas, Maverick Sabre, Jess Glynne, Valerie June, Gregory Porter and other (now big) stars in the UK, and to predict huge success for all of them.
Jess Glynne played me tracks from her then, as yet unreleased debut album on her iPhone on the back seat of a tour bus, a year or more before it was released. I told Jess she had a bunch of number one singles on that album. Proven correct when many of those tracks were smash hits.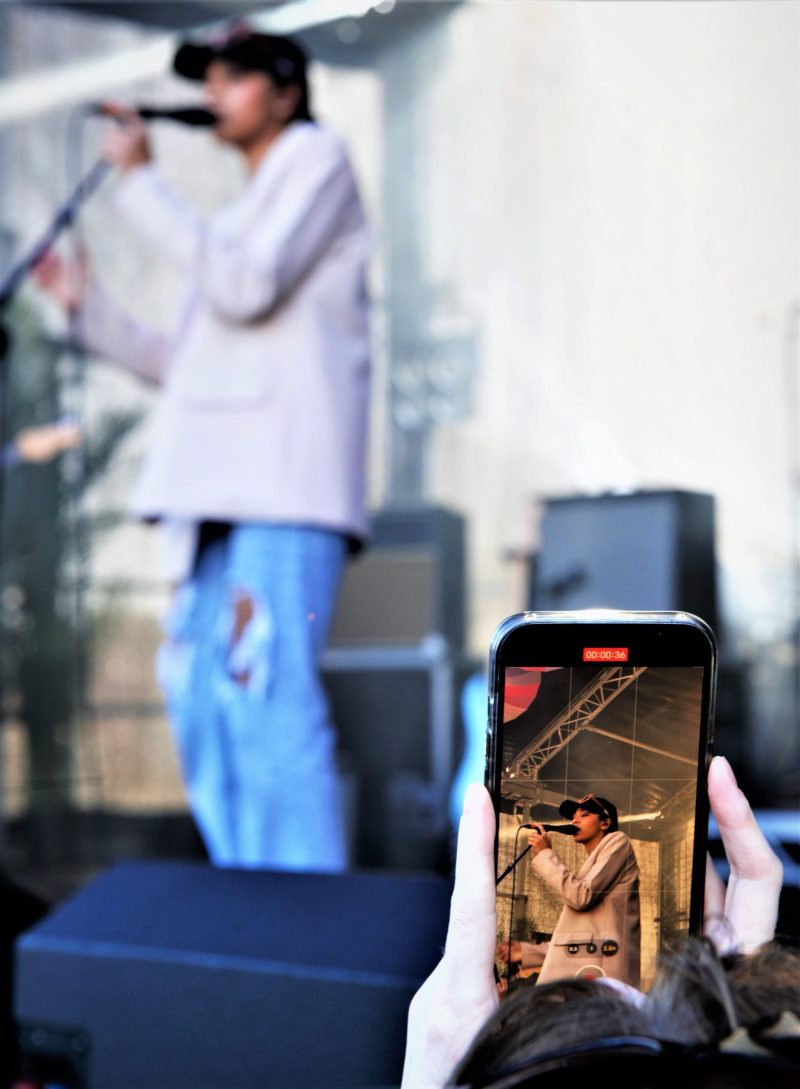 I end our chat with this comment: "Brooke, I will say the same thing about you. You will be a major music star one day. I am 100% sure of it." She responds with sincerity: "Oh, thank you very much. You're giving me goose bumps here".
I'd bet my last dime on it!
Words & Photos By Steve Best
---
See Brooke Combe at the following UK festivals in 2022:
22nd June: Glastonbury Left Field stage (5pm)
8 July: TRNSMT, Glasgow
21 July: Truck Festival, Abingdon
22 July: Tramlines, Sheffield
29 July: Deer Shed Festival, North Yorkshire
30 July: Kendal Calling, Cumbria
31 July: Y Not Festival, Derbyshire
14 Aug: 110 Above Festival, Leicester
1st October: Neighbourhood Festival, Manchester