Steve Ellis (born 1952) is a British poet and literary scholar and Professor of English Literature at the University of Birmingham. He is known for his works on Chaucer, Virginia Woolf and T. S. Eliot, and also for his verse translation of Dante's Divine Comedy, published in 2019.
Or there's Steve Ellis the American comic book artist and illustrator who has worked for Wizards of the Coast, DC Comics, Wildstorm, White Wolf, Moonstone Books and Marvel Comics.
But here, we are dealing with British singer/songwriter and band frontman Stephen John Ellis who was born in Edgware, North West London on 7th April 1950, and is perhaps best known for his lead vocals with The Love Affair and their timeless smash hit, "Everlasting Love", recently used on the sound track of the award-winning film and box office hit, "Belfast" (see the video, below).
Today, our Steve Ellis is 72 and based in Brighton with his wife and son, and his huge record and music collection, much of it from crate digging in record stores all over the country when on tour.
He's still touring, still in very good voice and still writing songs. In fact, he just penned the lyrics to a belting new track with his old mate of 40 years, Mr Paul Weller, and that song, "Just To Simplify" which was written in lockdown and recorded in 2021, is a bonus track on one of the albums in a spanking new 10-disc box set of Steve's back catalogue, to be released by Demon Music Group on 27th May 2022.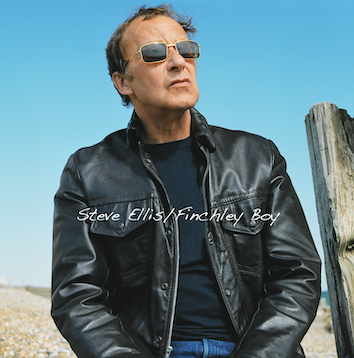 "Finchley Boy", this bumper 10-CD career-spanning collection from the geezer often hailed as one of the UK's greatest ever soul singers, features rare and new material, covering his work with The Love Affair, the band Ellis with Zoot Money, rock band Widowmaker and his latest album, 2018's chart piercing "Boom! Bang! Twang!" which features Weller as musician, co-producer and co-songwriter. Recorded at Paul's Black Barn studios. The new set also offers up Steve's solo albums.
Included is a signed print and a 36-page booklet with the full story of Steve's career, written by Jon 'Mojo' Mills, editor of Shindig! Magazine, based on extensive recent interviews with Steve. The booklet features photos from Steve's own archive.
When all of Steve's gigs and tours were scrapped due to the pandemic, and he spent the best part of 20 months indoors, to avoid climbing the walls with boredom he set about hunting down tracks and getting clearances to use his back catalogue for this box set, after first suggesting to one of the Demon Music Group bosses they release a four-CD set. Boss says no thanks….let's do an eight-disc set. In fact, "do what you want". So he did. For the next year+. Also digging out photographs from his extensive archive.
The impressive box set consists of 175 tracks, including, of course, The Love Affair's "Everlasting Love" and four more Top 20 hits, the band Ellis' "El Doomo" and "Good To Be Alive" and Widowmaker's "When I Met You".
Steve Ellis burst onto the pop scene in 1968 as the lead singer of The Love Affair. "Everlasting Love" hit number one on the UK singles chart that January, and was followed by four further Top 20 hits, "Rainbow Valley" and "A Day Without Love" (both 1968), "One Road" and "Bringing On Back The Good Times" (both 1969), and the album "The Everlasting Love Affair." All The Love Affair's recordings with Steve for CBS are contained on CD1 of this collection.
Steve left the band in December 1969 to pursue a solo career and made the recordings on CD2 with The Love Affair's arranger Keith Mansfield, and some with the band Hookfoot. Only a couple of singles (including a cover of Jimmy Webb's "Evie") were released at the time. Keith Mansfield also enlisted Steve to sing the vocals on his soundtrack for the film version of Joe Orton's "Loot" (CD3).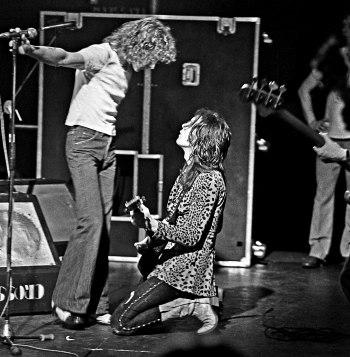 Steve next formed the band Ellis with Zoot Money in 1972. That year they released the Roger Daltrey-produced album "Riding On The Crest Of A Slump", which was followed in 1973 by "Why Not", (both feature on CD4).
Next up was the band Widowmaker, formed in 1976 with Ariel Bender (Luther Grosvenor – ex-Spooky Tooth and Mott The Hoople) and Huw Lloyd Langton (ex-Hawkwind), that same year they released a self-titled album (CD5).
1977 saw the release of the solo album, "The Last Angry Man" (CD6), produced and arranged by Dave Courtney and Tony Meehan, and featuring Albert Lee and Henry McCullough on guitars.
Steve took a break from recording before returning with "Basement Days" in 1983 (CD7). "Best Of Days" (CD8) was released in 2008 and features an acoustic live version of "Everlasting Love" with Paul Weller. "Ten Commitments" came along in 2011, and this CD (CD9) also features Steve's performances of three Small Faces songs at a Steve Marriott memorial concert.
The last CD of the set features Steve's most recent album "Boom! Bang! Twang!", co-produced in 2018 by Paul Weller, and featuring two co-writes by Steve and Paul. Also featured is the new song with Paul Weller. The CDs also include bonus tracks, featuring many of Steve's collaborations.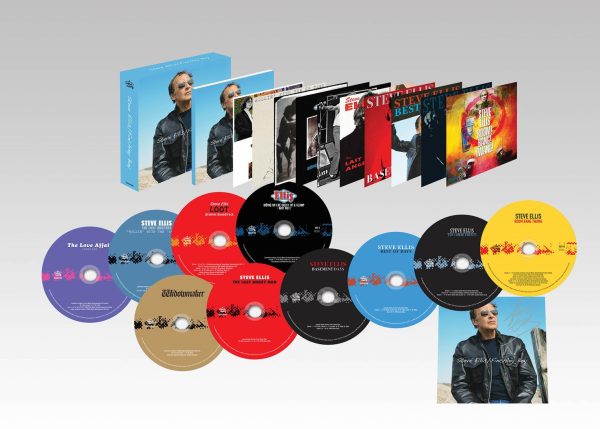 So. Speaking with Steve on the 'phone at his Brighton home, a catch-up from our lengthy 2018 chat about his then new record, the excellent "Boom! Bang! Twang!", he tells me the "Finchley Boy" project was spawned from the success of the 2021 "Best Of" vinyl LP compilation, which charted at # one to his surprise, which featured The Love Affair on one side and Steve's solo stuff on the other side.
So, is there anything left in the vaults after this set, which has Steve's vocals on and has not previously been released? "All of the stuff has been previously released apart from one album. Zoot Money and I talked about this some time ago, he phoned me one day and said do you want these tapes. What tapes? Got all the tapes from the studio of tracks we recorded (The band Ellis).
"He said you'll have to come and get them if you want them. All of the stuff we had recorded together had been released, so I said in a moment of madness; do what you like with them. He took 'em up the tip (Steve laughs out loud). There might have been different versions of tracks on those tapes. Too late now…
"Nothing left in the vaults to my knowledge. Only thing I couldn't get for this set was very early Love Affair tracks, 1966, (they have been out before), but it was too much hassle to get them for this set.
"There is an album I did with a German guy, when I went to Germany to do the vocals. Came out in Europe, but I could not locate him to include it in the box set. Early 80s. Hard rock. It was after Widowmaker, which he had heard me on."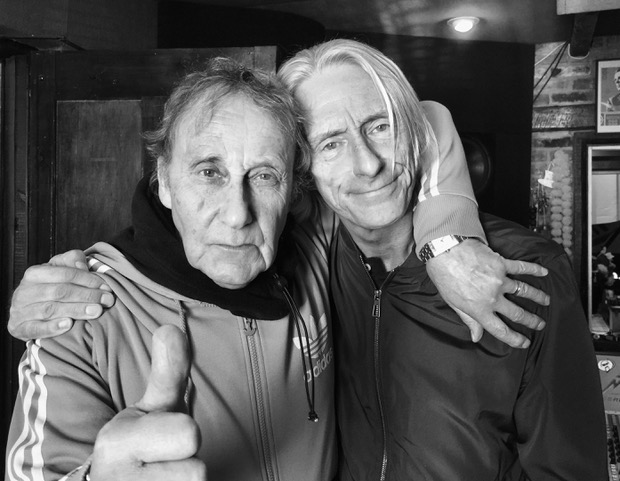 The new song with Paul Weller, "Just To Simplify". Tell me more… "Paul sent me the demo in lockdown, asking what do you think? I thought, ahh, Motown, this is gonna be like a Motown/Northern Soul stomper.
"So I wrote all these words, like a Motown thing. Told Paul, I've done it, and it's good to go. Get up to the studio (Paul's Black Barn studios) and it goes right the other way. What is goin' on?
"It ends up like a laid back track. Steve Brookes came up to put guitar on (original guitarist with The Jam in the early days) playing some bluesy guitar. It works, but turned out nothing like I heard it."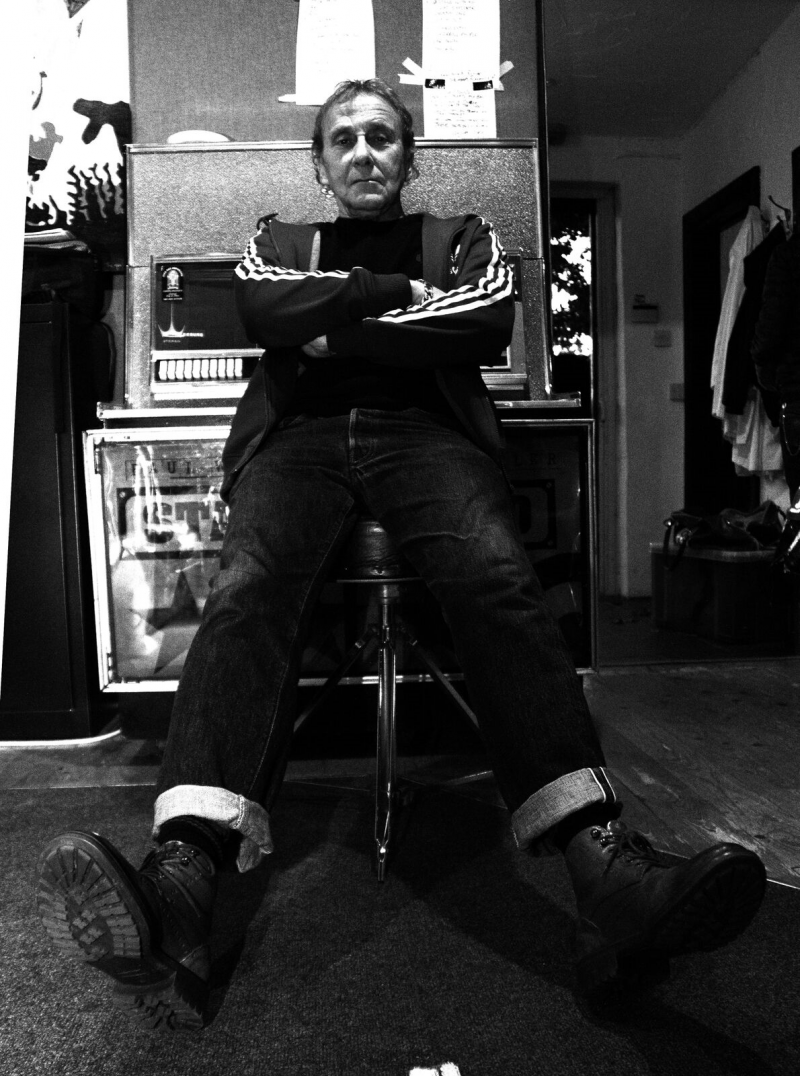 How does it feel to hear the likes of Paul Weller and other stars cite him as an inspiration? "Well, I don't know that they do. The media bandy these things about, but not sure where these quotes come from. Me and Paul have got total respect for each other, ditto Roger Daltrey and other mates."
So, how does the quote, 'Steve Ellis is one of the UK's greatest ever soul and r&b singers' sit with him? "Well, this is absolutely true!". He howls with laugher, then adds: "If you use that quote, they'll think cocky little bastard!"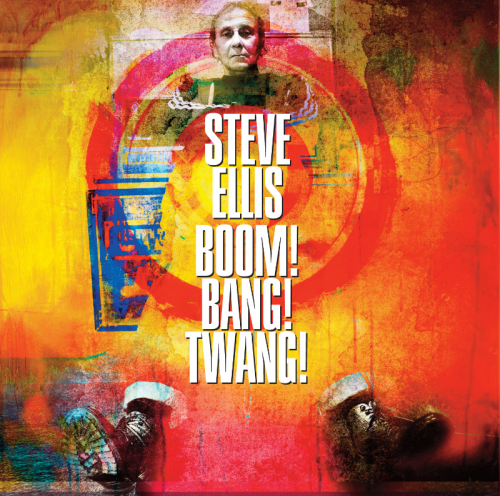 Did the success of "Boom! Bang! Twang!" in 2018 surprise you? Was it a come-back project? "It was never meant to be a comeback. When I got back on the road in the 80s, it was for damage limitation because there was another band on the road calling themselves The Love Affair, with no connection at all to the real band. Me and my band back then played everywhere. I never had any aspirations to make another record. Just wanted to go out and play.
"One night my agent called me and we were in Edinburgh, playing a club with a 1500 capacity, and people used to queue round the block to see us; Celtic footballers would to come see us. It was a brilliant gig.
"Agent asks, can you do a live album tonight? I said, what are you talking about? How are we supposed to do a live album with two hours' notice? We sent out for a DAT player, and got a great sound engineer we knew, and we did it. Kept the price really low as it cost nothing to make. That was the only album we made."
Re: The 2021 compilation going to number one….. "I was very surprised. I think I laughed. I was definitely a bit taken aback. I think I said, 'Bloody hell!".
Often, a retrospective set like this new one, "Finchley Boy" bumper 10-disc box set, comes at the end of a career. So, at 72-years-old, does Steve have any plans to jack it in? There's good news on that score, folks…
"Well, I have all the promo' to do for this box set, then I'll do the gigs on the sheet, and then I'll review what's next, which is probably a new album – and take it from there."
Maybe there's a clue to his inner-drive to crack on while he still has that great voice, with his personal mission statement's motto: "March or die", tattooed on his left arm. Yeah, march on Steve…
"Finchley Boy" 10-CD box set is out on May 27th 2022 via Demon Music Group. 
---
Steve Ellis: Track Record
1. First song you recall hearing as a child?
There are two: One is Tommy Steele, "Little White Bull". I'd have been about seven. The other one, I heard when staying at an Auntie's and it was "Peggy Sue," Buddy Holly and the Crickets. Not sure how old I was, but she was called Peggy and I used to sing it to her.
2. First single you owned?
I used to listen to all my sister's records. She used to have all the Motown stuff. She used to work at (60s UK TV show) "Ready, Steady, Go." First single I owned would maybe have been James Brown, "Out Of Sight". Maybe also The Beach Boys stuff.
3. First LP/album you owned?
Otis Redding: "Otis Blue" and I bought The Who's "My Generation" too. I remember saving up for it. About 1965.
4. First CD you owned?
Blimey, I'd have to think about that one for a minute…I've got thousands of them…
5. Last music you bought and in what format (CD/vinyl/digital download)?
I'm always checking out different music and singers etc. I bought David Ruffin, "The Ultimate Collection" on CD. Declan O'Rourke, "Arrivals" (CD). Imelda May to check her out (CD). Curtis Mayfield "Best Of" (CD). "Blue Beat The Singles" (CD box set). Dion and the Belmonts "Best Of" (CD). In vinyl, I bought: Ma Rainey, Fleetwood Mac with Peter Green, Muddy Waters, Ray Charles….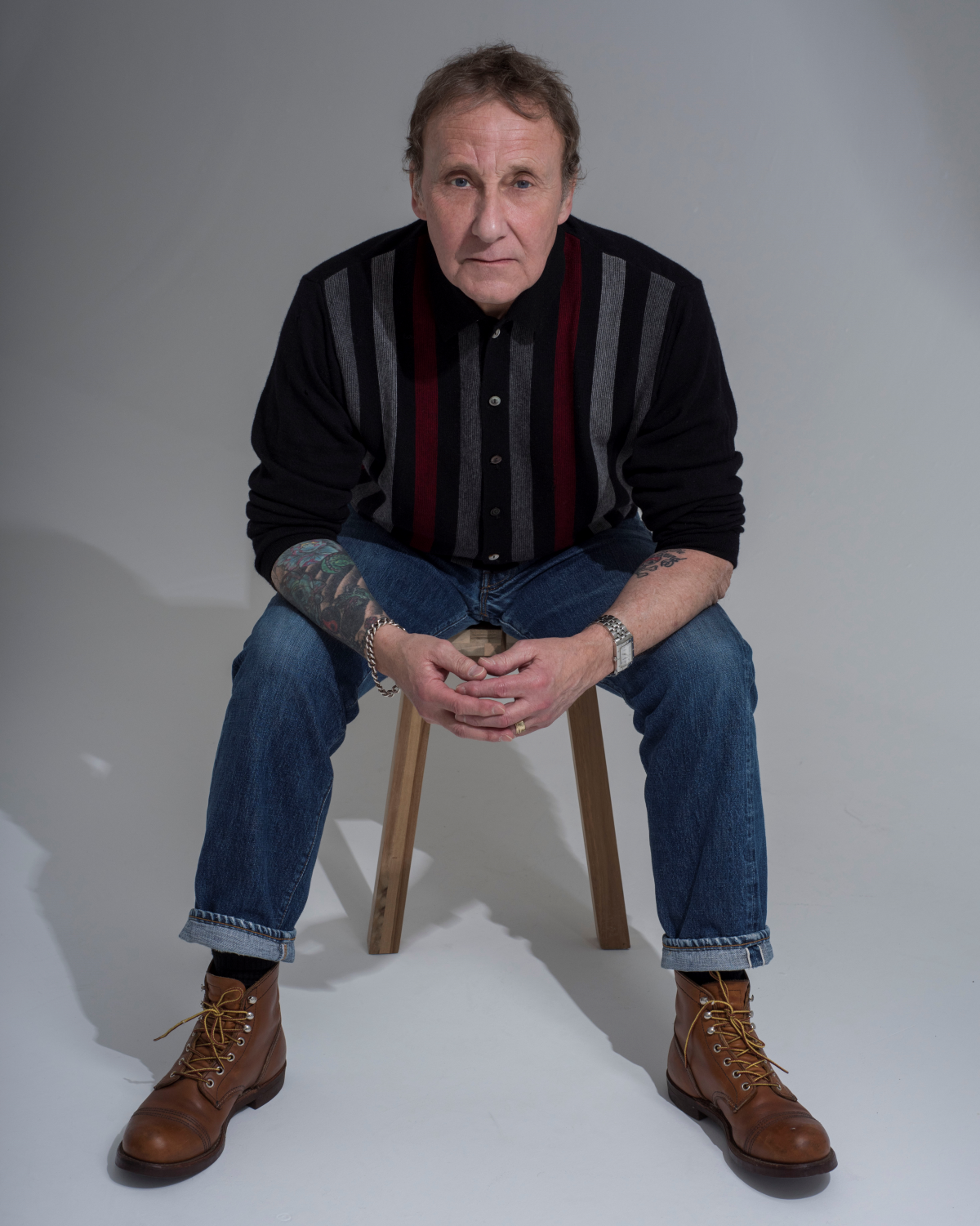 6. Which album would you be happy to receive as a gift?
Not sure, because if I really want something, I'll hunt it down and get it. Like the Muddy Waters vinyl LP, I wanted that and got it from a pal who is a bit of a dealer. Muddy Waters, "Folk Singer". I wanted that one for ages. (1964 on Chess).
7. Favourite album? (Choose more than one if need be…)
I really like Paul Weller's first solo album. (Called "Paul Weller"). Bob Dylan, "Subterranean Homesick Blues". "Northern Soul Kent Story". I love The Christian's very first album and Mick from the Clash's first album with Big Audio Dynamite (B.A.D.).
8. Best record ever made (can be single/album/EP – and choose more than one if need be)?
So many great records, I do not think I can answer that without a lot of thought….
9. Guilty secret (or anything unusual or perhaps unexpected) in your music collection?
Maybe some very, very old sharecropper recordings (albums) made on the cotton plantations many years ago. Got some of them because I thought they looked interesting, and that is the roots of music. Singing and chanting in the fields, was a bit off the wall, but worth checking out. Got two or three of them. That is where music started for me, and went into blues…..to what we are doing now, like rap (not my thing!)….
10. What does music mean to you and how does it make you feel?
Music is across the universe. Everybody connects with music. So when you play to people it's great because you see smiling faces. It's emotional; it's the best job in the world. It's hard work, and I have done a lot of jobs in my life, but the pay back when you get on stage is priceless. Better than in the studio, which is great because you are creating something new, but the live thing is more real maybe.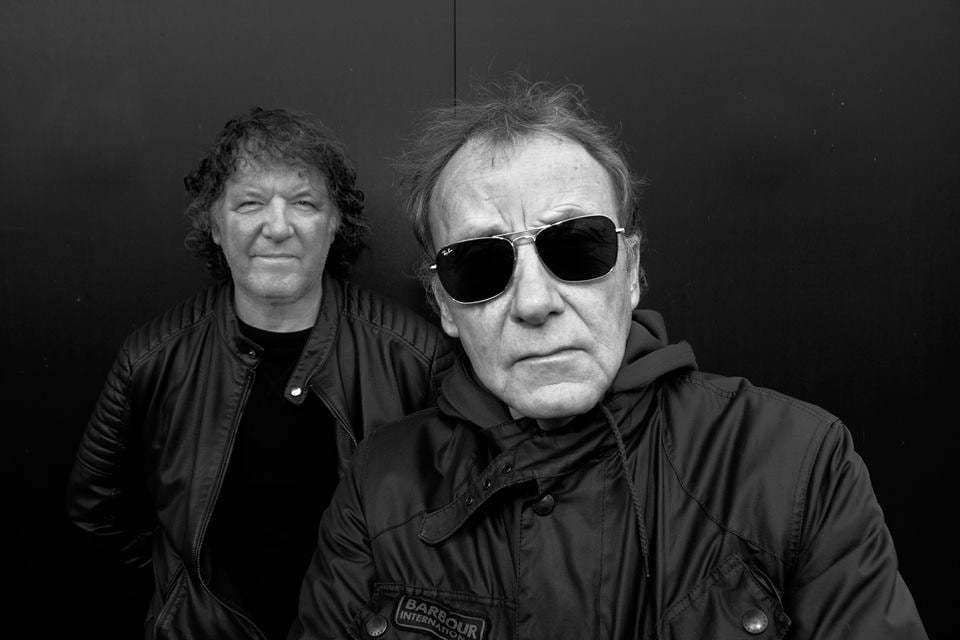 11. Which song or album is a guaranteed mood booster?
"Always Look On The Bright Side Of Life" (Monty Python 'Life Of Brian' soundtrack song) or "You Are My Sunshine" the old standard, and I like that because my mum used to sing that. But I really love The Christian's very first album and Mick from the Clash's first album with Big Audio Dynamite (B.A.D.). Both make me feel good when I hear them.
12. Which song or album would be the soundtrack to a film about your life?
That'd be "Hit 'Em Hard And Hit 'Em Fast". (Steve laughs and says, "I just made that up! I need to write that one soon!")
13. Your favourite driving track – or music to exercise-to?
"Meddle" by Pink Floyd (the band's sixth studio album).
14. Best song or album for a romantic moment?
I really don't know on this one! (Surely, "Everlasting Love" by a band called The Love Affair, Steve?)
15. Which song was played for the "First Dance" at your wedding (if you are married) or which song would you choose if you did get married?
The Beatles: "Something".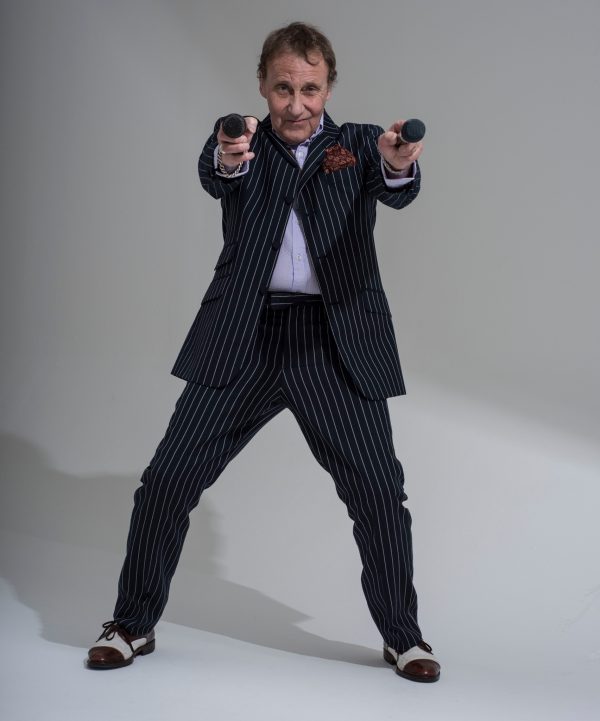 16. Your choice of song to sing at karaoke?
I have done karaoke for a laugh at my mate's house when he bought a karaoke machine. He invited me round for a bit of dinner and karaoke about 20 years ago. I said, you what? Karaoke? He said, yeah, everyone's getting up and having a go. I said no, no, no….In the end, I got 'bullied' into it. They put Brenton Wood on, "Gimme Little Sign" (single in 1967). So I got up and sang it, but apparently I sounded like a Pakistani, and I have never ever, ever lived it down for 20 years! That's what they kept telling me…
17. Which song takes you back to your childhood – and to which specific memory/memories?
Ray Charles: "Hit The Road Jack". I was probably about 10, and it used to be on a Saturday night thing on TV that my mum and dad used to watch. Reminds me of living at home with mum and dad when I was a kid and there were only two TV channels then – both in black and white.
18. Favourite band (or bands)?
The Move circa '66. We (The Love Affair) had a residency at The Marquee Club in London supporting Marmalade. Good band. Good pals. Could walk into the Marquee anytime, and went in one day and The Move were sound-checking, and I thought, fuck me, it was unbelievable. They ticked all the boxes; the harmonies were brilliant, Bev was a powerhouse drummer, all those guys were super talented. They were better than the Who back then.
The Who, but up to the time Keith (Moon) went. I saw The Who so many times with Keith (Steve's close friend).
I do like The Band.
19. Favourite singer (or singers)?
David Ruffin and an endless list of soul singers I could name. Ray Charles from when I was a kid, most definitely. Terry Reid, my mate. We were going to get a band together. He to me was the best white singer around when we were young. Went to each others gigs and I toured with him.
20. Which song would you like played at your funeral?
"Going Underground" by the Jam! (Steve howls with laugher at this suggestion). But it don't matter; I'll never hear it!
---
---