On the trip home after this sweaty, raucous gig on a cold Wednesday night in March 2022, the Birmingham stop-off on a tour re-scheduled from Covid postponements, I was trying to decide which one word in the English vocabulary best sums up Wolf Alice's performance tonight.
Good? Nah….Excellent? Maybe. Loud? Oh, yeah. But the one word that kept screaming at me from inside my cluttered head was………………………….MIGHTY. Yes, that nails it. Mighty Wolf Alice.
The Mercury Prize nominees and recent BRITS winners of Best British Group – beating the likes of Cold Play, Little Mix, D-Block Europe and Little Mix – were bang on it last night, and the 3.009 sell-out crowd were well up for it from the off, and gave the worthy support act – Glasgow four-piece Lucie & The Best Boys (definitely ones to watch and Lucia has a bit of Siouxsie Soux about her – a great reception during their tight 30 minute set. * See the pix of these guys in action, at the bottom of this page.
But the volume of that crowd went up several notches from the second Ellie Rowsell, guitarist Joff Oddie, bassist Theo Ellis, drummer Joel Amey and touring member Ryan Malcom on keyboards took to the stage and got stuck into "Smile". The fans feeding off the energy on that stage and the band feeding off the energy of their fans for the circa 80 minute set.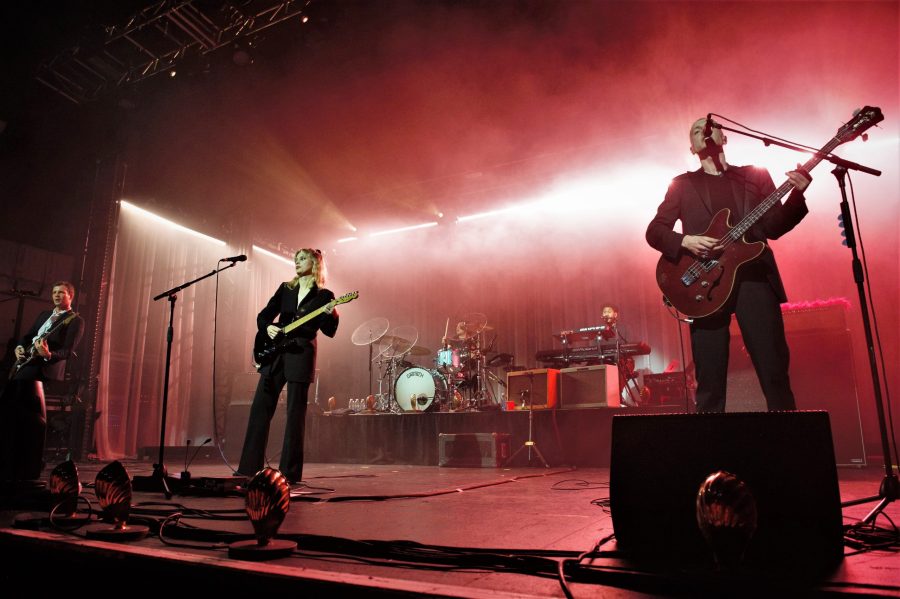 Powerful is another word that sums up this North London outfit last night. As it does the audience's response. I was at this same venue last year to cover dance music Queen Becky Hill's gig, and I was struck by the crowd's rambunctiousness, singing along at full volume to all her hits.
But with this Wolf Alice crowd…it was way up from that on the Richter scale; would not be surprised if the good folk in Digbeth, Droitwich and Dudley felt a tremor while sat watching TV last night!
The age range of the Wolf Alice fans in tonight was from youngsters not old enough to be there without a parent – many lone mums and dads spotted with their daughters – to the far more mature boys and girls who seemingly love their hard rock music and that live music scene, based on their tee shirts and general attire.
The first few rows and at the barrier was crammed with 99% females, and there did not seem much room to create a mosh pit for this gig. The crowd more focused on providing raucous and joyous 'backing vocals' to every last word of every last song of the 18-song set.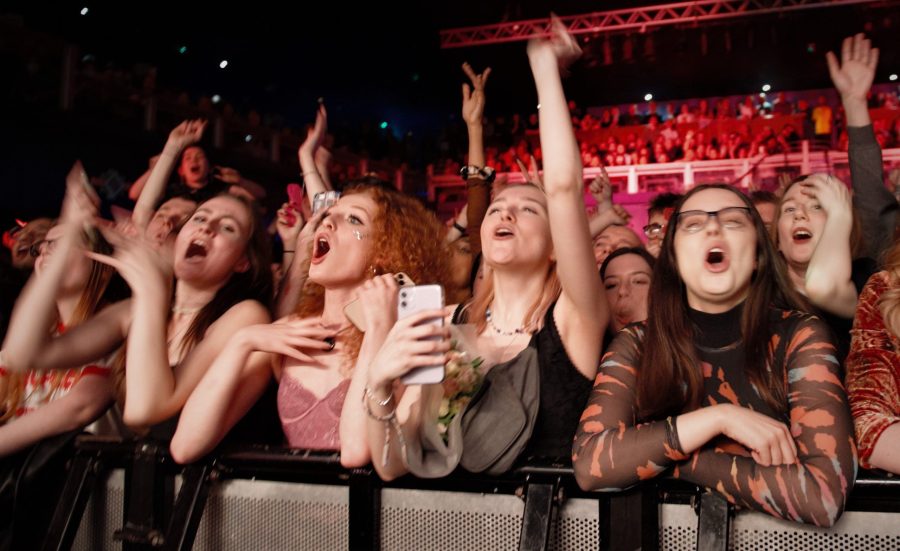 Looking cool and slick in a dark suit, Ellie stayed behind her mic stand and delivered faultless vocals on songs # 1 (Smile) and # 2 ("You're A Germ") while also knocking out some rhythm guitar licks, before abandoning the guitar for third song in, "Formidable Cool", stepping out across the stage to belt out the track and use the space like a caged tiger stalking its prey. "Delicious Things", was next and in these first four songs, the lighting ranged from flashing strobes, red light drenching the stage, darkness and green fluorescent tubes creating a moody ambience.
There is a gorgeous balance between inner-rage and frenzied thrashing noise that'd wake the dead, and more vulnerable moments in their set and on a Wolf Alice record. The chemistry between the five members is unseen, but it is an integral part of who they are, what they do and how well they do it.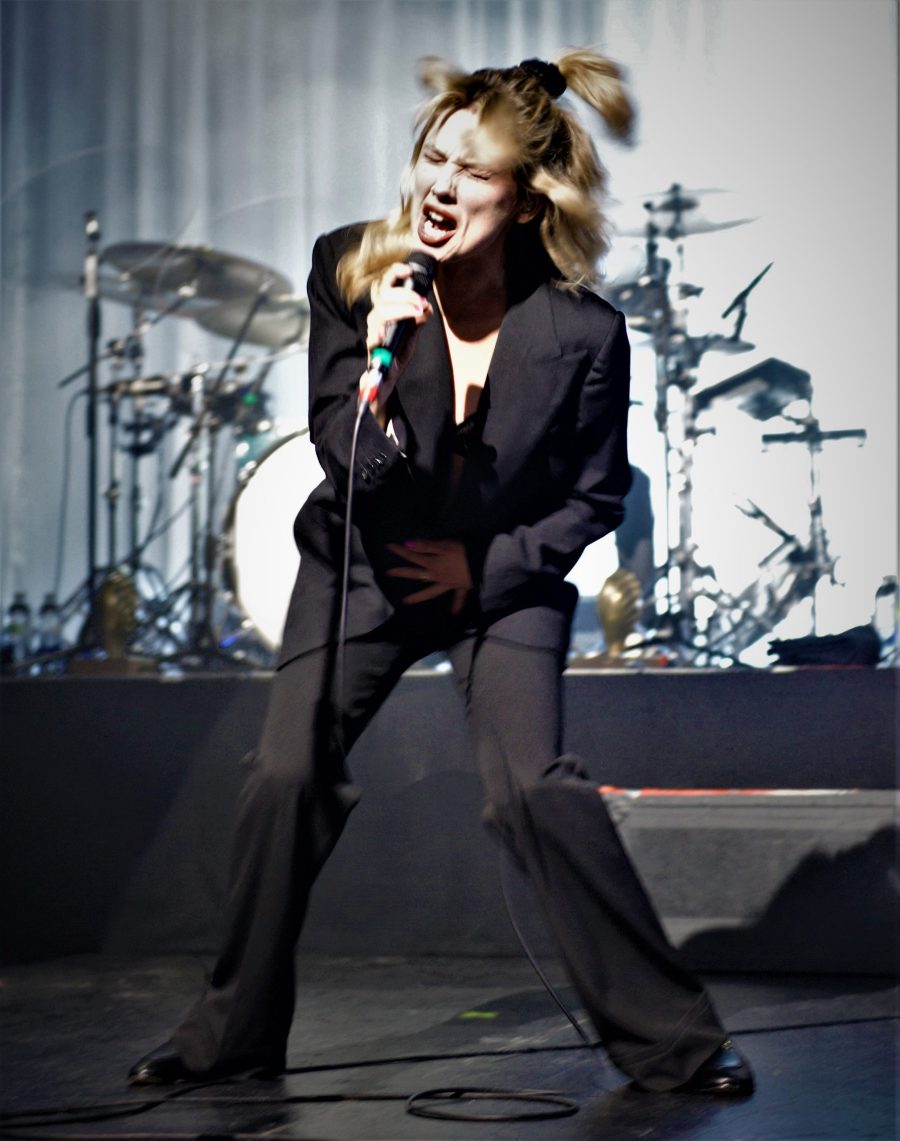 They seamlessly delivered nine of the 10 tracks from their third album, "Blue Weekend", which dropped back in June last year via Dirty Hit. The only one they skipped was the album's opener "Beach".
Undoubtedly their strongest long player yet and further proof they cannot be second guessed as to the direction they will take for each album project. But what they do release always has that Wolf Alice class and sound.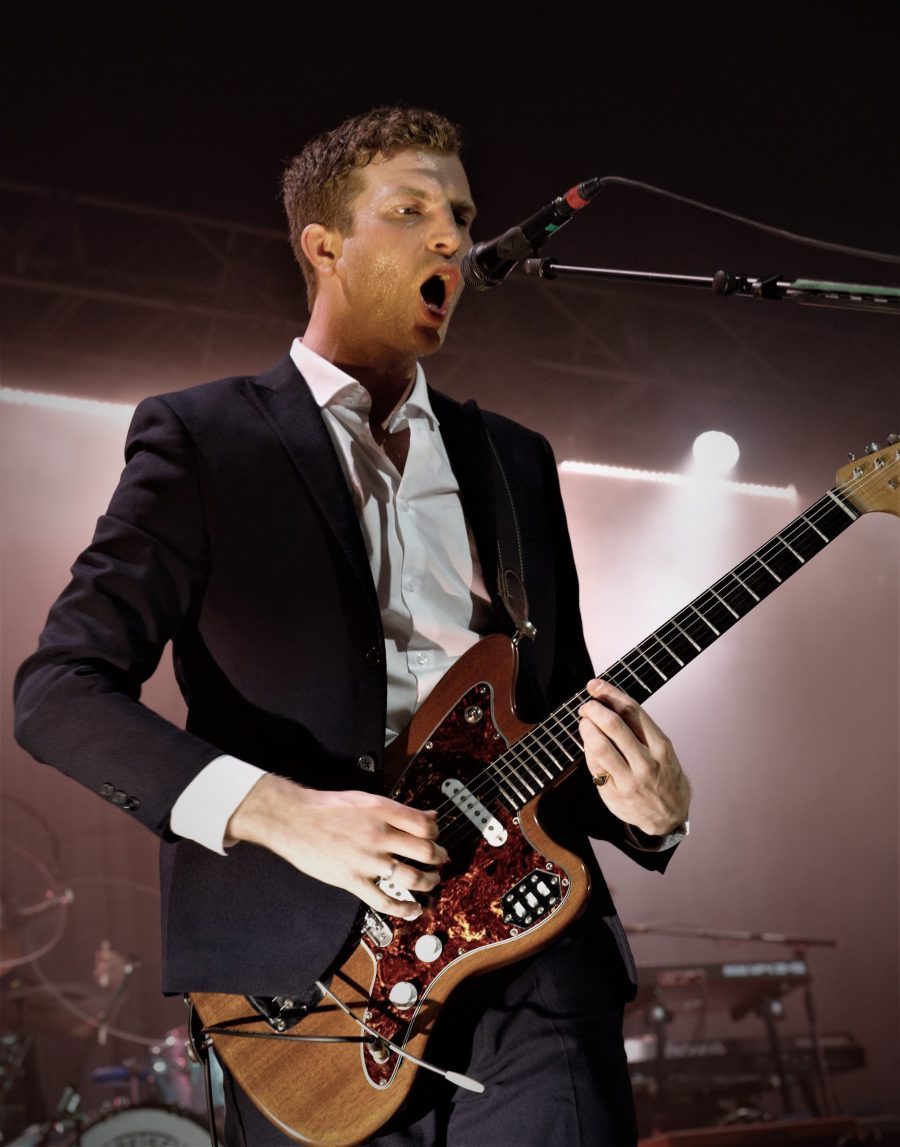 Tonight's version of  "Safe From Heartbreak (if you never fall in love)", which has some vocal a cappella at the end of the track, was a highpoint of the set, and the audience's vocal participation added value.
Older tracks which fans yearn to hear live did not disappoint, such as the 2016 track, "You're A Germ", and 2017's "Don't Delete The Kisses" which closed the encore.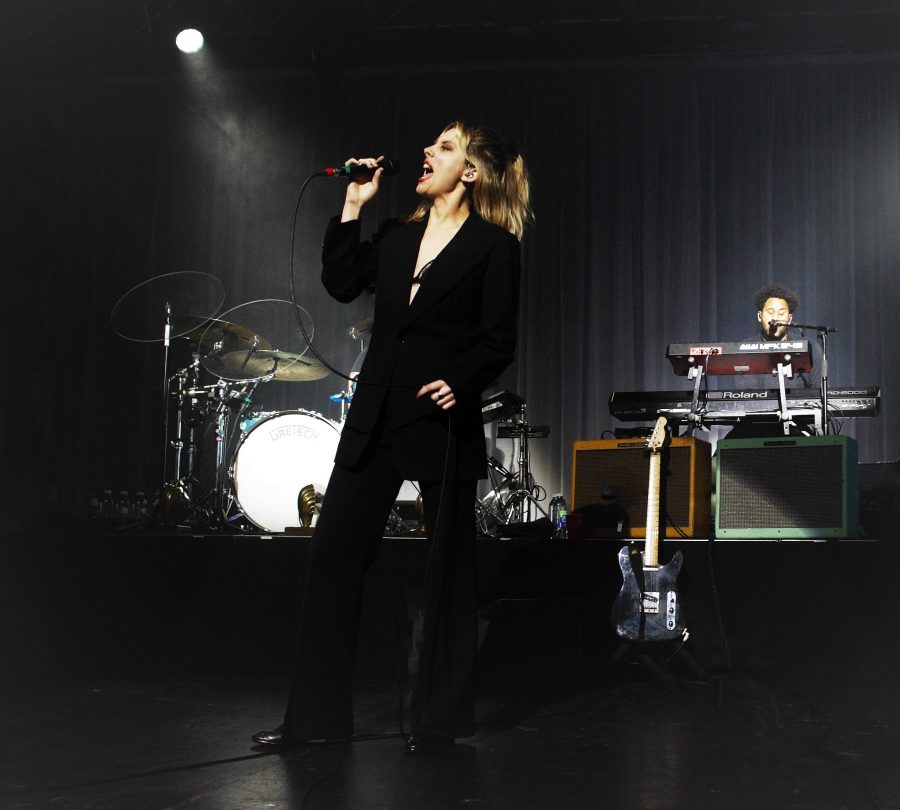 Ellie definitely has that star quality; the sparkling invisible stardust sprinkled on her shoulders and through her blonde locks…Totally relaxed, in her element, where she needs to be and doing what she needs to do. Totally in command of her domain and adored by the fans. The girls want to be her, the boys probably wish they had balls as big as hers when she's rockin' out!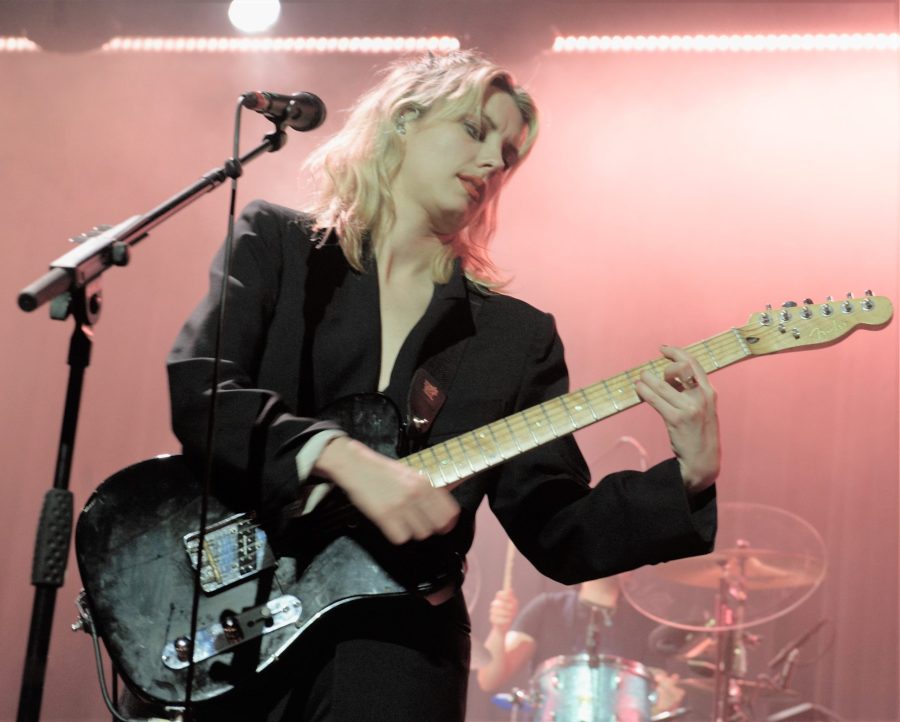 But her vocal control and her stage presence means when she delivers the quieter stuff, such as the lovely "No Hard Feelings", the crowd are still with her, they stay quiet and attentive and the mobile phone lights come on, they appreciate the softer side of Ms. Rowsell and her boys as much as the more in-your-face material.
This band may be Group of the year for the BRITS, and deservedly so, and just announced in the line-up for 2022 Glastonbury Festival, but for me, it is probably a case of as good as they are and as mighty as they sound now, 12 years after forming, their star is still very much on the ascendant. I think, we 'ain't seen nothing yet'.
I feel it in my water: Still a hell of a lot to come from Wolf Alice. Bring it on!
Words & Photos: Steve Best
(More photos below…)
---
Set List:
Smile
You're a Germ
Formidable Cool
Delicious Things
Lipstick on the Glass
Planet Hunter
Bros
Safe From Heartbreak (If You Never Fall in Love)
How Can I Make It OK?
Play the Greatest Hits
Feeling Myself
Silk
Visions of a Life
Moaning Lisa Smile
No Hard Feelings
Giant Peach
ENCORE:
The Last Man on Earth
Don't Delete the Kisses
---
Lucia & The Best Boys in action last night (9th March 2022)….