"The Tik Tok generation's Simon & Garfunkel?"
---
Kawala. Dodgy spelling for a cute furry Antipodean bear-like marsupial with a penchant for eucalyptus leaves? An end-blown cane flute used in Arabic music? Yes, but not in this case…..
Kawala in this case is five best mates; young lads in their 20s from London in an ultra-gifted band signed to EMI and touring select UK record stores doing live acoustic sets, meeting fans and signing their newly released debut album, "Better With You" which dropped on Friday (4th March 2022). A truly stunning debut…
Bonkers schedule…
Their schedule is damn tiring just to read: Sunday three stops in Dundee, Glasgow and Edinburgh, then a drive to Carlisle; hotel and up at 6am and on the road by 7am to get the lads to Birmingham for another session on Monday. Set up the gear, soundcheck, perform a 35-minute set, meet the fans, sign CDs and back on the road to do it all again in Nottingham from 6pm.
Today (9th March) they are back to cramming three stores into their schedule, to try to push this debut album up the UK album chart when it is expected to enter on Friday this week. Today they visit Brighton, Southampton and Bournemouth. By the end of this promo schlepp, they'll have visited 15 stores in towns and cities across the UK, met hundreds of fans, signed hundreds of CDs and vinyl LPs and also made many new friends.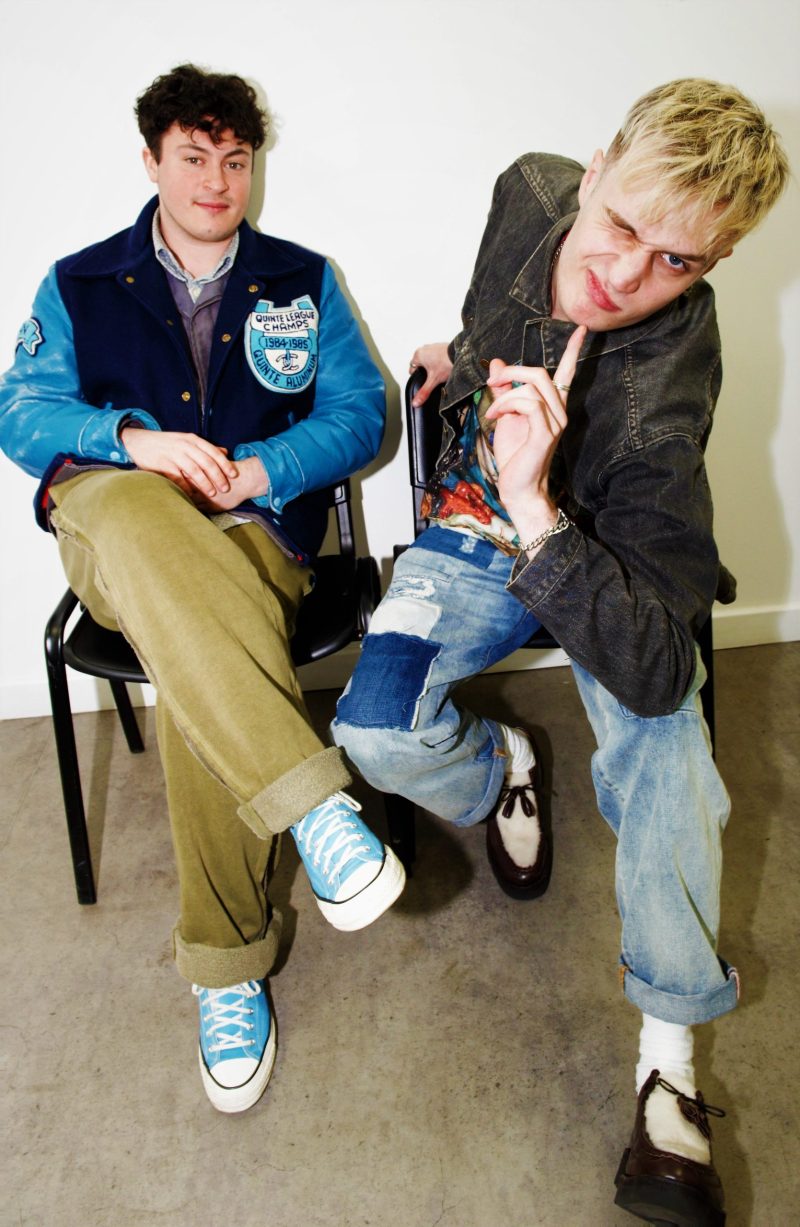 Their full band tour from 7th April takes in Leeds, Edinburgh, Glasgow, Birmingham, Bristol, Manchester and London, with a big show at Shepherds Bush Empire, before European gigs and then summer festivals back in the UK. We will be covering their return to Birmingham on 11th April back in Birmingham (02 Institute). Methinks this is a future arena-filling act, folks, so if there are tickets left for this tour, go see' em and one day you'll all be saying, "I was there…."
I caught up with the boys at HMV in Birmingham's Dale End – the largest HMV in Europe I am told – on Monday. Store manager Andrea accommodating the interview in their staff room. The band arrive around 11 am and grab a quick coffee in the "greenroom", before tour manager Joe wheels in the two frontmen and songwriters Jim Higson and Daniel McCarthy to spend a slice of their morning with me for a chat and a photo session.
Jim Higson is the lead singer and Daniel McCarthy plays acoustic guitar and harmony vocals; both sat up front – also the band's main songwriters. On guitar is Dan Lee, on bass is Reeve Coulson and on drums is Ben Batten.  Jim and Daniel surprisingly bright and breezy despite their bonkers schedule. "Yeah, we are quite busy, but after the Covid lockdown, it is much better to be out and about doing things and meeting people than sat around….", says Daniel.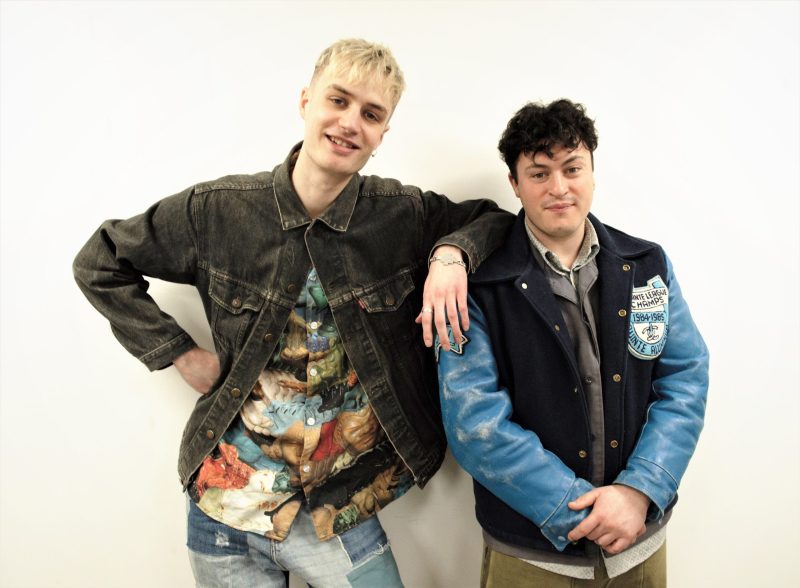 Jim sums up the feeling on release of their debut long player. "We've always been a little outsidery. We don't fit the pop narrative; we don't quite fit the usual band narrative. We're really happy to be taking up that space, but I think this is our flag in the sand moment. The album really says: This is us, here we are!".
The album follows a series of acclaimed EPs and live shows from the North London band over the last two years, which has seen them establish a community focused fanbase across the country. Their debut EP attracted more than five million streams in a short time.
Mosaic…
Their debut album is a celebration of this communality, with a lyrical thread running through its songs charting the band's growth as people and as artists. The record's artwork helps reflect this, with the band having chosen to ask a number of individuals who have helped them along the way to paint or draw different panels that eventually formed the overall mosaic of the cover.
Recorded over the last 12 months as restrictions tightened and eased, the band scrapped a planned stay at a residential studio due to the pandemic, instead collaborating with an array of leading production talent on their new record.
Athlete's Joel Pott (George Ezra, Shura, Tom Walker), Cam Blackwood (George Ezra, London Grammar), Joe Rubel (Maisie Peters, Ed Sheeran), Dan Bryer (Tom Grennan, Rag'N'Bone Man) and Mark Ralph (Years & Years, Georgia) are among those the group have drawn on to collaborate on production.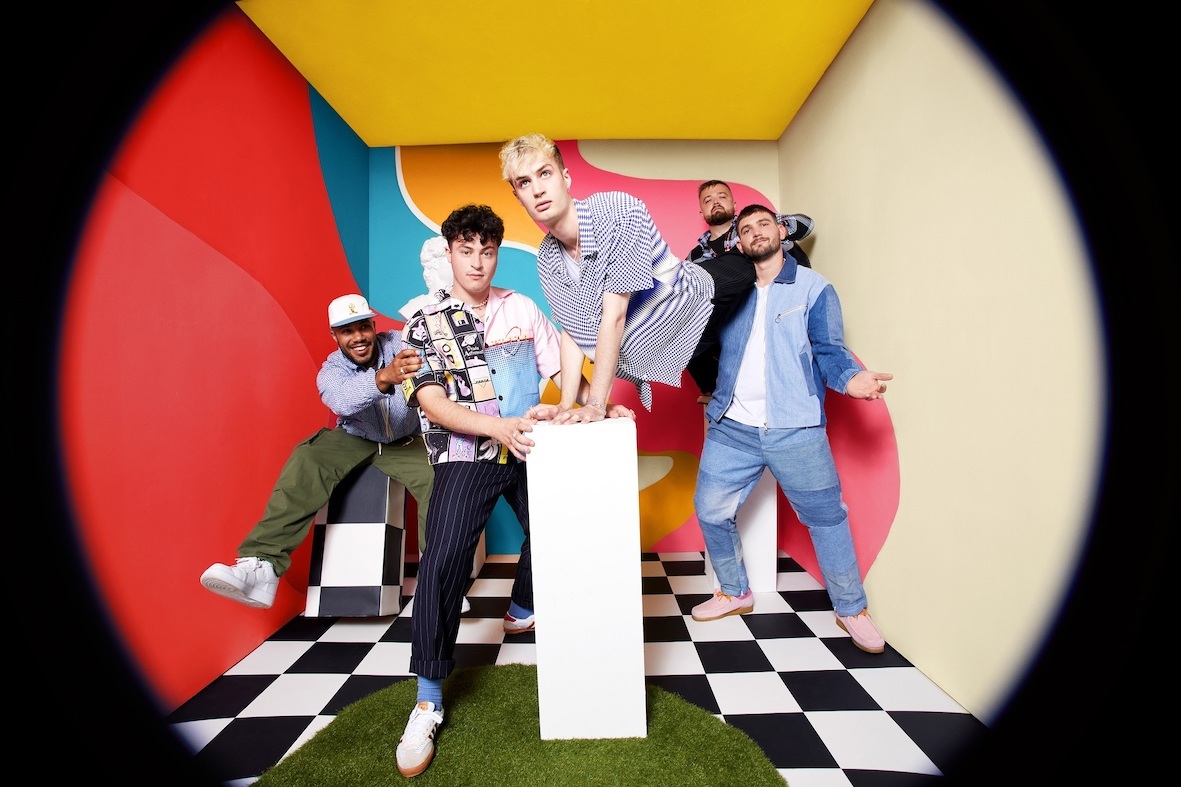 They played socially distanced shows in UK parks (after the first easing of restrictions in 2020), appear on FIFA 2021, write and perform in their own YouTube sitcom (the mad-cap Paradise Heights) and become ambassadors for the Music Venue Trust.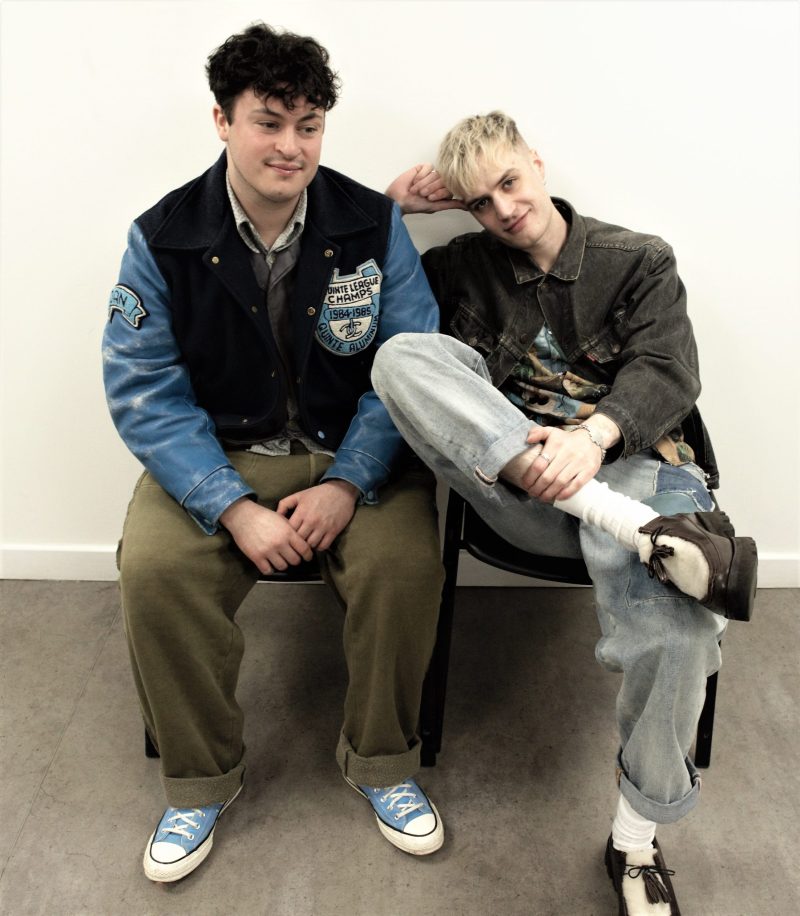 At the end of 2021 the band headed out on their biggest UK and Ireland tour to date, which culminated in a sold-out show at the London's O2 Kentish Town Forum, the venue at the heart of the London community where the band spent their formative years.
"We grew up just around the corner from such a prestigious venue" says the band. "It always felt like the pinnacle of success to us when we were younger and just starting out. We couldn't explain in words how it felt to achieve this dream of ours, it meant so much to us and our amazing fans there felt that too. The things you wait the longest for are always over the fastest".
Gorgeous harmonies…
The 10 tracks on their debut album deliver a melodically rich sound cushioned with the pair's gorgeous harmonies, driven by Daniel's unique finger-style acoustic guitar playing,
"Most of the songs are journeys," declares singer Jim Higson, whose voice intertwines with co-frontman and guitarist Daniel McCarthy to drive the band's tracks. "They're about achieving something and getting to a new place. We wanted to tell not just our stories, but the stories of everyone who helped us to get where we are now, so the songs represent a much bigger journey."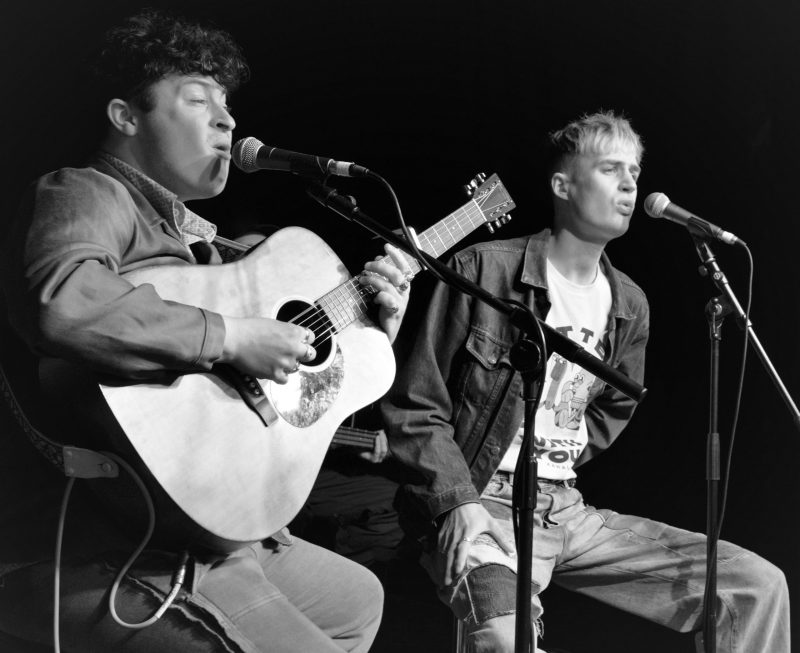 Their debut mixtape, 'Paradise Heights' (six songs) came out via EMI Records on 23rd July last year (2021).
The band draw on influences from the likes of Vampire Weekend, Bombay Bicycle Club, Phoenix, Simon and Garfunkel, John Martyn, The Staves and Crosby, Stills & Nash, as well as afro-beat and a myriad of other genres.
Their mature sound defies their young age. It's sweet and lush and dreamy and no bullshit or arrogance or swagger. A breath of fresh air. You could cut the lush harmonies with a knife, the lead voices are stunning, the musicianship of all five guys is exemplary and production values world class. The song writing is pure craftsmanship writ large.

The sound doesn't fit the look – and that's a compliment…
It's that kind of moment when you see a band or artist and what they deliver just doesn't fit what they look like or any pre-conceived ideas. They have nailed the art of a hook, the earworm, bigtime. They can groove too. I cannot think of another act today who sound like these guys. Certainly not a British one.
If someone has not yet heard you or your album, how do you describe your sound? "It's a blend of a few different styles; pop, indie, folky at times and at its core it's close harmony; quite acoustic based. Acoustic music to dance to," Daniel recounts.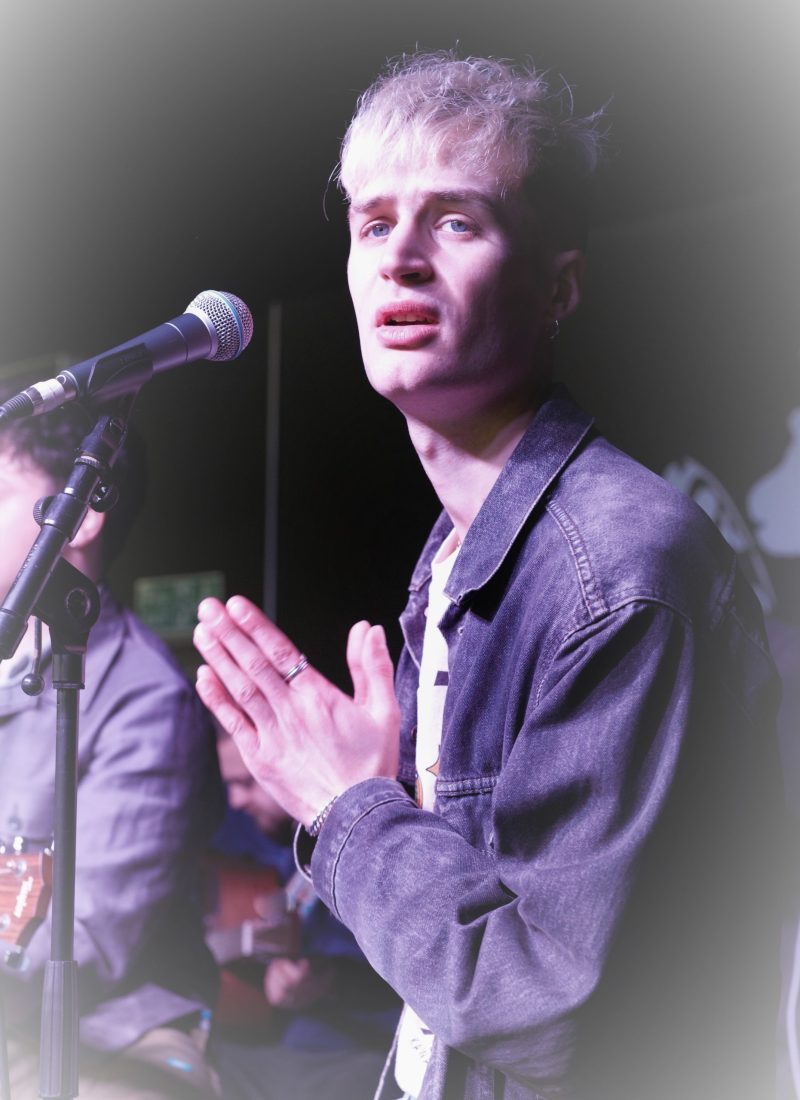 My references when I heard the album via their PR, were the likes of America, Simon & Garfunkel and Crosby, Stills and Nash; all American artists and sounds. Which for me was unusual coming from a bunch of lads in their 20s from London.
So, did Jim and/or Daniel listen to that stuff through parents or older siblings? Daniel takes this one: "They are three references I would never ever turn down. Ventura Highway (America) is one of my favourite songs. We started our harmony-based stuff listening to Crosby, Stills, Nash and Young, so yeah.
"We get the Simon & Garfunkel reference. We've heard us described as 'Simon & Garfunkel of the Urban Outfitters Generation.' I think it's partly because he's tall and blonde and I'm short and Jewish", they both chuckle at that cheeky perspective from Daniel.
What's their prediction for chart entry in Friday's UK album chart, then? Jim says: "Definitely in the top 1,000, easy!" Ambitious? "Yeah…gotta aim high! As it stands, we are still in the TOP 20 in the 'midweek chart' (this would be collated from pre-release orders and sales since release on 4th March.) It's tough with all the big streaming artists, but we've just got to keep pushing."
Top 10 or 20 chart entry?
I actually predict Top 10 based on the response to their in-store promo tour and pre-release orders. "Oh wow, that would be great, that would make a pretty strong statement," Daniel says. I also think it may be a bit of a slow burn, as they are on tour in April for the UK tour, so they should attract more sales and media attention, so if they drop down from their initial March entry position, they could well climb back up.
Ideas of crazy, boozy celebrations on release day were not reality, as Daniel explains. "Didn't get a chance on the day the album came out, as we had been up since 6am and we had done two shows (in-store), got to the hotel about 10.30pm, had a beer, nursed it and then went to bed. When the album was delivered, we had a big celebration with our record label (EMI) and our close team and it was a nice celebration of it being finished."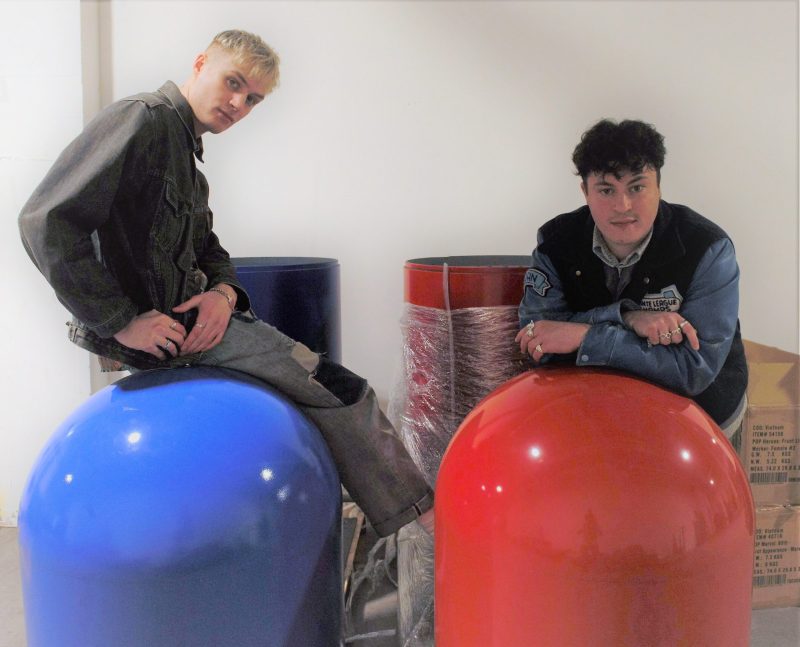 Comments on the band's socials, shows a really wide age range of fans; from teenage kids to 60+. Was it a conscious decision to make music that would appeal across the board, which is pretty unusual for bands and artists of their young age?
Jim: "I don't think it's a conscious thing; but I like the fact we make music that is all-inclusive. Yeah, we don't wanna exclude anyone; we are not a private club. We do get the older gentleman at the front with his arms crossed, bobbing his head and then you get all the kids. It's nice."
Daniel: "That might be testament to the wide range of artists and genres that we were inspired by to create the music we do. We listen to modern music, we listen to pop music, we listen to stuff that is recent and current and then the origins of our music stems from the likes of America and Simon & Garfunkel and people like that, so we tried to find that balance. Again, completely sub-consciously."
Massive risk…
Jim: "We recorded it (debut album) fairly sporadically, because of the nature of lockdown and not being able to spend as much time together as we would have liked to. It came piece by piece and in the same way our music takes pieces of different genres, we also recorded it in a similar way." Daniel: "Yes, rather than gathering one set album it was more like gathering little sonic moments from lots of different songs and albums."
The band's track which is on the soundtrack Fifa 21, "Ticket To Ride": 
It really is an "even listen", where you cannot tell the project was done in various places and with various different producers across a year or so. All 10 tracks fit together like a glove, and the whole thing has a cohesive flow.
"In doing it with multiple producers, I don't think we realised how fun that was until afterwards. It was also a massive risk. It was weeks before it actually finally came together as a body of work and we realised, oh, this has worked. I think, part of the fun of using multiple producers was we got to hear so many different minds, ideas and interpretations," Daniel comments.
Jim adds: "I'd say we are quite hands-on in production, as well. It took us a bit of time to realise we aren't afraid to explore with different producers, because if it has got our voices and Daniel's iconic guitar playing, we always feel like it's gonna sound like us."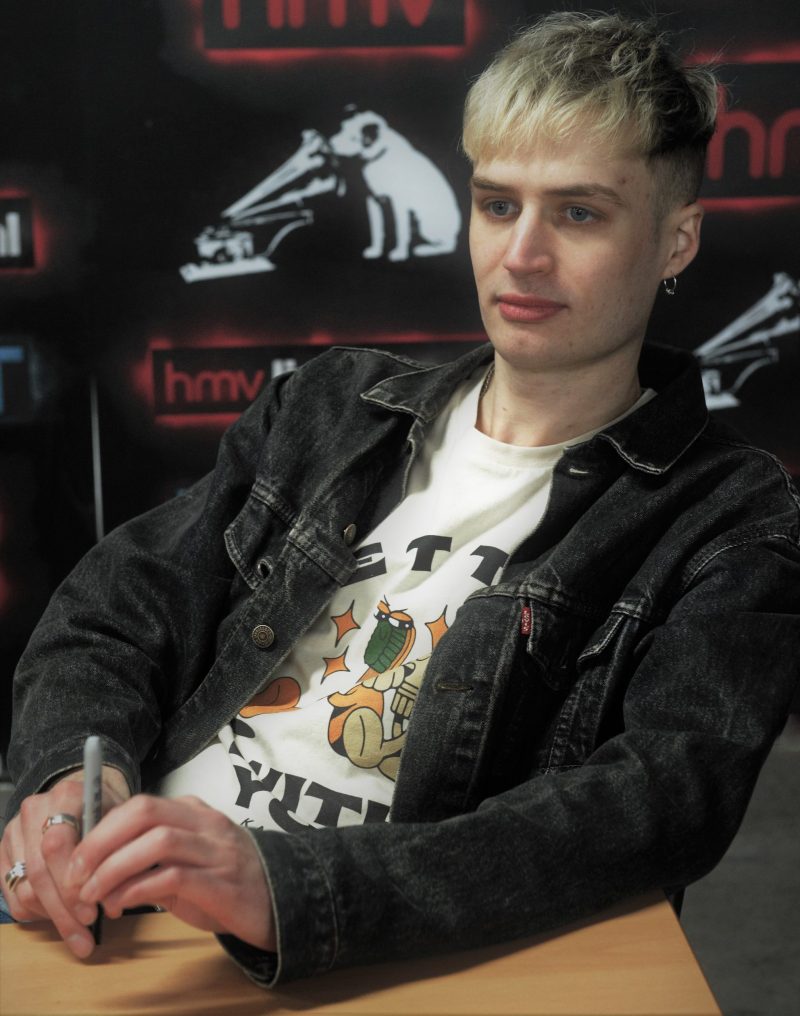 I ask if there is any one anecdote from the recording process that stands out. Jim responds: "The song, 'Good Like This' is an odd one. Me and Daniel are first and foremost songwriters; we love writing songs and getting our inspiration from all over the place.
"It just so happened we were listening to a lot of Drake for a week, and we sat down to write a song, and said, can we channel Drake's sexiness in a song. So, we did just that, and we had tried to write a Drake song and we ended up loving it so much it made the album."
Plague…
Daniel recalls: "When we went to record it, my girlfriend got Covid, or found out she had Covid while I was literally in the booth recording my acoustic, and then literally; I was suddenly treated like I had the plague.
"Even though I had tested negative before going in, but still, there was the fear factor that I was about to give it to everyone, even though I did not end up getting it myself then.
"I was treated like I had the plague. I was in this room on my own, and they all had this discussion amongst themselves as to whether I was allowed to continue. I just put my mask on, got my acoustic guitar parts down and left."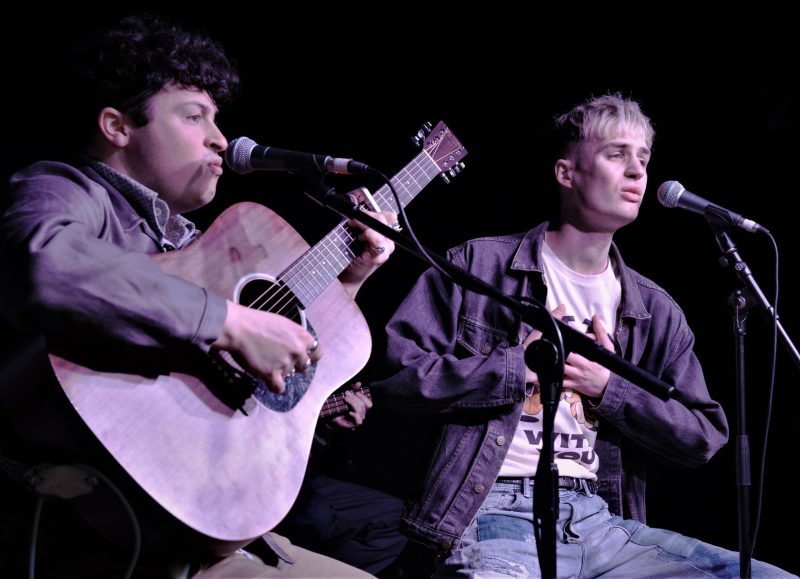 Jim (27) and Daniel (26) knew each other from circa the ages of 14 or 15. Both from the same North London 'bubble', frequenting the same parties, both then went to Leeds College of Music around 2016 to study, popular music performance.
With April Fool's day coming up soon, who's the joker/prankster in the band? There's always one in every band! In this case, he gets grassed up by Jim and Daniel. It's bassist Reeve! "He loves scaring people at any given opportunity, hiding, jumping out….scares you then giggles."
So, with the big-time approaching and signed to the same label as The Beatles, is it time for lobbing TV sets out of hotel windows or cars driven into swimming pools for after-show rock and roll mayhem? Daniel offers up their typical after-show activity: "Drink desperately to catch up with everyone that was at the gig, overshoot it and be in bed by about half ten!" Standard!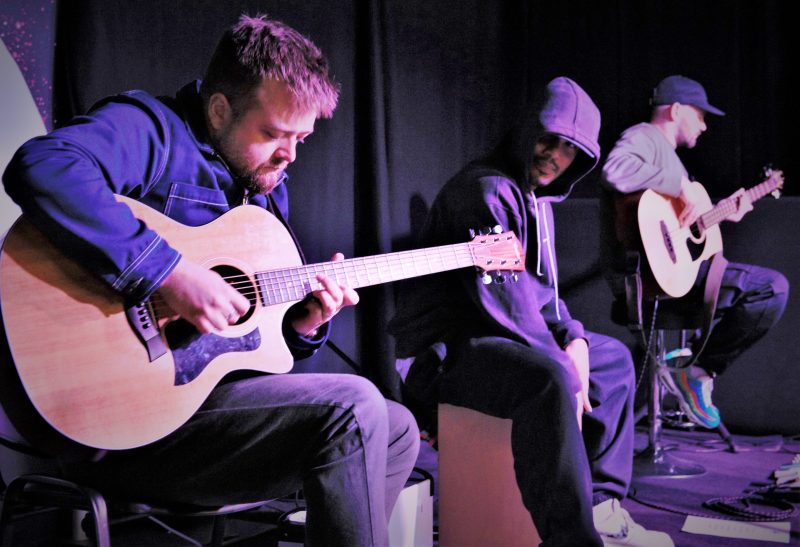 Daniel and Jim were living the dream when attending the NME awards – getting sat next to their heroes….Dick & Dom! No selfies to show for it, though.  Daniel: "I didn't get a selfie, but I talked to them for about half an hour, a very funny exchange with them to be fair; it was absolutely hilarious. They were pushing the Coldplay documentary on me, apparently, I 'needed' to watch it."
Kawala is contracted for one album with EMI,  with an option for four more. If the suits are savvy, they'll be holding the boys to all four options. Future arena-fillers is my bet, and USA audiences and media will love 'em.
At HMV in Birmingham, the band delivered a stunning eight-song set from the album, plus an extra bonus older track as requested by a bunch of their fans at the event. "Searching", "Marathon" (ironically titled, the shortest track on the album), "Ticket To Ride", "Sailor", the current single "Hypnotized", "Echoes", "Jesse C'Mon" and "Not Really Here For Long". Plus the extra song, "Do It Like You Do" from June 2018.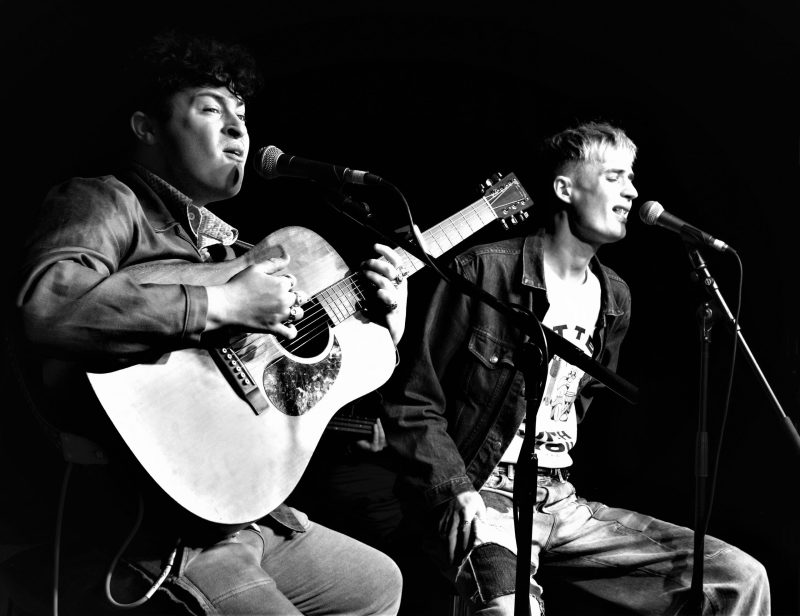 The album is faultless. The live acoustic set achieved the same faultless sound as the album. I was gob smacked they could deliver such a performance and replicate those golden close harmonies that must have taken eons in the studio to create. There was definitely no backing tracks or voice treatment tricks when they did this in-store bash at HMV in the UK's second city. It was all Kawala, for sure.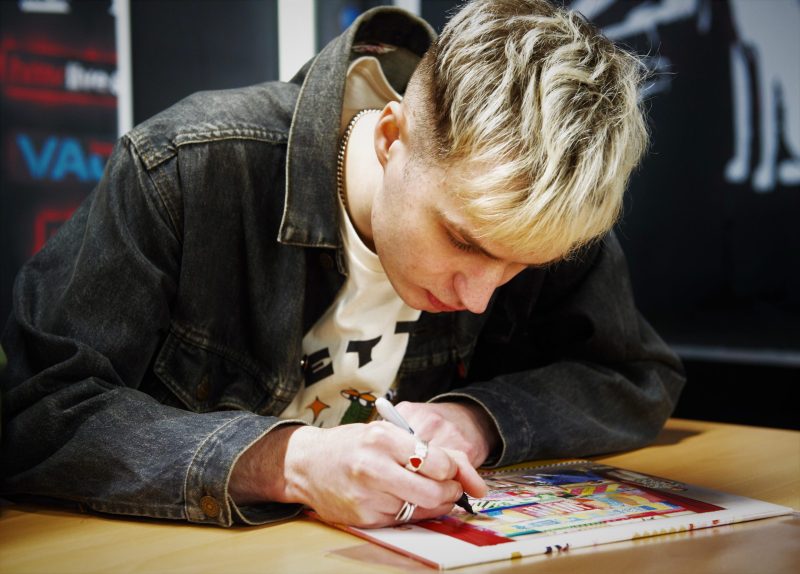 When we met this week, early indications were their debut album had pre-orders and sales since release that would give it a current Top 20 position in the UK album chart at that time. "We are between Adele and Dolly Parton," Jim reveals. Now there's an interesting mental image!
STOP PRESS:  "Better With You" entered the UK album chart on 11th March @ # 6 (vinyl sales category) and # 29 in the main chart.
---
Words and photos: Steve Best
(4th image down the page – 'zany' studio shot: Provided by the band)