Legendary bassist, singer and songwriter Jean-Jacques Burnel aka JJ Burnel is the last man standing of the original hell-raising 'men in black' punk-era band The Stranglers.
Co-lead singer, guitarist and songwriter Hugh Cornwell quit abruptly in 1990. Drummer Jet Black retired in 2015 and keyboard man Dave Greenfield passed away in 2020 after contracting Covid.
But far from packing it in and putting his feet up as he approaches 70 years old in February this year (2022), JJ is still well and truly at it as bassist, co-lead singer and main songwriter with the 21st century line-up of the iconic band.
2020 hit album…
And after circa 48 years years on the road and on stage, far from being moribund, their stock is valuable and demand is high, with sell out tours around the globe – pandemics permitting – in major venues, headlining festivals and their highest chart placing in the UK album chart since the 1980s with their latest album "Dark Matters", released in September 2021.
Speaking to Music Republic Magazine from his home in the South of France, JJ spoke of his pride in the new record, but how it had been hard to listen to the tracks for some time, as late keyboard man Dave Greenfield and JJ's close friend in the band for 45 years, is on eight of the 11 tracks recorded before his death.
* "Golden Brown" is a perfect example of Dave Greenfield's unique contribution to the band's sound….
JJ is in touch with Dave's widow several times a week and the band have dedicated the new album to Dave, released a track from the album as the first single, "And If You Should See Dave…" (see the video below) in tribute to Dave and they dedicate their next tour to him.
Billed as "The Final Full UK Tour", it will be their first UK dates without Dave's distinctive sound on the keyboards, but JJ found a disciple of Dave's playing style to take on that role and step into giant shoes. Toby Hounsham got his first stint on stage in front of an audience with the band just before Christmas, when a major European tour was cut down to a bunch of French dates due to Covid issues.
No More Touring Heroes?
So, first, to clarify if this is to be the band's last ever shows, based on the tour's title. JJ? "It is the last big tour we will do, but we will still play. I think we will still play; well, I hope we will still carry on playing while we are all hale and hearty, and as a result of the reception of 'Dark Matters'. The new album has been exceptionally well received worldwide".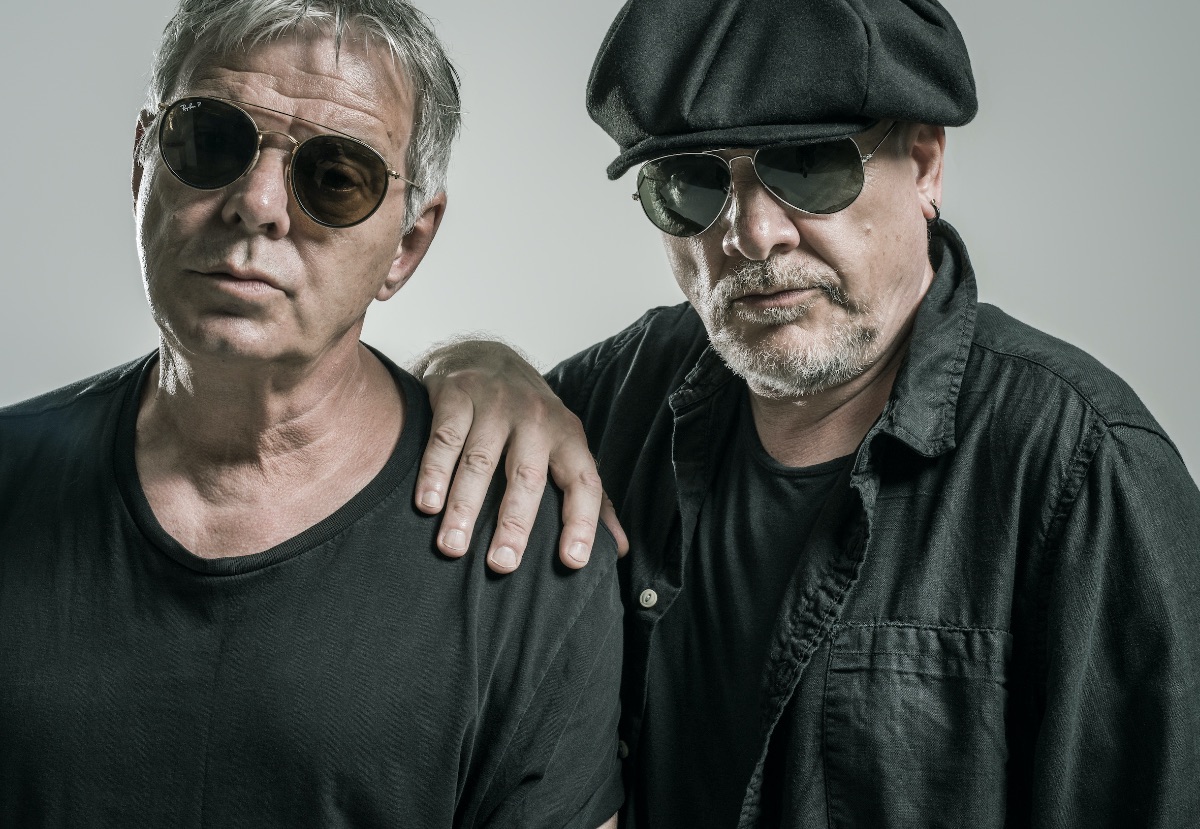 The album peaked at # four in the UK album chart after its September 2021 release – the band's highest chart entry since 1983's "Feline". "Dark Matters" is the band's 18th studio album, the first studio album since 2012's "Giants".
The record is without drummer Jet Black after his retirement. Jim Macaulay now sits behind the drum kit and has played with the band as a touring musician since 2013. JJ Burnel and lead singer/guitarist Baz Warne completed "Dark Matters" remotely during lockdowns – Baz in Yorkshire and JJ in France.
First formed in 1974 in Guildford, Surrey, The Stranglers were embraced by the punk movement of the late 70s, but they could never be pigeon-holed and possessed their own sound.Their first three albums – "Rattus Norvegicus", "No More Heroes" and "Black and White" – were released within 13 months of each other, scoring hit singles with "Peaches", "No More Heroes" and "Walk On By".
Further success was to follow with "Always The Sun", "Strange Little Girl" and the classic "Golden Brown", among many others, earning the group 24 Top 40 singles and 18 Top 40 albums in a career spanning six-decades.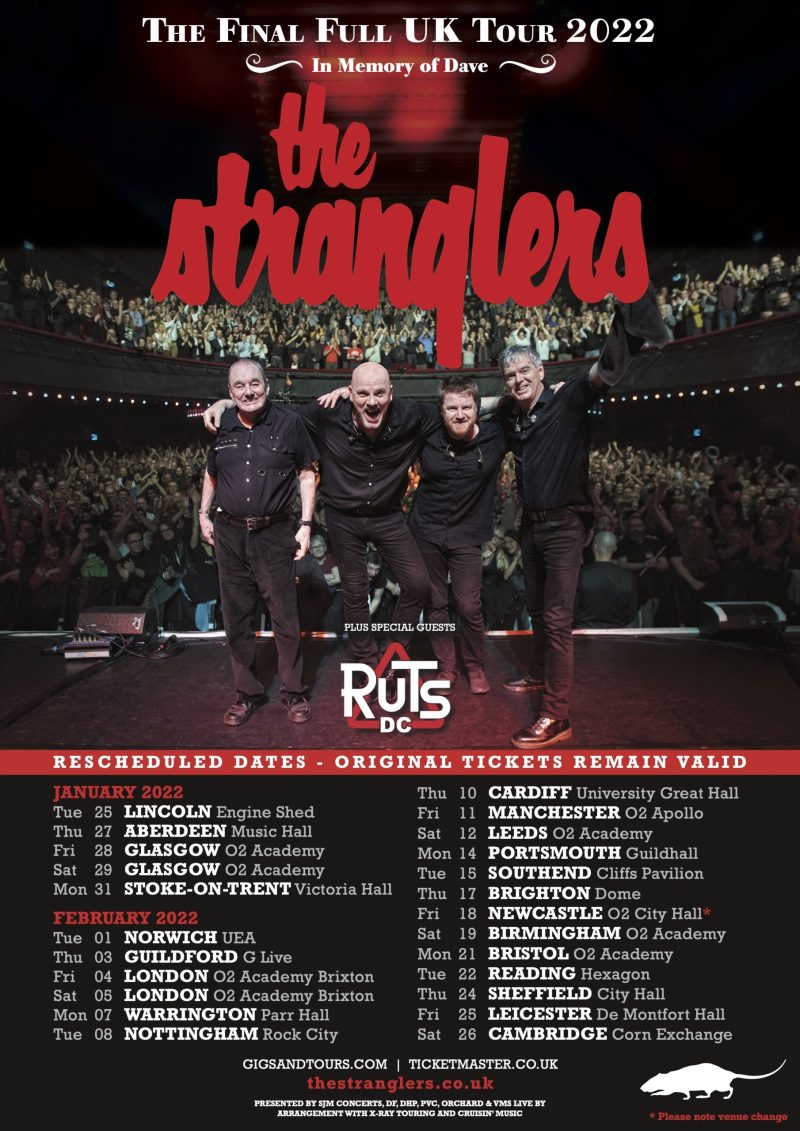 The Stranglers were the first band of the punk era to feature keyboards, and JJ revealed how the band was ostracised by many of their contemporaries at the time because of that, and he explains they committed an even bigger sin in the eyes of other punk bands.
"Yes, I think we were the first back then to feature keyboards, and also for our sins we were not considered to be part of the punk thing anymore because we committed the capital sin of having not only keyboards, but a synth'. That became sinful and we were kind of ostracised."
Was it painful to hear Dave Greenfield on eight of the tracks since he passed away, after 45 years in the band and a 45 year friendship? "When you have been involved with someone for 45 years of your life, and been through so many things together as friends and work colleagues and everything else in between, it's irreplaceable. But, I still want to make music and I've found someone who will complement that and add value to it.
New boy Toby has giant shoes to fill…
"It's less and less painful with time. I am speaking to his widow several times in a week. I try to keep a connection and think of him all the time, and I have to say the guy who has replaced him is completely respectful to every single note that Dave ever played. He was in a band called Rialto years back and also in a Stranglers tribute band. He has done his studies very well and if you shut your eyes, you can hear Dave.
"We just finished our first tour without Dave, in France. Dave was so out there, different, and he invariably excited a few disciples who had been studying his playing method over 30-plus years. I had met this guy Toby Hounsham 20 years before, and when we auditioned him, he was perfect – just like Dave used to play 20-odd years ago."
Check out the various YouTube footage of The Stranglers on some of those recent French shows, and what JJ says about Toby's playing is spot on. The band sound fresh and exciting, and well up for it….
I might have to kill you!
So, this 47-date UK and European tour coming up, the UK leg of which which kicks off in Lincoln on 25th January 2022 and closes in Cambridge on 26th February, would surely be a gruelling trek for guys half their age.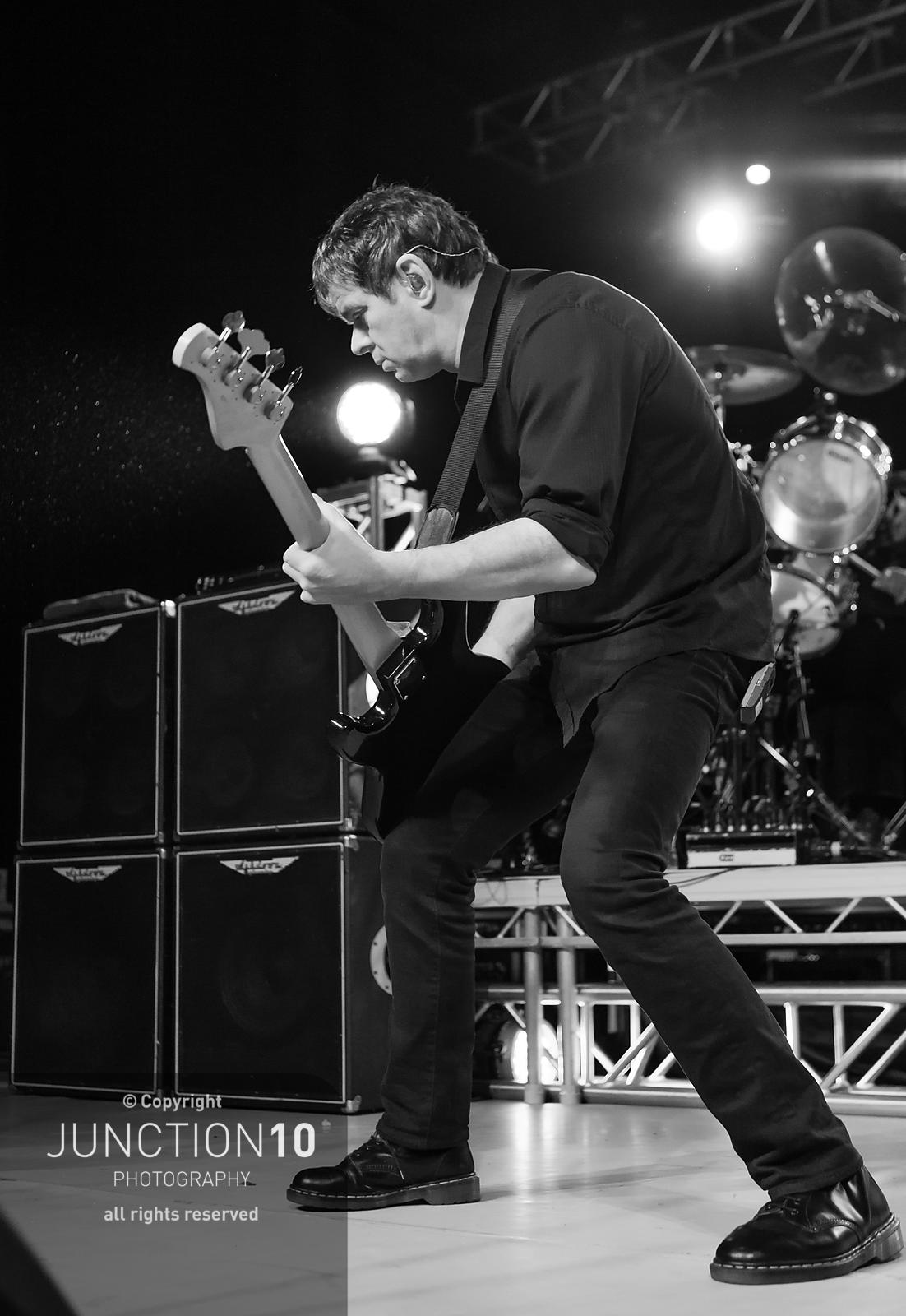 Back in the day in the 70s and 80s, The Stranglers were not unfamiliar with hitting the headlines for their wild off-stage antics. So, if it was the stereotypical 'sex and drugs and rock and roll' lifestyle back in the day, and a hefty dose of hell-raising, what is a typical after-show like for JJ and the band these days on tour?
"I don't think I'm at liberty to tell you that, or I might have to kill you otherwise! Oh, ok then; a typical after-show experience these days is slippers and Horlicks!" Joking aside, JJ takes much better care of his body these days. The excess all areas rock and roll life style once lived by JJ is behind him, and this man at almost 70, is as fit as a butcher's dog.
As a master karate exponent and teacher who studied in Japan, JJ's daily routine includes at least 50 – 70 push ups in one go and " a few hundred crunches". He practices Shidokan – a mix of karate, kickboxing and grappling – and is a seventh-dan black belt, the only one in the UK. He started martial arts when he was 19 with Tae Kwondo. He has instructed and demonstrated his skills all over the world.
* Warning: Naughty language crops up in this video….
On a sensitive subject, it is no secret that Hugh Cornwell left the band suddenly amid "tensions" and he and JJ have not spoken since then. But according to JJ, not for the want of trying. So, we ask, 'Would you be willing to sit down and sort things out with Hugh and do you think you would ever reunite with Hugh for shows/recording?'
Hugh and I…
Zero ambiguity with JJ's answers. "Yes, I would be quite willing to speak to Hugh; which I did extend and make that offer quite a few years ago, and he slammed the 'phone down on me. I would still be willing to….
"No, I would never consider playing with Hugh again. I don't see the point. I've moved on and The Stranglers have moved on hugely, you know."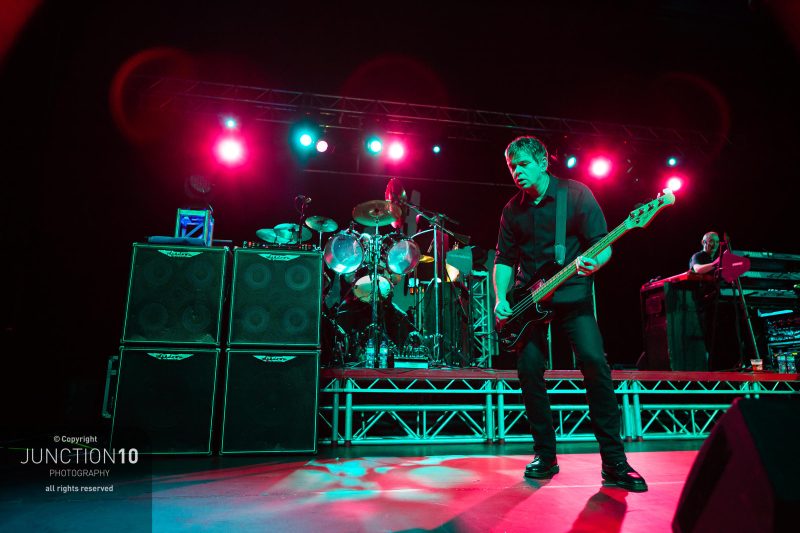 It has previously been reported that there is an in-depth documentary about The Stranglers ready to go, but JJ says Hugh has blocked it from being screened. So what's the update on the doc'?
"Because there's now a legal precedent involving the Pistols – Danny Boyle is making six-part series ,"Pistol", based on the memoirs of Steve Jones, but John Lydon, aka Johnny Rotten, attempted to block the project but lost the court case – I suppose we could try to release the documentary.
"But there's no rush. Maybe release it in two-or-three years' time. Hugh was the stumbling block, until there was new jurisprudence……"
• For full tour details and more information: www.thestranglers.co.uk
---
Jean-Jacques "JJ" Burnel: "Track Record
1. First song you heard as a child?
Heart Full of Soul by the Yardbirds.
2. First single you owned?
My Boy Lollipop by Millie (Small)
3. First LP/album you owned?
E. Power Biggs playing Johann Sebastian Bach on the Heidelberg organ.
4. First CD you owned?
Er….Probably a Stranglers' one – early 80s.
5. Last music you bought and in what format (CD/vinyl/digital download)?
Three days ago, downloading The Hollies Greatest Hits.
6. Which album would be on your wish list as a gift?
What if I I've already got it? Lol…. L.A. Woman by The Doors.
7. Favourite album?
At the moment; Dark Matters by The Stranglers.
8. Best record ever made (can be single/album/EP)?
Most influential for me is probably classical pianist Melvyn Tan playing John Field and Chopin.
9. Guilty secret in your music collection?
Frank Sinatra and Count Basie live in Las Vegas.
10. What does music mean to you and how does it make you feel?
It touches every aspect of my senses and when I make music it soothes the savage breast, and sometimes excites the savage breast.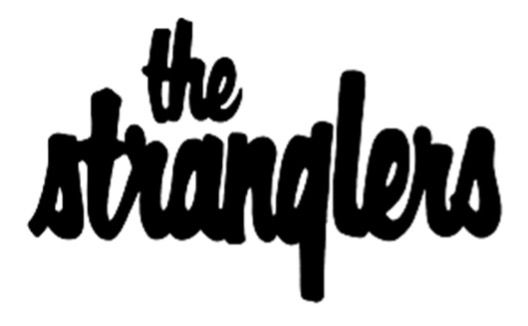 11. Which song or album is a guaranteed mood booster?
At the moment it's gotta be "Dark Matters" by The Stranglers. It's so recent…. The one song in that category (mood booster) from that album would be "White Stallion" (Track 10 – see the behind the scenes video of "White Stallion" above.)
12. Which song or album would be the soundtrack to a film about your life?
Hmmmm…..Probably La Fille aux cheveux de lin by Debussy. (A composition for solo piano – the eighth piece in the composer's first book of Préludes, written between late 1909 and early 1910. The French title translates roughly to "The Girl with the Flaxen Hair". Named after the poem by Leconte de Lisle. Debussy completed the composition in January 1910).
13. Your favourite driving track – or music to exercise-to?
At the moment, any tracks by The Fall.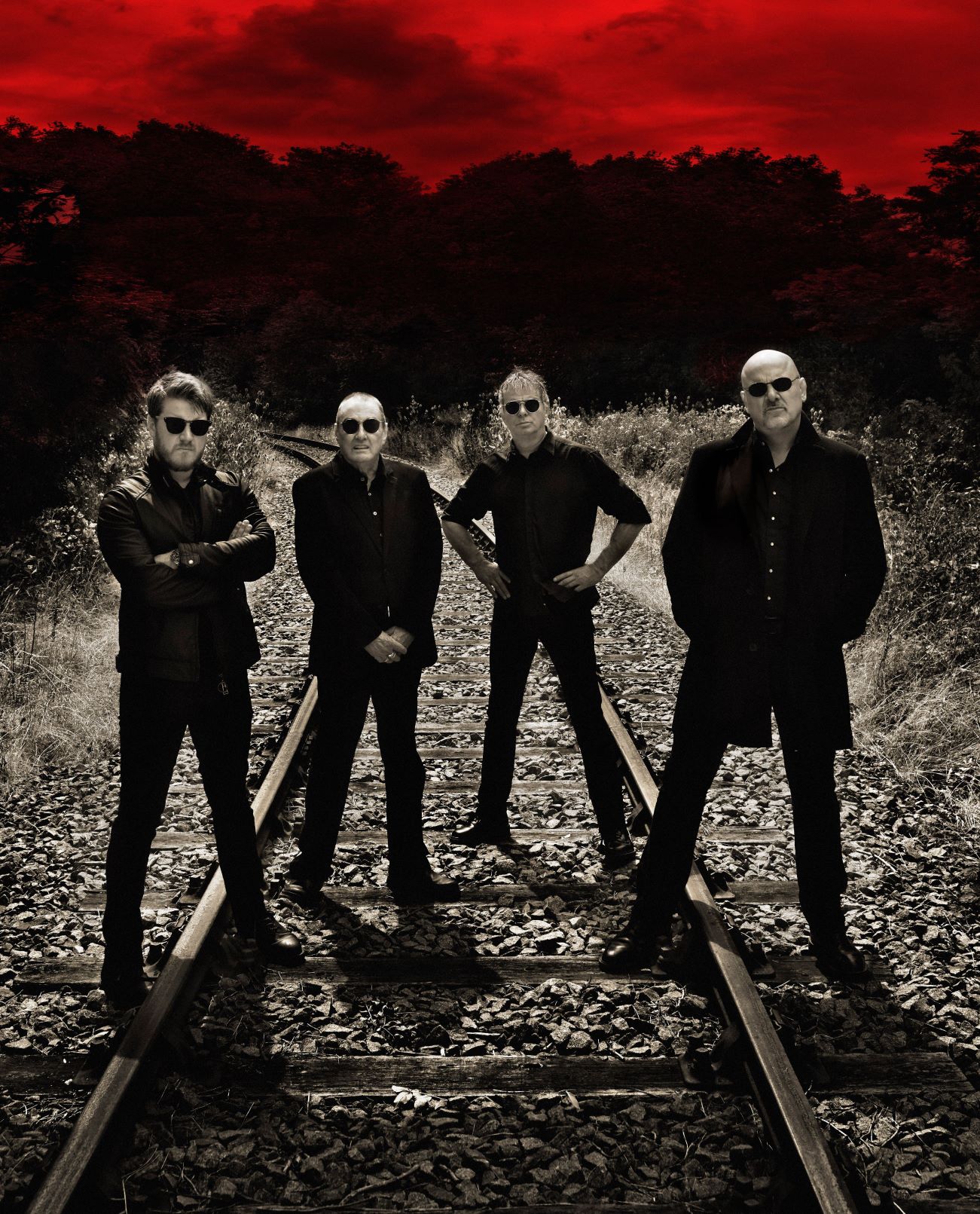 14. Best song or album for a romantic moment?
Got to be anything by Chopin, hasn't it?
15. Which song was played for the "First Dance" at your wedding (if married) or which song would you choose if you did get married?
(JJ laughs…..) What a shite question! I refuse to answer that question as my marriage was a disaster. I will pass on that one. (Regarding the various on-line stories suggesting JJ re-married last year in secret: "No, I won't answer that at all!") Editor's note: If he is now happily married, and we'd take that bet for a tenner, we send our very best wishes and congratulations.
16. Your choice of song to sing at karaoke?
The last time I did karaoke was in Japan, and I was forced to do karaoke which was against everything I wanted to do. I was forced by my karate master, and it was an Elvis Presley song, "Heartbreak Hotel".
17. Which song takes you back to your childhood – and to which specific memory?
I cannot recall the title of the song, but it will be a tango, because my father loved tango music because he'd been down in south America in the 1930s. It was probably a tango by Astor Piazzolla, as we had some of his records at home. (Astor was an Argentinian tango composer, arranger and musician who died in 1992 at 71-years-old).
It reminds me of my dad, who didn't drink much, but who'd had a glass of wine too many, dancing on the dinner table doing a tango. This was before the meal had been finished! He was quite cool, even in his 70s he was wearing denim jackets and driving all the old ladies around here (South of France) crazy. (JJ's French father was a chef at the family's restaurant in London).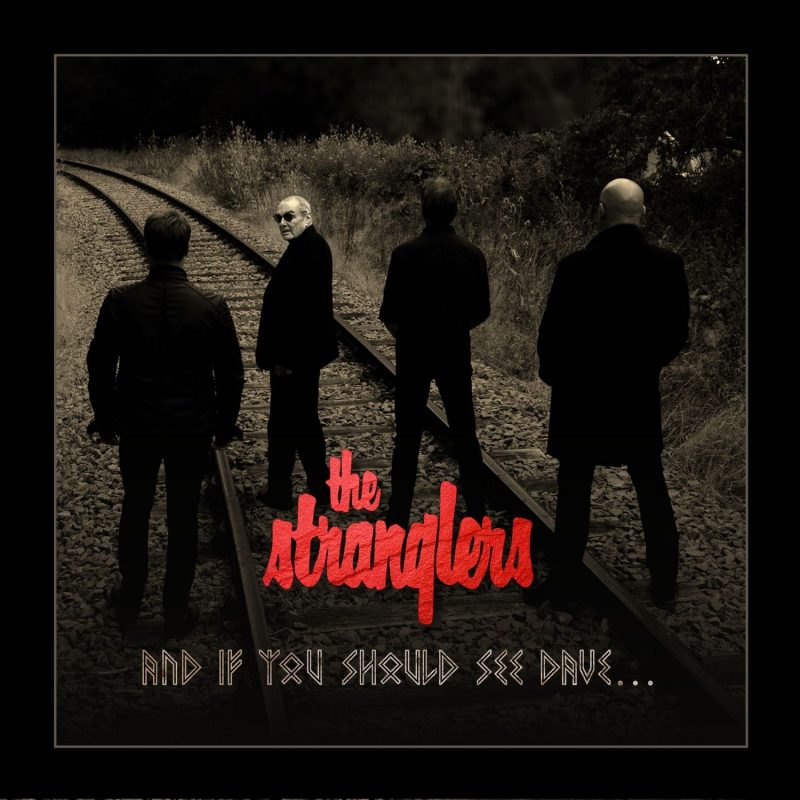 18. Favourite band?
The Stranglers, The Doors, The Hollies, The Who, The Yardbirds.
19. Favourite singer?
Jim Morrison.
20. Which song would you like played at your funeral?
Elgar's Nimrod. I think it is such a beautiful piece of music. Or Debussy's Claire de lune.
---
Words:

Steve Best
Photos:
JJ and Baz (Featured Image at top of page): Hiroki Nishioka
The Stranglers posed on stage (with Dave Greenfield): David Boni
JJ (black and white live shot): Jason Sheldon
JJ with Dave Greenfield on stage: Jason Sheldon