British female singer-songwriters are currently smashing it in the UK – including Griff, Celeste, Maisie Peters, Grace Carter, Holly Humberstone and a good few more.
Lucy Deakin is among that talented "ones to watch / most likey to break through…" bunch, carving out her own niche in this busy part of the pop world.
A corner of the music market as crowded as a rush hour Trans-Pennine train to Lucy's base of Manchester – but she is holding her own –  declared a rising star by BBC Introducing and featured on NME's list of Top 100 emerging artists. Jack Saunders and others are championing her on Radio 1, including new single "2009" which got a spin the night before this gig.
The third date of eight on Lucy's debut headline tour, which opened in London and closes in Glasgow, brings her to Oporto Bar in Leeds, an intimate venue if ever there was one –  right in the heart of city. A few dozen enthusiastic souls "out out" on a crisp Tuesday November night, who sang and clapped as rambunctiously as the sound of a much larger crowd.
She tours to support her new EP "in your head i'm probably crying" (which she stylised all lower case), which dropped on 5th November.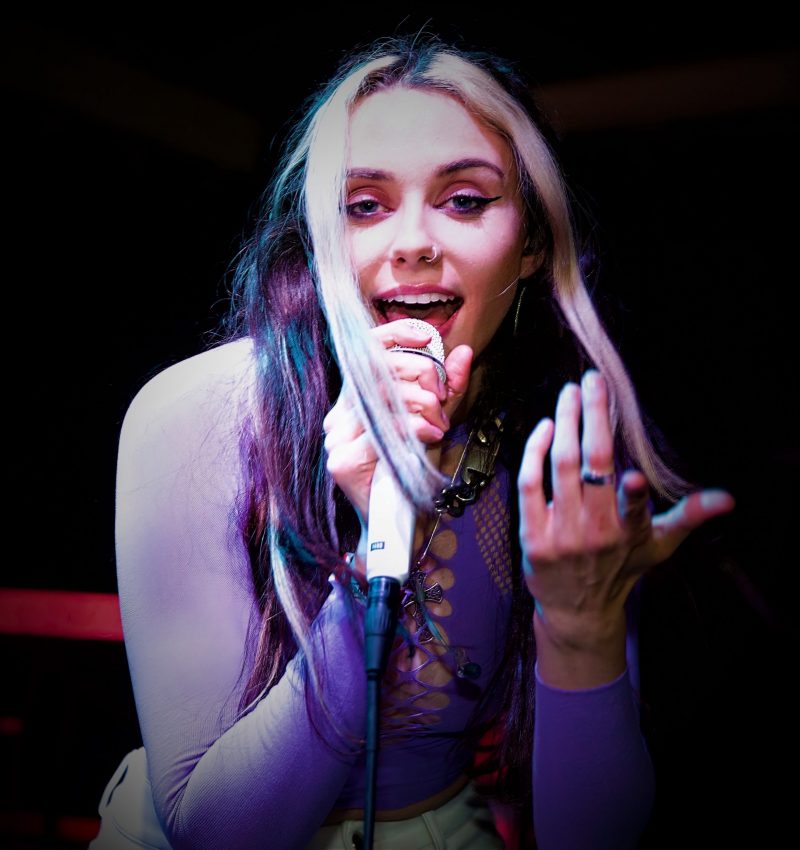 Staffordshire-born Lucy and her producer Karl Ziegler write and record her tracks from Karl's bedroom. She roped Larkins' front man and guitarist Josh Noble into recording with the pair for her current EP, after touring with Larkins as support act.
They strive to "break the mould of the classic pop song formula with production values that stand up against some of their biggest influencers"…and that would be the likes of Dua Lipa, Charli XCX and Miley Cyrus. She is also a big Avril Lavigne fan.
Ms Deakin has clocked up circa one million streams thus far in her relatively short career, and is a big hit on a slew of red hot Spotify playlists. She has three EPs to her credit and at least a dozen singles, signed to Manchester label Scruff of the Neck. Her debut track dropped in February 2019.
Trendy Oporto is a buzzing venue that affords fans a real "up close and personal" experience with the performers on the cosy stage – an atmosphere in which it is clear that Lucy thrives. Tonight she is joined by Kid Blue on keyboards/guitar and Matt Sanderson on drums.
With such a small stage and venue, there really was no hiding place for sub-standard performances or lack of interaction with the well-up-for-it punters. No worries on that score for Lucy…
Great voice, crystal clear sound quality, band were on it and she was uber-interactive; urging the fans to sing along and get involved. And they were happy to oblige, dancing and singing along, especially reacting to singles "2009" and "Acting Like You're Famous".
The atmosphere was superb. She was in her element on stage and off; meeting the fans before and after the show with the beaming smile and excitement of…a young talented artist on her debut headline tour!
Telling the assembled throng she was excited to be doing her first headline tour. Asking if people had listened to her new EP, only released four days ago. Tonight offering up all seven tracks from the EP in her circa 45-minute set. Many singing every word, to confirm, yes, they'd heard it!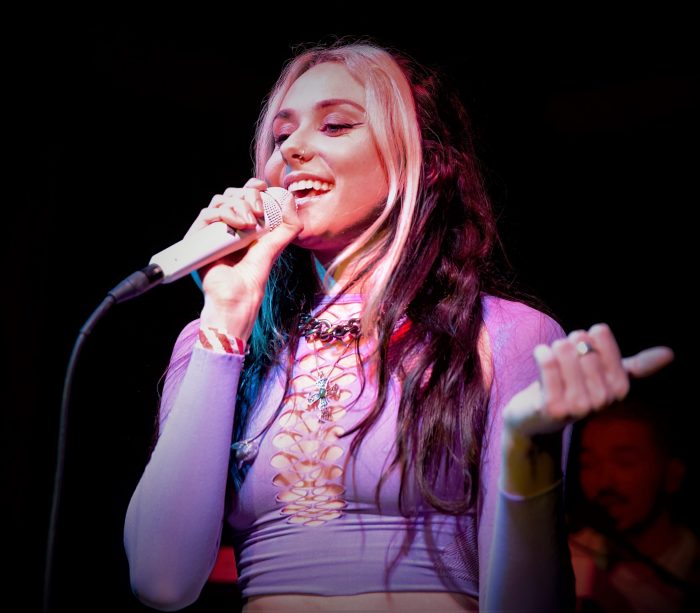 She opens with "How Am I Supposed To", an absolute banger that sets the tone for the set. The room is full of energy as she delivers "We Could Be", more positive upbeat pop from Lucy's first EP, "I Got Bored" from October 2020, one of four tracks from the six on that record she has in her set list tonight.
Mid-set gets introspective, with a journey into those difficult relationships that most of us have experienced, in the song "Bedroom Floor", before she offers up perhaps her most personal song, "I Don't Even Miss You", drawing on her own break-up experience to pen a masterpiece of defiant melancholy.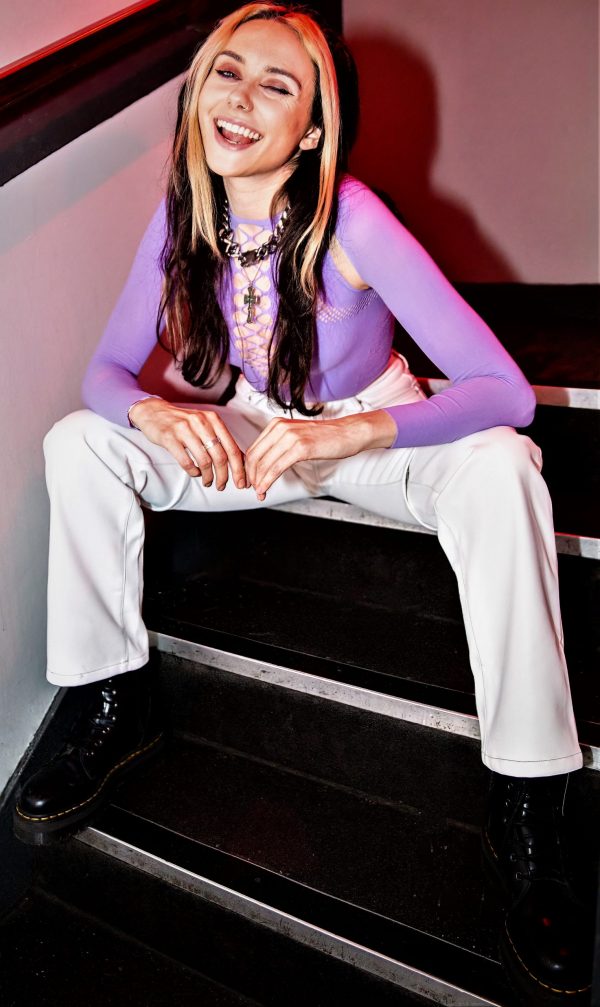 "How to Lose a Guy" returns us to her trademark pop sound, delivering an outrageously hooky, anthemic highlight before the crowd joins in with the Avril Lavigne cover of "Complicated"- Ms. Lavigne one of Lucy's early influences.
Acknowledging her first gig in Leeds, Deakin soars into her encore song – but without leaving the stage first in the traditional encore way, as there's literally nowhere to go in such a cosy venue – "Acting Like You're Famous", which already sounds like a pop classic.
Lucy Deakin is a fine exponent of the "futurepop" genre – a blend of synth' pop, EBM and dance beats based on trance and techno – but there's plenty here to suggest that the future has already arrived….
Two support acts tonight: Bella (

Leeds-based smooth, jazz-inspired singer plus bass, keyboards, drums and two backing singers), and Edited People (Female singer, two guitarists and backing tracks. Hip hop inspired beats, guitar and bass with a modern pop flavour).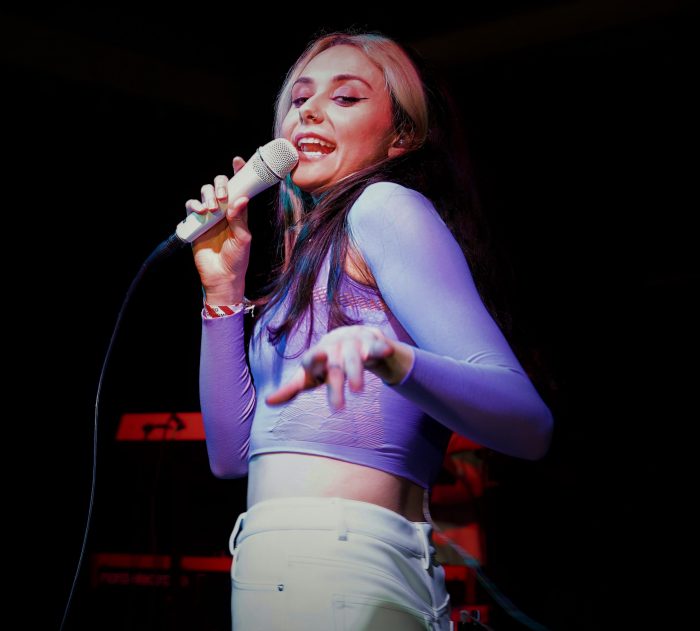 Leeds Set List:
Intro (Crying)
How Am I Supposed To
We Could Be
Be Alright
Bedroom Floor
In My Head
I Don't Even Miss You
How To Lose A Guy
Complicated
Bad In Love
2009
Acting Like You're Famous
---
Words & Photos: Huw Williams