My diary has been emptier than a hermit's address book for the last 19 months or so, due to the dreaded Damn Panic; I mean, pandemic, pulling all the gigs and festivals.
So tonight, Matthew, I am going to be a pig in sh**, attending my first gig since they came back to life. Red hot UK Indie stars Sea Girls and support act Coach Party, in Birmingham.
I was expecting support act Baby Queen tonight, whose recently released mixtape, "The Yearbook", was wonderful and caused me to tip her for future bigtime stardom.  But she pulled out of the tour not long ago, for some unexplained reason, replaced with Isle Of Wight four-piece, Coach Party.
Ms Queen does have a run of three headline shows in London next month and she shoots a video on Saturday, with fans invited to appear in it.
I was disappointed by her absence tonight, but these things happen in the music biz all the time, and I have got to say; Coach Party's Jess on bass and vocals, Steph on guitar and vocals, Joe on guitars and Guy on drums turned in a very impressive set and are ones to watch.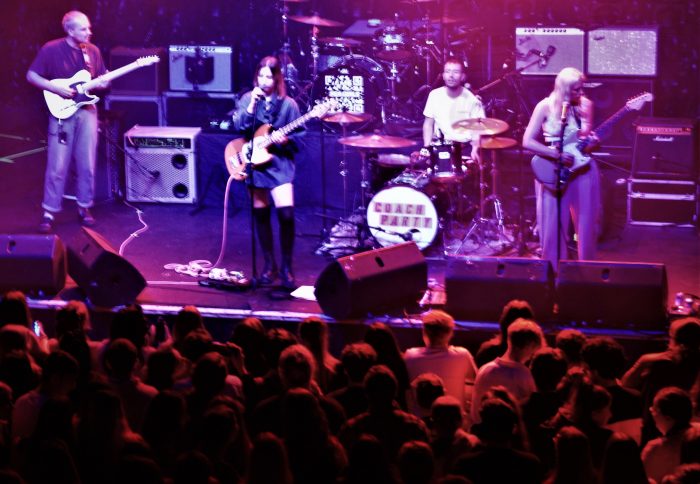 But I do have to disagree with the way they describe themselves on their social media: "Beige indie band with cracking personalities." Nowt beige about these noise makers; more bright reds, yellows, splashes of purple and dabs of black!
This tour will win them many new friends. Me included. Current single "Flag (Feel Like A Girl)" sounded cool tonight; been winning spins on national radio and setting tastemaker tongues wagging.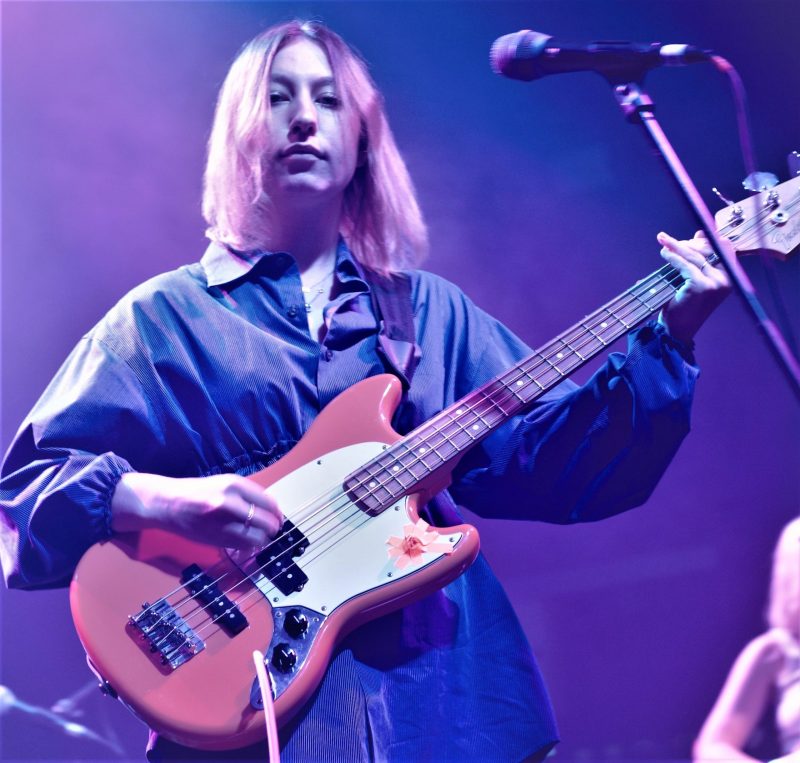 If your bag is loud, shouty, thrashy, heavy, rocky, aggressive industrial meets punk kind of thing, then this is for you. Take ear plugs! (Great drummer, by the way).
I caught Sea Girls live at the TRANSMT festival a few weeks ago – albeit on TV – and really enjoyed their set, especially their energy. Their 2020 debut album, "Open Up Your Head" is a real winner.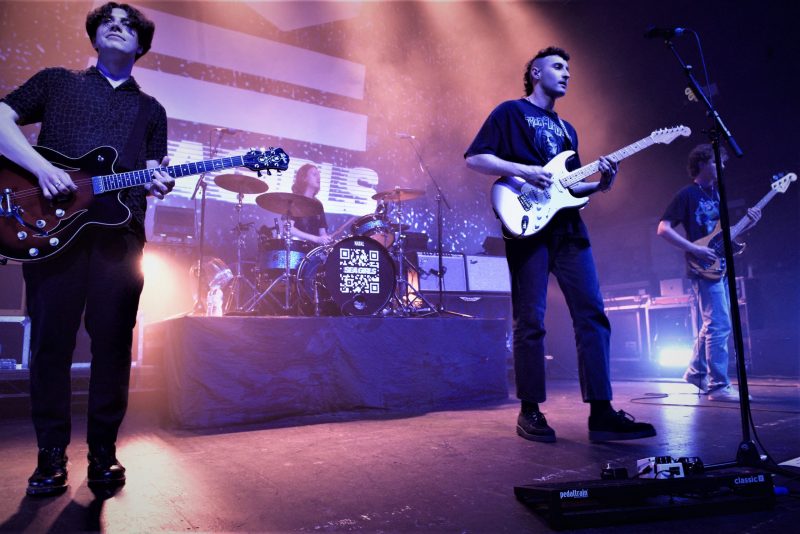 So, an hour after Coach Party kick off proceedings, the four lads in Sea Girls hit the stage to a thunderous welcome. This crowd were well up for it, as was the band.
Henry Camamile (vocals, guitar), Rory Young (lead guitar), Andrew Dawson (bass) and Oli Khan (drums). Formed in London in 2015, the guys hail from Leicestershire, Kent and Lincolnshire, and all met in High School.
Sea Girls opened their tour in Leicester on 7th October. Birmingham the fourth date of 11. Closing on 21st October in Manchester. It is third time lucky for ticket holders, the tour re-scheduled for a third time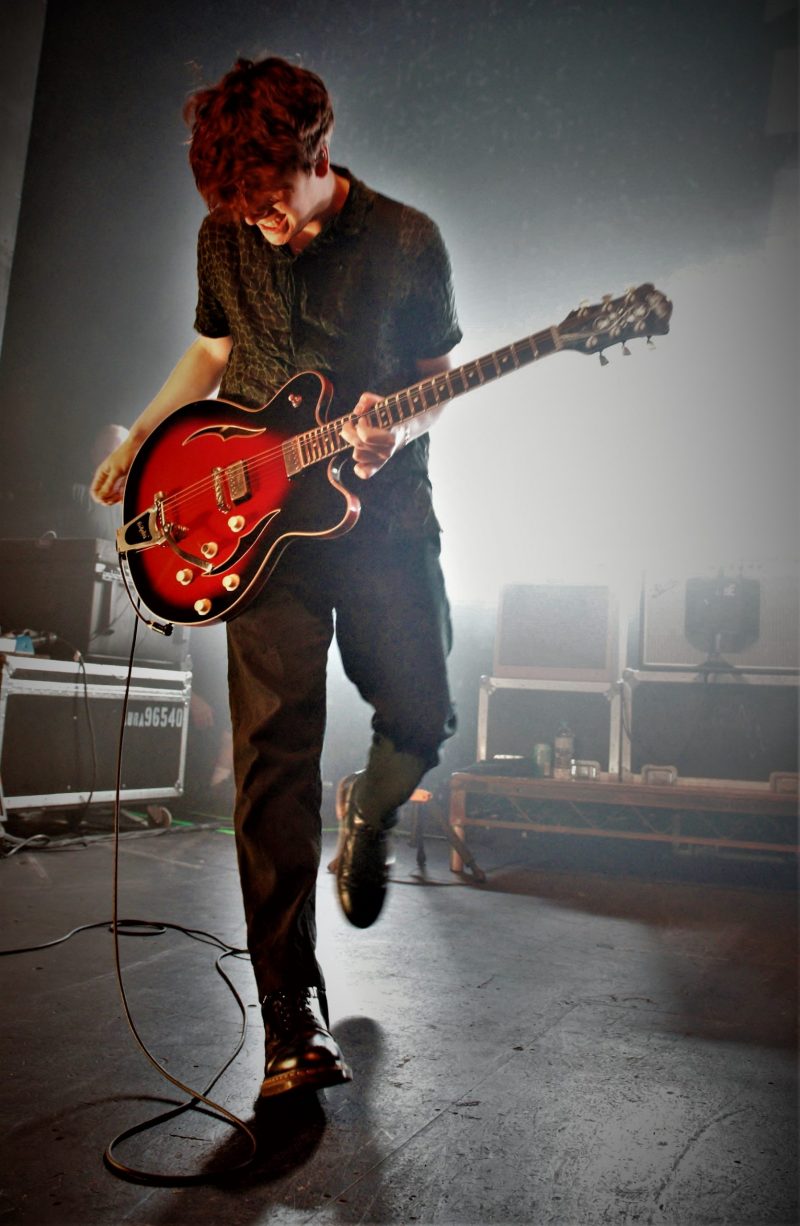 They are off to Europe in March and April next year for shows. Eight dates in Europe in March/April 2022. The next date on this tour is Cambridge on Tuesday (12th October), and those fans are in for a real treat. Trust me on that.
A good number of their fans here tonight first saw them at a festival and fell in love. They have grafted for four years on the circuit, building up a loyal following.
This summer they tore Reading and Leeds a new one! What I saw of their set at TRANSMT was cracking. The age range of their audience tonight is wide; from teenagers to, well the far more mature. Like me!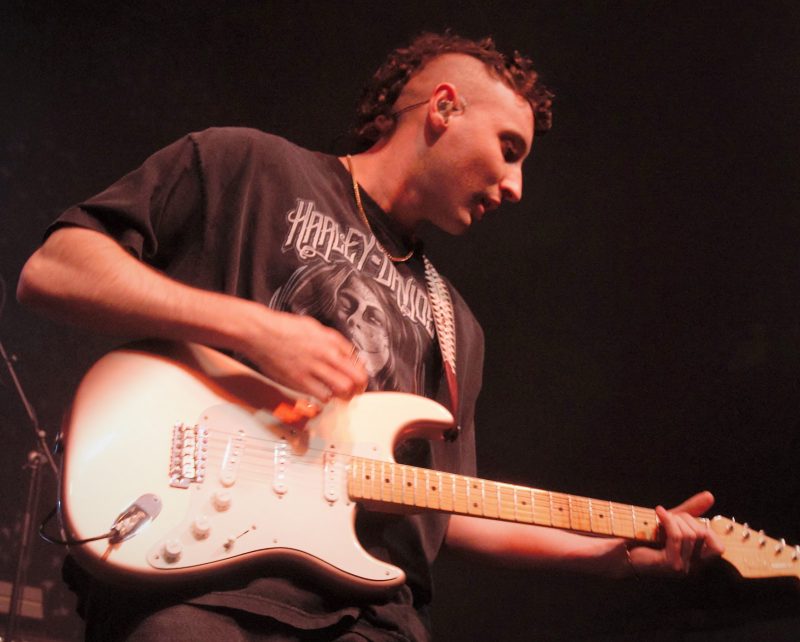 They blasted into "Call Me Out" as the opener tonight, then "Violet" and "Closer". All three are on their debut album, "Open Up Your Head", which dropped in summer last year (2020), smashing into the UK chart at # three.
Tonight, they deliver 12 of the 14 tracks on the album. Plus some new stuff from the next album, "Homesick" out in January 2022. A set of 17 songs tonight.
Lead guitar man Rory was spinning around like a whirling dervish in Doc Martin's for the entire gig. His hair flapping about like a mop. How he is not throwing up, falling over with dizziness, crashing into the amps or drum kit,  but not missing a single note, is beyond me. Tasty licks too.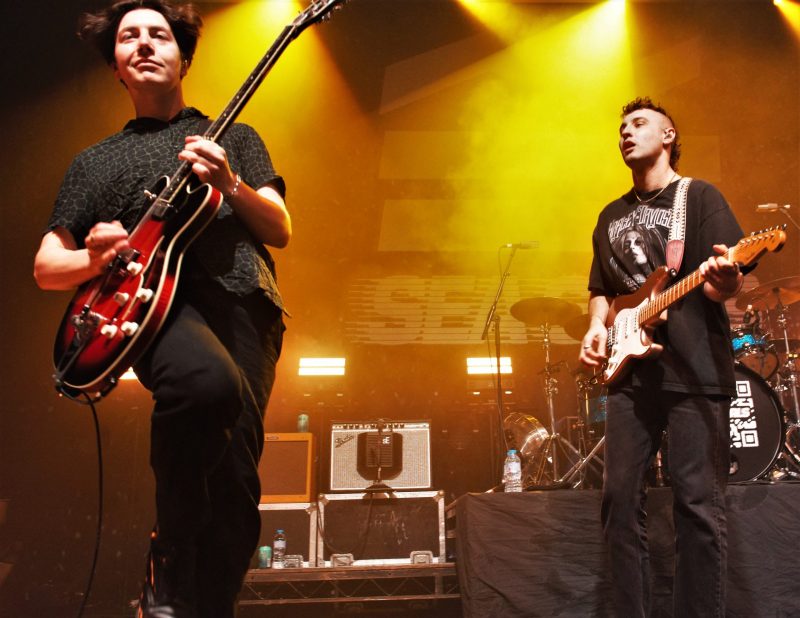 Up next is the popular "Transplant" and then "Hometown", a new song from the next album. Henry swaps to acoustic guitar for "Lie To Me. Then "Forever", before the superb album closer, "Moving On," where Henry discards his guitar for just the microphone for company as he takes front of stage.
He starts an impromptu verse and chorus of a Black Sabbath song, while on that famed metal band's home territory, but curtails that to hammer out the brilliant "Do You Really Want To Know". Full of Celtic guitar flavours.
A sing-along biggie for the fans. I know guitarist Rory may not appreciate this comparison being a young, trendy thing, but throughout the night, I could almost hear Simple Minds and U2 flavours blasting out of his amp. That's a compliment by the way! (Johnny Marr comparisons he might be ok with!)
The throbbing bassline and another sing-along with "Ready For More". Next up, title track of their 2018 EP, "Heavenly War", before "Lonely", another new one from the next album.
Just under an hour into the set, another 2018 track, "Too Much Fun" from the "Adored" EP, prompts the crowd to go mental. Not seen jumping and bouncing and frenzy from a gig crowd like this for a long time. Possible risk of damage to the roof and foundation? Man, it is so good to be back; surely the defiant and joyous collective message from this en-masse mosh-up.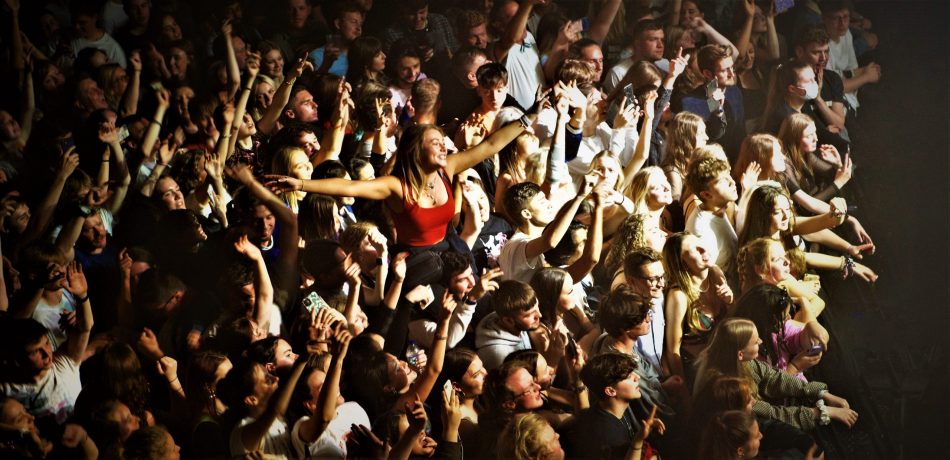 Talking of damage, "Damage Done" prompts Henry to tell the crowd: "Come on, let's fucking have it!" And have it they effing did….
Last song of the main set, "All I Want To Hear You Say", ratchets the energy levels up a few more notches; from the band and the crowd. The place was rocking. Henry clambering up onto the barrier to sing to his adoring fans, whose faces showed they bloody loved it/him.
Off stage to raucous shouts for more that'd wake the dead, before Henry comes back on alone, acoustic guitar strapped to his chest, to sing "You Over Anyone". If we did not know it before, we do now; he really is a superb singer. Tonight, aided by many hundreds of very loud backing singers.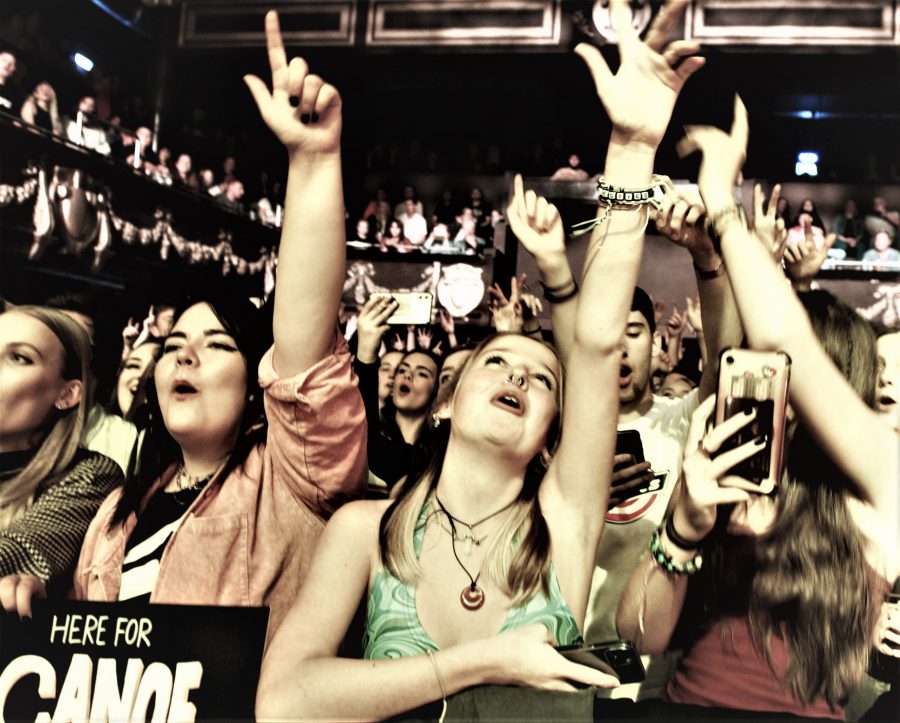 Final offering, "Sick" is a recent single and a new one from the next album. Really cool song. Then they are gone…
Not one duff moment of the 75-minute set. I am genuinely stunned by the reaction this band elicit, and how powerful they are as a unit. Glued together with masses of palpable chemistry as a four-piece.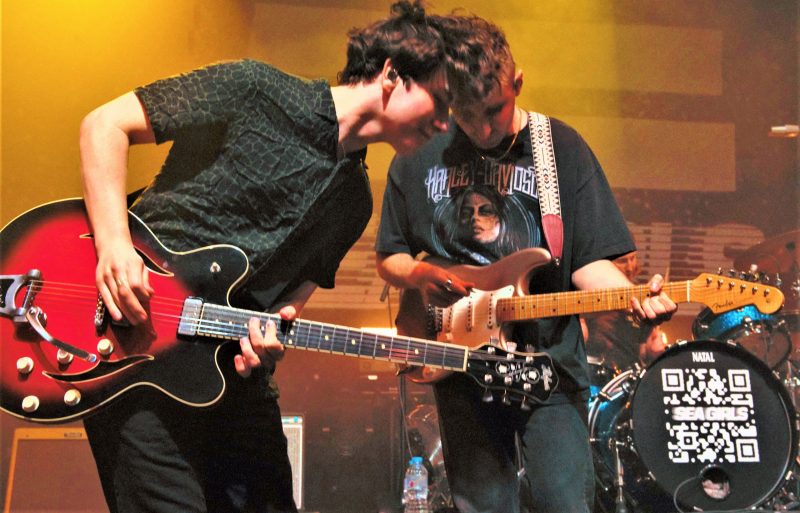 There may well be an energy crisis on these shores right now; but this lot generated enough electricity to fuel the national grid for the whole of the West Midlands tonight! Their fans probably caused a tremor in Wolverhampton on the Richter scale, too!
Get to the bookies and stick your dosh on this lot having a # one album in January or February next year AND getting to fill arenas and maybe even stadiums before too long. Polydor better have 'em signed up tight for future albums/singles….kerchiing.
You missed a flippin' belter Bella Lathum (Google her!)
Words & Photos: Steve Best
All rights reserved/Copyright: Music Republic Magazine 2021