The last time I saw Erasure three years ago, I noted that their career was experiencing a resurgence, and it seems to be gathering pace. Since then, their last album, "The Neon" which was released back in August 2020, was their first top five album in 26 years.
Their 1988 smash hit "A Little Respect" was recognised as the ultimate Pride anthem in a recent listener vote, and this first of two nights at Manchester Apollo – a venue Erasure have played more than 20 times over the years – is long since sold out, as is most of The Neon tour.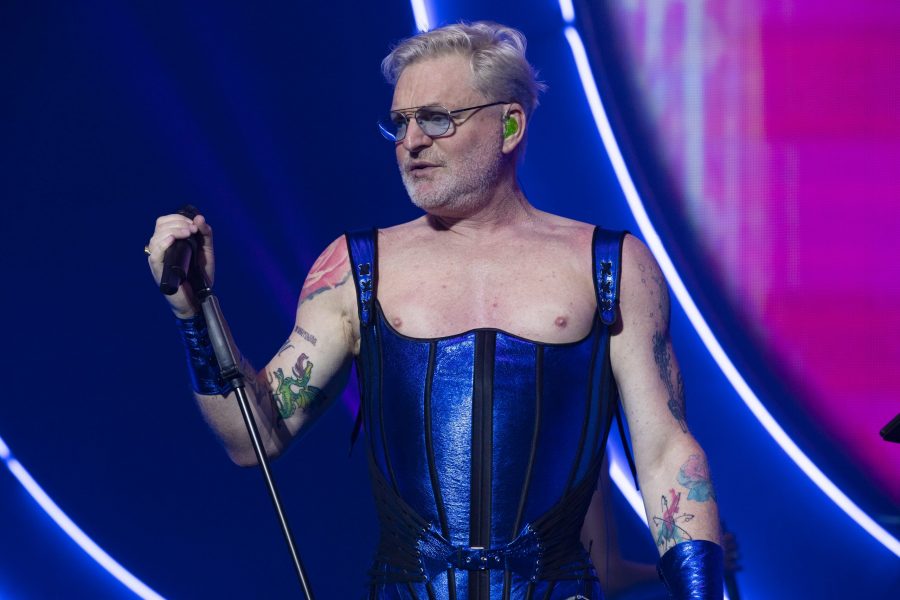 Never having succumbed to the nostalgia circuit, they are in an enviable position of still being in demand with audiences the best part of four-decades after their first single. And so we find ourselves back at the Apollo on a steamy Saturday night in Manchester with a crowd that's definitely here to party, from the off.
The Erasure live experience always looked a bit disappointing on paper. A flamboyant frontman, two backing singers, and a keyboard bloke at the back who doesn't really seem to want to get too involved – an odd mix.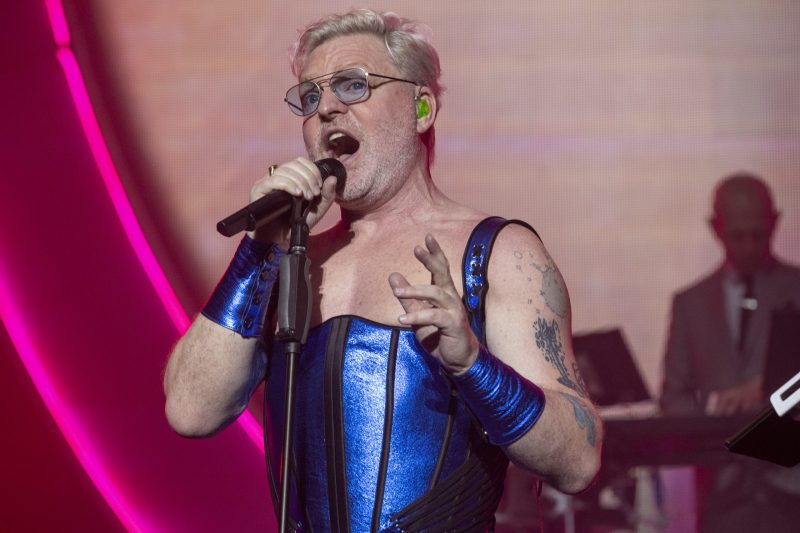 While the production is scaled down from their arena heyday, there's a fairly big show tonight; Andy Bell dressed in one of his trademark 'barely-describable' outfits, complete with Rupert the Bear checked trousers and some kind of blue corset/bustiere contraption.
Describing it as "bespoke", he claims to have asked for a Rolls Royce, but got Roy's Rolls instead (a jokey reference to the cafe in iconic TV soap Coronation Street!)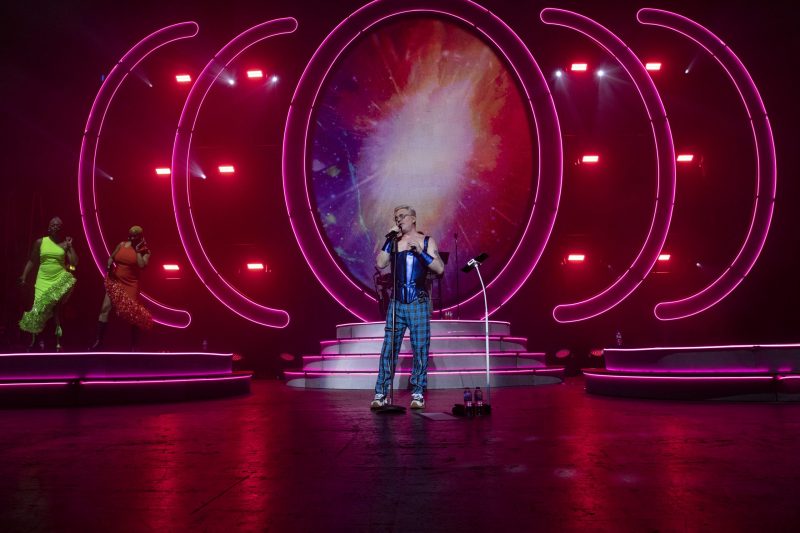 Staging-wise, there's some giant circular video screens, Mr Clarke lurking in the shadows at the back as tradition demands, and the two backing singers they've worked with for many years, Val and Emma, in matching shiny asymmetric outfits. Unlike the Scottish dates on the tour, tonight we get no swings or roundabout props on stage.
Erasure arrive on stage to the music from Joe 90, the 1960s Gerry Anderson-produced TV puppet show. The set list is well crafted. Just four tracks from the current album accompanied by hits galore, but still room for deeper cuts like fan favourites, "Save Me Darling", from 1997's "Cowboy" album, and "Push Me Shove Me", from their 1985 debut. There's a new cover of "Love Is a Stranger."
The set is expertly paced, opening with a huge hit in the shape of "Chorus" and featuring a closing run of hits from their golden period, including "Drama!", "Always", "Stop!" and "Victim of Love", that serve as a perfectly targeted cluster bomb of nostalgia for anyone who grew up listening to pop radio in the late 80s and early 90s – getting those up on the balcony who were still sat down, up on their feet with the rest of us.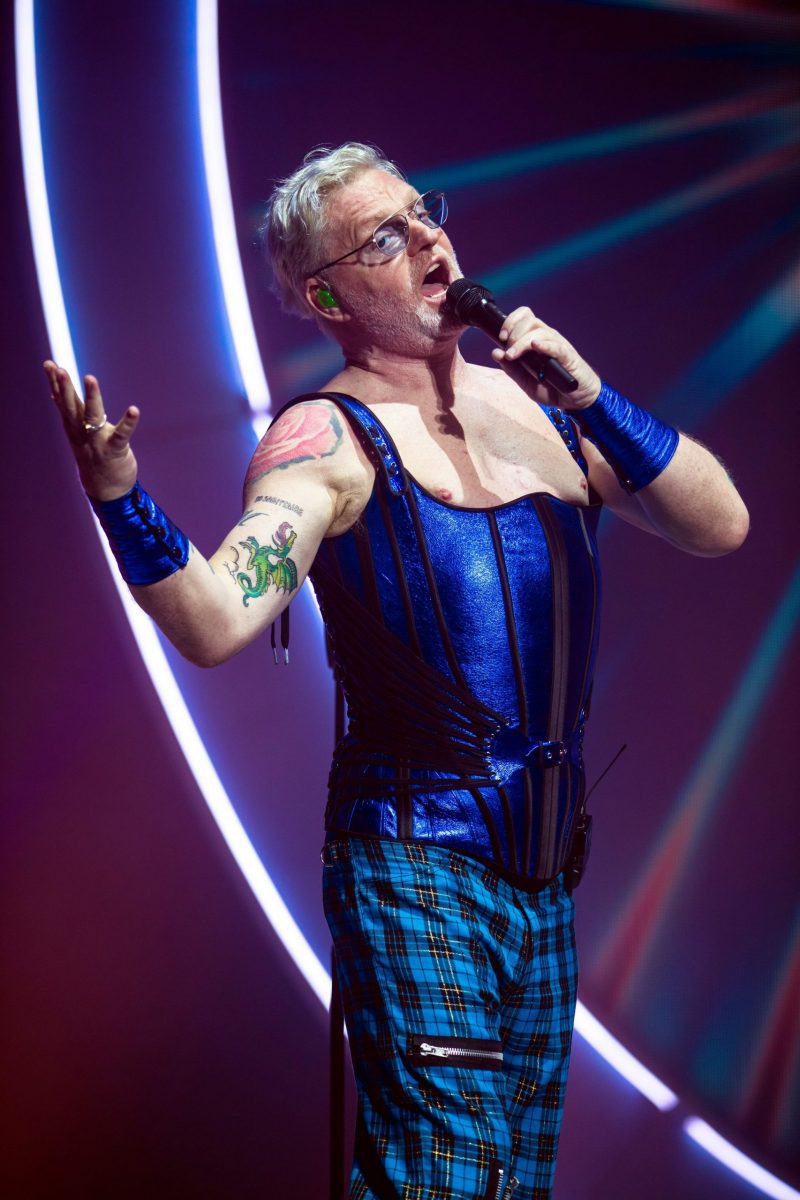 There's not much messing with successful formulas arrangement-wise, but that's not what an audience who have been stuck at home for 18 months needs anyway. They want the hits, the energy of being back in a room listening to live music again and to sing it all back; and Erasure deliver that in spades.
Beyond the big hits, the title track of their second album, 1987's The Circus and it themes of Thatcher-era economic anxiety are rendered relevant again by current events, and the audience still clearly remembers "Turns the Love to Anger", despite it not having been played live for almost three-decades.
Gone is the seaside smut that characterised Bell's between-song banter; replaced with gnomic utterances which suggest his mind has not so much wandered, as completely slipped the lead and now up a neighbour's tree…
With pronouncements tonight on Debbie Harry's age, the 1973 children's television show "Pipkins" and a suggested 'gofundme' for a tanker (a reference to the current fuel crisis on these shores); which by a feat of incomprehensible mental gymnastics leads to us getting a blast of "Simply Having A Wonderful Christmas Time," when he doesn't know how many days of Christmas there are (he thinks it is 21).
While he doesn't know what date it is – he thinks it is the 10th – he does know where he is; marvelling at the sheer amount of time he's spent on the Apollo's venerable stage across the years, and asking whether anyone is stuck "in the dip" near the sound desk. Sometimes the rambling threatens to derail the flow of the evening, but it's quickly forgotten when the next big tune kicks in.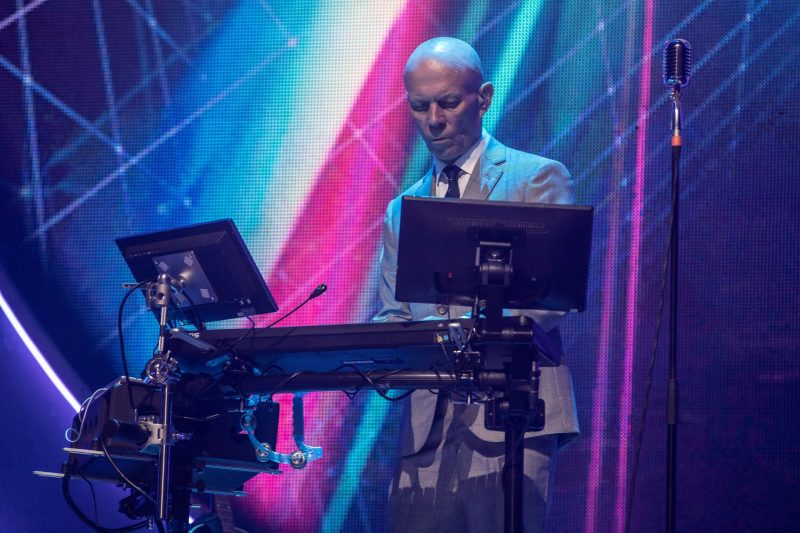 Vince by contrast, says literally nothing, nada, zilch, schtumm – his sole visible contribution to the evening being to pop out from behind his keyboard up on his platform behind his partner in crime, to briefly come on to the stage to cut Andy free from his blue corset with scissors, still saying nowt, Andy's bonkers attire replaced by a yellow t-shirt with the infamous selfie monkey on it.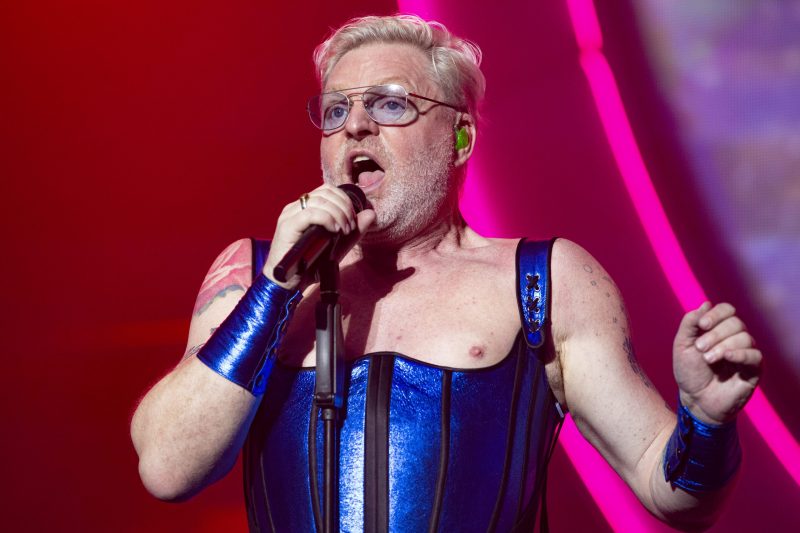 Sure, a few songs may be a little lower in key than they were, swerving some of the higher notes, and Andy definitely didn't remember all the words but the goodwill of the crowd more than carried them through.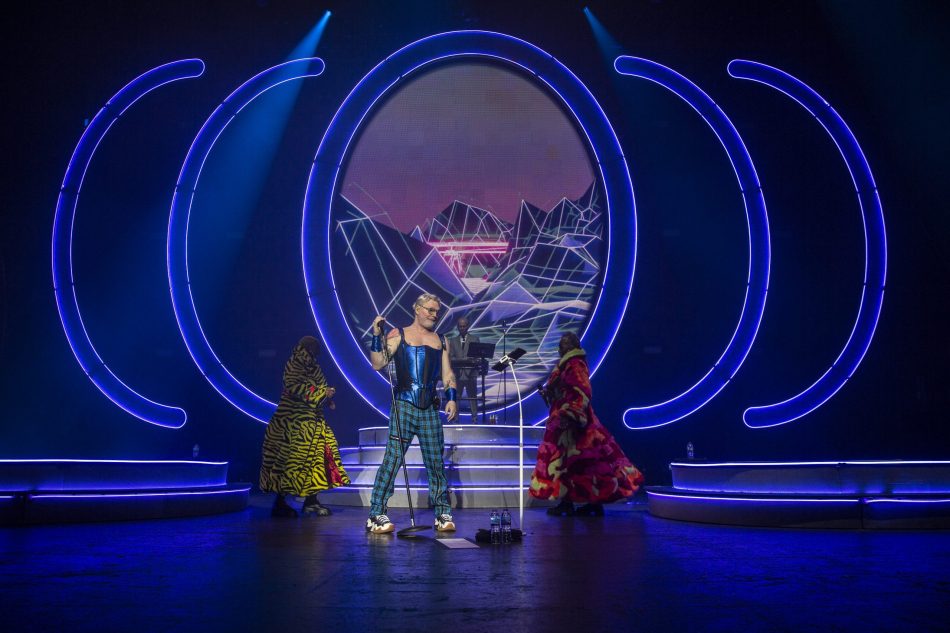 One thing I've noticed since shows restarted, true again tonight, is that nobody is going through the motions; either the audience or performers. There's a genuine sense of gratitude to be back in the same room together from both crowd and band.
As the still-singing audience spill onto the street after a marathon one hour and 45 minute set – no support, just a DJ for two hours before the headliners – it would be a foolish man/woman who would bet against Erasure hitting their 30th performance at the Apollo, or their audience not being here for them again. I'm ready…..
Words & Photos: Mike Gray
---
Set list:
Chorus
Hey Now (Think I Got a Feeling)
Fill Us With Fire
Sacred
The Circus
Who Needs Love Like That
Nerves of Steel
Blue Savannah
Chains of Love
Turns the Love to Anger
Careful What I Try To Do
Sometimes
Save Me Darling
Shot A Satellite
Love to Hate You
Love Is a Stranger (Eurythmics cover)
Drama!
Always
Stop!
Push Me Shove Me
Victim of Love
Encore:
Oh l'amour
A Little Respect