When you have been poorly for a few days and feeling pretty low, you need family and friends around to perk you up.
Well, for chart star Becky Hill, that was the welcome medicine dished out on Saturday night in Birmingham – a "home town" show for the singing star – when her mum, dad, two brothers, school friend and more good mates were in the house to show support.
It seemed to have worked, because Ms. Hill tore the roof off The 02 Academy with a blistering set and the energy and vocal power of a titan. The 3,009 (yes, don't forget the odd nine!) in for tonight's sold out show were well up for it, and sang along at full volume to almost every song.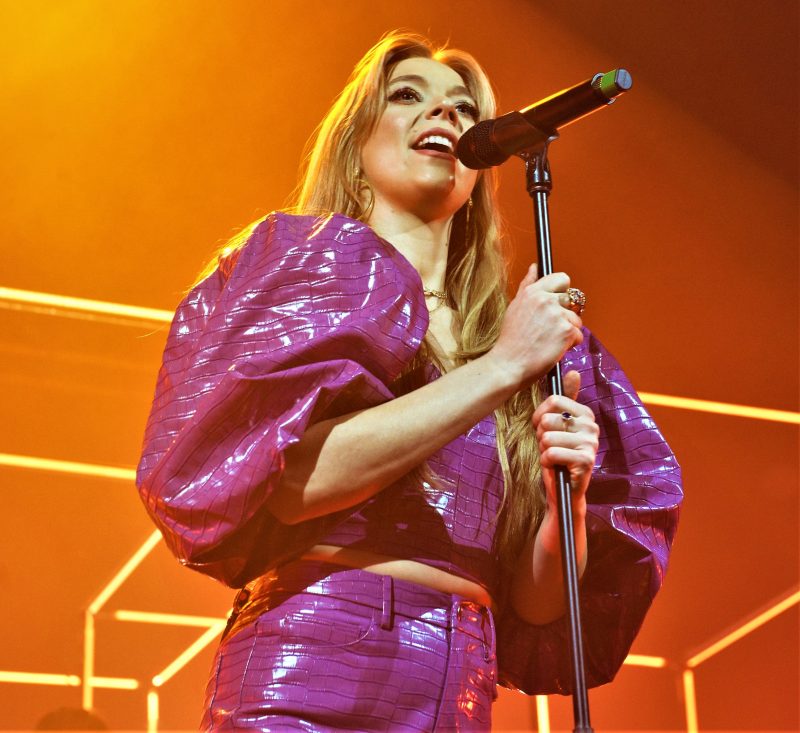 A simple stage set of a neon-tubed cube at the back of the stage housed her band – two keyboard players who also swapped to guitar at times, drummer and two backing singers. Becky was in a funky space-age, pinky/purpley leather or faux leather suit, with puffy sleeves. Can't you tell this is a man trying to describe a woman's styling?
She skipped, she jumped, she made use of every square inch of the stage, radio mic' in hand, and sang her little heart out. Visibly and audibly thrilled to sell out the venue and have her kith and kin there to share the moment. Promising fans a "big party" tonight. And they sure got one.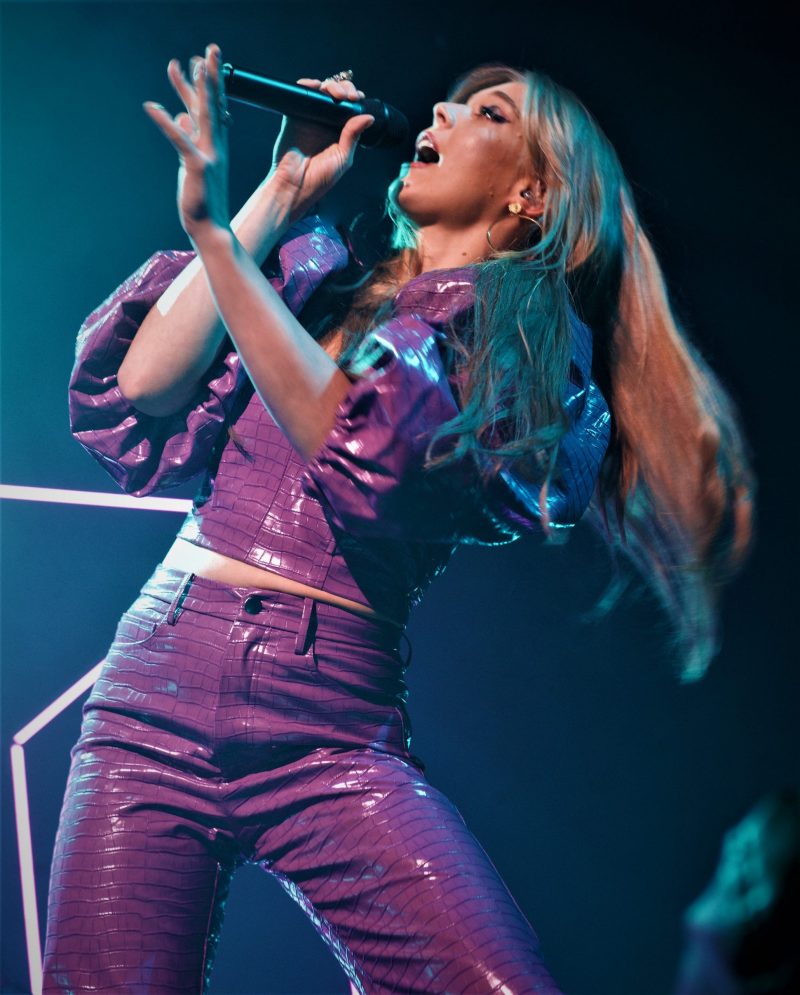 Show # 13 of a 19-date UK and Ireland tour, all or most of which has sold out; and of course, rescheduled due to the pandemic cancellations.
Kicking off with the big hit single "Heaven On My Mind," a fan-favourite track from her belter August 2021 album, "Only Honest On The Weekend" on Polydor.
One of 11 cuts (of 15) from that album she dishes up tonight. Second of the set, the Wilkinson cover "Afterglow", and then back to her album, with "Through The Night".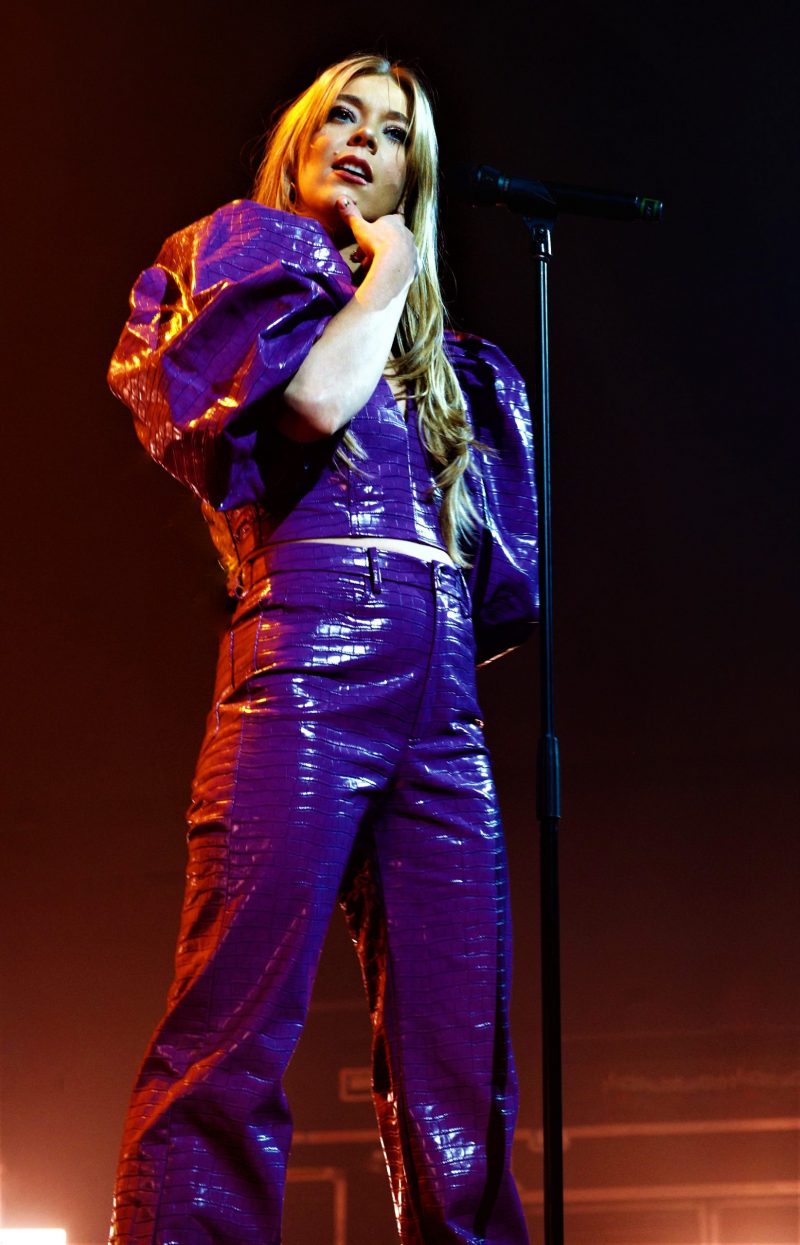 Even though we were still nearly three weeks away from Bonfire night, there were bangers galore in her set; all the smash hits and the best of Becky's current hit album.
The 27-year-old has notched up a staggering two billion-plus streams on Spotify, with more than 17 million people hearing her tracks every month. She's not just a singer though; our Becky is a prolific song writer and has penned or co-penned every track on her latest album – written and sung on 13 singles in the UK chart.
She has had a number one single – the only former contest on The Voice to achieve a top spot in the chart – two in the Top 10 and nine platinum-selling records. Her first album, 2019's compilation of her singles, "Get To Know" was certified gold in sales. Her collaborators include David Guetta, Ella Eyre, Sigala and MNEK.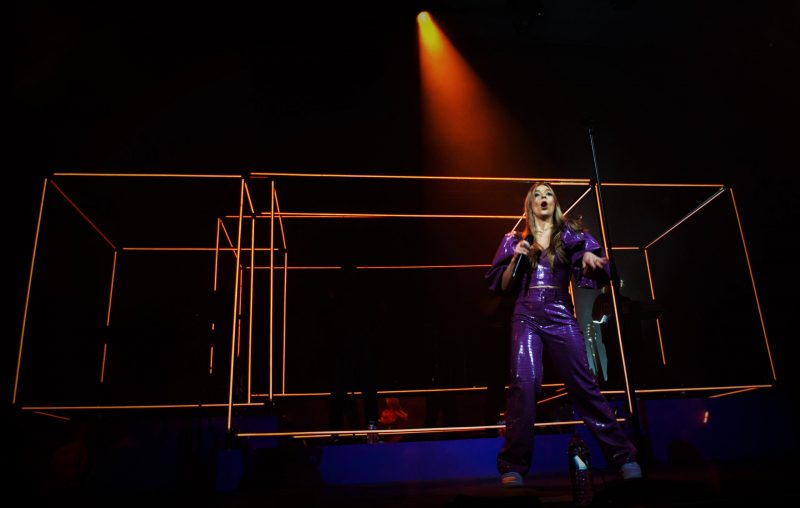 She has been beavering away as a solo artist and a featured singer, since she stormed onto our TV screens in 2012 on the first season of The Voice, on Team Jessie J, as a 17-year-old from Bewdley in Worcestershire, singing John legend's classic, "Ordinary People" in front of the song's co-writer Will.i.am.
Becky reached the semi-final and there was a bit of a public outcry when she was eliminated. But since then, you could say the girl's done good and had the last laugh after her TV talent show rejection!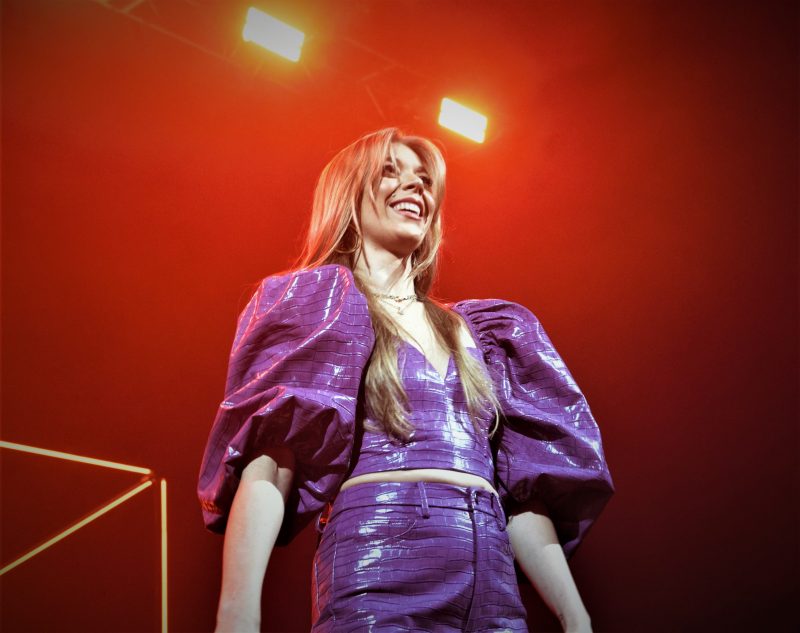 So back to her set list for this Brum gig. "False Alarm", "I Could Get Used To This", album opener "I Got You", "Lessons", and joined by one of her two backing singers, Lovelle Hill, for a fabulous version of "Business", which is a duet on the album with Ella Eyre.
She is still firing on all cylinders despite having been unwell and the heat in that room generated by her energy and those 3,009 (never forget the nine!) fans screaming, shouting, clapping, filming, snapping pix and having the night of their lives.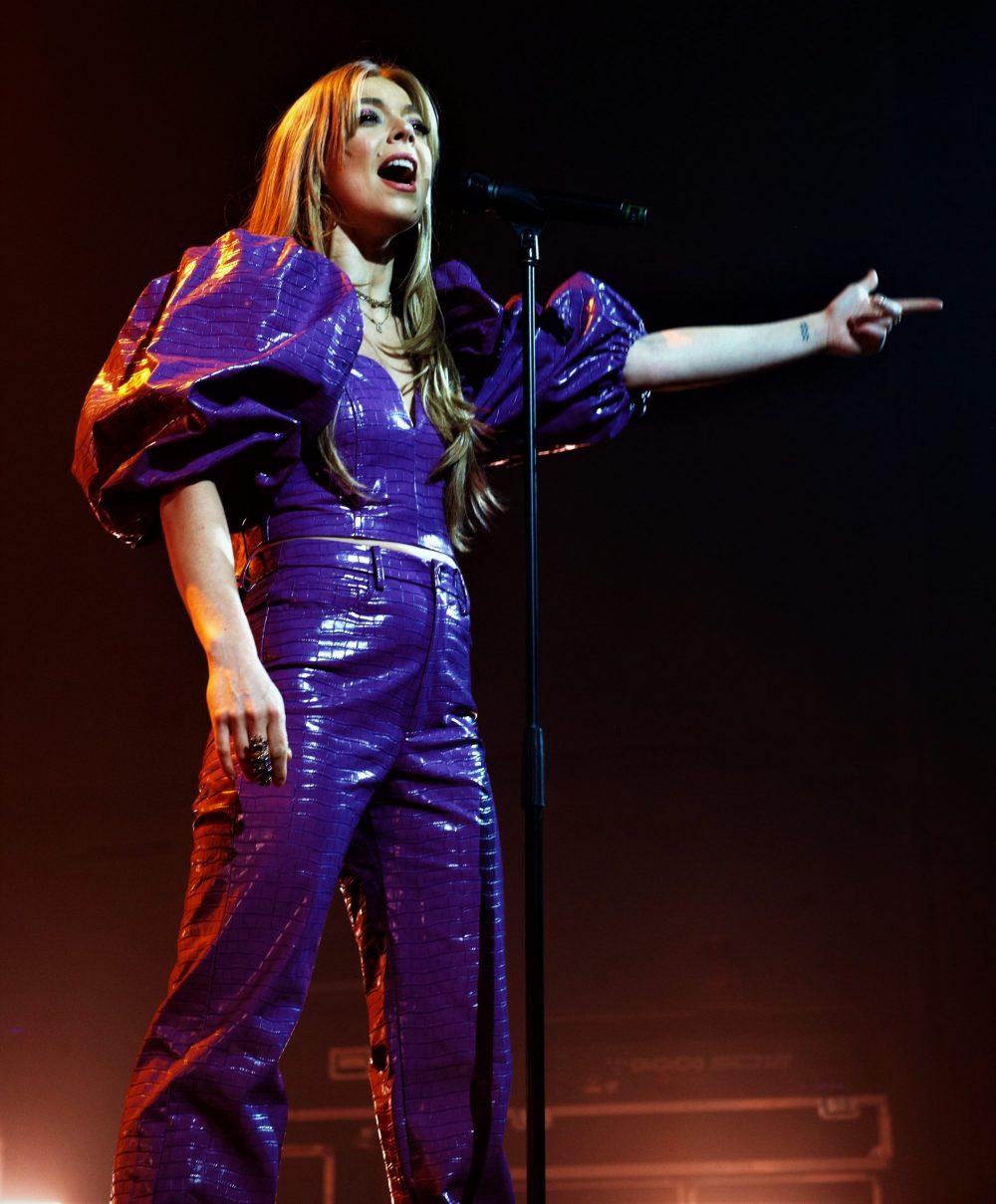 This was more like a first or last night of a tour in relation to the electric atmosphere, than a third of the way through a tour.
What's next? Two more from the album: "Distance", and then, "Perfect People" with Becky playing acoustic guitar. One more ("Lose Control") before the big banger, "My Heart Goes (La Di La)", current album track and recent single, with Topic. He's not making an appearance tonight.
But the biggest reaction of the night from the crowd was probably for this next cut: "Gecko (Overdrive)", the Oliver Heldens' cover which scored Becky a chart topper in 2014. Great track, great singer, great rendition tonight.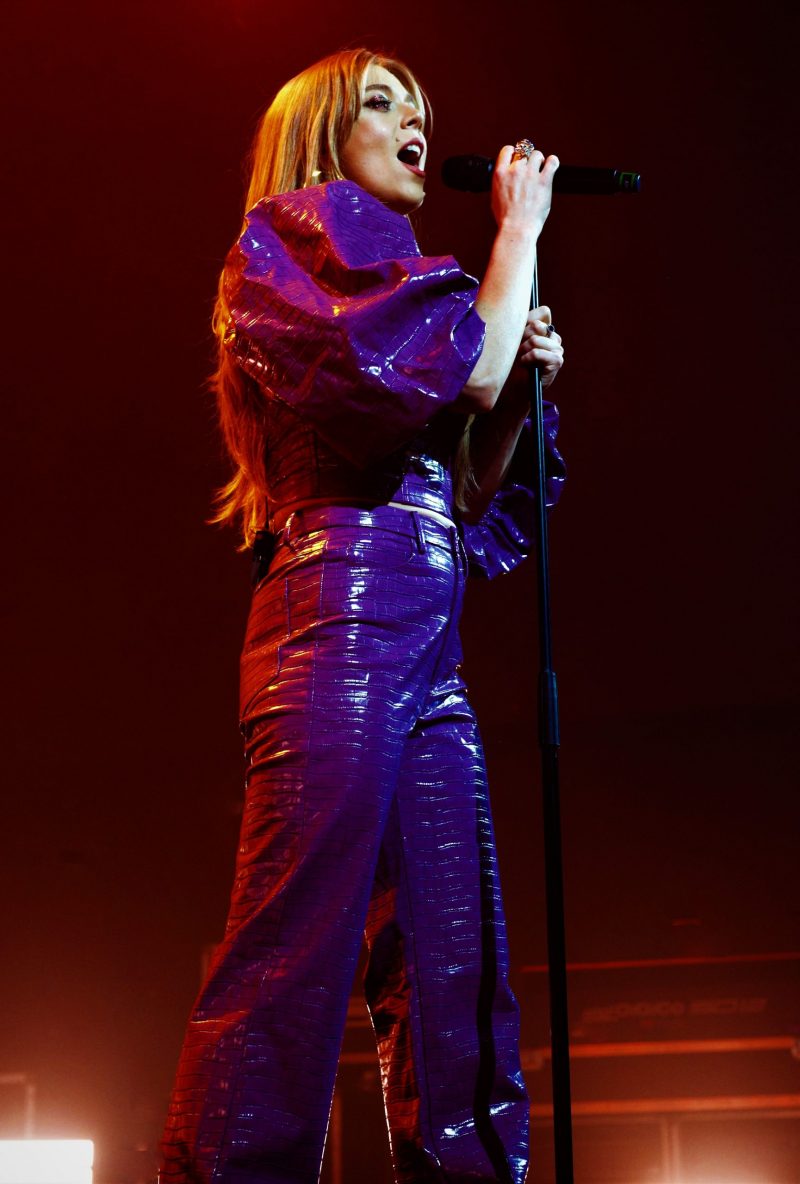 "Last Time/Biscit Remix", then fab big hits "Better Off Without You", "Wish You Well" and "Remember" the Guetta/Hill smash (see the video below), round off the night in fine, fine style.
You know what? I'll go on record to state that Becky is up there with the likes of Jessie J, Jess Glynne, Rita Ora and Paloma as one of the very best female vocalists around today. In fact; like those talents, Becky is not just a singer, she is an all-round artist. Her song writing chops are stellar. (She recently co-wrote the opening track to the musical film "Everybody's Talking About Jamie", with MNEK.)
I got the feeling as the temperature, the BPMs, the energy and the volume increased tonight, and seeing the sheer adulation from those 3,009 (wonder if I am in the 3,000 or the nine?), that we probably ain't seen nothing yet from this little pocket rocket.
Rebecca Claire Hill holds the future in her hands, and it could be a big future for her indeed, based on tonight's sizzling performance – and she was under the weather too. Bravo.
Catch her at Liverpool's Radio City Hits Live on 19th November and Free Radio Hits Live back in Birmingham on 29th Nov.
Richard Fairlie opened up the night's proceedings as tour support. Becky Hill heard his single on Radio 1, "The Reason I'm Breathing (minute)", and later during an interview on that station she was asked to name her favourite current track, and she named Richard's song. And here he is…..
A real find. A real discovery. Gob-smacking vocalist and song writer. On stage, alone; one drum stick to bash the pads to kick start the tracks. A guitar comes out later in the set. He stalks the stage, mic' in hand and has a real presence. But that voice…..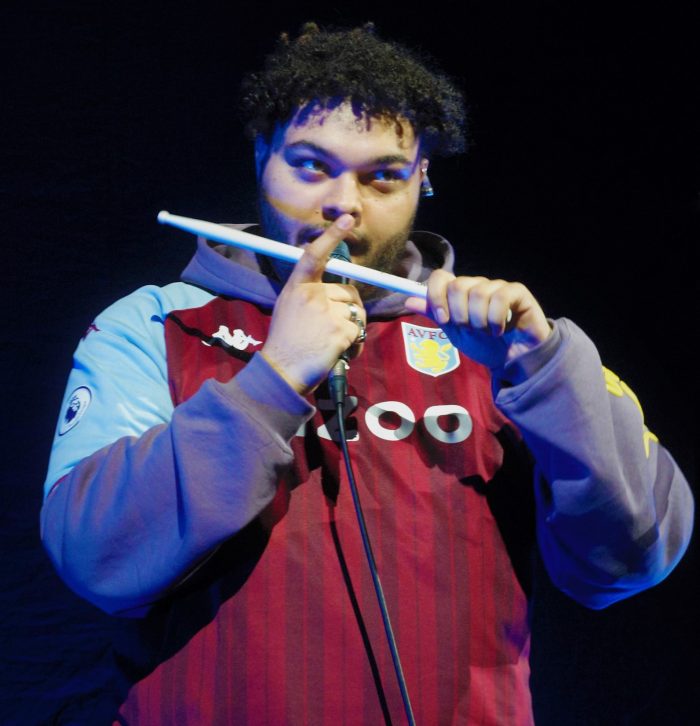 His EP, "Maybe I'm Just A Little Bit Broken", dropped in January 2021 via Columbia/Sony, but he is now an independent artist. That label's loss will be another savvy label's gain pretty soon, methinks.
He got noticed via singles "Fonda On The Roof" and "The Edge", both on his EP, and the title track. On an L.A. song writing trip, he blagged into Yungblud's gig and then the after party to rub shoulders with A-listers. Feeling like an outsider that night; he penned "Fonda On The Roof".
In the lockdown, 21-year-old Richard kept creative with Zoom writing sessions with some of the big songwriter names in the US, behind songs for the likes of Kanye, Diplo and Frank Ocean. Pre-EP and major label deal, Richard was on an r&b tip, but now describes his stuff as hip hop.
Brought up in Warwickshire, now London-based. A big football fan, he started supporting Aston Villa at six when visiting his grandmother in the Aston area of Birmingham where his mother grew up. On stage tonight in his # 10 Villa shirt bearing the name Grealish. He's gone, mate!
Tonight, the security staff and some of the guys in the crowd are Wolves supporters and they beat Aston Villa a few hours earlier! The banter was flowing in Richard's set and one Wanderers fan got a defiant finger from the stage, mid-set. All good natured, of course.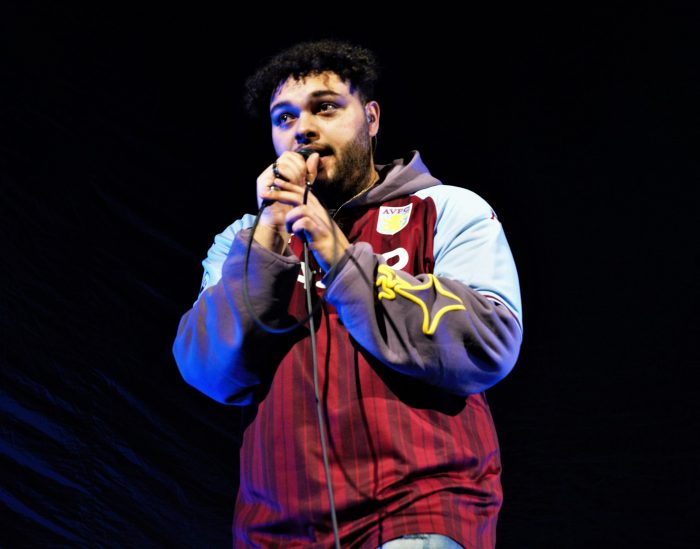 He released his debut single in 2017 and since then has got VIP tongues wagging both sides of the pond and he's attracted millions of streams of his music. Impossible to pigeon-hole or stick strict labels on to what Richard does. He cannot be kept in a box as regards genres.
He can sizzle and rasp on up-tempo rambunctious tunes, and he can smoulder on soulful ballads. His falsetto is dynamite and perhaps offers a glimpse of his vulnerability beneath that large frame and confident swagger.
A big, big talent and he could go nuclear with the right people around him. You've seen that TV advert, "Not just food, but M&S food….", promoting the quality side of the products that store sells. Well, this is not just another support act. This is Richard Fairlie – and he is well on his way to stardom. Despite the dodgy football shirt.
Check out his utterly killer track "The Reason I'm Breathing (minute)" via the video above. I am addicted to it. His last single and a Radio 1 favourite. So cool, so classy. Just like Mr Fairlie. Go see him. Go find him on Spotify. Buy his music. Make him mega-famous.
Words & Photos: Steve Best