"From the moment I walked into Florence's Lounge, sheets of distorted electric guitar filled the room. I could hear the unmistakable sound of steel on steel as a slide tore up and down the strings. Drums pounded out a shuffle beat so infectious and elemental that even I could dance to it…
"When Hound Dog leaned into the microphone and sang the blues in a high, cracking voice…you couldn't take your eyes off him…That afternoon I fell in love with Hound Dog Taylor & The HouseRockers." Says Bruce Iglauer from "Bitten By The Blues: The Alligator Records Story."
Fifty years ago, 23-year-old blues fan Bruce Iglauer spent his savings to record and release a record by his favourite Chicago blues band, Hound Dog Taylor & The HouseRockers. The new album needed a record label, so he created Alligator Records to release one LP. Today, Alligator boasts a catalogue of more than 350 titles.
With the new two-LP/three-CD sets, "Alligator Records—50 Years Of Genuine Houserockin' Music", Alligator celebrates its extraordinary past, history-in-the-making present, and a future dedicated to nurturing new generations of blues artists and fans.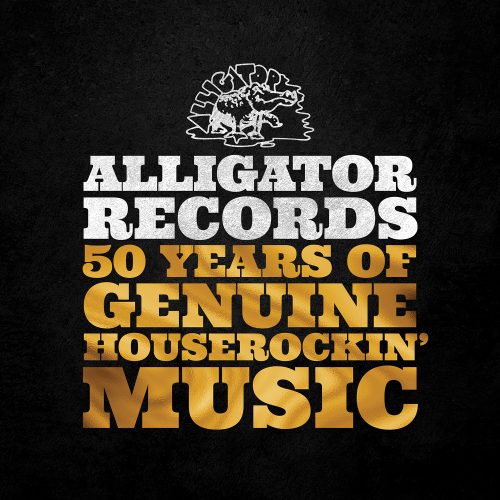 "Alligator Records—50 Years Of Genuine Houserockin' Music" clearly lays out Iglauer's wide-ranging, forward-looking vision with 24 songs (over 100 minutes of music) on two LPs and 58 songs (over 230 minutes) on three CDs.
Tracks from legendary artists like Hound Dog Taylor, Koko Taylor, Son Seals, Albert Collins, Johnny Winter, Professor Longhair, Lonnie Brooks, Luther Allison and Michael "Iron Man" Burks are interspersed with cuts from current blues and roots icons Elvin Bishop, Charlie Musselwhite, Guitar Shorty, Billy Boy Arnold and Mavis Staples.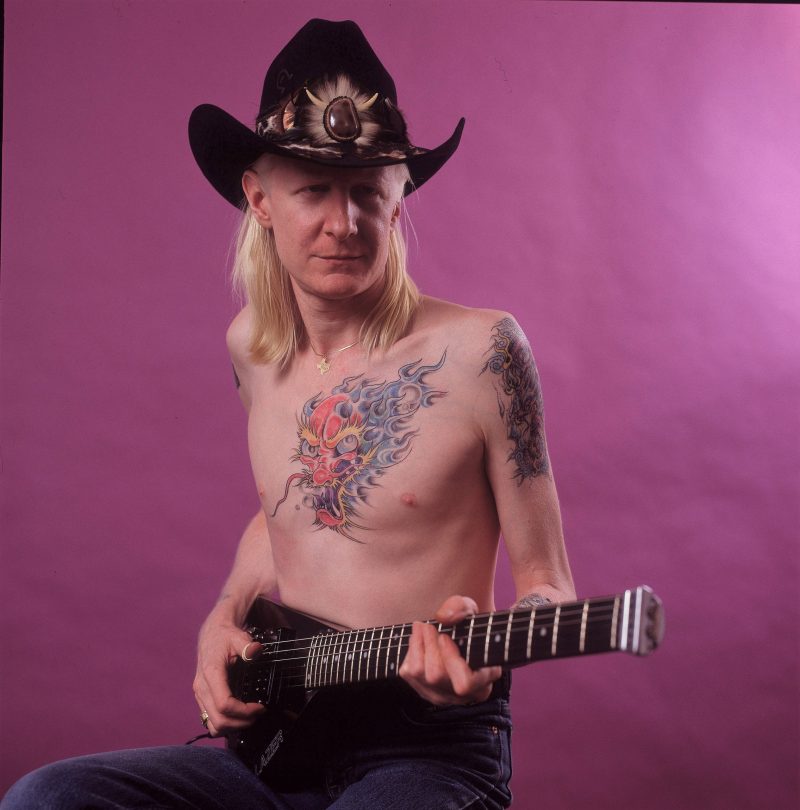 Songs from today's world-renowned stars like Shemekia Copeland, Lil' Ed & The Blues Imperials, Rick Estrin & The Nightcats, Marcia Ball, Billy Branch, Tinsley Ellis, Joe Louis Walker, Tommy Castro & The Painkillers, Curtis Salgado and Roomful Of Blues, together with newer voices including Christone "Kingfish" Ingram, Nick Moss, Toronzo Cannon and Selwyn Birchwood.
Under the blues spell from the off…
Iglauer, a native of Cincinnati, first fell under the spell of the blues in 1966. A live performance by the great Mississippi Fred McDowell struck him deep inside. "It was as if he reached out and grabbed me by the collar, shook me and spoke directly to me," he recalls. After that show, Iglauer, a student at Lawrence University in Appleton, Wisconsin, immersed himself in the blues.
In 1968, he made his initial pilgrimage to Chicago to experience the city's thriving blues scene. His first stop was the famous Jazz Record Mart, where he met proprietor Bob Koester, also the owner of the prestigious blues and jazz label Delmark Records. With Koester as his guide, Iglauer began making regular visits to Chicago to see Buddy Guy, Junior Wells, Otis Rush, J.B. Hutto, Carey Bell and many other blues icons in the South and West Side blues clubs.
Koester was impressed with Iglauer's passion for the music and his promotion of a sold-out Luther Allison performance at Lawrence in 1969. When Iglauer moved to Chicago for good at the beginning of 1970, Koester hired him as a $30-per-week shipping clerk. Almost every night, Iglauer hung out in the South and West Side bars, spellbound by the blues musicians performing on their home turf.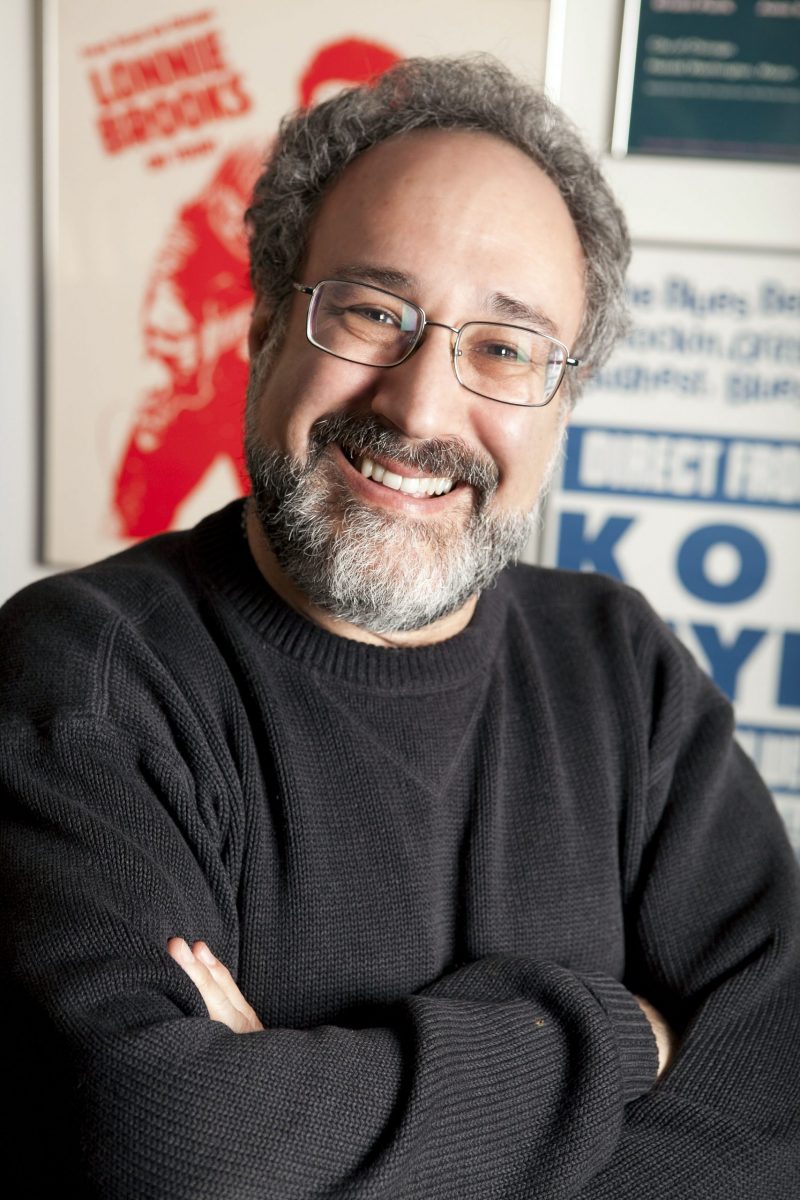 He accompanied Koester to the studio for every Delmark session, where he watched blues greats such as Junior Wells, Roosevelt Sykes and Robert Lockwood, Jr. create classic blues albums. During this time, Iglauer spent countless Sundays at Florence's Lounge on Chicago's South Side, where he fell in love with the music of Hound Dog Taylor & The HouseRockers.
He was mesmerized by Hound Dog's high-energy, raw bottleneck blues, and was convinced that if he made a Hound Dog Taylor album, his passion for this band and his vision for promotion could bring this wildly fun and intensely soulful music to a whole new audience of younger record buyers like himself.
Though he badgered Koester to record Hound Dog for Delmark, Koester declined. Determined that his favorite band be recorded, Iglauer gathered up what little money he had and headed into the studio with Hound Dog in 1971, recording for two evenings direct to two-track, mixing the album as it was being recorded. With his remaining money, he pressed 1000 albums and loaded them into the trunk of his Dodge Dart.
The hip new radio format at the time was called "free form progressive rock," and Iglauer drove over 4000 miles, stopping at every free form station. He offered up a copy of his new LP to on-air DJs, sharing his excitement about Hound Dog Taylor & The HouseRockers. And more times than not, they would spin the record right then and there. With significant airplay, Iglauer was able to find distributors for the album in most major markets in the country.
With his hard work paying off in the form of national radio play, and with enough sales to keep the label afloat, Iglauer realized that he had a whole new set of tasks. By necessity, he quickly became not only the label but also booking agent, publicist, manager, driver, roadie and advisor to Taylor and the band. The record became a huge success (by blues standards), selling over 100,000 copies in the U.S. alone.
It continues to have a huge impact on fans and artists alike. Black Keys founder and guitarist Dan Auerbach—who plays one of Hound Dog's guitars on the new Black Keys album, "Delta Kream", released in May 2021 — says, "I know for a fact I wouldn't be in this business if Bruce hadn't released those first two Hound Dog Taylor records. The fire Bruce captured on those records is the magic place I'm reaching for every time I'm in my studio."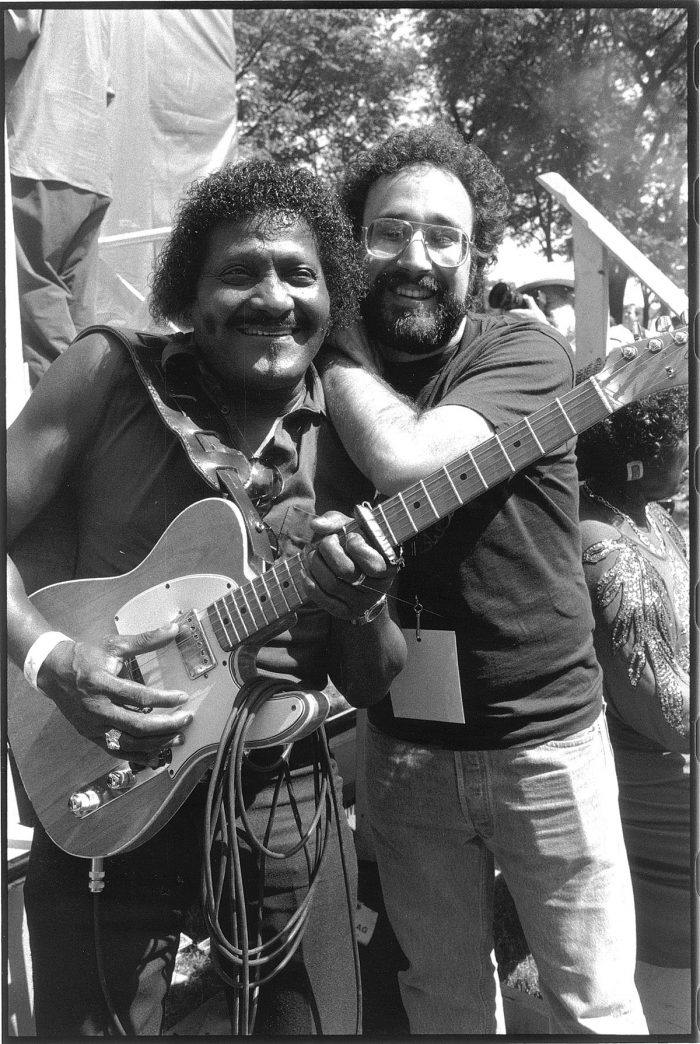 Iglauer ran Alligator out of his tiny apartment, filled with stacks of record cartons and a shipping table next to the bed. For years, each record had to finance the next one, which meant Alligator released about one record a year. Luckily, those records continued to impress fans and critics and sell enough to keep the label going.
After Alligator's success with Hound Dog Taylor, and then subsequent albums by Son Seals, Big Walter Horton and Fenton Robinson, the label got a shot in the arm when it began its long association with the Queen of the Blues, Koko Taylor.
Taylor had been a sensation at Chess Records with her version of Willie Dixon's "Wang Dang Doodle." "Bruce helped me as much as I helped him," recalled Taylor. "It was a very small company at the time, but it was the best thing that ever happened to me. My career didn't start until I got with Alligator." Her 1975 debut Alligator album, "I Got What It Takes", won the label its first Grammy nomination.
Alligator hired its first employee in 1975, and Iglauer moved himself and his label into a tumbledown three-bedroom house on Chicago's North Side where he also lived. LPs were warehoused in the basement and cassettes in the kitchen. Even so, the label was now making some serious national noise. Artists included Jimmy Johnson, Eddie Shaw, Carey Bell, Magic Slim and Pinetop Perkins, who all went on to become blues icons.
Another featured artist, Lonnie Brooks, would go on to record seven full albums for Alligator and become one of the label's shining stars. Young Billy Branch, who was also featured on the "Living Chicago Blues" series, is now one of the world's best known and most-recorded blues harmonica players.
48 Grammy nominations – three wins…and counting!

In 2019, Billy finally released his first full Alligator album, after countless appearances on other artists' recordings. In 1978, guitarist Albert Collins joined the Alligator family. Collins was the first non-Chicago artist signed to Alligator and the first to come to the label with a big reputation and high visibility. "Because of Albert Collins," recalls Iglauer, "the media perceived that Alligator, with only 16 albums in its catalog, had become a major blues label."
In all, six Alligator recordings received Grammy nominations between 1975 and 1978, representing almost half the records the label released.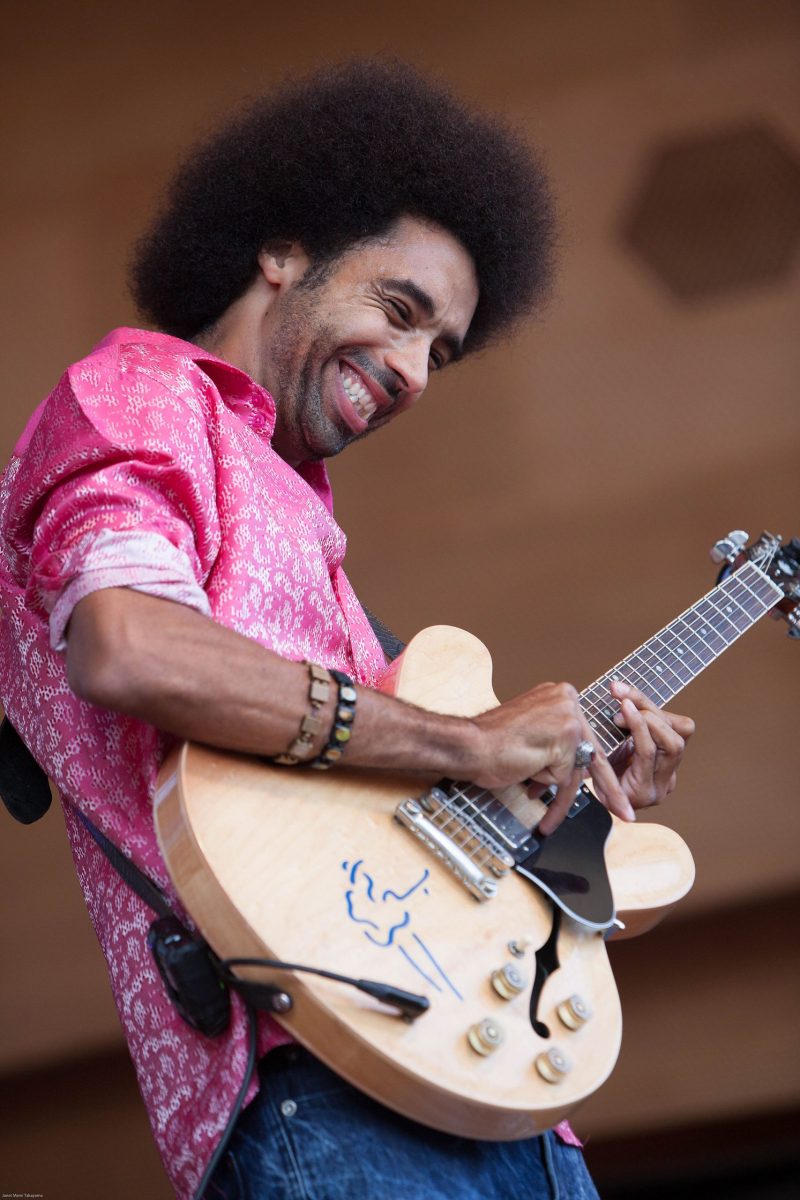 In 1982, the label won its first Grammy Award for zydeco pioneer Clifton Chenier's release, "I'm Here!" Two years later, Alligator signed legendary guitarist Johnny Winter. Winter was better known as a rock star, but came to Alligator to get back to his blues roots. While Koko Taylor and Albert Collins were well-known among blues fans, Winter was the first Alligator artist with rock radio name recognition.
Winter's success attracted blues-rock guitar heroes Roy Buchanan and Lonnie Mack, who brought along his friend Stevie Ray Vaughan to produce and perform on his Alligator debut.
These big-name artists gave a whole new level of mainstream radio, press, and retail credibility to the label. Success continued with the release of "Showdown!", the enormously popular collaboration between guitarists Albert Collins, Robert Cray and Johnny Copeland. The album won a Grammy, received wall-to-wall press and radio attention, and has become the best-selling title in Alligator's catalogue.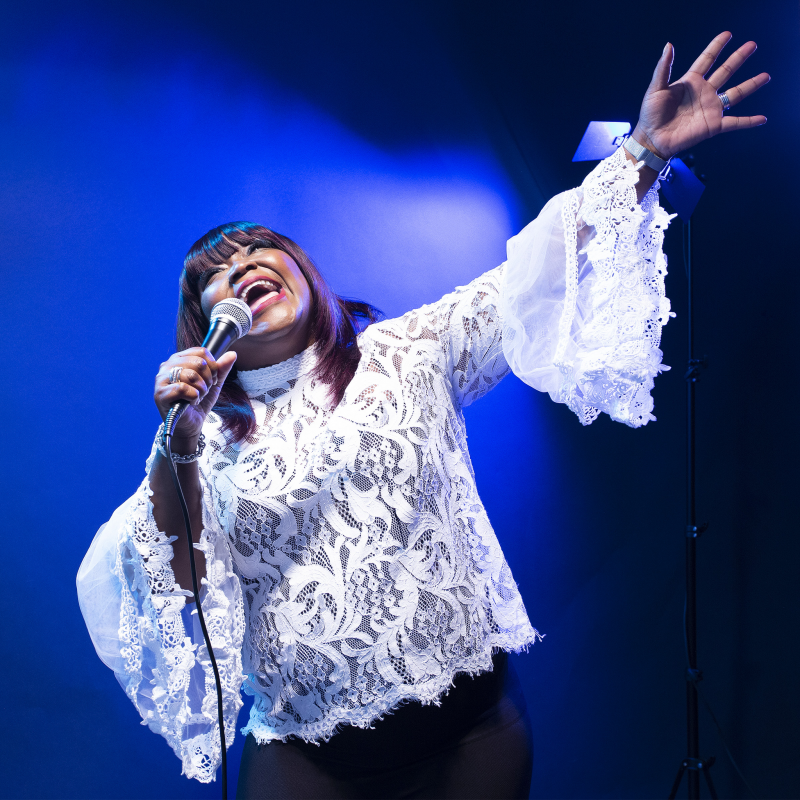 By 1985, the time had come to move the label's headquarters out of Iglauer's house and into a rundown storefront building, where Alligator still operates today. With only seven full-time employees, Alligator was exerting major label-scale promotion efforts with its own radio, publicity, and marketing departments. International licensing and distribution deals brought Alligator's releases to dozens of countries including Canada, Japan, Australia, Brazil, Argentina, and throughout Europe.
During the 1990s, the Alligator roster grew to include young singing sensation Shemekia Copeland, dynamic guitar master Luther Allison and trailblazing bluesman Corey Harris, all of whose releases kept Alligator at the forefront of the roots music world.
Alligator: Home of established blues stars, legends and the future of the genre…You betcha!
Blues icons Elvin Bishop and James Cotton, acoustic duo Cephas & Wiggins, the all-female trio Saffire – The Uppity Blues Women, famed traditional guitarist Steady Rollin' Bob Margolin, Australian slide monster Dave Hole and New York's groundbreaking Michael Hill's Blues Mob reached fans of every style of blues and the growing Americana music audience.
The 21st century brought a whole new set of challenges—from the loss of physical sales due to online music piracy to the closing of thousands of record stores to the advent of streaming music. Alligator responded by committing to promoting every single gig that every artist played, no matter when their most recent album was released (which is still the label's policy today).
Staffers pitched and scored interviews, television appearances and radio station visits, as well as providing venues with promotional materials to help make each show a success. For Alligator, each tour stop became its own artist-centric retail store, with artists more than happy to meet fans, sign albums and take pictures. This full scale marketing of recordings and aggressive publicizing of live concert dates helped increase artists' worldwide visibility, grow their fan bases, and ultimately sell more music.
Alligator released acclaimed new albums from label stars including Koko Taylor, Tinsley Ellis and Lil' Ed & The Blues Imperials, as well as albums from artists who joined the Alligator family after having success on other labels, like Tommy Castro, Guitar Shorty, JJ Grey & Mofro, Roomful Of Blues, Coco Montoya, Joe Louis Walker, Anders Osborne, Marcia Ball and The Holmes Brothers.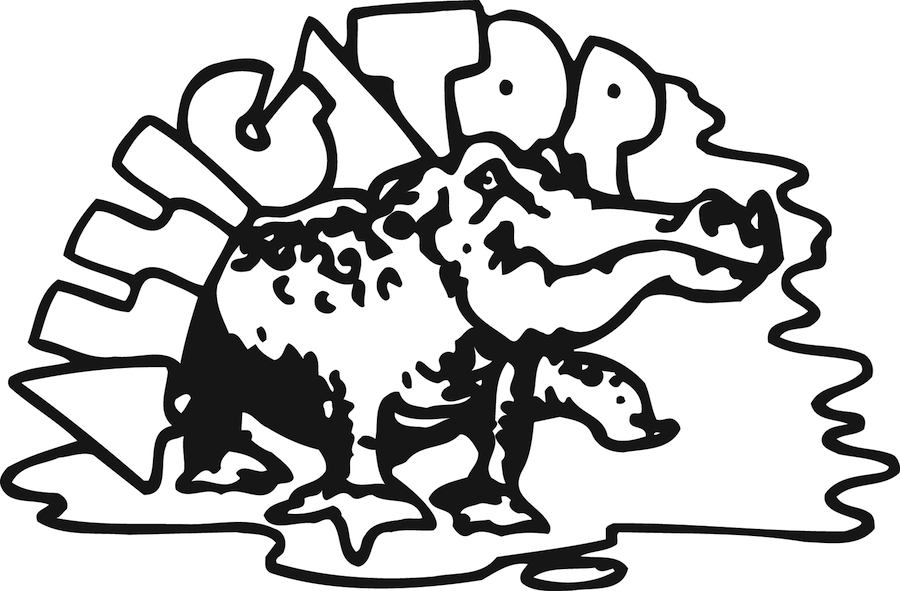 In 2004, soul/gospel icon Mavis Staples' career was revitalized with her Alligator album "Have A Little Faith." According to Staples, "Bruce was as supportive to me as you could imagine, always willing to offer his insight and expertise. He's been a true friend of the blues and independent music." With Alligator's ongoing support, Alligator artists have seen their audiences continue to grow.
The label's recordings have received a total of 48 Grammy nominations and three Grammy awards. Its artists and their music hold over 150 Blues Music Awards (the blues community's highest honor) and more than 70 Living Blues Awards.
Alligator artists have appeared on radio, on television and in films. They've performed worldwide at clubs, concert halls and festivals. According to Shemekia Copeland, "Alligator Records has been a cornerstone of the blues world for five decades. As an Alligator artist, I am truly grateful for what Bruce and Alligator Records have done for me and this genre."
Since its inception, Alligator has always kept a close eye on new technologies, assuring the label's music is as accessible as possible. In the 1970s and 1980s, the company produced LPs, 45s, cassettes and 8-track tapes. In the mid-1980s, Alligator was the first blues company to produce CDs, and in the 1990s was among the first labels to have its own website (www.alligator.com) and market its catalogue over the internet.
Alligator's full service mail order company is housed in an old former furniture store just down the block from the main building. Even as Alligator passes the half-century mark, the label is still dedicated to finding and signing young artists with the talent and vision to create new blues that speaks to today's and tomorrow's audiences.
The label has helped bring artists like Selwyn Birchwood, Toronzo Cannon, The Nick Moss Band featuring Dennis Gruenling and The Cash Box Kings to the forefront of the modern blues scene.
In 2019, Alligator released the debut album from guitar phenomenon Christone "Kingfish" Ingram. At just 22 years old, Kingfish is already being hailed as a new blues superstar. Alligator's latest signing is Texan guitar-slinger and songwriter Carolyn Wonderland, whose album "Tempting Fate" is released today (8th October 2021).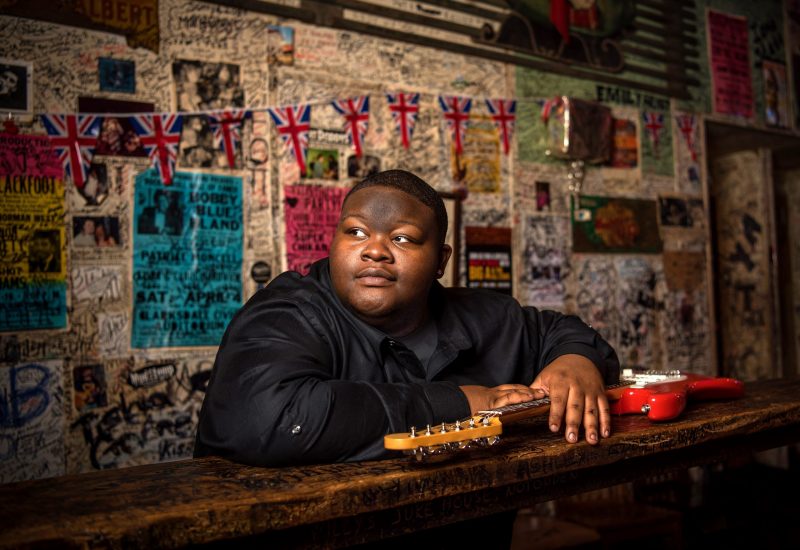 Since releasing the first Hound Dog Taylor record, Alligator Records has become the most successful blues label in the world.  The history of Alligator Records is told by Bruce Iglauer himself in the 2019 book, co-authored with Dr. Patrick Roberts, "Bitten By The Blues: The Story Of Alligator Records."
---
Bruce Iglauer's "Track Record:"
1. First song you heard as a child?
Probably a show tune like "Oh What A Beautiful Morning." My mother loved Rogers & Hammerstein musicals.
2. First single you owned?
"El Paso" by Marty Robbins.
3. First LP/album you owned?
"The Kingston Trio Live At the Hungry I".
4. First CD you owned?
I can't remember the first CD I bought. It was very hard to find blues on CD at that time. But I remember the first CDs that Alligator released were "Bad Axe" by Son Seals, "Queen Of The Blues" by Koko Taylor, "When A Guitar Plays The Blues" by Roy Buchanan, "Guitar Slinger" by Johnny Winter" and "Strike Like Lightning" by Lonnie Mack. Because we committed to compact discs very early, Alligator releases were among the few blues CDs available.
5. Last music you bought and in what format (CD/vinyl/digital download)?
I have so much music that I own and have never listened to, that I buy almost nothing. The last album I listened to was "Just Say The Word" by a young artist name Gabe Stillman.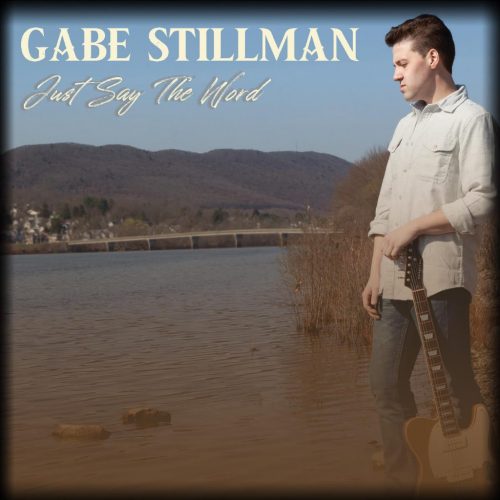 6. Which album would be on your wish list as a gift?
"Down Home Blues Chicago—Fine Boogie" a 5-CD set on the Wienerworld label.
7. Favourite album?
That varies from day to day. Pretty much any album by Elmore James….
8. Best record ever made (can be single/album/EP)?
"Mighty Long Time" by Sonny Boy Williamson on Trumpet Records.
9. Guilty secret in your music collection?
"Murray The K's Golden Gassers For Submarine Watchers".
10. What does music mean to you and how does it make you feel?
People were probably making music before they could speak. Music comes from one of the deepest, most primeval parts of humans, and can reach those same parts. Communication between musicians and audiences is capable of being soul to soul communication. Or just a whole lot of fun.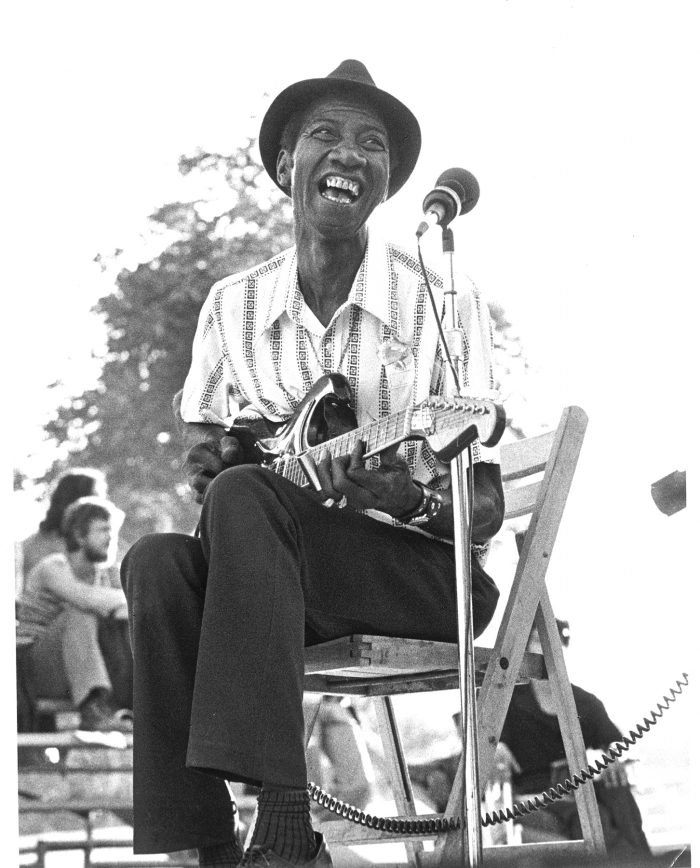 11. Which song or album is a guaranteed mood booster?
"Give Me Back My Wig" by Hound Dog Taylor & The HouseRockers.
12. Which song or album would be the soundtrack to a film about your life?
"Something Inside Me" by Elmore James.
13. Your favourite driving track – or music to exercise-to?
Pretty much anything by Lil' Ed & The Blues Imperials.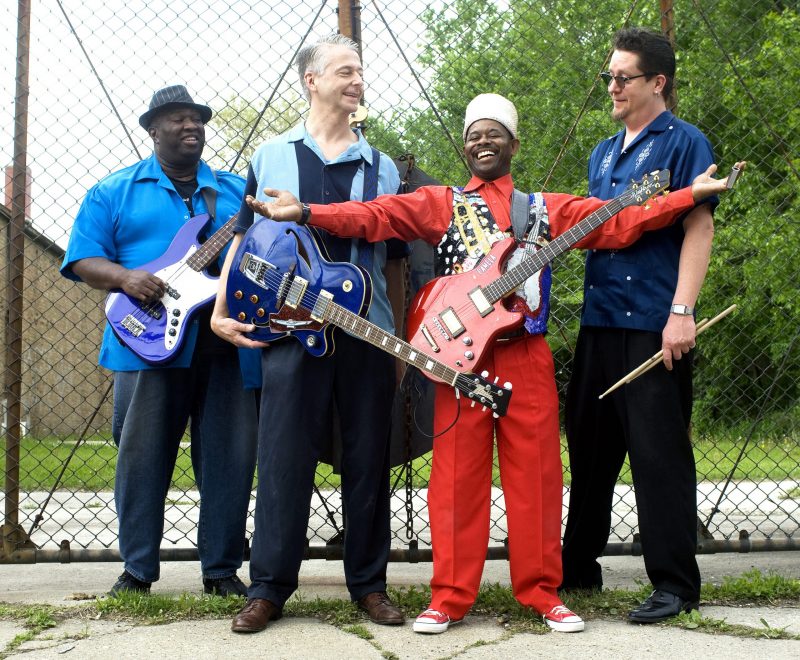 14. Best song or album for a romantic moment?
"These Arms Of Mine" by Otis Redding.
15. Which song was played for the "First Dance" at your wedding?
"Fall Back In Love With You" written by Lonnie Mack and performed by Saffire – The Uppity Blues Women – who played at my wedding celebration.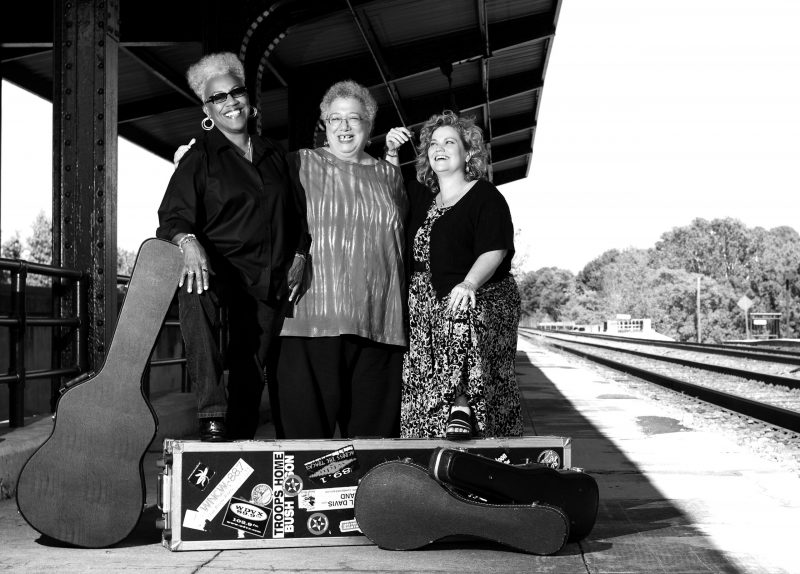 16. Your choice of song to sing at karaoke?
No one wants to hear me sing at karaoke! If I had to, maybe "Kansas City" from the musical "Oklahoma".
17. Which song takes you back to your childhood – and to which specific memory?
"Hi-Lili, Hi-Lo" from the movie "Lili". My mother and I saw it sometime after my father died, and she wept in the theatre.
18. Favourite band?
That changes from day to day. But it would be something that proudly let the rough edges show. Maybe Professor Longhair and His Shuffling Hungarians.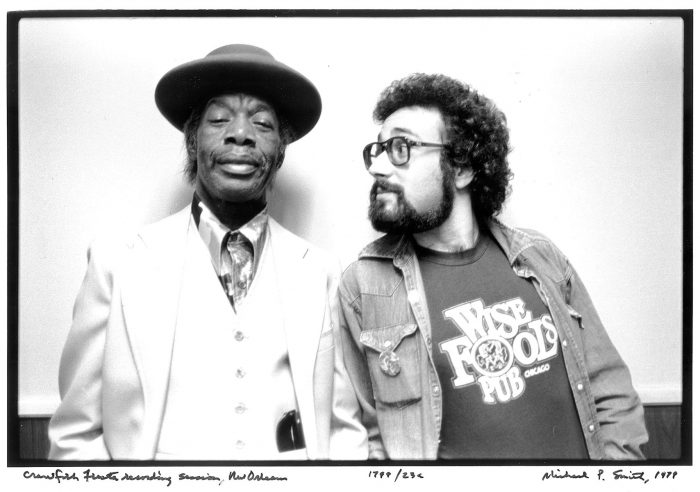 19. Favourite singer?
Among them: Elmore James, Tommy Johnson, J.B. Hutto and Johnny Shines.
20. Which song would you like played at your funeral?
The story of my life: "Something Inside Me (just won't let me be)", by Elmore James.
---
Photo credits:

Bruce and Koko Taylor: Mark Norberg
Bruce portrait (arms folded): Chris Monaghan
Christone "Kingfish" Ingram: Rory Doyle
Hound Dog Taylor: Diane Allmen
Johnny Winter: Paul Natkin
Lil' Ed & The Blues Imperials: Paul Natkin
Selwyn Birchwood: Janet M. Takayama
Saffire – The Uppity Blues Women: Rebecca Sell
Toronozo Cannon: Dragan Tansic
Bruce and Professor Longhair: Michael Smith
* Other images courtesy of Alligator Records *