Cookin' On 3 Burners are billed as Australia's hardest hitting Hammond organ Trio – "joining the dots between deep funk, raw soul, organ jazz & boogaloo."
After the longest touring and recording break in their 24-year history, due to Melbourne's strict COVID-19 lockdown, Jake Mason (organ), Dan West (guitar) and Ivan Khatchoyan (drums) reunited to cook up their super dope double A-side limited edition single "The World is Cold"/"Ms. Fat Booty", featuring rapper Mantra and singer Jane Tyrell.
The tracks on 7 inch vinyl and streaming/download on the Soul Messin' label, drop today (24th September 2021).
The fabulously addictive A-side channels A Tribe Called Quest meets Eminem. Mantra's bars are world class. Ms Tyrell's sultry vox add huge value.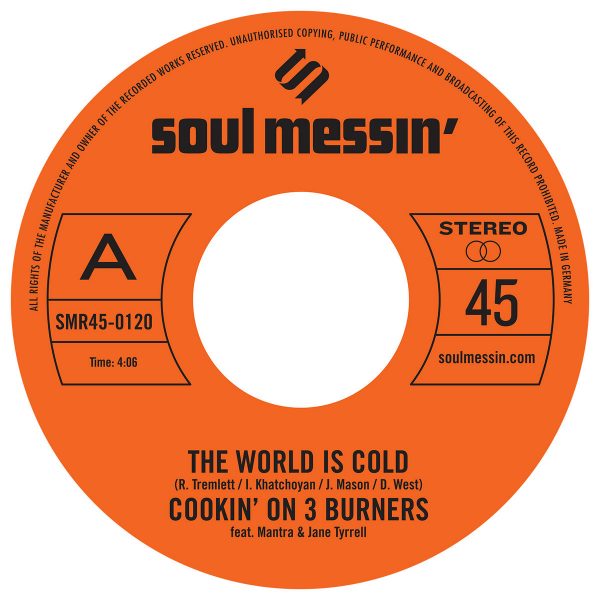 Spitting lyrics that feel more relevant than ever amid this pandemic horror, "The World is Cold" is a call to fire up; to re-ignite and forge ahead with purpose and conviction.
We say: This A-side is one of the best hip hop/funk/rap/breaks/soul cuts of 2021, so far. Craig Charles should be all over this like a rash for his BBC soul and funk radio show!
Check out the sheer killer drum track and guitar work on "The World Is Cold"………………….
B-side is a cool cover of "Ms. Fat Booty", Mos Def's 1999 release. A strong return to Cookin' on 3 Burners' roots as an instrumental funk trio, this cut references Aretha Franklin's 1965 "One Step Ahead" release, the track originally sampled for the Mos Def classic.
It follows a suite of super funky interpretations recorded by the band including Gary Numan's "Cars", Metallica's "Enter Sandman" and Gorillaz' "Feel Good Inc". The wonderful Kylie Auldist is a regular collaborator with the trio.
Warning: Explicit language *