Wanda Jackson, the undisputed Queen of Rockabilly waves a fond farewell to her long recording career this week, with the release of her final album, "Encore". A very fine record it is too…
Aided and abetted by fellow Rock and Roll Hall of Famers Joan Jett and Kenny Laguna, the album on Big Machine Records/Blackheart Records sees Elle King and Angaleena Presley also guest.
Wanda's voice is remarkably in tact on the eight superb tracks, at the grand old age of 83 and after a 64-year career of rocking stages worldwide and delivering more than 40 studio albums, circa three dozen compilation albums, four live records, countless singles and guest appearances on around 26 other albums.
Wanda signed to Decca Records when she was 16 in 1954, as a country music artist.
The former girlfriend of Elvis Presley (1955 and '56), Wanda combined rockabilly with country, and later gospel music styles throughout her career.
She has been inducted into the Gospel, Rockabilly and Rock & Roll Hall Of Fame, and has won and been nominated for many prestigious awards.
"Encore" is a final chapter amplifying a career that's ignited others too, from the Cramps to Amy Winehouse, Adele to Jack White. Jack produced her 2009 critic's favourite, "The Party Ain't Over".
"Right around the time I retired from performing and what I thought was the end of my career, I found myself back to writing songs with some of the great writers in Nashville.
"The songs you hear are truly my life story. This is the first time I have ever inserted so much of my personal life into my music.
"You'll get a picture of my early life and have a peek into the closeness that my late husband Wendell and I had in our life together. I'm happy to share this with all of you.
"Your constant love and support has seen me through the ups and downs of my 64-year career. I love you all and God bless you," says Wanda.
Recorded just before announcing her retirement – she stopped live work in 2019 – this first Lady of Rockabilly is best known for hist such as "Hot Dog! That Made Him Mad;" "Mean, Mean Man;" "Fujiyama Mama" and "Let's Have A Party".
She wrote half the songs on "Encore" with top writers including triple Grammy winner Lori McKenna, ACM/CMA/Grammy nominees Will Hoge and Luke Laird, Presley, plus Bluegrass queen Sonia Leigh.
Track five on the album, the vintage Country of Johnny Tillotson's 1962 Rhythm & Blues smash "It Keeps Right On A Hurtin'," is out now as a single.
Many may well cite "Two Shots" – matching her with Elle King and Joan Jett – as a standout of the set (hear that track, below). But it's all fabulous, and a fitting farewell for this bonafide pioneer and living legend.
However, we sincerely hope she takes a break and has a re-think about this being her last ever release. That said; thankyou for the marvellous music, wonderful Wanda….
ENCORE TRACKLIST:
1. "Big Baby" | Christopher Casello, Robin Lynn Grant
2. "Two Shots (featuring Elle King and Joan Jett)" | David Ryan Harris, Tanner Elle Schneider
3. "You Drive Me Wild" | Joan Jett
4. "Good Girl Down (featuring Angaleena Presley and Candi Carpenter)" | Wanda Jackson, Vanessa Olivarez, Angaleena Presley
5. "It Keeps Right On A Hurtin'" | Johnny Tillotson
6. "We Gotta Stop" | Wanda Jackson, Will Hoge, Vanessa Olivarez
7. "Treat Me Like A Lady (featuring Joan Jett)" | Wanda Jackson, Sonia Leigh, Vanessa Olivarez, Jordan Breanne Simpson
8. "That What Love Is (featuring Joan Jett)" | Wanda Jackson, Luke Laird, Lori McKenna, Jordan Breanne Simpson
Wanda Jackson: Encore (Big Machine Records/Blackheart Records) is out on 20th August 2021.
Here is legendary Wanda Jackson's "Track Record":
1. First song you heard as a child?
A Jimmy Rogers' song, I'm sure. My dad had a collection of his; probably "Blue Yodel # 6".
2. First single you owned?
Hank Thompson: "Wild Side Of Life".
3. First LP/album you owned?
Elvis Presley's first album, "Elvis Presley" (1956) – released in the UK as "Elvis Presley Rock n' Roll".
4. First CD you owned?
Not sure, but I'm sure it was a country artist.
5. Last music you bought and in what format (CD/vinyl/digital download)?
A Brooks & Dunn CD.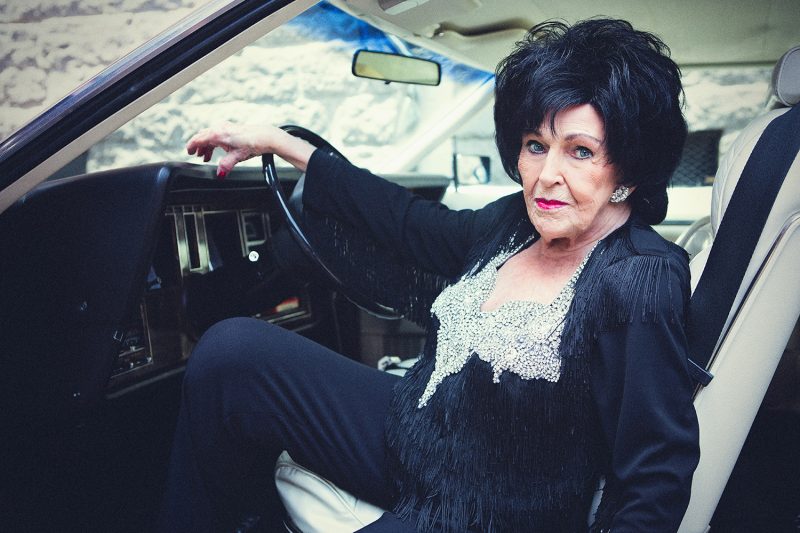 6. Which album would be on your wish list as a gift?
Anything by Tanya Tucker.
7. Favourite album?
Ray Charles: "Modern Sounds In Country Music".
8. Best record ever made (can be single/album/EP)?
Wanda Jackson: "Love Me Forever" on Capital Records (1962).
9. Guilty secret in your music collection?
A recording of mine I don't want anyone to hear, but it's too late now…"Tears At The Grand Ole Opry".
10. What does music mean to you and how does it make you feel?
Music has always been my passion. It can change your mood in a split second.
11. Which song or album is a guaranteed mood booster?
Southern Gospel music, like The Oak Ridge boys.
12. Which song or album would be the soundtrack to a film about your life?
Wanda Jackson: "Let's Have A Party" (1958 album).
13. Your favourite driving track – or music to exercise-to?
I don't do either anymore, L.O.L.
14. Best song or album for a romantic moment?
Again, the Ray Charles album, "Modern sounds In Country Music".
15. Which song was played for the "First Dance" at your wedding? 
Wendell Goodman, my husband and I were married in a church with my Mom and Dad attending, so no dance after. No more weddings for me! * The couple married in 1961. Wendell was an IBM programmer when they met, but quit his job to manage Wanda's career. He passed away in 2017.
16. Your choice of song to sing at karaoke?
Jambalaya.
17. Which song takes you back to your childhood – and to which specific memory?
"Born To Lose". (A 1942 song, released in 1943 by Ted Daffan's Texans, later covered by Ray Charles.) The memory is of my Mom and Dad and me, eating at a place with sawdust on the floor in Los Angeles where we lived for a while. I was six or seven-years-old.
18. Favourite band?
Hank Thompson's band: The Brazos Valley Boys. They were a great Western swing band.
19. Favourite singer?
Hank Thompson.
20. Which song would you like played at your funeral?
"How Great Thou Art". * Based on a 19th century Swedish poem and the tune of a Swedish folk song. A hymn that rejoices in the beauty of nature and power of God. There are circa 1800 recordings of this hymn.